Have you wondered why Finland loves cabins? The country is literary full of log cabins and summer cottages!
There are vacation rentals that are for business use; to rent out for travelers. But, most of the cabins are private. Almost all Finnish families have one.
These second homes come with different sizes and amenities. Thus, there isn't a standard what to expect. You don't know without asking if the cabin in question is a beach log mansion or a cottage without electricity.
What is in common with all cabins is that they are definitely surrounded by nature and require TLC. A lot of TLC. Workwise it doesn't make sense to own a cottage when you could rent it and escape all the chores.
So why Finns have summer cottages?
Let me answer that with a story. One of the biggest epiphanies in my life was when I read the wise words of Mihaly Csikszentmihalyi. He proposes that the most joy and happiness you get from doing things which are both pleasurable and useful. That really resonated with me.
I was so excited that I found so simple words to the feeling in my head and heart. That sentence became my guideline. I have applied it abundantly to everything with many happy results. Going back to the original question of why enduring all the efforts of having a summer cottage, I think many Finns are profoundly aware of the same logic I had to read about to comprehend.
Chopping wood, logging for own use, raking leaves, cutting saplings and all those other chores at the summer cottage are pleasurable because you are connecting with nature and useful because you are taking care of the land and your family. That's how simple the answer it.
This is me, enjoying the spring work at our cabin.
Hello there!
I'm Varpu. One blonde,
travel-loving,
Finnish engineer driving this site.
Facebook Instagram Pinterest Twitter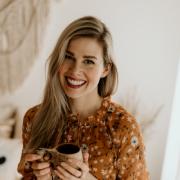 About Varpu
I'm the founder of Her Finland. I love cultural tidbits, aha moments, Finnish folklore, and cinnamon buns. My newest interest is learning bird songs. Read more about me..