The first warm and sunny summer days hit my hometown couple of days ago, and we have been enjoying every ray of the sun. Our pale vampire skin has been glazed with sunscreen, of course. Barbecue and summer food has been the theme of the weekend.
For the next couple of weeks, we have to rely on Swedish new potatoes and Dutch strawberries, but they are good enough substitutes for us too impatient to wait for the real things. The annual arrival of Finnish new potatoes and strawberries is serious business. That joyous occasion is announced in news and newspapers.
Easy salmon recipe from Finland
Here is a classic; a delicious and easy recipe that everybody can make! The salmon needs to be fresh and good quality. How to check that? If you can, ask to smell the fish. A fresh fish always smells neutral with an ocean breeze. An old fish smells, you guessed it, really fishy. If you can see eyes or gills, check them. A fresh fish has clear eyes and red gills. An old fish has blurry eyes and grey gills.
Okay, but now, the recipe itself! The dish is pan-fried salmon with new potatoes and dill sauce. Yummy! It's one of my favorite dishes. It consists of three elements:
New potatoes
Brush the dirt and excess skin of the potatoes. Boil z. 25 minutes until ready. Pour the water away, add a slice of butter, salt, and dill on top. Notion! You eat new potatoes with their skin. You do not need to peel.
Salmon
Put some butter in the pan. Wait until it has turned brown and made bubbles. That's how you know that the pan is hot enough. Panfry salmon fillets. Depending on thickness, this takes z. 10 minutes. Garnish with dill.
I think you have realized by now, how much I love dill. Maybe I should rephrase this dish as "Dill with salmon, potatoes, and sauce." Anyhow, the cold dill sauce is the heart of this recipe. It complements both the potatoes and salmon.
Dill sauce
This sauce recipe is an heirloom from my mother's side. The secret of the sauce is mustard. Without mustard, the white sauce tastes bland.
one pack of natural yogurt or sour cream (z. 2 dl or 1,5 cups)
one big tablespoon of mustard
a pinch of salt, sugar and freshly ground black pepper
small bundle of dill
Mix everything, except dill. Then add dill. I often scissor the dill into small pieces on top of the sauce and then mix. This basic mix is very versatile and works with all different herbs. You can also add garlic or a tablespoon of squeezed lemon juice.
Sunny cooking days for us all!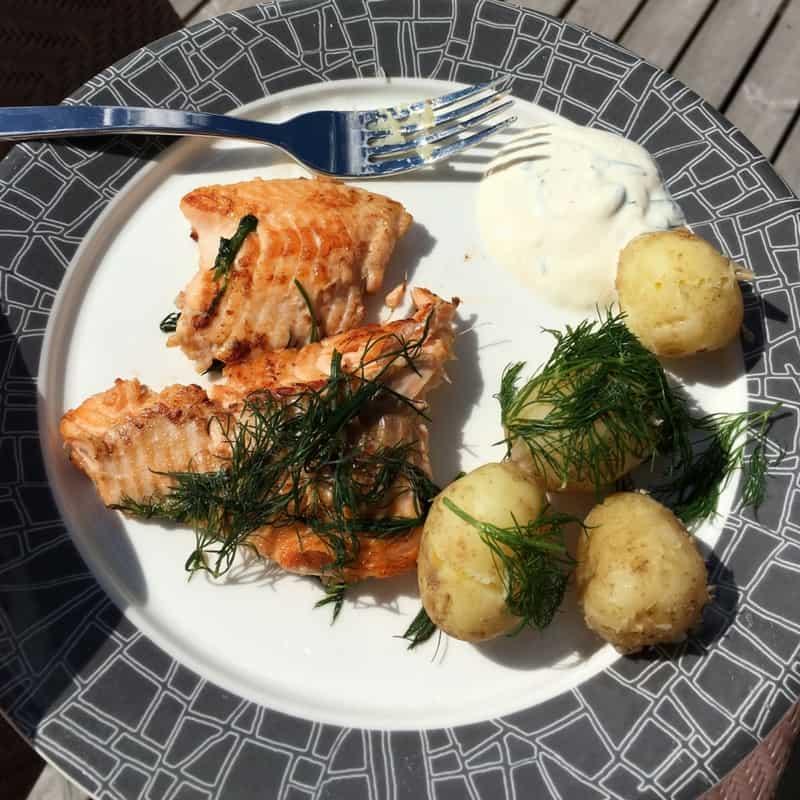 Finnish baking magic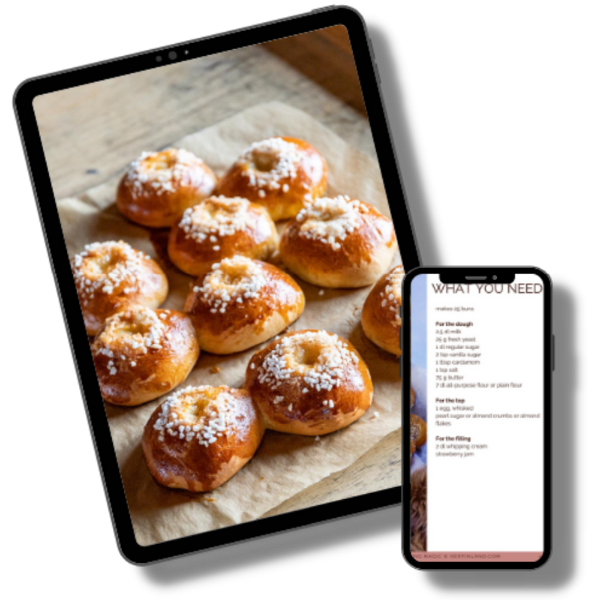 My praised Finnish Baking Magic eCookbook & bonus videos Recreate Finnish bakes in your own kitchen hassle-free!⭐⭐⭐⭐⭐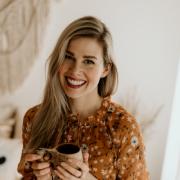 About Varpu
I'm the founder of Her Finland. I love cultural tidbits, aha moments, Finnish folklore, and cinnamon buns. My newest interest is learning bird songs. Read more about me..