Finnish Christmas foods are a traditional and insanely delicious part of Finnish food culture!
Hands down, Christmas is the biggest celebration of the year in Finland. Family time and the abundance of food characterize this holiday.
But, even on the Finnish Christmas table, the flavors are unpretentious and clean. The dishes are hearty and simple, most made with just a few ingredients. Those ingredients may be cream and butter, though.
When it comes to Finnish Christmas food, there are two key things: quality and quantity. I bet nobody has ever celebrated a Finnish Christmas hungry. There are dishes suitable for vegetarians, too.
With this post, I'll introduce you to Finnish Christmas dishes and Xmas food traditions. I'll also include the names of the dishes in Finnish, so it's easier to navigate if you're visiting Finland during the holiday season.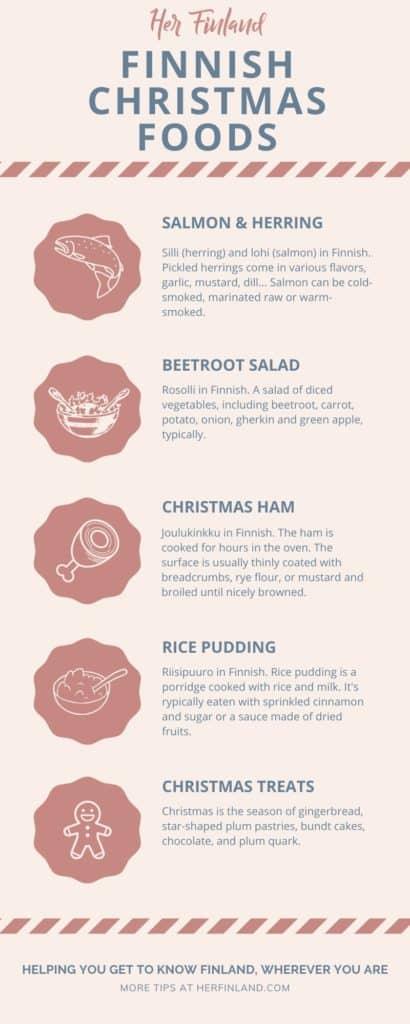 I hope this post gives you some tasty ideas. For example, the beetroot salad and snow gingerbread cookies are super easy to make.
Psst… Follow me on Instagram and get more Finland into your daily life immediately!
And, in case you were wondering, I have a spread of Christmassy posts here on my blog:
But now, let's dive into the festive food heaven of Finnish Christmas. Here's what this post will cover!
Introduction to Finnish Christmas Food Traditions
Note that in Finland, 24 December is the highlight of Christmas. All foods are made so that they are at their best on the Christmas Eve dinner.
You need to have a lot of food at that dinner. We Finns prepare Xmas dishes for our family and an imaginary ice hockey team.
No wonder that it is a food tradition in Finland to eat the same Christmas dishes on Christmas Day and Boxing Day.
Funnily this leaves us in a situation where we anxiously wait for the mouthwatering Christmas dishes, but after eating them for three days, we happily wait a year to eat them again.
If you want to discover Finnish Christmas food frenzy at its best, be sure to visit any hypermarket in Finland on 23 December.
Finnish Rice Pudding
Rice pudding (riisipuuro in Finnish) is a Christmas delicacy that all Finns love.
It is almost always served on the last day of school before the Christmas holiday starts, which might explain why we Finns have built such happy memories of this dish.
Nonetheless, rice pudding is incredibly delicious! It is eaten with a sauce made of dried fruits or with sprinkled cinnamon and sugar. Both equally right, but most kids prefer the latter.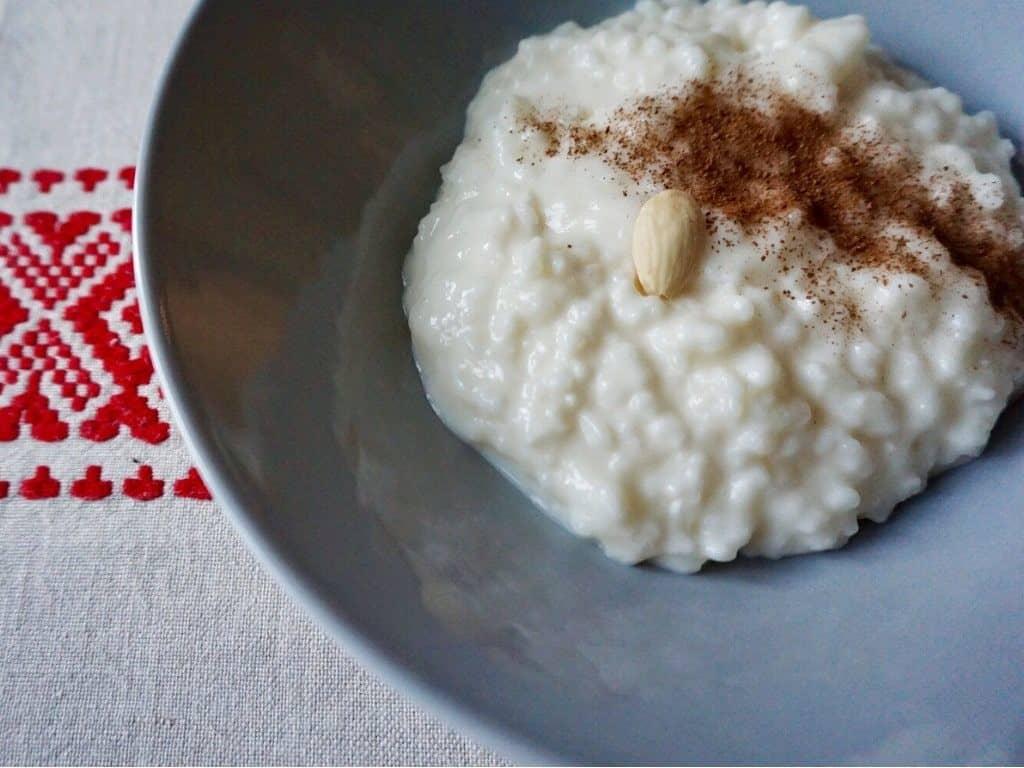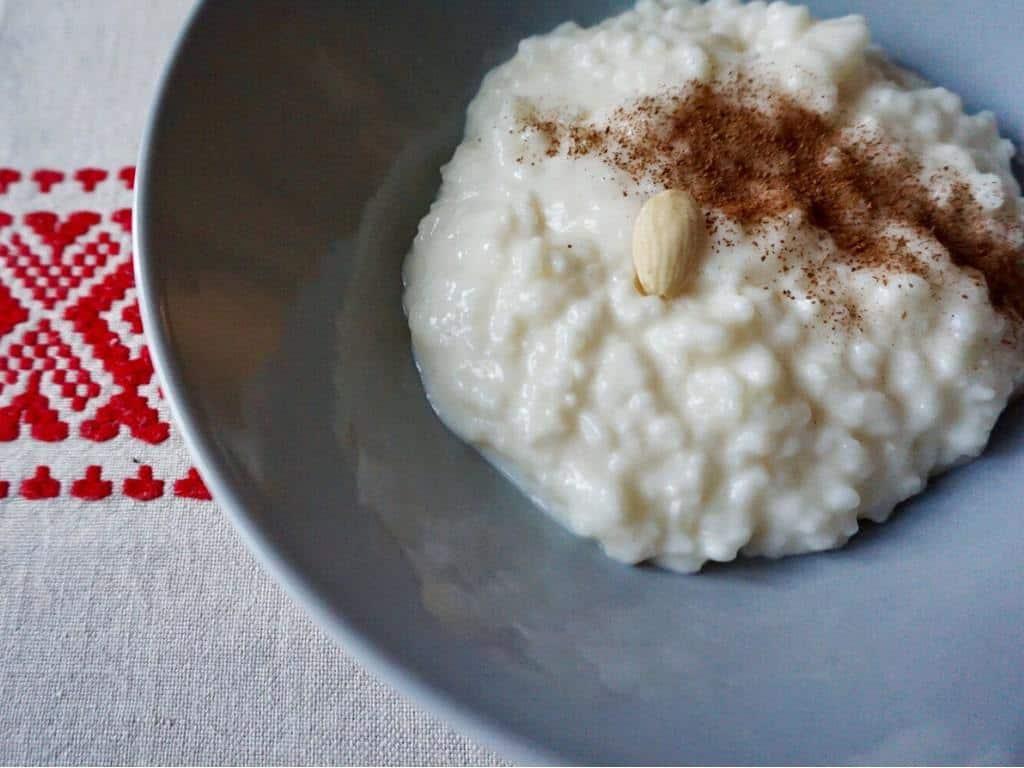 Even though rice pudding is sweet in flavor, it's by no means a dessert in Finnish food culture. It is a breakfast or a main dish.
To be precise, many families eat rice pudding as lunch on Christmas Eve. So does my family. On that special occasion, we hide an almond in the porridge. The person who finds it gets a wish.
Finnish Christmas Starters and Sides
We start our dinner with an array of fish, unique salads, and Christmas bread.
The classic Christmas fish dishes include pickled herrings of many flavors, such as garlic, mustard, or dill (silli in Finnish).
The queen of Finnish Christmas foods is salmon. We Finns love salmon.
At Christmas table, you can have it in all three ways: marinated (graavilohi in Finnish), cold-smoked (kylmäsavustettu lohi), or warm-smoked (savulohi).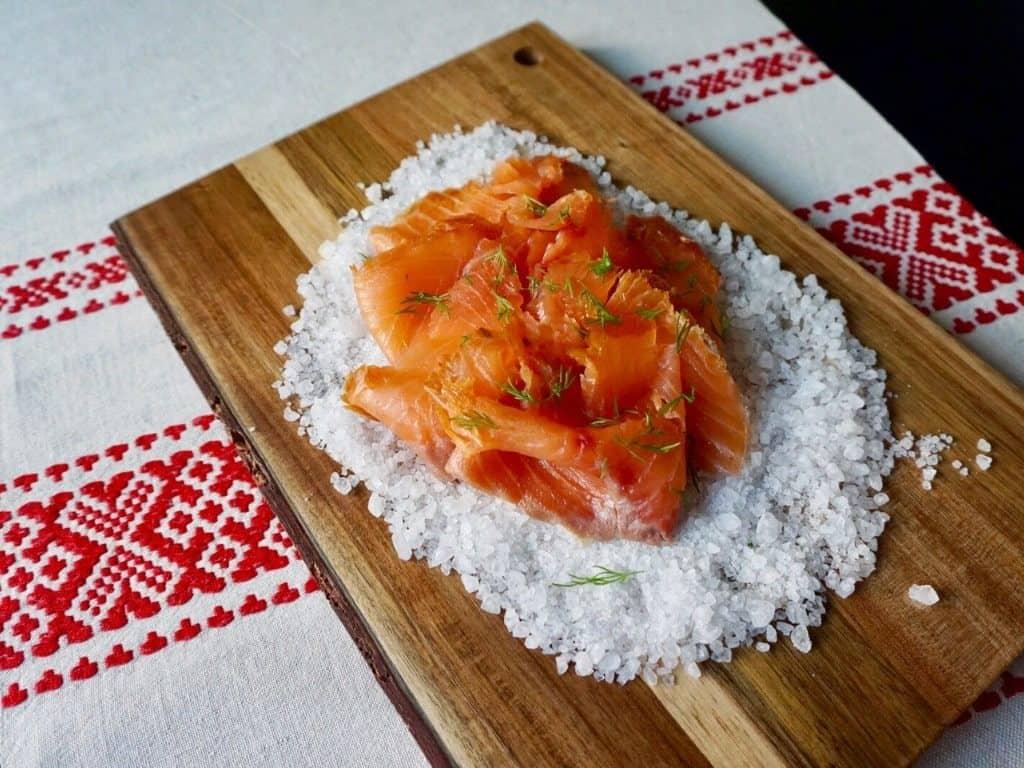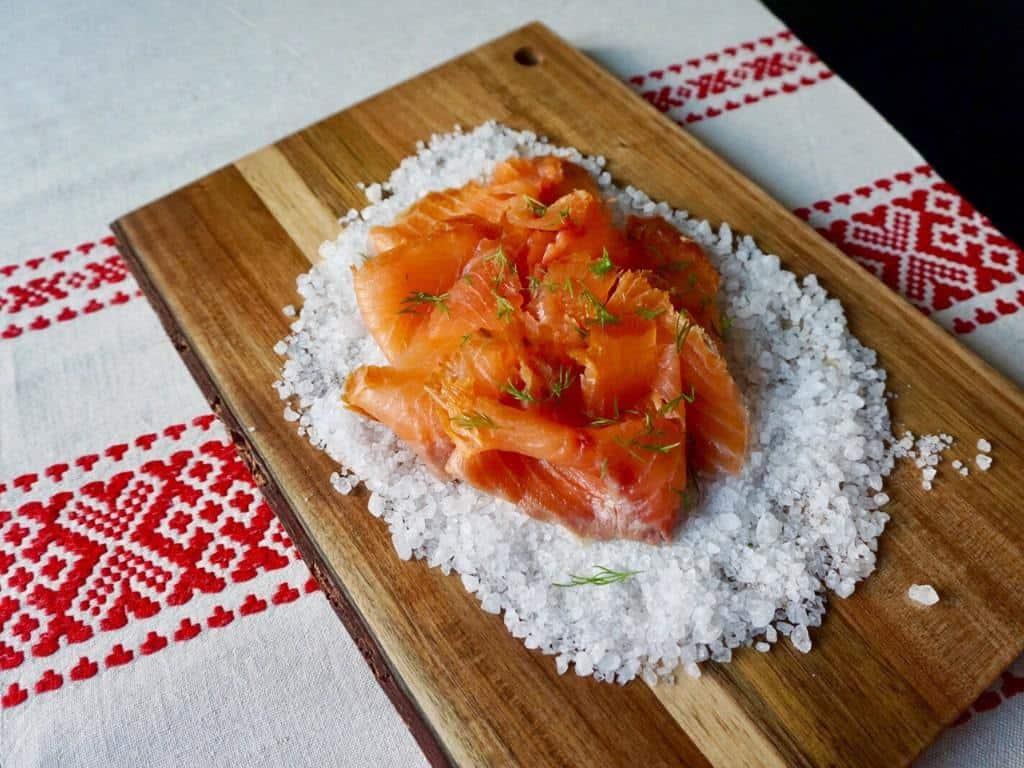 Make a stunning and super-easy salt nest for the salmon by using sea salt and baking paper and impress your guests.
Christmas salads include forest mushroom salad (sienisalaatti) and beetroot salad (rosolli).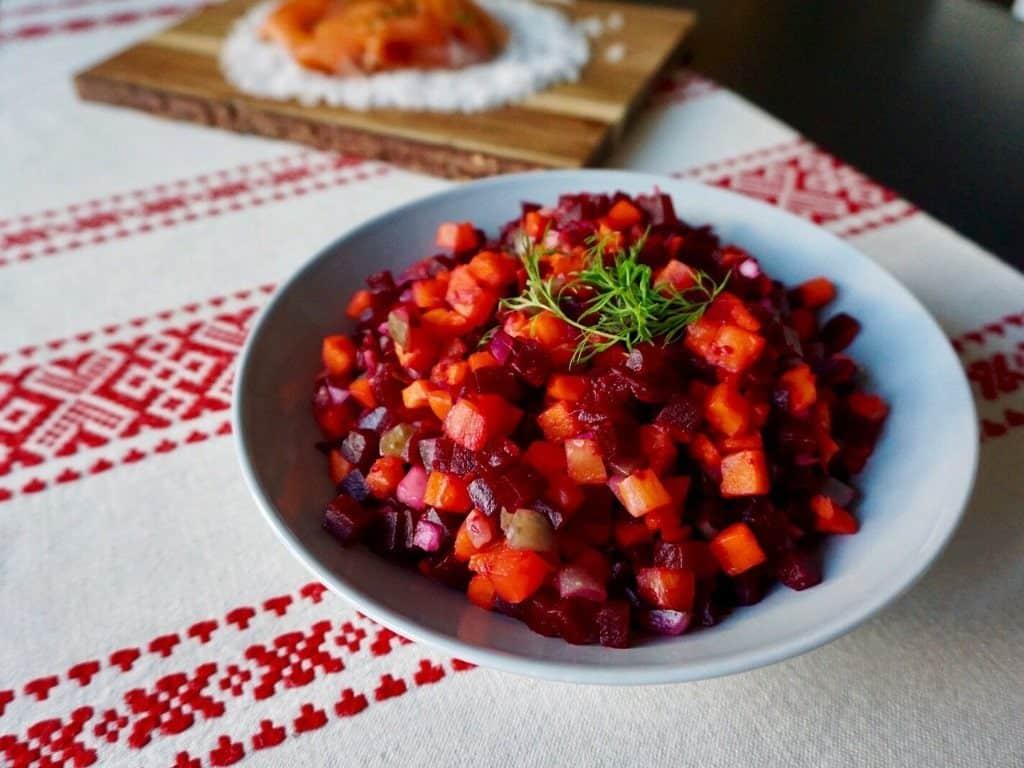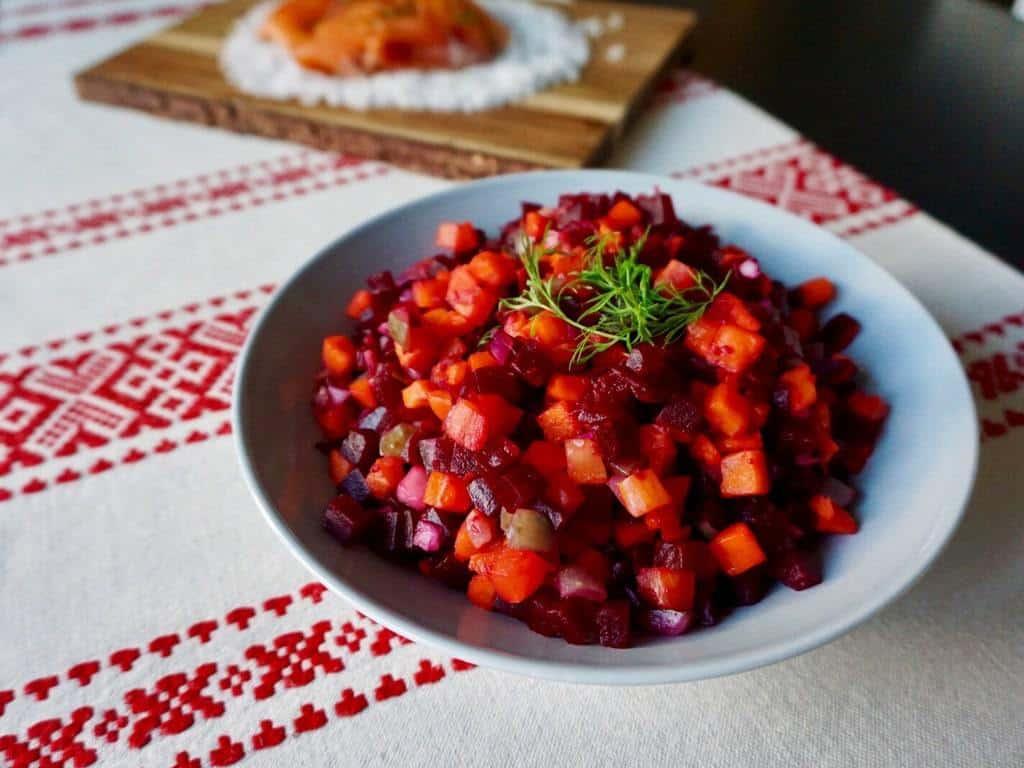 The beetroot salad is only made at Christmas time. It's so simple: dice boiled pieces of beetroot, carrots, and potatoes. Then mix all with diced gherkins. Some recipes also include diced onion and green apple. How to make this salad pretty? The key is to dice all pieces so that they are the same size.
Garnish the salad with dill and sliced boiled eggs. The traditional beetroot salad dressing is pink savory whipped cream. It's made with cream, vinegar, a bit of sugar, and then adding a splash of the red water that you get from boiling the beetroot.
Christmas bread (joululimppu) is often a malt-flavored loaf, including savory and sweet notes. The spices used can be anise, fennel, bitter orange peel, and cumin.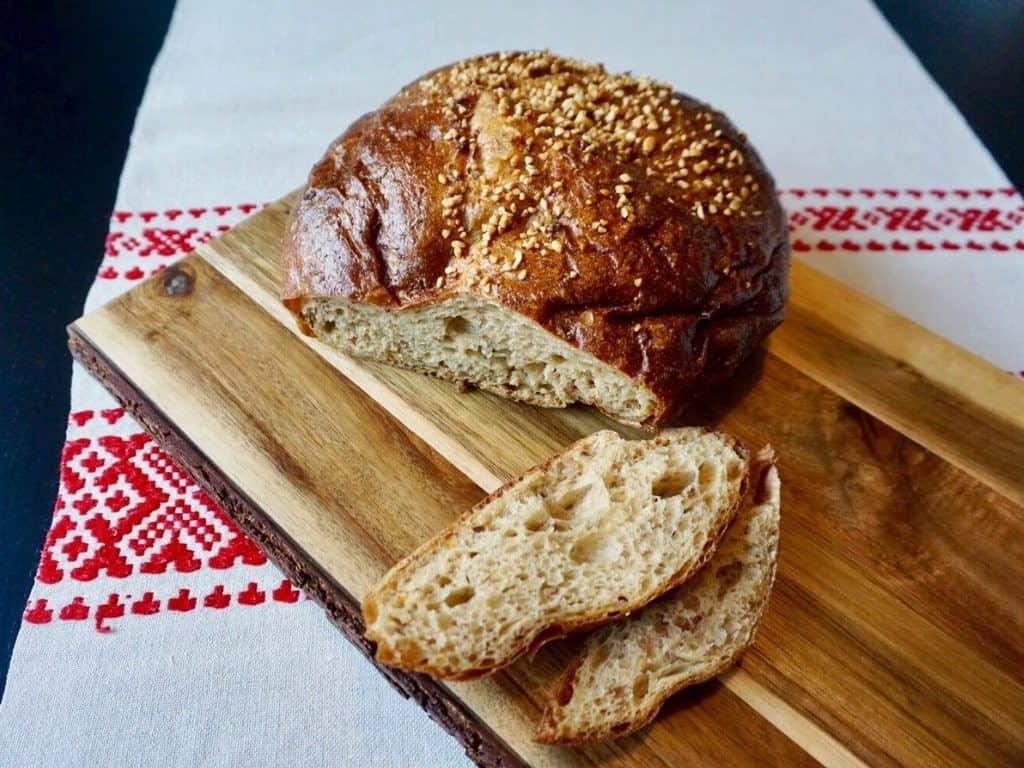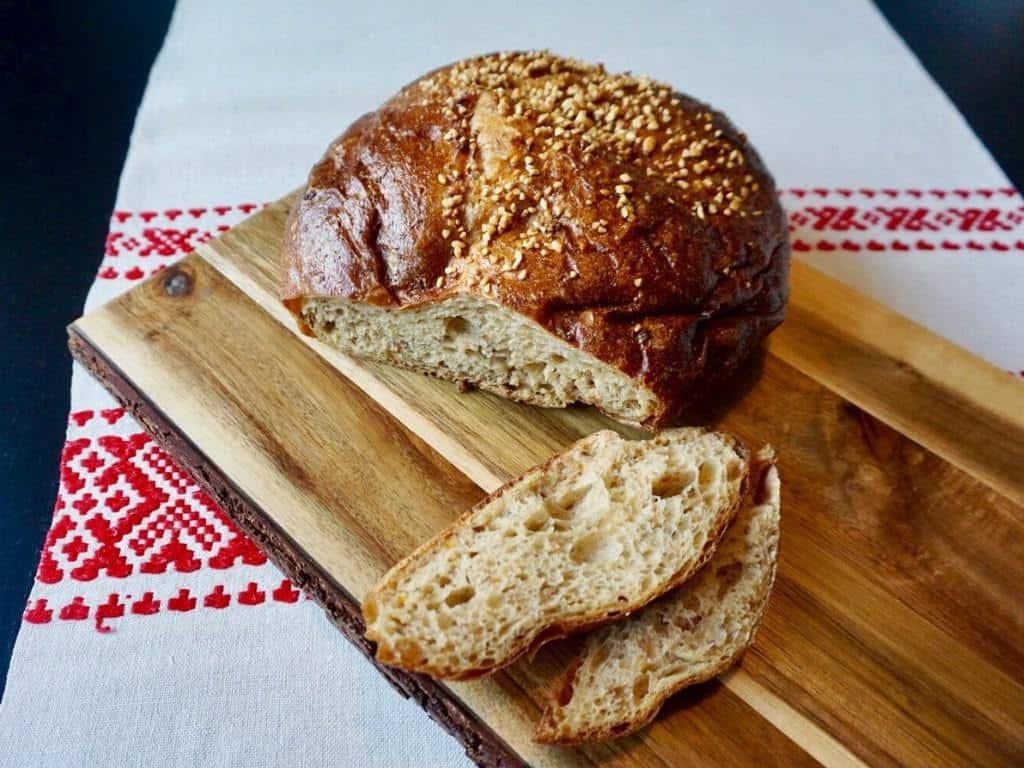 Finnish Christmas Main Dishes
If salmon is the queen of the Finnish Christmas table, ham is definitely the king (joulukinkku).
Baked ham is cooked for hours in the oven. The surface is usually thinly coated with breadcrumbs, rye flour, or mustard and broiled until nicely browned.
Finnish Christmas ham can be served hot or cold. Peas and plums often accompany it. We Finns love to eat our Christmas ham with a little bit of mustard to dip.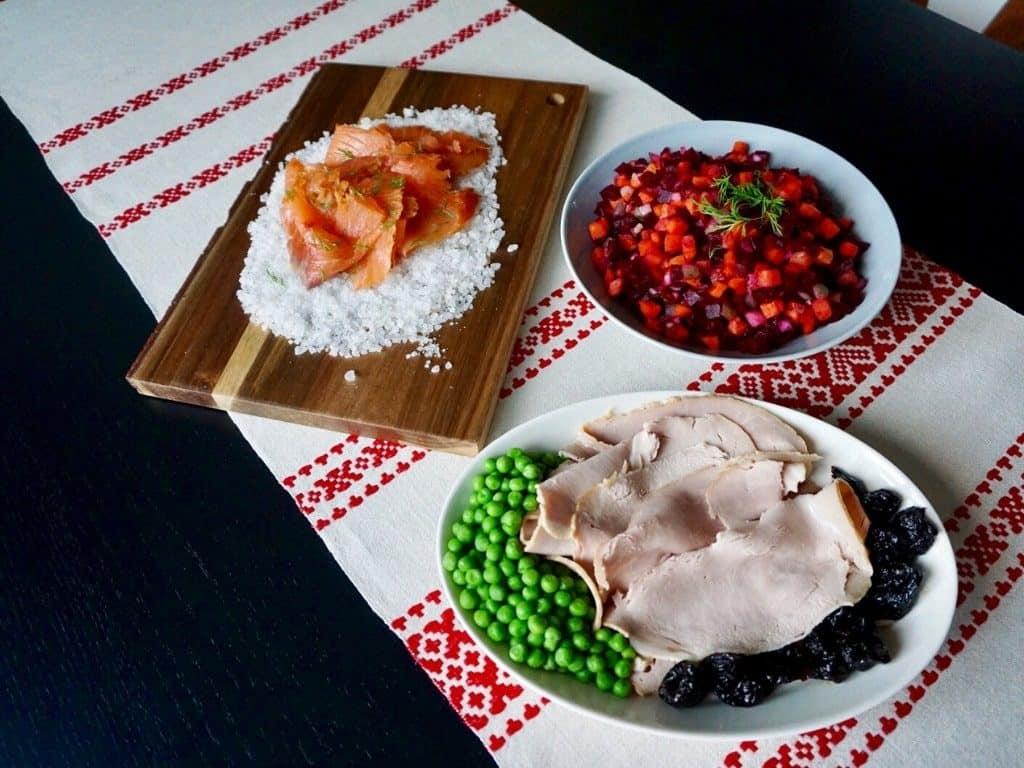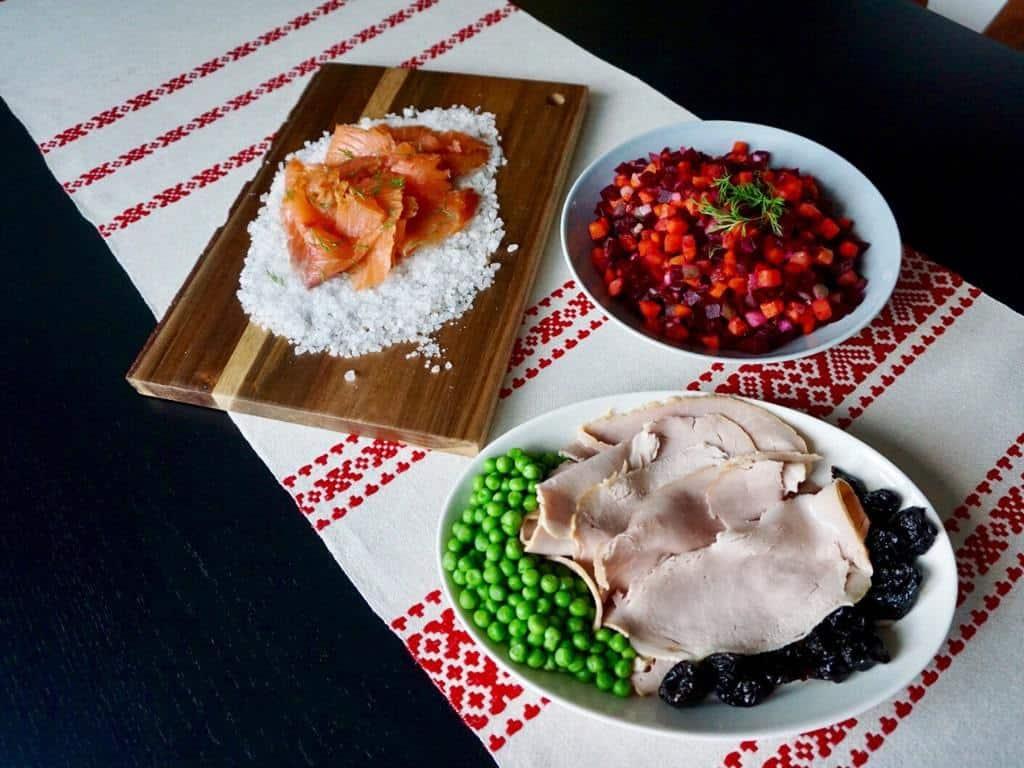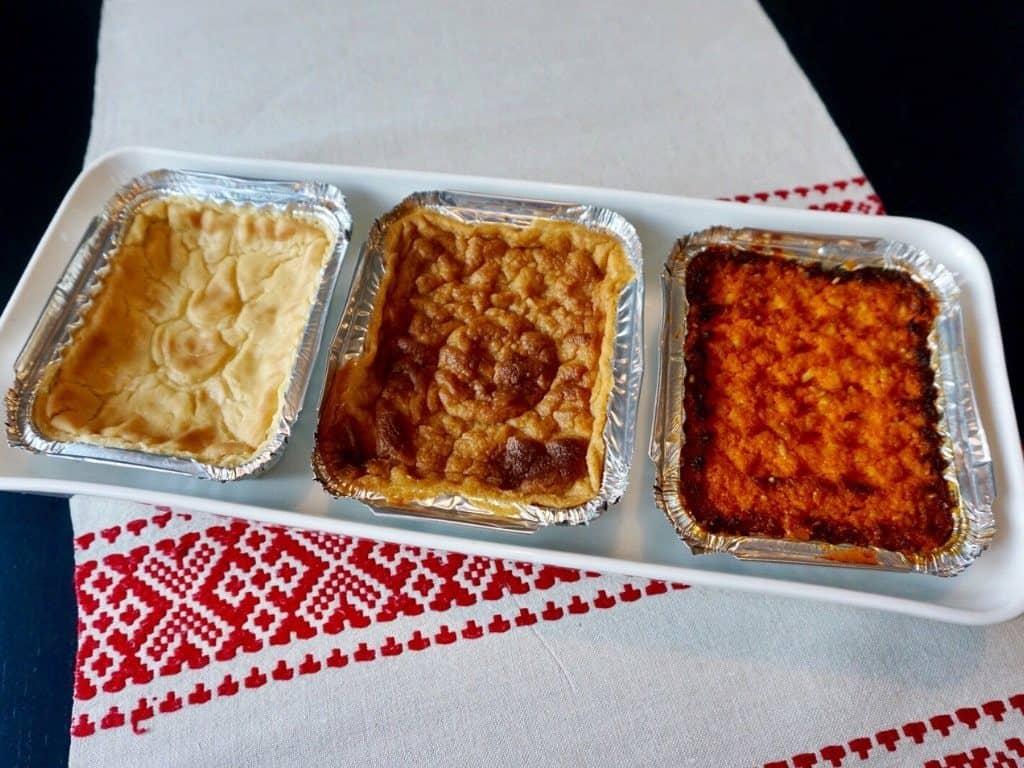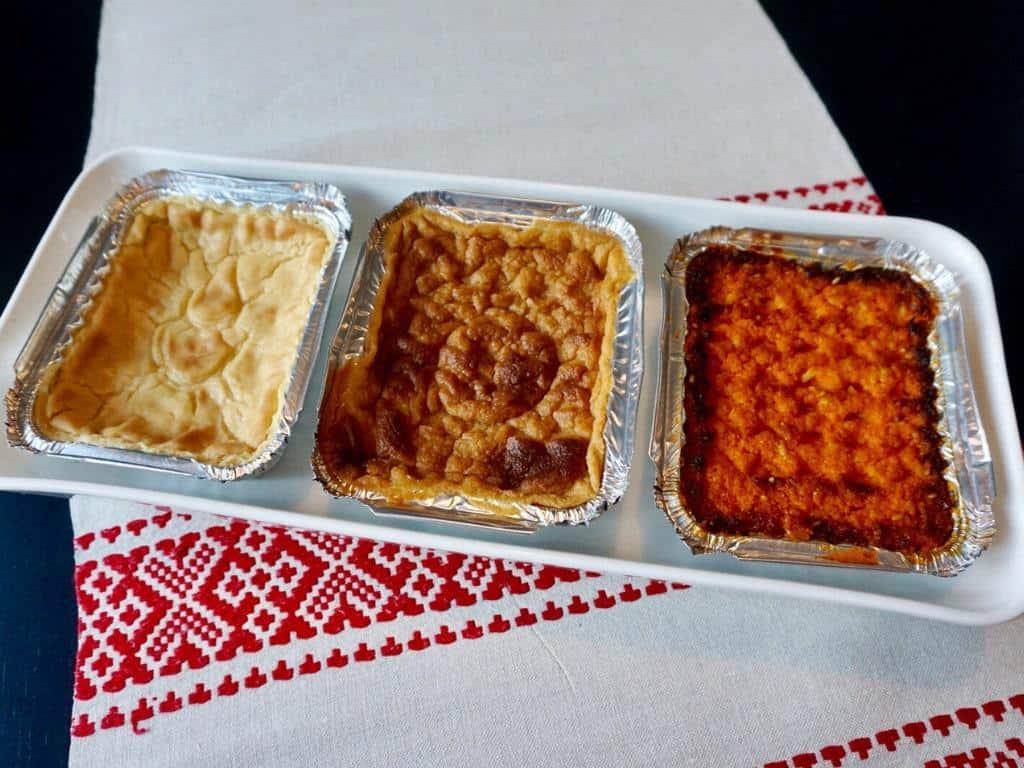 I'm a big fan of Christmas root vegetable casseroles (joululaatikot).
The 100% vegetarian casseroles are carrot (porkkanalaatikko), potato (perunalaatikko) and rutabaga (lanttulaatikko).
Note that there can also be liver casserole (maksalaatikko) on the table. It is made of ground liver, rice, onions, raisins, and spices.
Finnish baking magic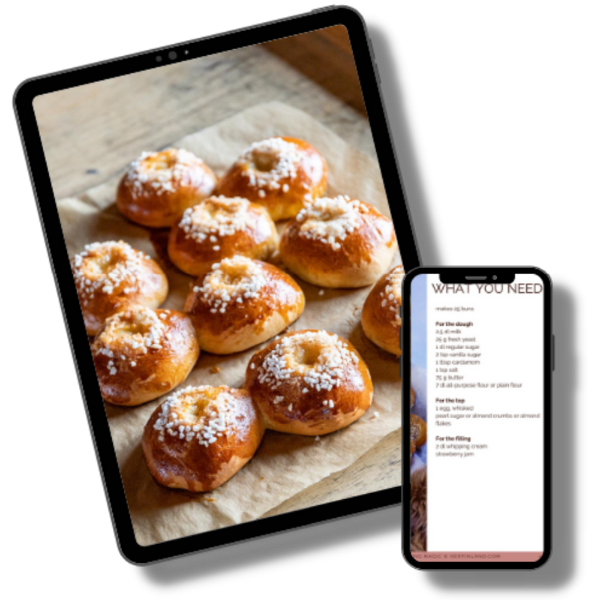 My praised Finnish Baking Magic eCookbook & bonus videos Recreate Finnish bakes in your own kitchen hassle-free!⭐⭐⭐⭐⭐
Finnish Christmas Desserts
Christmas is the season of bundt cakes, chocolate, and plum quark in Finland.
Besides these yummy desserts, two sweet treats are hugely popular: gingerbread (pipari) and star-shaped plum pastries (joulutorttu).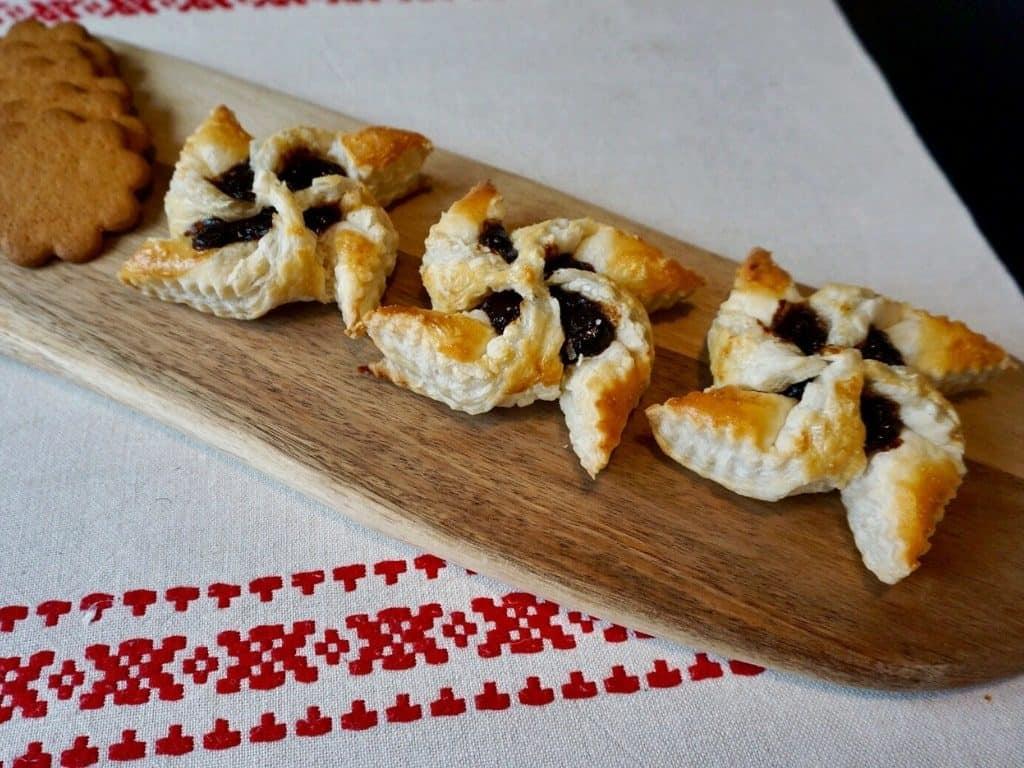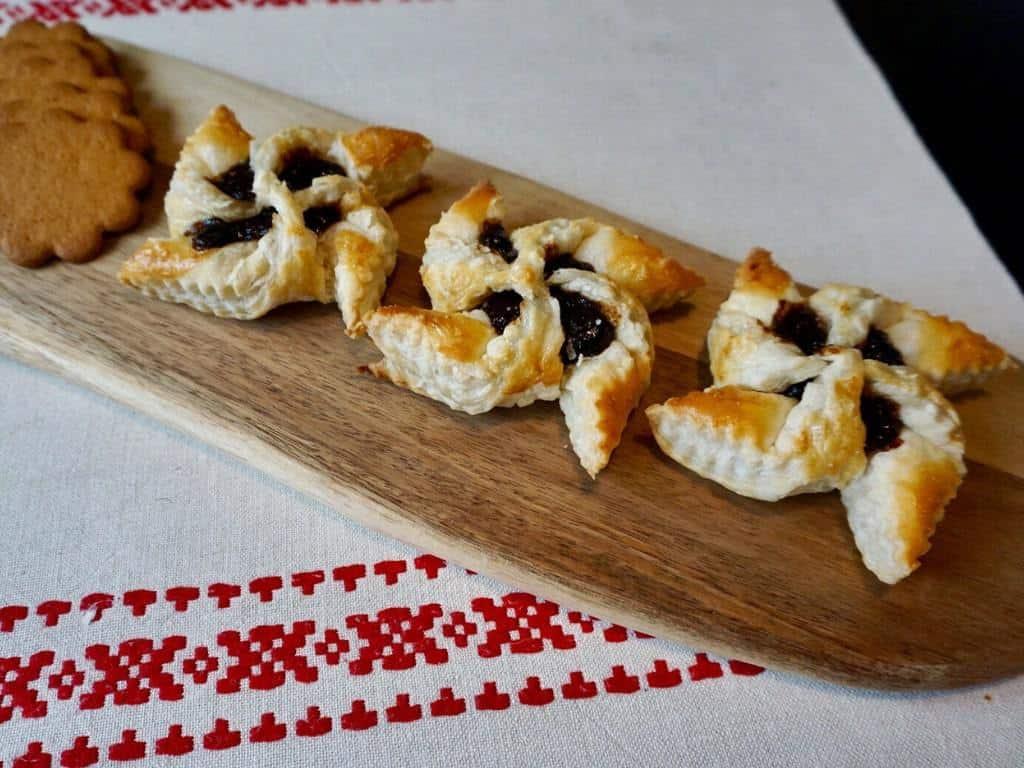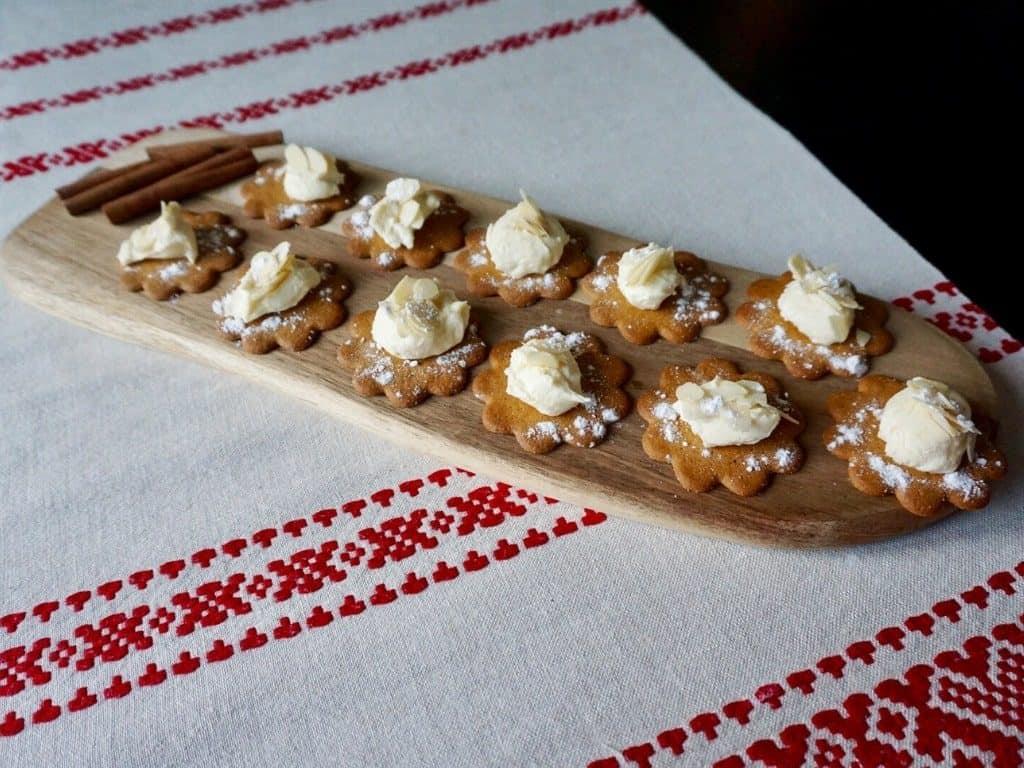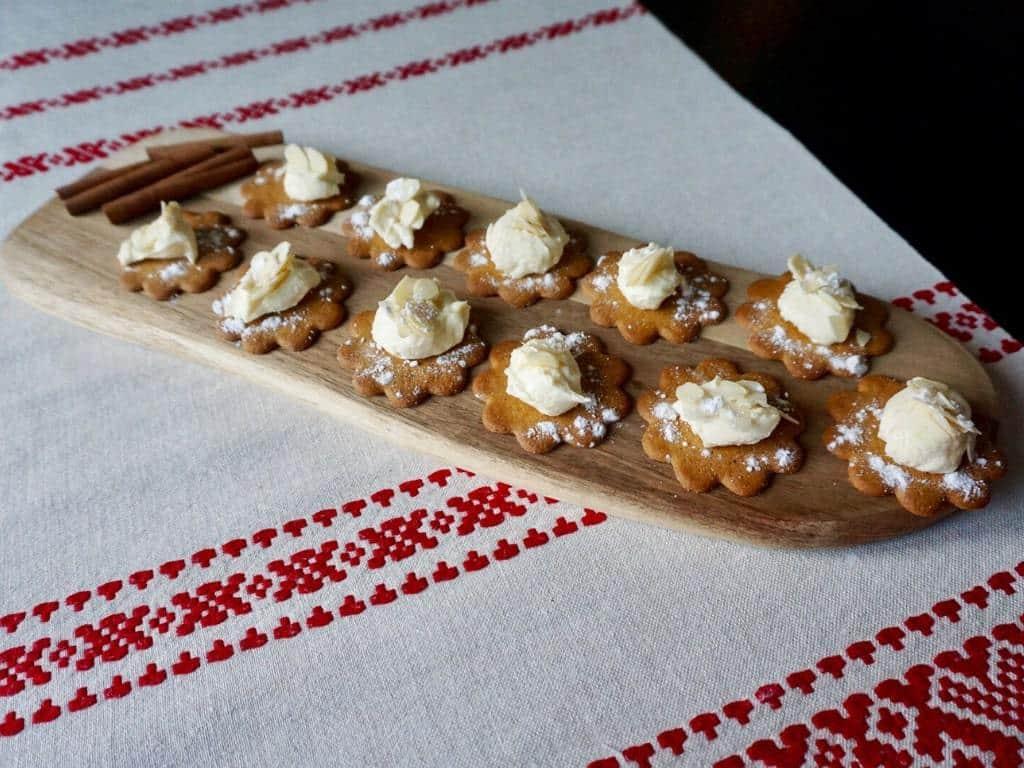 Here is an easy and adorable Christmas dessert by my mother-in-law, Eila: Snow gingerbread cookies.
You put a spoonful of orange-flavored cream cheese on top of a gingerbread (home-made or store-bought). Decorate with almond chips and icing sugar.
The combination of flavors and textures is fabulous.
Where to Taste Finnish Christmas Foods?
Many restaurants offer Christmas lunch buffets from mid-December until Christmas. The lunch includes all the traditional Finnish Christmas Foods.
Christmassy sweet treats are available in cafes starting from November. Gingerbread, gingerbread-buns, and Christmas plum pastries are musts to try.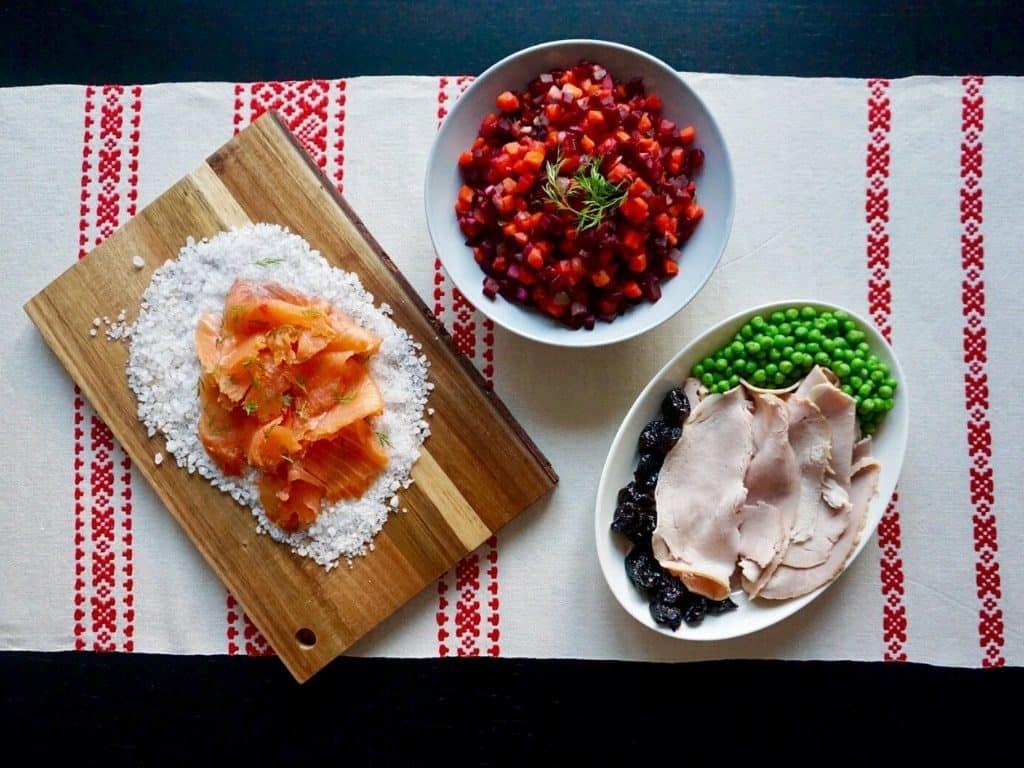 Recipes for Traditional Finnish Christmas Dishes
This Christmas cookbook is an impressive recipe collection of traditional Finnish Christmas foods.
Which dish sounds the most delicious for you? Have you tried any Finnish Christmas foods? I'd love to know, so comment below!
Looking for more Christmassy information about Finland? Check out some of my other posts:
FinNISH CONNECTION COLLECTION 🇫🇮
Finland-themed sweaters and accessories made-to-order. 🧡 Worldwide shipping.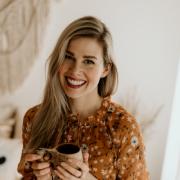 About Varpu
I'm the founder of Her Finland. I love cultural tidbits, aha moments, Finnish folklore, and cinnamon buns. My newest interest is learning bird songs. Read more about me..