*Please note that this post has affiliate links. At no additional cost to you, I may earn a small commission if you make a purchase and it helps the upkeep of this blog. 
This holiday season, surprise your loved ones with unique Finnish gifts that they will absolutely adore!
I've rounded up a happy dozen of Finnish Christmas gift ideas available online to help you find thoughtful, practical and fun presents for everyone on your list.
From one-of-a-kind design gifts to Christmas baskets to stocking fillers and Secret Santa gifts, I've got you covered. Scroll on to find the perfect gift ideas from Finland!
Psst… Follow me on Instagram and get more Finland into your daily life immediately!
 

 

Näytä tämä julkaisu Instagramissa.

 
Are you ready for a Christmas gift guide packed with unique Finnish ideas? Here we go!
Finnish Gifts for Christmas Baskets and Stockings
The Marimekko Notebook Collection includes three notebooks covered with different iconic colorful prints. Each notebook is super light and perfect to carry in a bag so that those unexpected brilliant ideas are captured immediately.
The Marimekko Pencil Package has ten poppy-printed pencils, two of each color: green, blue, red, yellow and black. These joyful pencils instantly spark creativity and are a practical yet lovely way to incorporate a piece of Finland into everyday life. In my opinion, these pencils make great stocking fillers or holiday gift basket items.
Do you know someone who loves lists? You are going to see one big happy smile when you give her Marimekko's vivid Sticky Note Booklet. Just watch as she gets things done with the help of these energetic to do notes.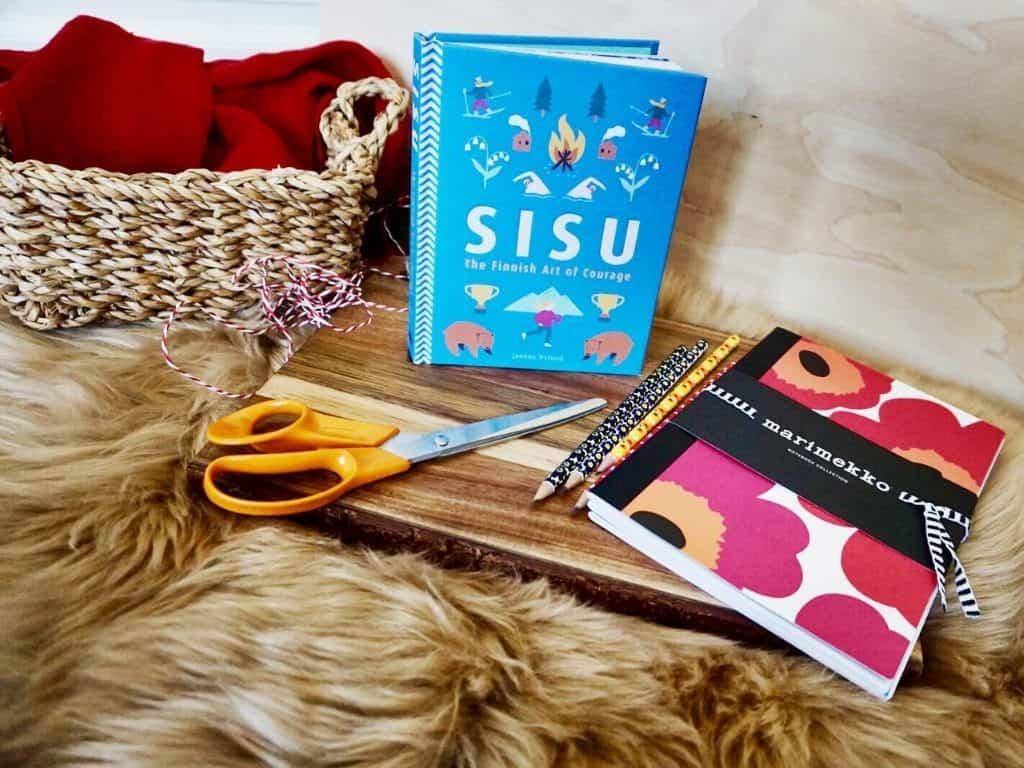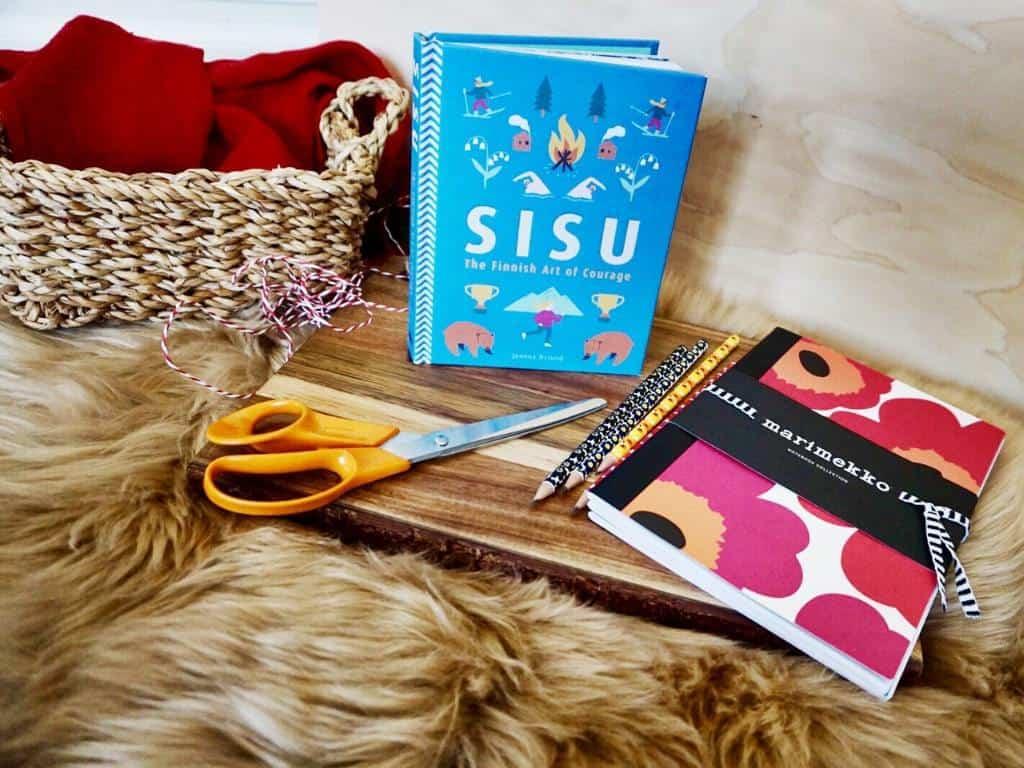 The Fiskars Scissors may seem like a quirky Christmas present but they are so excellent in design and functionality that I promise, you'll want to buy yourself a pair the minute you have tried them.
In fact, many Finns refuse to use any other scissors. I know it sounds weird to have a whole paragraph about scissors but trust me on this one. Have you ever heard anybody else talking so passionately about scissors? In this household, we have the classic orange ones, the nail scissors, and the blunt tip children's scissors.
The Sisu Book by Joanna Nylund is a marvellous introduction to Finnish culture covering an astonishing amount of Finnishness from letting our babies nap outside in their prams even in freezing temperatures (guess where my ten-month-old daughter is right now!) to deep discussions like do you need to think positively in order to be able to tap into sisu.
This book is a gem, and I recommend it to anyone who's interested in Finland.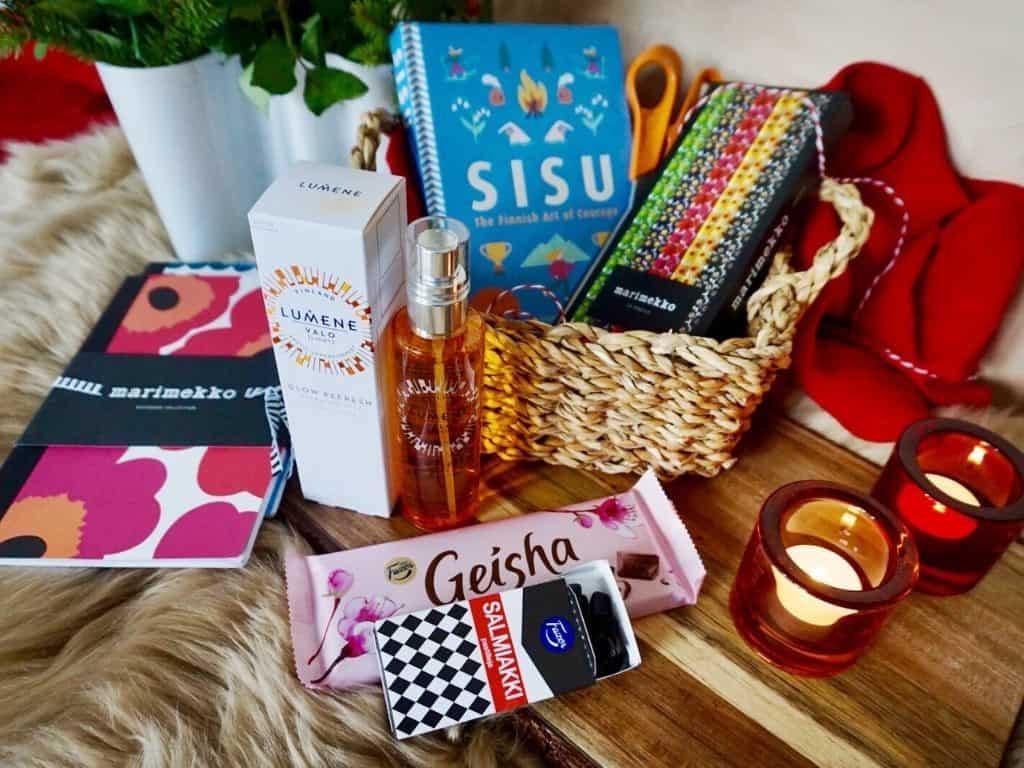 Deliciously Finnish Gifts
Take a sneak peek to any Finnish kitchen cupboard and I'm pretty sure you'll find some Iittala Moomin Mugs.
It's a fun present to give annually as there's a new mug every year. For example, my dad collects these mugs already to our daughter. She got her first one at her christening party.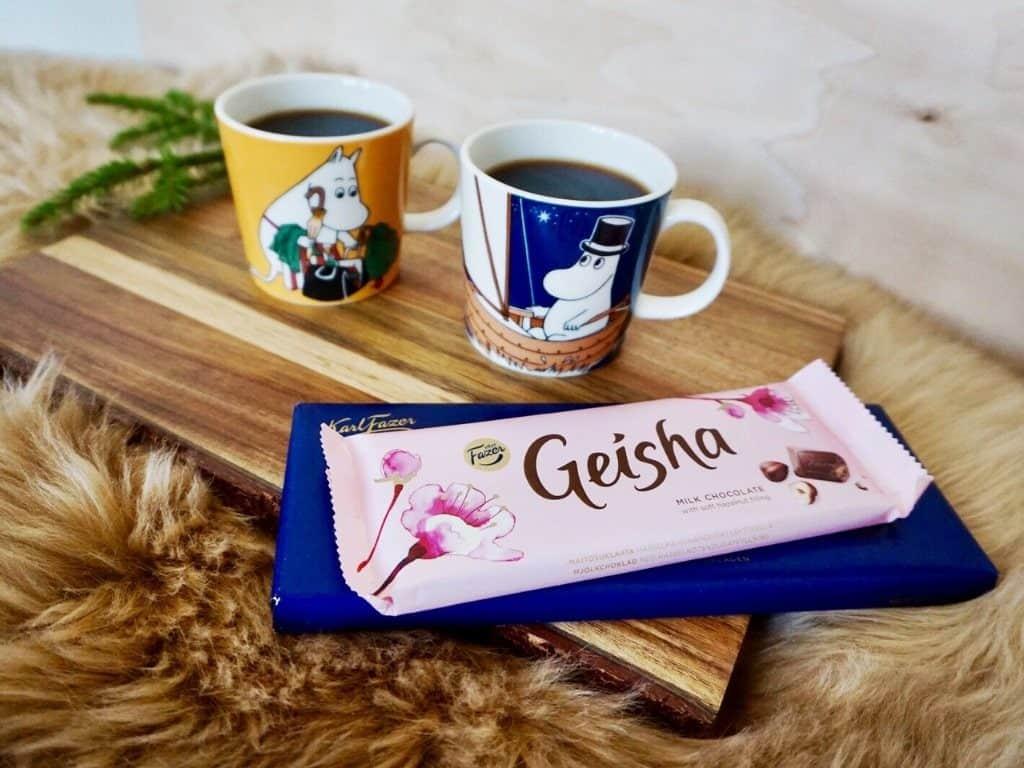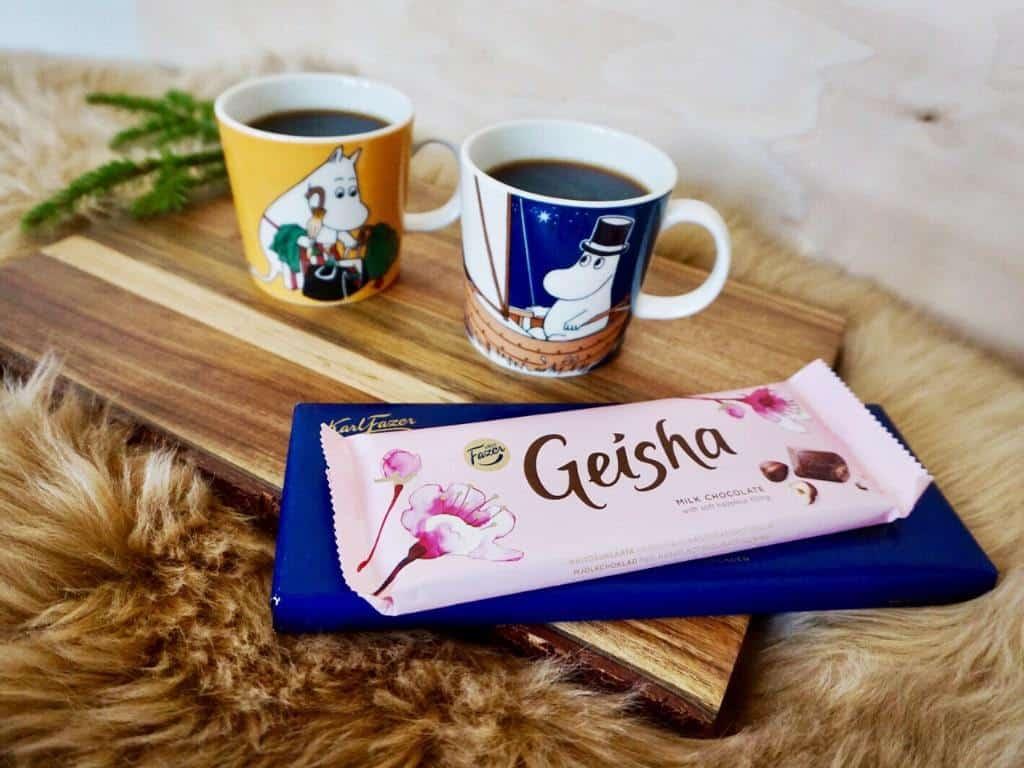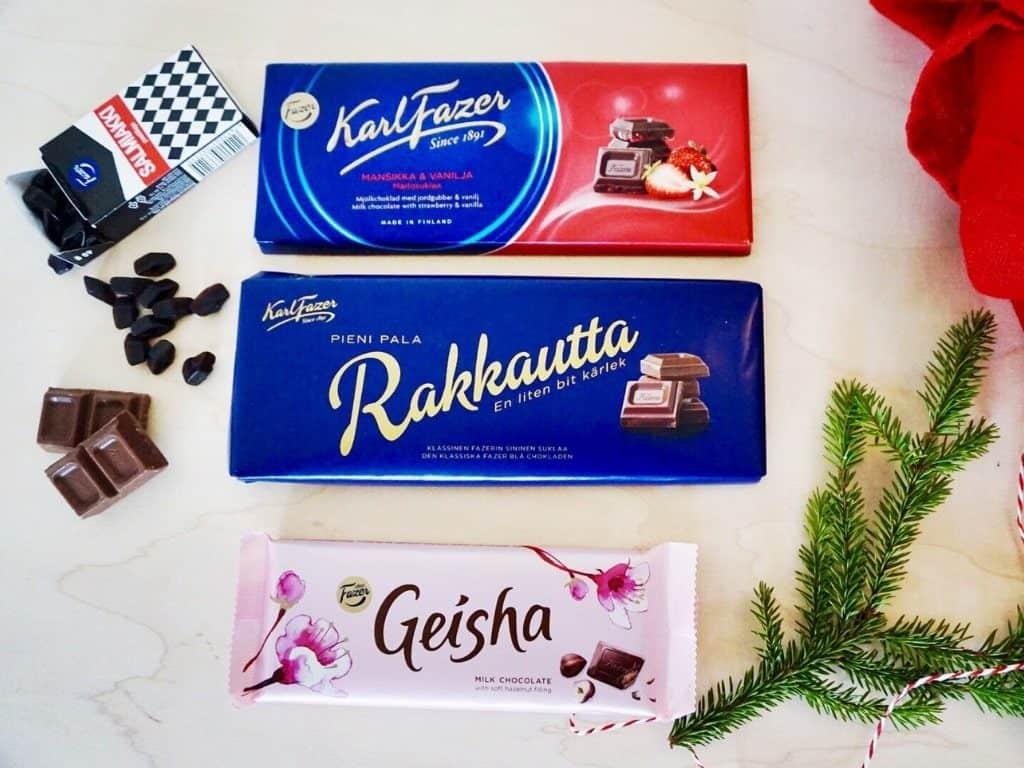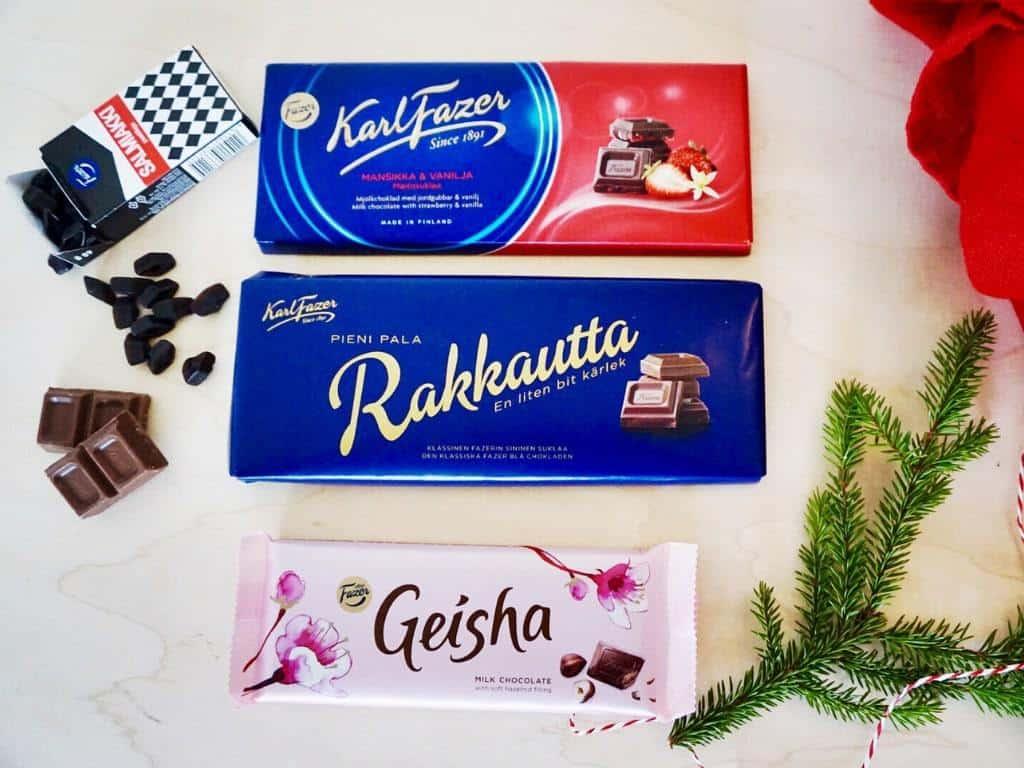 What would Christmas be without Fazer Chocolate? Or any day, to be honest. You bet these chocolates disappeared in two minutes after I took the picture.
Here are three of our favorites: The classic blue wrapped original (Note, that it's so iconic that Fazer sometimes plays with its case. At the moment, the wrapper says "A small piece of love" = Pieni pala rakkautta).
Geisha and the strawberry flavored milk chocolate are flavors that everybody loves! The older kids in this household absolutely adore the strawberry chocolate block.
Salty Licorice is a gift like no other and definitely 100% Finnish! You really want to be there, when they taste it, maybe with a camera. A surprise gift that will never be forgotten.
Lumene is a Finnish cosmetics company that makes wonderful products. Every Finn knows Lumene.
Their products include super ingredients from Finnish nature, such as cloudberry, bilberry, pine bark, and spruce knot extract. Doesn't it sound like you could almost eat their products!?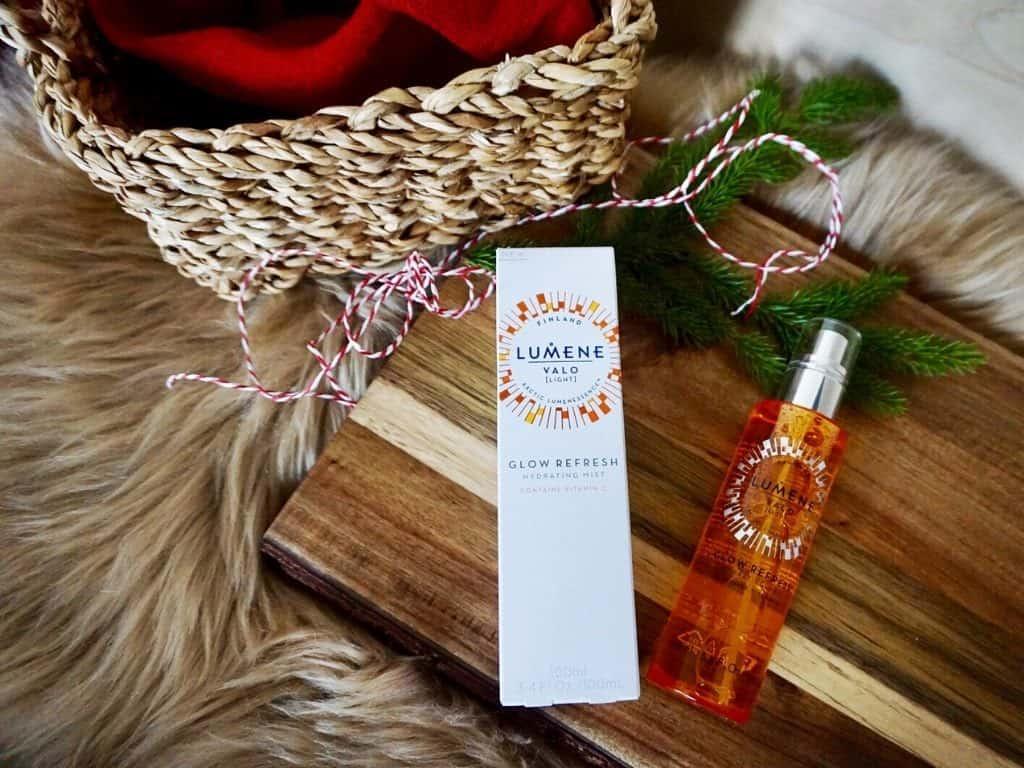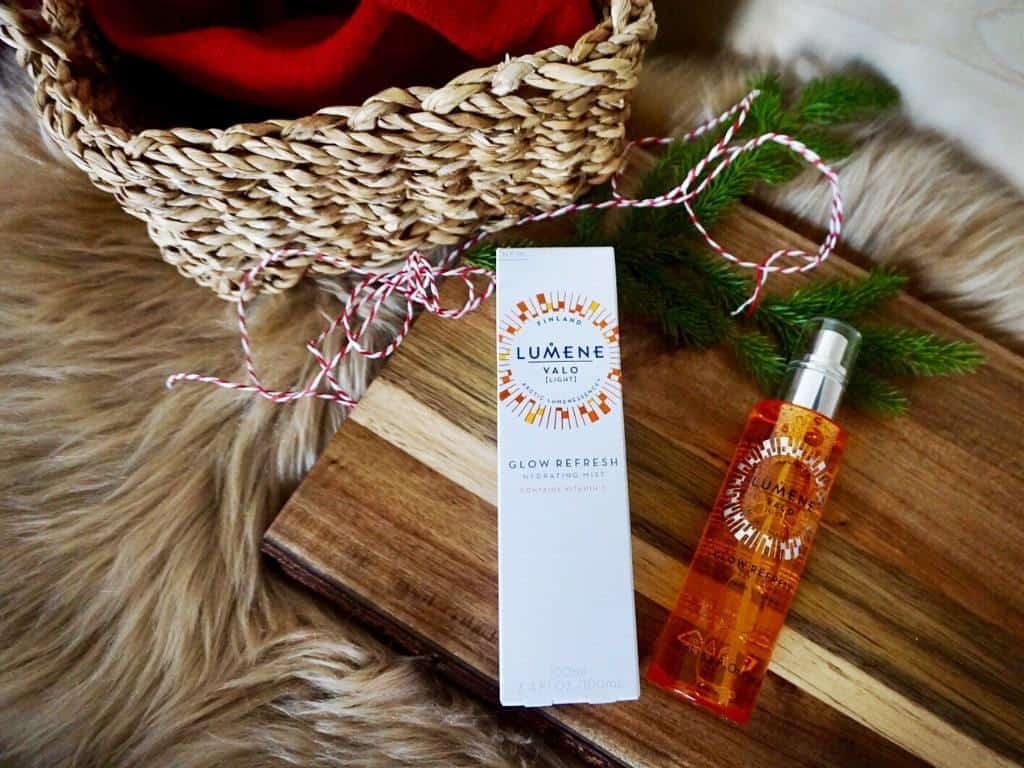 My favorites are the Valo (Light) and Sisu (a Finnish power word meaning courage and determination)  series.
When I'm buying a Christmas present, I always go for something pampering and luxurious, like hydrating mists, masks, and serums. I love the Valo Glow Refresh Hydrating Mist because you can use it before cream and over makeup. When I look tired it's the perfect pick-me-up.
Here are the above mentioned Finnish gift ideas. Thoughtful Christmas presents don't need to cost a fortune. All these gift ideas are under $20!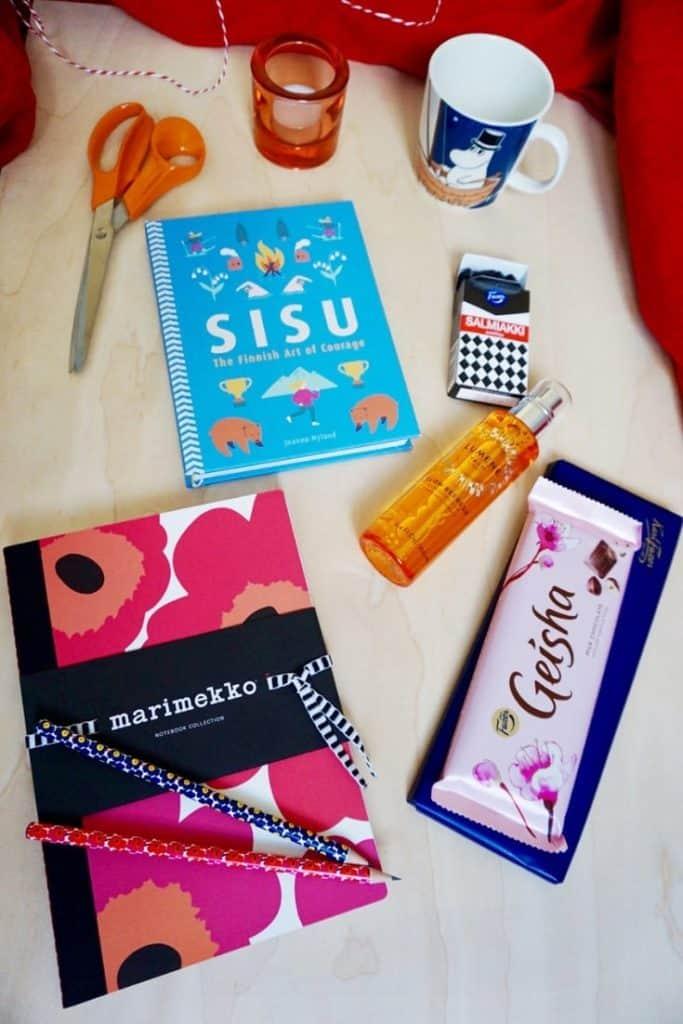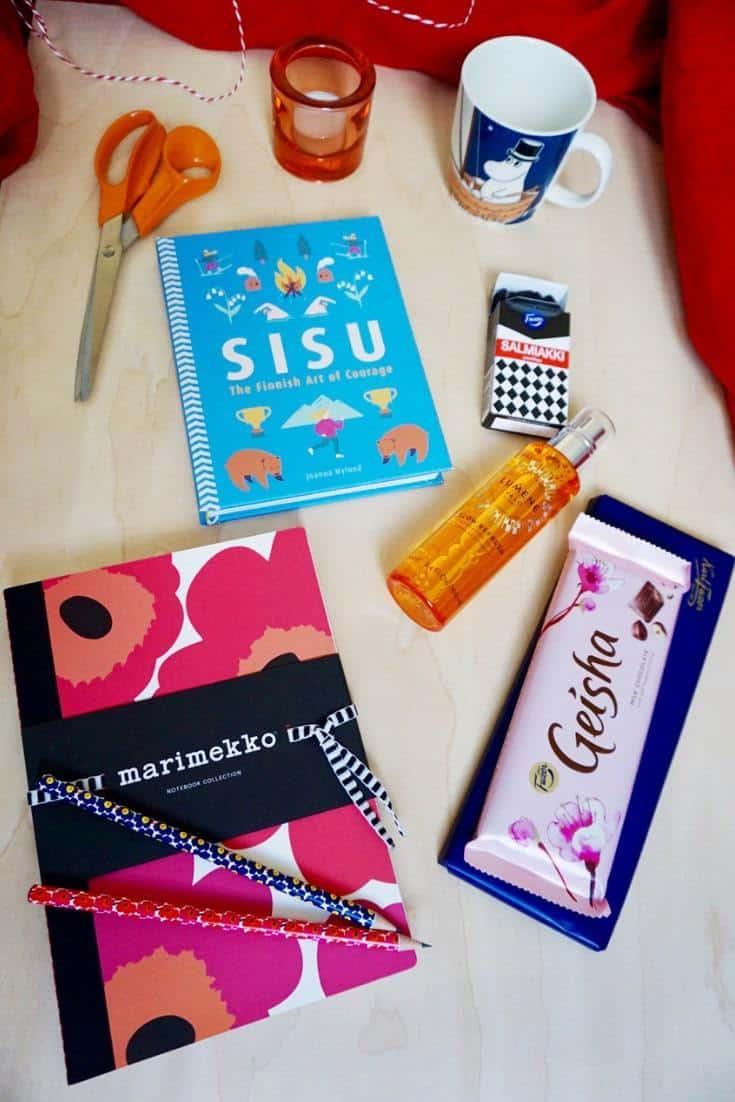 Finnish Gifts & Design Glass
We Finns are accustomed to design glass and quality glassware, thanks to companies like Iittala, Arabia, Muurla, Nuutajärvi, Riihimäki Glass and the awe-inspiring glass artists, like Alvar Aalto, Tapio Wirkkala, and Oiva Toikka.
The elegantly simple Iittala Kivi Votive is another great idea to give as annual presents. In many homes, there are several of them to bring light and charm into the room. At the moment, I use them with led tea light candles as our home is a baby zone.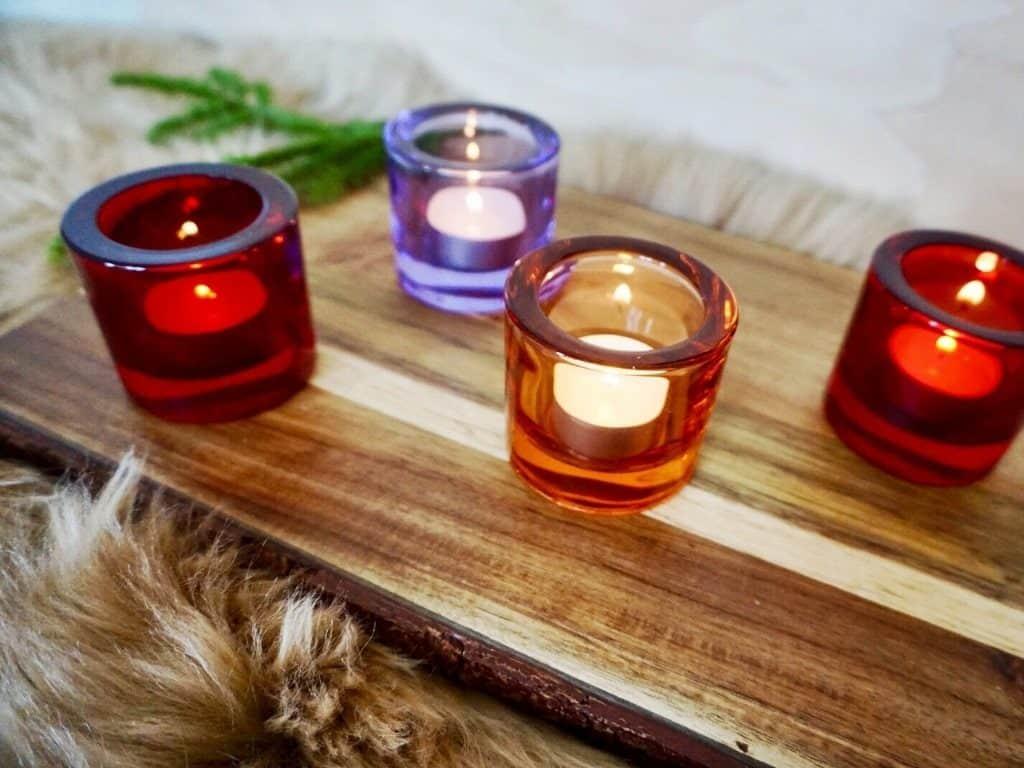 Finally, a couple of fantastic ideas for wow presents.
To me, the Ultima Thule Glasses are the most beautiful glasses in the world. I've been admiring them since I was a small kid because these glasses were my grandparents' and back in the day, they were only used for celebrations, never on an ordinary dinner or lunch.
Ultima Thule is designed by Tapio Wirkkala, who is a legendary design glass artist. Inspired by the melting ice, these glasses incorporate practicality and beauty in a breathtaking way.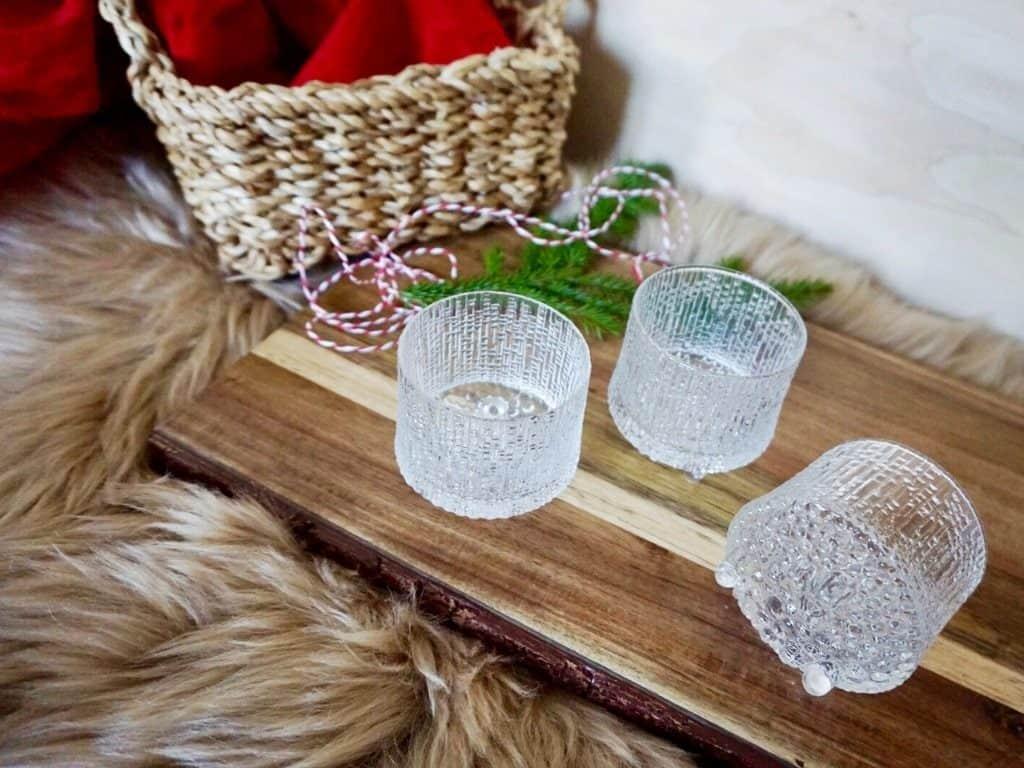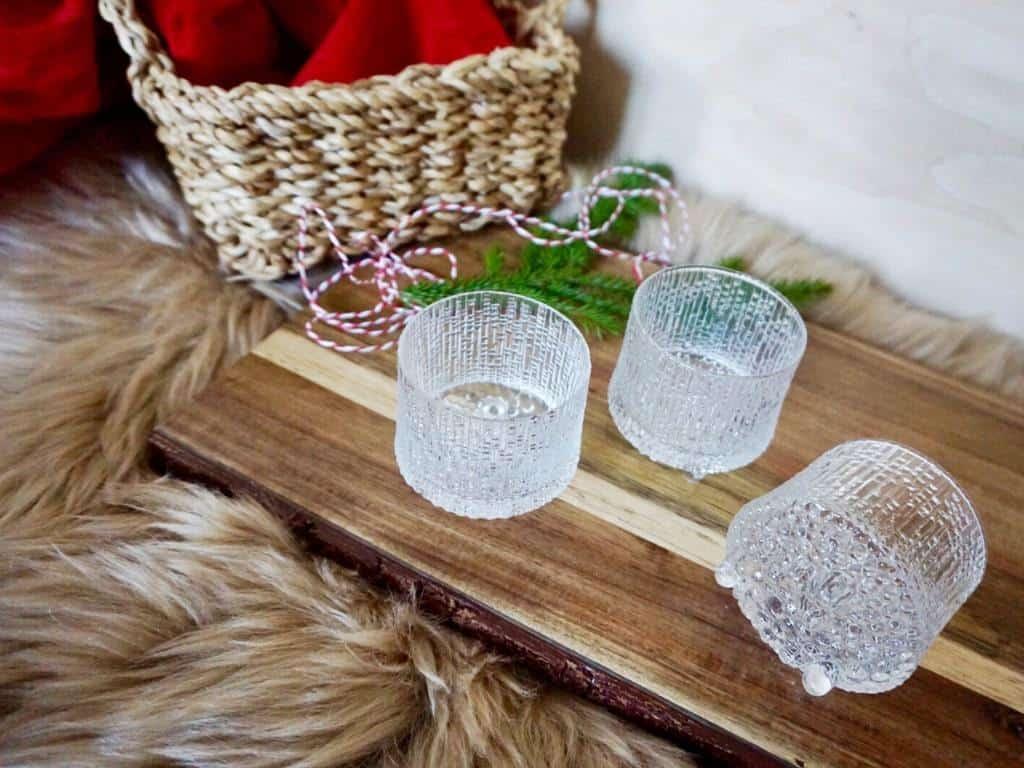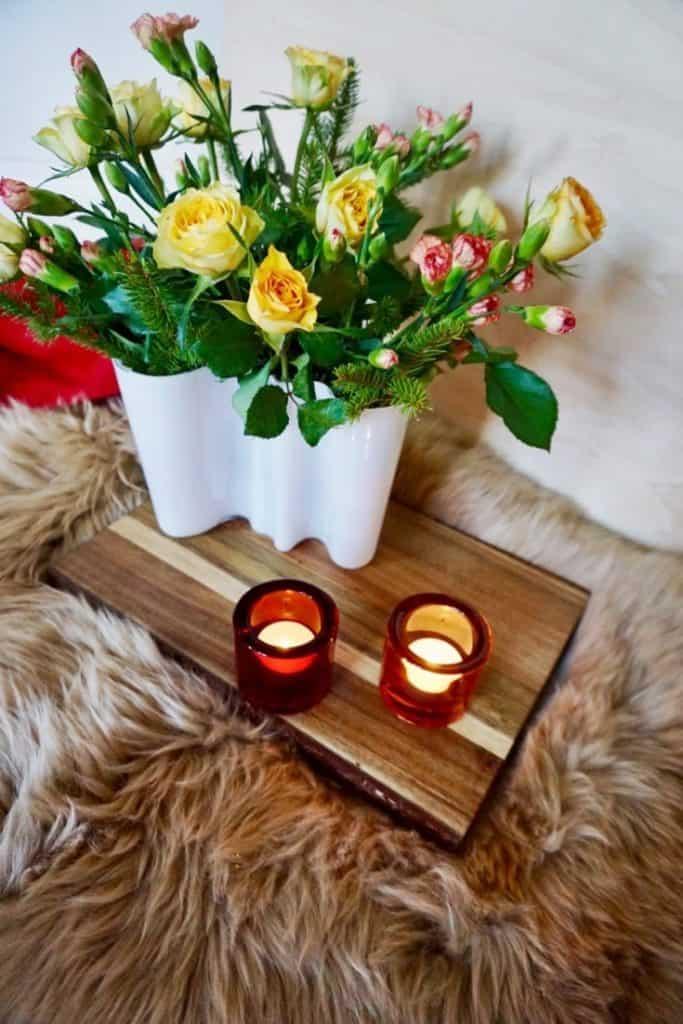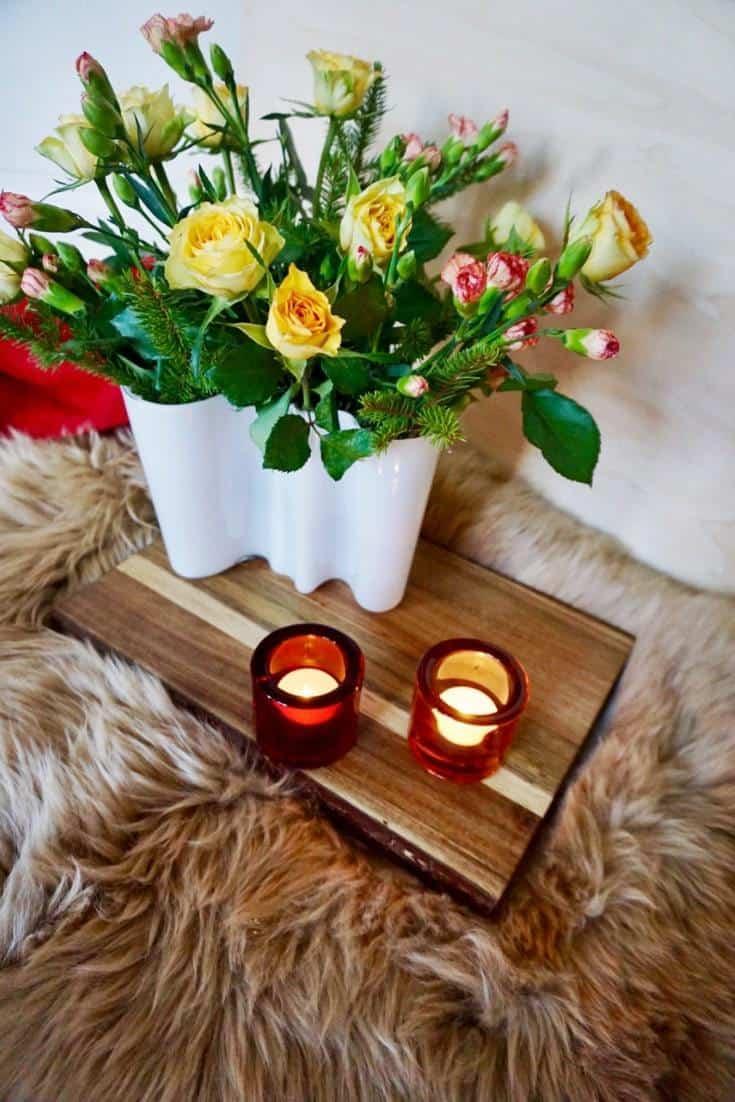 The one-of-a-kind Aalto vase is the symbol of Finnish design. Alvar Aalto created it, inspired by the dress of a Sami woman. For me, it reminds me of the northern lights.
Last summer, I watched how Aalto vases were handmade in Iittala Glass factory. Seeing the most talented glassblowers in work had been on my bucket list for years and I'm so glad I got to see the process. Visit at the factory is free and a great day trip destination from Helsinki.
I inherited my white Aalto vase from my grand-aunt and love to make flower arrangements in it. For the Christmas table, I love combining roses, carnations and spruce branches. A bunch of tulips looks also wonderful in the Aalto vase.
Did you find some Christmas gift inspiration? What's on your list this Christmas? Let me know in the comments! 
Looking for more information about Finnish Christmas and lifestyle? Check out some of my other posts: 
Warm wishes from Finland, 
Varpu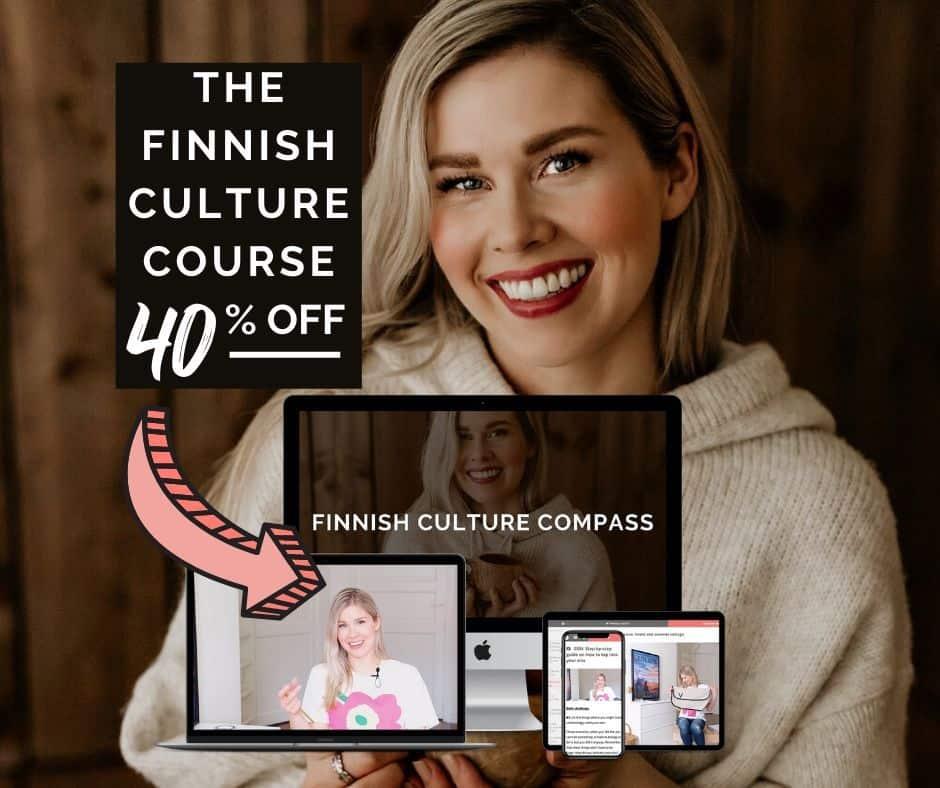 After Finnish Culture Compass course, you'll…
feel connected with the Finnish culture (even if you aren't in Finland) and Finnish communication style (even when it's filled with silence).
Special offer until this Thursday midnight EST. 
Did you find this post informative? Save it for later on Pinterest!