*Please note that this post has affiliate links. If you buy through my links, at no additional cost to you, I may earn a small commission, which helps the upkeep of this blog. Thank you in advance!
You're traveling to Helsinki in winter? Fantastic! I've compiled here my local's tips about visiting Helsinki during the winter months.
Helsinki is packed with wonderful, dare I say, heavenly, things to do in the winter! I'll show you some of the newest and coolest things around the city.
This guide goes through a little bit of weather and packing info and then dives into the activities. The things to do range from peaceful to thrilling, so I hope this list caters your every need!
One thing you should know before we go further: eating is definitely one of my favorite activities.
I hope it is yours too because Helsinki is totally a foodie's city! So, whenever I can, I take the opportunity to let you know about a good place to eat or drink.
Psst… Follow me on Instagram and add more Finland to your life instantly!
Näytä tämä julkaisu Instagramissa.
Here's what this post will cover!
Is There Sunlight in Winter Helsinki?
Well, yes. But, the sun doesn't come up until late and when it does, it's only there to set early.
The rest of the day is either twilight zone or pitch black. But don't worry, the blue in-between moments and darkness definitely have their charm.
Also, there are lovely winter decor lights all over Helsinki which make the city glittering urban hub.
When your taking photos outdoors, remember that the lighting is the best around mid-day.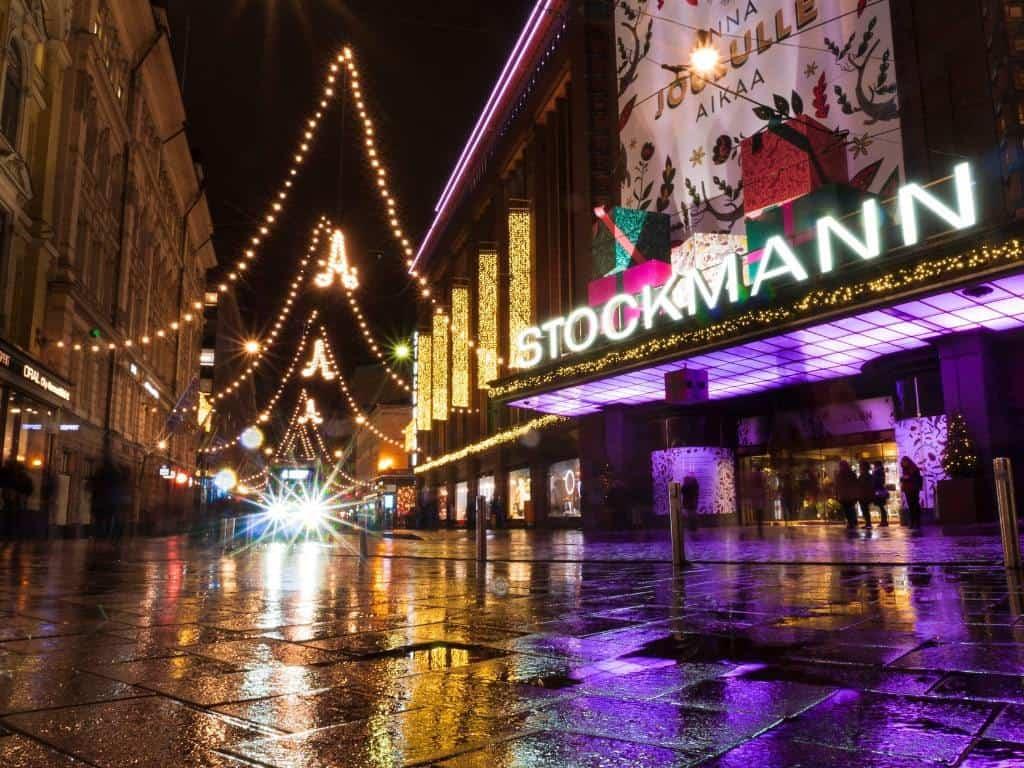 The glittering lights of Helsinki.
What to Pack for Helsinki in Winter?
As you probably already guessed, Helsinki is freezing in the winter. Surprisingly, much more so than my hometown one hour north of Helsinki. Why? Because of the crazy cold sea wind in Helsinki. In the lakeland, we don't have that. 
The coldness doesn't stop me from loving Helsinki, I just have to make sure I remember that in the winter time. Here's how to do it!
The most important thing to have is quality outerwear. I'm talking about a super warm, thick coat, waterproof and warm winter shoes, proper gloves, a scarf, and a reliable hat.
After that, focus on wool or thermal underwear set. The middle layer? That's easy, wear your normal clothes!
The Essentials for a Helsinki Winter Holiday
Cosmetics. You wouldn't go on a beach holiday without sunscreen, right? In winter Helsinki, you'll definitely feel the freezing cold on your skin.
You desperately need a lip balm, a face moisturizer, a SOS cream and an excellent hand cream (here are my favorites).
If I would get to choose only one beauty item for the winter weather, I'd pick Elizabeth Arden's 8-hour cream. It has been my SOS cream over 10 years, and I have yet to find a better product. On desperate times, I use it all over my face and hands and go to sleep like a balmed mummy, waking up all fresh next morning.
Boots. You'll either need light winter shoes or city winter boots.
I just love my winter shoes by Merrell (check similar here). They are warm, waterproof and have a special Vibram-sole which works even in the worst weather conditions, like walking on slushy ice. That makes this slip-resistant shoe perfect for those warmer winter temperatures here in Finland!
My favorite city winter boots are by Ecco. They are super comfortable to walk in for hours, waterproof and cute! Awesome for any winterly city destination. Shop for similar here.
Winter jacket. When it comes to winter jackets, the most versatile combo is a functional winter parka and a light-weight down jacket. You'll be wonderfully warm even on the coldest of days but have options for warmer temperatures. Also, these jackets will most likely be more useful for you back home than one big fluffy down coat.
Beanie. You'll definitely need a reliable beanie in Finland. Stay away from anything that says 100% acrylic without a proper lining. The best beanies are cuffed wool-blend or fleece lined beanies. Personally, I love my beanie with a pompom on top. If you are allergic to wool, a fleece-lined synthetic or cotton beanie is a great option and warm enough.
Scarf. Nobody does a chunky scarf better than Acne Studios. The color palette and quality of their Canada scarf makes me cry happy tears. Do you know how some scarfs leave you covered with threads?! These don't.
I've worn my luxurious cream-colored oversized one everywhere from Lapland to Helsinki Opera house to a long-haul flight. The material is miraculous; it never gets any makeup stains. The skinny version is perfect if you don't want a chunky look. Oh, and if you walk in Helsinki and wonder what's this beautiful big winter scarf Helsinki ladies are wearing – yes, it's this!
Gloves. You'll need water-resistant, warm, windproof gloves for winter activities. Something like these. Sidenote, do you know what are tiny and life-saving? Silk glove liners – they are the perfect addition of extra warmth. Keep one pair in your pocket.
Wool or thermal underwear set. Perfectly-shaped wool leggings are cute and comfy. Hanging long-johns are not only ugly but uncomfortable with the other trousers you'll be wearing. Icebreaker undershirt and leggings are my favorites for quality, fit and cuteness. If you are allergic to wool, buy a thermal underwear set.
Socks. Cotton socks are not enough for Finnish winter.
You'll need either proper wool socks on top of the cotton ones or wool-blend socks. I used to skimp on socks but then I tried these cushioned wool-blend socks by Falke, was walking on lukewarm clouds for a day and now I have five pairs of them. My hubby has these, too. Quality wool-blend socks make wonders to your aching feet and circulation. Falkes are worth every penny.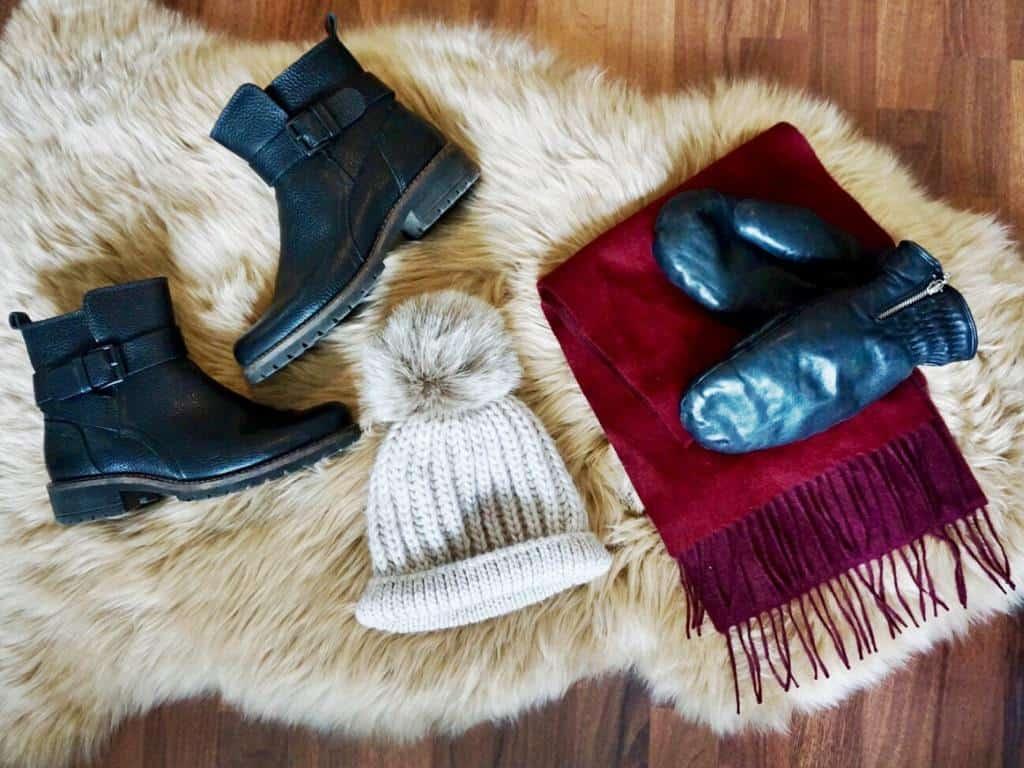 Now, let's dive into my favorite winter activities in Helsinki!
Go Ice Skating
Next to railway station, you'll find the Helsinki Ice Park. It is a great place to test your skating skills, and especially adorable in the evening lighting.
Naturally, there are skates to rent. I usually wear double socks (wool!) when ice skating to keep my feet warm.
Relax in a Hot Sauna
It is a must to try the sauna when in Finland, right?
Löyly is a modern sauna & restaurant on Helsinki's waterfront. You can do the classic repeat combo of sweating in the sauna and swimming. The Baltic Sea is definitely freezing but the sensation after the dip is sensational.
If you want to enjoy the gentle warmness of the last public sauna in Helsinki, head to Kotiharju sauna. This sauna of traditional wood burning style has been warming up since 1928 in the boho Kallio district.
Here you can read my post about the Finnish sauna etiquette!
Warm Up in a Free Museum
Helsinki City Museum is always free and has a huge, whimsical lounge to rest your tired feet. Their "Children's Town" permanent exhibition is a guaranteed hit with kids. Walk indoors past the shop museum and you'll discover El Fant, a cute coffee shop.
If you love just to admire the architecture and enjoy the feel of museums rather than spending a lot of time in the exhibitions, I totally recommend popping into the lounge and museum shops of the following museums in city center area: Kiasma, HAM, Ateneum and Design Museum.
When it comes to regularly fantastic exhibitions, my favorites are Amos Rex, HAM, Design Museum and Ateneum.
You can get free or discounted entrance to these museums with the Helsinki Card!
Note that all state-funded museums (pretty much most museums in Finland) are always free for kids under 18 which is awesome! I happily pay taxes for stuff like that.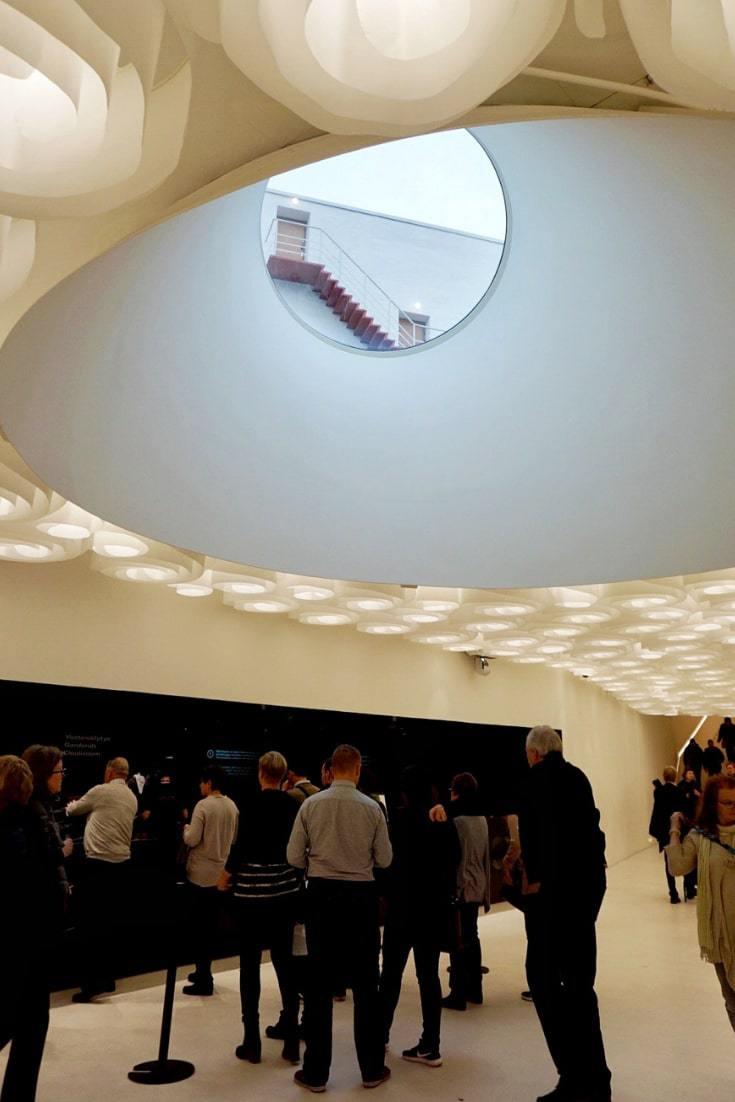 The incredible exhibitions of Amos Rex museums are underground.
Go Indoor Free Flying!
If museums are not your cup of tea, what about indoor free flying close to the city center?!
Just take the metro and hop off at Kalasatama metro station. Next to the station, you'll find a place called Fööni.
They have a free flight tunnel and I was beyond excited when I got to test indoor flying with them!*
At its best, the stream of air flows at 300 kilometers per hour. The audience gets to observe the flyer through a glass wall.
The flying was fantastic! It is so much fun and surprisingly easy. The crew is very professional and you feel safe in their hands, literally.
Children above five can fly, too. Actually, they were better than us adults in our group.
The place is super kids-friendly and if there's nobody flying, children can go into the flying space to play with flying balls as the power is on gentle idle mode. Fööni uses wind electricity to be environmentally friendly.
The concept of indoor free flying is great: you can but you don't have to prebook. You can just walk in and you'll be put to the next open slot.
I also loved the easiness and attention to detail. One price includes everything. Also, a video of you flying! Fööni has everything for the customer, from the suits to flying sneakers to hair bobbles. 
*Fööni test fly was free of charge.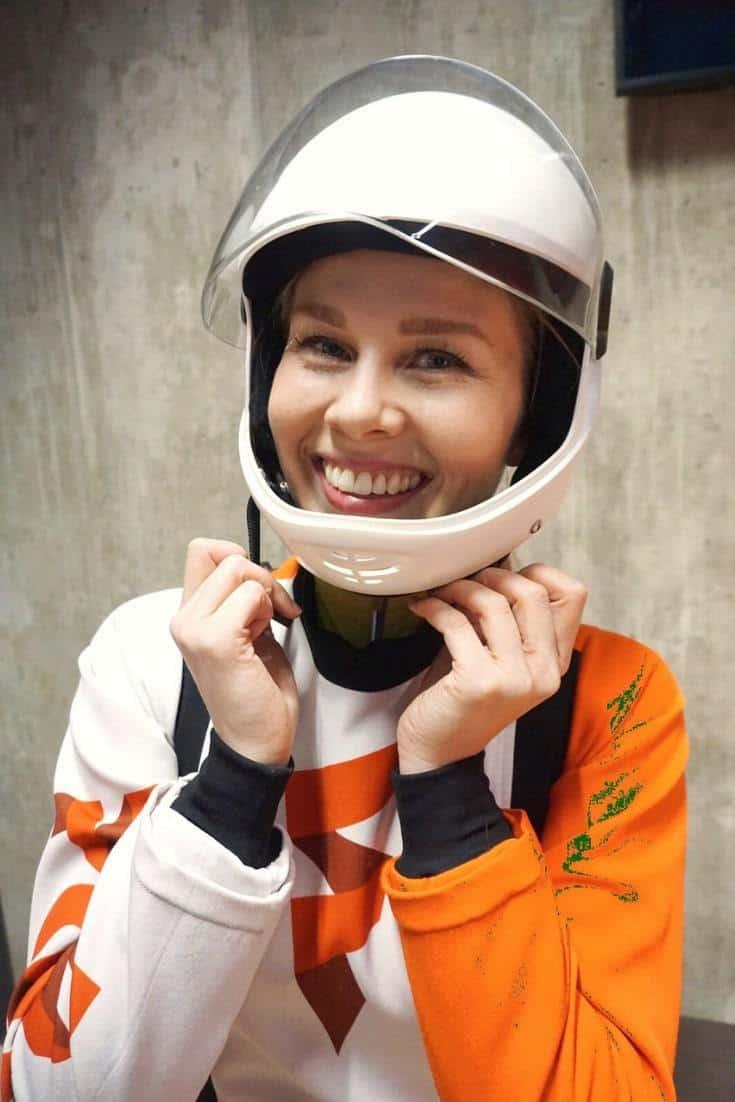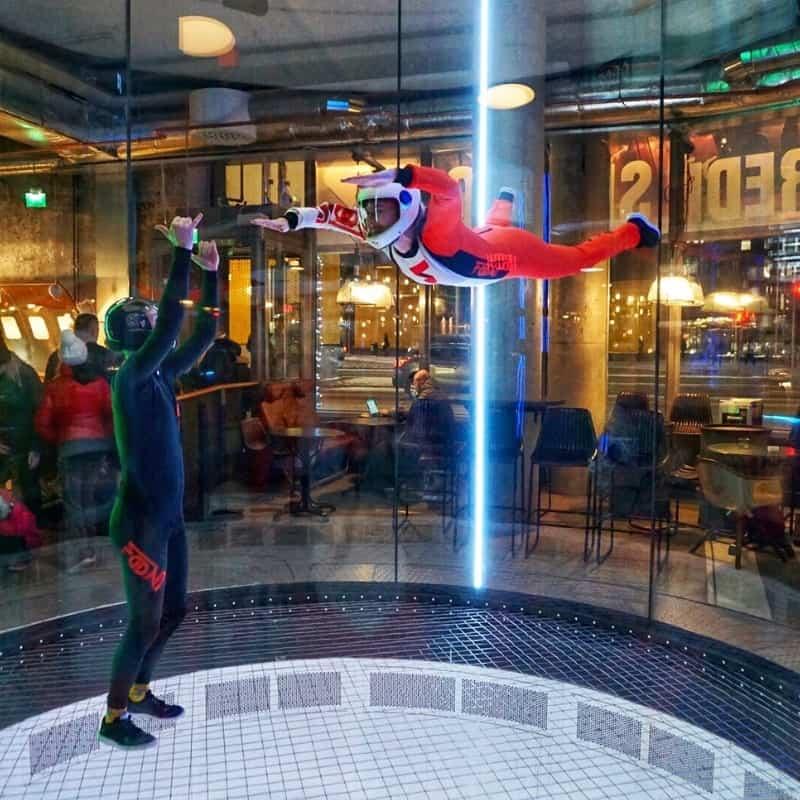 Indoor free flying is thrilling and surprisingly easy!
Visit Helsinki Indoor Gardens
I love visiting the indoor gardens in the winter! Helsinki has two of those in the city center area. Helsinki Winter Garden (Talvipuutarha in Finnish) is free of charge, and a charming seaside stroll away.
They have an area with tables and chairs, and you'll spot local families having a picnic there.
Kaisaniemi Botanic Garden is super close to the railway station. It's peaceful and beautiful. I love the palm room, and it's my dream place to read a book.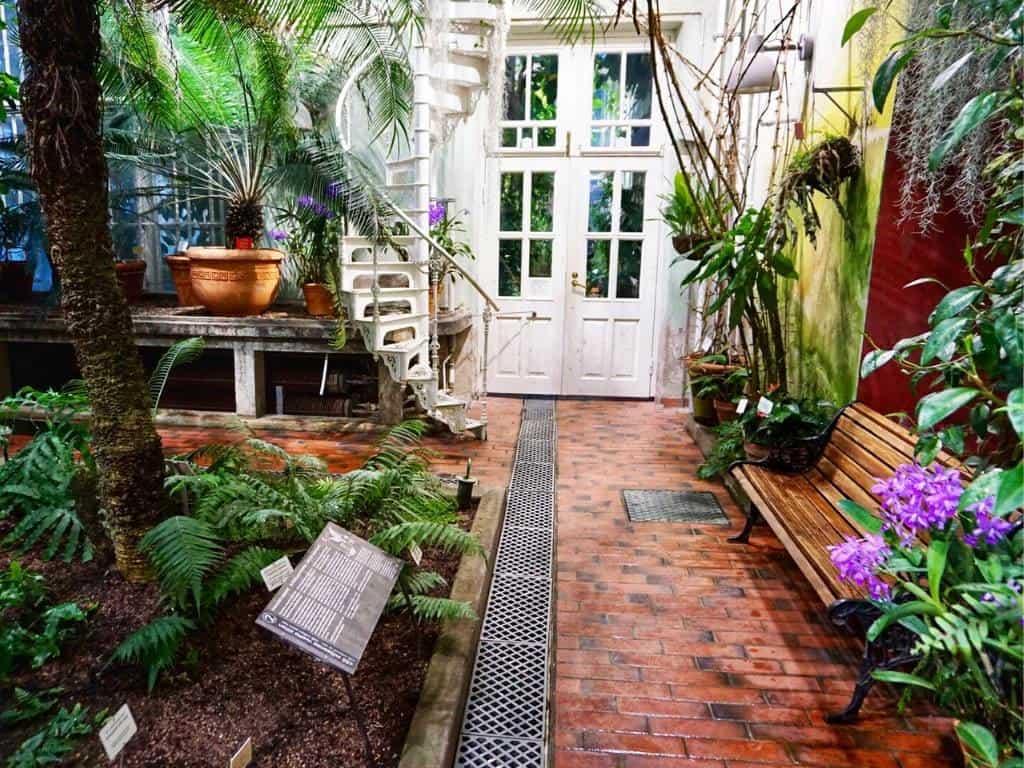 Linger in Cozy Restaurants
Restaurant Tanner
This sleek mid-century inspired restaurant in the cool Kallio area has become one of the hippest restaurants. Tanner invites all breakfast lovers with their tasty combos and all-you-can-drink filter coffee (I hate it if I'm on limited coffee in the morning!).
Restaurant Werner
The smoky delicious air greets you at the doorstep, when you walk into Werner. This old bookstore turned beautifully into a minimalistic grill restaurant.
The lime cured white fish and grilled flatbread with brown butter starters were divine. Mouthwatering examples of Finnish classic favors with a twist! The main course entrecôte was grilled to perfection.
Visit all Three Market Halls
Make it a mission to see all the market halls of Helsinki! There's the Hakaniemen market hall full of locals, Hietaniemen market hall which favorite lunch place for many in town and Old Market Hall with a beautiful location just next to the Helsinki Market Square.
I promise, your tummy will be full after each visit!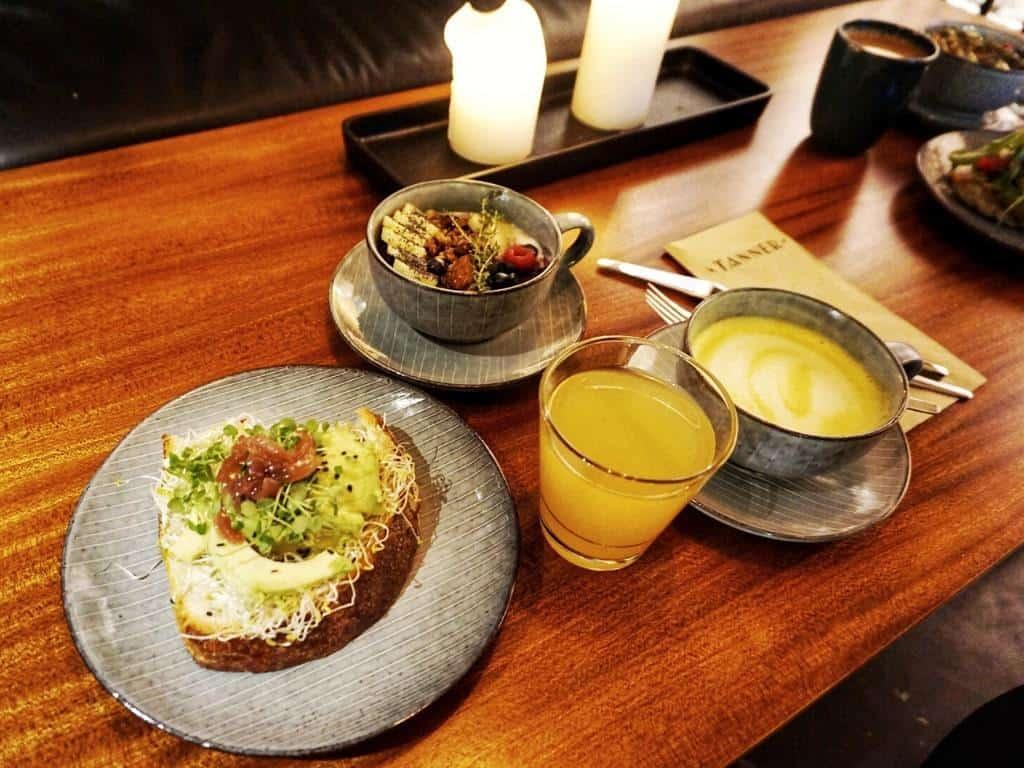 Yummy breakfast at Restaurant Tanner.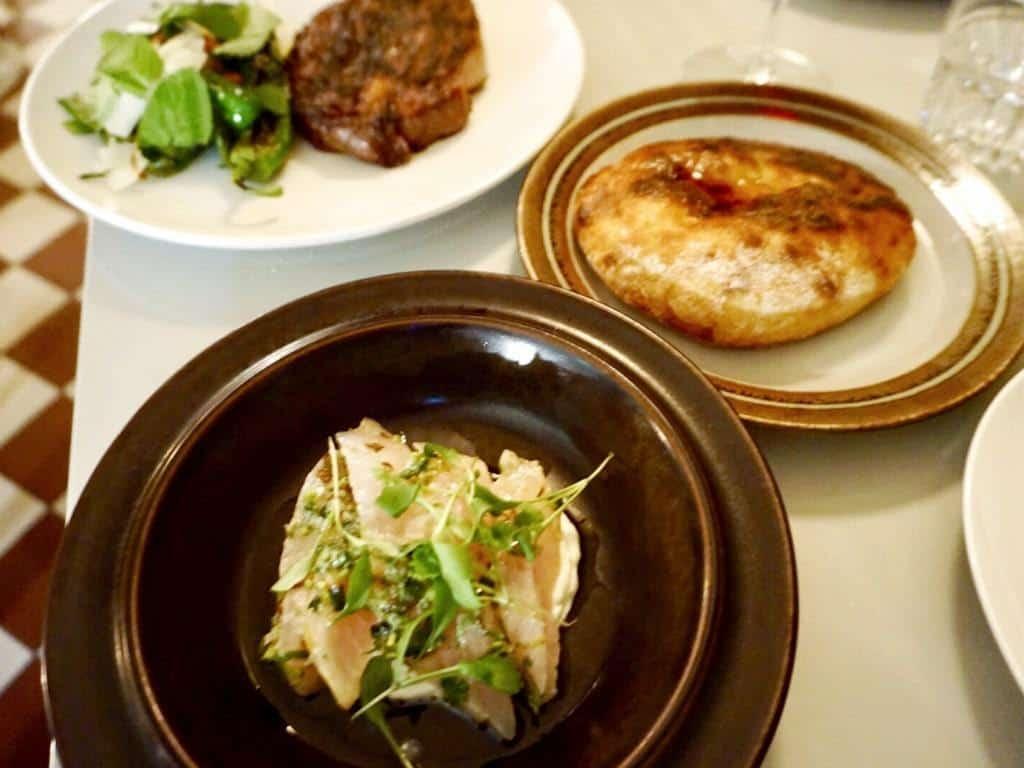 Tasty grill dinner at Restaurant Werner.
Do Extra-Ordinary Shopping
Finnish Fashion & Accessories
I'm so happy that we have finally a dedicated place for a large collection of awesome Finnish fashion brands!
Without further ado, head to Kämp Galleria Mall and their top floor which is called "Garden". Browse through Finnish clothes, accessory goodies, and home items to find your favorites!
Sidenote: Cafe Kuuma is a lovely place to grab a coffee and a snack.
The Best Food Store of the City
I don't know if it's just me but when I go to a foreign city I always want to visit the food store of the city. I love to see all the local things they are selling and I love to, well… low-key stalk people there. (Please let me know in the comments if you have the same hobby, so I don't feel completely weird!).
But back to Helsinki now. The food store you should visit is Herkku Food Market and it's situated on the basement floor of Stockmann, the department store.
If you go hungry or get hungry while walking there, the fish soup of their bistro has all Helsinki dwellers on their knees. Utterly delicious!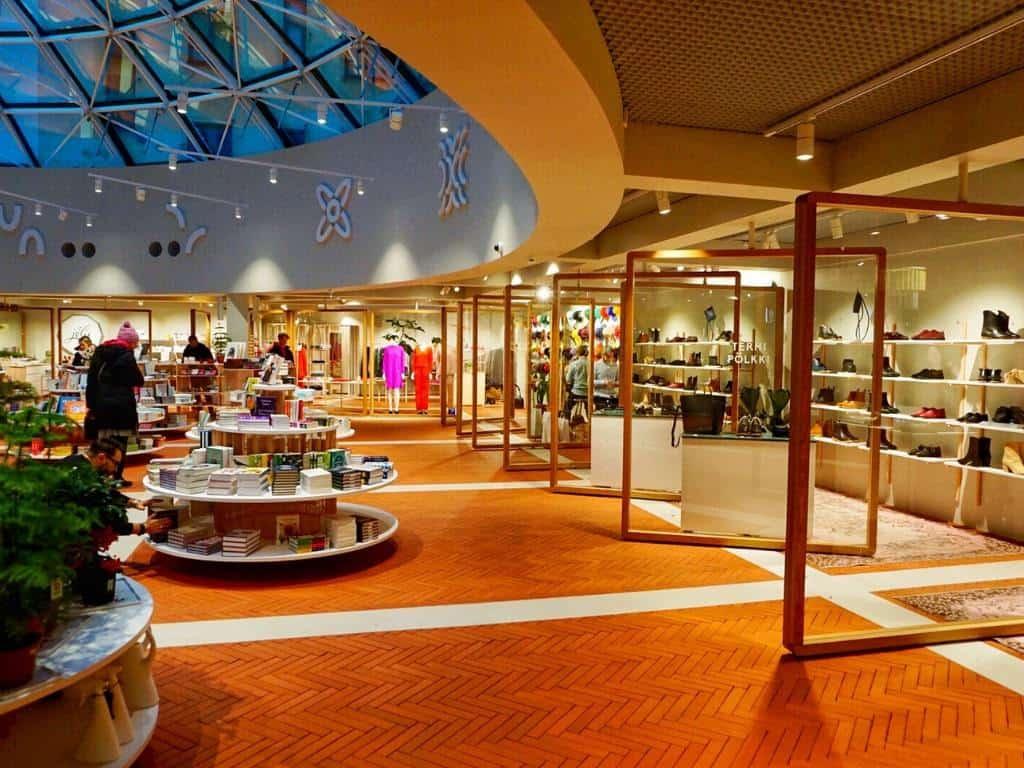 The top floor of Kämp Galleria Shopping Center is dedicated to Finnish fashion.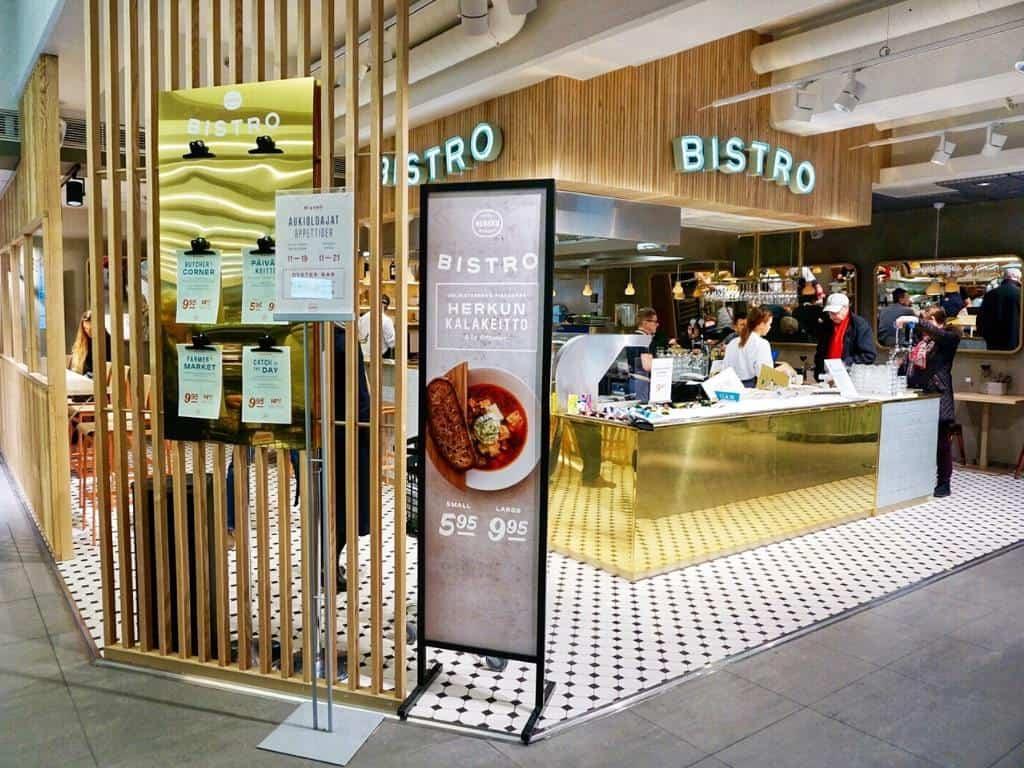 The Bistro of Herkku Food Market offers mouthwatering fish soup!
Warm Up in a Library
If you want to find locals, walk into one of the libraries in Helsinki. We Finns absolutely love libraries!
The crown jewel of them all is Oodi, close to Helsinki railway station. This building screams Nordic minimalism (in a good way!) and the top floor is a must!
Admire the space, watch the quiet but bubbly local lifestyle and take a coffee with 'pulla' (Finnish cinnamon bun) because, *drumrolls*, there's a coffee shop! Actually, there are two cafes, one on the ground and one top floor but I recommend the top floor because of the views!
If you need to distance work in Helsinki, this is the place to do it.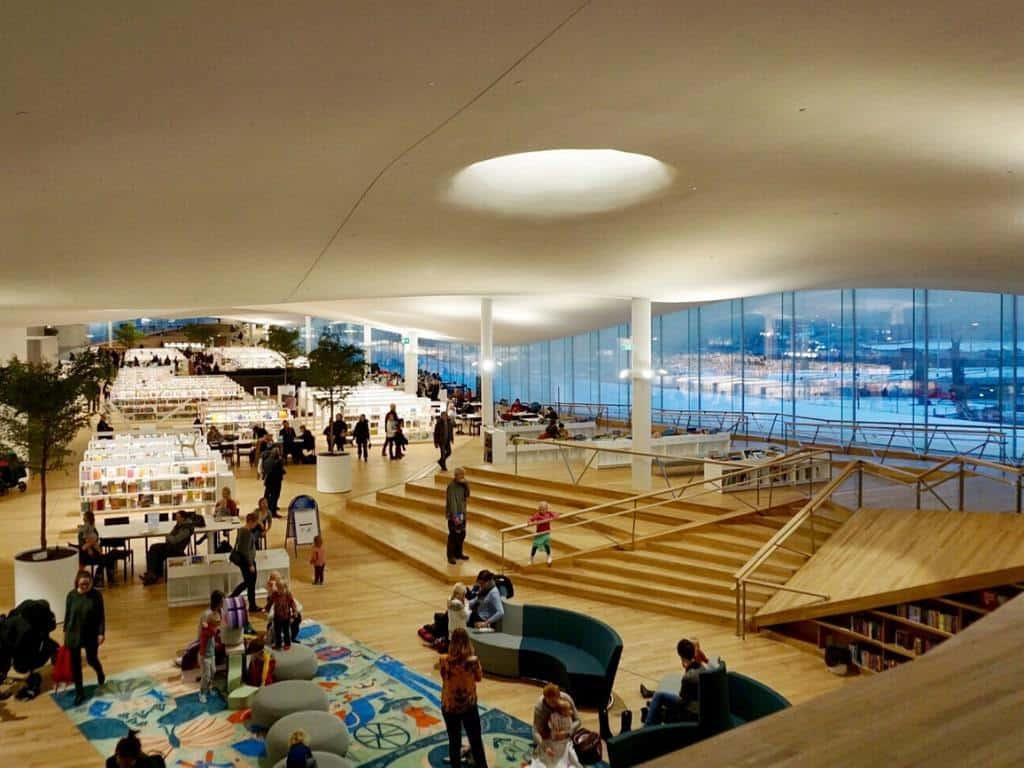 Library Oodi is a must for both adults and kids.
What else would you like to know about Helsinki in winter? I'd love to know in the comments!
I have a couple more posts about Helsinki and the area nearby. If you're planning a trip, you'll definitely want to take a look at these!
Did you find this post informative? Save it on Pinterest for later!