*Please note that this post has affiliate links. At no additional cost to you, I may earn a small commission if you make a purchase. 
Are you feeling excited but a tiny bit worried about how to be prepared for the Finnish winter? Don't you just wish there would be a Lapland packing list already made for you, preferably by a local who knows all the tiny details?
You're in the right place! Getting ready for another climate is difficult so this post aims to give you a massive sigh of relief!
First of all, winter clothing is not difficult and you can fit everything in your luggage, I promise! I have gathered here the ultimate package of winter clothing advice to Finland. As a Finn, I know a thing or two about the cold weather and how to dress properly.
I'll be talking mostly about Lapland, but this post is a wonderful reference for Nordic winter anywhere. If you are traveling to Finland or Scandinavia in winter time, it will be freezingly cold whatever your destination is. Yup, in Helsinki too, even though it's in the south.
Think of it this way: Helsinki is only 8 hours' drive away from the Arctic Circle.
This post tells in detail about the most important clothes for the Finnish winter and how to dress warmly even if you are allergic to wool.
Also, I'll share some tips about kids' winter clothing. Last, to make things easy for you, you can download my free printable, the detailed Lapland packing list.
Psst… Follow me on Instagram and get more Finland into your daily life immediately!
 

 

Näytä tämä julkaisu Instagramissa.

 
Here's what this post is all about. Are you ready to get some winter clothing tips? Let's go!
#1 Indoor spaces are always warm. There are a couple of things we Finns do extremely well. One of those things is insulation. It's always nice and cozy indoors in Finland, so you really don't have to worry about that.
#2 Comfortable and Cute. We Finns are the most functional dressers on earth. In Finland, you can anywhere wearing sporty, functional clothes: restaurants, hotels, cafes, etc. A fleece and jeans is a normal "I'm going out" outfit for a restaurant in Lapland. And many winter clothes are totally cute, too!
#3 Forget 100% acrylic. The fabric may seem fluffy and warm but really isn't. Choose wool, wool-blend, cotton, silk, viscose, and polyester. You can have acrylic-blend with the above-mentioned materials.
#4 The most important thing to have is quality outerwear. I'm talking about a thick warm coat, waterproof and warm winter shoes, proper gloves, a scarf, and a reliable hat.
For a Lapland visit, consider thick winter trousers, if you plan to do a lot of outdoors activities, like hunting Auroras. All the layering in the world doesn't help you if you don't have the proper outerwear suitable for the harsh conditions. Not to say that layers don't matter. They do. But if you need to prioritize, outerwear is your choice.
#5 Forget heels. They are uncomfortable and dangerously slippery. In the worst case, they are a one-way ticket to a Finnish hospital. No local is using heels in Lapland.
#6 Cosmetics tips. You wouldn't go on a beach holiday without sunscreen, right? For a winter holiday, you desperately need a lip balm, a face moisturizer, a SOS cream and an excellent hand cream. The dry cold air is cruel.
I love the Elizabeth Arden Eight Hour products. If I'd only get to pick one beauty item for winter, it would be the classic Eight Hour Cream by Elizabeth Arden. It's my SOS cream (face, hands, feet – anything) but you can also fix your brows with it and use it like a blush and glow gel. It's a miracle!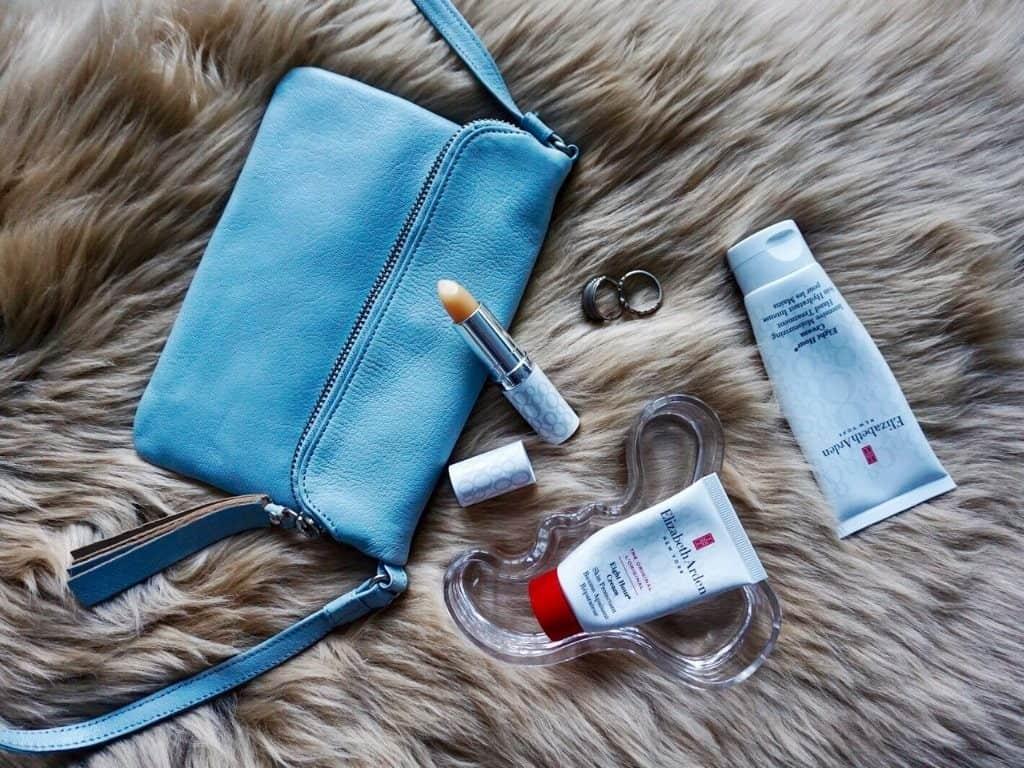 Read here my post about trusted cosmetics which really work in winter Finland!
If you are in Lapland in February or later and planning to do a lot of outdoor activities, you need a sunscreen too as snow reflects the sun super well.
#7 Tour operators might give you winter clothes. If you are going on tours, many companies provide winter gear (super warm overall, winter boots etc.). Make sure to check is clothing included in the price or not.
Looking for more information about winter Finland? Check these other posts:
The Best Snow Boots for Lapland
In Finland, we have a saying: If your feet are warm, your whole body is warm. This is so true. I get chills when I see travelers with fluffy down jackets and Nike Free trainers. You'll be an icicle the minute you walk out of the airport.
Two pairs of shoes are a must for the Finnish winter: proper snow boots and lighter winter shoes. Here's why: when it's winter in Finland, the ground can be any of the following:
Puddles of slush (the winter days with warmer temperatures)
Ice (standard)
Slush and ice beneath it (when temperatures change)
Black ice (especially in the south)
A layer of snow (standard)
A pile of snow (until the plough arrives)
A meter of snow (think Lappish forest)
Hands down the best snowshoes I have ever worn are Sorel Caribous (check price for men's and women's here). My hubby actually recommended them to me and said that I'll love them. As usual, he was right.
You'll never be cold in Caribous. They are super warm even when it's -20°F (-30°C), sturdy, waterproof and so comfy. At first, you think they are kind of heavy but you get used to their weight fast. I can't recommend these boots enough!
By the way, can you believe that my hubby's boots are ten years old and he wears them every winter?! They are in mint condition. These boots were made to last!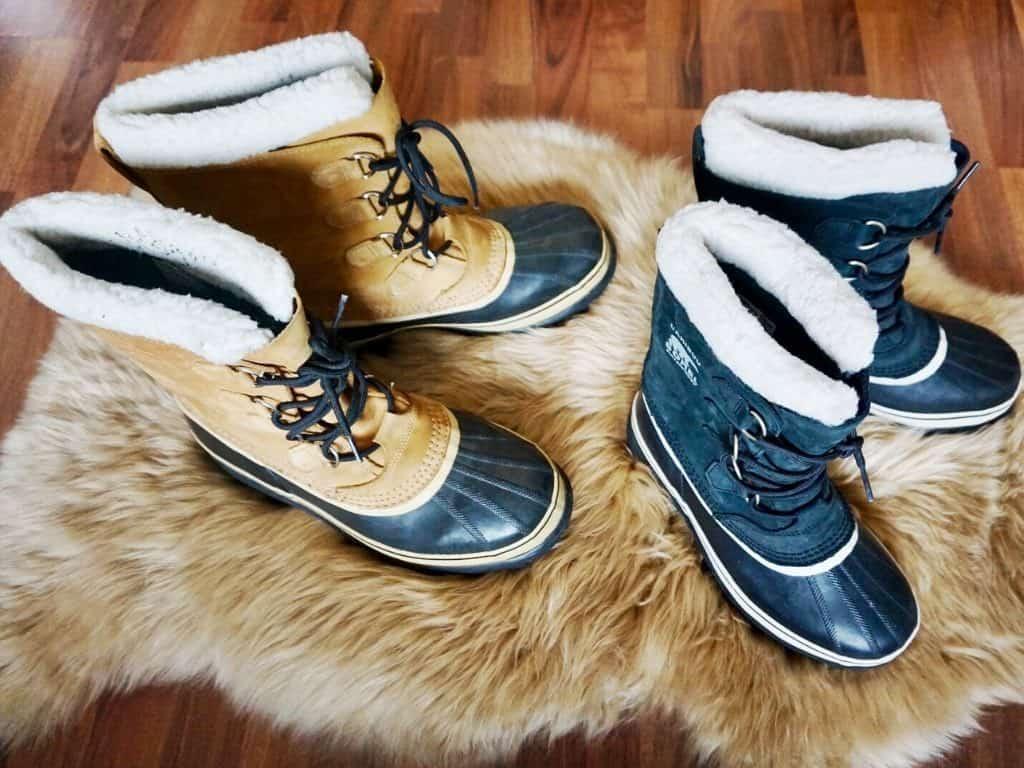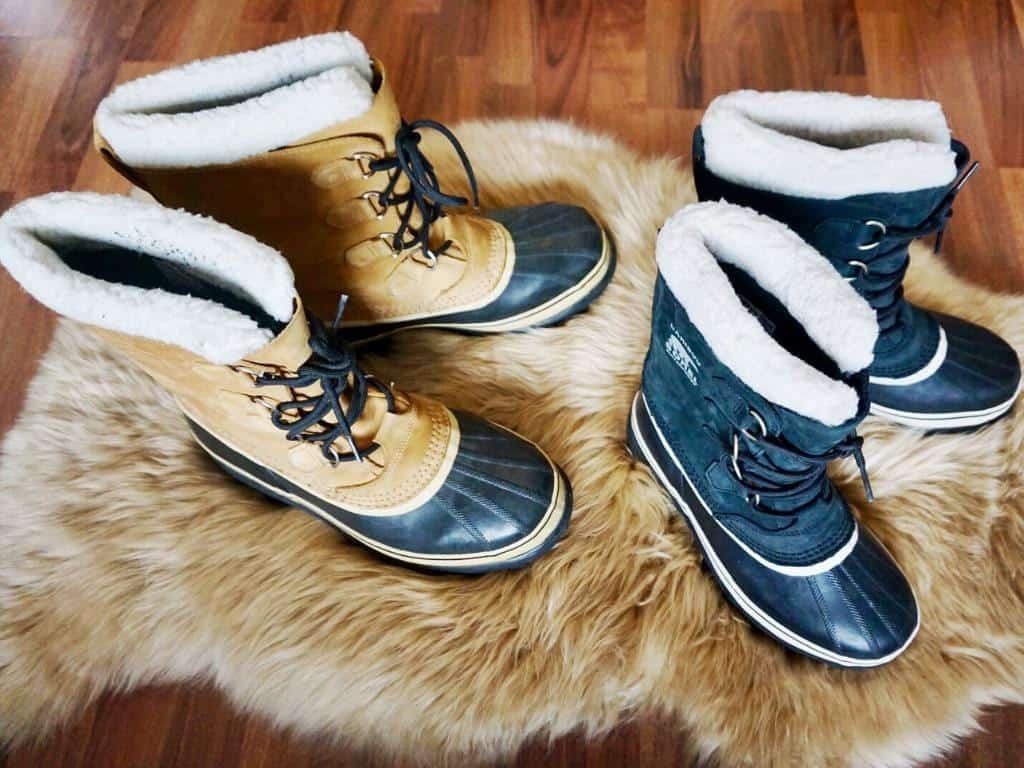 Hubby's Caribous and my Caribous make being outdoors in the wintertime a delight no matter how cold it is!
Lighter Winter Shoes for Finland
Lighter winter shoes are a great idea to have so that you don't have to live in your snow boots. I just love my winter shoes by Merrell (check similar here). They are warm, waterproof and have a special Vibram-sole which works even in the worst weather conditions, like walking on slushy ice. That makes this slip-resistant shoe perfect for those warmer winter temperatures here in Finland!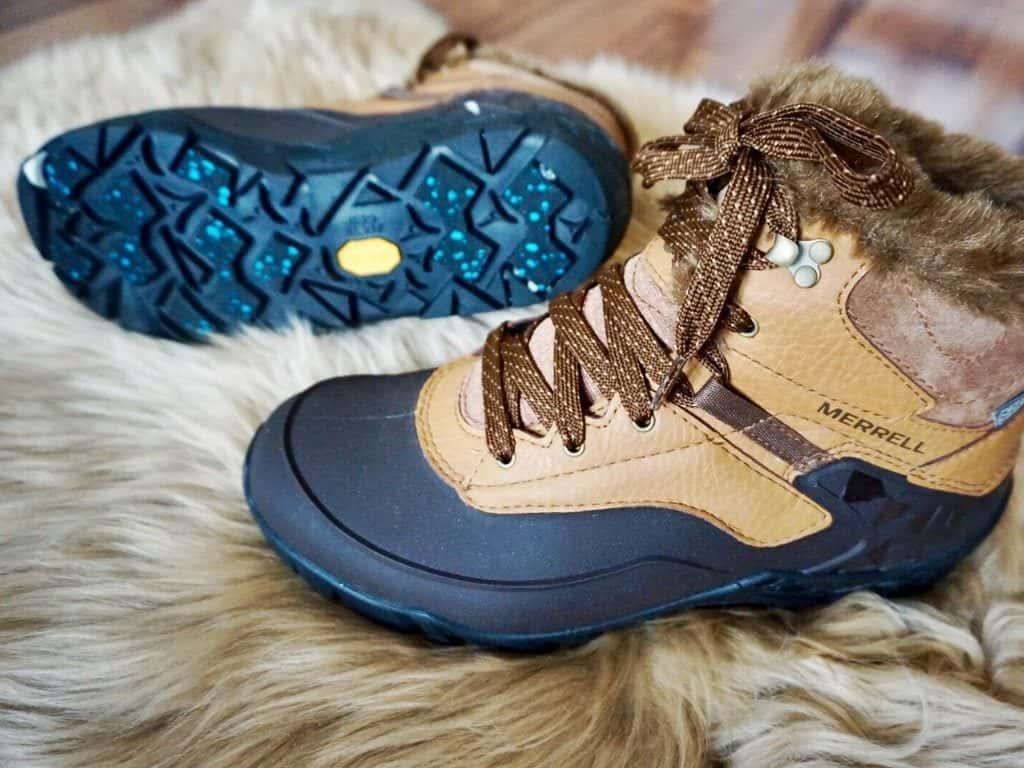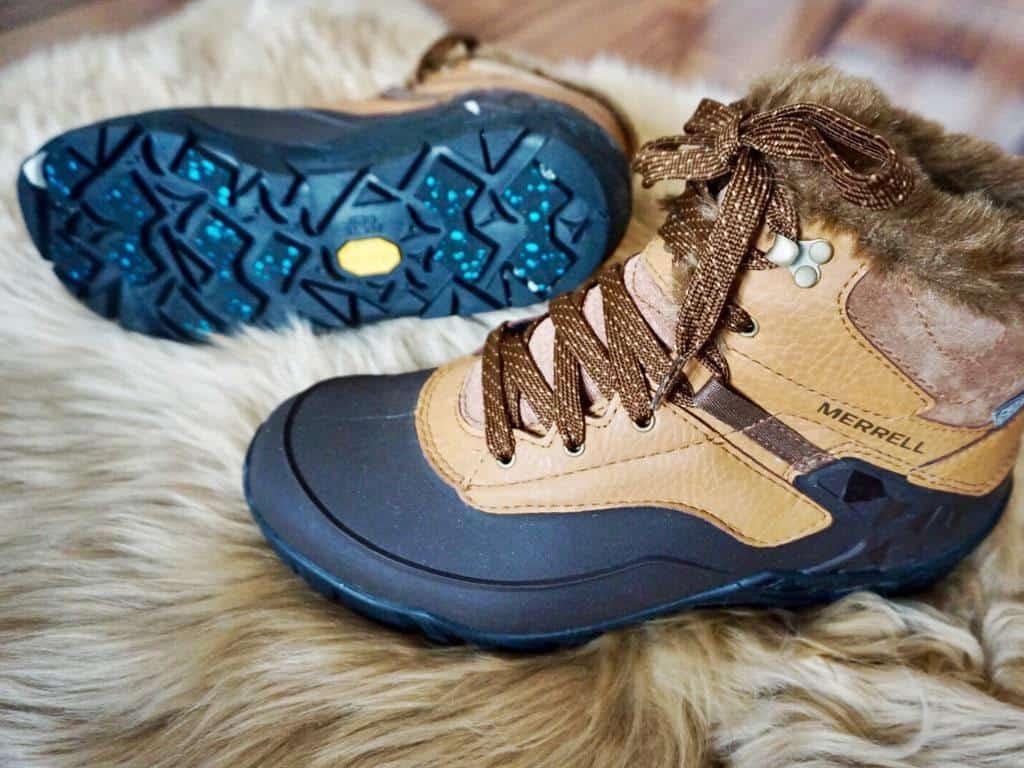 My light Merrell winter shoes have a special winter sole called Vibram or "the Ice Plus".
My favorite city winter boots are by Ecco. They are super comfortable to walk in for hours, waterproof and cute! Awesome for any winterly city destination. Shop for similar here.
As a side note, Ecco does fantastically cute and functional shoes for all Finnish weather conditions. I also have their waterproof white sneakers which I use pretty much every day from spring to autumn.
The Must-Have Winter Accessories for Finland
Beanie. You'll definitely need a reliable beanie in Finland. Stay away from anything that says 100% acrylic without a proper lining. The best beanies are cuffed wool-blend or fleece lined beanies. Personally, I love my beanie with a pompom on top. If you are allergic to wool, a fleece-lined synthetic or cotton beanie is a great option and warm enough.
Scarf. Nobody does a chunky scarf better than Acne Studios. The color palette and quality of their Canada scarf makes me cry happy tears. Do you know how some scarfs leave you covered with threads?! These don't. I've worn my luxurious cream-colored oversized one everywhere from Lapland to Helsinki Opera house to a long-haul flight. The material is miraculous; it never gets any makeup stains. The skinny version is perfect if you don't want a chunky look. Oh, and if you walk in Helsinki and wonder what's this beautiful big winter scarf Helsinki ladies are wearing – yes, it's this!
Gloves.  You'll need water-resistant, warm, windproof gloves for winter activities. Something like these. Here's a wonderful idea to buy from Finland: Mutka leather gloves are very quintessential Finnish winterwear. My granny wears them, mother wears them, I wear them… These lamb-leather super warm gloves with teddy lining (not wool!) are around 30€/pair and you can find Mutka in Sokos and Stockmann department store or Prisma hypermarket.
Silk glove liners. Silk glove liners are the perfect addition of extra warmth. Keep one pair in your pocket. They are tiny and many times life-saving.
Hand warmers
Not exactly a fashion accessory but hand warmers work like a charm and offer instant warmth to you when everything else fails. Slide to your shoe, pocket, mitten wherever! I used these inside my sleeping bag when sleeping in a tent this autumn in Lapland.
Phone accessories
Because cold weather drains a phone battery fast, I always carry a portable charger when making winter day trips.
This chargeable phone ring light has been a lifesaver in dimly-lit restaurants and the dark/blue winter days in Finland. For months, my little sister told me that a ring light would improve my phone's images, but I never got around to getting it. So finally, she bought one for me as a gift. It has been the best!
Also, buy a warm case or pack an extra wool mitten or sock for your phone. That's a free hack we Finns do every winter.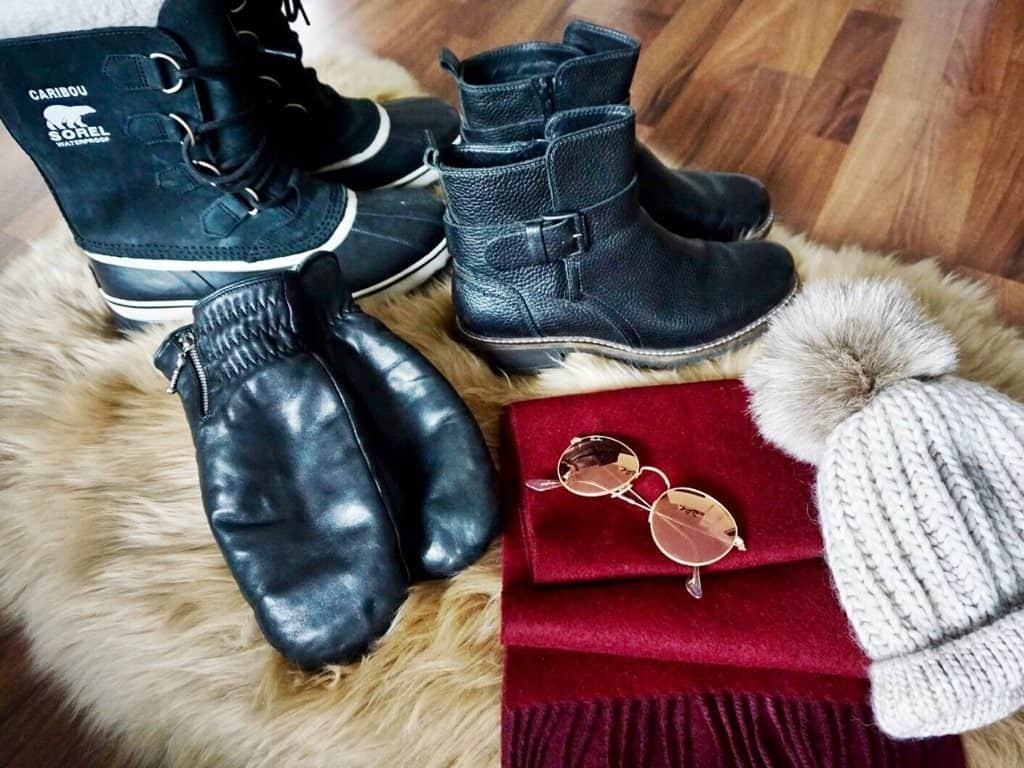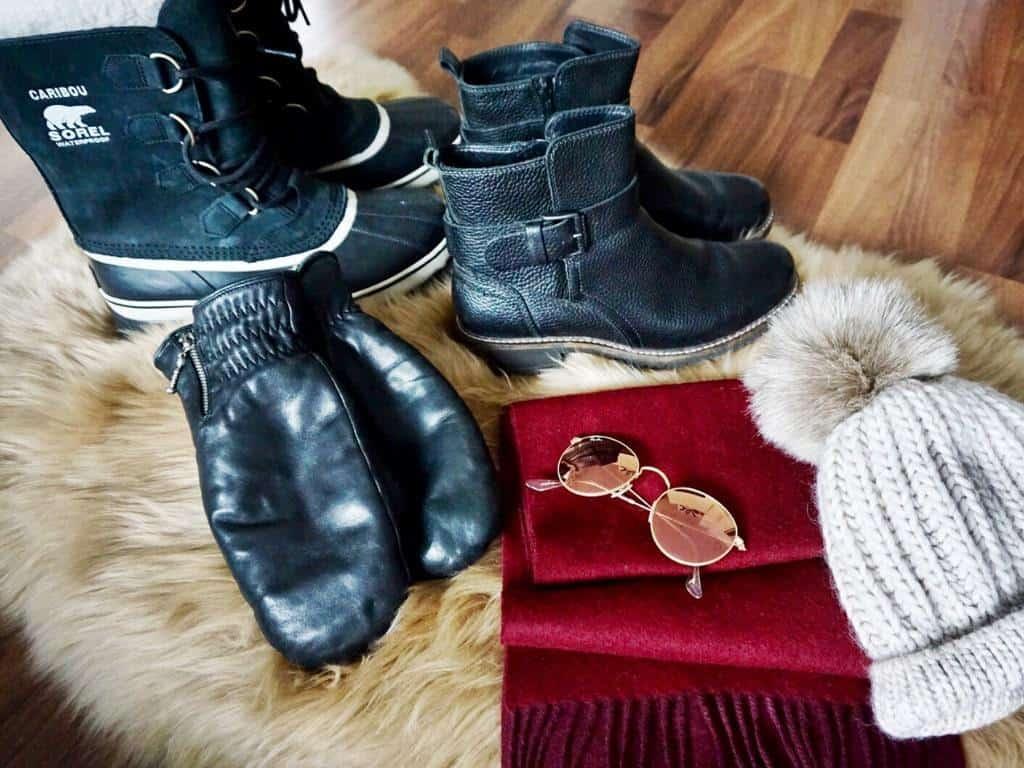 The Proper Winter Outerwear
When it comes to winter jackets, the most versatile combo is a functional winter parka and a light-weight down jacket. You'll be wonderfully warm even on the coldest of days but have options for warmer temperatures. Also, these jackets will most likely be more useful for you back home than one big fluffy down coat.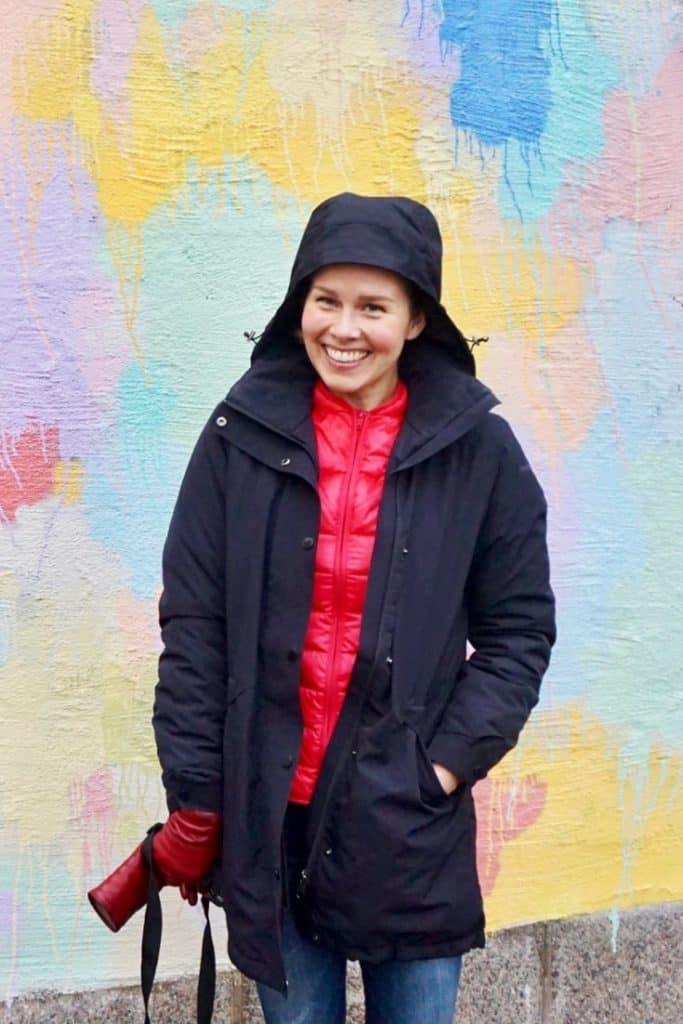 Wear double jackets and stay toasty warm even on the coldest of days!
How Many Layers for Lapland?
You'll pretty much always need long underwear in the Finnish winter. A warm layer of soft merino wool underneath your jeans and top is heaven. Merino underwear is made to last so you only need one quality pair.
My recommendation is that you buy them well-fitted. Perfectly-shaped wool leggings are cute and comfy. Hanging long-johns are not only ugly but uncomfortable with the other trousers you'll be wearing. Icebreaker undershirt and leggings are my favorites for quality, fit and cuteness.
If you are allergic to wool, buy a thermal underwear set. Pro tip: I have both wool and thermal leggins because for super cold days, I put on my thermals first, followed by my wool leggings and then pants.
Cotton socks are not enough for Finnish winter. You'll need either proper wool socks on top of the cotton ones or wool-blend socks. If two socks make your feet too big for your shoes, you really need the wool-blends.
You see, to keep warm, your feet need to be surrounded by a little bit of looseness. This air warms up and acts like a warm air cushion. Not to mention that too tight shoes are horrible to walk in!
I used to skimp on socks but then I tried cushioned wool-blend socks by Falke, was walking on lukewarm clouds for a day and now I have five pairs of them.
They are my favorite socks when staying up on my feet all day long. My hubby has these, too. Quality wool-blend socks make wonders to your aching feet and circulation. Falkes are worth every penny.
What Should Children Wear in Lapland?
A short summary of Finnish kids: Babies and toddlers wear warm winter overalls. Finnish little children and primary school-aged kids wear warm waterproof slope sets.
Finnish teenagers wear their down jackets open, refuse warm winter pants and hide their beanies and gloves in their backpacks the minute their parents can't see. They are the most cold-resistant people on the planet.
The slope sets are so warm that kids wear just their normal clothes underneath. If it is super cold, they wear a thermal underwear set.
A thick wool beanie and waterproof mittens are a must when playing in the snow. As kids are hopeless with scarfs, Finnish kids wear neckwarmers or face masks on the coldest days.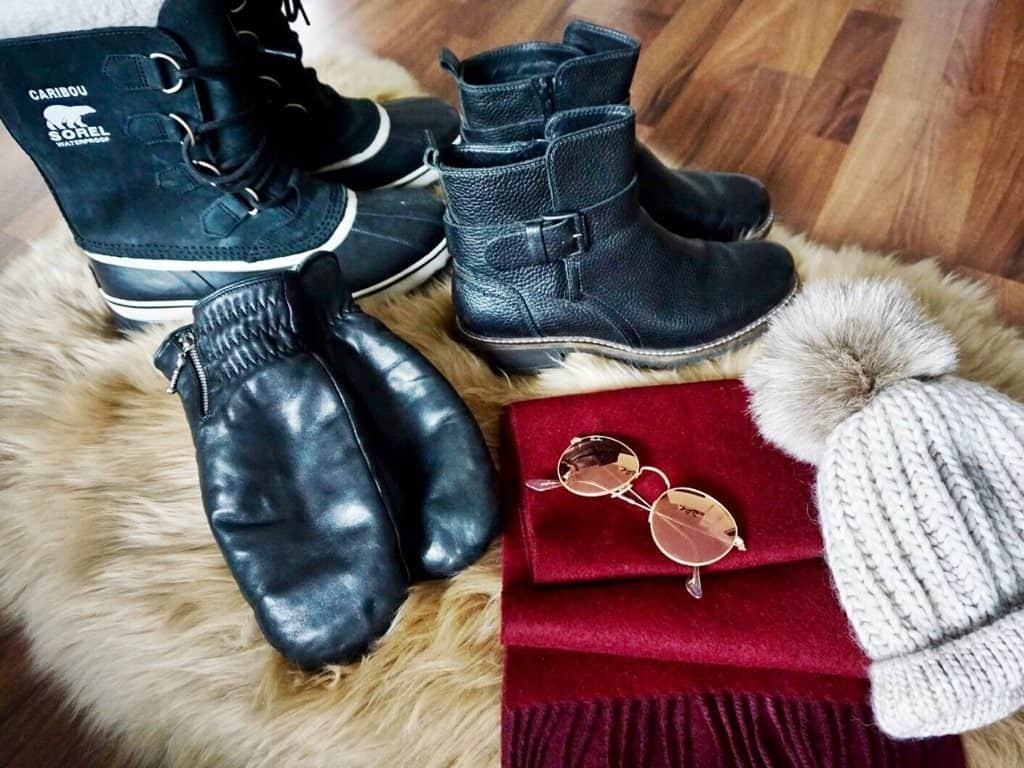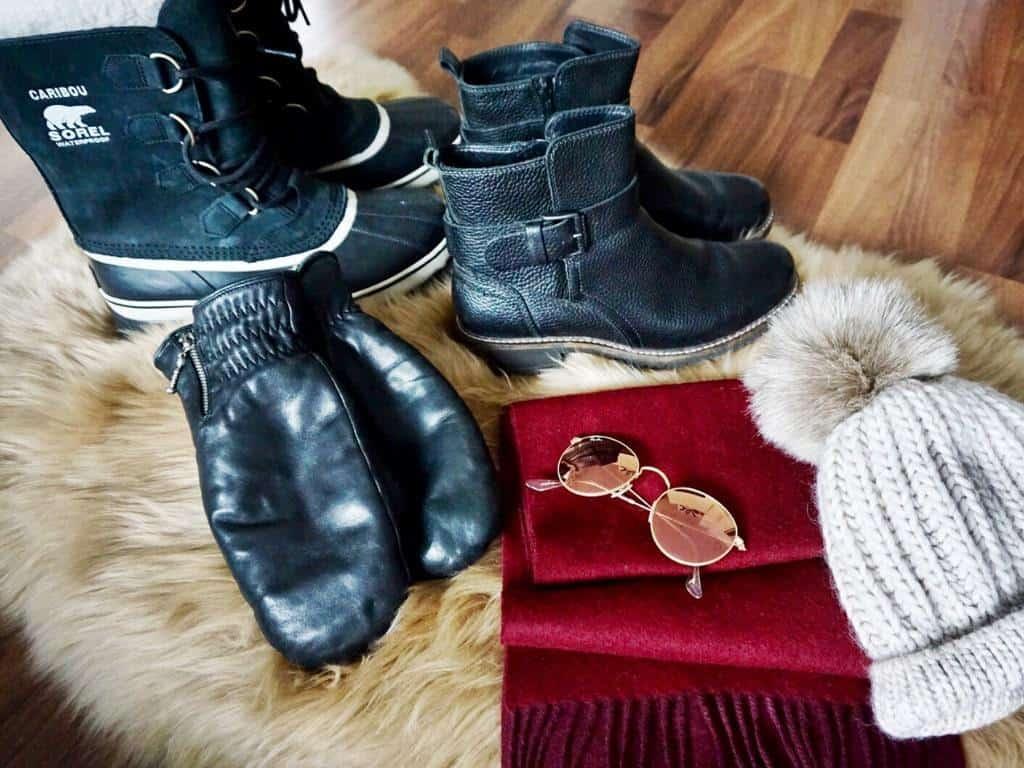 Where to Find Winter Clothes in Finland?
If you need to buy winter clothes in Finland, you have plenty of options as you really can't live here without proper winter clothes and shoes. All ski resort destinations in Lapland have sports shops.
Head to one of the following stores:
Department store Sokos or Stockmann
Hypermarket Prisma (huge selection also for kids)
Hikers' store Partioaitta
Sports stores, e.g. XXL or Intersport (great selection also for kids)
Lapland Packing List – Free Downloadable
Make your life easy and download my free Lapland Packing List. It has all the items you'll need on your Finland visit.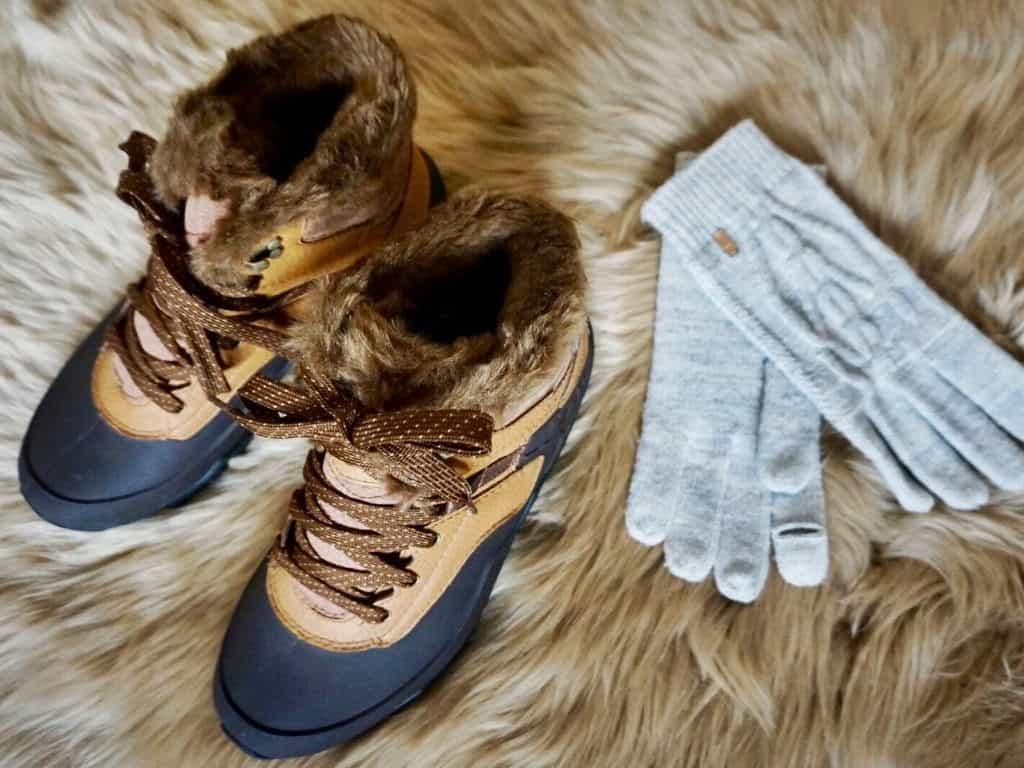 Did I answer all your questions about winter clothing and Finland? Is there something else you'd like to know? Let me know in the comments!
Looking for more information about winter Finland? Check these other posts:
Warm wishes from Finland, 
Varpu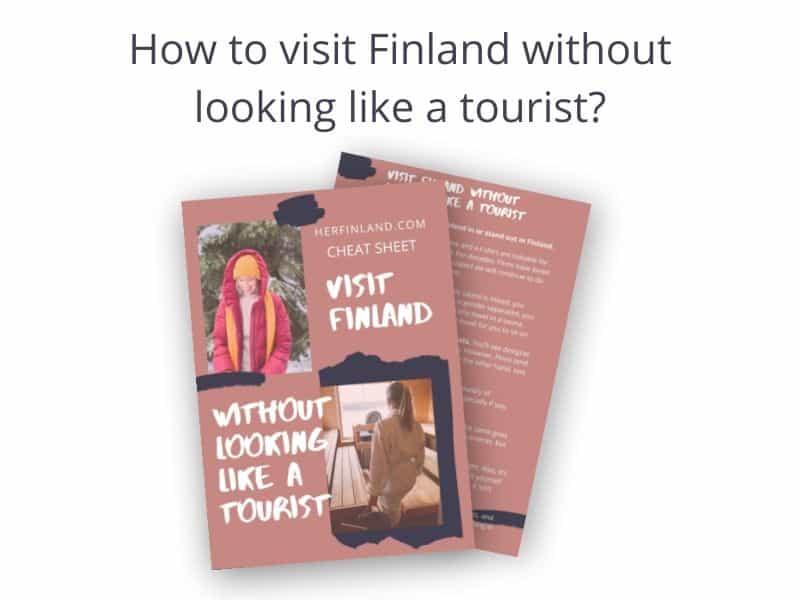 Did you find this post informative? Save it for later on Pinterest!