Traveling from Helsinki to Lapland by train is the most convenient way to get from Southern Finland to Lapland if you have even one of the following:
loads of stuff
kids
pets
a car
a limited amount of time
We Finns often drive to Lapland. So did my family too but then we decided to try the train. We booked the night train with a car because we wanted to explore Lapland on our own once we were there.
And oh, the easiness of packing one week's things in the trunk of our car, parking the vehicle into the car-carrier, walking to our compartment and waking up the next morning in Lapland… After that one time on the train, I knew I was never going to drive to Lapland again!
I have gathered this mini-guide to help you make the best trip to Lapland using the train.
Psssst… For more helpful Finland tips, follow me on Instagram!
Näytä tämä julkaisu Instagramissa.
Okay, so let's go! Here's what I'm going to be covering with this post.
Helsinki to Lapland Trains: Your Options
There are a couple of Lappish railway stations: Rovaniemi, Kolari, and Kemijärvi.
From Kolari, it's the easiest for you to explore the western Lapland. There are buses leaving for Lappish resorts (for example Ylläs and Levi) from the Kolari railway station. From Kemijärvi station, you'll get to the eastern Lapland. Rovaniemi is the central hub of Lapland.
If you want to find out more about traveling by train in Finland, be sure to read also my helpful guide about using trains and buses in Finland!
On my trips, I have traveled from Helsinki to both Kolari and Rovaniemi. When using the train, my recommendation is to travel from Helsinki to Lapland using the night train. It's the most efficient use of your time and if you book early, not so expensive as you might think.
Departure time is always around 7-9 pm from Helsinki. The arrival time is either in the morning or before noon at the last destination.
By the way, the Helsinki – Rovaniemi Night Train connection is sometimes called Santa Claus Express because Rovaniemi is the official hometown of Santa Claus.
Check out here the timetables from Helsinki to Lappish railway stations.
FinNISH CONNECTION COLLECTION 🇫🇮
Finland-themed sweaters and accessories made-to-order. 🧡 Worldwide shipping.
Helsinki to Lapland Train – How Much It Costs?
You can buy a seat, a berth, a private compartment and take a car with you if you want. A lot of options! If you are traveling on a budget, I recommend booking 2-3 months before your trip. You can easily score a cheap berth ticket (for example, 50€/one-way in a Helsinki Rovaniemi train).
In August 2017, the price of Helsinki-Rovaniemi-Helsinki tickets including a car and two persons in a private compartment with own toilet & shower was around 450 euros.
In April and September 2018, the price of Helsinki-Kolari-Helsinki tickets including a car, two persons and a baby in a private compartment was around 650 euros on both times. Kolari is further north compared to Rovaniemi.
In March 2019, the price of Helsinki-Kolari-Helsinki tickets including a car, two persons and three kids (two of them under 10 and thus free of charge), in a private compartment was around 800 euros.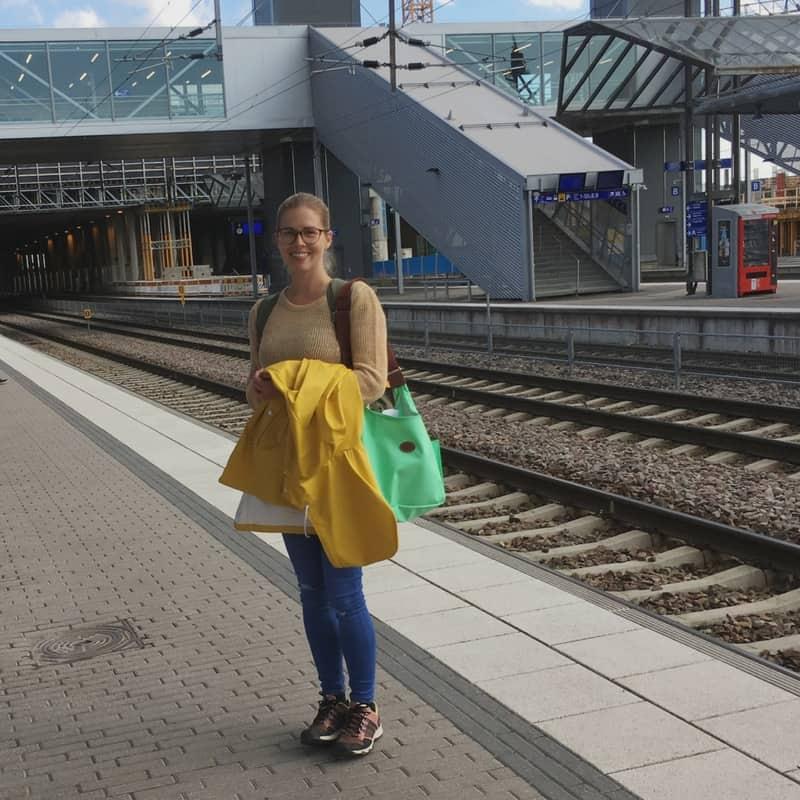 Waiting at Pasila railway station in Helsinki to hop on the train and go to our compartment. The car is already on board.
The Older and Newer Lapland Night Trains
There are older trains and newer trains shuttling between Lapland and the south. I have traveled in both. The older train model doesn't have private toilets in the compartments.
However, the cabin and bed are slightly bigger in the older model. So, as we travel with a kid or kids, we have chosen the older train model, if there was a possibility to do so. Both train types have their pros and cons. In both, the bathroom facilities are tidy.
A Lapland Night Train with a Car
You are able to take a car with you to the Lapland night train. As it might sound a bit tricky (it's not!), I try to describe how it works.
Buy the tickets.
The driver (most likely you) drives the car into the car-carrier. Others wait aside as that happens. This area is somewhere close to the regular station.
Walk to the regular station platform and board the train as usual. (Car-carriers are attached separately to the ordinary train.)
Go to your compartment and get comfortable.
Don't get too comfortable because you will hear a knock on your door and tickets are checked.
Get really comfortable.
Wake up at your destination.
Walk to the car-carrier platform. The driver gets the car.
Continue your adventure!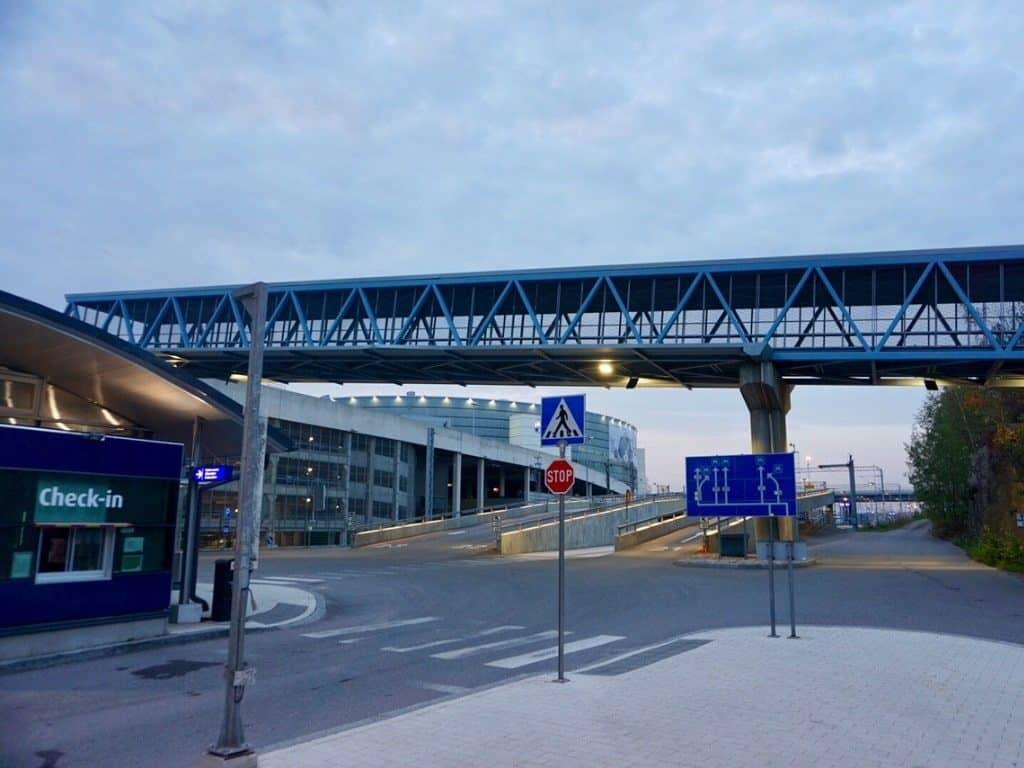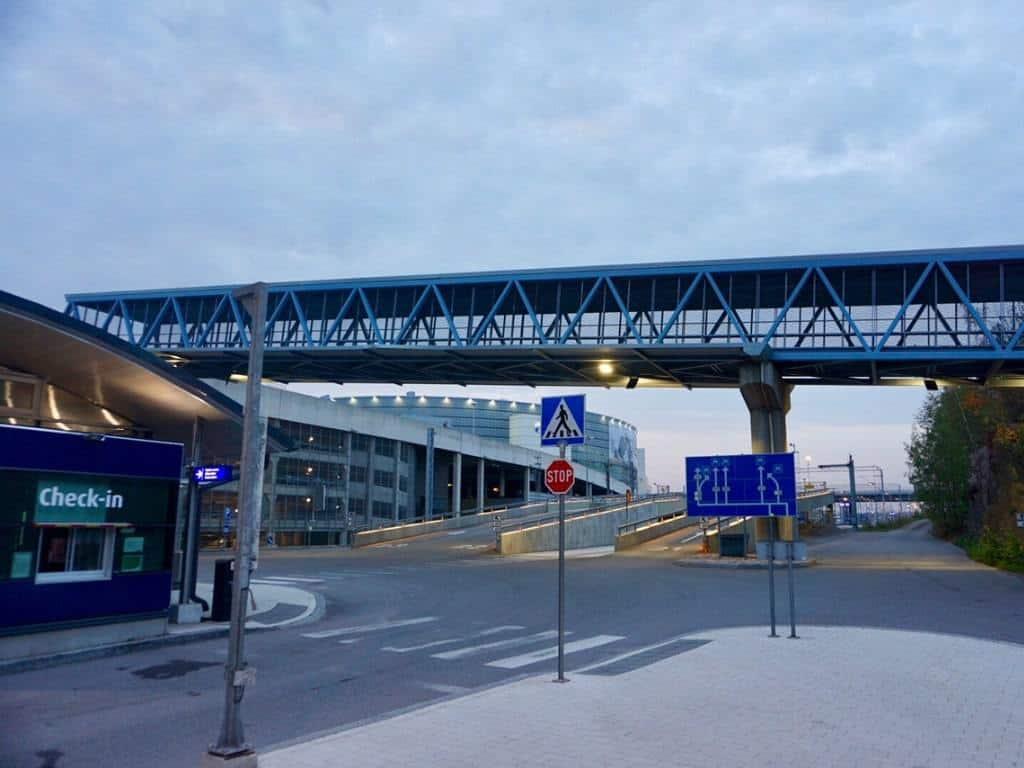 The car-carrier station in Pasila, Helsinki looks like this. There's a short walk to the main station of Pasila where you get on board.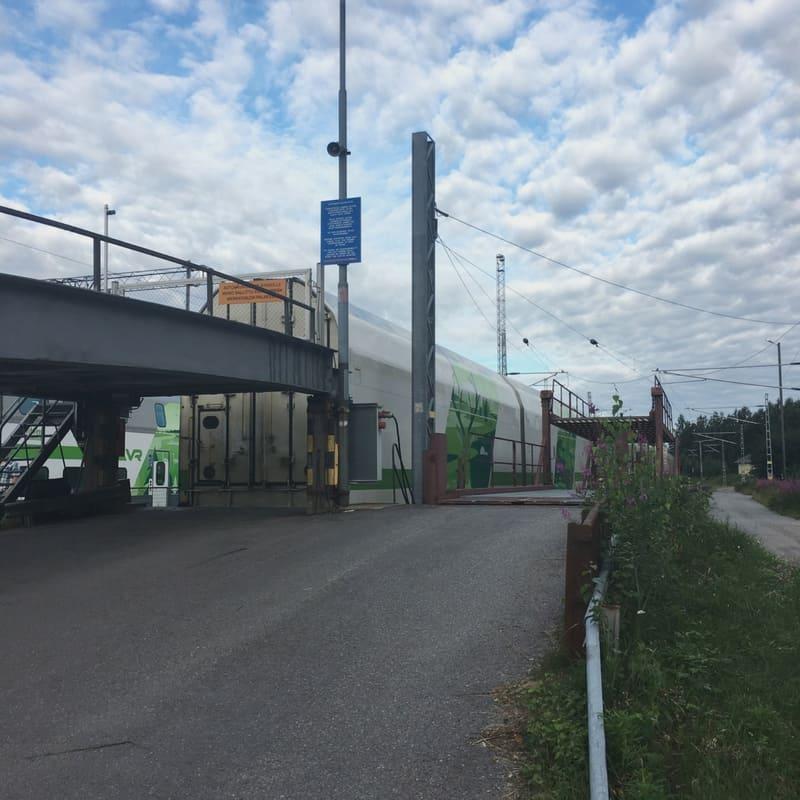 The car-carrier about to be opened so that the drivers can fetch their cars in Rovaniemi. Behind on the left, the sleeping cars of the same trains.
Seven Important Tips to Lapland Night Trains
Here are my helpful tips from several train rides so you know how to book and what to expect on board!
Book your Lapland train tickets early!
Remember to book early in advance, in all seasons! Especially wintertime is crazy busy! We buy our tickets online. Finland has only one state-owned railway company, so you can't go wrong.
Usually, you can buy night train tickets three to four months before the actual date. If the search is not able to fetch your dates, then the tickets haven't been released.
If you have any questions about trains and tickets, I highly recommend the Finnish train company's chat customer service on Facebook. They are very quick to reply. I've used it with all my questions. So quick to reply. Another option is to call the customer service.
Pack the minimum!
The cabin is comfortable but understandably tiny. Pack a separate bag with overnight essentials for the train trip only.
The train price includes towels, linen, and a tiny water bottle. Remember to take earplugs and an eye mask if you are a light sleeper!
Bring at least a big water bottle with you!
There is a cafeteria on board with extended opening hours. On our first train trip, we chose to bring our snacks to maximize the unsocial bliss of our private compartment. Later (read: after the baby), we have used the cafeteria as it is so easy to eat there.
Anyway, my recommendation is to take at least a big bottle of drinking water with you! You cannot drink tap water on the train and the free bottles in the compartment are minuscule.
Take a pill if you get easily nauseous
If you get seasick, the side movement of the train when lying may cause you the same feeling. Have a pill (you can get it from a local pharmacy without a prescription) and feel better.
Kids aged 10 and under are free!
At the moment, children aged 10 and under travel free of charge if they sleep in the same berths with the parents.
It is a great deal but not a good night of sleep. If you would like to have separate berths for kids but be close to them, you can ask for adjoining compartments. In that case, remember to make your booking via phone or consult your booking in the chat before booking.
If you are just booking one compartment and have young kids who travel for free, you can do the online booking this way: Buy private compartment tickets for the adult/adults.
Then, go to the VR Facebook chat and say you have young kids traveling with you. They will ask your ticket number and send free kids' tickets into your email.
Compartment tips for the new Lapland train
The cabin with a private bathroom looks like this.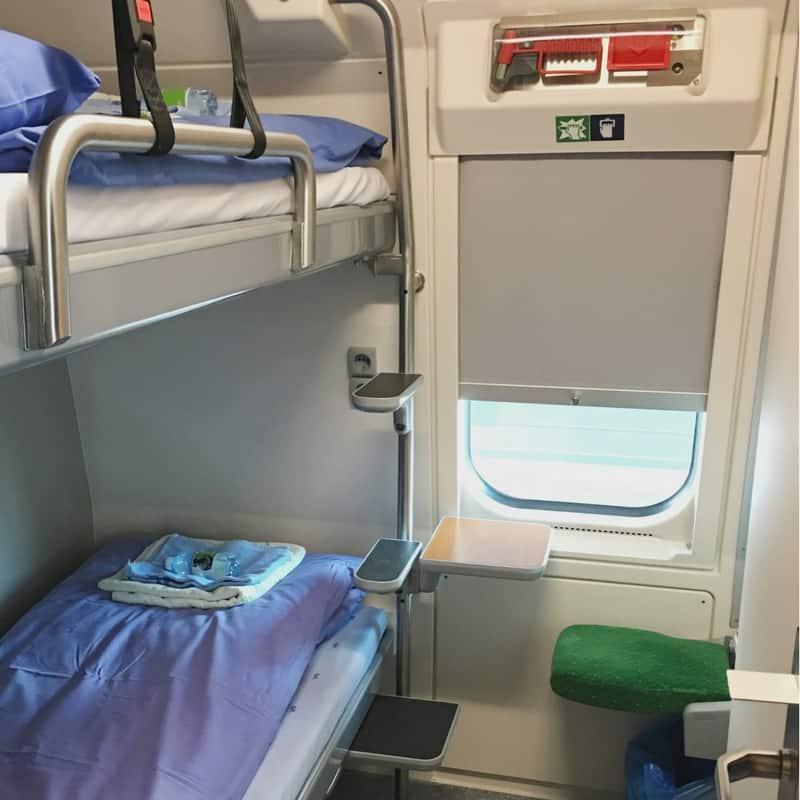 One berth is comfortable for one person and belongings. These two pics are from the newer train model.
Compartment tips for the old Lapland train
Here are some helpful pics of the older compartment style.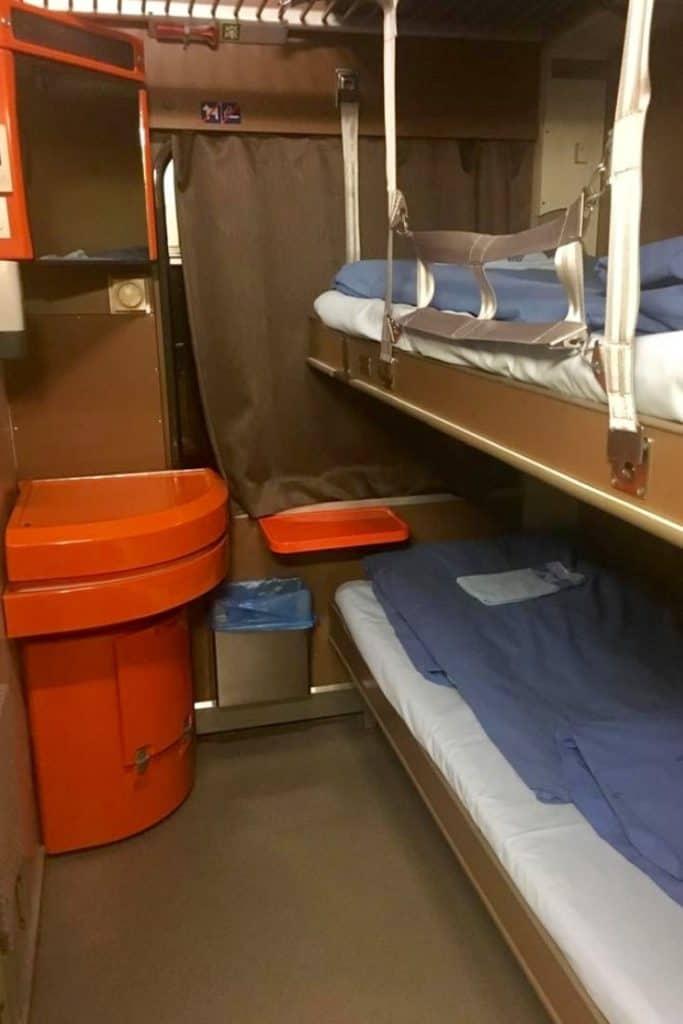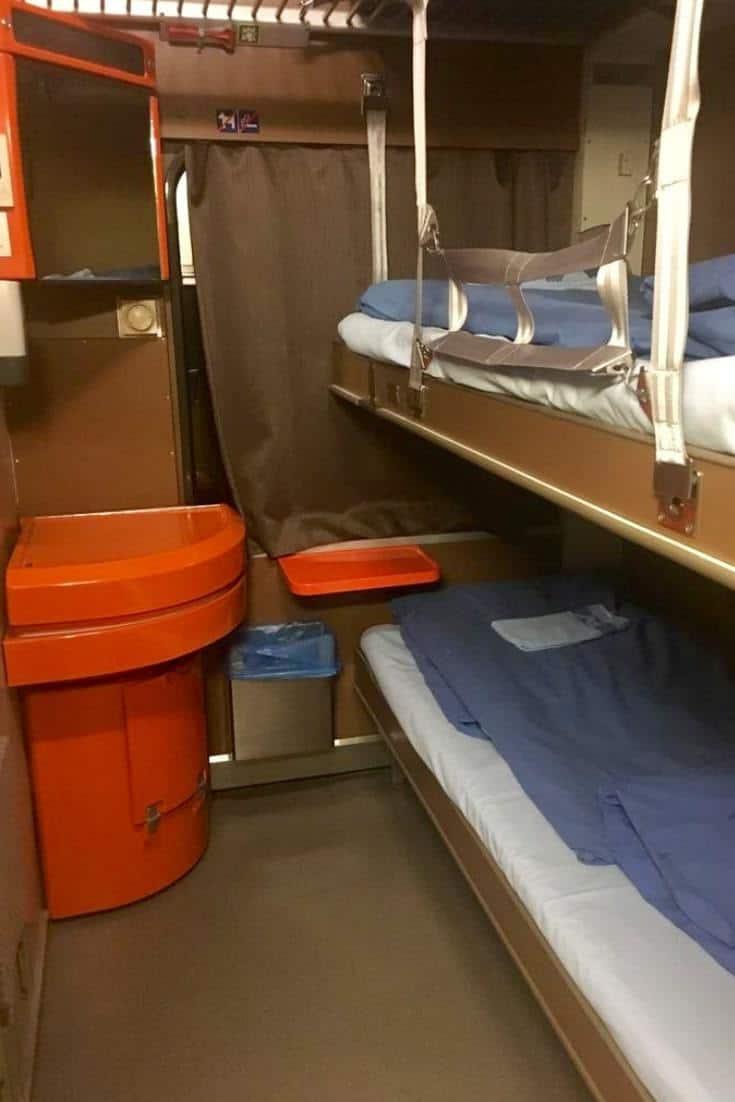 The compartment.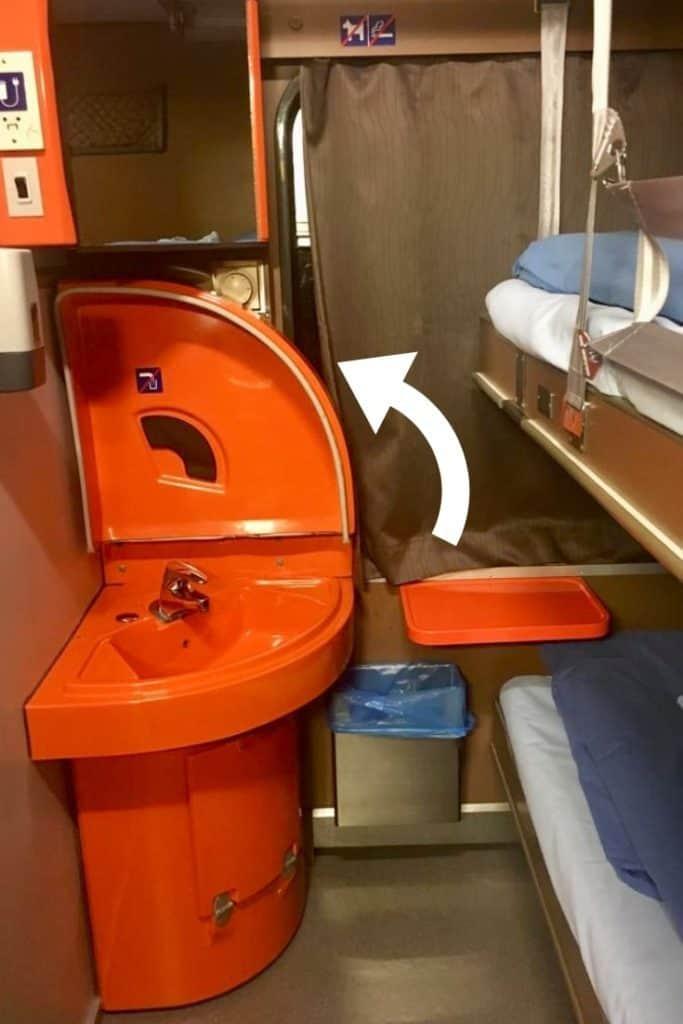 The orange table of the compartment is a sink too!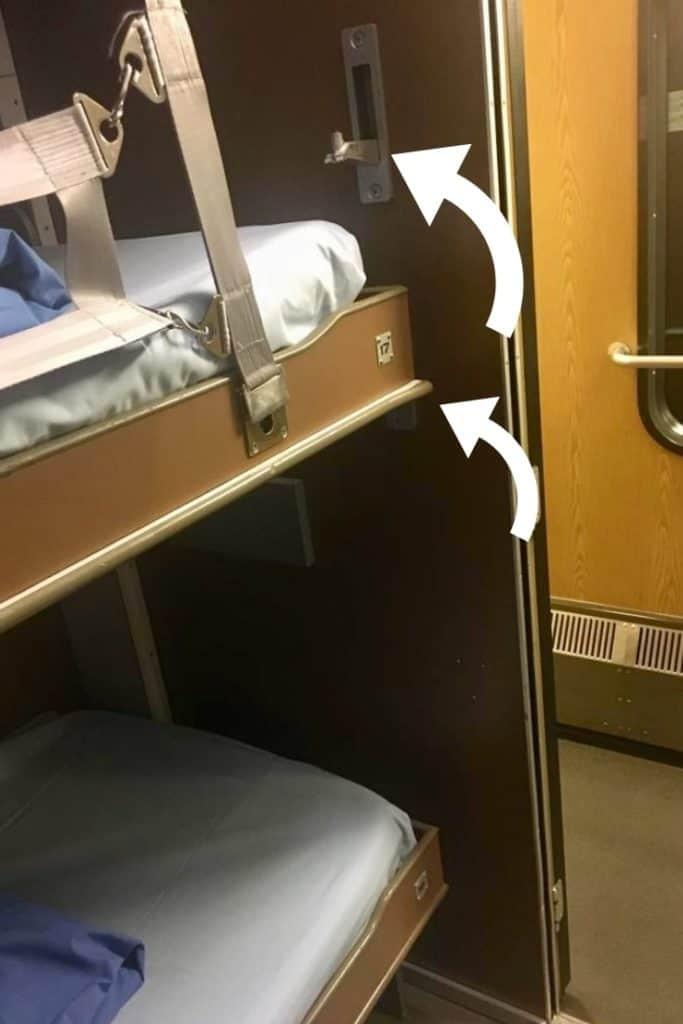 The upper bed tilts with the use of the 'wall spike' so that you fit to sit straight on the bed below.
Will you travel from Helsinki to Lapland by train? Was this guide helpful? Let me know in the comments below!
Looking for more tips on visiting Lapland and Helsinki? Check out some of my other guides:
Warm wishes from Finland,
Varpu
After this quick cultural class, you'll know…
Why feeling connected with the Finnish lifestyle is easier than you think
"The Hedgehog" template that makes it super comfortable to start a conversation
The one question that will confuse both you and the Finns
How to blend in with the Finnish culture, not that you have to fit in
Join the class and jump to Finland with me!
Hello there!
I'm Varpu. One blonde,
travel-loving,
Finnish engineer driving this site.
Facebook Instagram Pinterest Twitter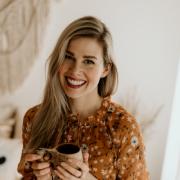 About Varpu
I'm the founder of Her Finland. I love cultural tidbits, aha moments, Finnish folklore, and cinnamon buns. My newest interest is learning bird songs. Read more about me..