*Please note that this post has affiliate links. If you buy through my links, at no additional cost to you, I may earn a small commission, which helps the upkeep of this blog.
Are you wondering if Finnish Lapland could be the dream destination for your wedding, engagement pictures, or couple's photography?
My short, biased answer: YES.
Lapland is a magical place during any season. No wonder it was a no-brainer for me and my hubby to plan our elopement there.
Even as Finns living in southern Finland, we understand how surreal Lapland is in the Fall.
Originally, we were planning on having a small wedding, but as the situation in 2020 rolled over, we decided to save the whole wedding reception for a later time.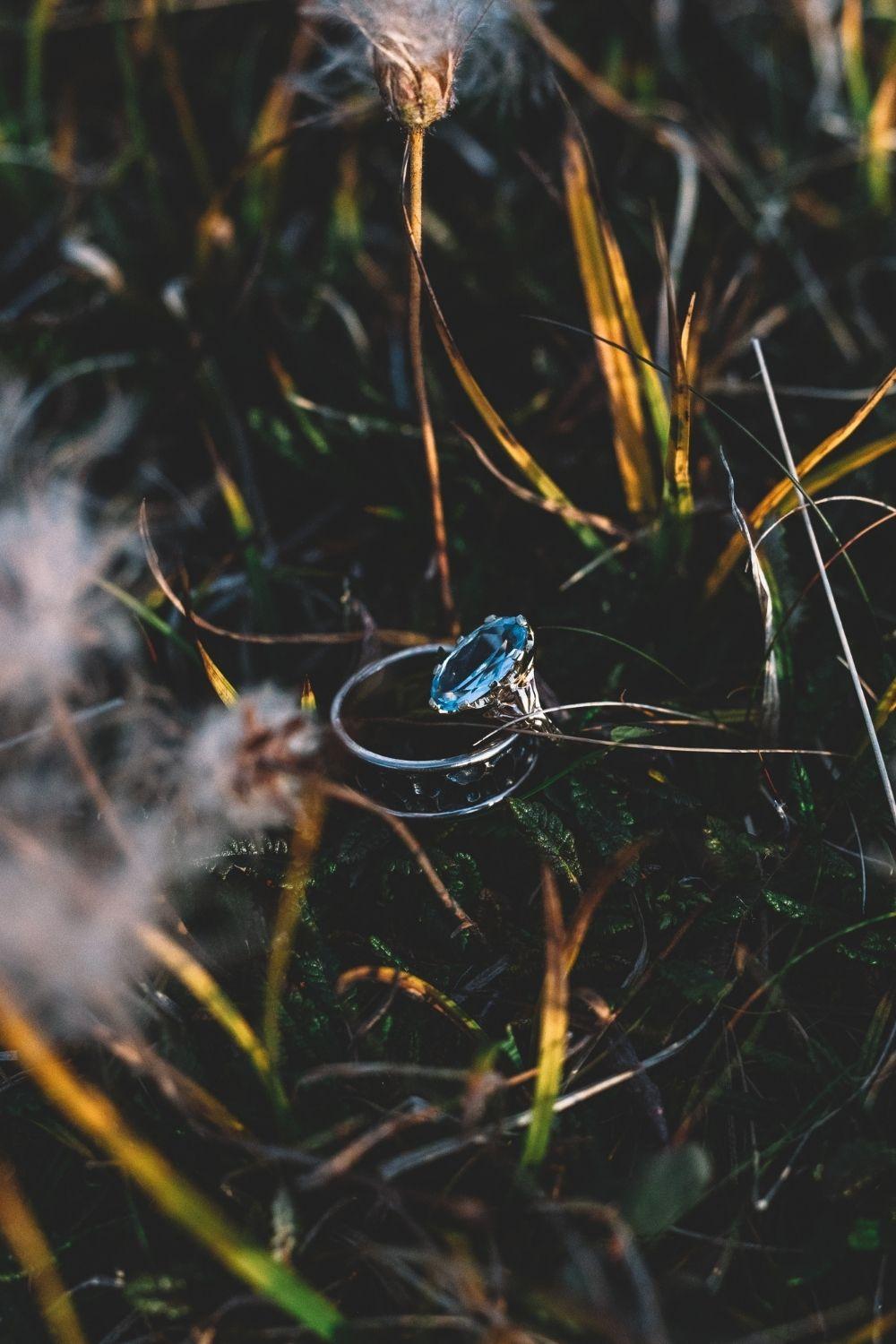 So instead, we registered our marriage with the officials in southern Finland. Then, we hopped on a night train to Lapland with our 2-year old.
The night train to Lapland is great because you can stowe your car on the train also.
It was finally time to enjoy our elopement and honeymoon in the stunning mountainous scenes of Kilpisjärvi.
Our car was not only filled with the wedding attire for our Lapland wedding photoshoot but also with outdoor gear since we were planning to do a lot of hiking.
I hope this blog post helps you plan your very own dreamy couple's photoshoot in Lapland!
For us, it was a super romantic day that allowed us to focus on our love and the breathtaking nature surrounding us.
Come say hei on Instagram and see more beautiful shots from around Finland.
View this post on Instagram
Our Lapland Wedding Photography details
Here are our details so you can replicate a magical elopement day of your own!
Location: Kilpisjärvi.
If you didn't know, Lapland itself isn't a city. It's actually the northernmost region in Finland that contains many towns and villages inside of it.
So it's important to choose your destination within Lapland wisely. For us, Kilpisjärvi was the perfect fit.
This part of Lapland, the outermost northwest tip of Finland, has the country's most mountainous scenery.
Our photoshoot took place in two places: The rapids of Tsahkaljävi lake and on the steps of Saana fell.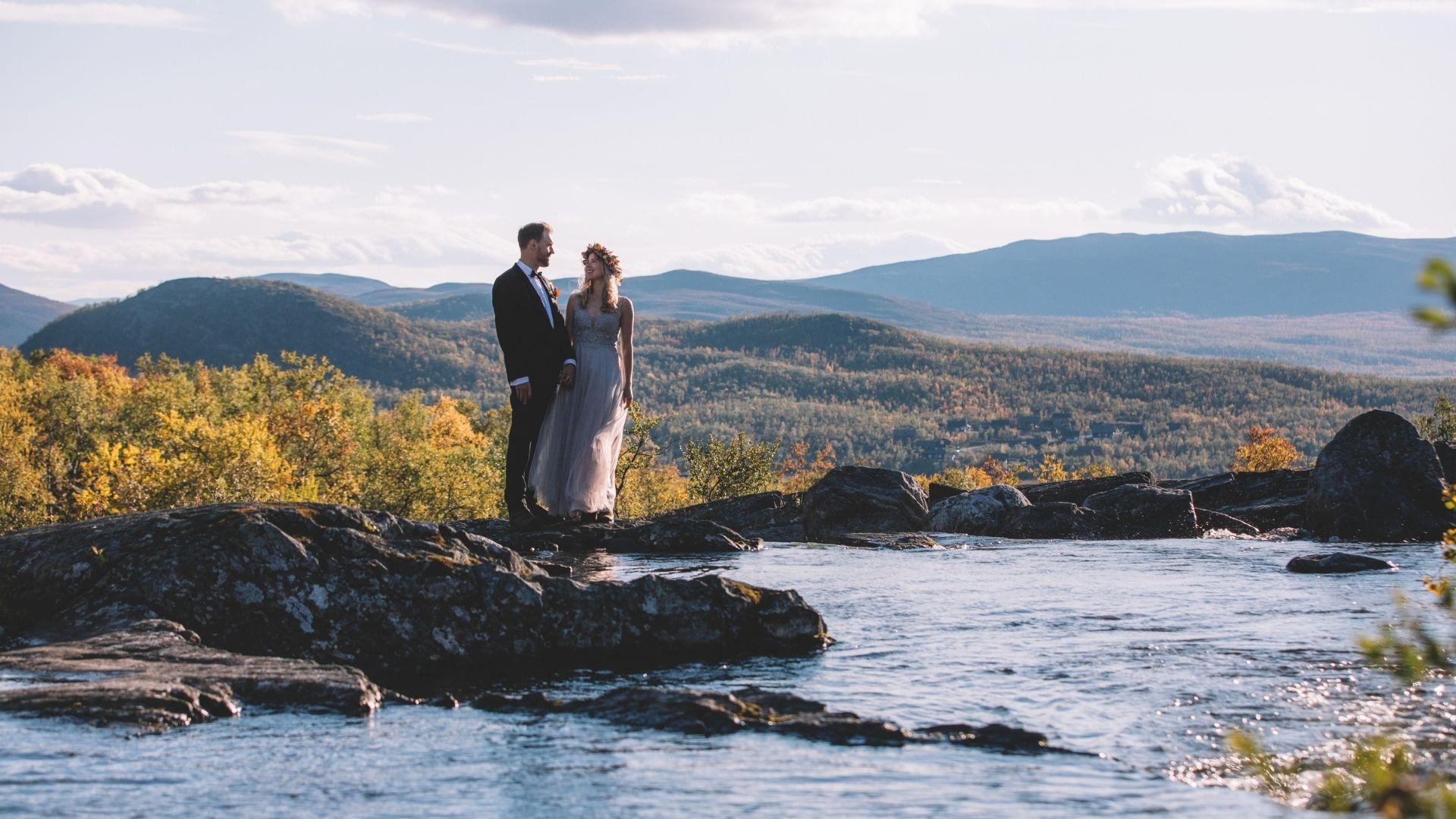 Tsahkaljärvi rapids are only a 10-minute stroll away from the parking lot. It's more accessible than the Saana fell.
The Saana fell location requires a 30 to 45-minute hike uphill. And yes, I hiked that trail in my wedding dress.
Both locations have perfect gravel hiking paths so it's a comfortable walk (aka when wearing hiking boots, not in stilettos.)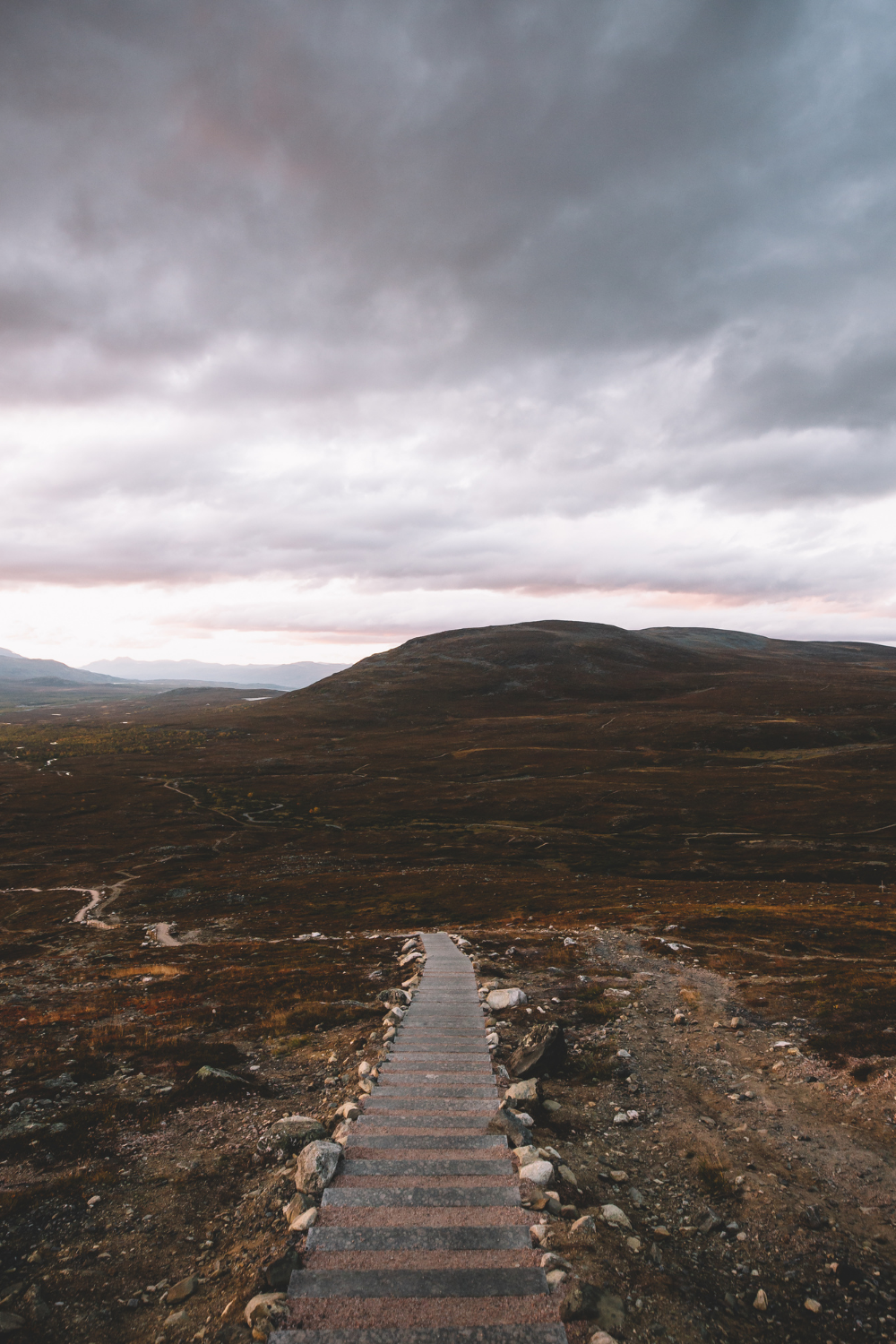 Time of year: September.
In Kilpisjärvi, the explosion of fall colors happens in early September. Thus we coordinated our wedding pictures to be taken in early September, in the evening.
We spent the first part of the evening in Tsahkaljärvi and then hiked to the fell to catch the sunset.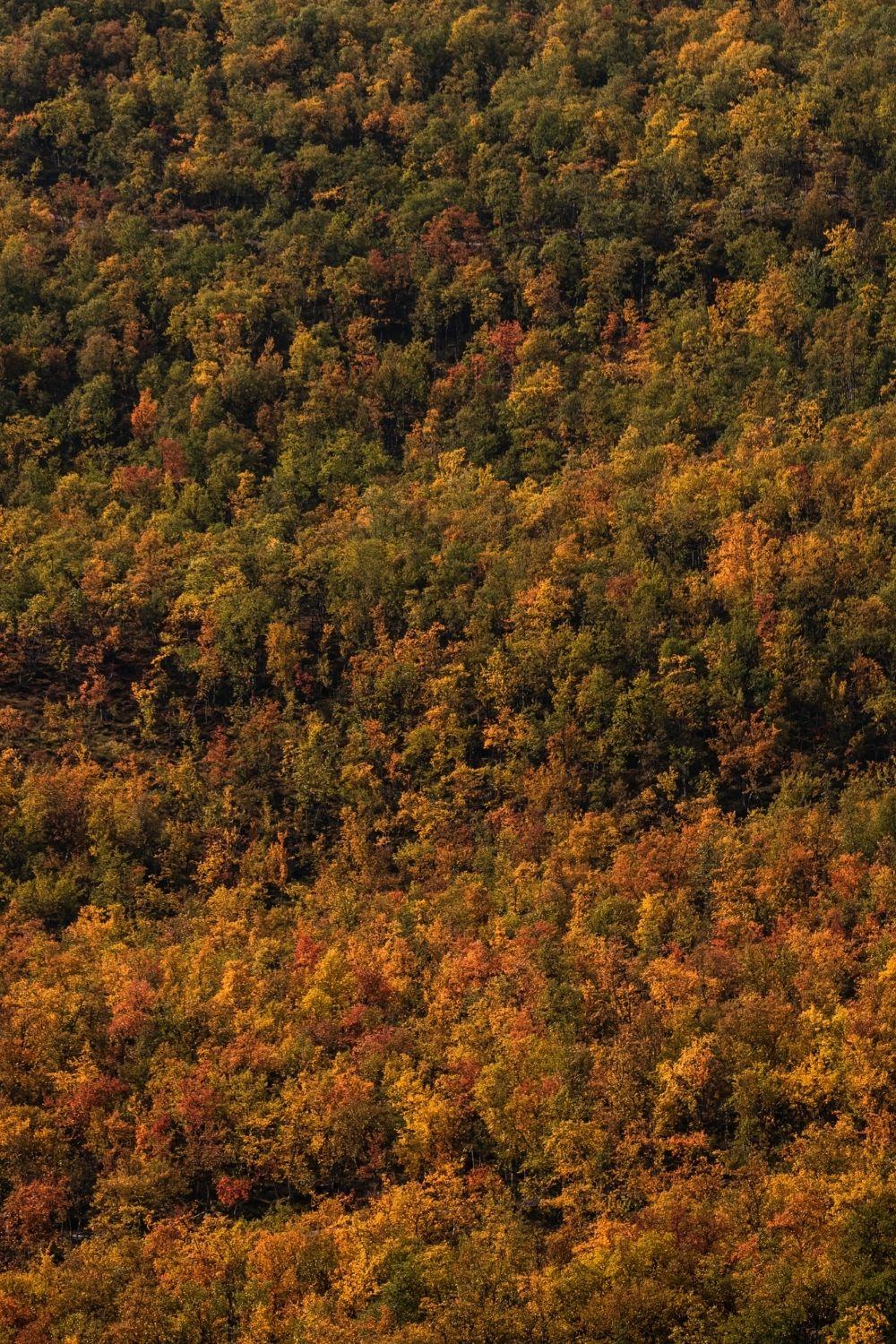 Photographer: Miika Hämäläinen.
All pictures were taken by the talented Lapland-based photographer Miika Hämäläinen.
My friends recommended him and wow, it was incredible to work with him.
Miika planned the shoot based on our dreams via WhatsApp and calls. His destination wedding photoshoot package was everything we could have dreamed of and more.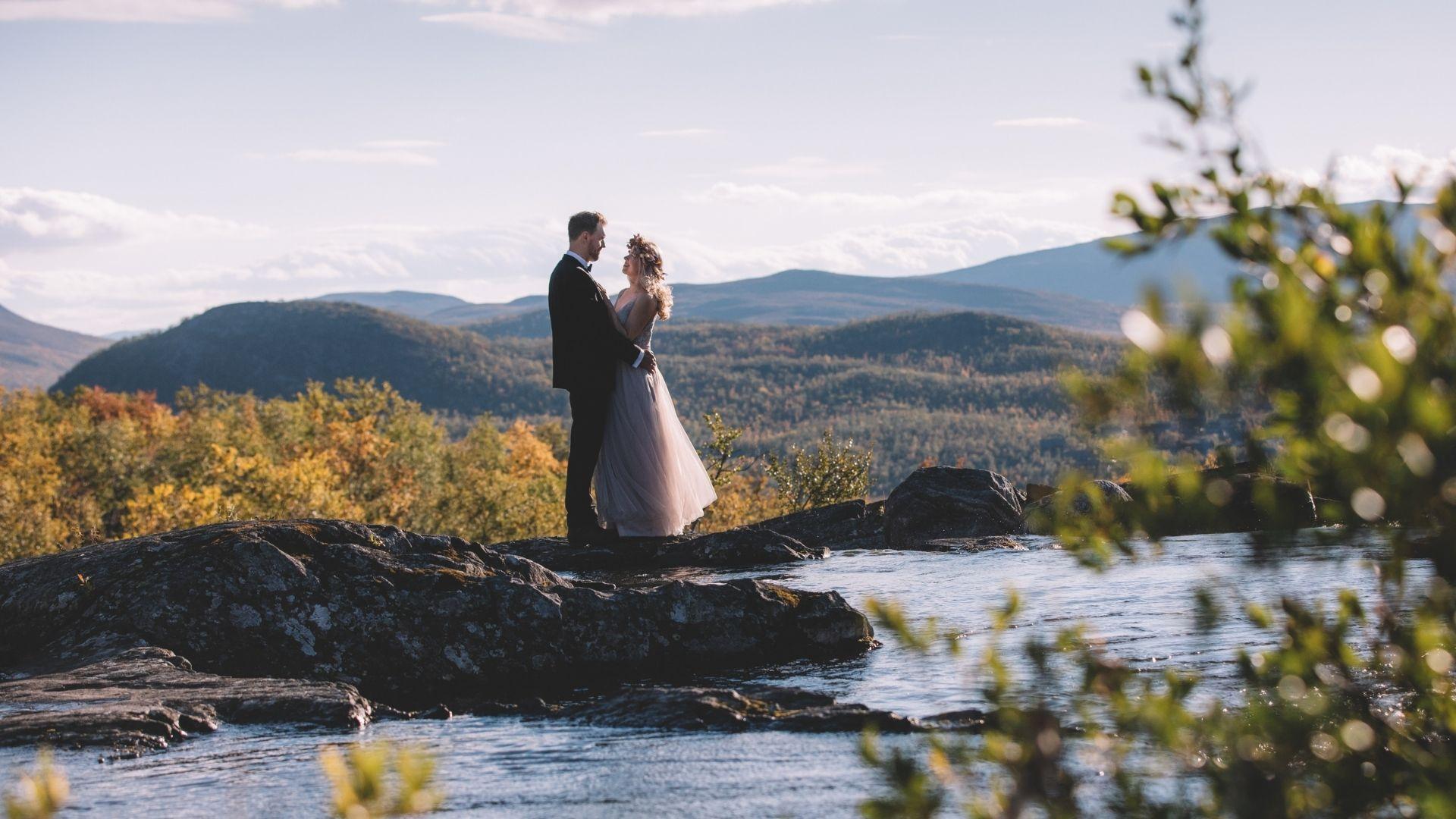 To capture these magical photos, he first made us feel super comfortable and then literally guided us to the perfect spots. He timed the shots perfectly with the sunset and light.
Miika and his team cater to international couples and families all around Lapland and you can find him here.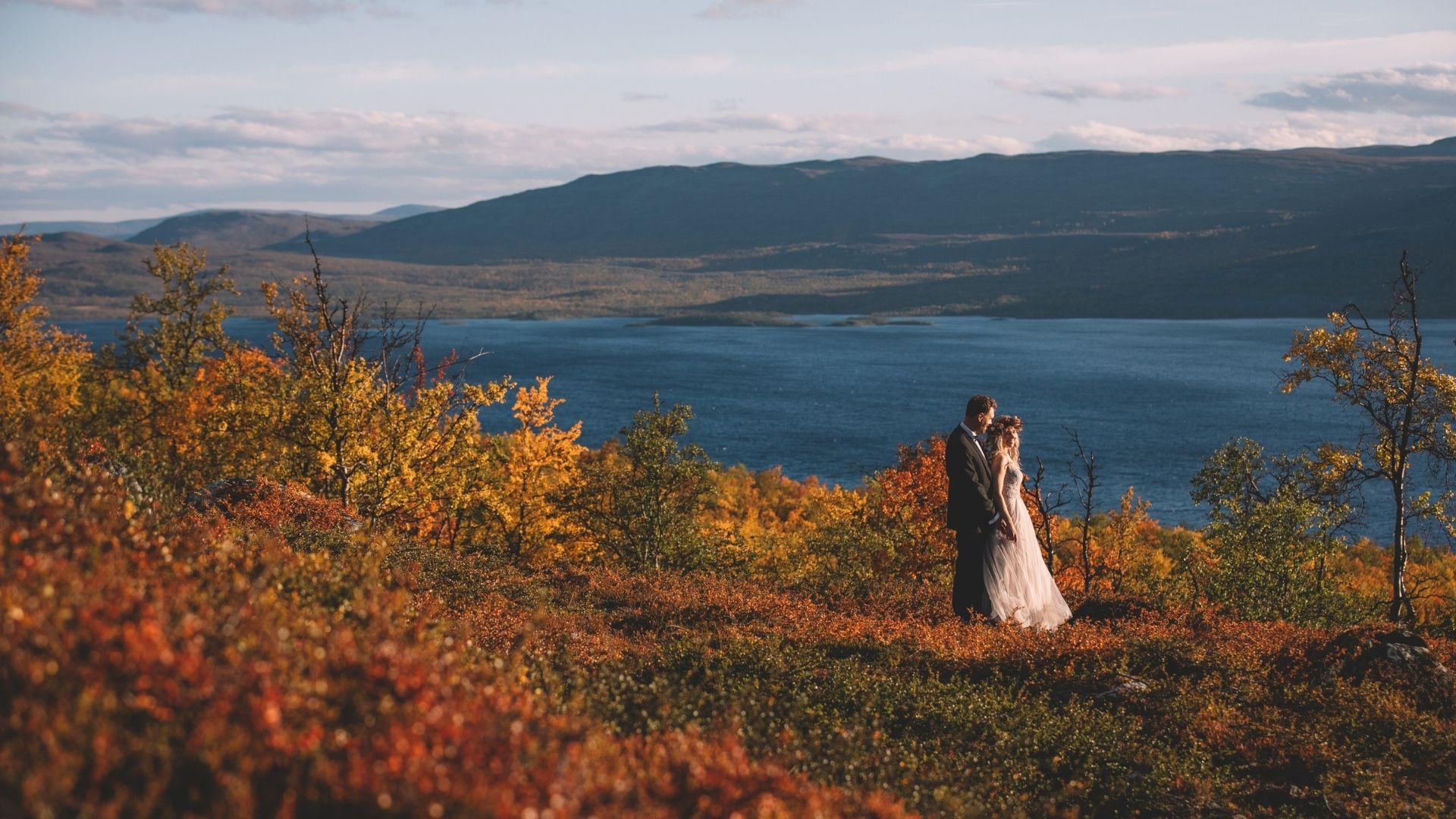 Why this Lapland Wedding Venue? The Legend of Kilpisjärvi
We were drawn to Kilpisjärvi for a couple of reasons. One reason was the magnificent mountains called Saana, Malla, and Pältsa.
The other reason was an intriguing legend about this region and its mountains.
The legend tells that before the time of man, the area was inhabited by giants.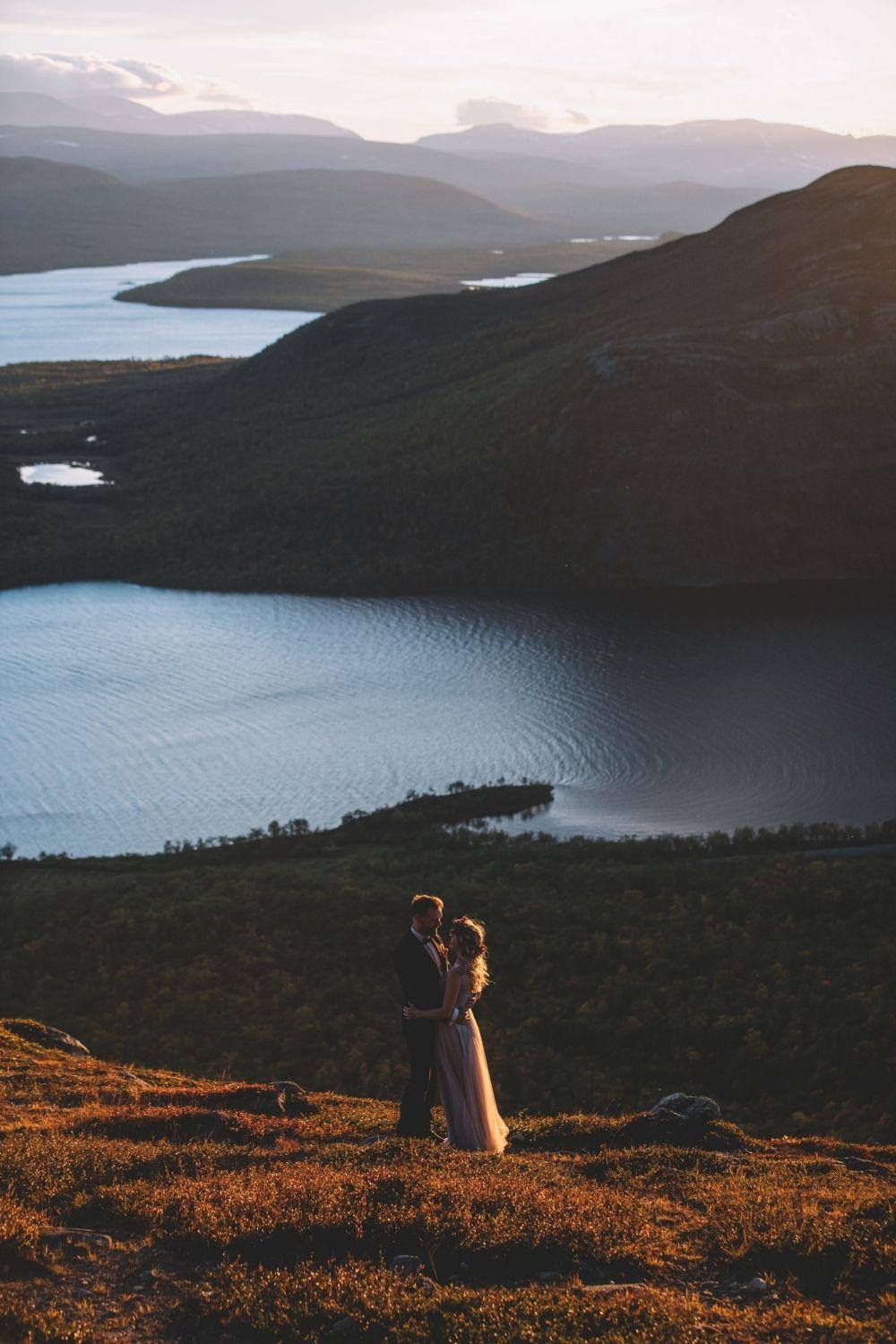 The joyous wedding of the giants named Saana and Malla was suddenly interrupted by a jealous rival Pältsa who had summoned the wicked witches of the Arctic Sea.
Fierce glacial winds began to blow and brought enormous masses of ice. The giants were frozen in place and formed the arctic mountains aka fells.
The grieving bride's tears and her mother's tears still fall as the Kitsiputous waterfall. It is said they formed the lake that is now Kilpisjärvi.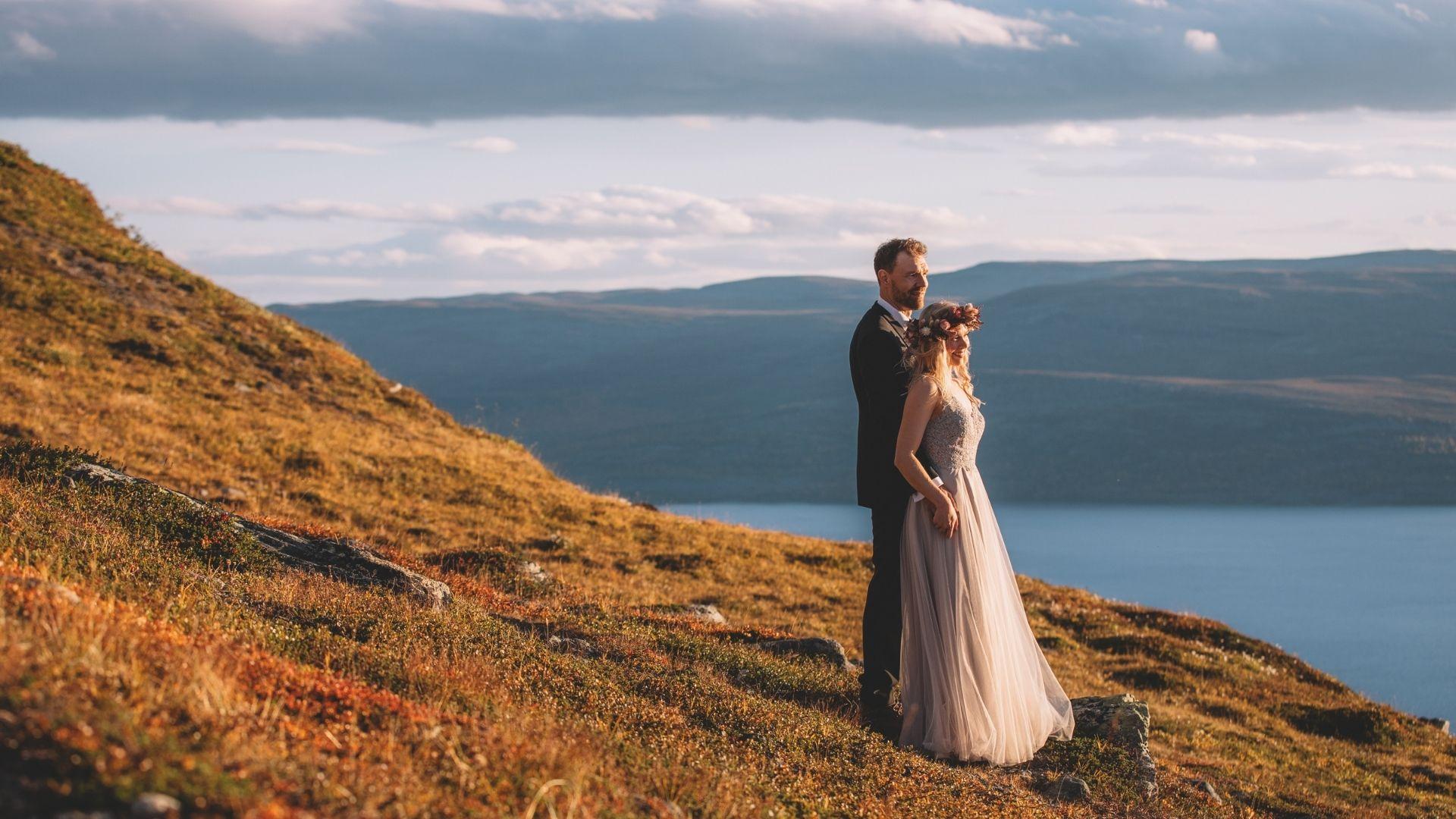 Nature celebrates the memory of Malla's and Saana's wedding through the blazing autumn colors.
They are the festive clothes of the guests ripped apart and blown away by the wind into the hills and valleys.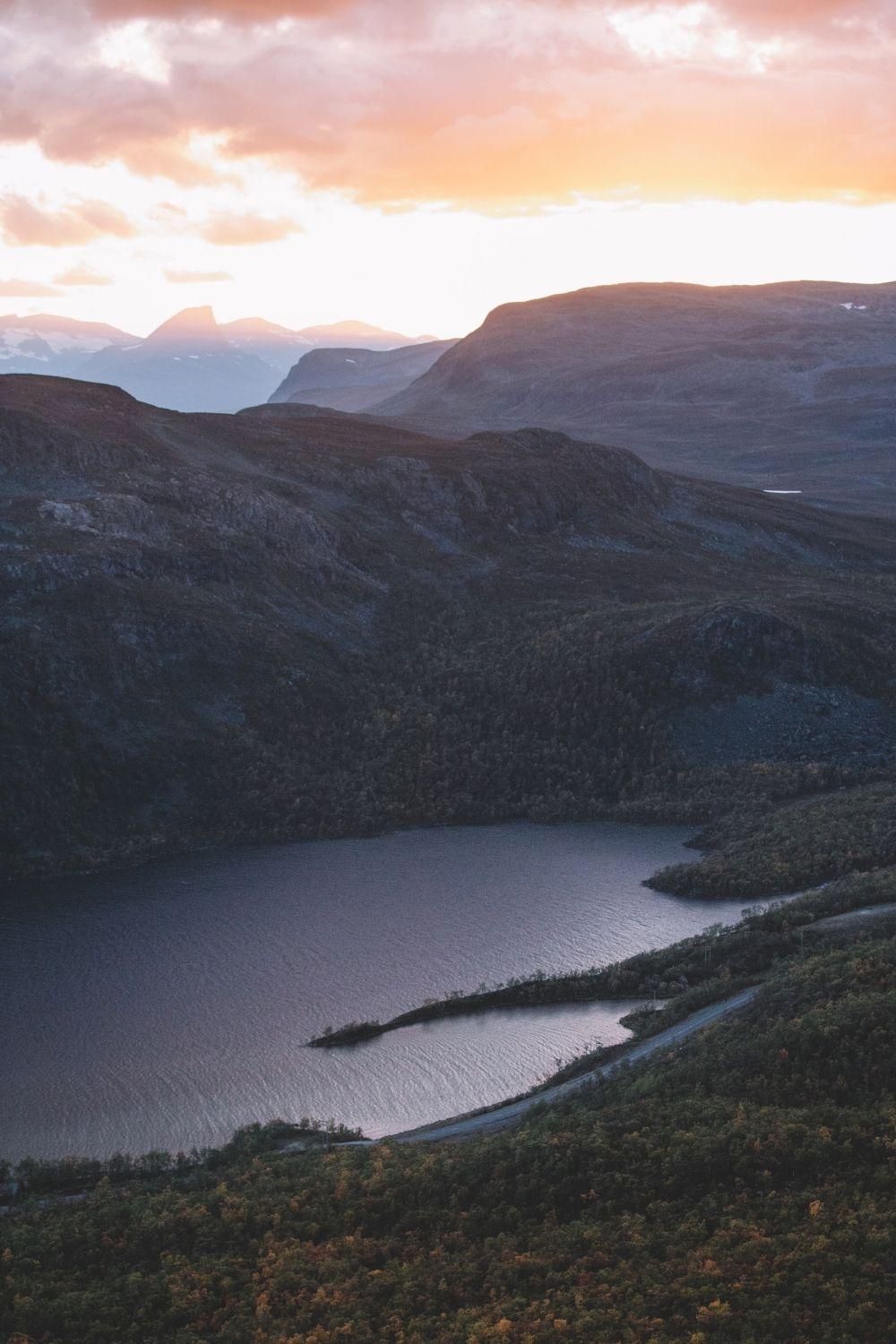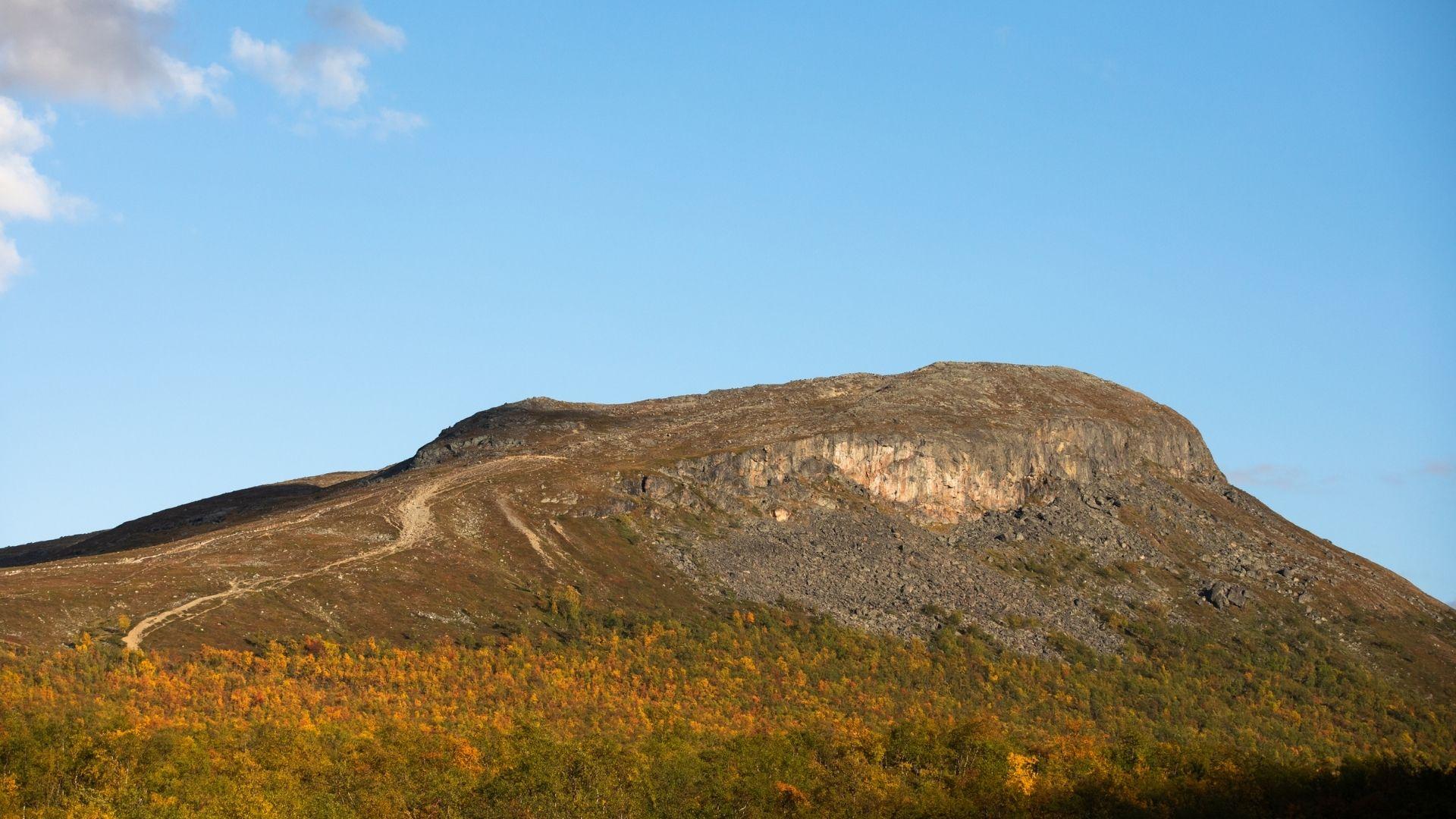 How to Plan Your Lapland Wedding Photoshoot
In my opinion, there are 3 things that are vital for a successful couple's photography shoot in Lapland (especially in delicate clothing):
Proper boots
Enough warm layers that are easy to take off and put back on
Plenty of snacks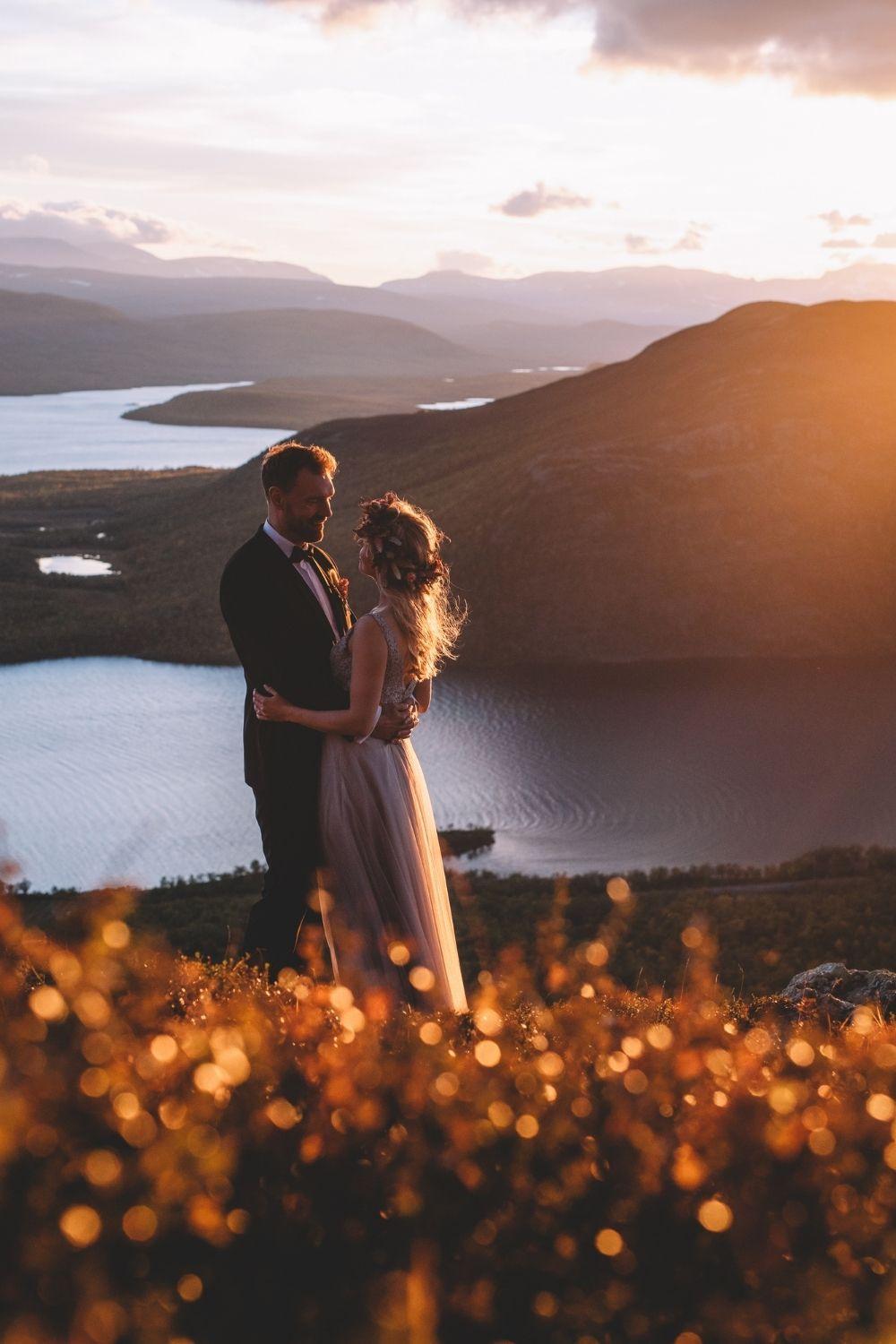 Proper boots for Lapland photoshoot
I didn't take high heels with me because I knew that hiking boots were the only working solution for the locations we had planned.
The slippery rocks near the rapids and the fell slopes would have been impossible to walk on with stilettos.
Here are great hiking boots I recommend for similar terrain.
The hem of my wedding dress was cut so that it matched my hiking boots.
Note that proper hiking boots have a thick shoe sole, so you are definitely getting that elegant, elongated look on your dress with them!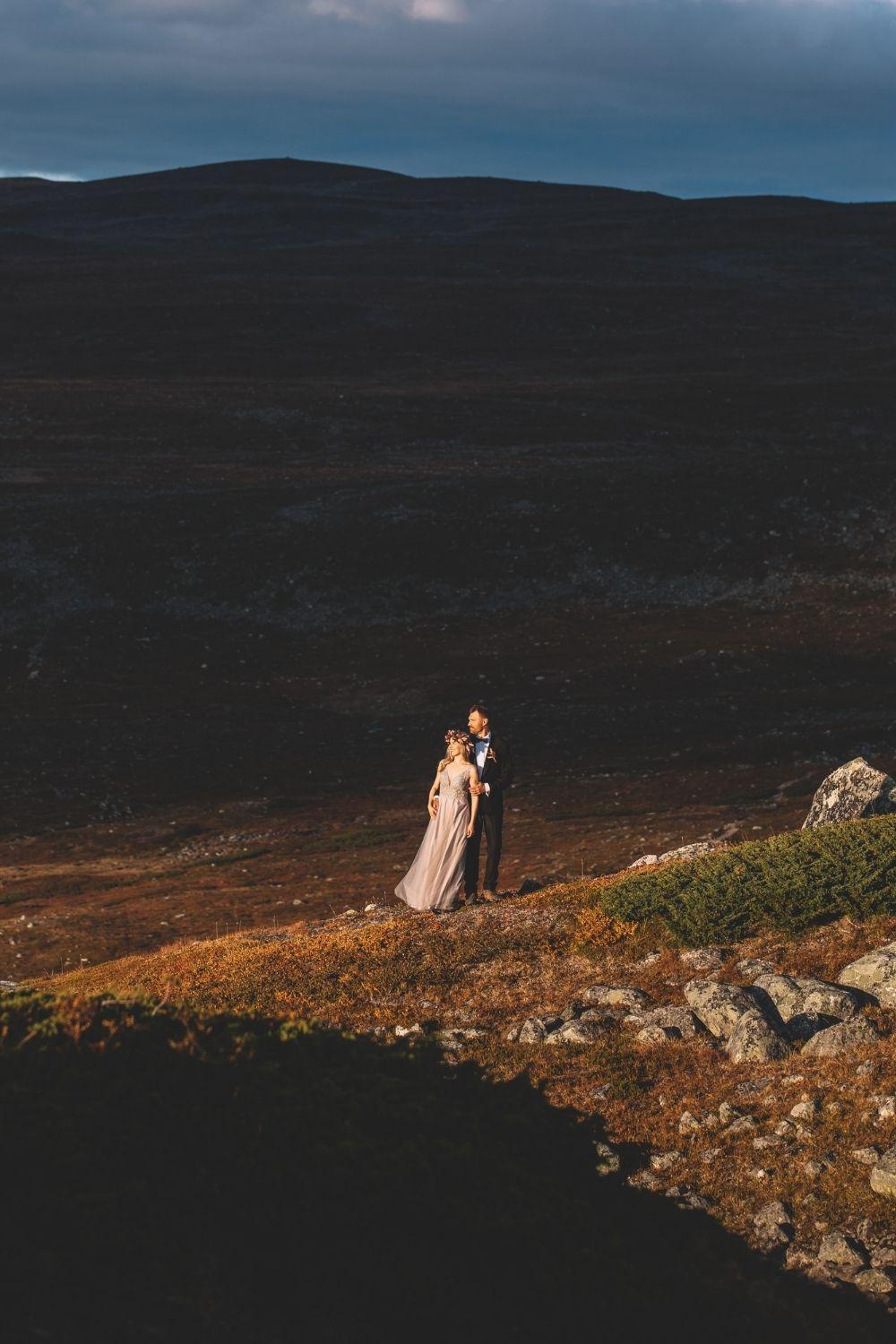 Warm layers for the arctic weather
Underneath my dress, I had wool leggings, fleece pants, super warm hiking socks and hiking boots. I'm not kidding, all pictures were taken with them on!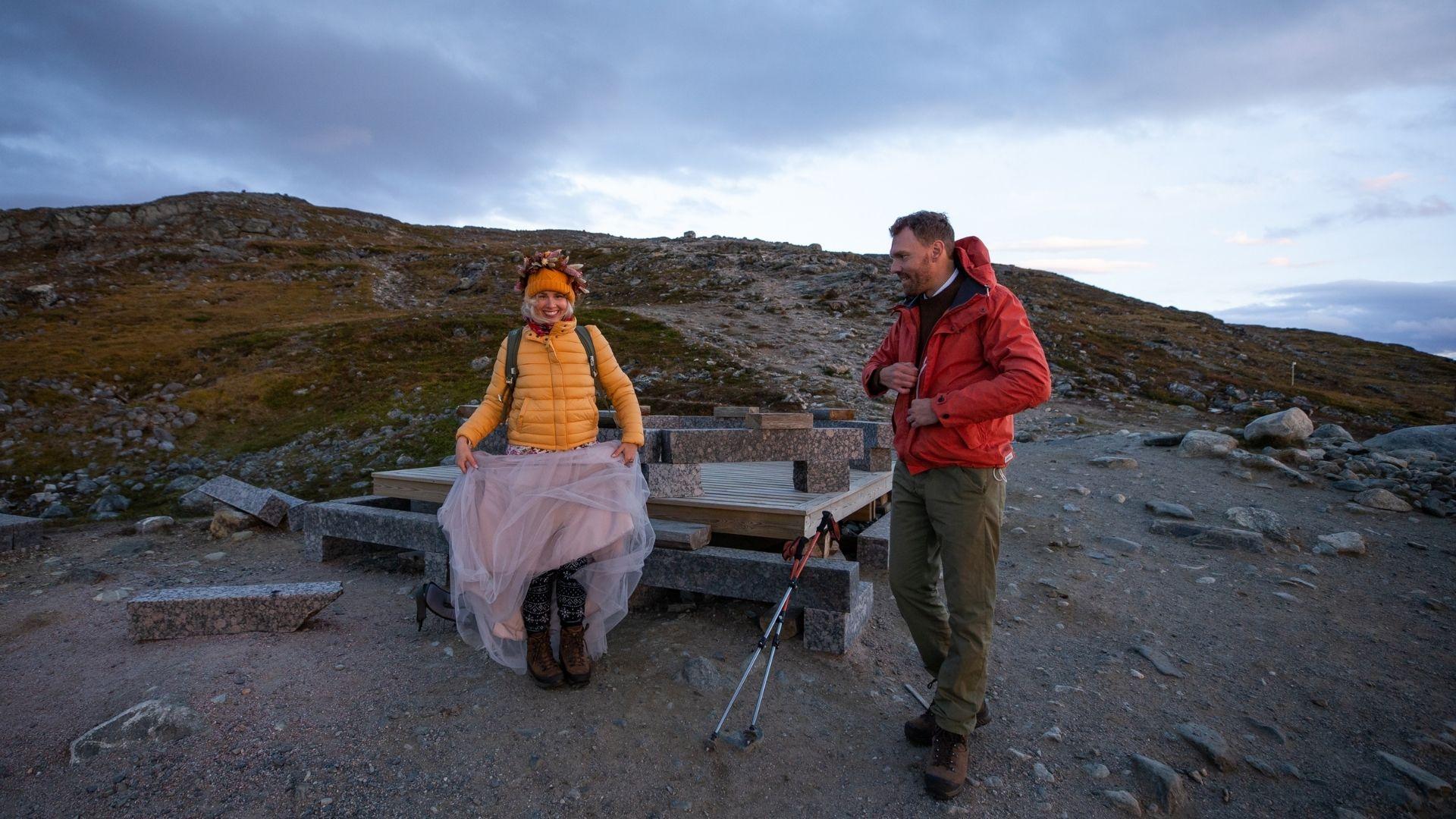 They provided me enough warmth to be half-naked in the upper part of my body. Whenever there was a break, I had a chunky wool cardigan, a light-down jacket with a big hood and gloves to put on.
These clothes were crucial for a happy, smiley bride in the pictures.
My husband is more hot-blooded so he was fine with just his suit, hiking boots and his hiking jacket during the breaks. When we were hiking, he also had his hiking pants.
I had a fur shawl as a prop and it was a lovely look for some of the photos. Fur cloaks with hoods also look great.
I think it was a good decision to not consider these props as the sole source of warmth but to also have proper gear with us.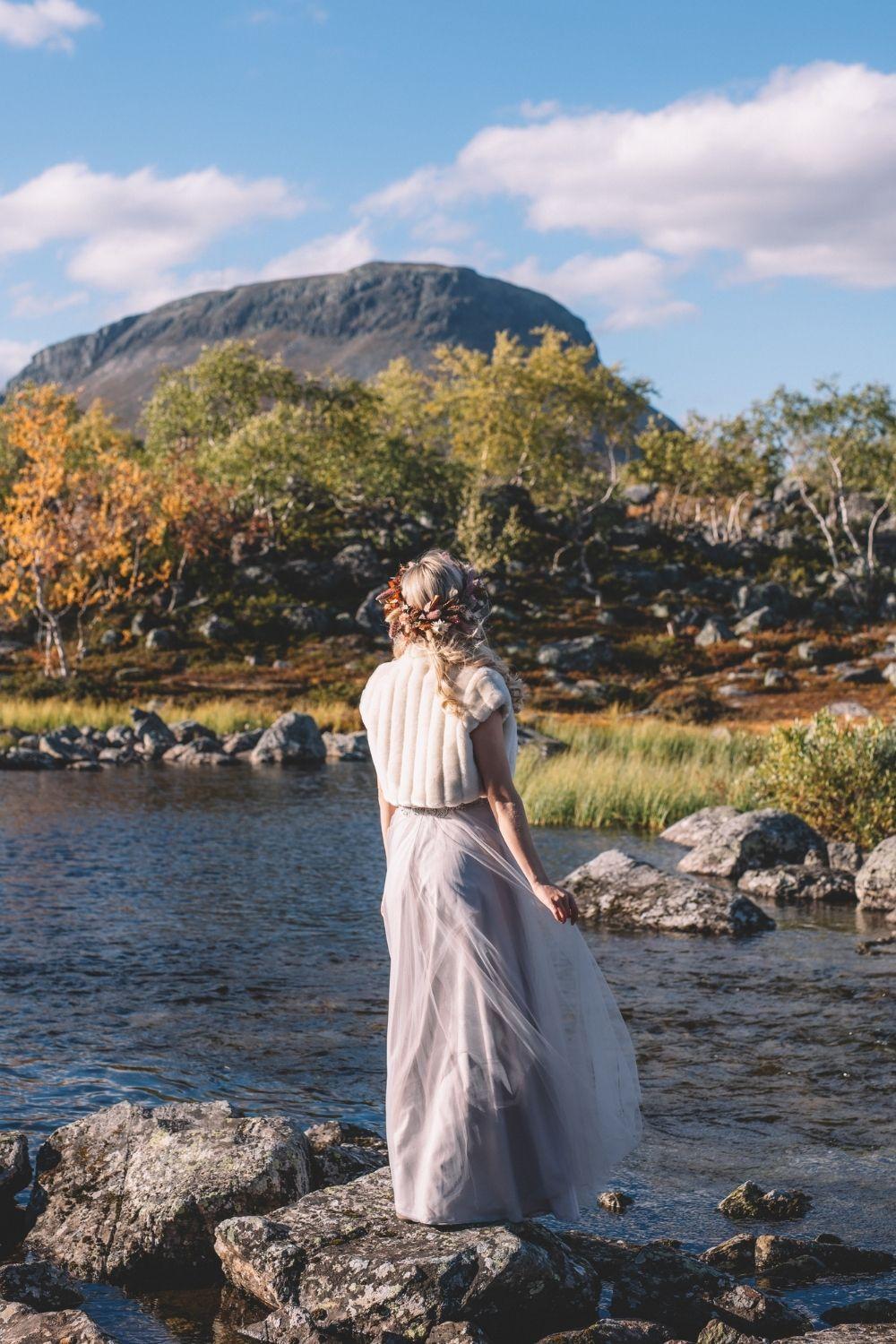 When we were hiking in the fell, I had a beanie on too. My relaxed hairstyle allowed me to take the flower crown off and on when necessary.
I did have an s.o.s make-up kit (powder, lipstick, comb and mirror) with me on-board.
Take snacks
We had water, hot juice in a thermos, nuts, chocolate, and cookies to keep our energy levels high. Highly recommended!
Grab the free kit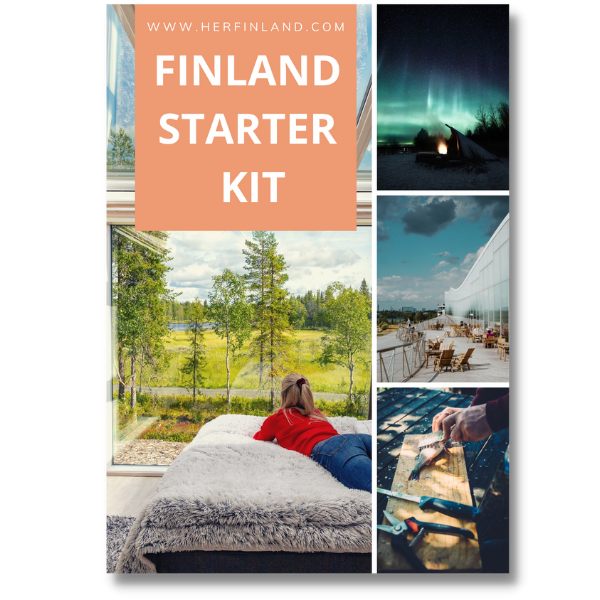 The Perfect Wedding Dress & Accessories for a Lapland Wedding
Wedding Dress
If you are looking for a dress that will look stunning in an Autumn, Nordic landscape, I suggest a dress that is light and airy.
When the wind blows, your dress will flow and that movement looks fantastic in pictures.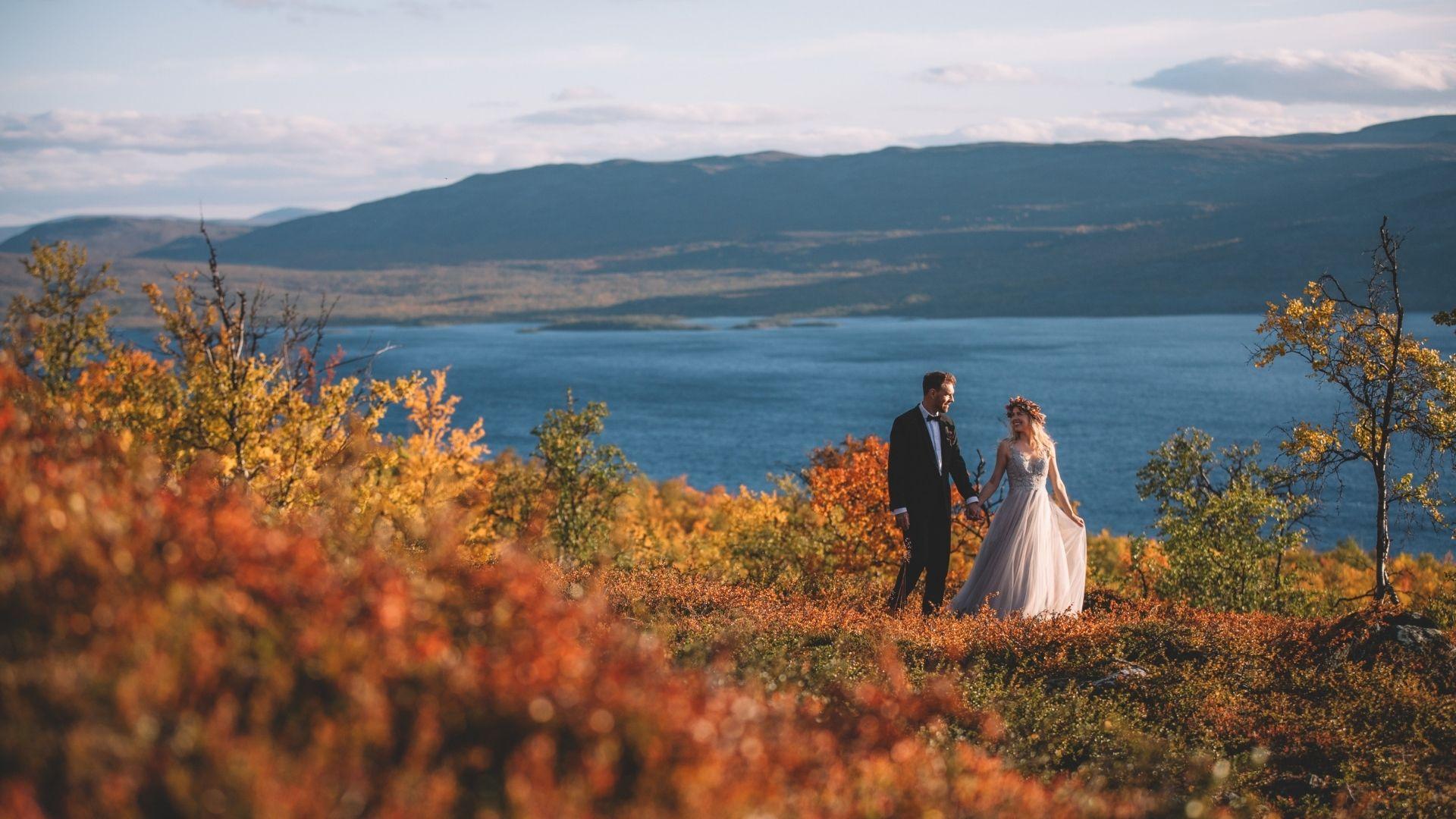 Remember to have an iron available during your stay in Lapland. Even if you have a garment bag for your dress, it may still get wrinkles during transit.
You can double-check to see if there is an iron you can use where you are staying.
When you're dress shopping, make sure your selection is possible to transport easily in your luggage.
Again, most flowy, fairy-like, 20's inspired dresses work well for this.
Consider the length of your dress. You want to make sure that the back of your dress will hide your hiking boots and wool leggings in your pictures.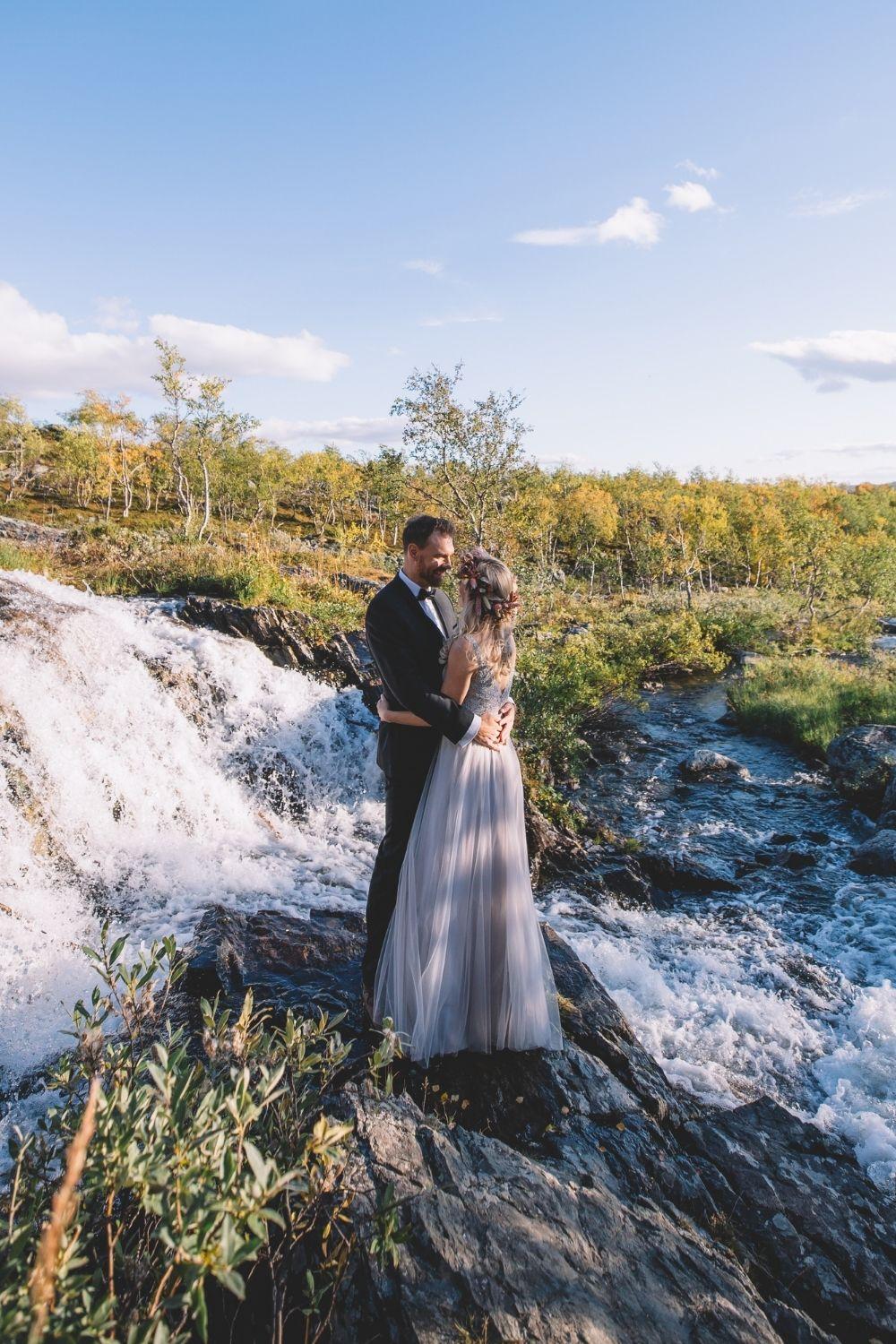 Flowers
There can be an hours' drive to the nearest flower shop while you're in Lapland. That's why I opted for a dried wedding flower crown by the Finnish flower shop Florencia in Lahti, my hometown.
I sent a couple of Pinterest pictures of flower crowns and the picture of my wedding dress to Merja, the owner of Florencia. She crafted an amazing flower crown and a matching boutonniere. They were even more beautiful than I had imagined.
We stored the flowers safely in a hat box and the crown travelled with us to Lapland.
I now have the flower crown hanging on our wall as decor. It's such a lovely memory of our special day.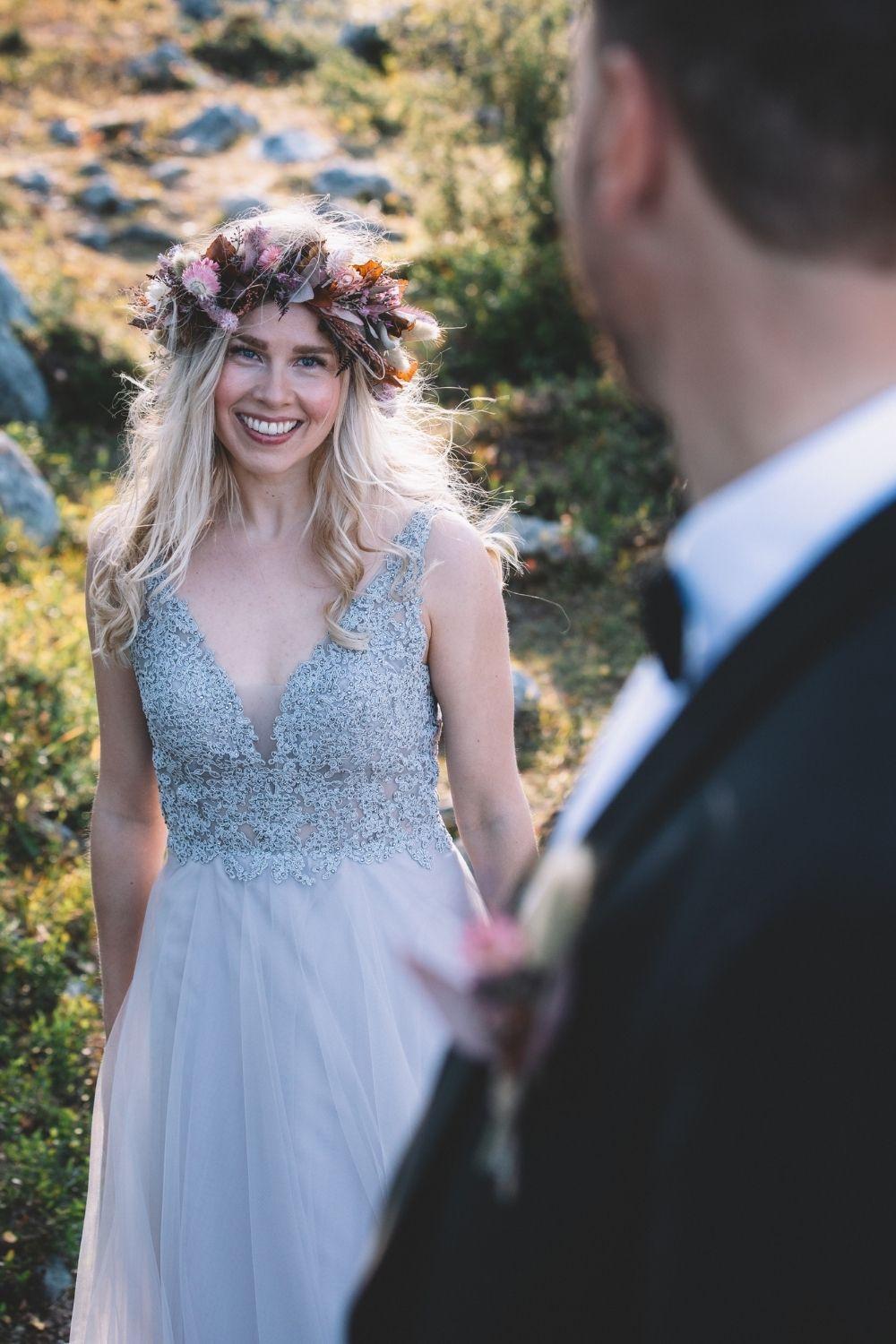 This picture won the Wedding Picture of the Year 2021 in Finland.
Hair and make-up
If you're planning to do an outdoor shoot, you cannot predict the weather. It can be very windy.
That's why I just curled my hair so that it would have that natural, wind-blown look.
I was so happy with the look and discovered while hiking that I wouldn't have been able to pull off a sleek bun look under those circumstances anyway.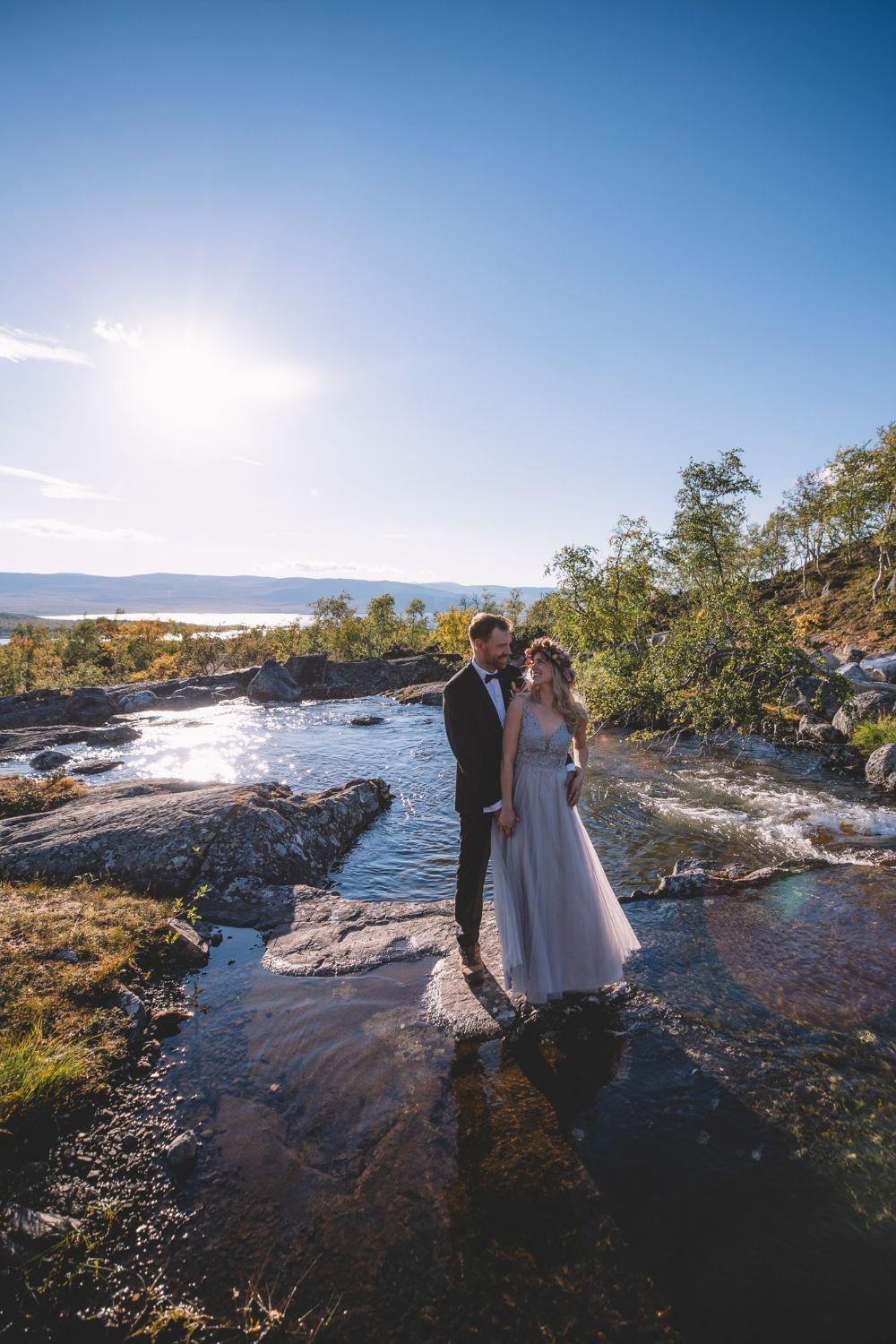 I also did my own make-up. I recommend trying out your bridal look at home and being a couple of hours outdoors with it, so that you can see, if all products work for you and don't start to drip or crease.
Here are my favorite cosmetics that work on my skin outdoors.
A good base and foundation is everything for such a long photoshoot. I applied temporary eyelash extensions and they worked great outdoors.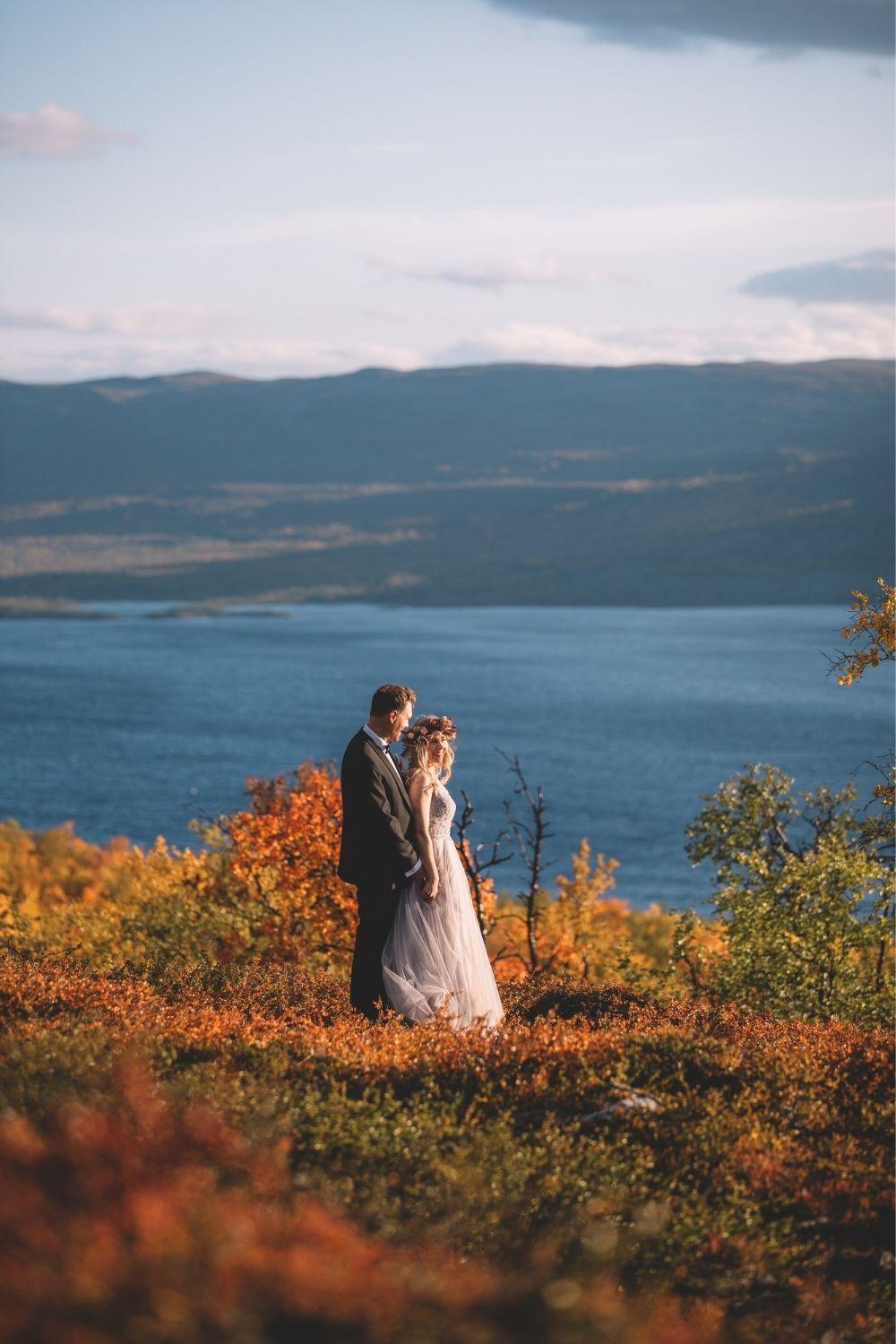 Wedding favors
How would you like to say thank you? We ordered couture cookies from Leidi Pipari who mixes Finnish flavors with the American style cookie tradition.
Our custom-made wedding favor cookies were both delicious and beautiful with edible gold, all packed in biodegradable little baggies. She even matched details like the ribbon to the color of my dress.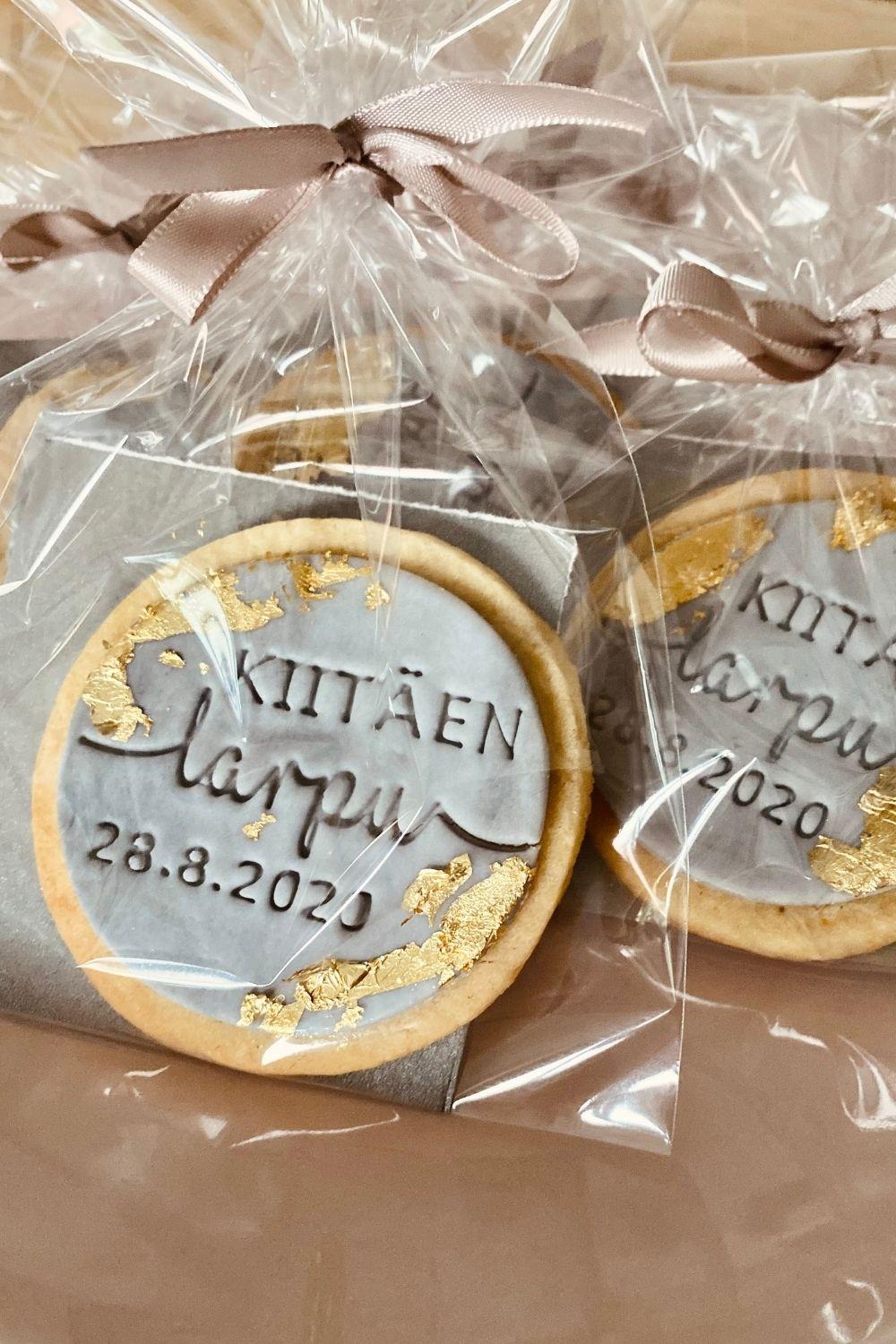 Must-know Couple Photography Tips for Lapland
Make a moodboard for your photographer.
Ask for their ideas based on time of year. Sunlight is very different during different seasons and times of the day. A local photographer knows this the best.
Double check how you get to the location. You may need a car. You can also ask if you can travel in your photographer's car.
If you're traveling with children, book a babysitter. Ask early about babysitting possibilities within the location. Some destinations offer them, like the place where we stayed (more about that later in this post).
Check out the terrain before sitting or laying down. There are lots of berries and reindeer poop in Lapland. If you're not paying attention, there's a high risk, you will stain your clothes.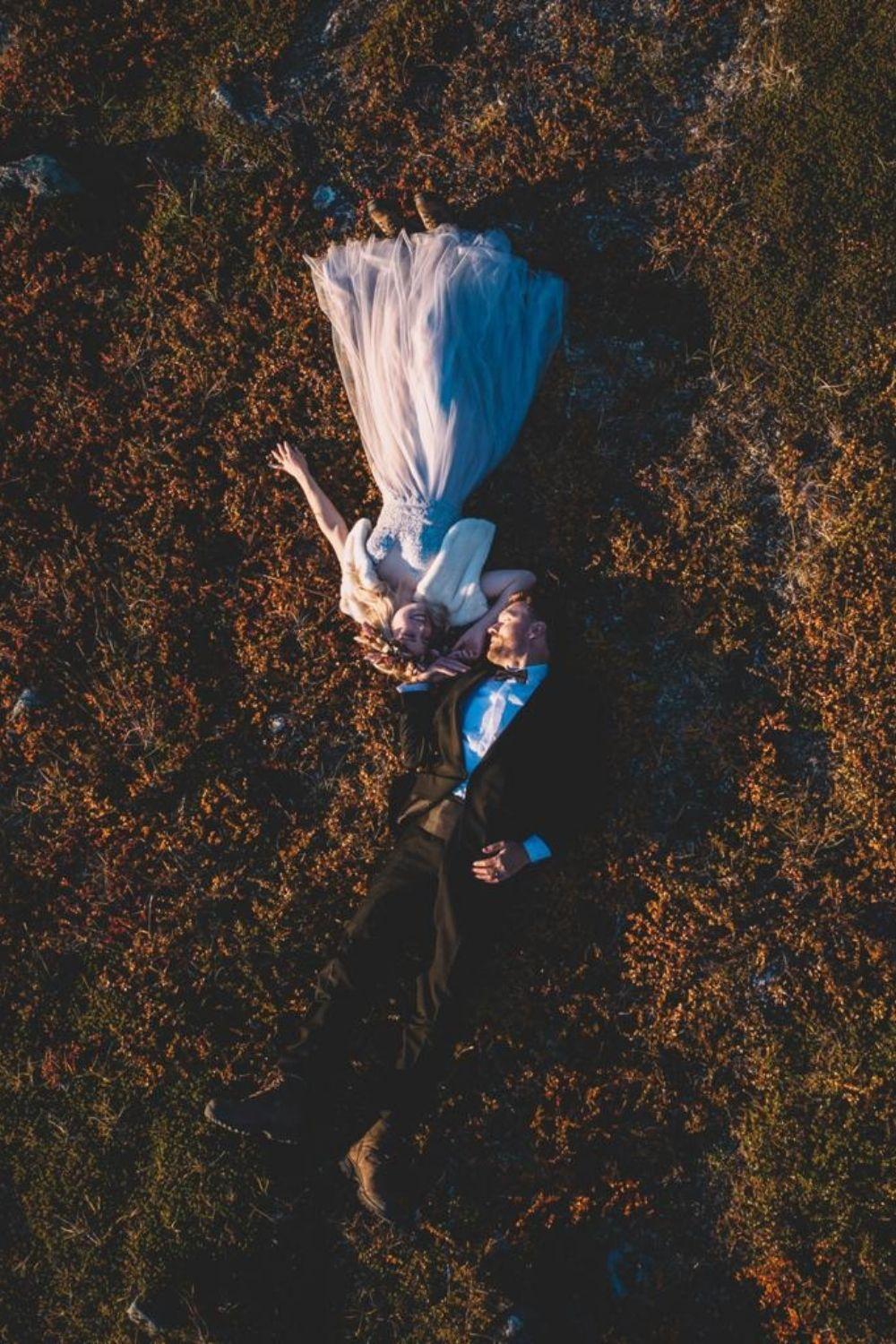 Staying in Kilpisjärvi
​
Where to spend the wedding night?
If you are my Finnish culture or language student, you probably know that I love history and exploring different cultures and lifestyles in Finland.
It was a dream come true that as a part of a commercial collaboration, we got to stay in Kilpisjärvi at a sustainable luxury glass igloo resort + traditional Sámi reindeer ranch, called Arctic Land Adventure.
Our honeymoon there was beyond anything I had pictured in my head. Here's my detailed blog post about this dreamy place.
At the ranch, there's also a Lapland-style hut restaurant for private events. I think it might be a wonderful venue for a tiny Lapland-themed wedding.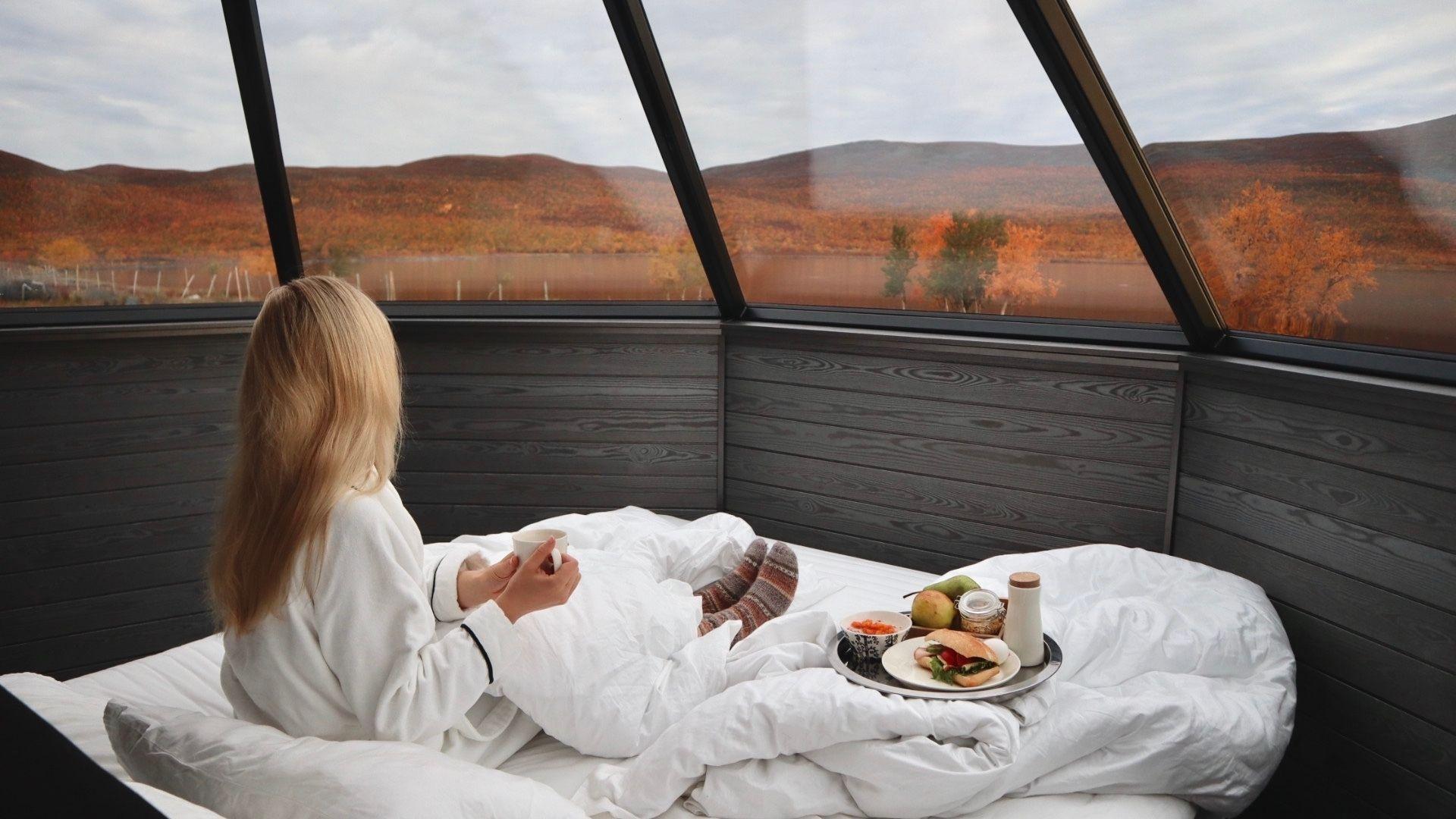 Kilpisjärvi is a hiker's paradise
If you're a hiker, Kilpisjärvi is the place to be!
I'll be posting my detailed travel destination guide to Kilpisjärvi soon.
So, if you're interested in that, please join our Her Finland community on Instagram and you'll be the first to know, when it's live.
Looking for more inspiration to prepare for your future Lapland trip? Grab a cup of coffee and check out these blogs next:
Best Lapland Holiday Ideas and Local's Guide to Finnish Lapland
Pyhä: The Scenic Rovaniemi Day Trip
Top 5 Dreamiest Igloos in Finland + Booking Tips
References: The Legend of Kilpisjärvi: Tarujen tunturit, Asko Kaikusalo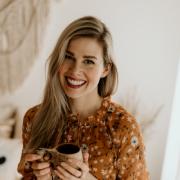 About Varpu
I'm the founder of Her Finland. I love cultural tidbits, aha moments, Finnish folklore, and cinnamon buns. My newest interest is learning bird songs. Read more about me..