In commercial collaboration with the award-winning glass igloo destination – Arctic Land Adventure. Please note that this post has affiliate links. If you buy through my links, at no additional cost to you, I may earn a small commission, which helps the upkeep of this blog.
The glass igloos in Finland have become a worldwide phenomenon. As a Finn, I couldn't be happier about the fact that travelers all around the world are discovering winter Finland and its arctic beauty.
Today, there are over thirty glass resorts in Finland, situated mainly in the northern areas of Finland. This is because the chances of catching the northern lights are much higher in the north.
In this post, I share my helpful tips regarding glass igloos in Finland so that you can find the perfect glass resort to suit your needs!
Together, we'll go through the things you should know before booking and what to expect from a glass igloo in Finland. Then, I'll introduce you to five beautiful glass igloo resorts in arctic locations.
Pssst…Follow me on Instagram, and get more Finland into your daily life immediately!
Here's what this post will cover. Let's go!
Glass Igloo Prices in Finland
During the peak season, glass igloo prices in Finland are around 600 euros and up per night in all resorts. As this is a new style of accommodation, the service and facility levels differ between resorts.
It's important to remember, that in many cases, the price reflects more the uniqueness of the experience than the luxuriousness of the stay.
You have the ever-changing, breathtakingly beautiful nature and light conditions to admire in a secluded, peaceful place.
When it comes to glass igloss and winter, it's almost impossible to score a "cheap deal". The demand is just too high. But, if you will visit Lapland in October when the aurora season starts, you can stay in glass igloo sometimes for less than 200 euros per night!
The Northern Lights and Glass Igloos
Booking a glass igloo won't increase your chances of seeing the northern lights. But, of course, it is much more comfortable to hunt auroras in your bed than outside.
The auroras are fickle and no place on earth can guarantee them to happen on a particular night.
You can maximize your chances of seeing auroras by staying in Northern Lapland as auroras follow certain latitudes. Statistically, your likelihood is the best around Kilpisjärvi latitute. Read here all about how to increase your possibilities of seeing the northern lights in Finland!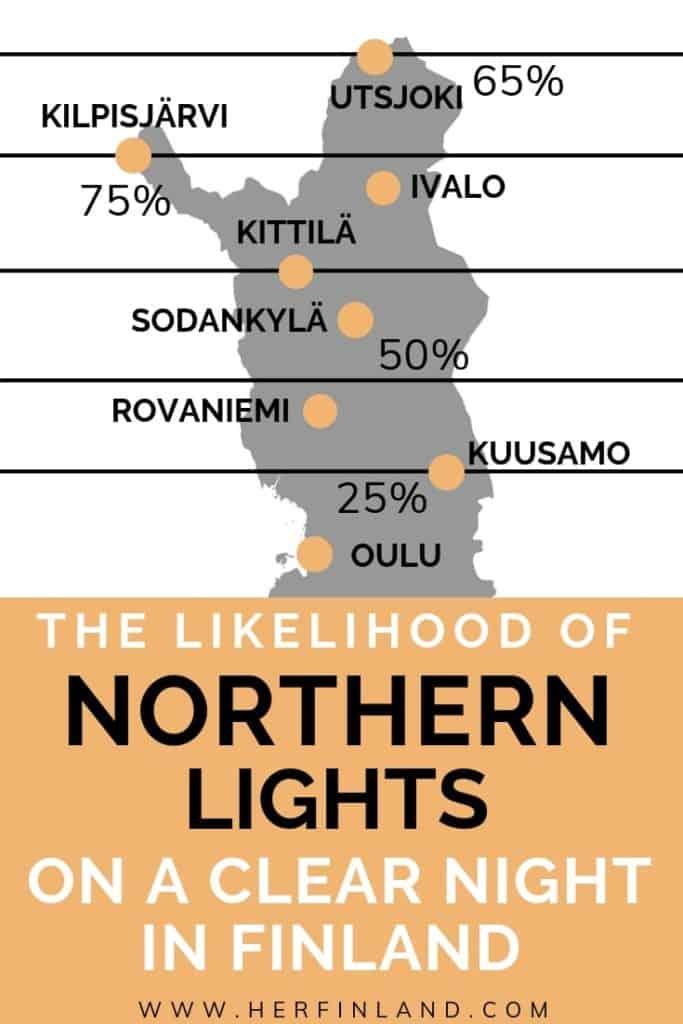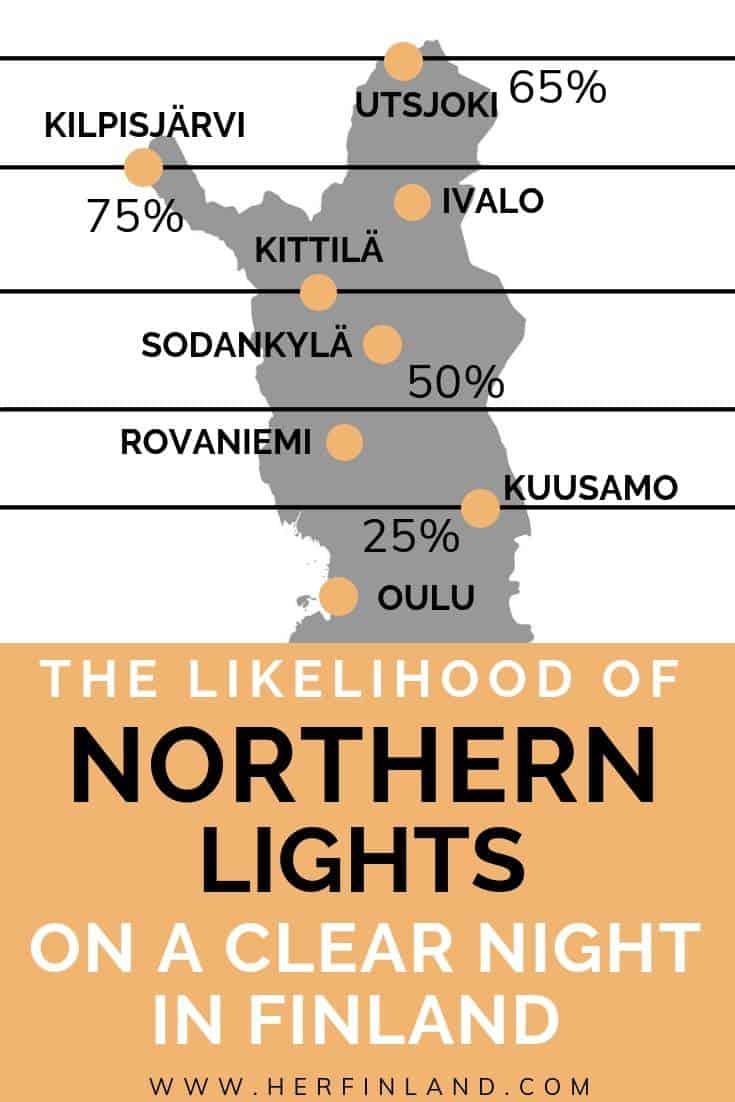 Ten Things to Find Out Before You Book a Glass Igloo in Finland
As a local, here are my best tips about what you should find out before making your booking. I encourage you to spend some time online so that you know the answers to the questions below:
#1 How are the reviews of the resort? Check a couple of different sites to form a reliable impression.
#2 Is there a bathroom or just a toilet in the igloo?
#3 Does the price include half-board or breakfast? Some places give a breakfast basket, as there is no restaurant.
#4 How do you get to your resort and how much does it cost?
#5 Do you need a kitchenette and is there one?
#6 If you are considering making your food or need special food, how far is the nearest supermarket?
#6 How is the wi-fi in and near the resort? How important factor a working wi-fi is for you? Thanks to the rural wilderness, which we adore, the wi-fi is, in general, bad in Lapland. This is the perfect place for a digital detox!
#7 Is there air-conditioning in the igloo?
#8 Does the location have a good chance of auroras? Check the latitude map above.
#9 Is there an aurora alert and do you need it?
#10 If you are interested in booking activities, are they available on the days you are there? I recommend booking everything in advance.
FinNISH CONNECTION COLLECTION 🇫🇮
Finland-themed sweaters and accessories made-to-order. 🧡 Worldwide shipping.
Five Things to Expect from a Glass Igloo Resort in Finland
These five things are great to know before your visit! They are due to Finnish hotel culture and the northern wilderness locations of most resorts.
#1 In a Finnish hotel, there is rarely staff carrying your luggage.
#2 Breakfast is usually included in a hotel stay in Finland.
#3 Tap water is safe and excellent drinking water everywhere in Finland.
#4 Free airport shuttles aren't common in the Finnish hotel culture, except in the Helsinki airport region.
#5 Glass igloos are in the wilderness and face fierce weather conditions. They are, literally, in the middle of snow and ice.
Sometimes it can snow so much that a snow plough will arrive later than you have to walk.
When temperatures vary, roads and paths can be very slippery before gritted.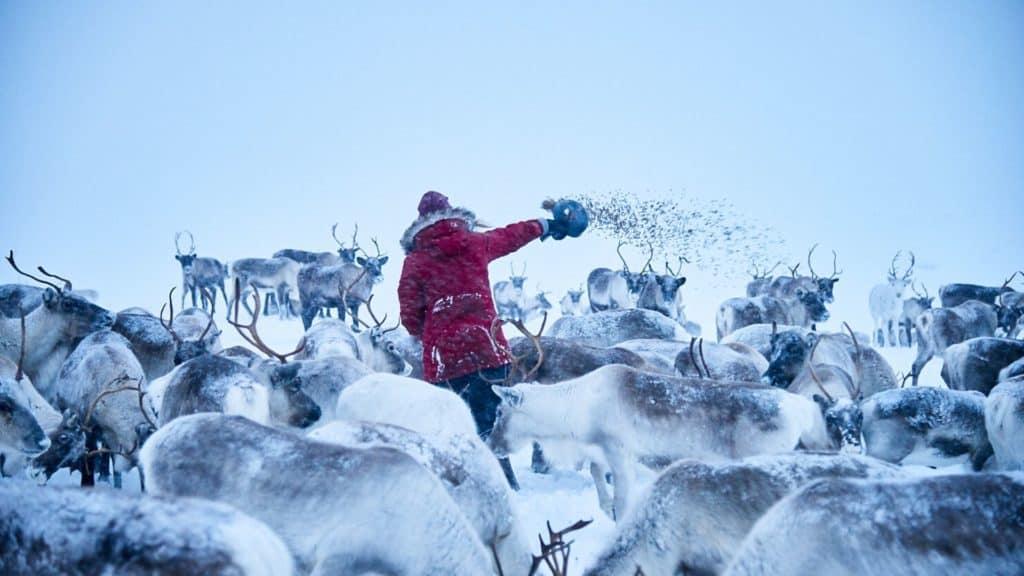 The Award-Winning Glass Igloos – Arctic Land Adventure in Kilpisjärvi
Some places change the way you see the world. Visiting Kilpisjärvi in the northwestern Lapland is an experience you will never forget.
Arctic Land Adventure is a mind-blowing mix of a traditional Sami reindeer ranch, and a luxurious glass igloo stay in the middle of the arctic wilderness.
Here, you have the chance to see auroras from the comfort of your glass igloo, facing the frozen lake and incredible mountain views. Amazingly during wintertime, reindeer graze freely on the ranch, so you have an on-going display of these majestic arctic animals.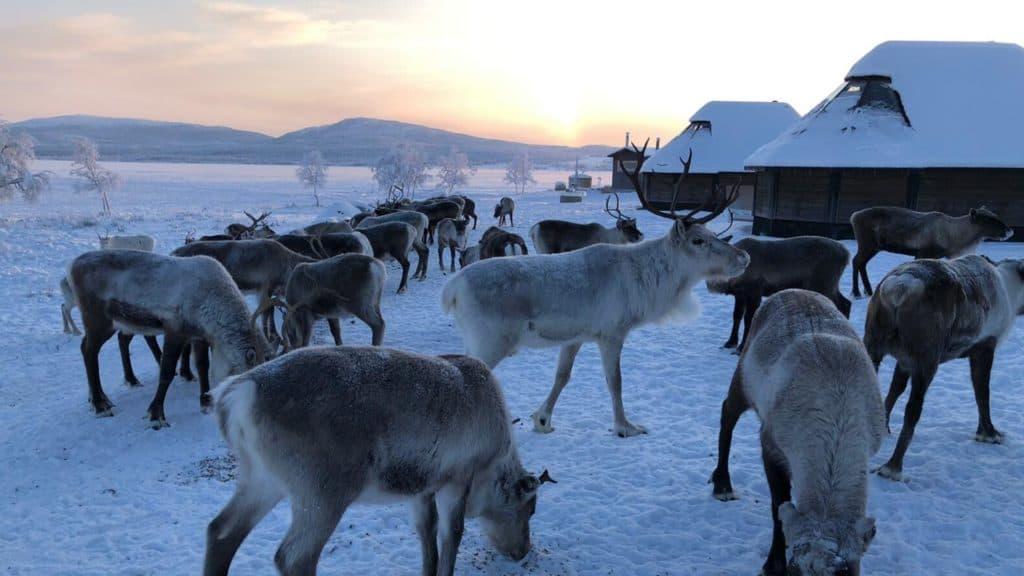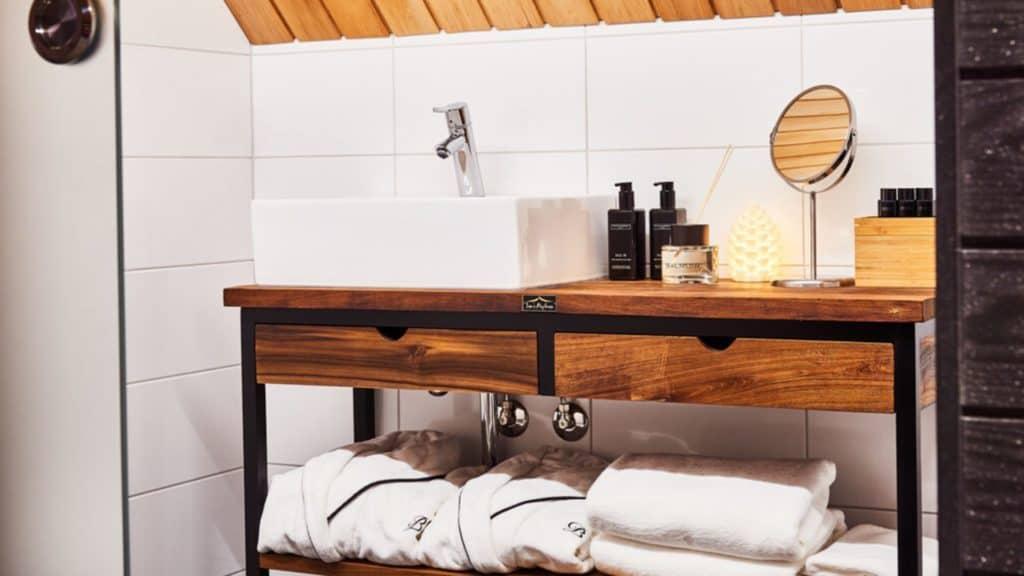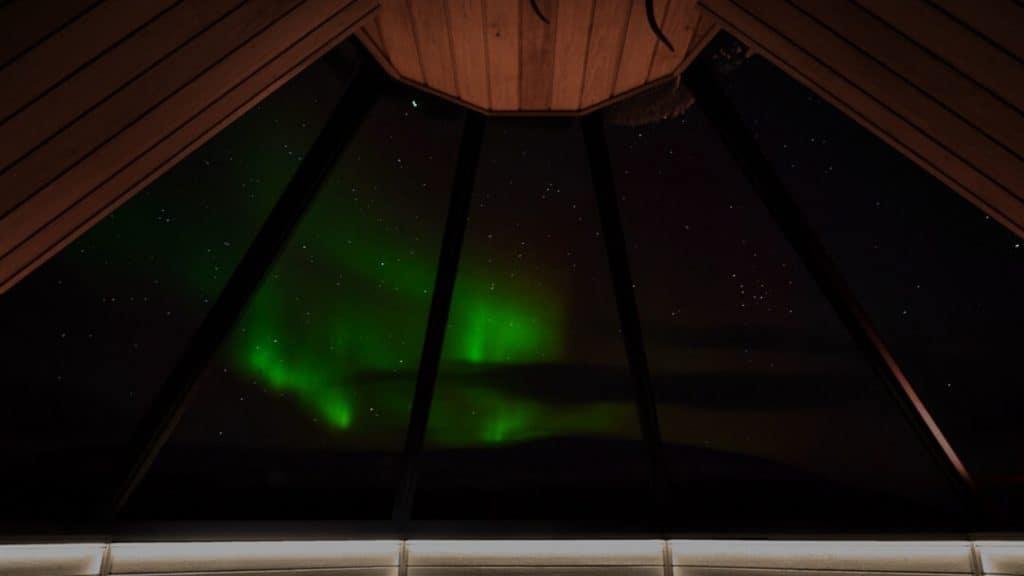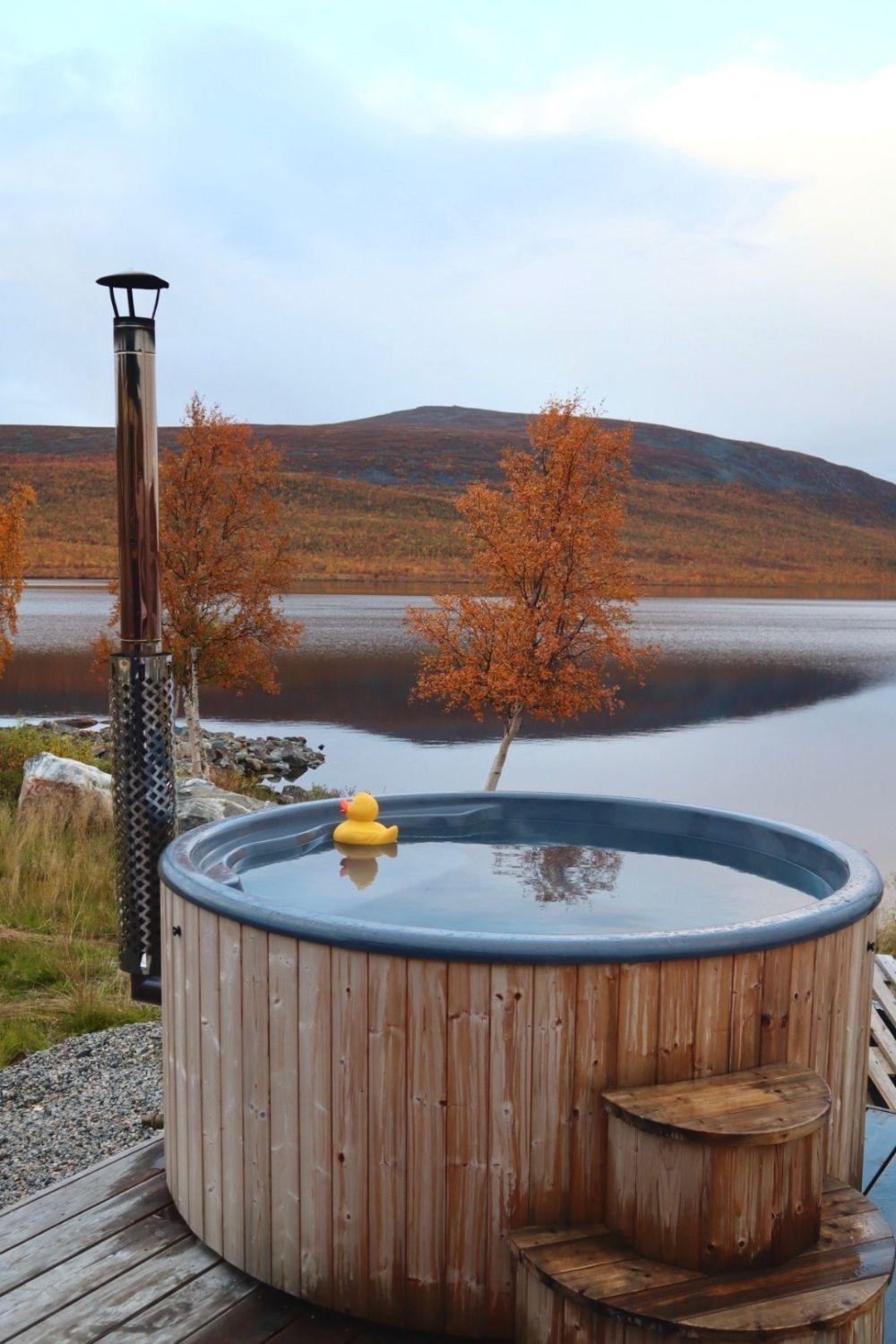 The beautifully furnished glass igloos have it all (such as air conditioning, a well-equipped bathroom, a coffee maker, robes, to mention few key elements not always found), and the stay comes with an incredibly tasty Lappish breakfast.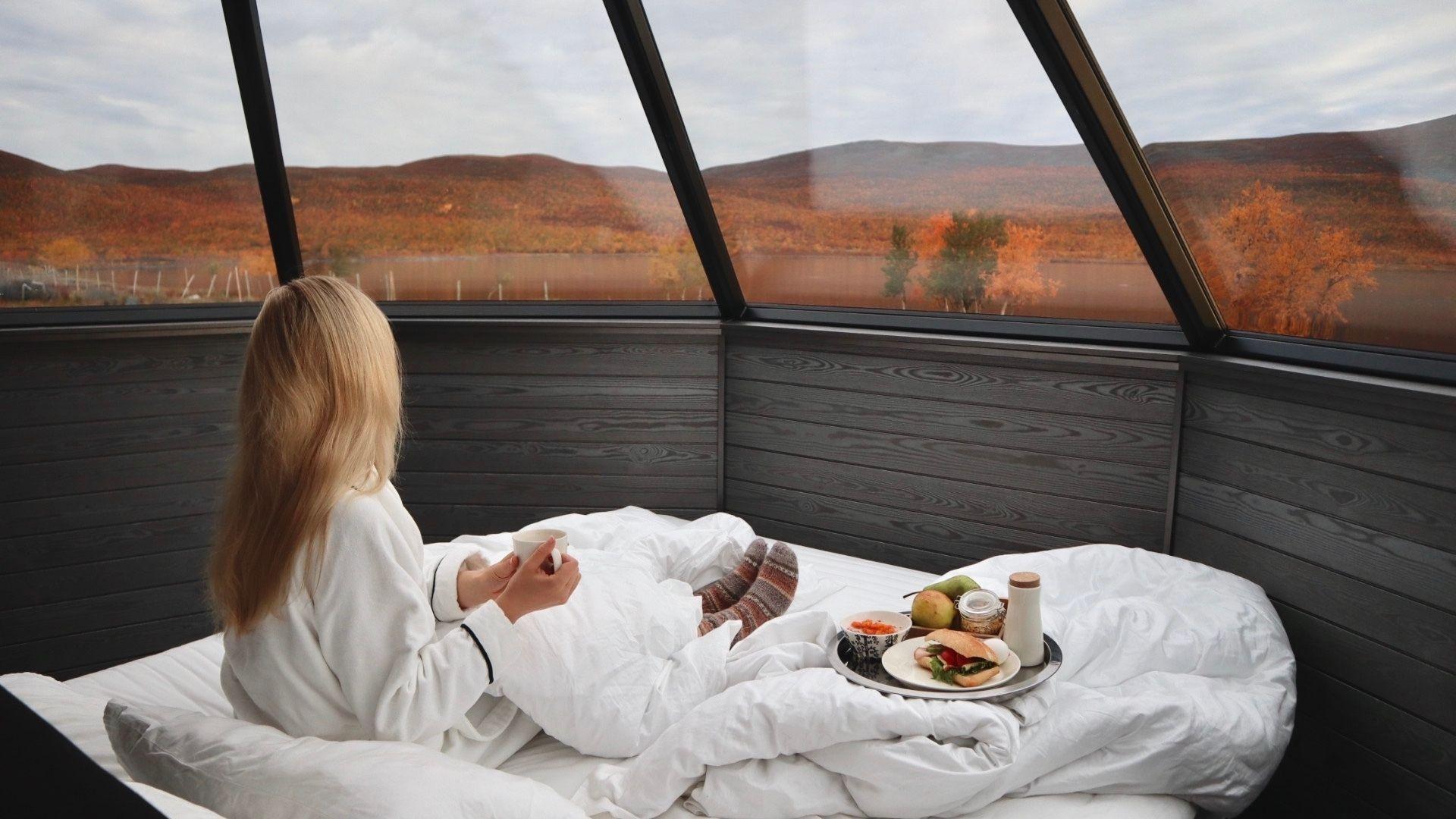 The ranch sauna with buckets of warm water used for washing is a Finnish tradition that you can't miss. Relax in the outdoor hot tub or take an icy dip into the lake to make your sauna experience complete.
Arctic Land Adventure offers a variety of outdoor activities from aurora hunting to testing Finnish winter sports and feeding reindeer. The most magical tour is the unique snowmobile tour beyond the mountains to see the ranch owner, a 12th generation Sámi reindeer herder, tending to his flock. I'm not aware of another trip like this in Lapland.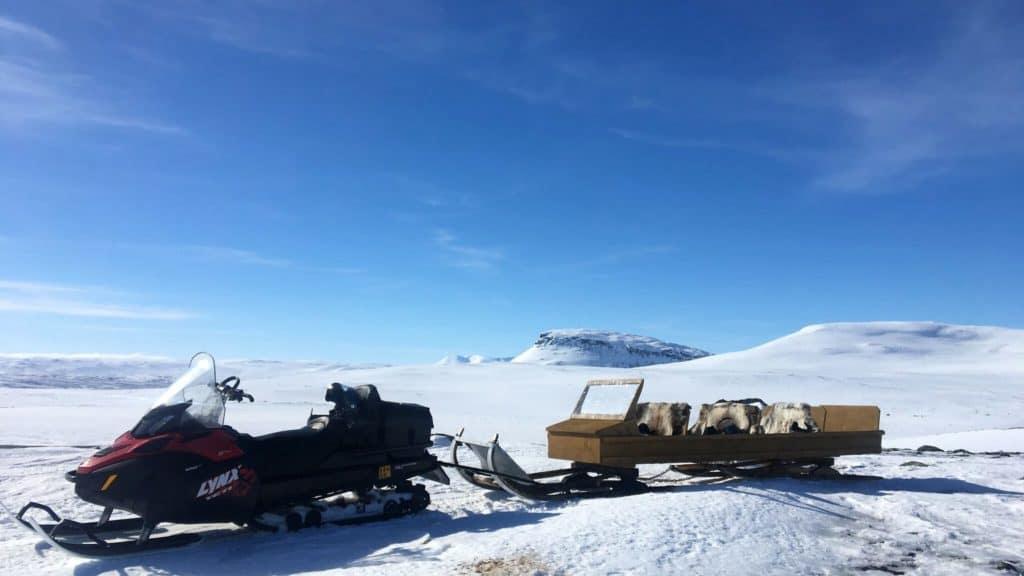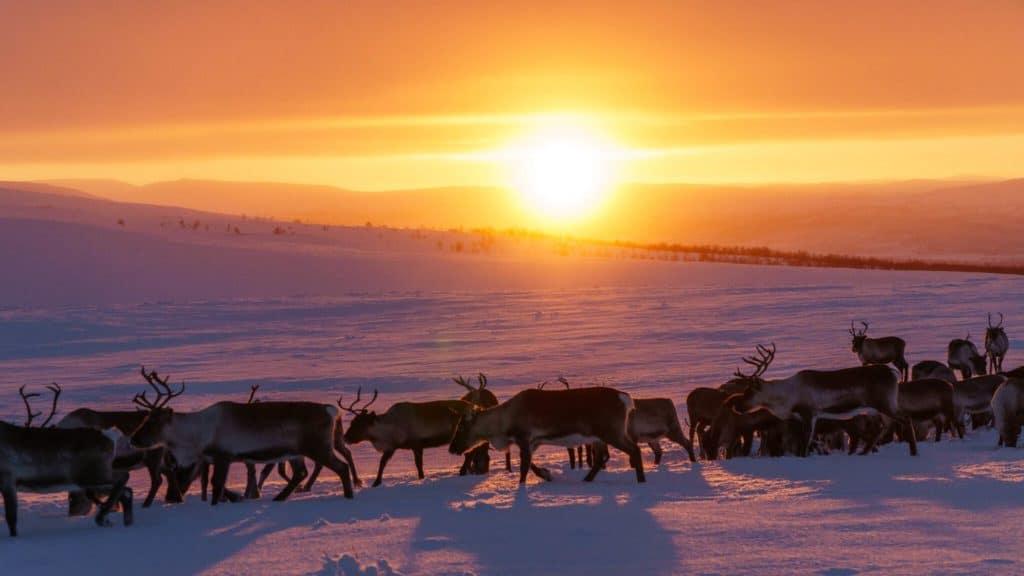 I highly recommend Arctic Land Adventure glass igloo getaway for couples. The place is super romantic.
If you're traveling as a group, it's great to know that the owners have lovely chalets available in the center of Kilpisjärvi, only a 15-minute drive from the reindeer ranch.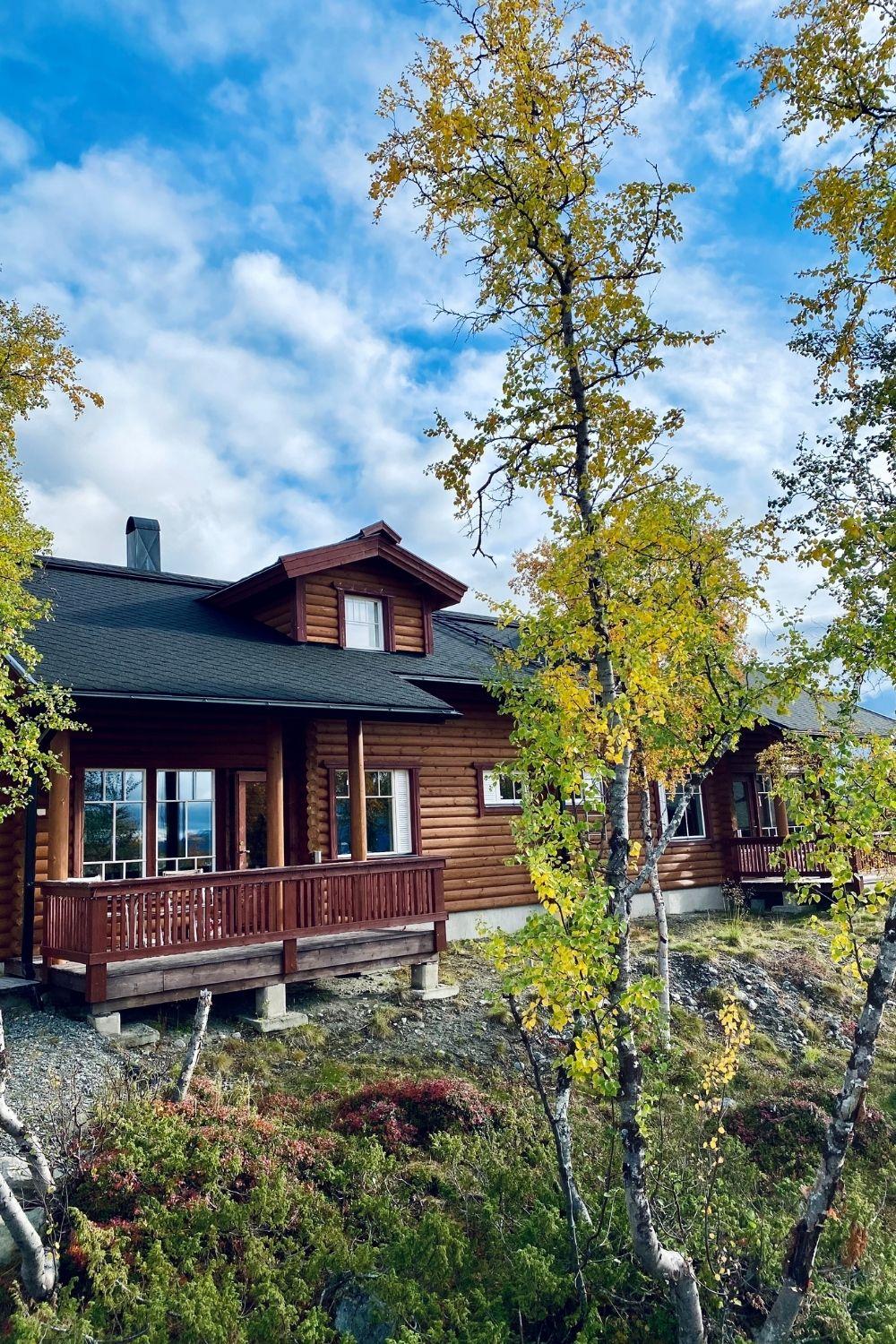 And, if you're travelling with a little one, like we did, Arctic Land Adventure also offers great childcare services.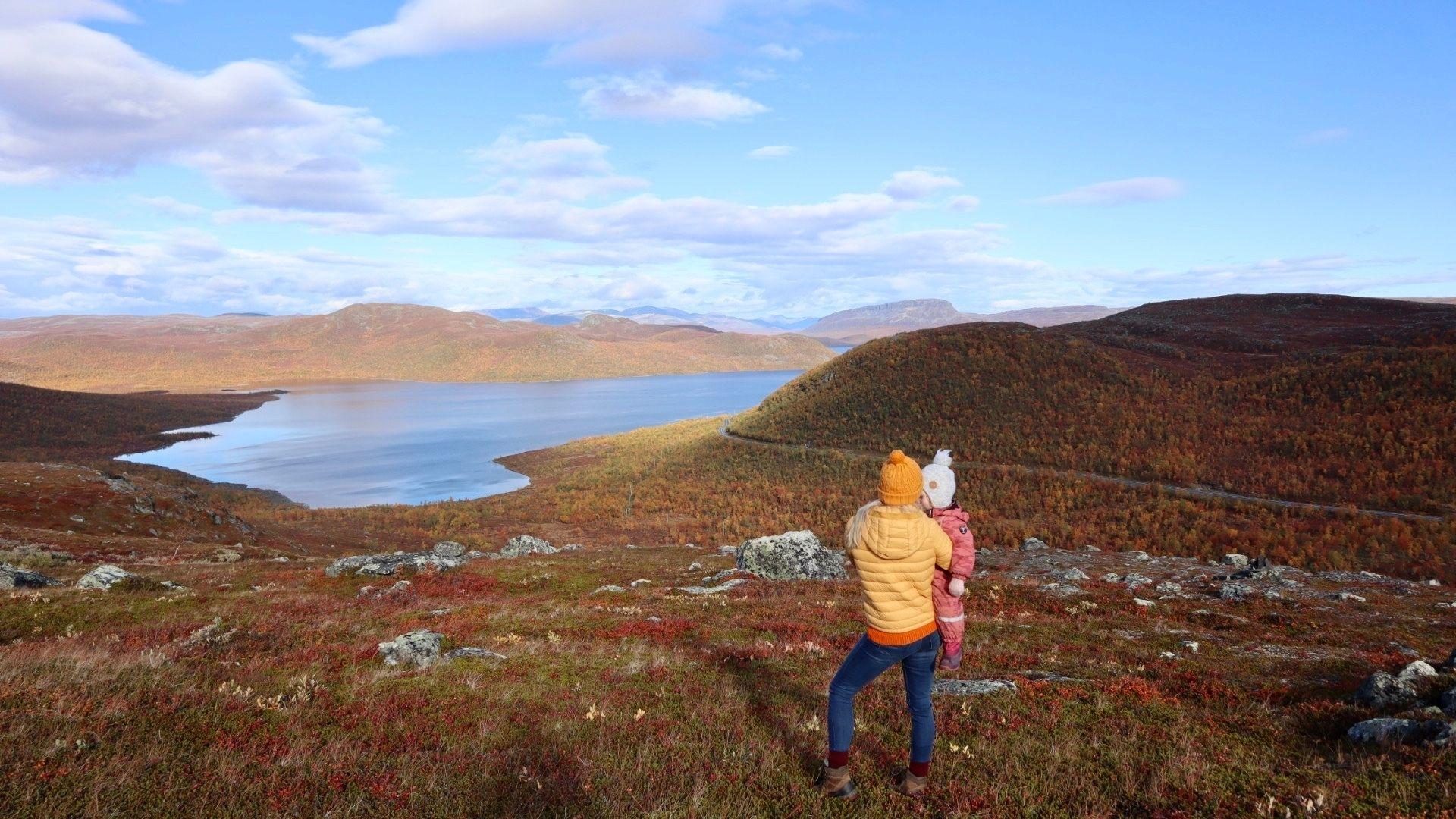 Grab the free kit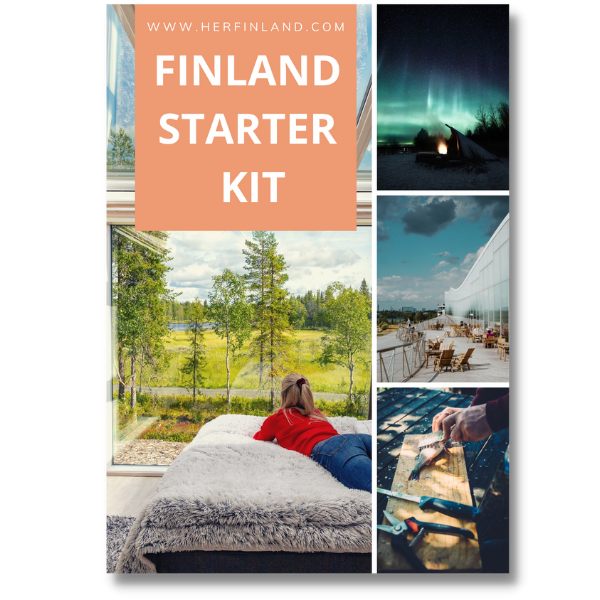 How to get to Arctic Land Adventure Glass Igloos?
If you're traveling to Lapland from Helsinki, I recommend taking the Lapland night train to Kolari or flying to Kittilä airport.
Note that the closest airport to Arctic Land Adventure is in Tromso. So if you're intrerested in visiting both Finland and Norway, this is a fantastic accommodation opportunity for you.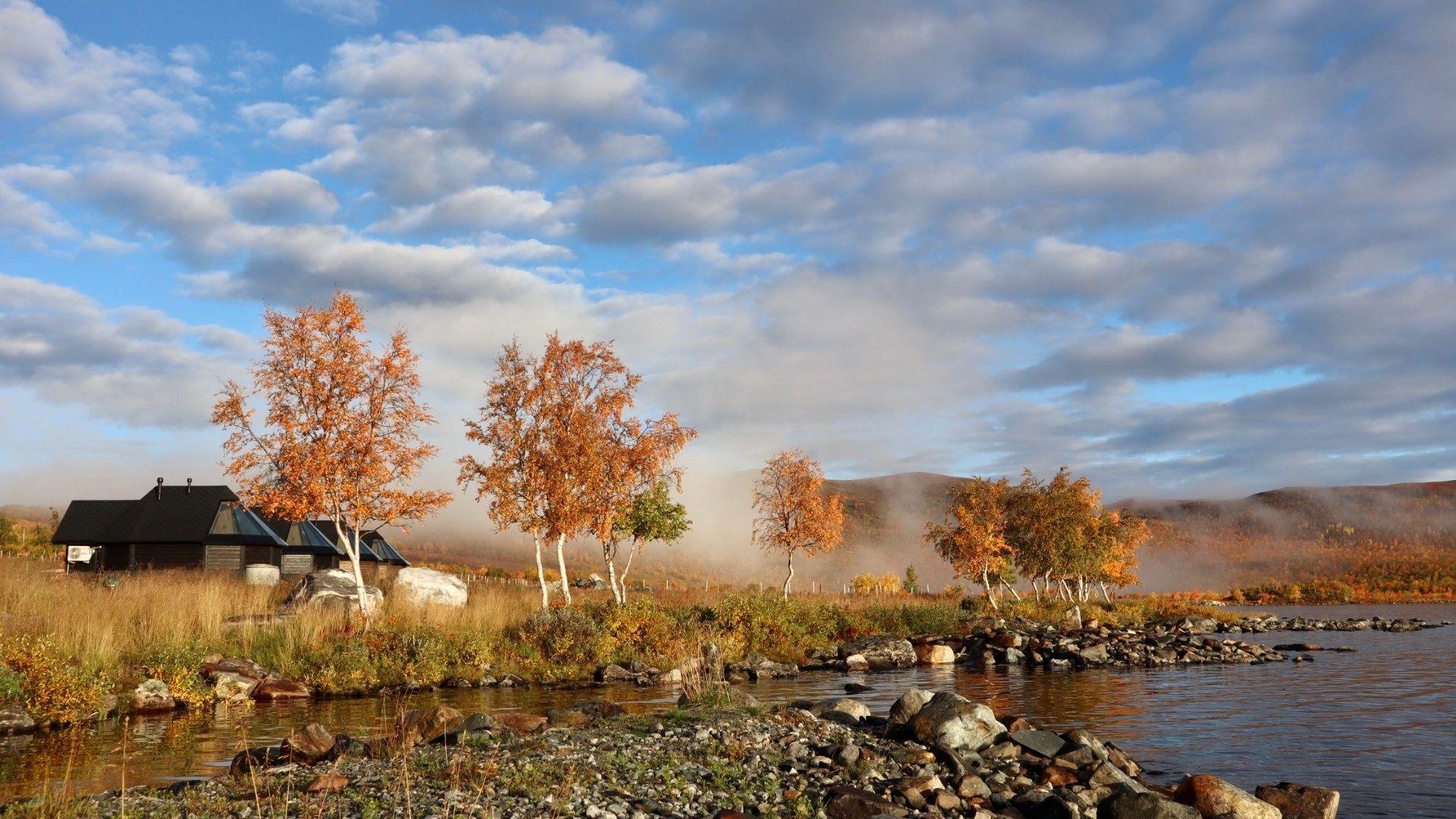 In general, whenever in Lapland, I'd rent a car, because Lapland is just made for road trips.
There are bus connections and private taxi transfers available on request. Here you can find out more about bus and train travel in Finland.
The Arctic Route operates a daily bus connection from Tromso to Kilpisjärvi during the busiest winter season.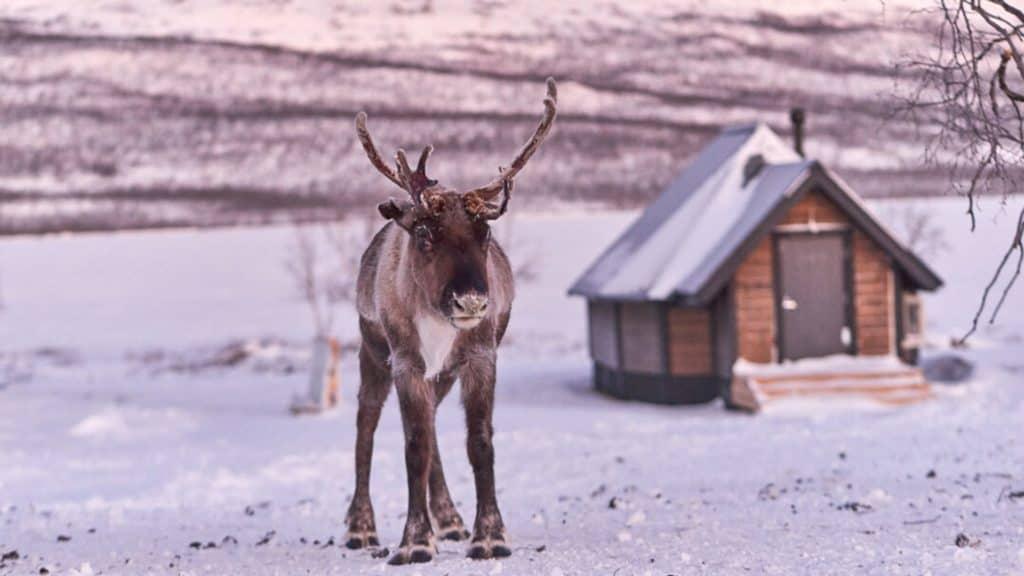 Four Other Beautiful Glass Igloos in Finland
Levin Iglut Golden Crown in Levi
Levin Iglut Golden Crown has stylish glass igloos nestled on a fell slope in Levi. The resort is a 15-minute drive away from Kittilä airport.
Levi is the biggest ski resort in Lapland and it has an unforgettable after ski and nightlife scene. As the igloos rest ten kilometers away from the Levi center, here you can have a vacation that combines nature escape and groovy action.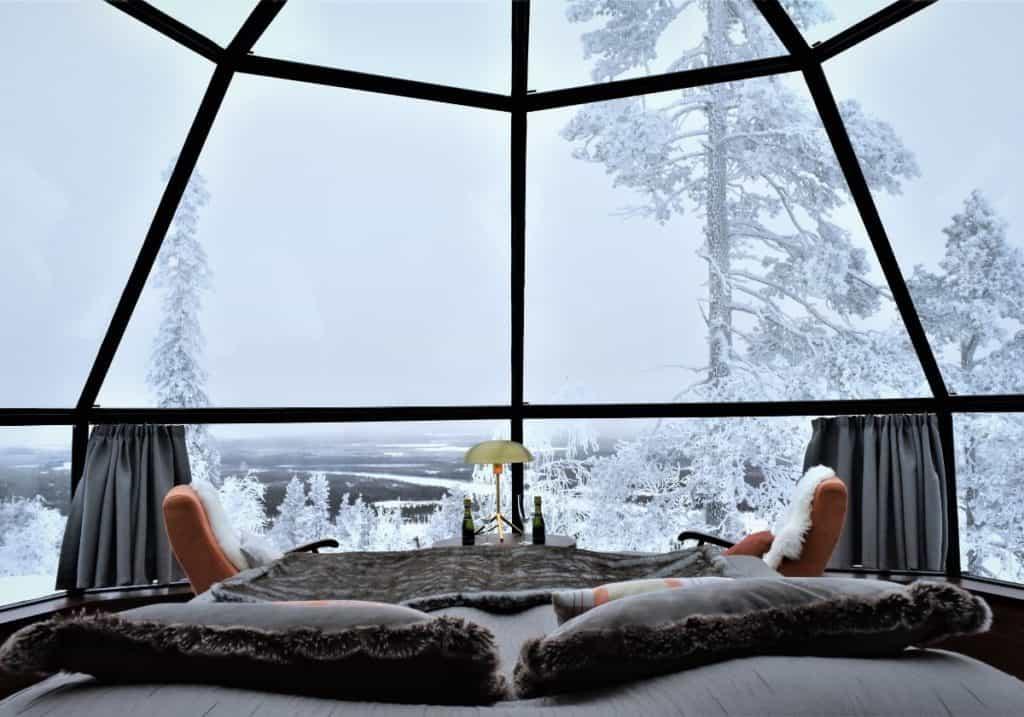 Picture by Levin Iglut Golden Crown.
This glass igloo resort is big and igloos are divided into different categories. The premium igloos are on a prime location on the side of the fell and come with special amenities. Some of them include a private hot tub. All Levi igloos have air conditioning, a small kitchen, bathroom, wifi-connection, and motorized beds.
Levi Northern Lights Huts in Levi
This glass igloo resort is a good option for travelers hoping to find a piece of " the old Lapland" close to Kittilä airport. Levi Northern Lights Huts are located in a reindeer farm about 15 minutes drive away from Kittilä airport.
The place is also a popular wilderness cafe destination for cross country skiers and snow mobile crews. The homey huts are cozy and come with bathroom facilities & free bath robes.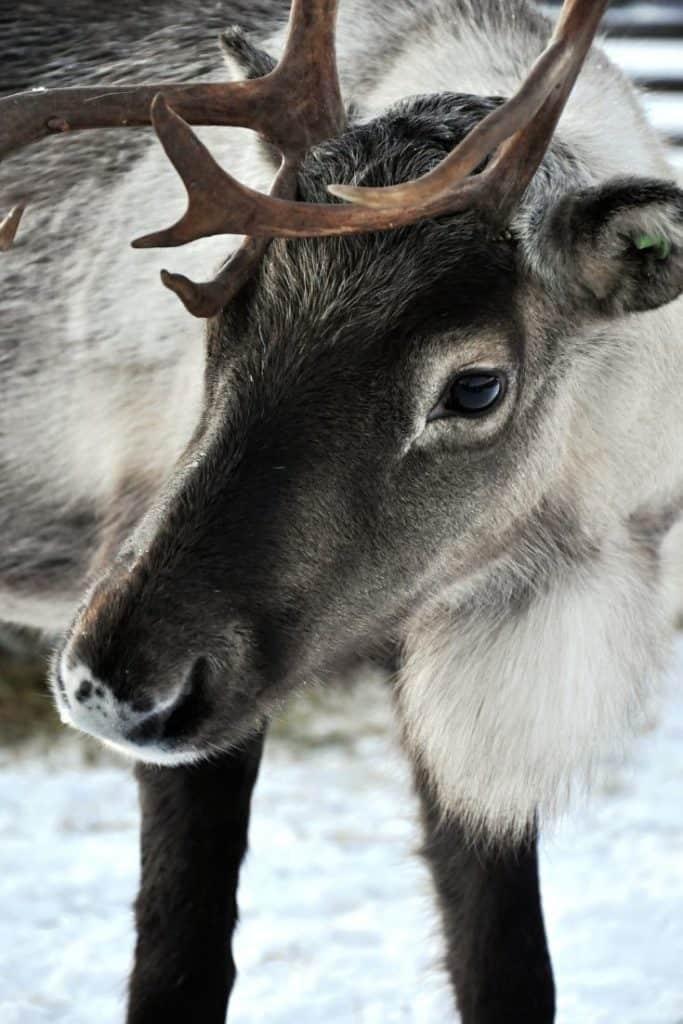 Harriniva Aurora Domes in Muonio
Harriniva Aurora Domes offer unique aurora glamping in Lapland.
The domes are on the shore of Torassieppi lake which is super close to the beautiful Pallas-Yllästunturin National Park. The place is one hour away from Kittilä airport.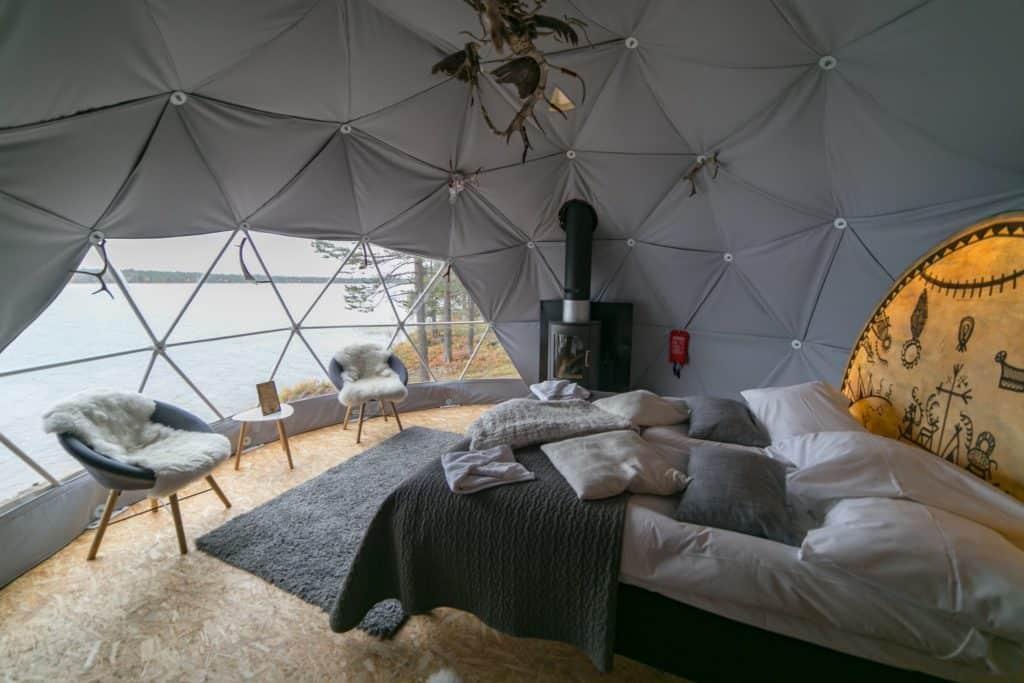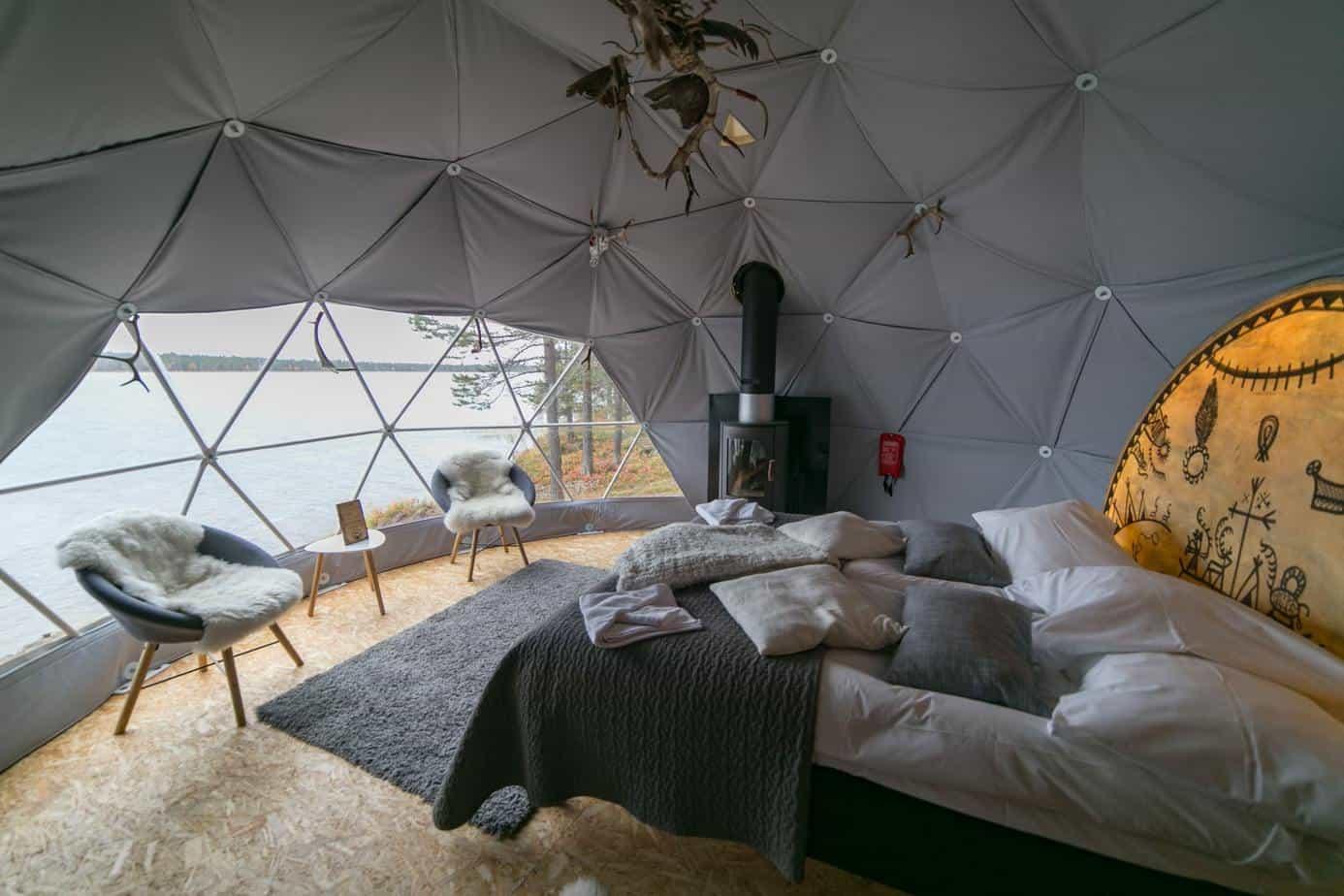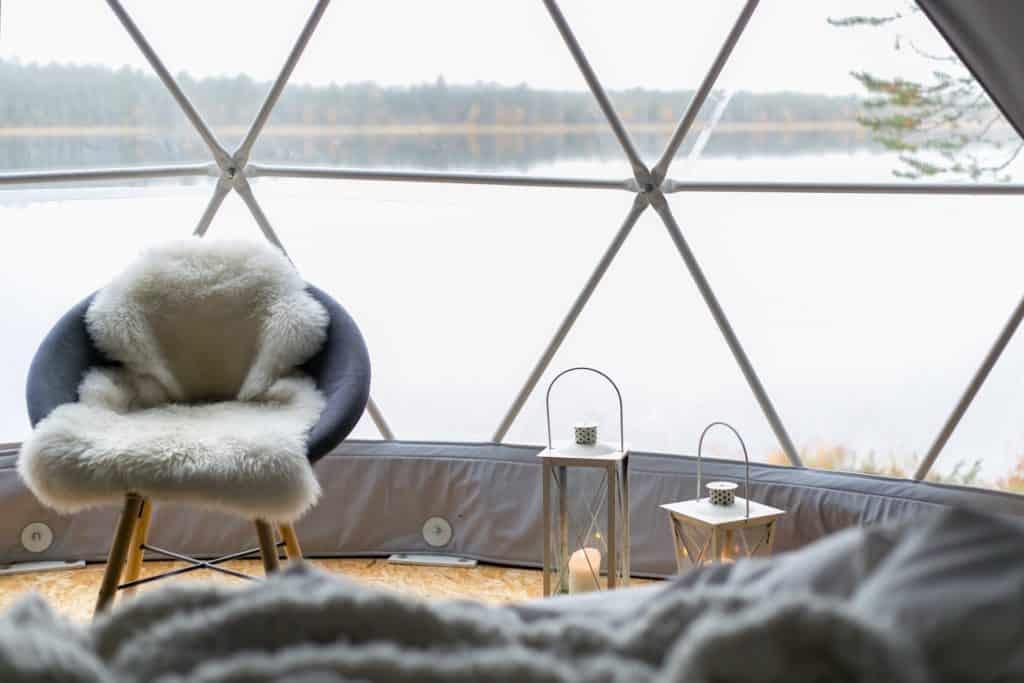 Picture by the talented photographer Milla H., whose work you can admire on Instagram.
The dreamy domes have been decorated in Lappish style and have a cozy fireplace. Note that the toilet and shower facilities are in a separate building.
Harriniva is one of the forerunners in sustainable tourism in Lapland.
Snowman World Glass Resort in Rovaniemi
Not only does Snowman World Glass Resort lie in the Santa Claus Village in Rovaniemi, but it also has a huge winter activity area, both of which are a paradise for kids.
The resort is just five minutes away from Rovaniemi airport making the visit effortless. You can easily add some arctic city life into your Lapland adventure as Rovaniemi center is close too.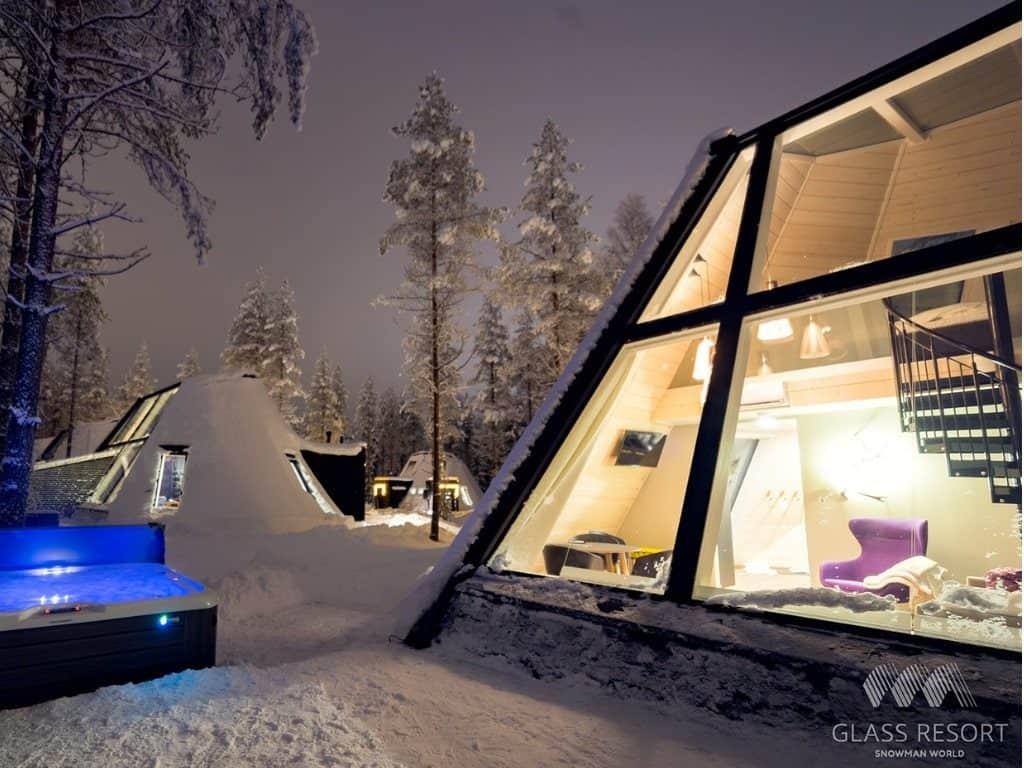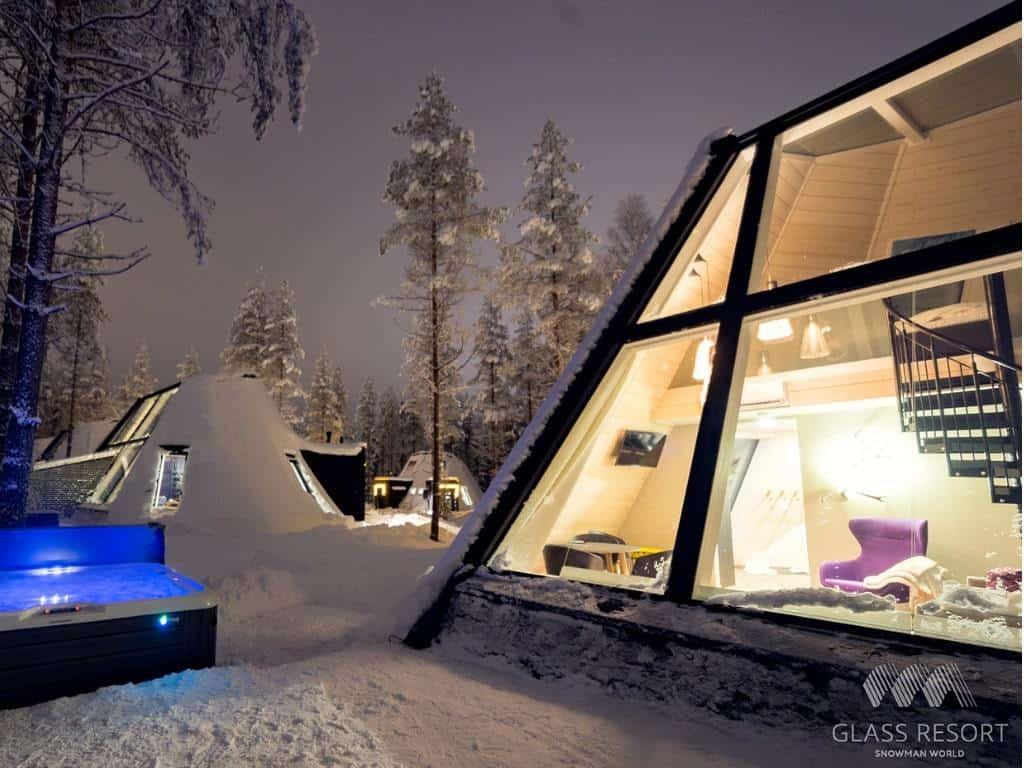 Picture by Snowman World Glass Resort.
The two-storey cabins are spacious, modern and great for families. They are supplied with a kitchen, living area, a wi-fi, and Finnish design from dishes to crafts.
Each hut has a private outdoor hot spa and sauna which make the stay a one-of-a-kind experience even if no auroras are visible.
Would you like to spend a night in a glass igloo in Lapland? What else would you like to know about glass igloos in Finland? Please leave a comment and let me know!
Looking for more information about Lapland? Check these other posts: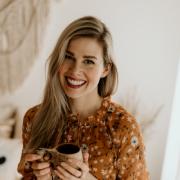 About Varpu
I'm the founder of Her Finland. I love cultural tidbits, aha moments, Finnish folklore, and cinnamon buns. My newest interest is learning bird songs. Read more about me..