What's the weather like in Finland?
That must be the most common question I hear as a Finn. And no wonder! It's hard to know what to expect. Snow and coldness are the first thoughts to many.
But wait, isn't there supposed to be warm summers too? How confusing! Well, I hope, no more! I have tried to gather all weather facts here to make your travel planning little easier.
This guide describes the weather in Finland by month. Okay, I admit, I also explain the social atmosphere a bit and mention a couple of non-weather things.
You should read further if you want to:
Know what kind of weather is to be expected for a specific month.
Determine which month is the best for your next visit.
Pack the right things.
Answer the questions your curious spouse/child/odd bar quiz host might ask and be a total Finland Pro!
Finland Weather Year-Round: The Basics
Just like the real-estate business, the weather is all about location and luck. Finland is a big country. In the wintertime, the thumb rule is that the northern you go, the colder it gets.
Sea surrounds Finland in the west. Thus, we have a maritime climate in the coastal regions. So, another thumb rule is that coastal areas have milder temperatures in any season. In general, inland regions have colder winter and warmer summers.
They say that weather changes quickly in Nordic countries and it's definitely true. During one summer week, it can be two days of 80°F (27°C) with sunshine followed by rain with a temperature of 60°F (16°C). Within a day, I don't feel that the weather changes that much.
Psst… Follow me on Instagram and add more Finland to your life instantly!
Näytä tämä julkaisu Instagramissa.
Finland Temperature By Month: The Source
The source of this guide is the Finnish Meteorological Institute. The temperature averages of this post represent the FMI data of 1981-2010.
As nobody would read a 100-page Finland weather guide, I write about South and North. Helsinki data represents South and Sodankylä in Lapland represents North. I chose these locations as many travelers visit either or both areas. I will drop occasional info about Middle Finland, too.
Besides the FMI data, I provide my views (as always) on the matter and off-topic based on the expertise accumulated by living here some 30 years. Huh, that was the longest intro ever. Now, let's start!
Grab the free kit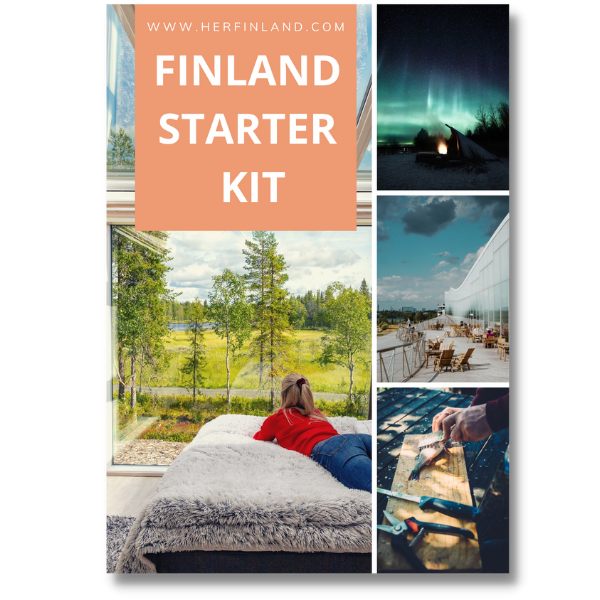 Finland Weather Year-Round: The Infographic
This pinnable infographic shows you everything in a nutshell!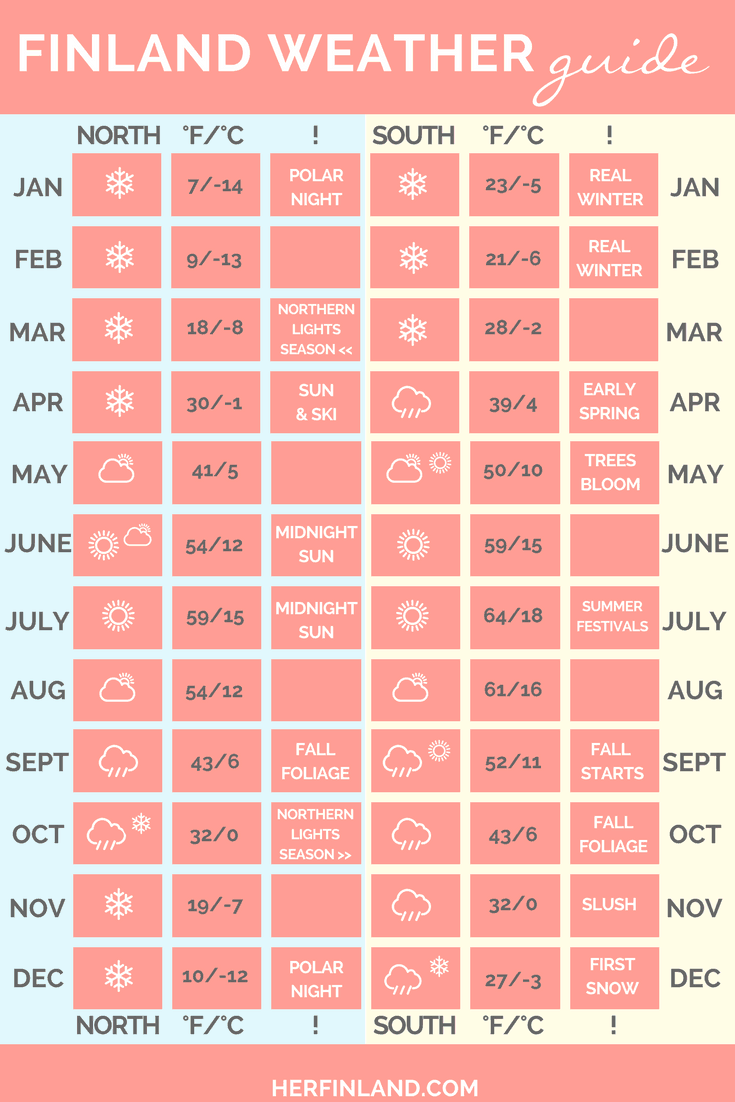 Finland weather in January
In Finland, January is the windiest month. It's definitely real winter here everywhere. Helsinki averages at 40°F (5°C).
The north is swallowed by darkness as polar night prevails. Polar night means a time period when the sun doesn't rise at all. It's a twilight zone all the time.
The duration of that period is different by location. Polar night is a cool thing to experience. And don't worry, we have artificial lights. All sorts of winter activities are possible!
Why come? Perfect time to see Auroras in Lapland and enjoy the winter wonderland. Budget travelers find great deals in Middle and Southern Finland because it's off-season. Check my winter clothing advice and you'll stay toasty warm on your visit!
Finland weather in February
February is the coldest month in Finland. Nevertheless, birds start chirping and sunlight increases.
Finns enjoy their winter holidays – skiing, ice hole fishing, skating, winter biking, sledding with plenty of hot chocolate.
Why come? Beautiful snow coverage all over the country. If you want to experience the true Finnish winter, all destinations celebrate it. In Lapland, Northern Light season is continuing. Check my winter clothing advice and you'll stay toasty warm on your visit!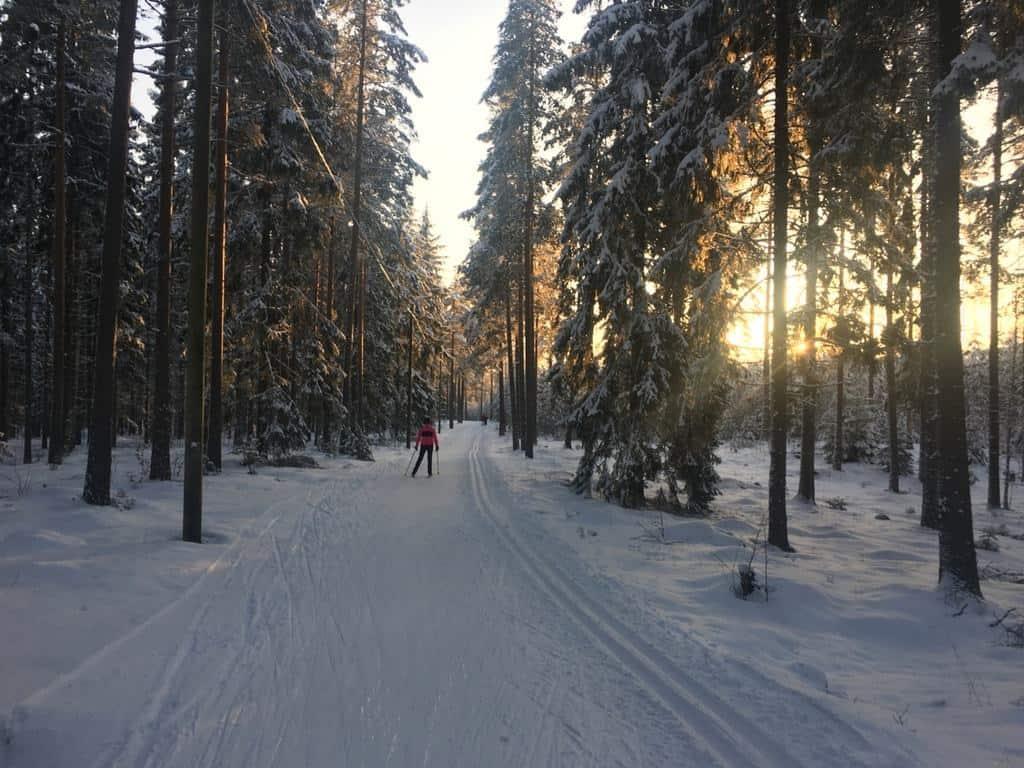 Finland is a winter wonderland in February, anywhere you go!
Finland weather in March
Southern and Middle Finland boast with the biggest amount of snow in March. The weather is winterly and yet there is a springy feel in the air.
In the North, the Aurora hunting season is coming to a grand end. March is statistically the best month to spot them.
Why come? In the south, March generally offers beautiful outdoor winter weather with plenty of sunshine. It is the last chance to see proper winter in the south (aim for the start of March, just to be sure!). For the north: the Auroras – Do I need to say more? Check my winter clothing advice and you'll stay toasty warm on your visit!
Finland weather in April
The perfect winter weather in Lapland as there's usually plenty of sunshine and the most amount of snow! It is my favorite time to visit Lapland if I want to do winter activities in the wilderness. Check my winter clothing advice and you'll stay toasty warm on your visit!
In the south, April is not so glamorous with the weather, as it is the early spring. Snow melts during April, but nothing is yet green. Ice breaks up in the southern-west region in Finland.
Why come? Two words: Travel north!
Finland weather in May
Lake ice splits apart everywhere except in northernmost Finland. When the temperatures rise, everything is blooming and green within a couple of weeks. May is a magical month!
In the north, snow melts away by the end of May (ice breaking continues until June).
Why come? The end of May is a beautiful time in Middle and Southern Finland. The summer traveler period hasn't started, so it's not that expensive. My tip: visit the Helsinki area to experience the capital vibe and rent a cabin somewhere in Southern Finland. You'll find great deals in Lapland too because it's off-season.
Finland weather in June
June weather is like throwing dices. It can be wonderfully warm, cloudy or quite cold. You just never know.
What is certain is that the nights are amazing and full of light. Lapland has the Midnight Sun. There the sun doesn't go down at all for a certain time period.
Why come? Come to experience the white nights and the summer joy of Finns. In the north, enjoy the arctic spring turning into full summer. Celebrate the Midsummer with us.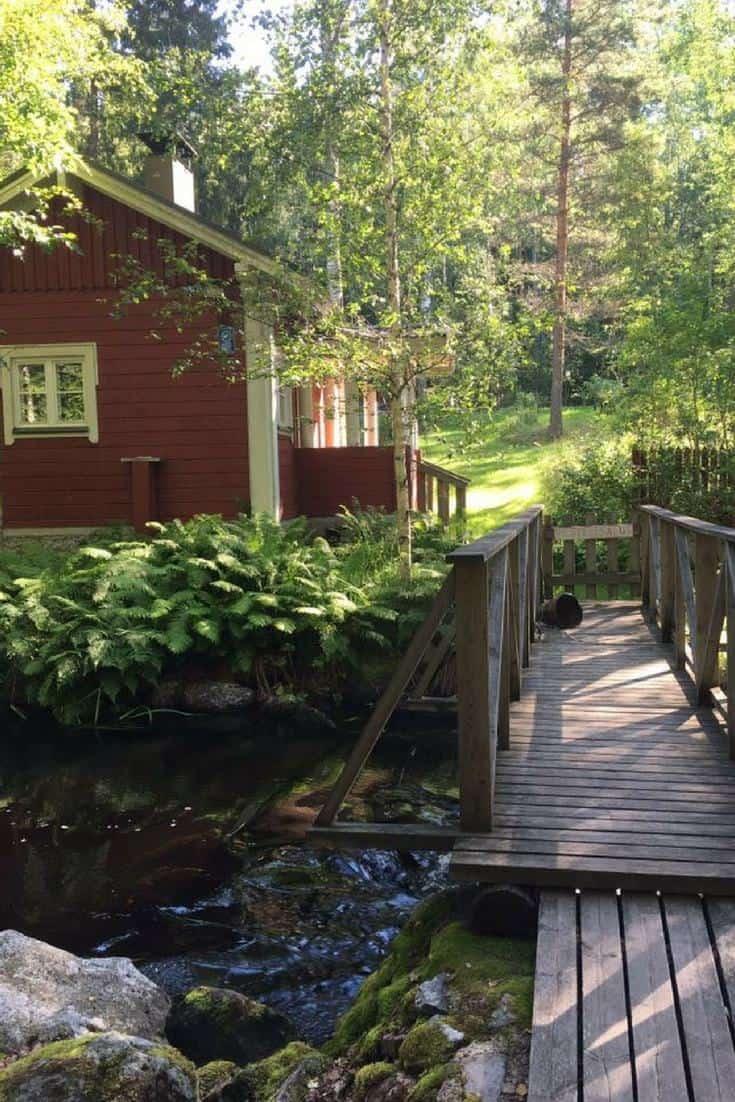 The lush greens in June
Finland weather in July
July is generally the warmest time of the year. It's when pretty much all Finns are on holiday and feeling the most talkative.
Usually, in the south, the temperature is between 62-75°F (16-24°C). With a bit of luck, it can be wonderfully warm and rise into the 80s.
July is beautiful also in Lapland. One worry, though: the mosquitos. Prepare yourself with the proper gear, and you're good to go!
Why come? July is a sure pick to visit any Finnish region! There are events and festivals to every day of the month. Any Finn will recommend a Finland visit during July, and so do I.
Finland weather in August
I was surprised to read from the stats that August is the wettest of all months. I think August is a fabulous month to visit both south and north Finland. We did a one week hiking holiday in Lapland last August, and it was heavenly.
Southern Finland usually has good weather and a relaxed atmosphere. Kid-friendly attractions are quiet as Finnish children go to school mid-August.
Why come? Lapland is off-season so there are great prices for the accommodation. Middle and southern Finland enjoy mild to warm temperatures. A lot of events and celebrations happen on the weekends.
Finland weather in September
Oh, the crisp cool autumn air of September! In the south, fall begins. Temperatures are around the 50s. Mornings are chilly but afternoons quite warm. The atmosphere is full of energy.
In Lapland, autumn is one step further, and the fall foliage is showing off its blazing colors. Many Finns travel north to wander in the midst of it.
Why come? Another top month to visit Finland!
Finland weather in October
October is pretty especially in the southern parts of Finland as fall foliage arrives there. For some reason, autumn (even when it rains) makes cities look good. Enjoy dinner in a great restaurant and have a relaxing sauna experience.
Northern Lights season starts in Lapland! The first snow comes to the most northern parts of Finland.
Why come? Great chances of seeing Auroras in the north. Cool autumn weather in the south. Not that popular month with travelers so you can save money on housing and flights.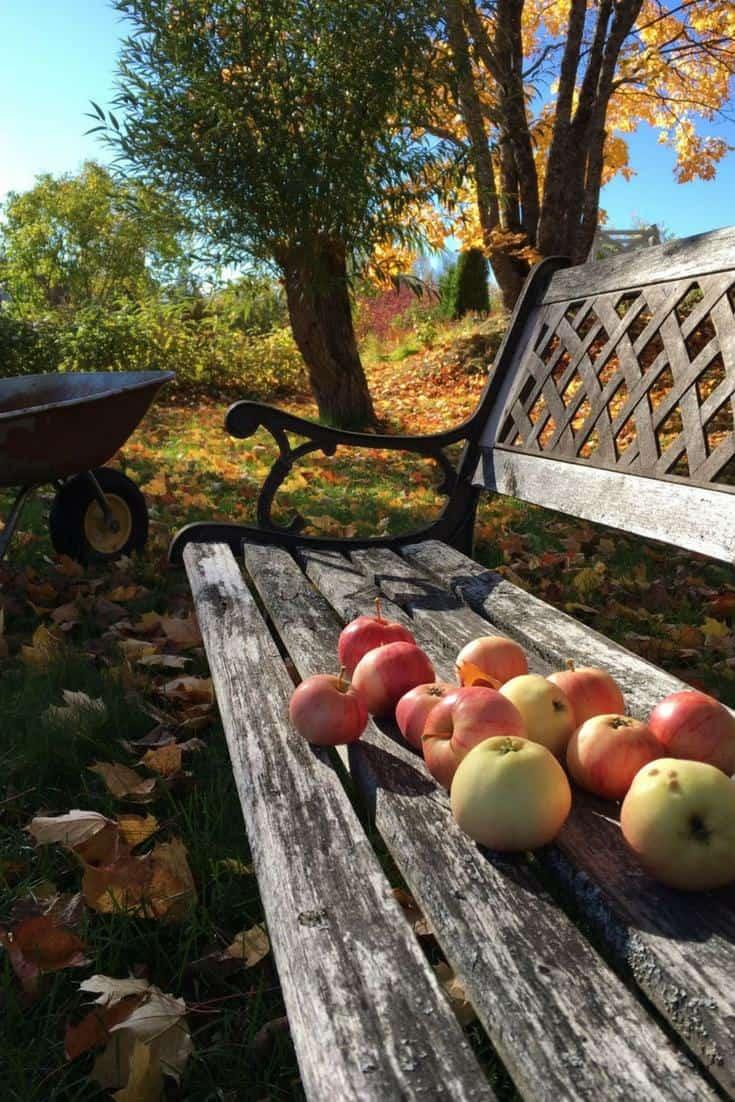 The pretty fall foliage in October in Southern Finland.
Finland weather in November
In Southern and Middle Finland, November tends to be quite dark, wet and slushy. Usually no snow, just sleet.
Up north, winter begins. Good conditions to spot Northern Lights! The peak season starts next month so there aren't many tourists.
Why come? The perfect time to take time for yourself. Hunt for Auroras and listen to the silence. If you are in a city, hit the local bar on a Friday or Saturday night. Finns are celebrating "Little Christmas" and they are in serious party mode.
Finland weather in December
In the north, polar nights start and it's winter weather. The south follows. In December, first snow covers Middle and Southern Finland. Check my winter clothing advice and you'll stay toasty warm on your visit!
Why come? Christmas time is magical in Finland. Visit Santa Claus in Rovaniemi. Spend time with your loved ones and relax!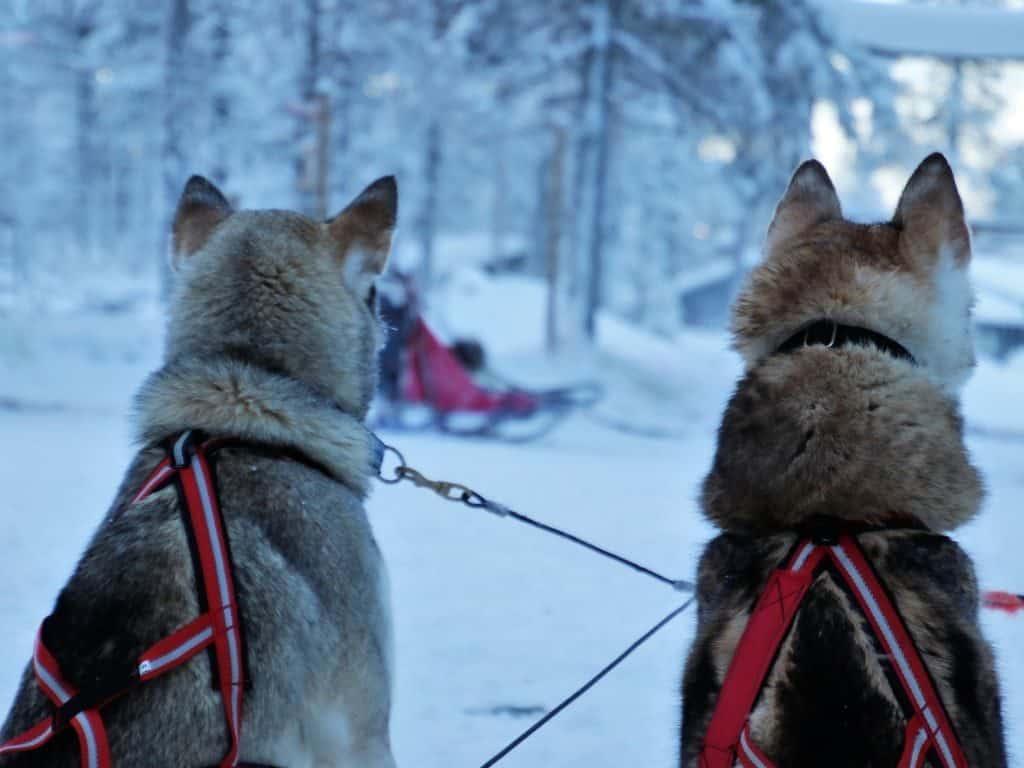 Finland Temperatures: Some Cool Weather Records
How cold can it get in Finland?
The record is -60.7°F (-51,5°C) measured in Kittilä 28.1.1999.
Minus Fahrenheit degrees (temperatures below -18°C) are common even in Southern Finland, usually happening between January and March. Cold weather doesn't affect life in Finland. Schools are open. People commute. We just wear more clothes.
As a kid, you don't need to spend the recess outside if it's below 5°F (-15°C). For less than one-year-old babies, we recommend that they aren't outside for long periods when it's colder than 14°F (-10°C).
How warm can it be in Finland?
The record is 98,6°F (37,2°C), measured in Eastern Finland (Joensuu 29.7.2010).
In Finland, it's a hot day when the temperature is over 77°F (25°C). The annual average for hot days is 35. Three out of four summers have at least one extremely hot day when the temperature is over 86°F (30°C).
How much snow can there be in Finland?
The largest depth of snow is 6 feet 3 inches (190 cm). It was measured in Northern Lapland, in Enontekiö, 19.4.1997.
How much can it snow in one time?
The record is 2 feet and 4.7 inches (73 cm) in Merikarvia 8.1.2016! When it snows more than a foot (30 cm), we Finns agree that it has snowed a lot!
What is the sunniest place in Finland?
This is not measured that precisely in Finland anymore but according to the FMI the winners are Kotka, Maarianhamina, Hanko, Naantali, Pori, and Rauma. All coastal towns!
What else would you like to know about the weather in Finland? Let me know in the comments!
Looking for more information about Finland? Check out some of my other posts:
FinNISH CONNECTION COLLECTION 🇫🇮
Finland-themed sweaters and accessories made-to-order. 🧡 Worldwide shipping.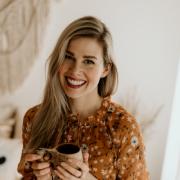 About Varpu
I'm the founder of Her Finland. I love cultural tidbits, aha moments, Finnish folklore, and cinnamon buns. My newest interest is learning bird songs. Read more about me..