*In commercial collaboration with Fazer Candy Store.
Grandma's house was the best thing I knew when I was little. As soon as the front door opened, I ran straight to my grandpa's study.
There, I would reach out my hand and carefully feel my way along the bookshelf to the yellow bowl on the lowest shelf…What a lucky day when I found a piece of Fazer chocolate! It didn't take long for it to disappear, leaving only the rustling wrapper and a laughing mouth covered in chocolate.
This sweet post has been on the readers' wish lists for a long time. In it, I'll tell you about the Finnish candy culture, introduce you to some of the most-loved Finnish treats and go through different ways you can make use of a Finnish candy haul.
Warning! This post may cause serious cravings for candy.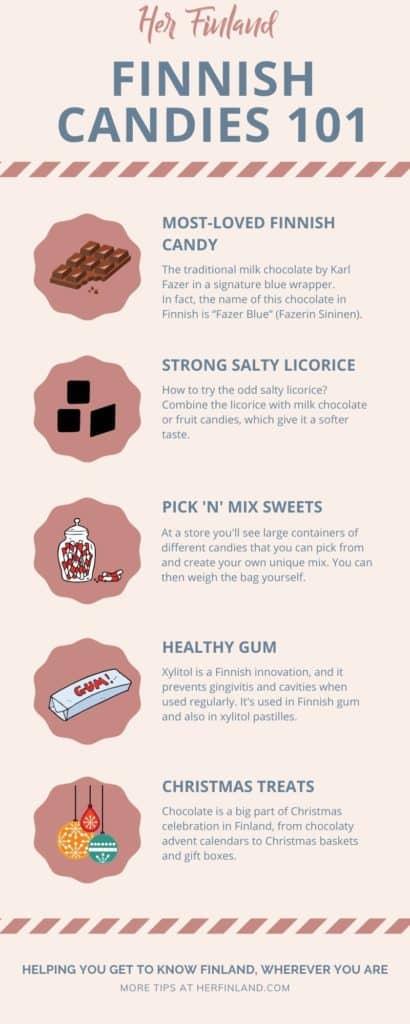 What's Finnish Candy Like?
The Finns are a candy nation, and we're used to high-quality candy. For example, candy needs to be fresh: soft candy should be soft.
In Finland, bags of candy often contain a colorful blend of different treats. It's good to know that black Finnish candies can be licorice, the famous salty licorice (salmiakki in Finnish), or a combination of the two. Red candy usually has berry flavors and yellow hints of citrus fruits.
Finnish chocolate is not sharply sweet but melt-in-your-mouth delicious. Finnish chocolate embraces soft, natural flavors.
In addition to candy assortments and yummy chocolate, Finland has a huge pick 'n' mix culture. This means that nearly every store will have large containers of different candies that you can pick from and create your own unique mix by adding as many as you like into a bag.
You can then weigh the bag yourself. In Finland, we trust people not to revisit the containers after the weighing.
Lastly, besides "real" candy, you'll find xylitol products (gum and drops) at any Finnish shop. Xylitol is a Finnish innovation, and it prevents gingivitis and cavities when used regularly. Actually, in Finland, when we speak of gum, we always mean the healthy xylitol gum.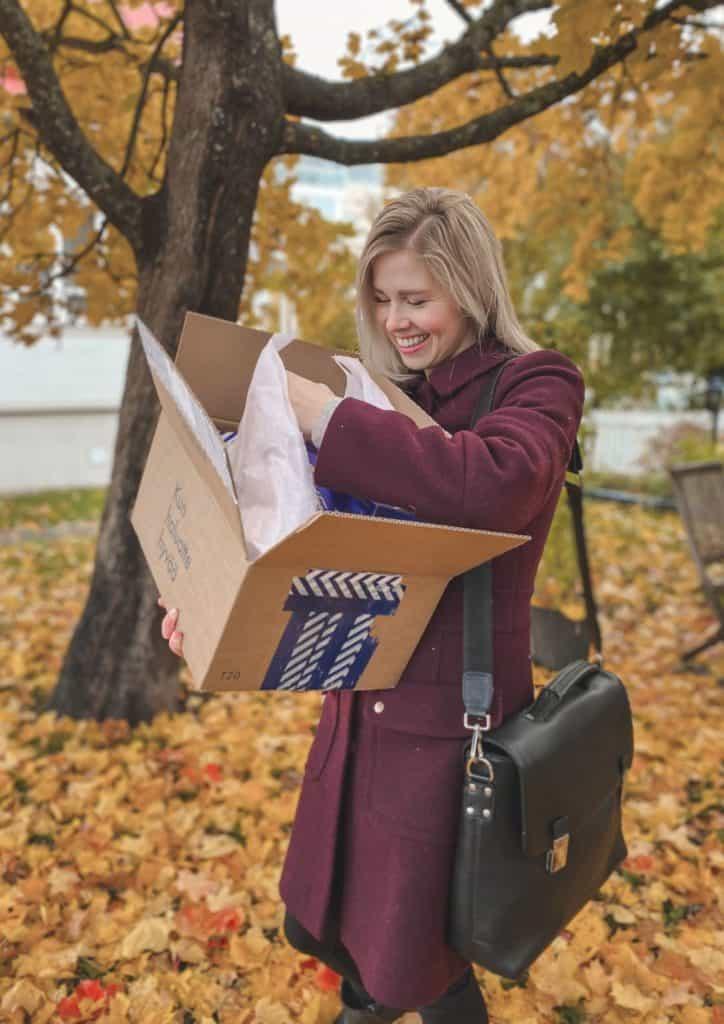 Candy in Finnish Culture
Around twenty years ago, most Finnish kids had only one day a week when they could have candy. It was called "the candy day" (karkkipäivä in Finnish). Usually it was Saturday, which is in the center of other Finnish traditions too, for example, the Saturday sauna.
Nowadays, eating candy has become more common, but, of course, eating in moderation is essential when it comes to sweet treats, especially Finnish sweets.
Candy is particularly important in children's parties and, on the other hand, a typical treat to enjoy in the movies or watching TV. It's also an easy gift idea.
Finns love to eat chocolate. On any day, a cup of coffee and a piece of Finnish chocolate are a match made in heaven. Chocolate is a big part of Christmas celebration in Finland. For example, it's super popular to have a chocolaty advent calendar counting down the days until Xmas Eve.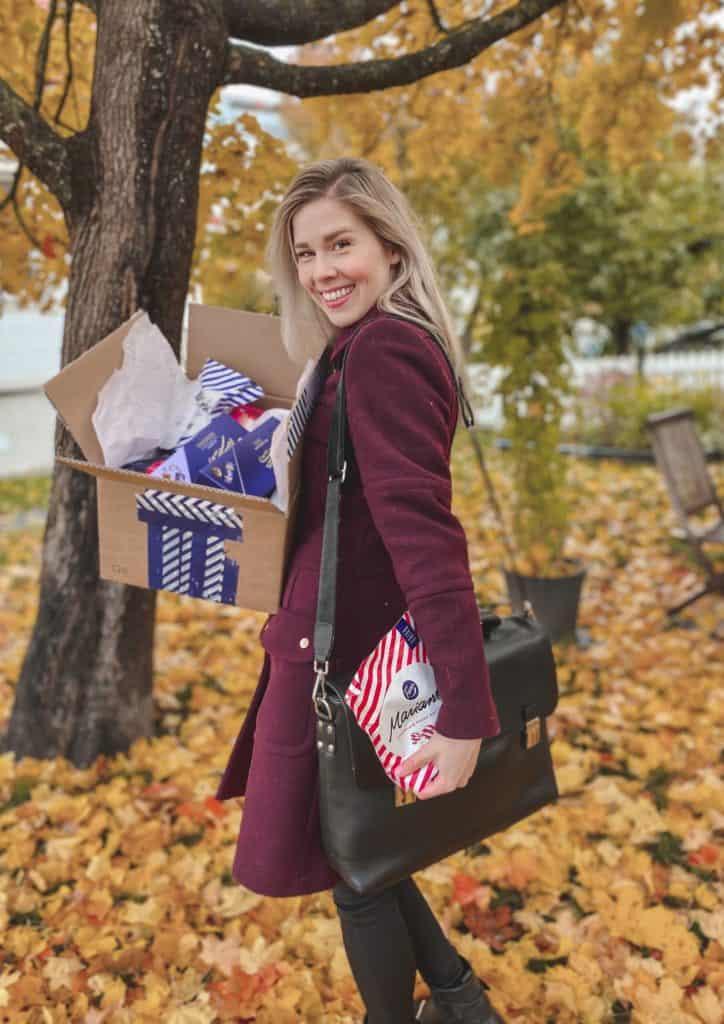 What Are Popular Candies in Finland?
Every country has its typical candies. Here are some of the most popular candy classics that both children and adults love year after year.
Karl Fazer Milk Chocolate – the One and Only
If you had to choose only one sweet treat from Finland, it would, without a doubt, be the traditional milk chocolate by Karl Fazer in its blue wrapper. In fact, the name of this chocolate in Finnish is "Fazer Blue" (Fazerin Sininen).
The blue color was very important for Karl Fazer, the founder of Fazer. It symbolized the Finnish nature and independent Finland.
This melt-in-your-mouth chocolate is available as wrapped chocolates, chocolate bars, and blocks. Like all Fazer chocolates, it's made of responsibly sourced chocolate. Fazer Blue is the best seller among candy and chocolate products in Finland.
Fazer Dumle – Mesmerizing Toffee Chocolate
Packed in a vibrant red and blue wrapper, Dumle is made of yummy, stretchy toffee and yes, that wonderful Fazer milk chocolate.
It might sound simple, but the taste is addictive. These were candies that we might sometimes fight over with friends as a kid. For me, the taste of Dumle has a hint of licorice, even though it doesn't contain any.
Tyrkisk Peber and How to Learn to Love Finnish Salmiakki (aka Salty Licorice)
The Tyrkisk Peber has been around for over 40 years and packs quite a punch! Under the hard licorice shell hides peppery, salty licorice powder.
If you want to try the most exotic example of the Finnish candy culture, you have to try this candy. Note that it's also suitable for vegans.
The taste of Finnish salty licorice is very unusual for those who aren't used to it. It definitely takes some practice. For me, salmiakki is like coffee. Most don't like their first cup, but over time you learn to love the taste of coffee.
If you want to give salmiakki a chance, I recommend starting with classic salty licorice flavors like the ones in Fazer Salmiakki Mix candy bag. These black candies aren't as feisty as Tyrkisk Peber or the salt-covered licorice you can find in some assortments.
Try combining the licorice with milk chocolate or fruit candies, which give the licorice a softer taste. Lastly, taste salmiakki at least twenty times before giving up.
Marianne and Fazermint – for Mint Lovers
The Finns love the combination of mint and chocolate. The vegan-friendly Marianne candy has a hard peppermint shell filled with deliciously crunchy chocolaty paste.
Another minty treat is the elegant Fazermint, a classic candy from the year 1963. Unlike many other wrapped chocolates, Fazermint includes dark chocolate.
Geisha – the Dreamiest Chocolate in Finland
The icing on the cake is the sweet Geisha. I don't know anyone who doesn't like Geisha chocolate.
As you can guess from the name, the inspiration for this chocolate comes from Japan, the Tokyo Olympic Games of 1964, to be precise. Geisha combines Fazer's signature milk chocolate with a hazelnut nougat filling that melts in the mouth.
Sidenote. How many times can you say "melt-in-your-mouth" in a blog post? Apparently dozens of times. This is such a key feature of Fazer chocolate! You'll know what I mean once you've tried it, I promise. Fazer is one of the few chocolate manufacturers who use fresh milk in their production.
FinNISH CONNECTION COLLECTION 🇫🇮
Finland-themed sweaters and accessories made-to-order. 🧡 Worldwide shipping.
Creative Ways to Use Finnish Candies
Fazer's Taste of Finland XL candy box comes with 25 different delicious Finnish tastes. It contains chocolate, fruit candy, licorice, salty licorice, Fazer's jaffa cakes, and healthy xylitol pastilles and gum.
Two Taste of Finland XL candy boxes were the inspiration for all of the different ideas for using candy.
Finnish Candy Cupcake Party
This is an easy and super fun activity for the kids. My two-year old daughter was thrilled by this sweet workshop and was able to focus on decorating surprisingly well.
What you need for this cupcake party:
1 candy bag of Fazer Lakritsi Chocolate & Liquorice
1 candy bag of Ässä Missä X wine gums fruit and liquorice
1 candy bag of Ässä Mix
1 candy bag of Remix
A plainly frosted cupcake for each participant
Colorful plates and little bowls for the candy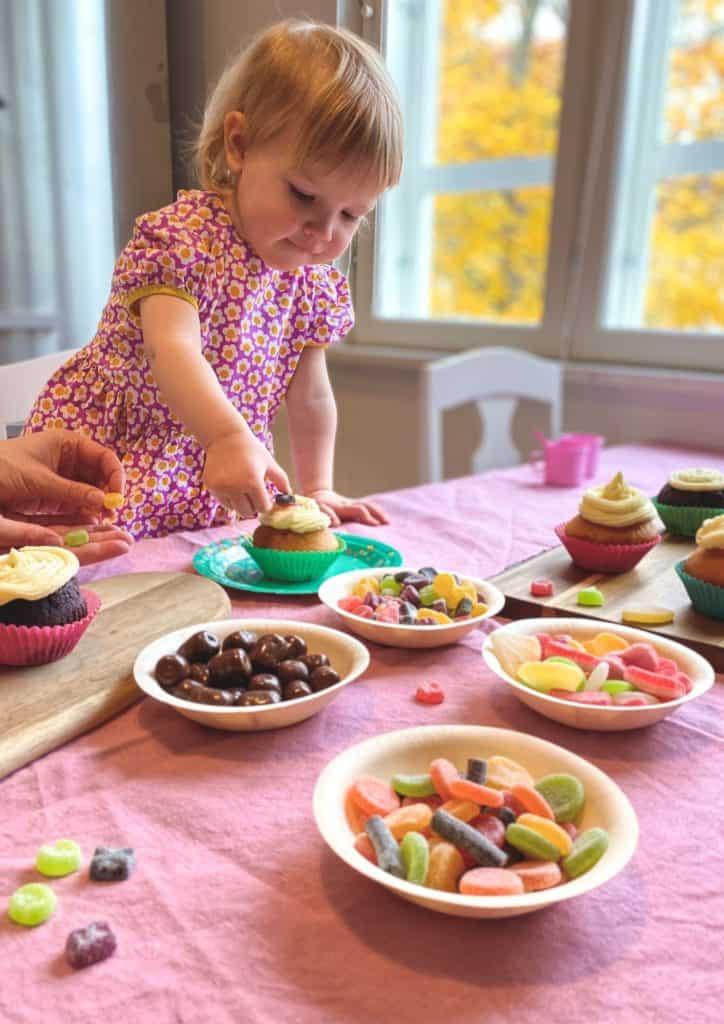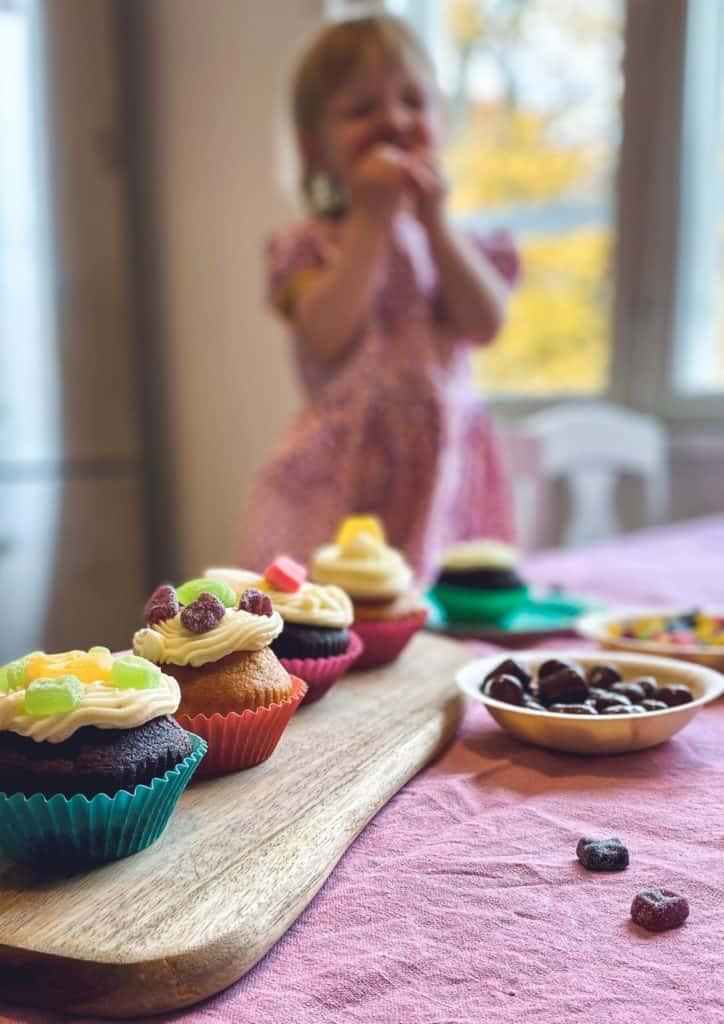 Treasure Hunt with Finnish Candies
Make a treasure box containing candy and hide it in the garden (or a nearby forest as the Finns might do). Guide the children to the treasure with a map and hints.
What you need for the treasure hunt:
2 blocks of Fazer chocolate
1 package of Fazer jaffa cakes
1 candy bag of Ässä Mix
1 candy bag of Remix
Candy Wrapper Crafts
Chocolate wrappers make great material for crafts. For example, fold a cute bow that can be used by itself or glue it on paperboard and make a butterfly.
During Easter in Finland, pussy willows are used to create colorful decorations that children hand out in exchange for candy. Candy wrapper bows are excellent for decorating these twigs. You can easily attach the bow to the branch with a pipe cleaner.
Finnish baking magic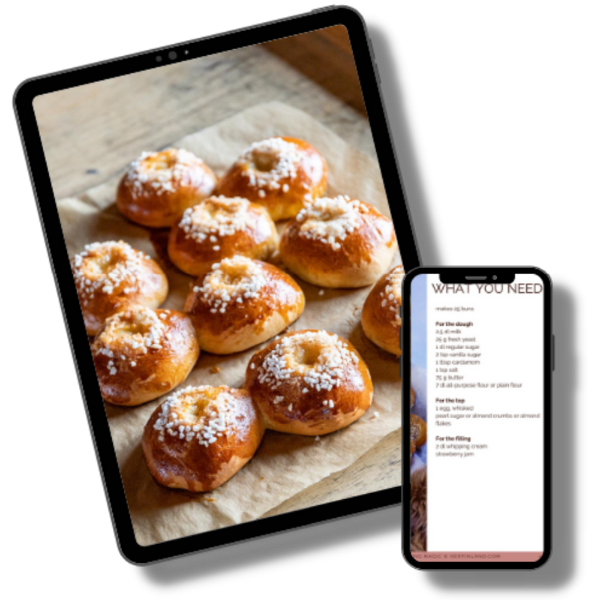 My praised Finnish Baking Magic eCookbook & bonus videos Recreate Finnish bakes in your own kitchen hassle-free!⭐⭐⭐⭐⭐
Party Favors Filled with Finnish Candy and Xylitol
Along with the candies, this gift bag will also contain healthy xylitol pastilles. You can stamp or write "thank you" (kiitos in Finnish) or the name of the recipient or on the bags as we did. Slip the candies you picked into the bag. You can also make use of the candy wrapper bows in decorating the bags.
What you need for the party favors:
Pätkis Maxi Crunchy bars
Iso Pätkis Chocolate Bar
Fazer Lakritsi Original licorice bars
Xylimax Raspberry full xylitol pastilles
Xylimax Peppermint full xylitol pastilles
little bags
stamps or a marker pen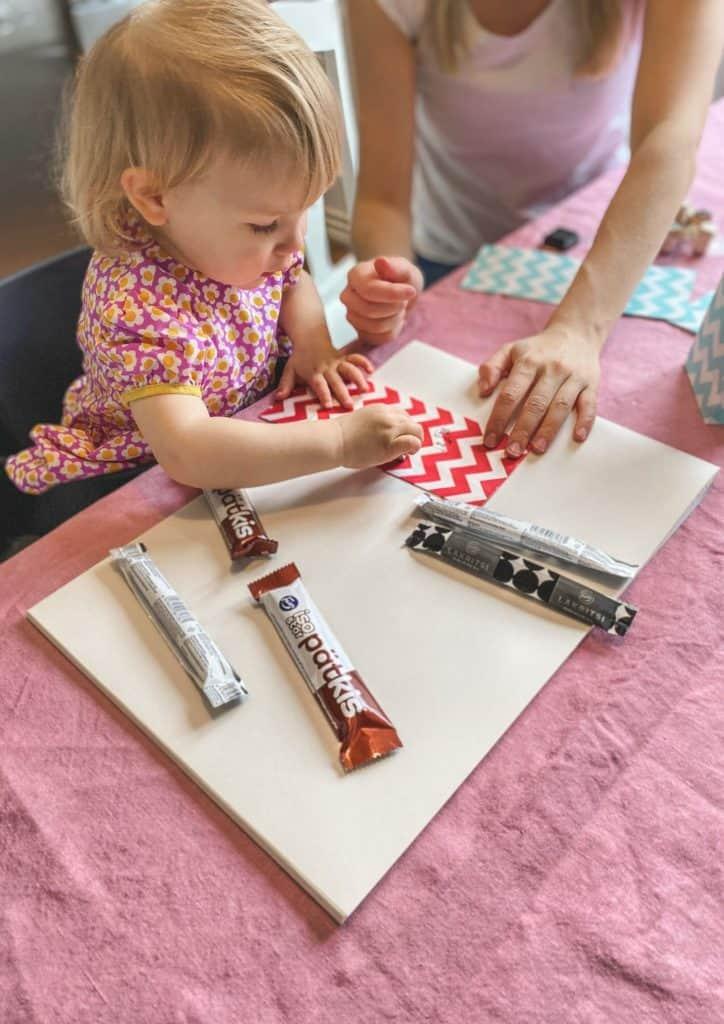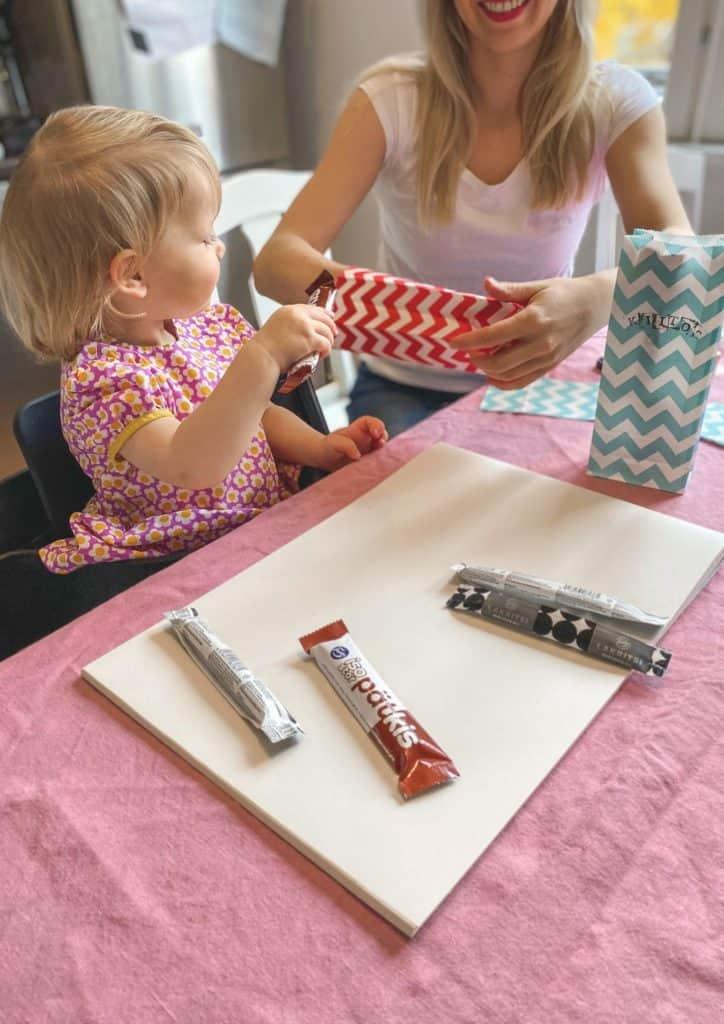 Bake with Finnish Candies
Baking with candy is so much fun! Decorate a gingerbread house or a birthday cake with the colorful Finnish candies. You can make a cool black and white theme with the Pantteri and Salmiakki Mix candies combined with white frosting. Fazer chocolate blocks can be carefully melted and used as a delicious dip for fruit and berries.
Furthermore, Dumle is excellent for baking, and Fazer provides a great collection of yummy Dumle recipes. I especially love the Dumle version of the shrove bun, a traditional Finnish winter treat.
Finnish Candy Bar
This very Finnish buffet of treats contains over 400 candies and 70 candy bars. Depending on your sweet tooth, the candy buffet is enough for around 70 guests. Create an effortlessly made but impressive setting by using colorful bowls and old wine cases. I used some vintage Arabia and Iittala pieces to make this look.
What you need for this candy bar:
2 cases of Karl Fazer Milk chocolates
2 bags of Dumle Original chocolates
2 cases of Karl Fazer Blueberry Truffle
2 bags of Marianne peppermint candies
2 bags of Marianne Toffee peppermint candies
2 bags of Fazermint chocolates
2 packs of Fazer Lakritsi Original licorice bars (60 bars in total)
10 bars of Geisha milk chocolate with soft hazelnut filling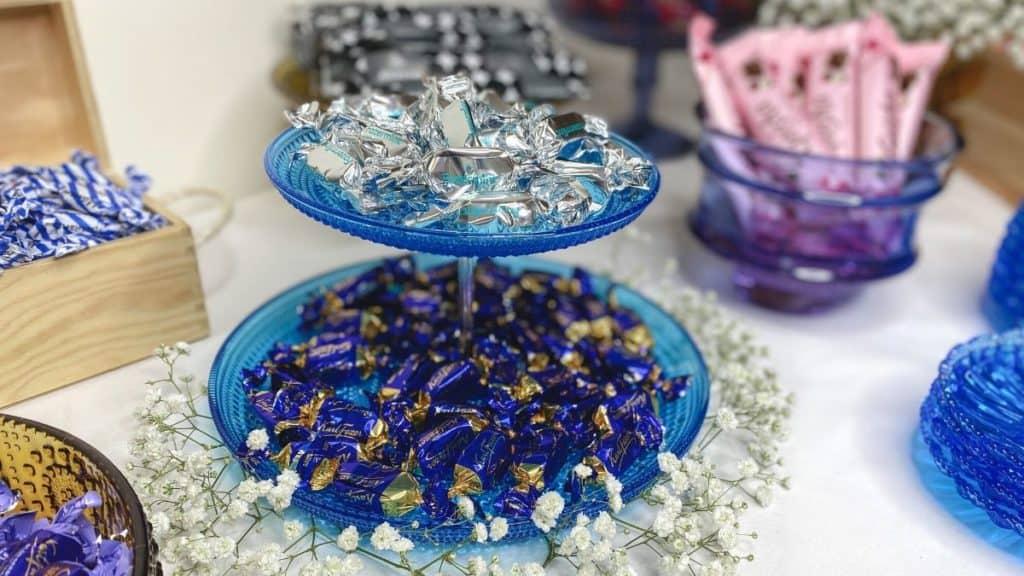 Top tip. Don't put all the candy on display straight away so you can fill up the candy bowls during the party.
Finnish Candy as Business Gifts
If you're looking for business gifts that will draw oohs and aahs, Fazer chocolate is the thing you need. I have sat through more than one meeting where these chocolaty gifts have disappeared fast as lightning and left the participants chuckling.
What you need:
Fazer chocolates and blocks
Bags of salty licorice candies for the daredevil colleagues (Tyrkisk Peber, Pantteri & Salmiakki Mix.)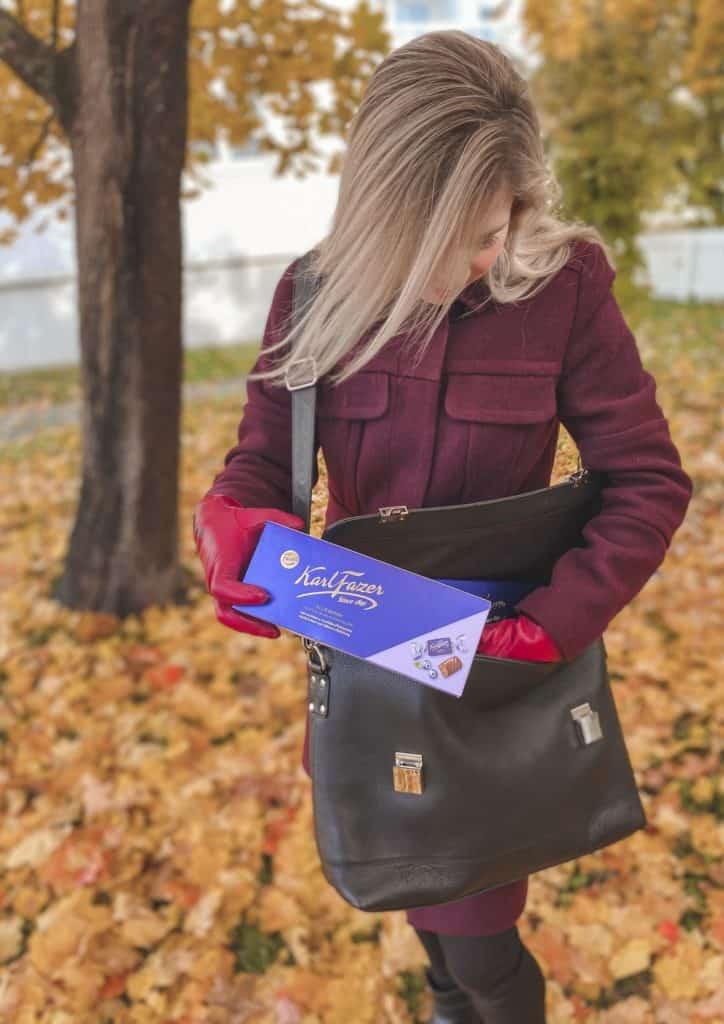 How to Order a Finnish Candy Box
Fazer Candy Store is the online store of the iconic Finnish candymaker Fazer. The products are packed in sparkly silk paper. In the box, you will also find a sweet message from the employee of Fazer who put together your box.
You can order candy and chocolate to be delivered within the EU and even have it personalized. All credit cards are accepted which means that you can order from anywhere in the world as long as the recipient of the box lives within the EU. The UK is also within the delivery area.
The online store's candy wizards are working full steam to make sure the store is fully global soon. Click here to check out the Fazer Candy Store and Taste of Finland XL box!
Have you already tasted Finnish candy? What's your favorite Finnish sweet treat? Let me know in the comments.
Looking for more Finnish food posts and recipes? Check out these: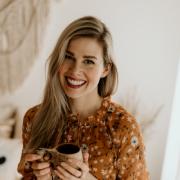 About Varpu
I'm the founder of Her Finland. I love cultural tidbits, aha moments, Finnish folklore, and cinnamon buns. My newest interest is learning bird songs. Read more about me..