The Finnish salmon soup (lohikeitto, in Finnish) is the perfect soup. It's like the little black dress of Finnish cuisine.
At the same time, a salmon soup is easy home cooking, super healthy and suitable for any event.
In this household, it's the go-to recipe for busy weekdays and family parties. This soup was served at a regular Tuesday, my graduation party and our daughter's christening. It's the most flexible soup ever invented!
Pssst.. Follow me on Instagram and add more Finland to your life instantly.
 

 

Näytä tämä julkaisu Instagramissa.

 
As pretty much all my cooking directions, this is my granny's recipe. Word of caution (or relief): this recipe includes no stock preparing. We use, yes, plain old water.
I know, I know, many professionals swear by creating a soup base. But, as my granny had full-time work, two children, and sometimes the whole zoo to watch over (literally, the family lived in the middle of the Helsinki zoo), I understand that she had to cut some corners.
So, according to my granny, for a busy cook, the key to a delicious soup is sautéing the chopped leek and onion. More about that sautéing in the recipe!
Also, another thing. Some people like that a bowl of soup has a lot of stock and only a few 'lumps.' My family is not those people. A salmon soup must have plenty of salmon and vegetable chunks. If not, it's a poor man's soup, like we say in Finland.
Let's start cooking!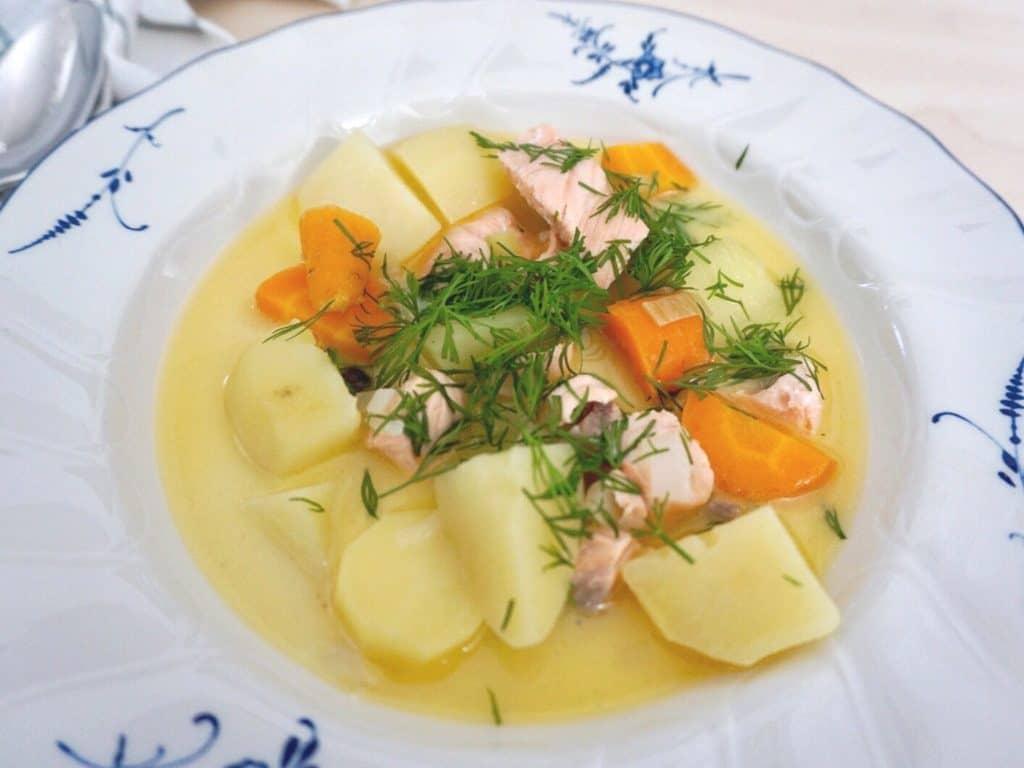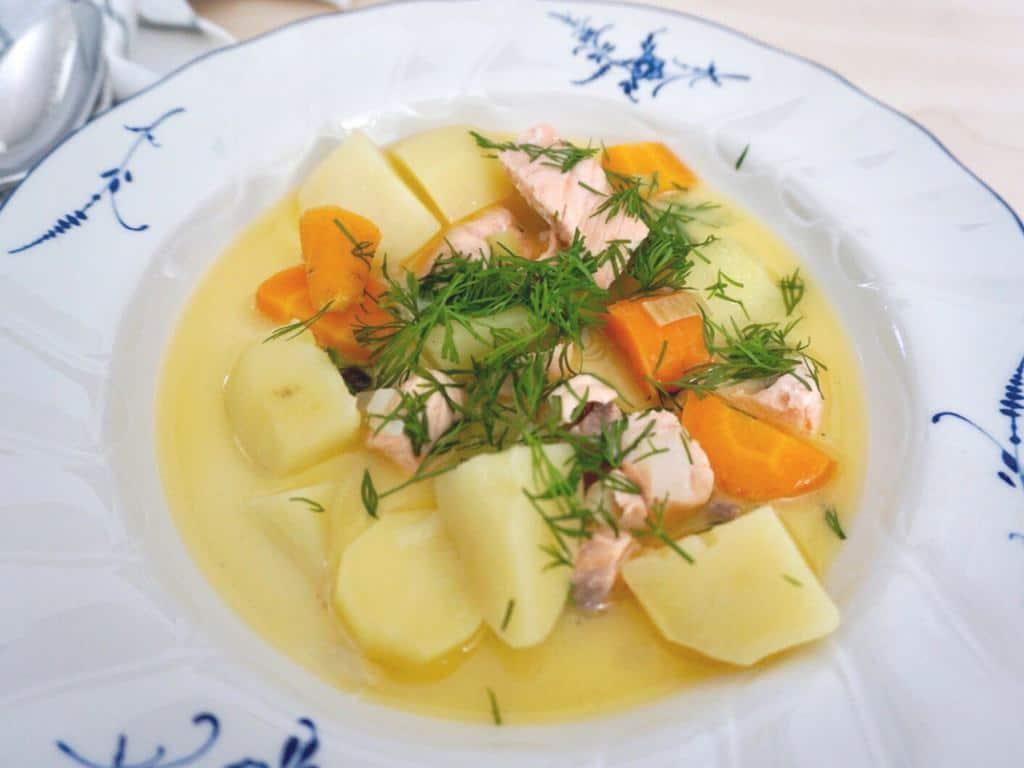 Finnish Salmon Soup
Ingredients for four servings
500 g/1,1 lb salmon, skinned and cut into large chunks
10 potatoes, peeled and cut into chunks
3 carrots, sliced
1 onion, thinly sliced
1 leek, thinly sliced
1 l water
Salt
Butter
1/4 tsp white pepper
1/2 tsp allspice
1 bay leaf
2 dl cream (0,8 US cup)
Plenty of fresh dill, finely chopped
Making the Finnish Salmon Soup
Melt a chunk of butter in a small kettle and sauté the thinly sliced leek and onion. They need to become a bit translucent but by no means brown!
Take the soup kettle and boil the water. Add potato and carrot chunks, sautéed leek, onion and spices. Boil for 10-15 minutes.
Add the salmon on top of the boiling vegetables. Sprinkle salt on top. Gently boil the fish ready.
Preheat cream in the small kettle and add it to the soup. Check flavor and add salt if needed. Last, add dill.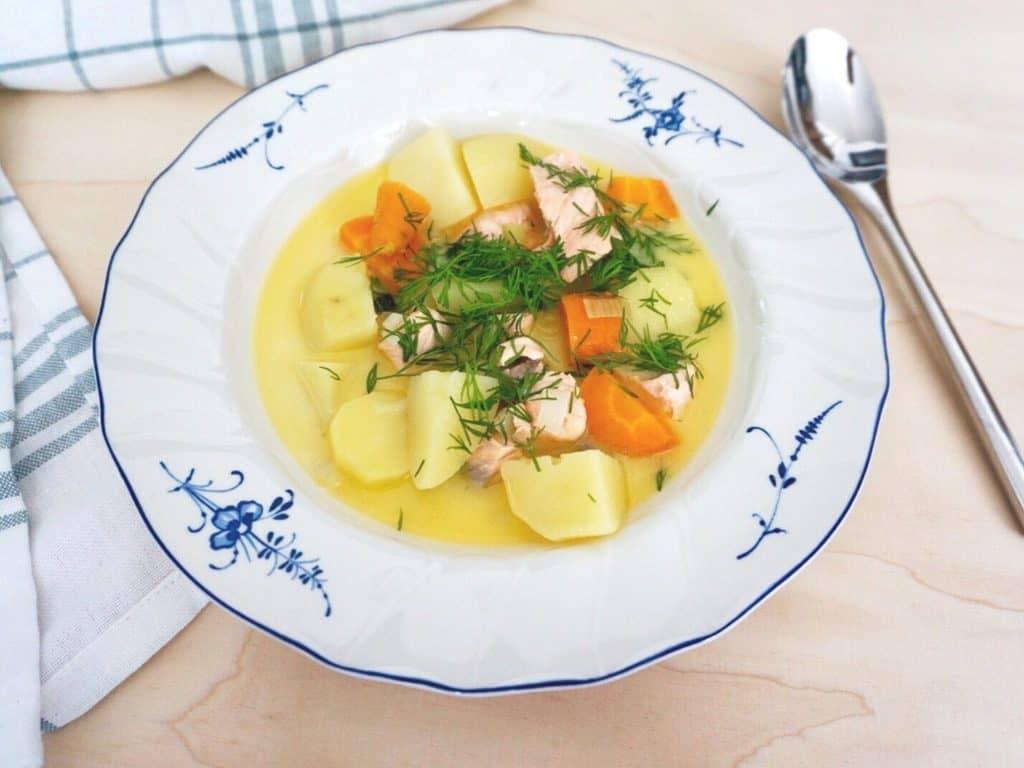 Finnish Salmon Soup as a Party Food
Here are some tips when you are making this soup for a bigger crowd:
Put the spices into the boiling water in a cloth bag and take the bag away before adding the cream. You'll get all the flavors in the soup and the guests don't have to leave spices on the side of the plate.
Estimating the size of the soup: I usually count 2-3 potatoes and z. 125 g/4 oz salmon per person.
For example, for 15 people, I use 3 kg/6,6 lbs of potatoes, 4 liters/1 gallon of water, 1 liter/0,3 gallon of cream and 2 kg/4,4 lbs of salmon.
Another popular dish for family gatherings is Karelian stew. Here's my granny's Karelian stew recipe for you. 
Will you try making this Finnish salmon soup recipe? What Finnish recipe would you like to know? Comment below!
Looking for more Finnish recipes? Check out some of my other Finnish food posts:
Warm wishes from Finland, 
Varpu
Psst... Want to bake more Finnish desserts and savory bakes in your own kitchen?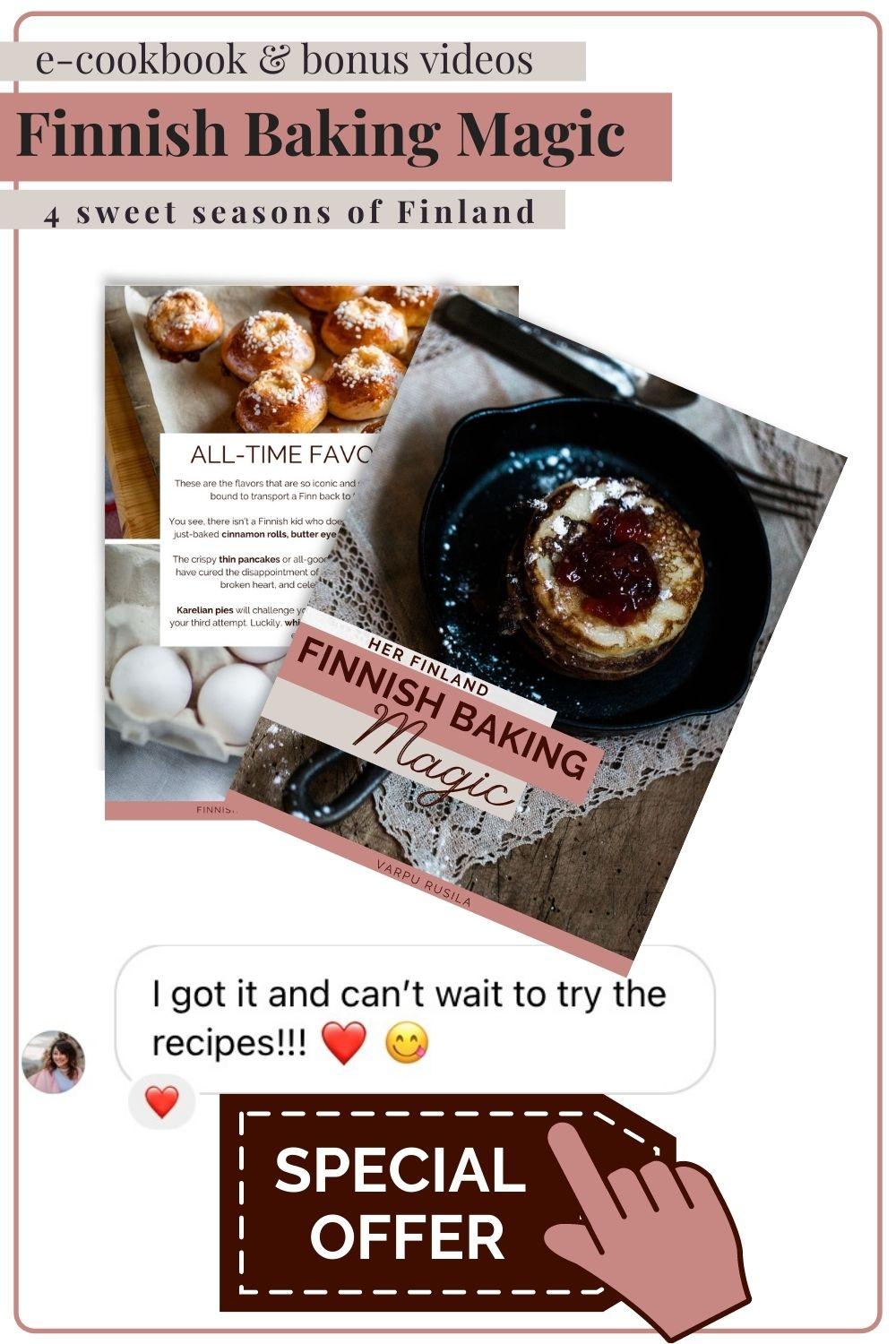 What's included in the Finnish Baking Magic Kit
An E-Cookbook with 21 iconic recipes

A Baking Tips video lesson

A Video Lesson on the Finnish pronunciation of all 21 treats

1 Master Grocery List with English names and Finnish names
Struggling with conversions? Not with this kit. Start baking your treats hassle-free.
You'll get 5 copies of the e-cookbook. Pick the one that works for you. 
English with American measurements

English with gram measurements

English with gram & metric measurements

English with Finnish measurements (decilitres)

Finnish with Finnish measurements (decilitres)
Did you find this post helpful? Worth trying? Save it for later on Pinterest!