*Please note that my posts have affiliate links. At no additional cost to you, I may earn a small commission if you make a purchase.
Lapland holidays must happen in parallel universes. Or how is it possible that, at the same time, Lapland charms Santa visitors, silence seekers, outdoorsy adventurers, nature photographers, and luxury holidaymakers?
Lapland is like Madonna in the music video of Frozen. So smooth and effortlessly magical that you don't realize you're hooked until the song ends (in this case: your holiday).
Most people think of Lapland as a winter destination, but in my opinion, it's an all year round spot to visit.
Err… Maybe I shouldn't call a 100 000 km² area as a spot. Lapland is vast. You don't run into crowds here (unless you brought your own).
Psst.. Follow me on Instagram and get more Finland into your daily life immediately!
Näytä tämä julkaisu Instagramissa.
To give a short summary: Lapland is a wildland with great logistics, delicious Lappish food, super clean air, quality accommodation, funny Finns and cool wilderness things to do.
What more could you want?!
I left my heart beyond Arctic Circle a couple of years ago and have been returning to Lapland in different seasons ever since.
Lapland is home to many of my favorite things: cloudberries, northern lights, reindeer, bald giants (nope, not referring to Finnish men here, I mean the arctic mountains called fells), insanely delicious fresh donuts, and willow grouse. So, let's dive in. Here's what you're going to find in this guide.
TOP 6 Practical Tips about Lapland
This guide helps you plan a visit to Lapland no matter what's your travel style. Looking for tips for a self-planned Lapland break? No problem, I'll help you be your own travel guide.
Wondering should you buy a package deal to Lapland? I'll explain how much there's to plan and budget so you can decide what's the best travel solution for you.
#1 Weather: Remember the unique light and weather conditions of Lapland. In the summer, it's bright all the time. In the winter, the north is swallowed by darkness as polar night prevails. Literally, the sun doesn't rise at all. Polar night is a cool thing to experience. Just remember to book your activities around noon if you want to be able to see the Lappish scenery in November-January. Even though it's freezing outside in the winter, all the houses are super warm.
#2 Money: Credit card works in 99% of places so you don't need to change a lot of money. Finland might Also, tipping isn't a part of the Finnish culture.
#3 Wifi: All hotels and cabins have a wifi. Rural wilderness hasn't!
#4 Phone & camera: An extra power bank is always a good idea! Always check that your camera and phone are charged before going out in the winter because the freezing conditions eat up your battery fast. At least we Finnish ladies keep our iPhones inside a woolen mitten or sock to help the battery last longer.
#5 Clothing: Think layers, layers, and layers. Check that your beanie, scarf, and gloves are made of wool. Avoid acrylic and other synthetic materials. They may look fluffy and warm but aren't. Check my helpful post about beauty essentials for winter. A lip balm is a must in Finland.
#6 Information: All Lappish destinations have Facebook pages and quick replies to anything you ask. I just love the chat option and how easy it is to use. A big recommendation!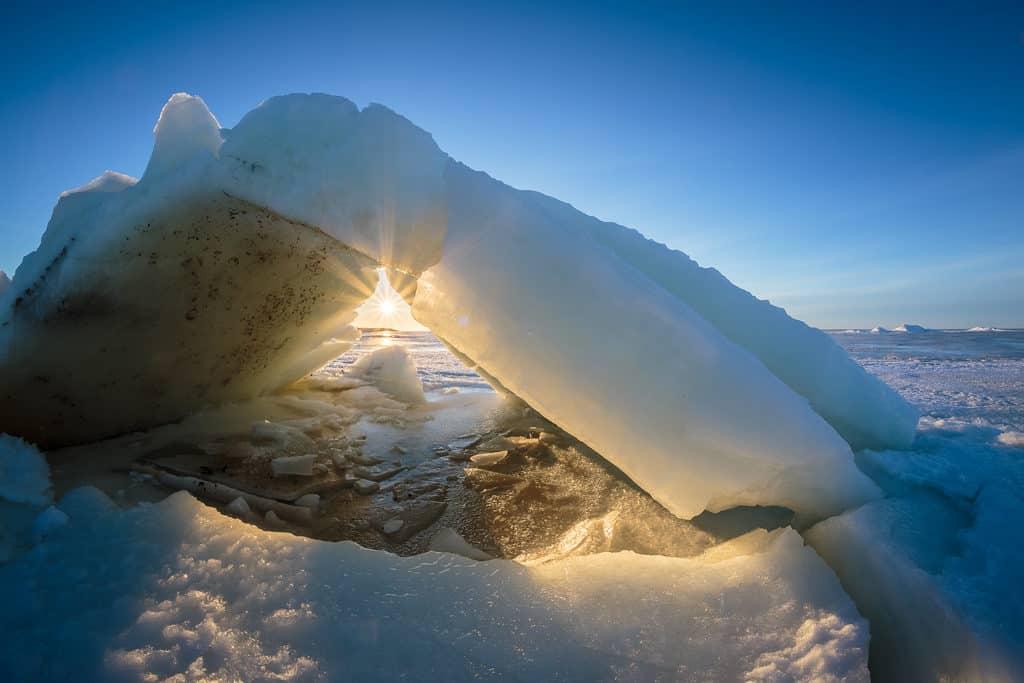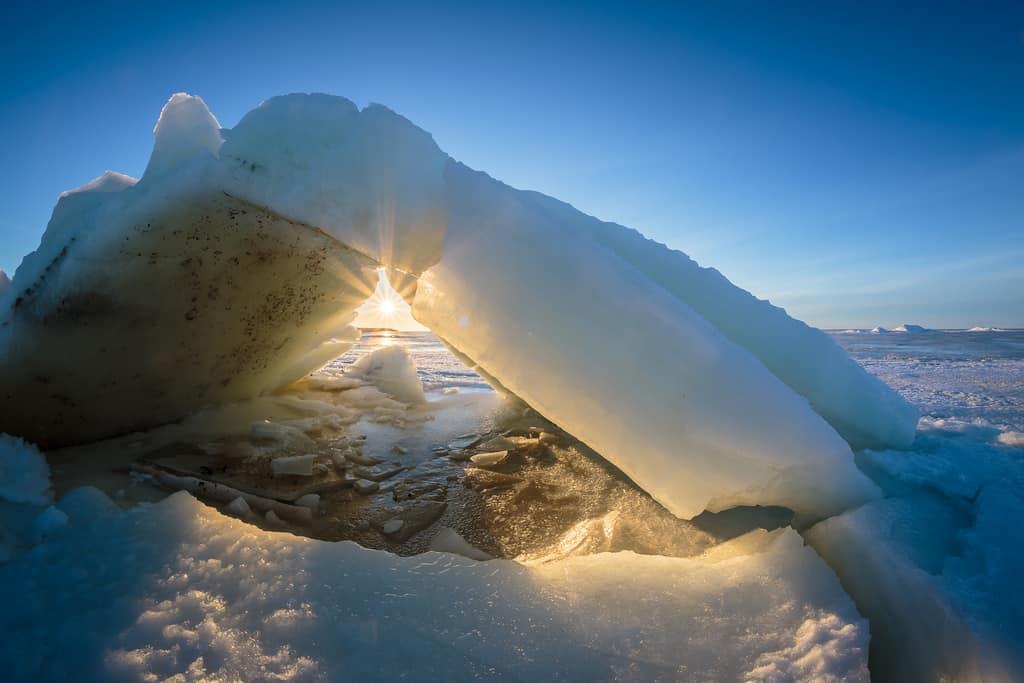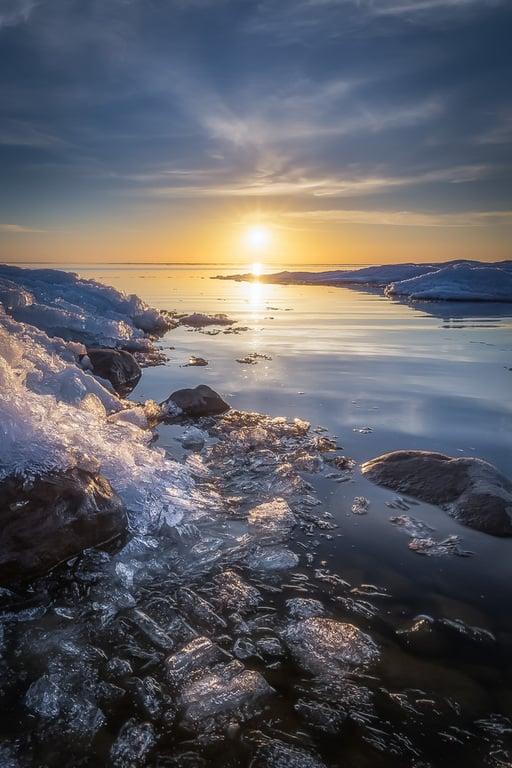 Spring sun melting the ice in Lapland, by Petri Puurunen.
A Quick Guide to Lapland Destinations
Here are seven Lappish destinations and their special characters from a Finnish perspective.
Rovaniemi
The closest airport: Rovaniemi
City life combined with arctic nature, the Official hometown of Santa Claus. Read more about the charming restaurants and hotels in Rovaniemi!
Ylläs
The closest airport: Kittilä
Seven fells, Finland's most popular national park with the world's cleanest air, the longest ski slopes in Finland. Read more about a winter holiday at Ylläs!
Levi
The closest airport: Kittilä
The biggest ski resort in Finland, lots of restaurants, lively nightlife and great gigs.
Saariselkä
The closest airport: Ivalo
World-famous for auroras due to Kakslauttanen glass igloos, the longest sleigh slope in Finland.
Pyhä
The closest airport: Rovaniemi
Historic sites of the Forest Sámi people, amethyst mine, the deepest gorge in Finland. Read more about hiking in Pyhä!
Salla
The closest airport: Kuusamo / Rovaniemi
Eastern Lapland fell views, charming small ski resort.
Ruka
The closest airport: Kuusamo
Winter sports and athletes, forest hill views, white water rafting in Oulanka national park. Read more about hiking near Ruka!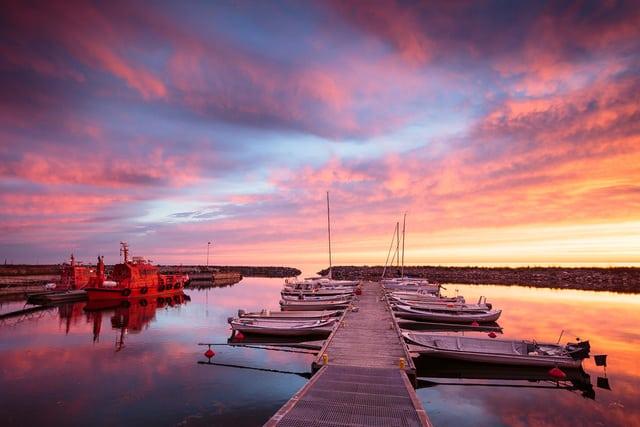 Late summer nights offer blazing red skies in Lapland. Photo by Petri Puurunen.
Flights to Lapland
You can easily travel to Lapland using scheduled flights. The biggest airport in Lapland is Rovaniemi. Other northern airports include Kittilä, Ivalo, and Kuusamo.
During the busiest winter season, there are direct flights to Lapland from various points in Europe. Airlines provide straight flights for example, from London, Manchester, Paris, Zürich, Munich, and Düsseldorf.
Your options are to fly straight to Lapland or through Helsinki. Finnair and Norwegian fly from Helsinki to Lappish airports pretty much daily throughout the year.
There are bus connections to Lappish resorts from the airports after every scheduled flight.
If you are traveling high season (December-March), my only tip is: book early. I think it's pretty safe to say that there will be no last chance deals.
Everything will be sold out and the prices increase the closer we get to those months.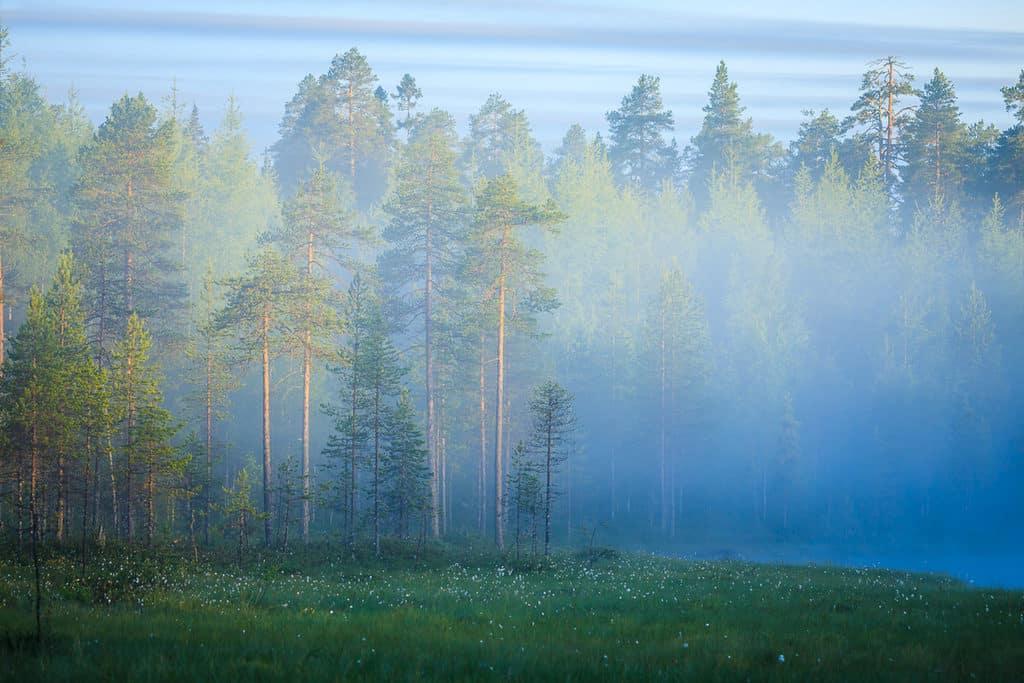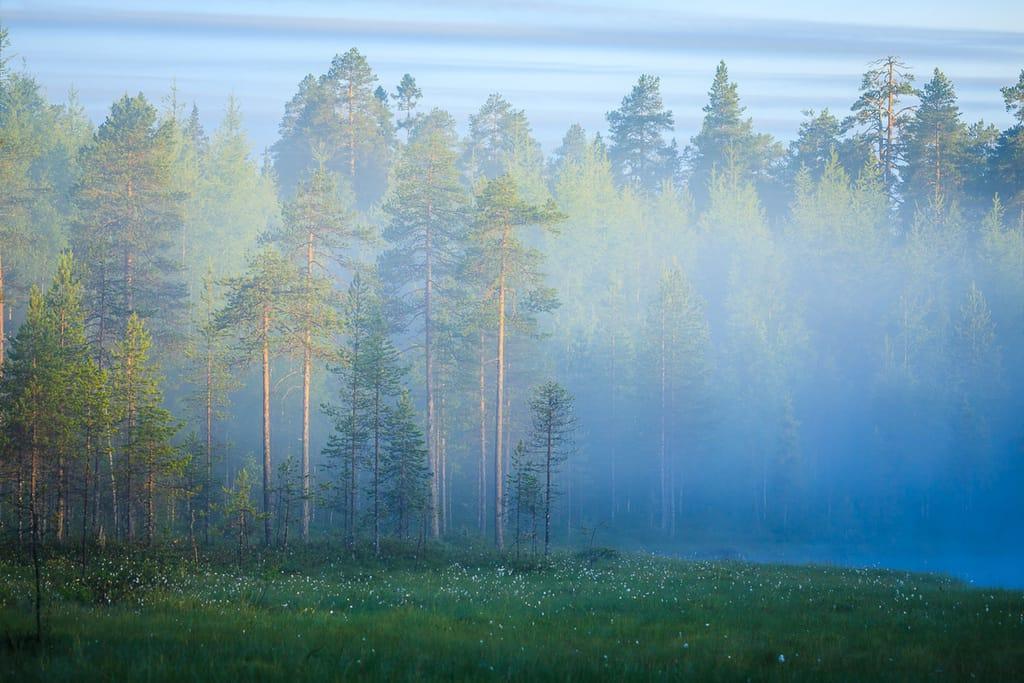 Did you think that Lapland is only a winter destination? The summer in Lapland is full of etheric light, captured here by Petri Puurunen.
From Helsinki to Lapland
Train, bus or car – those are your options! The distance you need to travel is around 800 kilometers or more.
Taking the night train from Helsinki to Lapland is great value for money and time. The Finnish railway company has good discounts for early birds.
Book two to three months earlier and you may find a 50€/berth/ one-way ticket, even in December.
If you book a private sleeping compartment for two people, the cost is around 250€/compartment one-way. Add 50-80€ to that and you can take a car too.
If you are traveling with small children they are free when they sleep in the same berths.
The bus takes nine to fifteen hours from Helsinki to Rovaniemi and the price varies from 40-70€. Check my helpful tips about timetables and buying bus tickets in Finland.
Driving to Lapland is popular among Finns. You should budget around 100€ for the petrol from Helsinki to Rovaniemi. Click to read my guide to driving in Finland as a traveler.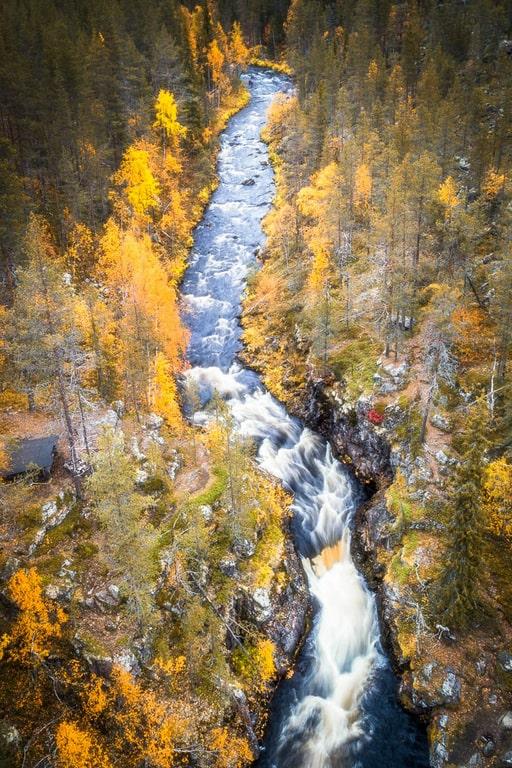 The autumn in Lapland is a hiker's dream. Photo by Petri Puurunen.
Grab the free kit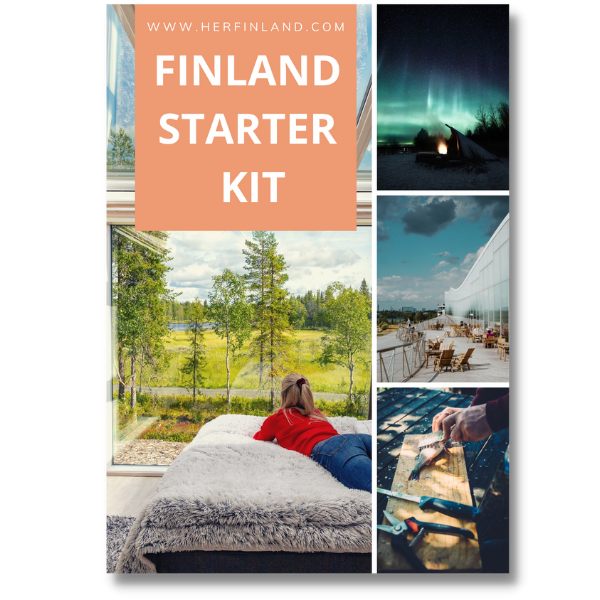 Things to Do in Lapland
I can think of 15 winter activities in a heartbeat: cross-country skiing, downhill skiing (groomed and off-piste), kite-skiing, snowboarding, snowmobiling, snowshoeing, winter biking, backcountry skiing, winter walking, ice fishing, riding, winter swimming, husky rides, visiting a reindeer farm and hunting for the northern lights.
In the summer and autumn, you can hike, walk, mountain bike, fat bike, disc golf, fish, bird watch, go canoeing, trail run, ride a horse, do SUP, pick berries and mushrooms. If you are very lucky, it's possible to catch auroras even in September.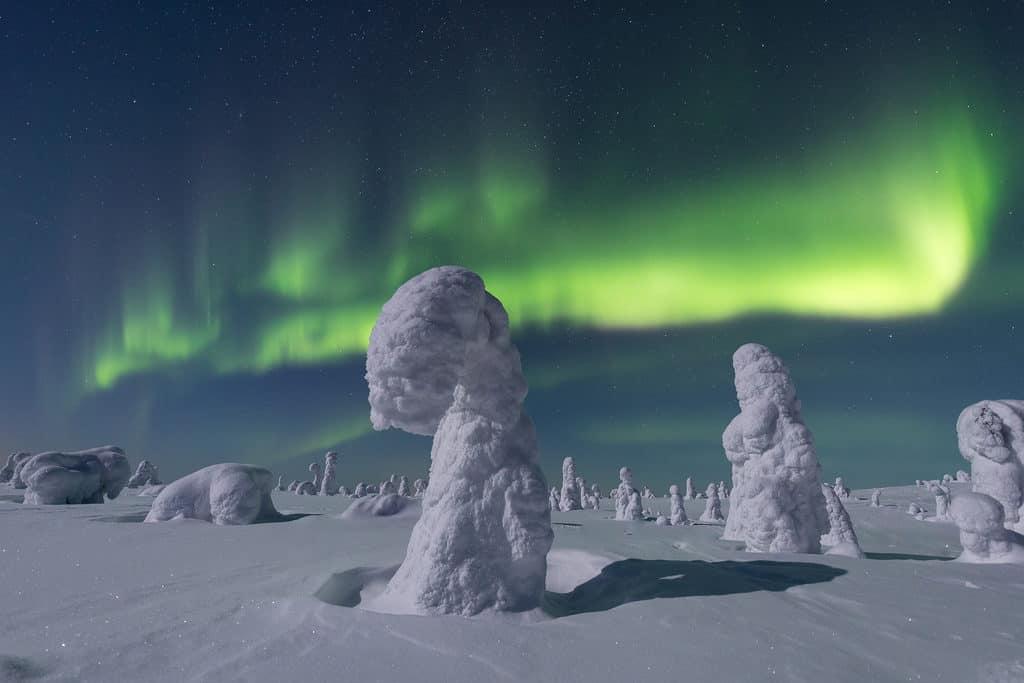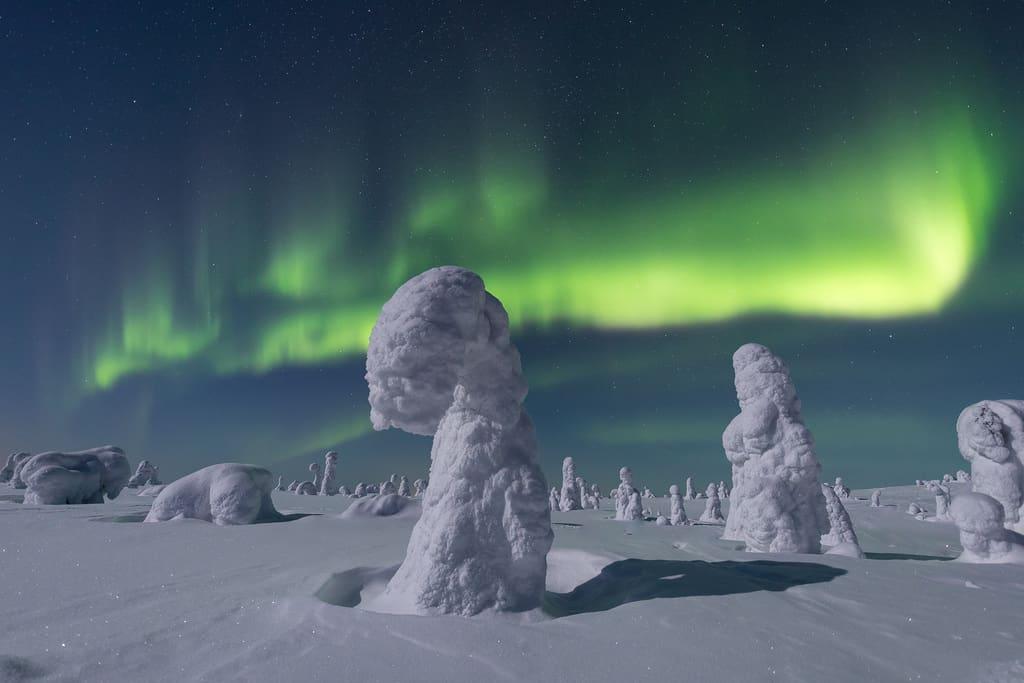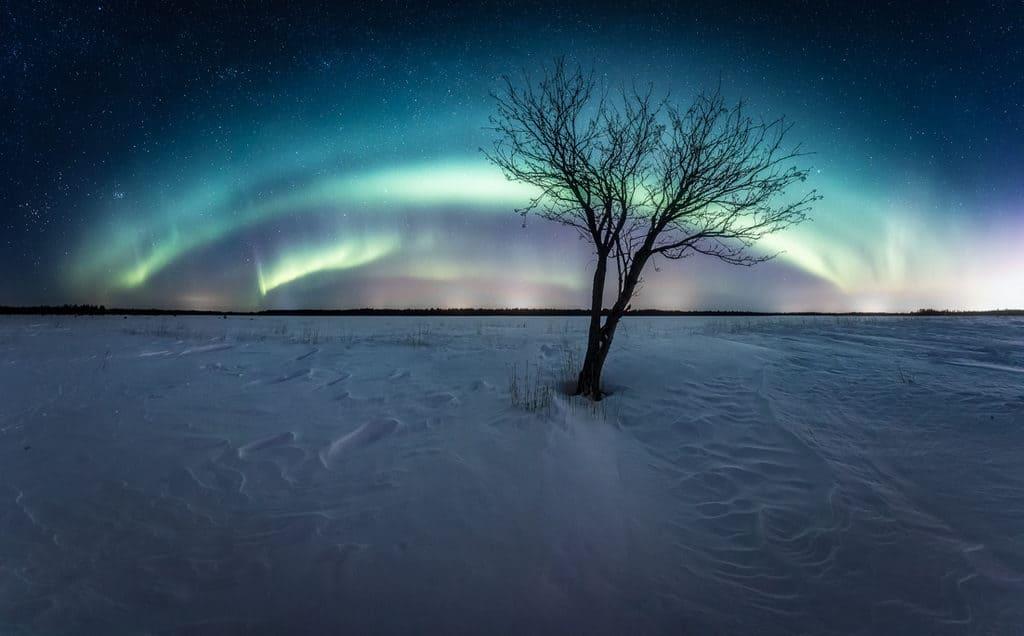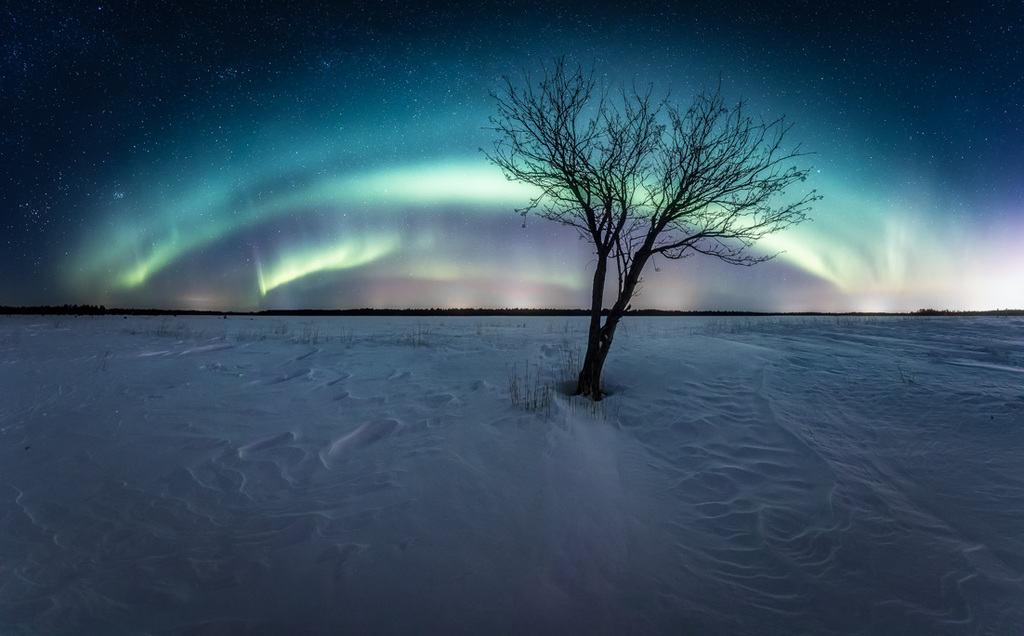 The majestic northern lights over Lapland. Photo by Petri Puurunen.
Responsible Tourism in Lapland
We Finns are not perfect but I think most of us value the environment and the wellbeing of others, both people and animals.
More and more companies are becoming transparent in how they conduct their business, treat the environment, employees, and furry colleagues.
This is an on-going process and I imagine that in three years we are much further. At the moment, some companies use washable or biodegradable mugs and plates on safaris.
From my own discussions in Lapland, I have learned that companies are excitedly waiting for electronic eco-snowmobiles.
Responsible tourism is all about the companies and travelers working together. Being responsible isn't a zero-sum game.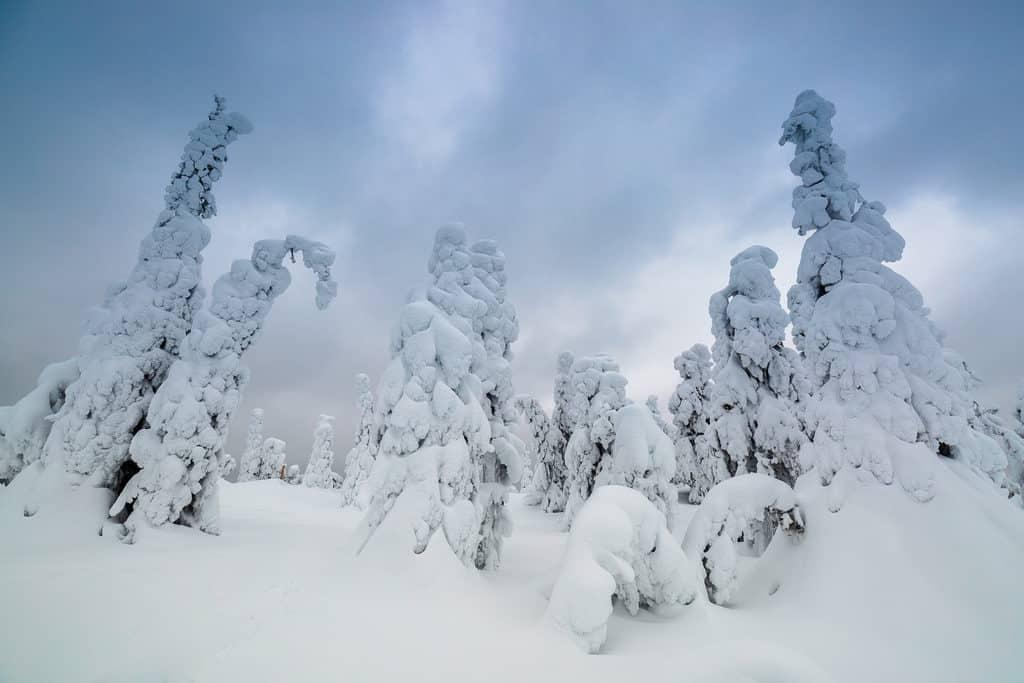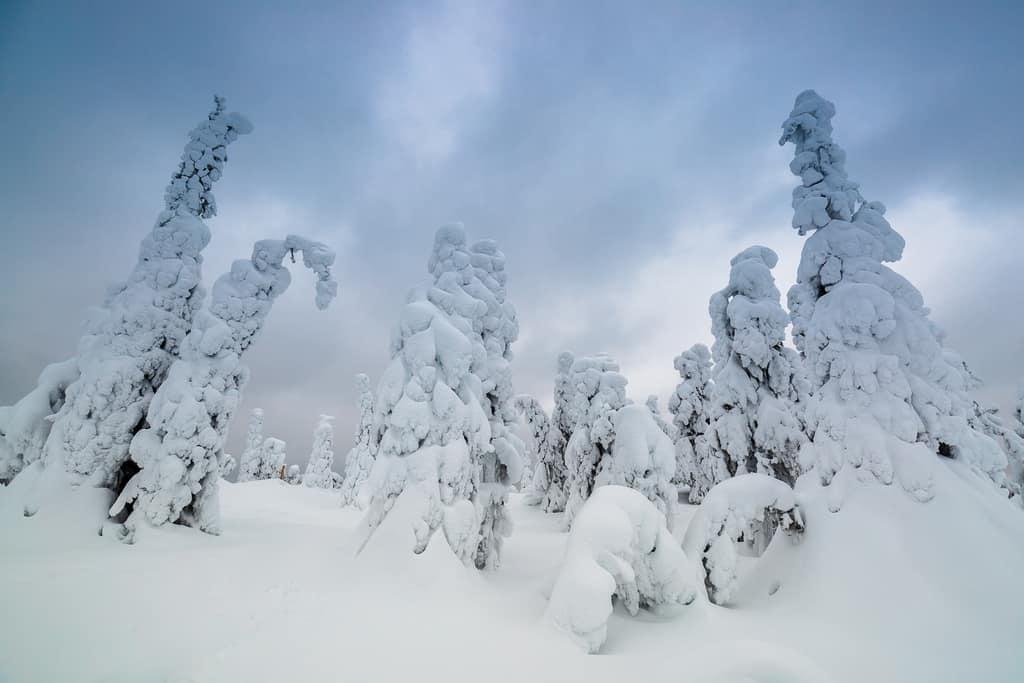 What we, as travelers, can do? Let's not underestimate the tiny things!
If you cannot find information about responsibility on the company's site, ask about it before making your purchase.
Give feedback if you see a service which could be more responsible.
Have a super light foldable shopper to avoid plastic bags in shops.
Be mindful of how many serviettes you really need.
Don't throw anything in nature. Even on the street. A piece of gum takes around five years to disappear. A cigarette butt oozes toxic waste, such as cadmium, lead & arsenic, into the soil.

Animal-based Tourism in Lapland
You can find husky and reindeer farms in every Lappish destination from November until March, possibly mid-April.
Most companies offer logistics services and extra outerwear too so it's easy to enjoy these activities.
For the self-guided super busy Lapland visitor, Santa Claus Village in Rovaniemi is the safest bet, although the most hectic. There's a straight bus connection (Number 8) from Rovaniemi city center.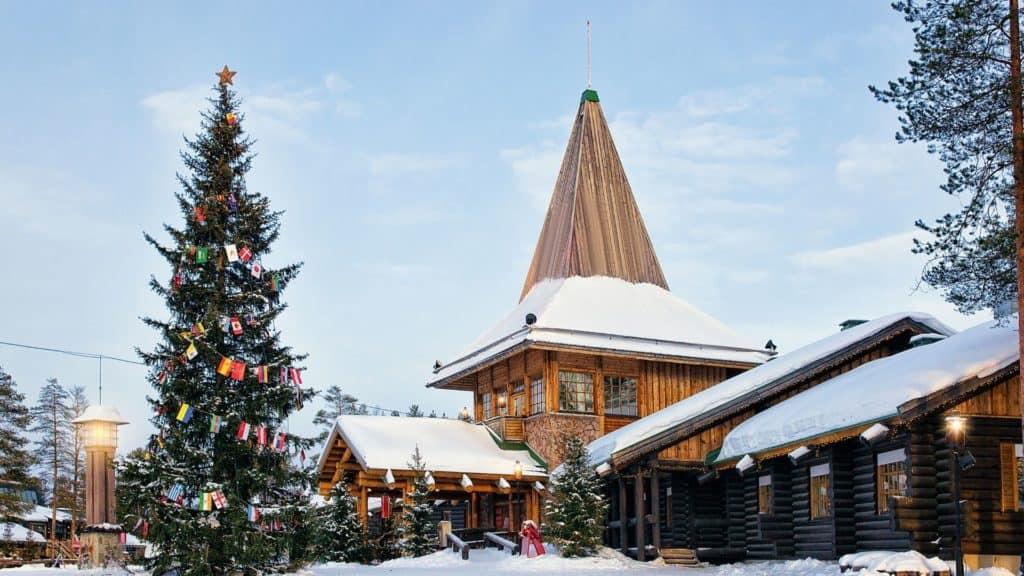 In the village, you can hop on husky and reindeer rides and even take a snowmobile safari. For the short husky and reindeer rides, you don't have to make a reservation.
Based on a recent academic study in Finland, there are 158 animal-based tourism firms in Lapland. The animal-based tourism is very important to local people in Lapland.
65% of the firms are micro-enterprises, providing full-time employment for one to two persons including the entrepreneur.
Animal welfare is a big concern for travelers anywhere in the world and rightfully so.
Some Lappish companies, but not nearly all, share their animal welfare philosophy on their website and social media channels.
I believe this will increase as it's important to communicate animal welfare values and specific characteristics of Lappish working animals to customers.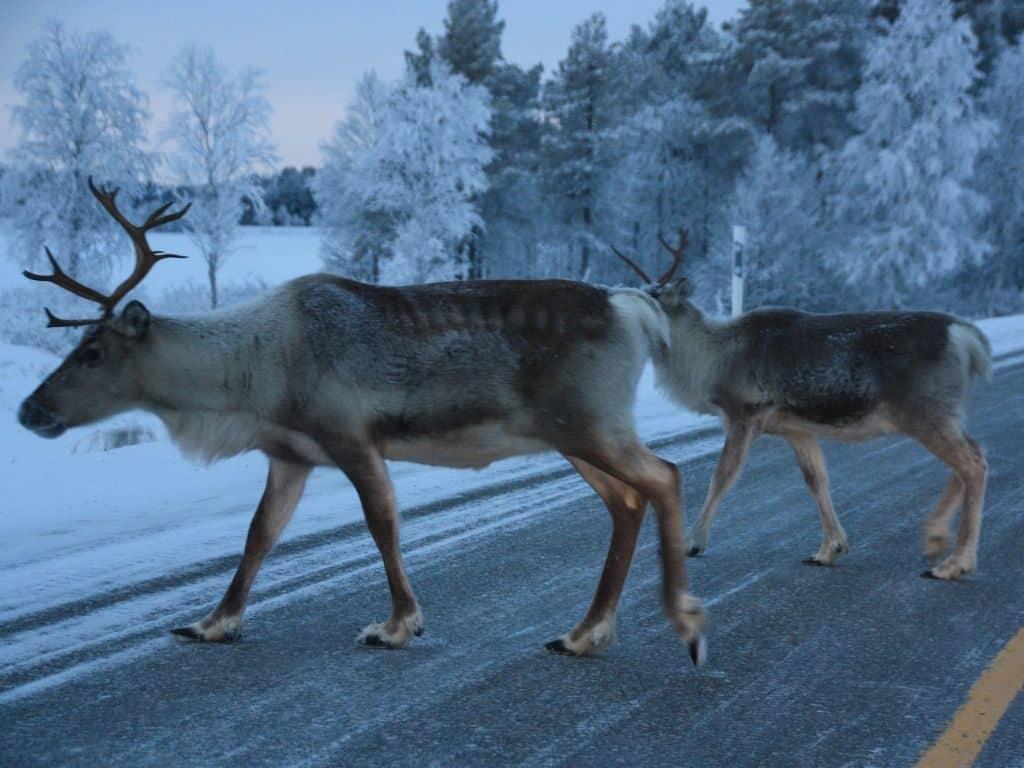 For example, blood in the antlers of reindeer is quite normal in the late autumn. Reindeer rubs the antlers against hard surfaces to get the skin off.
In fact, there's a major project going on for developing an animal welfare criteria that are suitable for the animals working in Lapland tourism.
Dive into all the research and animal tourism in Finland here.
Personally, I have seen great examples of how Finnish operators take excellent care of their animals.
For me, however, the best animal experiences in Lapland are when I meet animals in the wilderness. Spend a day on the fells and I guarantee you'll run into animals.
In the summertime, reindeer roam free. If you drive in summery Lapland, you are bound to see a reindeer or a few – most likely in the middle of the road!
If you want to read more about the animal-based tourism in Nordic countries, Vanessa, a fellow Nordic blogger, has written a great blog post about Arctic animal tourism.
Santa on Lapland Holidays
If visiting Santa is an important thing on your Lapland break, I've got fantastic news for you.
He is waiting for you every day of the year in Santa Claus Village in Rovaniemi. And, meeting him costs absolutely nothing!
If you are traveling to other Lappish destinations in the winter season, they are all offering programs to meet Santa there, too.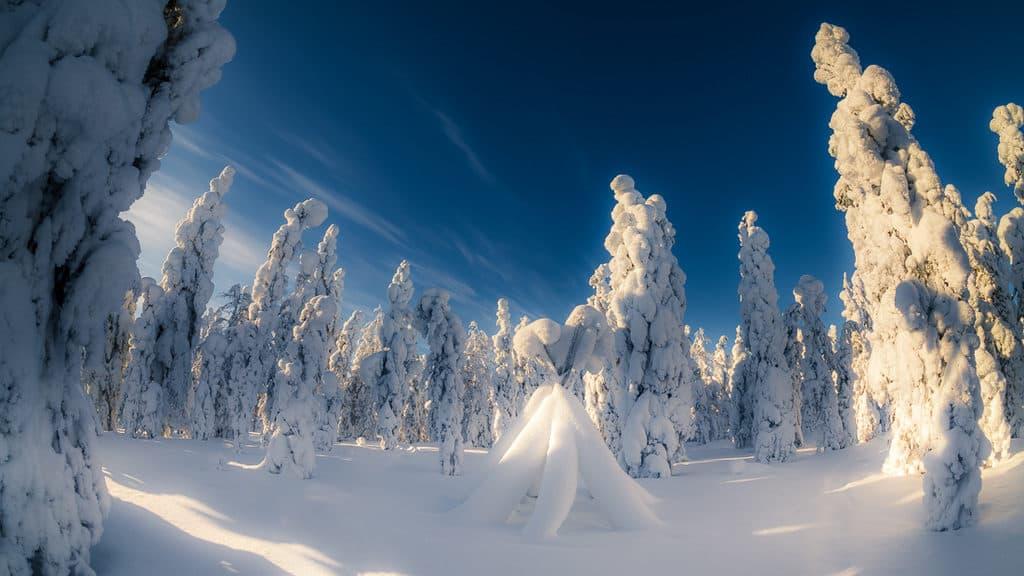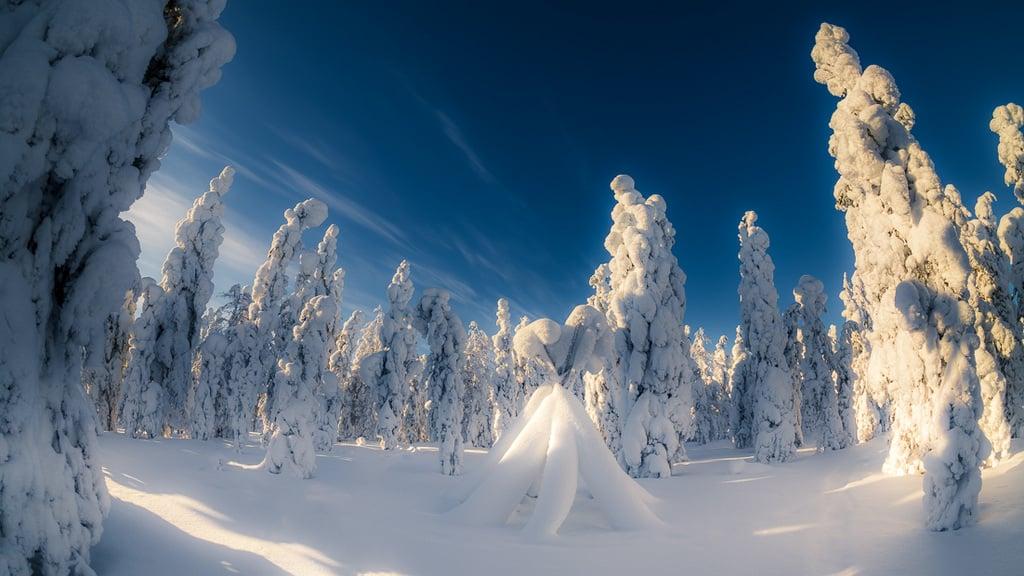 The sunny days from February until the end of April in Lapland are perfect for outdoor activities. Photo by Petri Puurunen.
Budget and Resources for Lapland Holidays
Accommodation
Booking.com offers the most extensive selection of hotels, inns, and apartments in Lapland.
Their search function is easy to use and I've never had a problem when booking through them.
Airbnb In my opinion, Airbnb has the best inexpensive options around Lapland. I use Airbnb all the time for my travels and am a host too.
Private flats and cabins in Lapland start from 50€/night.
During high season, a price of 200-300€ per night is not uncommon in any accommodation style.
I really recommend book early and save a ton of money!
Food costs
I just love, love, love Lappish restaurants. Here are lots of Finnish foods for you to discover if you want to start salivating already. You should budget the following:
Lunch 10-15€/person
Dinner starting from 15€/person
Coffee & sweet treat 5€
Beer 6€
Activities
Rough prices on average:
Snowmobile: 30 min, 50-60€/person
Husky ride: 10 min, 40-50€/person
Reindeer ride: 15 min, 20-30€/person
Aurora tour: 2-3 h, 100-120€/person
What would you like to learn about Lapland? Let me know so I can write more detailed guides to help you enjoy Lapland even more!
Looking for more tips on visiting Lapland? Check out some of my other guides:
Check out my YouTube videos about Best Autumn Activities in Lapland | Reindeer, Hikes, & Glass Igloos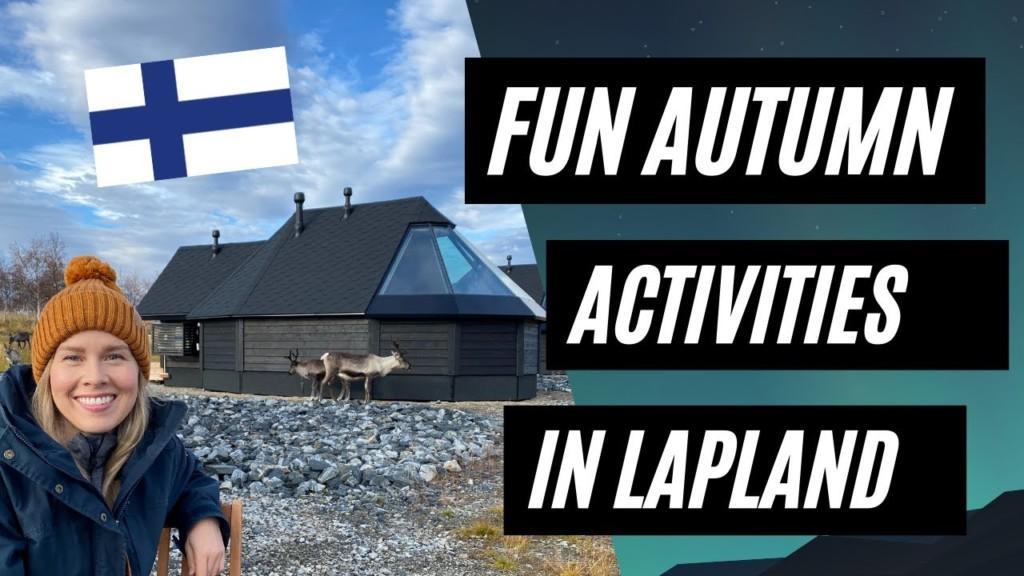 Psst. The stunning photos of this post are by my dear friend, photographer Petri Puurunen from Lapland.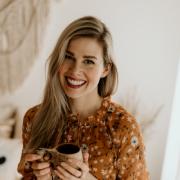 About Varpu
I'm the founder of Her Finland. I love cultural tidbits, aha moments, Finnish folklore, and cinnamon buns. My newest interest is learning bird songs. Read more about me..