If you would like to teach your child some Finnish, I have good news: Finnish for kids can be fun and straightforward when you have the right tools available.
But can you help a child learn if you don't speak much or any Finnish yourself? Yes, you can! Here, I have collected some fun tips, resources, and courses that will help you get started.
Follow me on Instagram and get more Finland into your daily life immediately!
Näytä tämä julkaisu Instagramissa.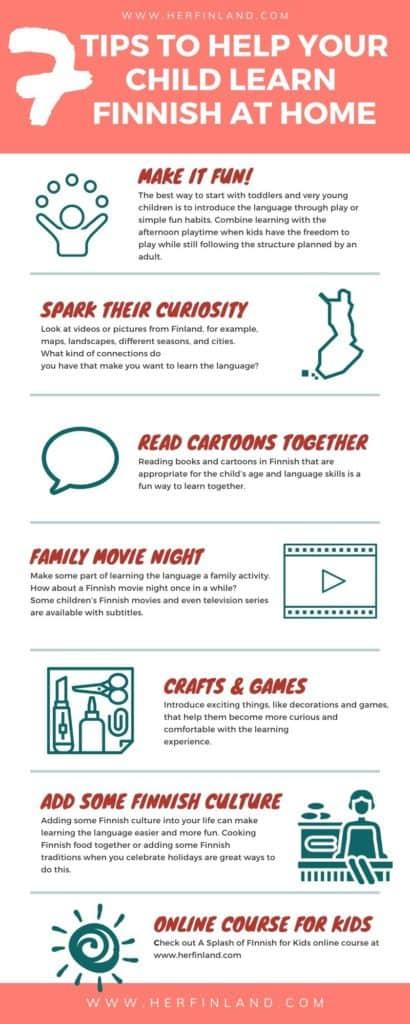 Here are the key items I'll go through in this article. Psst… you can save this image on Pinterest for later.
How to teach Finnish to a toddler or preschooler?
I've learned that immersing your child into a second language is easier than we adults usually think.
Rather than make learning the new language a separate task which requires a lot of effort, the best way to start with young children is to introduce the language through play.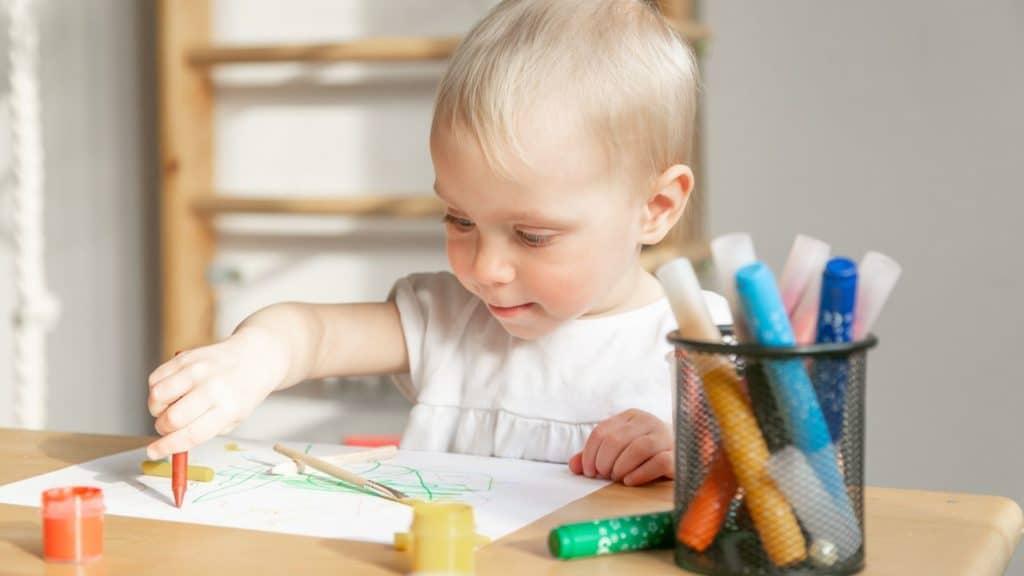 My personal experiences come from my childhood, as my educator parents immersed me with English from a very young age. I'm so happy they did that! And yes, this happened in the pre-historical time without pads, computer games and digital tools that we can use today. The secret? Language immersion through play. Play is the language of children.
The new language you're introducing is not supposed to look and feel like formal learning. It should be real-life fun, giggles, and lost socks.
I have passed down all the games and tricks that I can remember with our children. At the moment our two-year-old knows the colors better in English than Finnish. The older kids use English as their secret language when they want to talk about candies and other sweet treats without their little sister understanding. I bet this will change soon and they will have to switch to Swedish.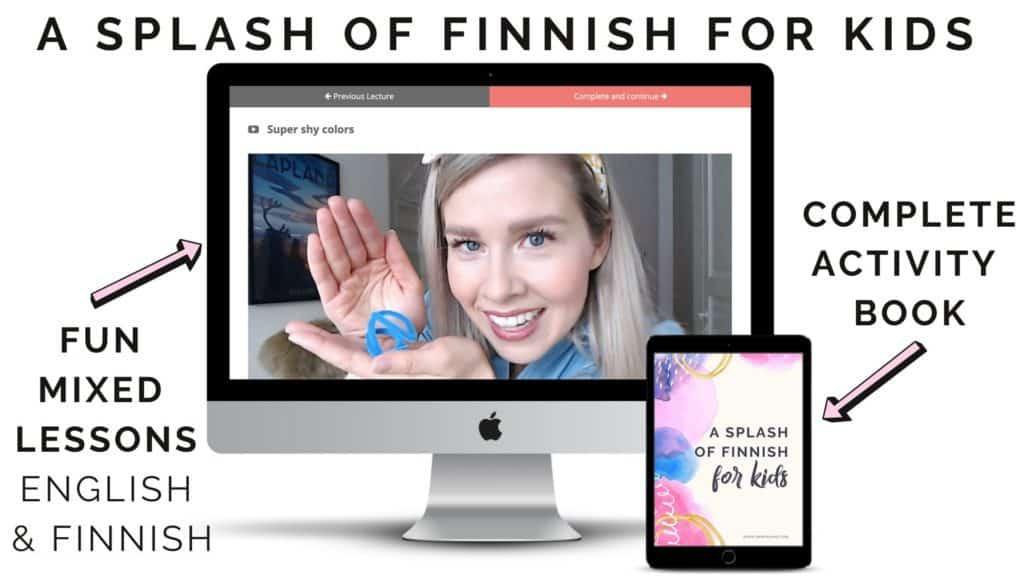 That's why I created A Splash of Finnish for Kids online course. In this course, I've combined my information with the expertise of Finnish education professionals. With A Splash of Finnish for Kids, you don't need to speak Finnish yourself nor do you need to skyrocket children's screen time to introduce Finnish at home. Adding Finnish into your daily routines is easily done through playtime activities.
Want to know more about the course? Check out A Splash of Finnish for Kids here in detail!
What is the best time to learn Finnish?
For most young kids, the best time for effective learning through play is in the morning. Many parents agree that it helps children if there are routines they follow each day. When it comes to language immersion, the situation is no different.
Finnish kindergartens offer a great example of how to structure learning. They keep the lesson short, and usually, it takes place – surprise, surprise – in the morning when most of the children can concentrate more. Learning can also be combined with the afternoon playtime when kids have the freedom to play while still following the structure planned by an adult.
How can I teach my kids Finnish?
Where to start depends a lot on the age of the child you're teaching. Both young and school-aged children will benefit from the use of a wide variety of senses.
To be honest, I really think that all ages benefit from the use of a wide variety of senses. We adults often forget this when we are trying to learn new skills. So, for example, using simple gestures for the most important word in a sentence can support learning a new language.
Kids don't know what type of learners they are, so offer different kinds of ways to learn, especially in the long term: visual, aural, verbal, physical, and logical.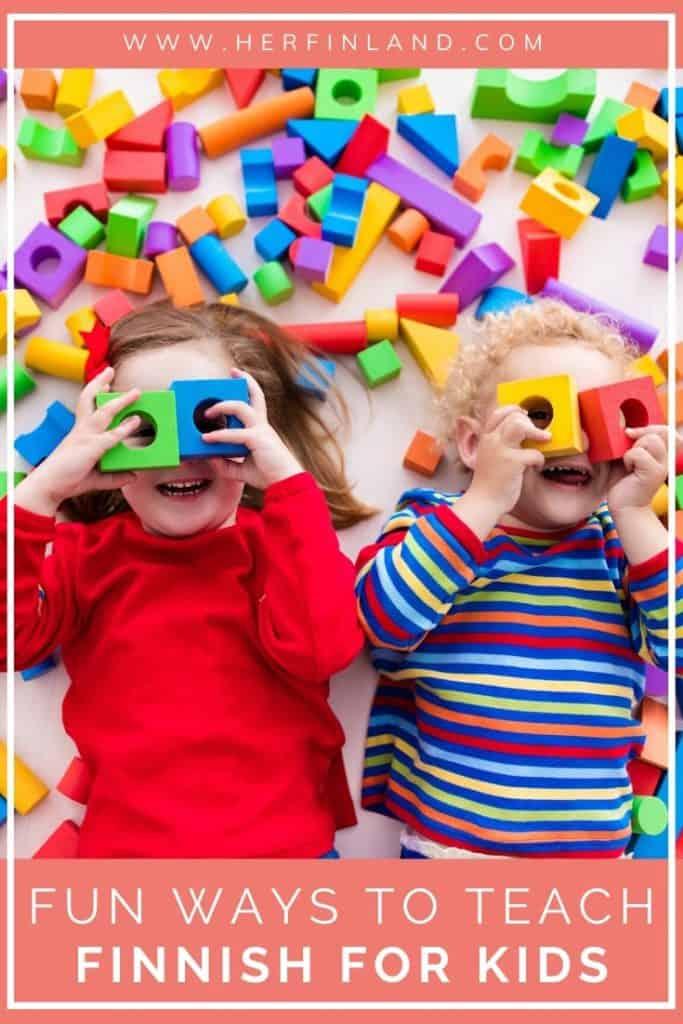 What type of learner are you? I'm mostly visual and physical. That's why I often draw symbols and pictures next to the words I'm trying to remember.
When I'm trying to remember a word, I'll look for the mental picture in my mind that I drew next to the word. When I fetch this picture from my mind, I usually see the letters of the word appear next to it. This technique helped immensely throughout my high school and university years. It was introduced to me by my mom when I was 10 and started learning German.
Writing, reading out loud, and repetition are all essential parts of the learning process.
In a Finnish school, language education usually includes a textbook with chapters and word lists. Due to my English immersion before my school years, I was really excited about English when classes began. Thus, it was super easy for my parents to suggest that I would (for fun!) write down each chapter and word list in my notebook.
Looking back, I think that "learning through play" mindset and techniques have been a huge reason for the easiness of my language learning.
How to teach Finnish to a preteen or teenager?
For children who can study independently and are used to lessons and school books, Finnish online courses are a great way to study in a more structured way.
A few American high school students are currently using my Conversational Finnish for Beginners course as a part of their language education. The students receive credits for taking this language course when they complete the training.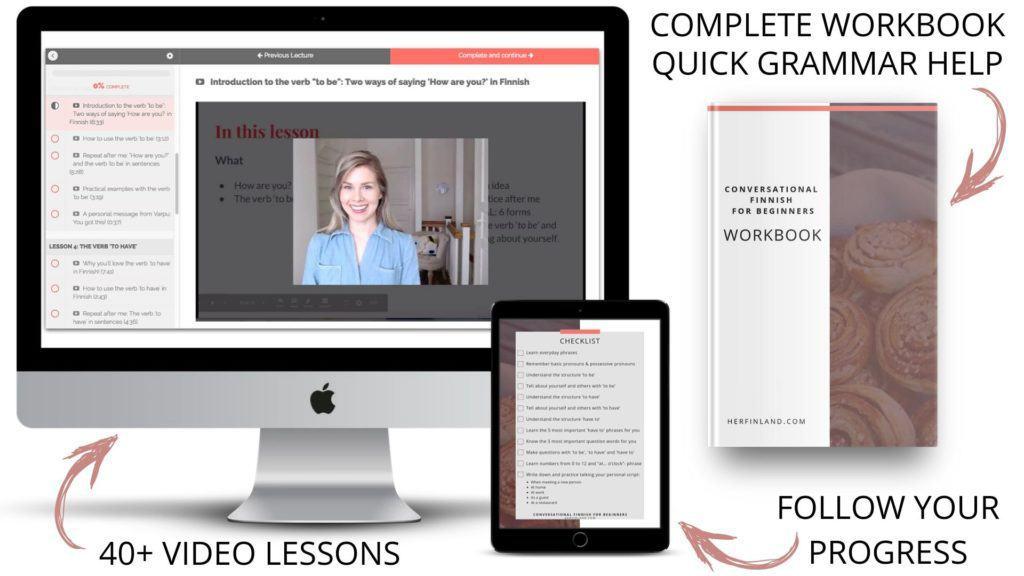 I'm always excited to work with teachers to help them find Finnish resources for their students. In this case, for example, the contents of the course have been checked to be suitable by their teacher, who took part in the course.
It's good to know that the distance learning school Kulkuri also offers tests and teaching for Finnish as a second language for those who are further along in their Finnish studies.
Are you excited to learn Finnish but don't know where to start? Then enroll in my free Finnish class!
How can I encourage consistent Finnish learning for children?
Children will benefit from the learning being fun and learning through play and games. It's important as it seems we even associate the words "learn" and "play" with different things.
The Finnish philosopher and researcher Lauri Järvilehto writes in his book "Hauskan oppimisen vallankumous" that when he asked people to describe what comes to mind from the word "learn", the list consisted of words like:
guided
serious
based on rules
difficult
correct answers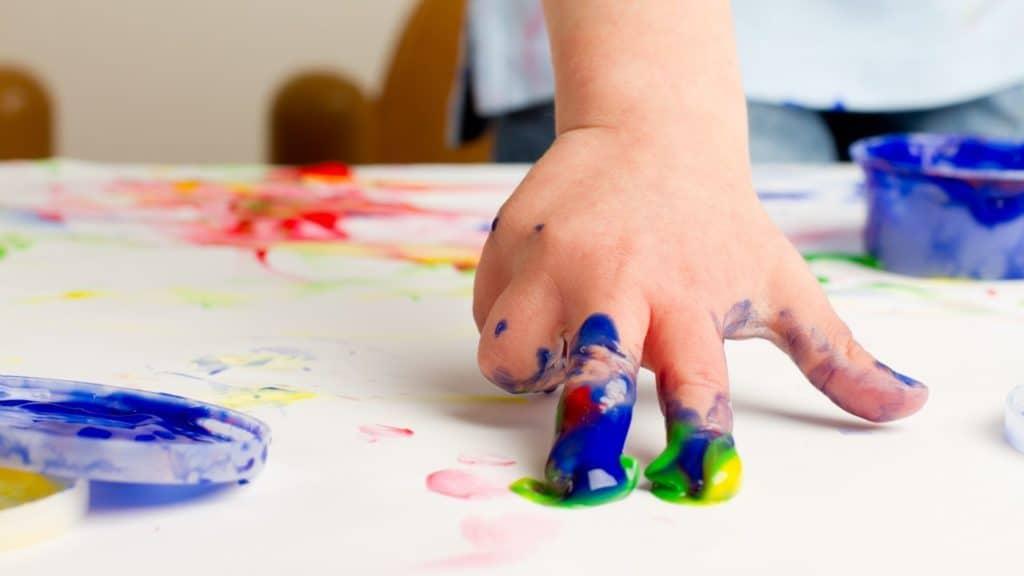 When Järvilehto asked people to describe the word "play", the list was:
dynamic
fun
variable
autonomic
simple
easy
no real rules
voluntary
How crazy is that?! So making sure the learning is fun can be the difference between motivation and consistency or giving up.
The other thing is that we adults have to be careful with our words. If children keep hearing that "Finnish is difficult to learn" or that "Finnish is one of the hardest languages in the world", we adults are making it impossible for them to be motivated to learn it.
FinNISH CONNECTION COLLECTION 🇫🇮
Finland-themed sweaters and accessories made-to-order. 🧡 Worldwide shipping.
How to build a Finnish language-rich environment?
Okay, so have talked about how learning Finnish is an exciting long-term project when using fun resources. But how to stay motivated as a family? And how to give support, if children don't hear Finnish as part of their daily life, like kids living in Finland? Build a language-rich environment in Finnish.
Wow, that sounds like an elaborate glasshouse project. Just kidding, this is way easier. The benefits are clear. Coming into regular contact with the Finnish language helps make the learning process easier, more natural and you effortlessly add repetition.
For example, one of the reasons why most Finns understand English very well is probably that in addition to learning the language at school, most international series on Finnish television have subtitles instead of being dubbed from English to Finnish.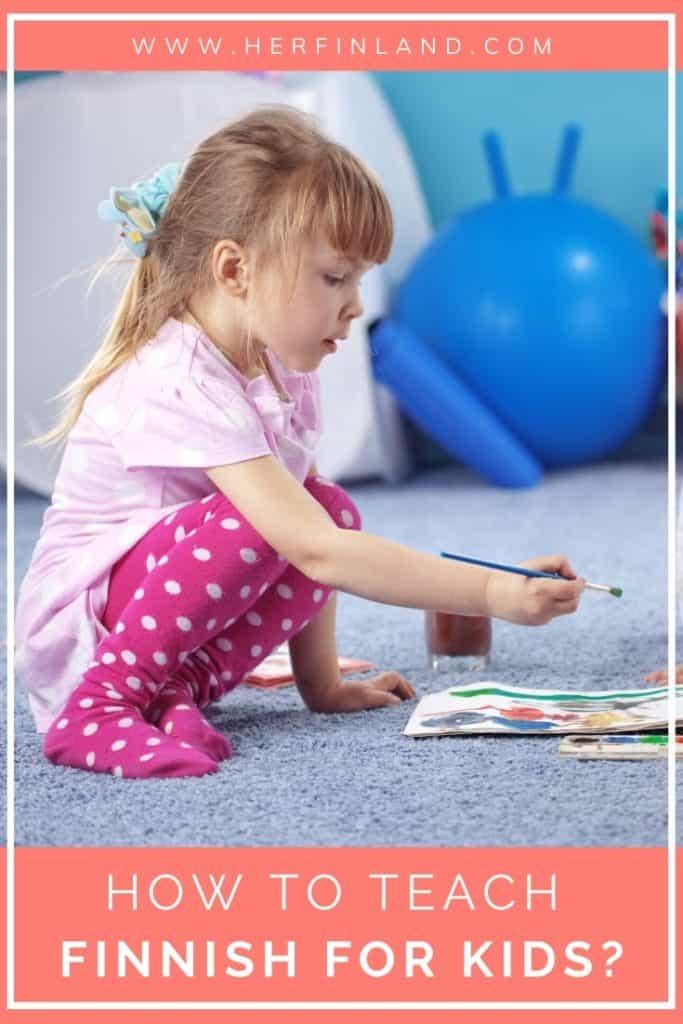 I'm not going to sugarcoat it, you most likely have to put in some effort to surround the child with Finnish and encourage them to feel comfortable trying out their language skills.
Make the Finnish language a family activity. You can introduce exciting things, like decorations and special Finnish holidays, that help children become more curious about the learning experience.
How about a Finnish YouTube night once in a while? Some videos and television series are available with English subtitles.
Another activity for the whole family could be to play a Finnish board game or play any game and add Finnish. You can count the steps you take on the board, for example, and use simple spoken Finnish words like "nyt sä" for now you or "nyt mä" for now me.
Here are some useful links to help you find Finnish books, cartoons and programs. Many of them are completely free.
Ready to speak finnish?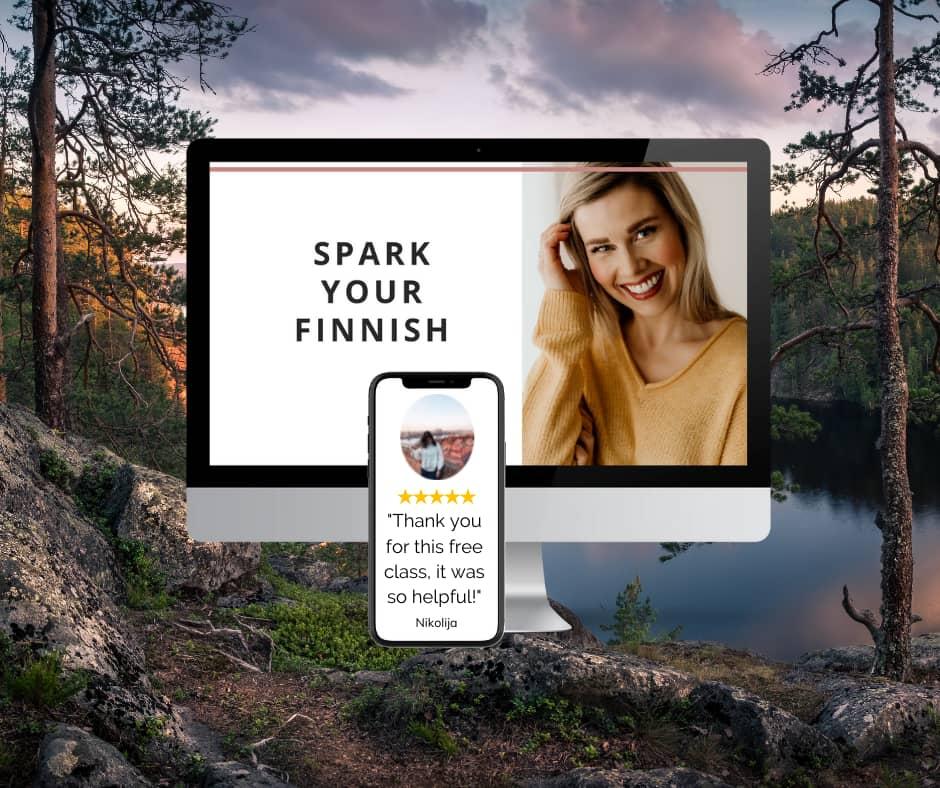 Join my praised free class and speak Finnish words in 20 minutes!
How to find Finnish children's books outside Finland?
Children's books are as popular in Finland as elsewhere in the world and are available for all different ages. Finnish bookstores like Suomalainen Kirjakauppa deliver books to most European countries.
Getting your hands on Finnish children's books might not be as simple outside of Europe, but some stores like North Winds Books in Michigan and Back Home Books in Buffalo stock them and deliver online orders. The Moomins have a great website with many Moomin books in Finnish (and English) and they offer global shipping.
Also, you can try to ask around in Facebook groups if someone might have Finnish books they no longer use. You can find Finnish groups with these keywords "Finnish people living in… (Country)" and reach out.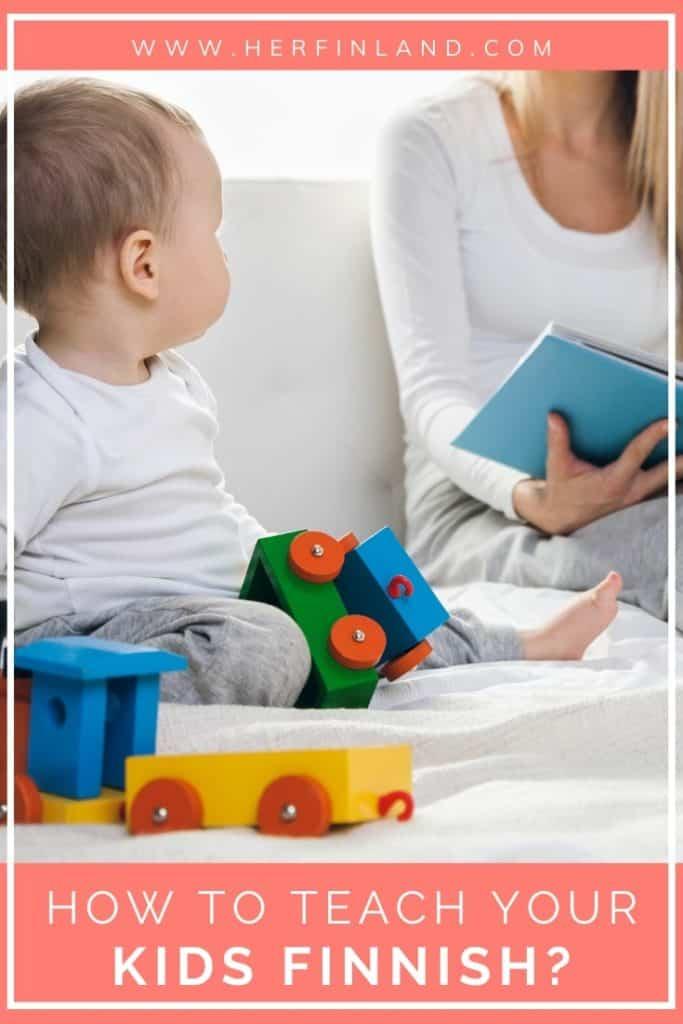 Fortunately, you can start with some great free resources. The website iltasatu.org has a collection of bedtime stories from well-known classics like the Ugly Duckling and Snow White to newer stories. The stories can be downloaded as an ebook or opened in a browser.
Another website for free ebooks is author Hans Willhelm's Children's books forever, where he has uploaded some of his classic books.
Best children's books and games in Finnish
Finland is full of amazing children's book authors. For example, the books by Mauri Kunnas stay at the top of the bestseller lists for children's books year after year.
If you know a bit about me, you know that I'm a huge Moomin fan. The original books require a bit more advanced language skills and the ability to concentrate on reading through hundreds of pages. However, there are now several Moomin themed books ang games available for the youngest readers, too, starting from coloring and activity books.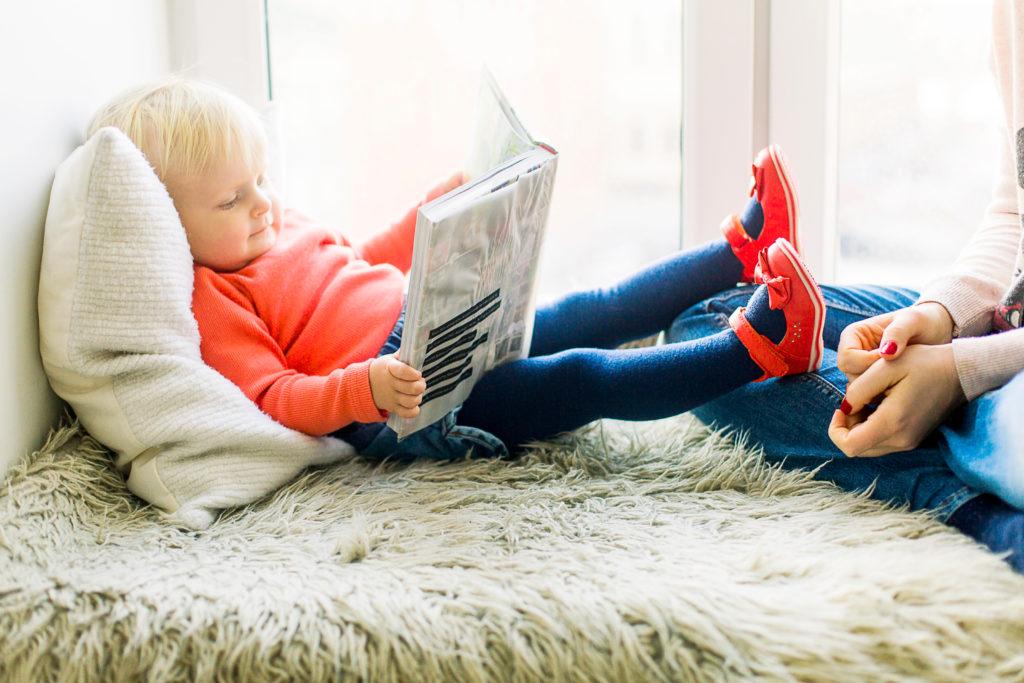 Favorite Finnish children's TV shows
Just as with books, international kid's cartoons are widely available in Finnish and very popular. With the Finnish children's TV shows, I recommend going to YouTube and discover which will be your family's favorite.
Here's a list of some international favorites in Finnish: Peppa Pig ("Pipsa Possu"), Bob the Builder ("Puuha Pete"), Eric Hill's Spot books ("Puppe"), Thomas the Tank Engine ("Tuomas Veturi"), SpongeBob SquarePants ("Paavo Pesusieni"), Shaun the Sheep ("Late Lammas"), and PAW Patrol ("Ryhmä Hau"). If you have another favorite, searching its name followed by "suomeksi" will usually result in a Wikipedia page or other article with the Finnish title of the series.
The Moomins (muumit or Muumilaakson tarinoita, on YouTube) must be the best known Finnish children's series. Based on Tove Jansson's books, the series has been translated in several languages and has been a favorite amongst children across the world. For those wanting to learn Finnish, the Moomins are a great way to hear Finnish.
Many Finnish children grow up watching a TV show called Pikku Kakkonen aka "little two" in English. It is a magazine type of program shown daily. You can access parts of Pikku Kakkonen on YouTube. Wikipedia has a list of children's TV shows shown in Finland.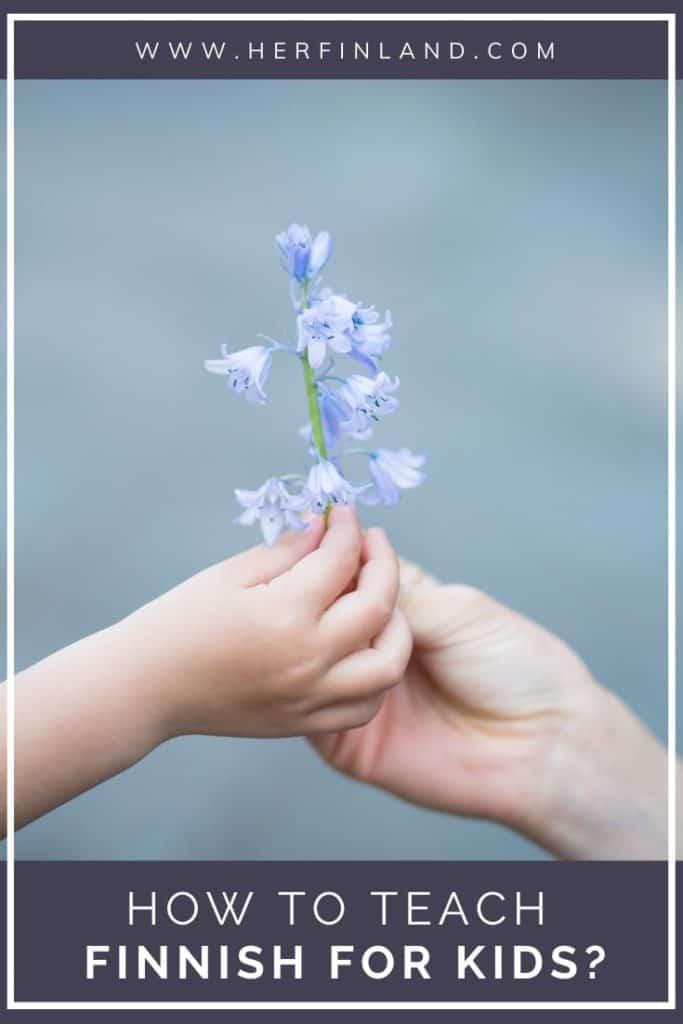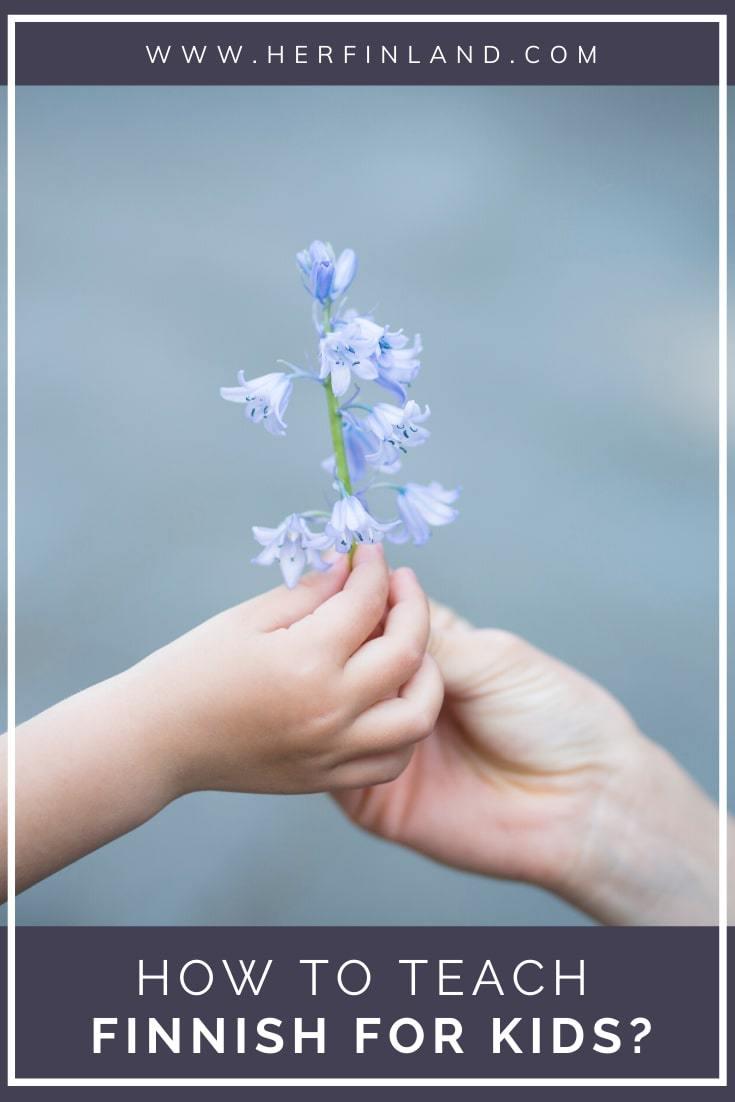 Finnish comic books
Aku Ankka comic books (Finnish for Donald Duck) have been published in Finland since the year 1951. They are now published weekly, and despite being mostly based on international stories translated into Finnish, they are definitely part of the Finnish kids' culture.
The comic is known for including clever references to Finnish celebrities and events, and Aku Ankka has been the best selling Finnish magazine over the years. The comic book writer and illustrator, Don Rosa, has even created a Donald Duck comic book based on the Finnish Kalevala.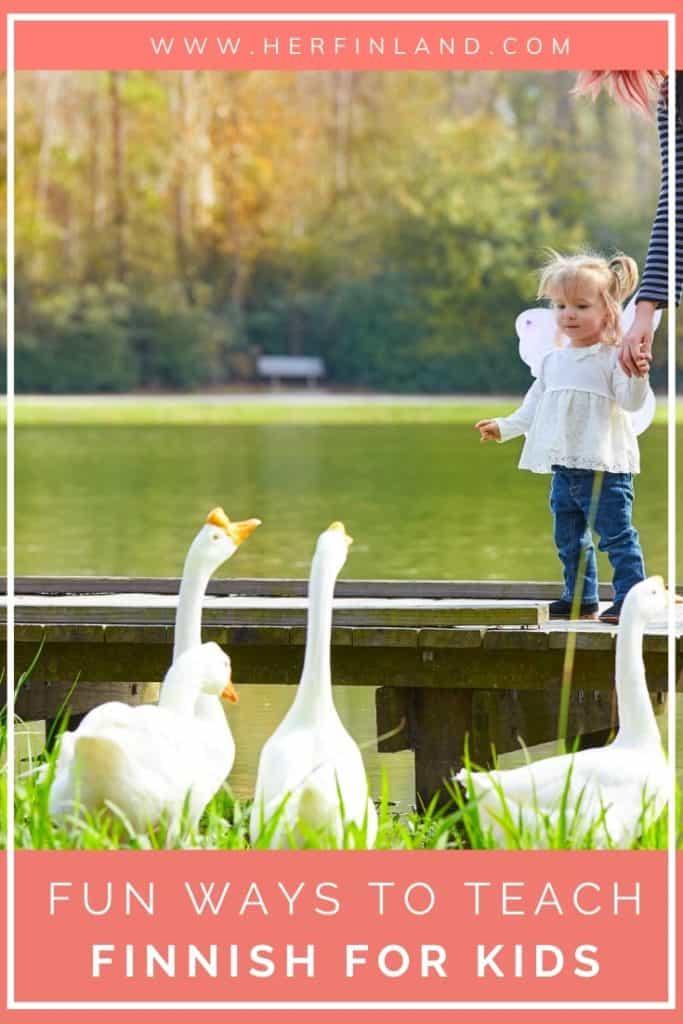 Adding some Finnish culture into your life
Adding Finnish culture into your life can make learning the language more fun. What about cooking Finnish food together (discover my recipes here)? Or adding some Finnish traditions when you celebrate holidays (check out Finnish holiday traditions)?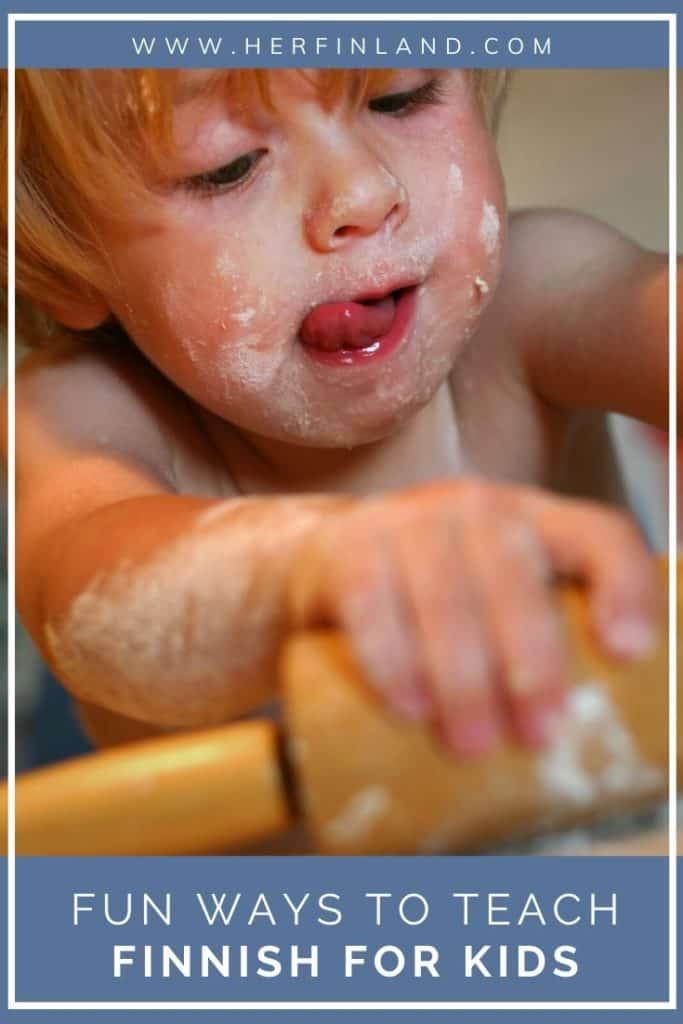 It can also be helpful to share why you're learning Finnish. Look at videos or pictures from Finland, for example, maps, landscapes, different seasons, and cities. What kind of connections do you have that make you want to learn the language?
I hope this post was helpful. If you want to know more about my kids' Finnish course, check out A Splash of Finnish for Kids here in detail!
Is there's anything you'd like to ask when it comes to kids' resources or Finnish language learning, let me know in the comments.
Looking for more information about Finnish culture and the Finnish language? Check out these posts: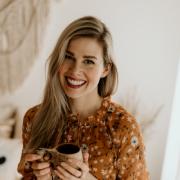 About Varpu
I'm the founder of Her Finland. I love cultural tidbits, aha moments, Finnish folklore, and cinnamon buns. My newest interest is learning bird songs. Read more about me..