* Commercial collaboration with Visit Jyväskylä. Please note that this post has affiliate links. If you buy through my links, at no additional cost to you, I may earn a small commission – thank you!
Shimmering lakes. People on their bikes. Delicious food from the neighboring gardens and fields. A scenic drive from Helsinki. Welcome to Jyväskylä: an authentic city in Middle-earth… oh sorry, I mean Finland, of course.
Visiting Jyväskylä will be one of the highlights of your Finland visit! It's a city that all Finns love.
Jyväskylä is very special to me as it's my hometown. There, I met my best friend on the first day of high school, became (somewhat) adult, started dating… This city gave me the confidence to be me.
From the bottom of my heart, I've written this guide to give you the best pieces and a local's view of Jyväskylä. I'll tell you the little inside things and show 10 charming Jyväskylä things to do, self-guided.
Now, about budgeting your time: spending two days in this city allows you to have an active but calm itinerary.
It might be just me, but I love leaving a little bit of space to do exciting things extempore or just taking a nap. That's the perfect holiday mode for me.
If you are in a hurry, you can squeeze visiting Jyväskylä in one day.
Psst… Follow me on Instagram and get more Finland into your daily life immediately!
Näytä tämä julkaisu Instagramissa.
Here's what this post will cover. I'll introduce you to three areas: the buzzing city center, cool Lutakko harbor, and cultural uptown. Each plays an essential role in Jyväskylä's identity and I'll tell you my best tips about what to do, where to stay and where to eat. Let's go!
What Makes Jyväskylä So Special?
Every city has its vibe. Here are the things that stand out in Jyväskylä:
#1 People with smiles. Okay, now I sound like a tourist pamphlet but hear me out… The customer service in this town is phenomenal (dare I say probably the best in Finland!).
#2 There are a lot of cyclists. Jyväskylä is kind of like the Amsterdam of Finland. Without the canals. And without the window shopping! Many stores in Jyväskylä actually feature a decorated bike.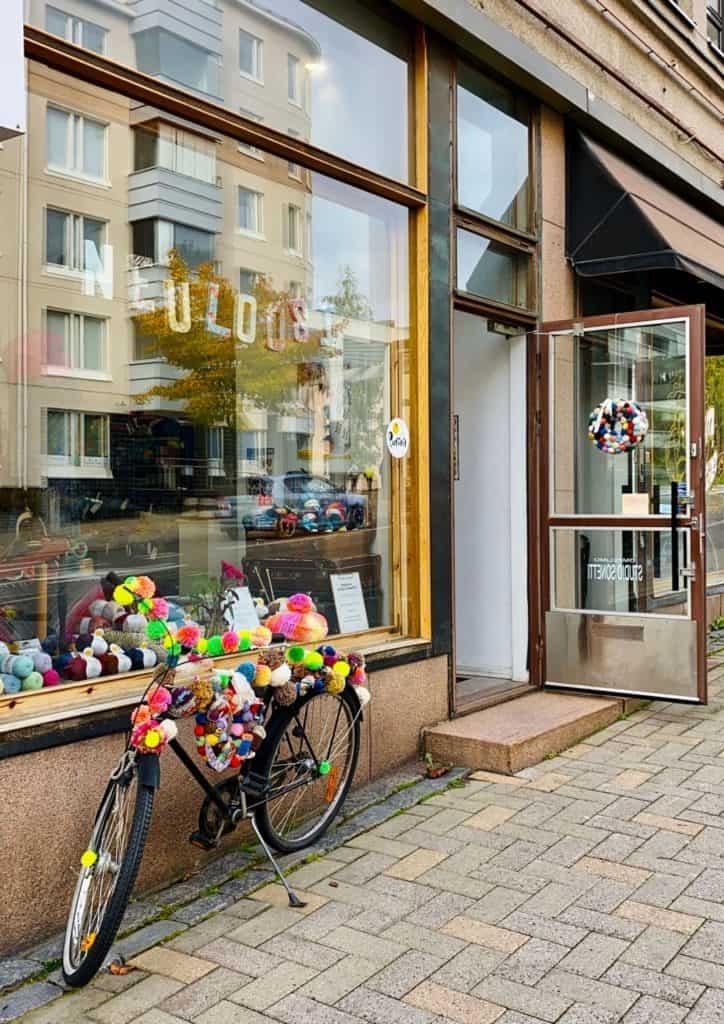 #3 The young energy is everywhere. Students, young entrepreneurs, a part of the main street (Kauppakatu) is an urban container garden… Actually, out of the city's population of 140 000, every third person is here to study. One reason for this is the prominent Jyväskylä University.
#4 The touch of Alvar Aalto, the world-famous Finnish architect and designer, is everywhere. Aalto has designed many buildings in Jyväskylä. Read my detailed itinerary for the enchanting Alvar Aalto sites here.
The Cool Lutakko Harbor in Jyväskylä
The lake harbor is a five-minute walk away from the city center, situated just before the Kuokkala Bridge. This bridge is a symbol of Jyväskylä and beautifully illuminated. Stroll the beach walk all the way to see the hanging art below the bridge.
A local's tip: The small parking lot near the Kuokkala bridge offers two hours of parking time free of charge with the parking disc while the big parking area at the harbor comes with a fee.
The summer restaurant Morton is a lovely Scandi chic oasis made of containers. The bubbly clientele clearly enjoys their burger dishes while having fun and watching the view over the Jyväsjärvi lake.
I have eaten here a couple of times now and their burgers have never failed me. The menu is compact and includes a lot of vegetarian options too.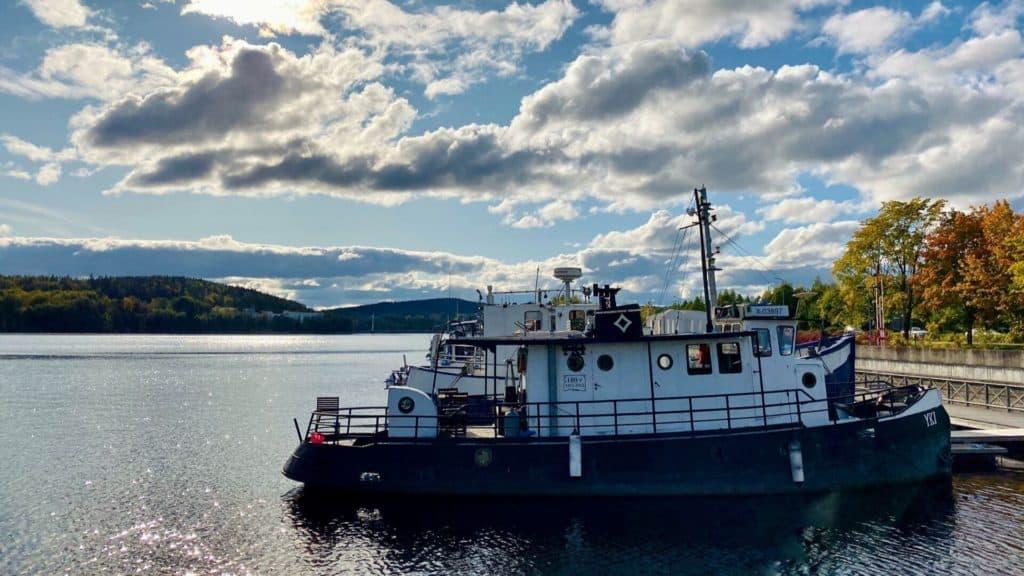 There's a fantastic lakeshore path called Rantaraitti circulating the beautiful Jyväsjävi lake. The full circle is around 13 km.
A quick workout: I often run a smaller loop which starts and ends at the harbor. If you'd like to try it, start your run from restaurant Morton, going away from the harbor, just following the lakefront walking path. You'll run towards the university buildings of Mattilanniemi and Ylistönrinne, crossing a tiny bridge and continuing your way on the other side of the lake. Lastly, you'll run over the Kuokkala bridge. This route is 6 km.
If you'd like to stay near the harbor, Sokos hotel Paviljonki is an awesome, award-winning hotel near-by. The staff's friendliness and attention to detail is amazing.
The inteior is designed with natural materials such as linen, wool and cotton and the color palette is so calming. If you're picky about beds in hotels, this hotel had the best bed I have ever slept in.
I also like that after dinner in the heart of the city, I get to walk a bit back to hotel. Jyväskylä has done a great job with the city lights so it's very pretty to wander around when it's dark.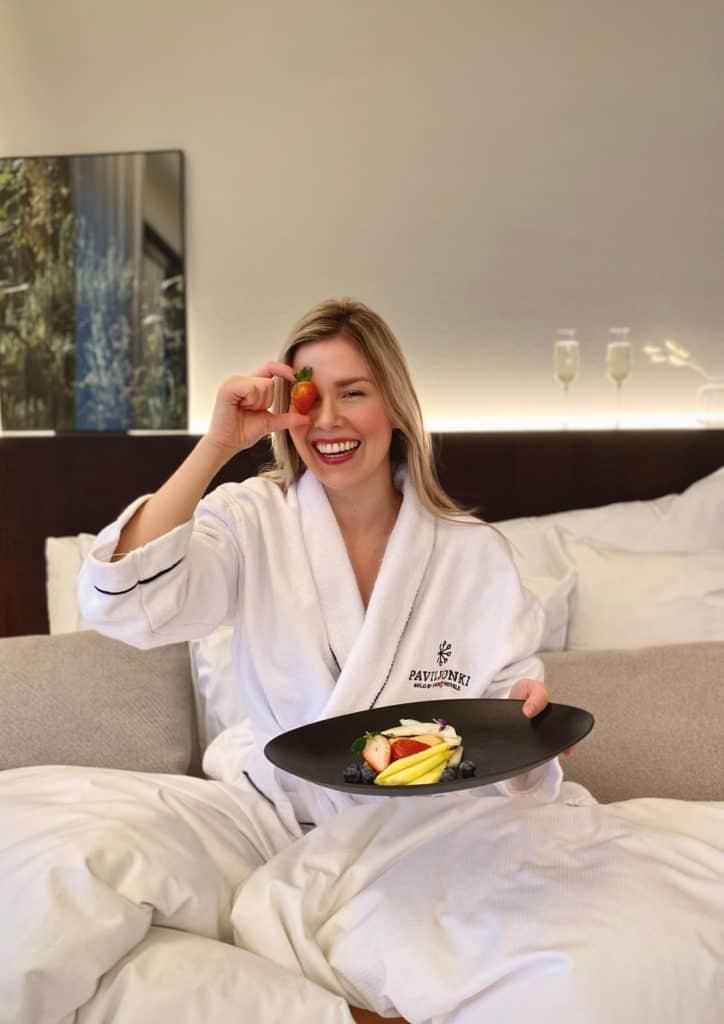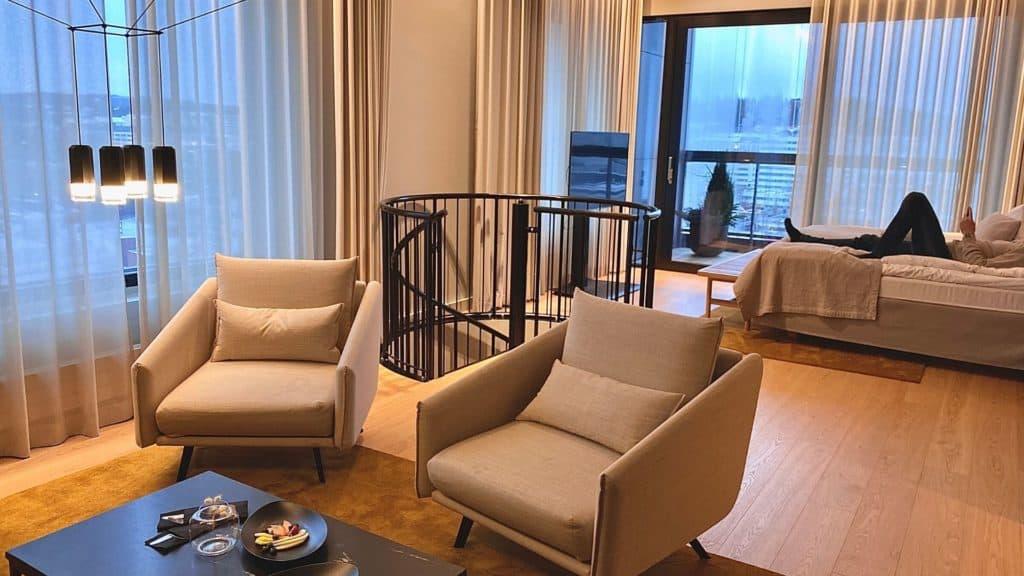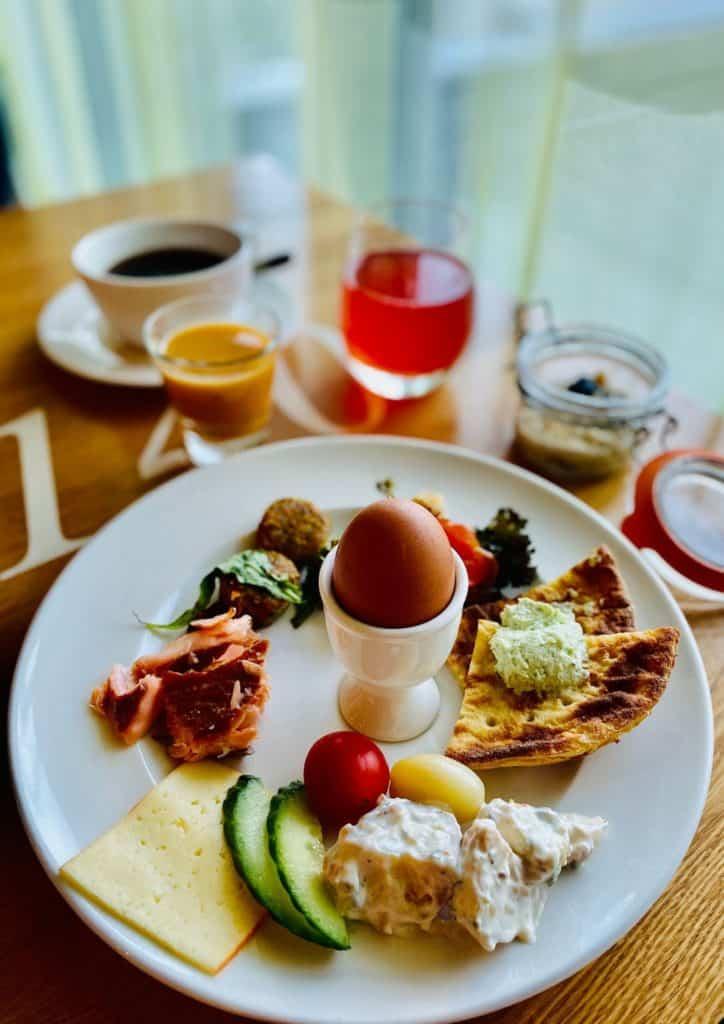 Everyone knows breakfast is the best meal of the day and Paviljonki did not disappoint. Their buffet is a mouthwatering mix of Finnish and international flavors, full of fresh ingredients.
My absolute favorites were the local rhubard strawberry juice, Finnish potato flatbread with the delicious coriander spread and overnight oats with the homemade apple jam.
Things to Do in Jyväskylä City Center
Jyväskylä city center is hilly. It's uphill from the shopping centers of the city to the university. Harbor is just a short stroll away from Jyväskylä city center. Explore the center by walking criss-cross.
The Harju ridge is an essential part of Jyväskylä city center. The most famous route to this forest ridge park starts at Gummeruksenkatu where you'll find the Harju steps, built in 1925. On top, you can't miss the city's observation tower, Vesilinna. It's completely free to admire the glorious views! Downstairs, you'll also spot the Natural History Museum of Central Finland.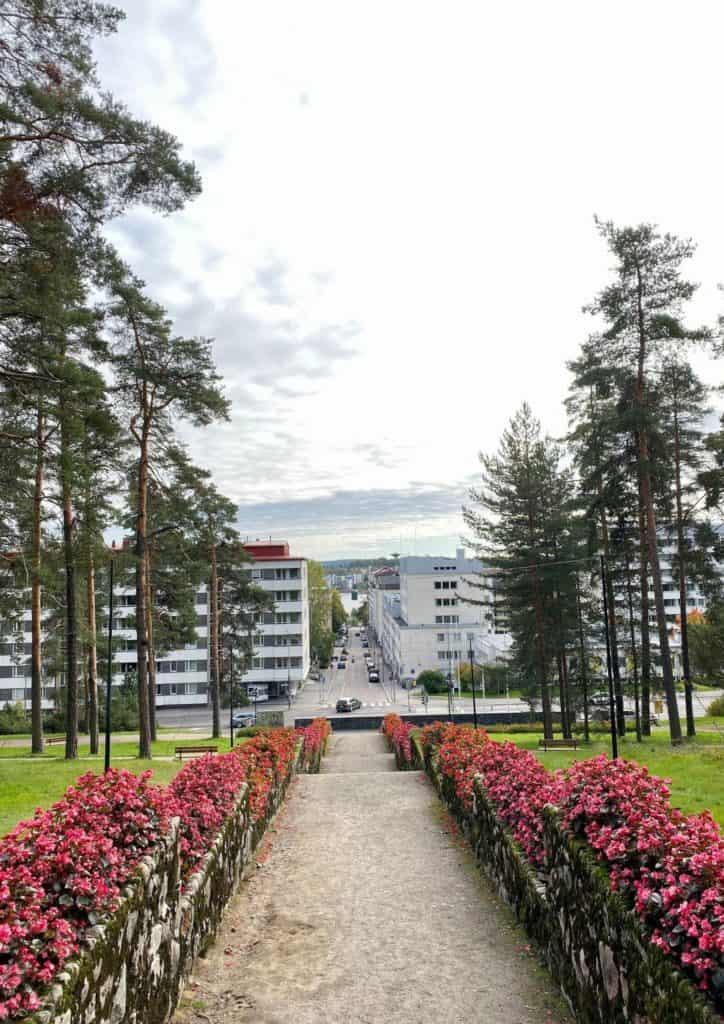 The heart of the downtown is the Compass-square. We Finns are literal, so yes, there's a large compass on the street. That is a popular meeting point.
In downtown, you'll see a yellow Jugend building with the Finnish words "Jyväskylän Lyseon Lukio." That's the oldest Finnish language grammar school in the world ('in Finland' doesn't sound quite dramatic enough). Its pupils include Alvar Aalto and, errr, me.
Miriam's at downtown, packed with locals, has super delicious lunch salads. It's also the perfect spot to grab some food on the go.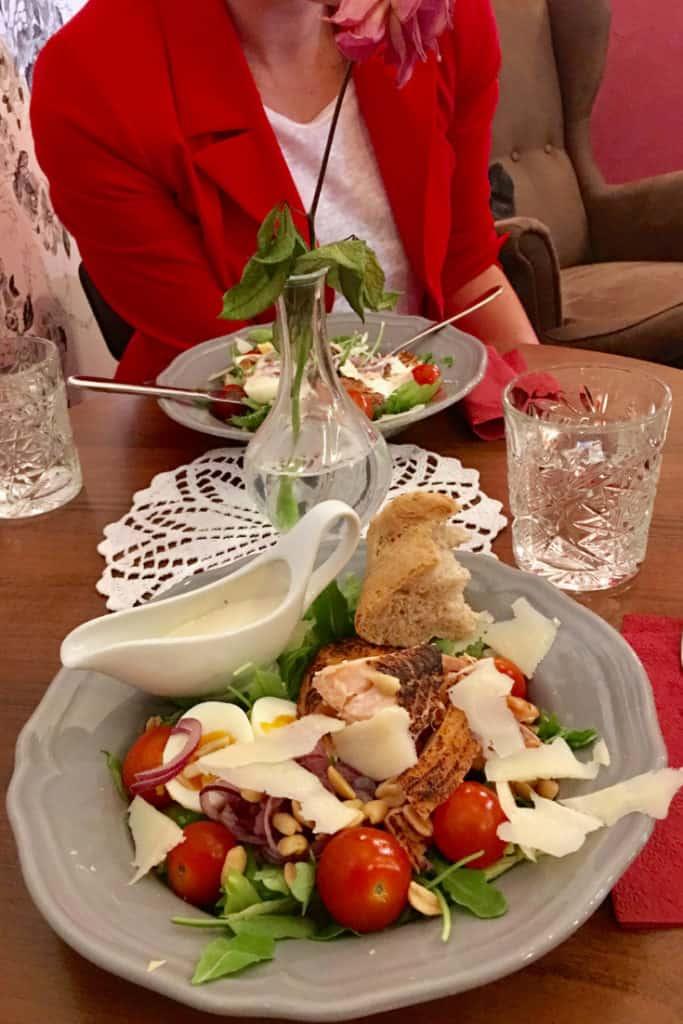 When you start your journey uphill towards university, you'll come across the Craft Museum of Finland (Suomen käsityön museo) and National Costume Centre (Suomen kansallispukukeskus) displaying amazing collection of Finnish and Karelian traditional dresses.
Both museums are at Kauppakatu 25. What I love the most here, is the free workshop area upstairs. Tons of different materials and tools for your craft ideas are available for you, you'll just need to pay the material cost. If you're traveling with kids, this is a fun activity!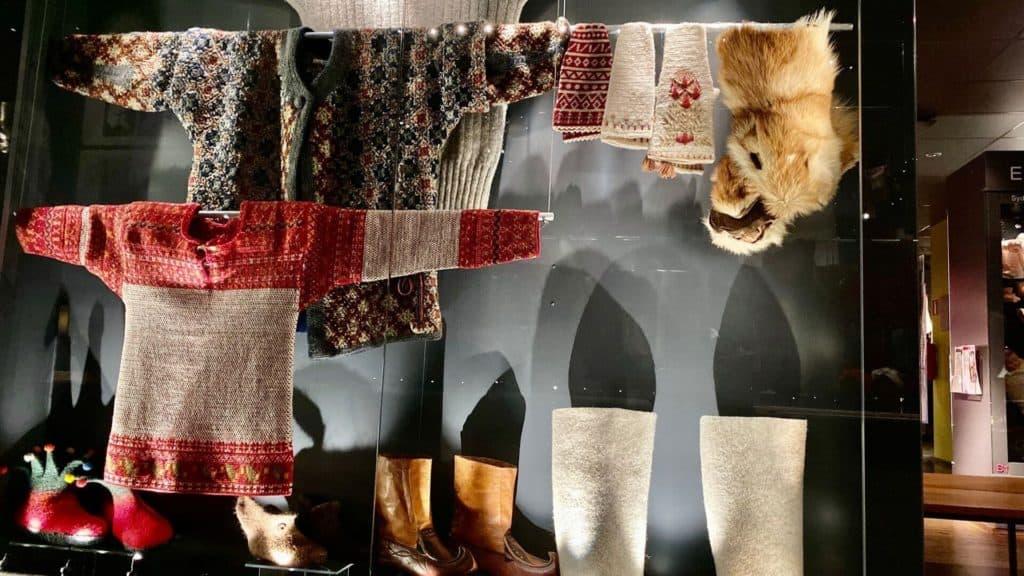 Close to the museum, you'll see the red-bricked Jyväskylä Town Church (address: Kirkkopuisto). The church park is a super popular hang out place for locals on warm days. This church is a charming wedding church and if you pass it by on a Saturday, you might get a sneak peek into a Finnish wedding.
When it comes to unique and adorable souvenirs, Toivola Old Courtyard is the place to visit. Toivola is a collection of colorful wooden houses with artisan shops. You are bound to find a personal Finnish gift here!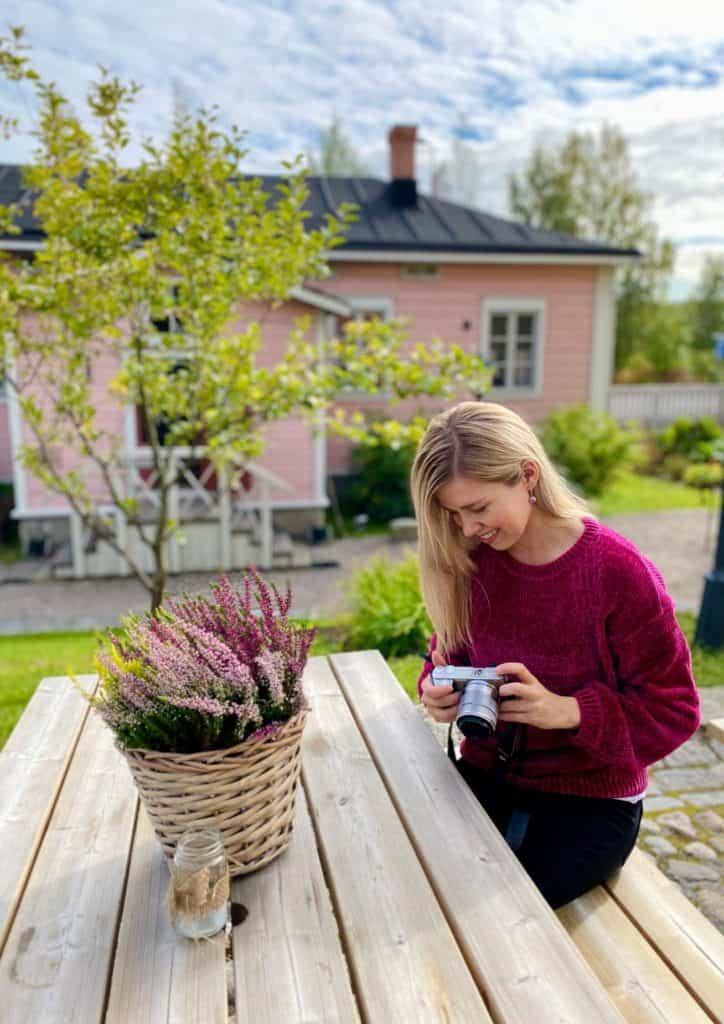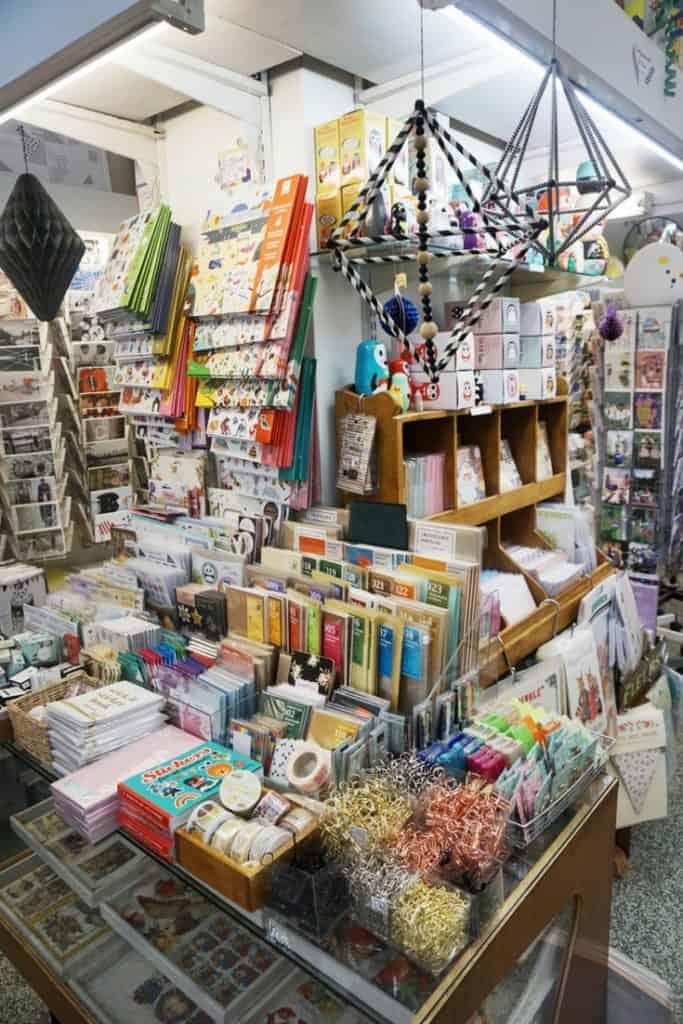 Harjun Paperi is a sweet card & paper shop since 1954 that still looks pretty much the same as it was when it opened. This old-school paper shop is still the place to come to find the perfect card for any occasion.
Harmooni is one of my favorite places to have a romantic dinner with hubby. This restaurant specializes in local products they choose with love. The tasting plate is a must! Their cozy red-brick cellar makes an amazing venue in the wintertime and the beautiful summer terrace is a dream on a hot day. If you're visiting Jyväskylä when there are blinis in season (January – February), you should definitely head here.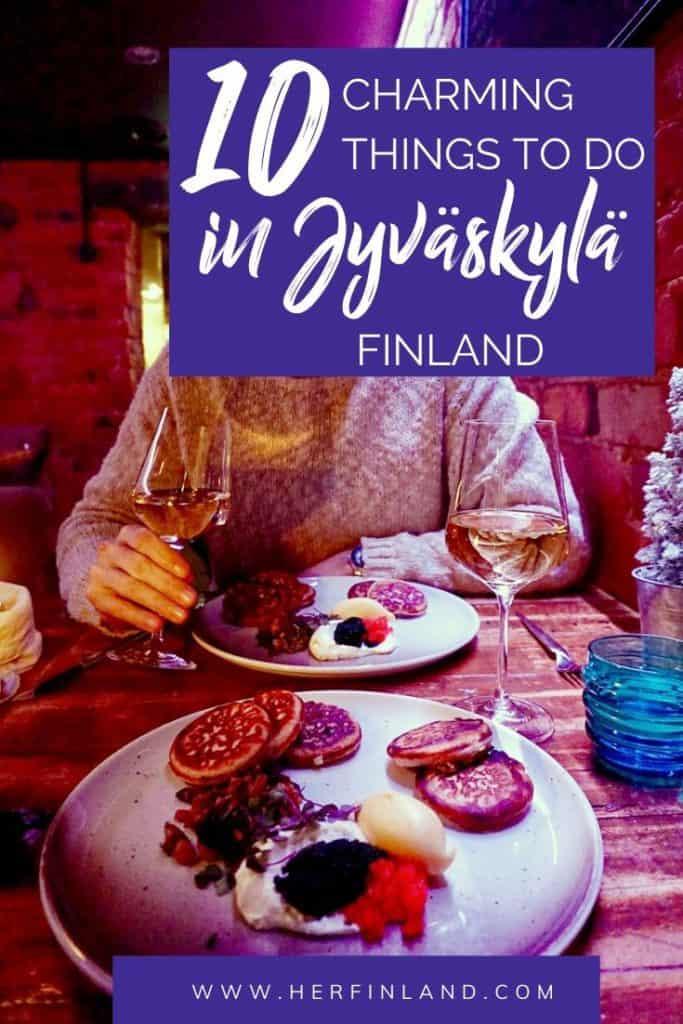 If you want to spend the night at Jyväskylä city center, I can warmly recommend Hotel Verso and Sokos Hotel Aleksandra (book a renovated room here) which both have awesome service.
Finally, I warmly recommend Jalo Kitchen & Lounge for dining.
The place captures Finnish hygge perfectly. We have always had superb customer service there and delicious, unpretentious flavors.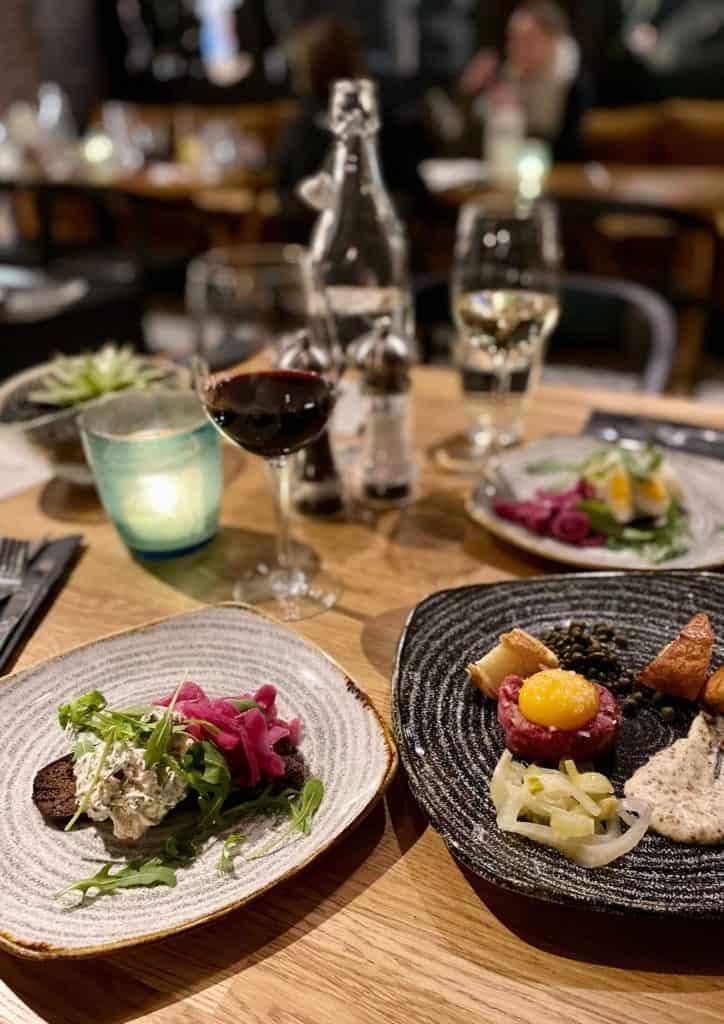 Grab the free kit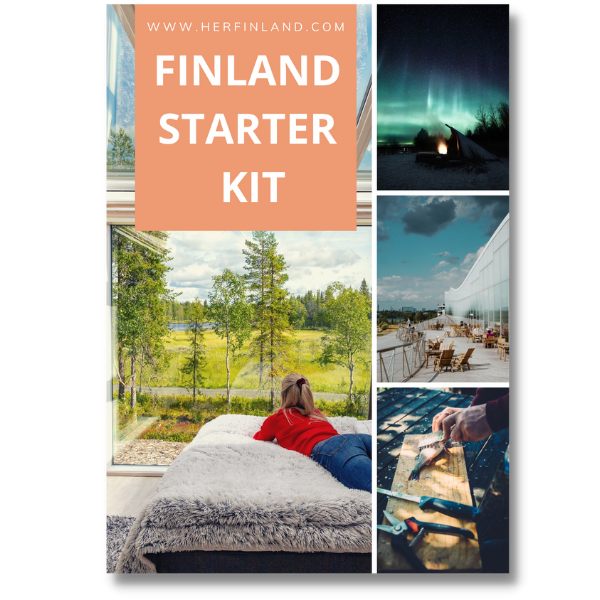 Cultural Things to Do in Jyväskylä Uptown
There's a clear uphill when you walk from the city center to the university.
That's why things are referred to be uptown (in Finnish: yläkaupunki) or downtown (in Finnish: alakaupunki) in Jyväskylä. A local knows that uptown is somewhere close to the university. Downtown means the more commercial pedestrian district.
On Kauppakatu street, and you'll come across the bars Sohwi and Vakiopaine. They are legendary pub-like places to meet new people and enjoy the night.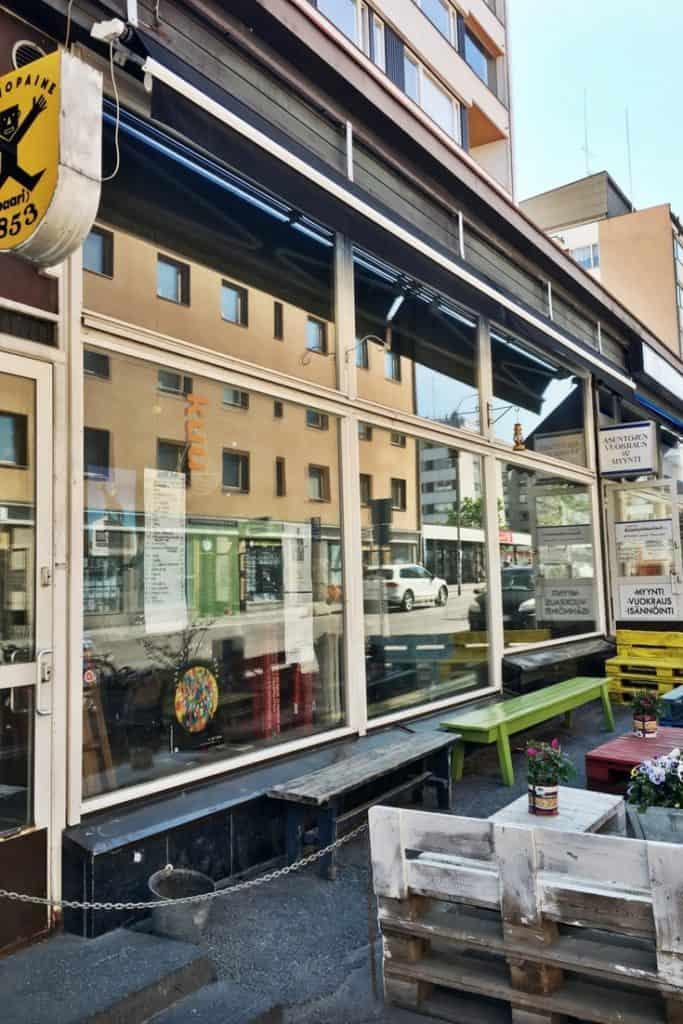 For me, the streets and parks below the university area are the prettiest in Jyväskylä. Especially the "Alvar Aallon katu"-street which allows pretty views to private gardens and homes.
There lies also the astonishing Teeleidi Tea Room, another must when you are in town!
This tea room takes up an entire wooden villa by Lars Sonck, a famous Finnish architect. His other works include President's Summer Residence (in Finnish: Kultaranta) and famous churches in Helsinki, Turku, and Tampere.
The scones at Teeleidi are divine. And the tea, unbelievable! My favorite is the one with a taste of strawberries and cream. Come with a book and spend a winter afternoon in one of the lovely tea rooms of this wooden villa. If you'll visit during the summer time, then head to the garden and enjoy a picnic.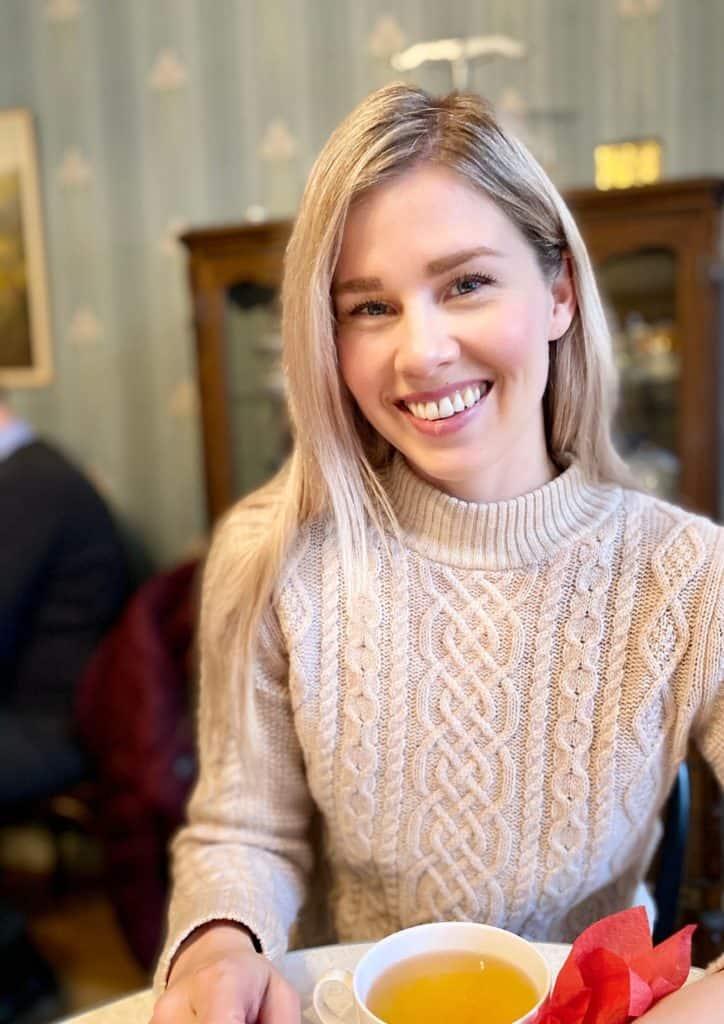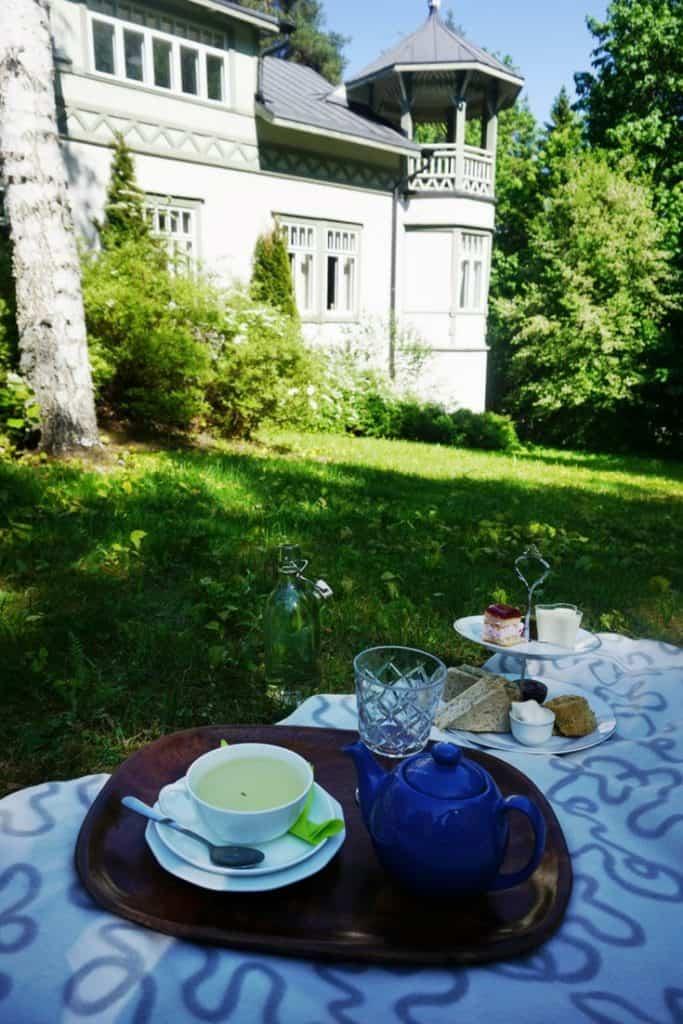 The Best Thing to Do in Jyväskylä with Kids and Youngsters
Hands down, the best thing to do with kids and youngsters in Jyväskylä, is to visit Laajis, a huge outdoor acitivity center.
Laajis is just a 10-minute drive from the city center and it offers a ton of fun outdoor activities, such as downhill biking, e-biking and disc golfing. Naturally the neighboring forests are fantastic for walking and skiing in the winter time.
The most fascinating thing to do is testing your courage on the ziplines at the adventure park. Laajis is one of the best and biggest adventure parks in Finland and there are tracks suitable for kids and very sporty adults (read: I wasn't able to do any of the obstacles without the help cord). When you go it's good to know this:
Parking is with the parking disc.
Everyone going to the track needs to give their personal information either online before arriving to Laajis or on their ipads.
After giving your details, go the cashline and you'll get your gear.
The staff will help you put on your gear.
You'll go to the training track first and staff helps you to learn the super easy system of the zipline.
You're safe to go and explore the tracks on your own.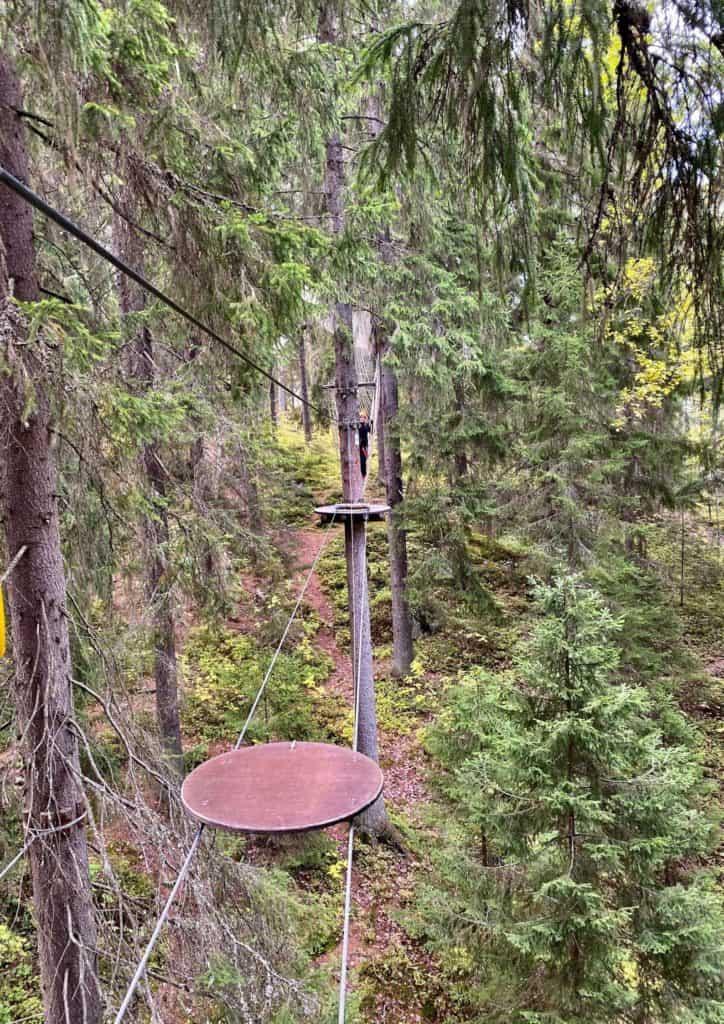 How to Get to Jyväskylä?
Jyväskylä is easy to reach. It is a major city and has excellent bus, train and flight connections.
There are daily flights from Helsinki to Jyväskylä airport which is 25 minutes from the Jyväskylä city center. The bus from Helsinki to Jyväskylä takes around 3,5 hours to 4 hours. It is the cheapest option, often less than 20 euros per ticket.
The train from Helsinki to Jyväskylä takes roughly the same time. The ticket price is around 40 euros. The bus and train arrive and depart right at the city center in both cities, so they are very convenient.
By car, it is a three hours drive from Helsinki.
Travel tip by car: Add an extra 20 minutes to your schedule, skip the motorway and drive the insanely gorgeous route from Korpilahti to Asiakkala. This scenic countryside road goes through bridges and ridges over Päijänne lake. You won't believe how beautiful it is!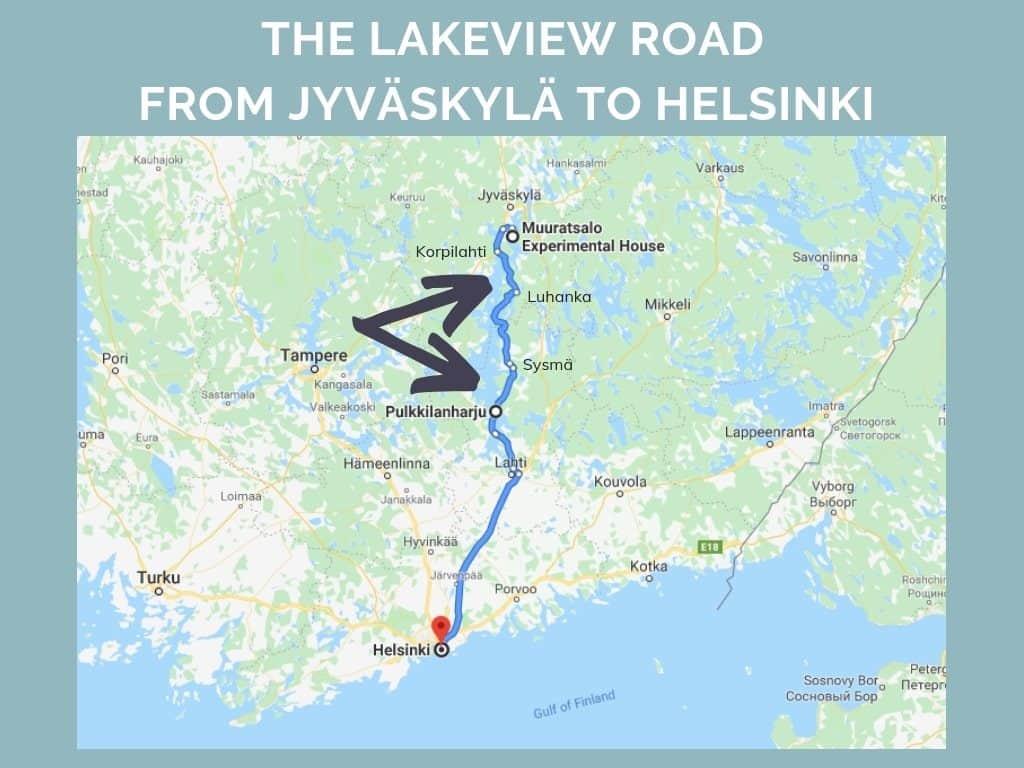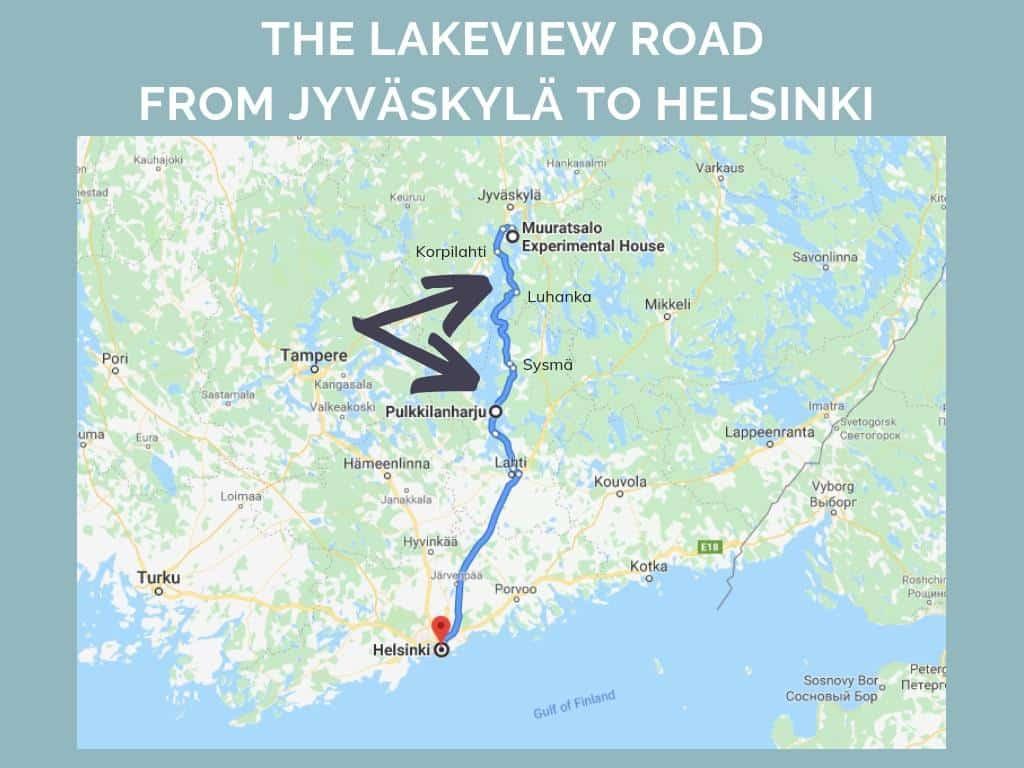 Finally, the question you have been wondering the whole post. How on earth should you pronounce 'Jyväskylä'?
I know, the name looks like a Finnish lake monster. Fear not, here's how to say it like a local.
Are you going to visit Jyväskylä? Is there something else you would like to know about this Finnish Lakeland pearl? Let me know and comment below!
Looking for more Finland tips? Check out these other posts:
FinNISH CONNECTION COLLECTION 🇫🇮
Finland-themed sweaters and accessories made-to-order. 🧡 Worldwide shipping.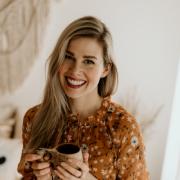 About Varpu
I'm the founder of Her Finland. I love cultural tidbits, aha moments, Finnish folklore, and cinnamon buns. My newest interest is learning bird songs. Read more about me..