There are a couple of things in which we Finns are exceptionally talented. For example, not minding the weather, making cinnamon buns and enjoying stress-free family holidays.
The traditional Finnish vacation includes packing all family members into the car and just driving to the cabin for the whole duration of the holiday. Often four weeks in the summertime. Yes. That's it.
I have written this Finland with Kids Guide to give you tips and ideas. In a nutshell: how to experience Finland as a family with less hassle and more fun! I'll be sharing my experiences with three kids.
Oh, I'd love it if you would follow me on Instagram! That way I could easily add more Finland tips to your life!
Okay, let's continue! So what's in this guide?
First, few words why Finland is such a fantastic destination for families. Then, I'll continue with some family holiday planning tips and share some Finland details you are happy to know in advance. Last, I'll dive into lovely destinations in Finland with kids and how to do a Finland family holiday on a budget!
Seven Reasons why You Should Travel to Finland with Kids
#1 Finland is exotic. For me, traveling is learning. Learning about the destination and learning about myself. Finland can give your family wonderful discussions. Nature, the Finnish society and our way of life spark curiosity.
#2 Finland is safe. Finland ranks very high in many metrics, including safety which is an essential factor when traveling with kids. Last year, Finland was named the safest country in the world for tourists by a biennale report by World Economic Forum. 
#3 Finland is clean. Air quality in Finland is the best in the world, according to WHO. As Finland is 'the land of a thousand lakes,' it isn't a surprise that our tap water is top-class. In fact, Finnish tap water is cleaner than bottled water.
#4 Finland is delicious. Food in Finland is fresh, seasonal and full of flavors. Discover the range of traditional Finnish dishes in cafes and restaurants or try a Finnish recipe yourself!
#5 Finland is child-friendly. All around the country you can find activities for children. There are fantastic baby & toddler departments at grocery stores. Toilet facilities are practical and kept very clean pretty much everywhere (e.g., enough space and baby-changing stations). Nursing your baby is okay anywhere.
#6 Finland is easy. It's comfortable to move from place to place with excellent public transport and no-jam roads. In Finland, walking in town with kids is easy because there aren't many stairs, hills or much cobblestone either.
#7 Finland is punctual. Everything works as agreed. Period.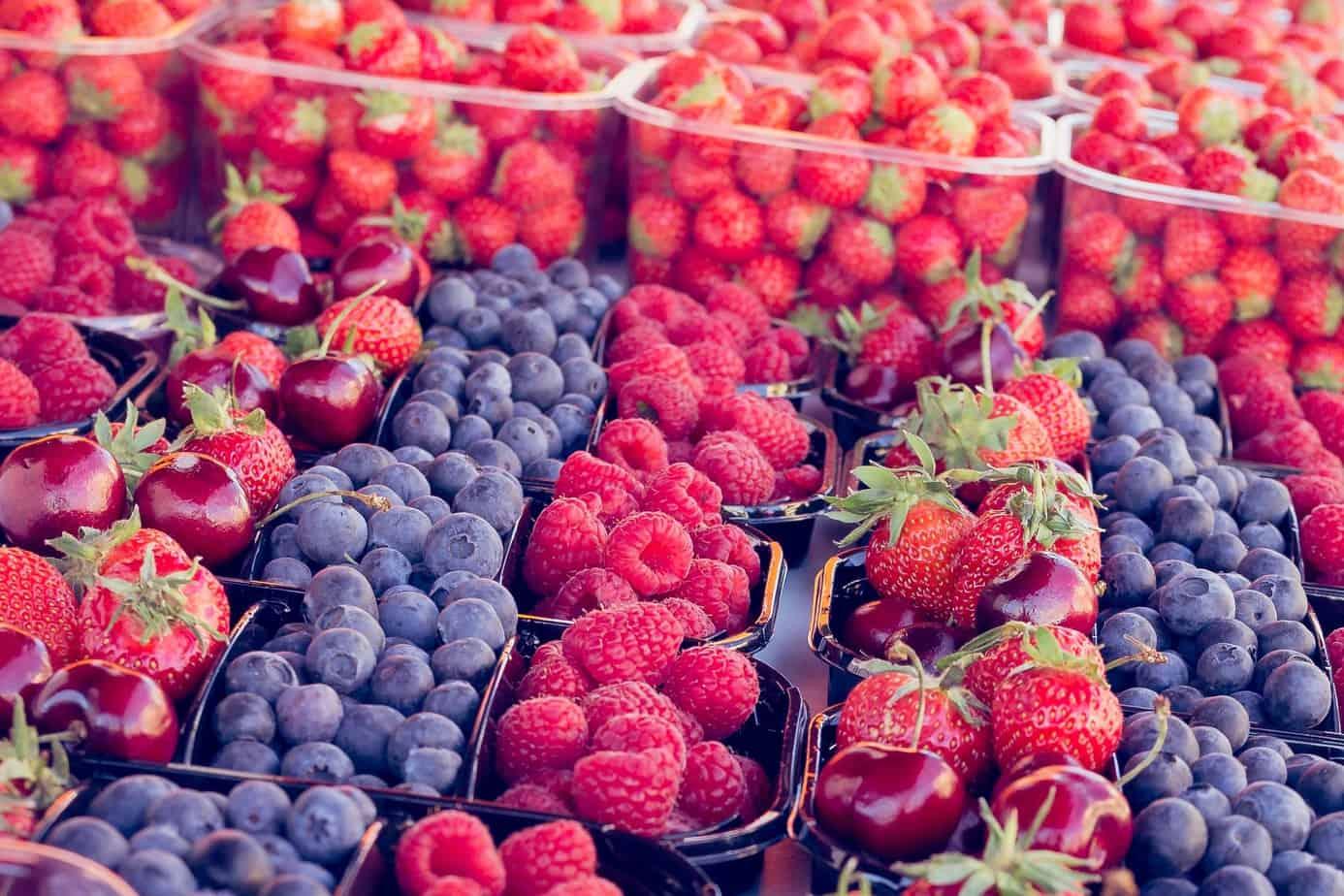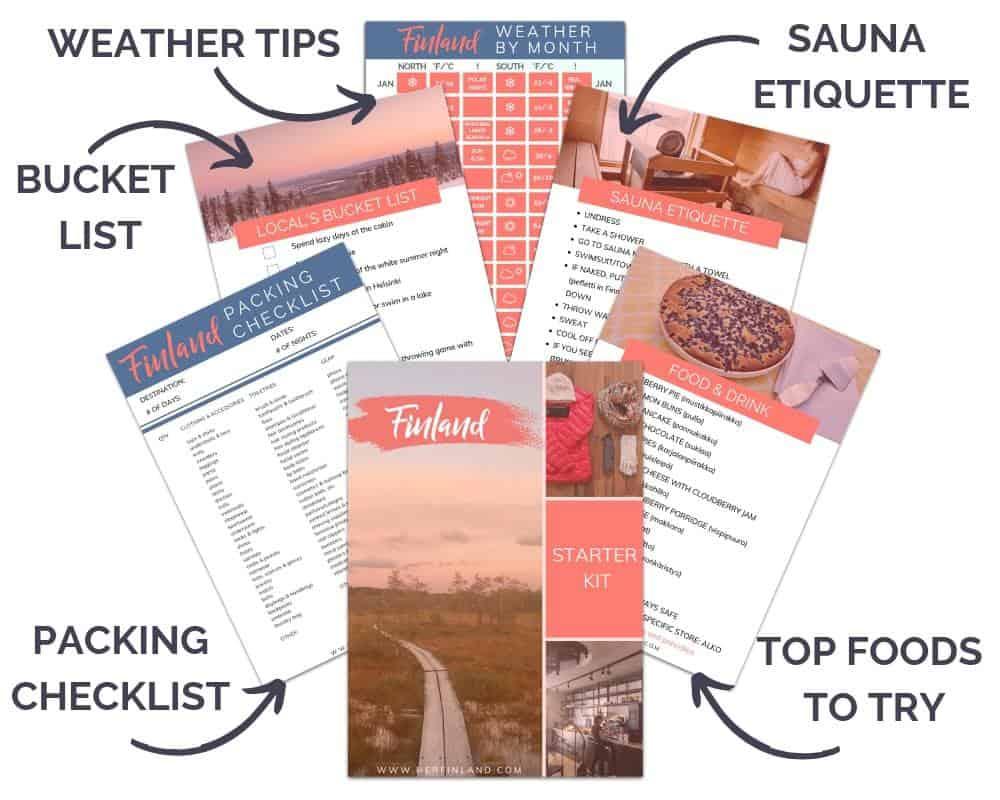 Five Tips for Planning Your Trip to Finland with Kids
Know your vacation goals and budget

 
I know that sounds business-y, but when you think about it, you always have a goal of some sort when you travel.
What is your goal for this family holiday in Finland?
Are you trying to show your family the Finnish lifestyle? If so, then your budget can be relatively small. The Finnish lifestyle type holiday includes a self-drive, self-catering destination with a lot of family time playing games, reading and relaxing – all inexpensive hobbies.
Or do you want to see the best of everything in Finland in one week? Then your trip might involve two destinations: maybe Helsinki and a more northern destination to which you fly. You might want to try some unique activities like snowmobiling, husky rides, and amazing Finnish local cuisine.
Whatever your plan, make sure you know it. Then crunch numbers. Think about a rough budget. It's miserable to be on holiday and worry about money. 
Start preparation early

 
Stress usually arrives when you have too much to do and too little time. Add huge expectations (Often set up by yourself, nobody else) of organizing the perfect holiday and BANG, you've got SUPER stress… Does this sound familiar? 
Don't try to double check all arrangements and pack the last day.
There's a lot to remember: flights, accommodation, transportation, printing of all kinds of papers (maps, reservations, etc.), passports, travel insurance, money, credit cards and packing.   
Finish one thing before starting a new one

 
When the kids are running around and screaming, completing a task from start to finish sometimes feels as unlikely as winning a marathon. 
But in travel planning, finishing a task is crucial. You save time when you only do things once and avoid the disaster of forgetting.
I almost unintentionally canceled our rented cottage in Lapland last ski holiday because I forgot to pay the separate end bill. I read the email thinking to myself that I should pay it. Next minute, I started playing with my daughter and had forgotten the whole thing.  
The situation occurred to me six weeks later when I applied my method of "double checking everything early." Oh, the amount of cold sweat on my back when I made this discovery!
So, in any task, follow up the whole process at once if you can. Set calendar reminders for things you can't do immediately so they don't slip your mind.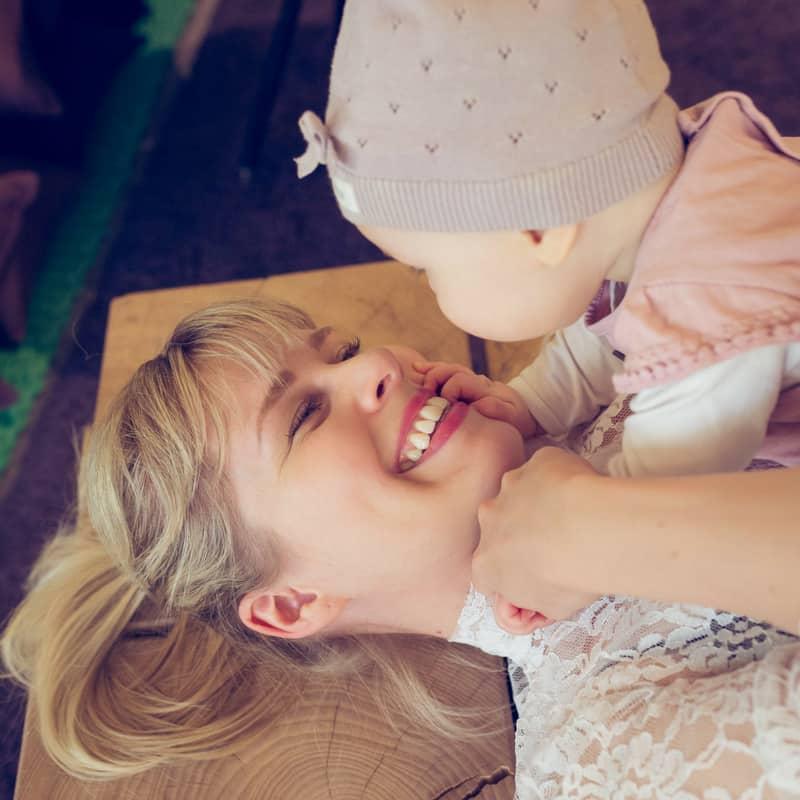 How to choose your activities

 
In my opinion, there are two rules here. The first rule: don't try to do too much. The second rule: pick the activities according to kids' age.
There are two clear signs when you have planned too much. Either: 
You're an evening zombie. You are so exhausted in the evening that after the kids are asleep, you only have the energy to hang out on social media or watch TV. Don't forget your spouse on a family holiday! 
OR
You're an annoyed martyr. You get irritated when your family cannot stick to your plan. In resentment, you think that they are missing out on stuff you so carefully planned.
Don't plan too much!
Now, about the second rule; picking the activities according to kids' age.
If you're traveling with a toddler, animals are a sure trick to make one happy child. In Finland, we have a lot of petting zoos and farm parks scattered across the country.
When traveling with school-age children and teenagers, I recommend renting bikes or going to adventure parks. There are many adventure forest parks in Finland where you get to climb on trees with sky tracks and zip-lines. I think my hubby and I love them as much as the kids.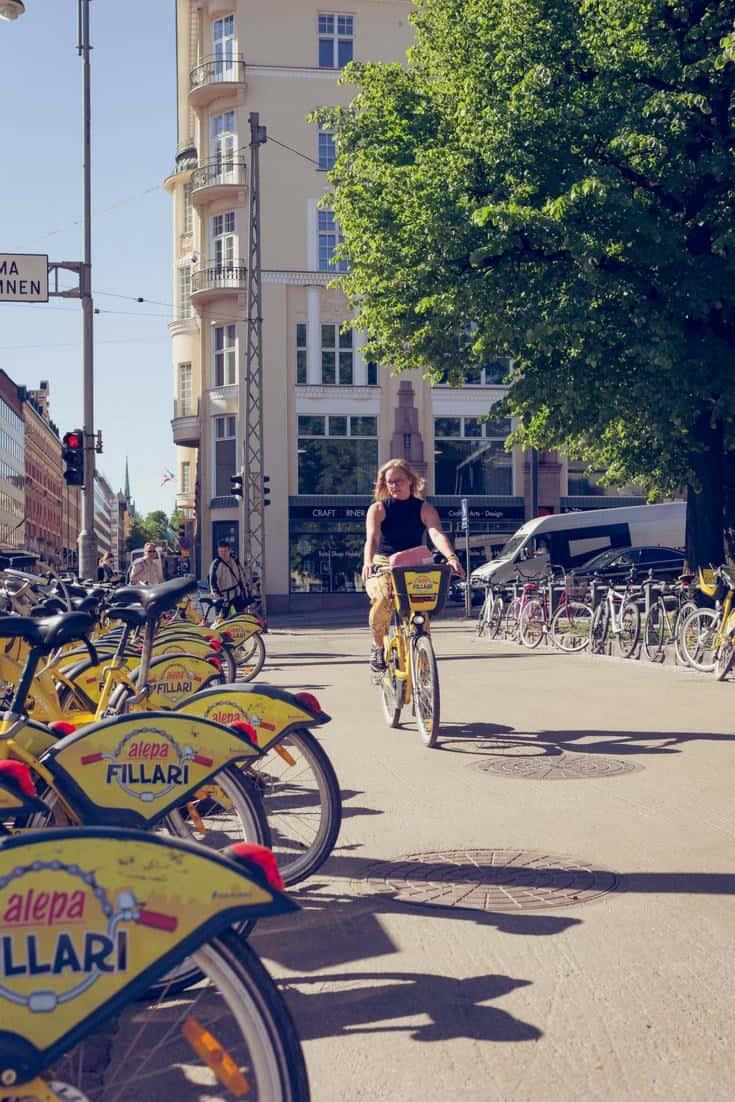 Helsinki has inexpensive city bikes all around town. Many hotels rent bikes, even for free!
Make a packing list
This is my engineer side talking, but I honestly think that if you can outsource anything from your brain, you should. A travel packing list is a no-brainer (haha). You need it often and it's stupid to rely on your memory to remember every tiny detail.
Furthermore, you can use the unoccupied brain power to connect with your family, stay present or solve more fun issues.
Lastly, it saves you a lot of time in destination when you have everything with you. Just consider the fact that you forget the pills for you motion sick kid and are somewhere in motorway when you realize this.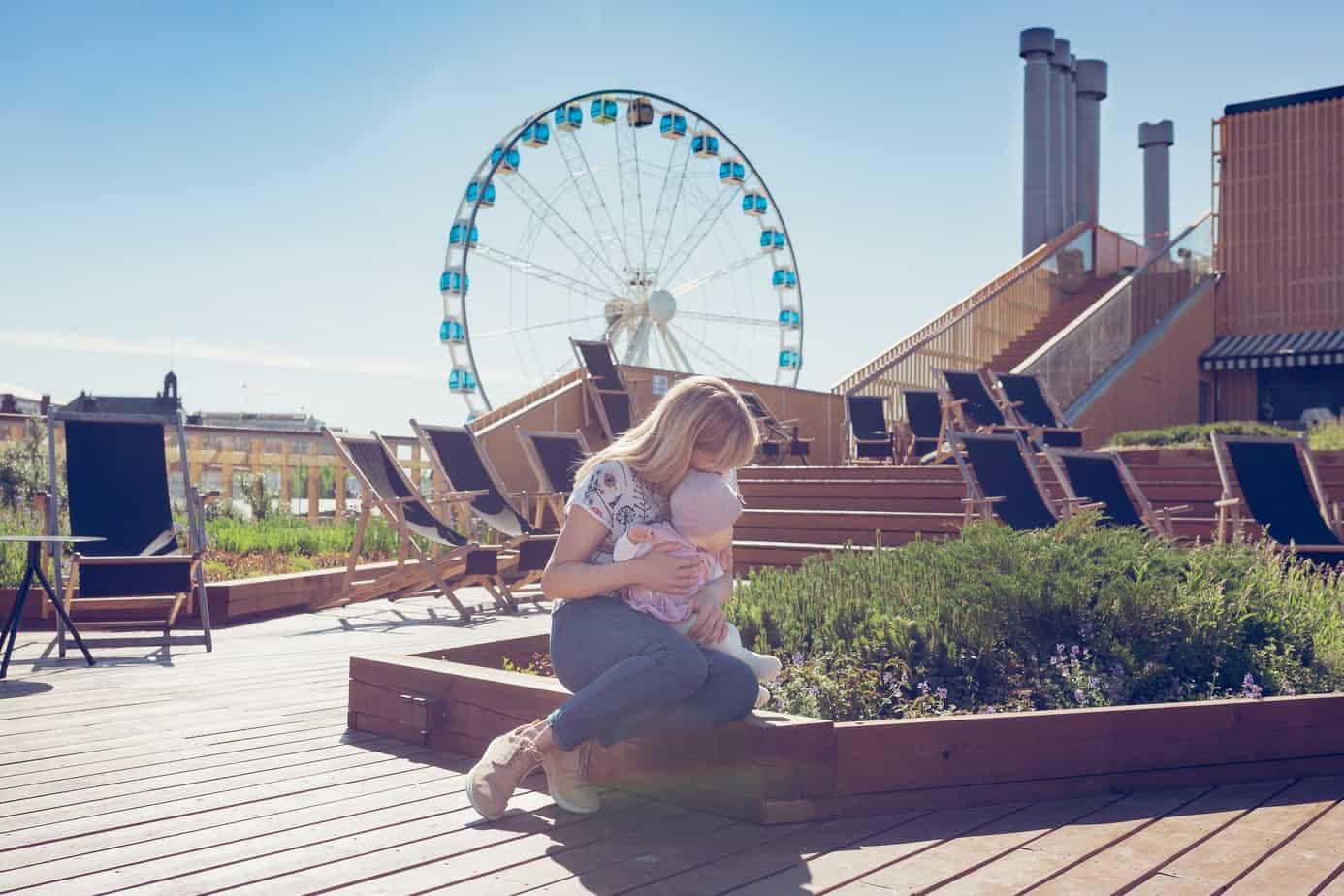 Have enough time to just sit and enjoy the atmosphere on your Finland family holiday.
Nine Awesome Tips when Traveling in Finland with Kids
These tips are great to know as a parent before you visit Finland. 
#1 Personal space. Finns give personal space to both adults and kids. We love children but keep our distance unless the children in question are family.   
#2 Road safety. Finnish drivers might not stop when they see a pedestrian near a road crossing. It's not uncommon that you have to wait for a car to stop. This is important to remember when walking or cycling with kids.
The law requires that all kids under 135 cm must have a child car seat. The only exceptions are taxis and buses. You can pre-order a taxi with a child or baby car seat for a special price (less than 10€).
Note that not all Finnish long-distance buses have seat belts. You can take your own child car seat with you but there's no guarantee that you can attach it to the seat. Usually Finnish families with a baby take the train because of toilet facilities and comfortability.  
#3 Money. Credit card works in 99% of places so don't change a lot of money. Also, tipping is not a part of the Finnish culture. 
#4 Accommodation. Due to our summer cottage culture, Finland is a dream for self-catering vacations. Cooking your own meals and living the local lifestyle can be the most fantastic family holiday ever!
A cottage can have a baby crib and toys, just ask to make sure.  And of course, most cabins include a sauna in Finland!
#5 Public transport in a city. If you are using a pram, the public transport inside a city is usually free for the pram passenger and one adult. For example in Helsinki, all trams, buses, and metros are free of charge for the kid and one adult!
#6 Finnish kids. If you want your kids to play with Finnish kids, take the initiative. Ask the parent and most likely they will encourage their child to play with your kid. Finns wouldn't suggest this because we don't want to disturb you.
#7 Tap water. You can safely fill your water bottle from any tap, except in a train and bus.
#8 Toilets. Toilets are in many places free of charge and usually very clean. Check department stores, shopping malls, hotels, and restaurants. Baby stations are widely available (not in trains, though). I always keep a disposable diaper changing matt with me, so I can change a diaper on the floor.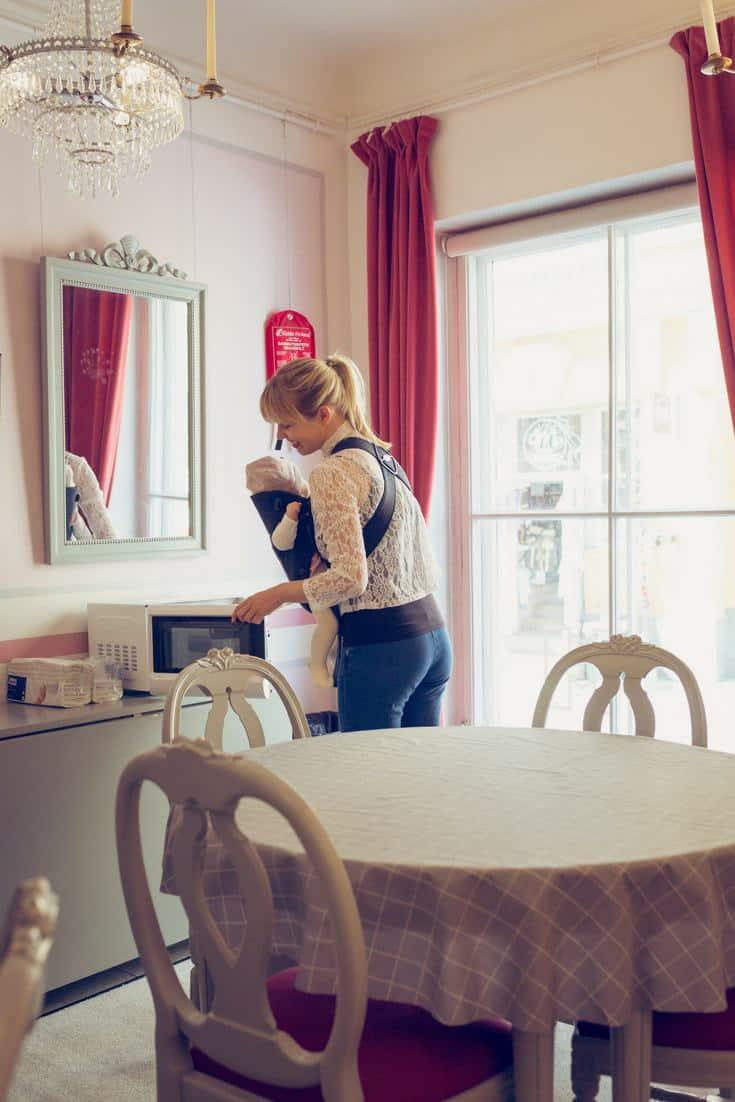 Public spaces may have a microwave and a snack area for you to use, e.g. Helsinki City Museum has excellent facilities for kids.
#9 Weather. I like to read travel forums to see what questions and comments travelers have about Finland. There aren't many negatives, but one thing pops up regularly: the darkness of the polar night. I'd like to address this here because many families travel to Finland in December due to Santa Claus.
The polar night is most likely a weird thing for many. So yes, it's true that you can't see much of the breath-taking scenery of Lapland in December. There are only a couple of hours of twilight midday so spend them carefully. You should probably enjoy scenic activities at that time.
As for the rest of the time, let the darkness surround you. Go walking with flashlights, hunt for auroras, play board games, light the fireplace and snuggle on the sofa with hot chocolate. Oh, and, of course, meet Santa! 
How to Do a Finland Family Holiday on a Budget
#1 Travel off-season. Head to Lapland from April to November. An outdoorsy, winter-loving Finn often picks April as the month to visit Lapland. Our family was in Ylläs last spring and it was a dream. Wonderful sunny weather, huge heaps of snow and auroras at night.  
Off-season in the south is basically anytime except the June to mid-August. This is the peak season and Finns are on their holiday.
#2 Choose a cabin. Camping sites and cabins are great, inexpensive accommodations.
#3 Make your own food. Eating doesn't have to happen only in the kitchenette. Have a picnic in the city park or on the lake shore,  go on a forest trek and eat there.
#4 Involve the kids. Don't plant ideas to their head, instead, casually ask what they would like to do in Finland. Chances are, you get fantastic and inexpensive ideas. 
#5 The tiny things. Even though you paid for an expensive activity they wanted to do, in the end, something else may be the highlight of the trip. So don't worry if you can't make all their wishes come true. Seeing the colossal bulk candy section in a Finnish grocery store may be the memory they remember all their life.
Furthermore, it can be the same for you! For me, the best memory of our family holiday abroad last spring was when my hubby's son babbled so much to his three-month old little sister that she fell asleep in the middle of his talking marathon.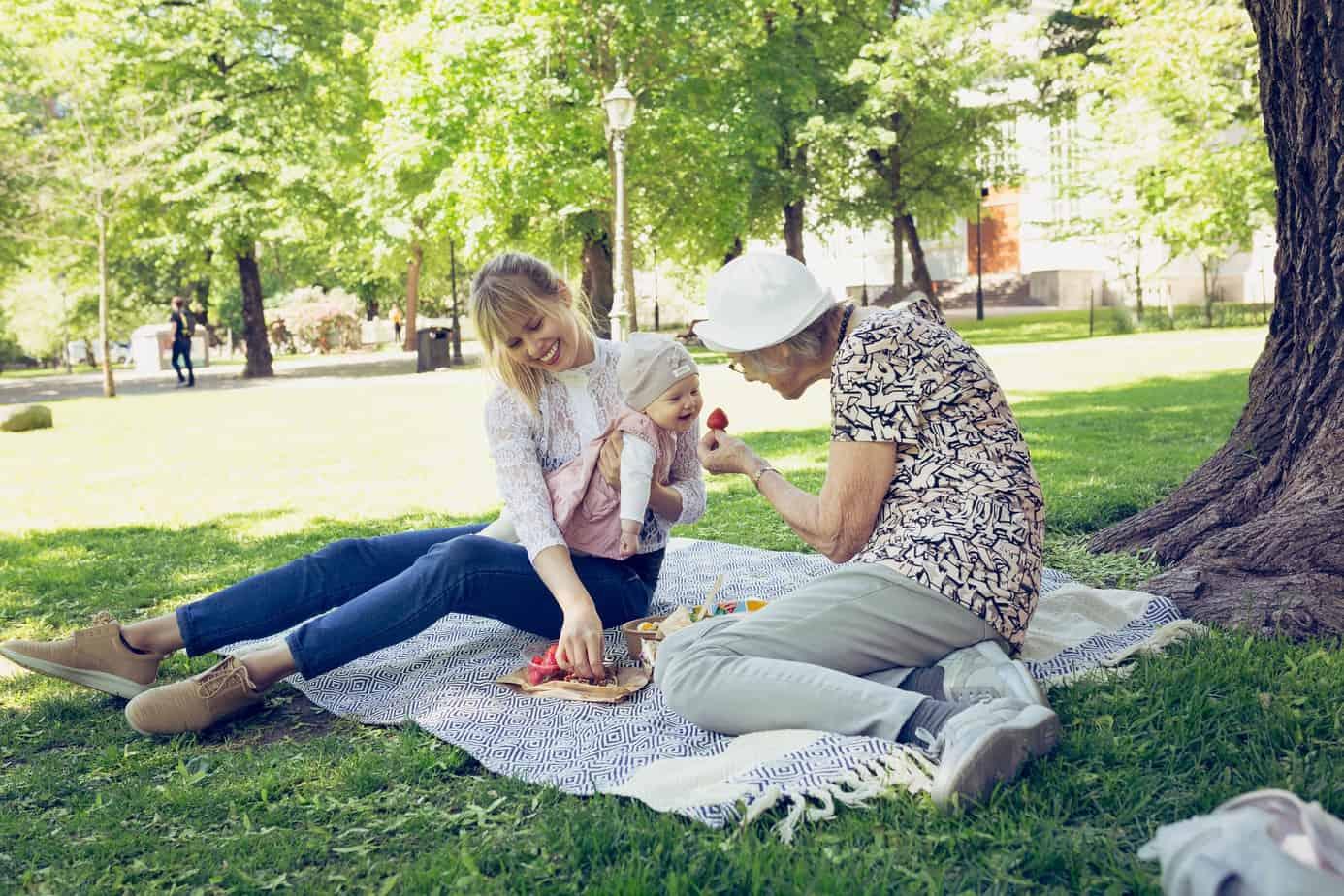 Enjoy the Finnish summer, your favorite company and delicious local food on a picnic.
Destination Ideas when You are in Finland with Kids
There are a lot of dedicated places for kids in Finland. Here are some ideas for you!
#1 Adventure park
In Finnish: seikkailupuisto. A zip-line park in the forest or park! Our kids love these places more than amusement parks. Here is a map that has all the adventure parks in Finland. The site is only in Finnish, but I think you can understand the map and place names. 
#2 Amusement park
Linnanmäki in Helsinki, Särkänniemi in Tampere, Tykkimäki in Kouvola, PowerPark in Kauhava, Nokkakiven Puisto near Jyväskylä, Santapark in Rovaniemi. 
#3 Santa Claus
You can meet Santa Claus in Santa Claus Village in Rovaniemi on every day of the year!
#4 Snow fun
Visit the Snow Castle in Kemi or Lainio Snow Village near Levi. 
#5 Moomins
In the summer, there's a Moomin world theme park in Naantali, near Turku. You can also find a Moomin museum in Tampere and a dedicated Tove Jansson exhibition in Helsinki (Helsinki Art Museum). 
#6 Science
My favorite place as a kid was (read: still is) Heureka Science Center in Vantaa, near Helsinki. If your kid is like Alex Dunphy of the tv-show Modern Family, I recommend this place with all my heart.  
#7 Nature
Any forest of natinal park! If you are in Helsinki, an easy combo is the Finnish Nature Center "Haltia" next to Nuuksio national park and then walking in the national park. Stunning views!
What are your best family holiday tips? I'd love to know, share them in the comments!
Looking for more information about Finland travel planning and packing? Check these other posts:
Ps. Family holiday pictures are precious! The sunny day with my daughter and granny was photographed by Vilma, who is a brilliant family photographer in Helsinki. 
Warm wishes from Finland, 
Varpu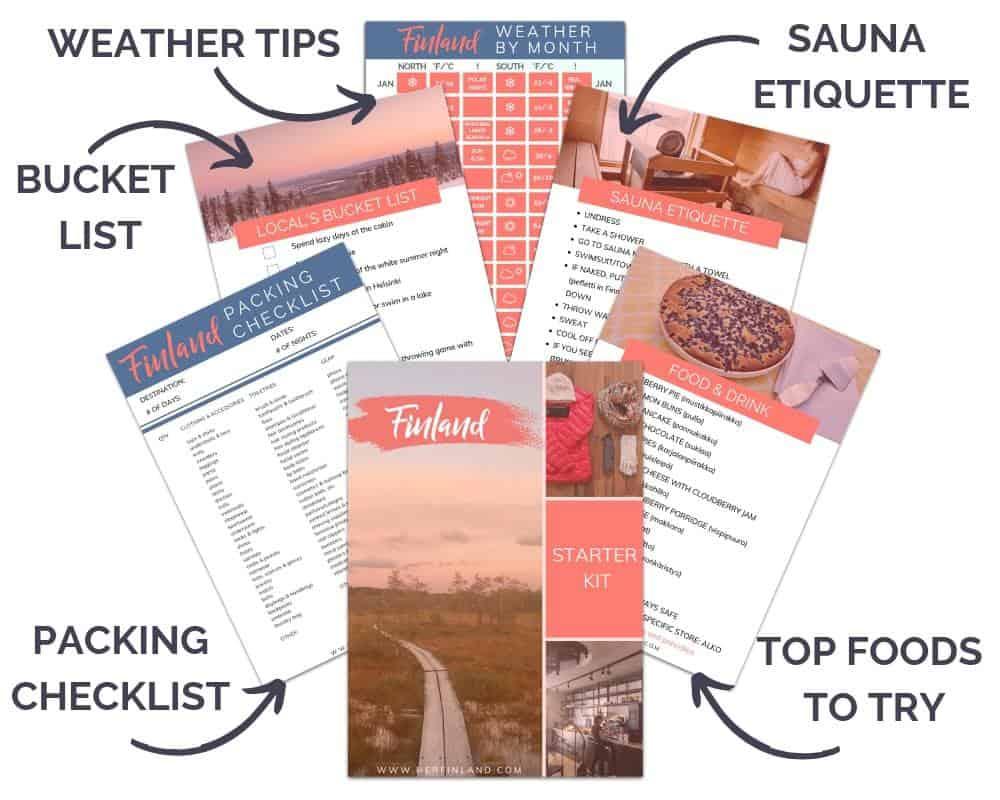 Did you find this post informative? Pin it for later reference!