I get a lot of questions about how expensive it is to live in Finland. That's why this blog post walks you through monthly expenses in different life situations and different locations in Finland. I'll keep this intro as short as possible because we have a lot to go through.
So, it's time to grab your favorite beverage and dive in. Here are the things we'll go through together.
How this cost of living in Finland post was made
The birth story of this blog post is pretty awesome. I sent my family's monthly cost breakdown to my email list and got a very excited reply from our Her Finland community.
"Before I went to Finland, I remember reading and being told how expensive everything was, but it wasn't that terrible as I supposed it would be. Actually, there were things I bought for the same price and even cheaper if compared to other countries I visited on my last trip and of course my homeland, Chile, which is one of the most expensive countries of South America after Uruguay.
Even if I look carefully to what you wrote, some services are cheaper than the ones here, like sports, phone and internet. The rest is pretty similar. Thanks again! "
Tatiana from Chile
So, I was lucky enough to join forces with my readers in this post. A huge thank you to Riikka, Grace, and Shannon for their details mentioned in this post. And my fellow Finn, Aleksi for his amazing YouTube video. Without your information, this post wouldn't be so helpful. Kiitos!
Follow me on Instagram and get more Finland into your daily life immediately!
Näytä tämä julkaisu Instagramissa.
A quick introduction to the prices and taxation in Finland
It's good to know that all costs in these breakdowns include taxes.
In Finland, the prices are always presented with the taxes as one lump sum. This is true all over Finland, in the stores, restaurants, hairdressers', etc. The price always includes all taxes and service.
In a nutshell, in Finland, all income, goods and services are taxed. The high taxation helps to fund the Finnish welfare society that provides free education, high-quality health services and social security system.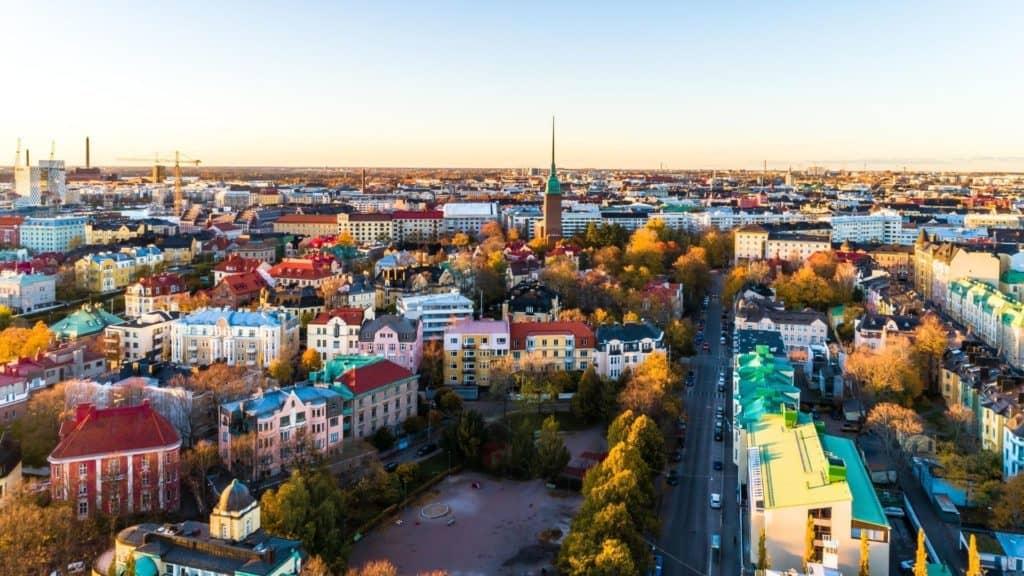 Value-added tax (VAT) is known in Finland as arvonlisävero (ALV). The most common rate for VAT is 24 %. For food items and restaurant services, the VAT is 14 %.
Let's take two tiny examples. If a hair appointment costs 124 €, 24 € of that price is the value-added tax. That leaves the hairdresser with 100 €. It should cover their salary, products & tools, rent and income taxation by the Finnish officials. If you have a phone bill of 20 € in Finland, out of that 20 €, 3.87 € is taxes. The phone operator is getting 16,13 € from you.
The cost of living in Finland for a family vs US and Germany
Shannon is a native American who has lived in both Germany and Finland, so is thus able to compare the living costs of these three countries. She lives with her husband and son in a Finnish city.
"After living in three different countries, it's very eye-opening to compare the costs in each of these three places. The US is by far the most expensive when compared to Germany and Finland. Some major expense differences are the costs of your home and utilities, medical bills and insurance as well as the cost of food."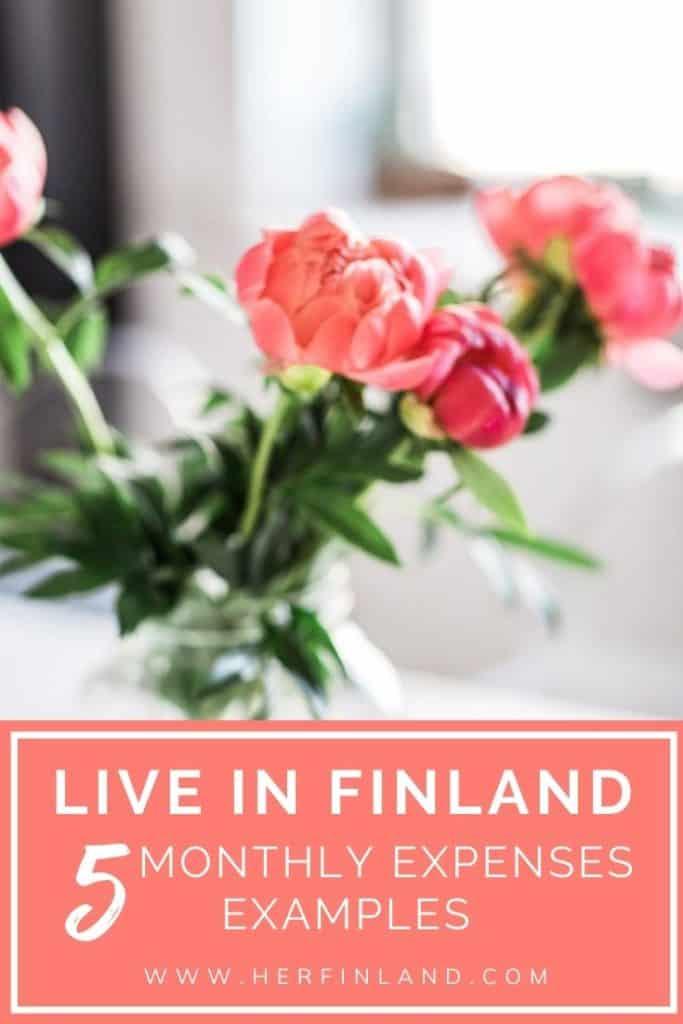 "When I lived in the states, my rent was between $950-$1500 a month (for a small 2 bedroom apartment and a modest 3 bedroom house in the city of Scottsdale, Arizona). Both of those places were very reasonably priced for that area and could accommodate a small family. That did not include our water, sewer, trash, electricity and internet which averaged an extra $330 a month."
"The cost of insurance in the US is also very expensive and even with some large corporate employers covering the majority of the cost, the average employee paid $103.50 for individual plans and $501.21 for family plans in 2019 (according to the Kaiser Family Foundation). This is not including the out of pocket money people pay and copays for each appointment or medical bill. I also just read an article on CMS.gov that the National Health Expenditure in 2018 was $11,172 per PERSON for that year. YIKES! That makes me really appreciate the public healthcare system in Finland."
"In regards to food, Finland and the US have been pretty similar when you take the sales tax and tipping in the US into consideration. It is so nice to have the tax and service fees already included when going out to eat in Finland. Germany however, is much cheaper. I think we spend about half as much on groceries as well as going out to eat."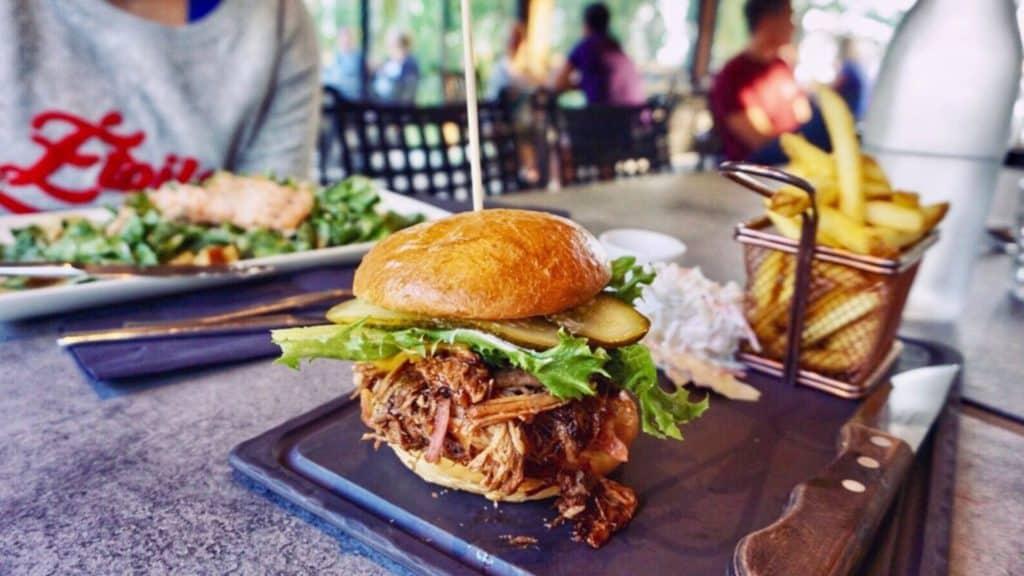 "One way to compare the cost difference is the price of a beer at a restaurant. In Germany, one person can go for a nice casual dinner plus a glass of wine or beer for less than 15€, but in Finland or the USA a nice meal with a glass of wine or beer would cost at least 25€ (and that would be one of the cheapest dinner options)."
The cost of living in Finland vs US vs Germany comparison
Shannon made this incredible chart to help compare her family's monthly expenses. Household size: 2 adults, 1 baby (less than a year old)
Country/Category
Finland (75 square meters)
Arizona, USA – 79 square meter apartment & 139 square meter house)
Germany (85 square meters)
Home

925€

$950-$1,500

800€

Utilities

(All included in our monthly rent)

$205

(Electric $130, Water $40, Gas $35)

80€

Internet & Cable TV

(Included in our monthly rent)

$125

95€

Medical Insurance (family of 2 & a baby)

Very inexpensive public healthcare

Provided by employers & Finnish residency.

$500

(health insurance is not required and this is a huge liability for younger generations who do not want to spend the money on insurance)

300€

(health insurance is legally required & taken out of your salary by a % depending on your income, so this cost varies greatly on your income)

Gas for car

140€

$120

140€

Groceries

600€

$500

300€

Going out to eat

200€

$200-$300

100€

Phone (2 lines unlimited)

50€

$80

120€

Miscellaneous shopping (household items, clothes, baby, etc.)

100€

$100-$150

50€

Pharmacy

30€

$15

15€

Gym & fitness classes

80€

$75

19€

Haircuts & Color

45€

(husband's cuts = 15€month & mine 120€ 3 times per year)

$70

27€

Public parking & transportation

35€

$5 (I never used public transportation & most parking is free)

20€

Website subscription & apps

15€

$16

15€

Total
2290€

2717€-3360€

$2,961-$3,661

2081€

Extra costs not calculated in the total comparisons, but interesting to know

Our apartment costs 8€ a month for the use of the shared sauna once a week for one hour.

Car insurance, car tax & home insurance – 68€/month
FinNISH CONNECTION COLLECTION 🇫🇮
Finland-themed sweaters and accessories made-to-order. 🧡 Worldwide shipping.
The cost of living in Finland for a single person outside of Helsinki
Grace, my dear reader from the Philippines, lives in the city center of a big Finnish city by herself.
"I realized that the main difference between Helsinki and other cities are the rent and travel costs. Other costs are pretty much the same all over the country, especially grocery and utilities. Normally, I'm traveling 3 times a year and that's where all my savings go, haha. I cut my own hair and I don't color it. I do spas only when I am traveling. I don't need a car because I live in the city center."
Here are Grace's monthly costs:
Flat: 580 €

Electricity and water: 60 €

Laundry: 10€

Transportation: 50 €

Insurances (for the flat and traveling): 18,5 €

General unemployment fund (YTK, in Finnish): 8 €

Eating out: 150 €

Groceries: 300 €

Phone: 19 €

Audio book app: 14 €

Spotify: 10 €

Sports

(I'm a member of badminton club)

: 37 €

Other activities: 20 €

Miscellaneous like small shopping, medicine, toiletries etc: 100 €

Savings: 300 €
It's great that Grace mentioned the general unemployment fund. In a nutshell, when you start working in Finland, make sure to check from your employer which unemployment fund you should be a part of to make sure you are fully supported if your work situation changes.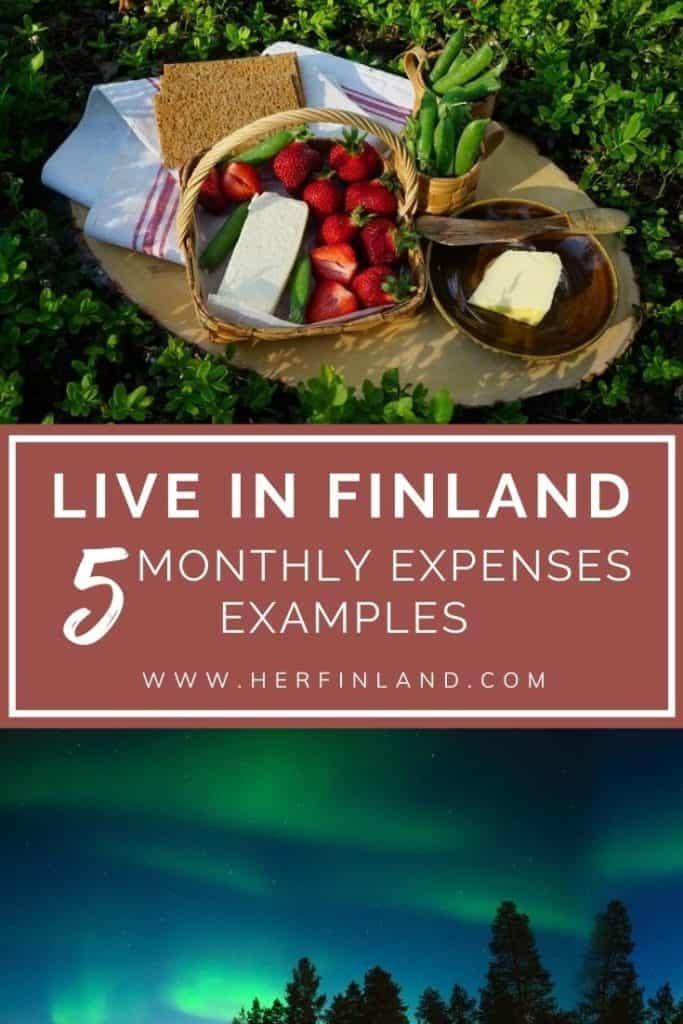 The cost of living in Helsinki for a single person
Aleksi, my friend and colleague, did an awesome video about his monthly expenses. Watch it below.

The cost of living in the Finnish countryside for a single person with pets
My Finnish language student Riikka is a Finnish-American professional in history and architecture. She moved to Finland in 2019.
"I have modest resources, but my flat is paid for. My car is tiny (2013 Polo) and gets good mileage. I use it primarily to run errands, which I organize into a route so I can do as many as possible at one time with minimal environmental impact. I bought the annual Museum card (Museokortti, in Finnish) so I can entertain myself with the magnificent range of cultural and historical resources Finland offers. My household consists of 10 feet; two feet are attached to me, and four each are attached to a dog named Onni (corgi) and a cat named Harri. You have to be nuts to move to a new country with a cat!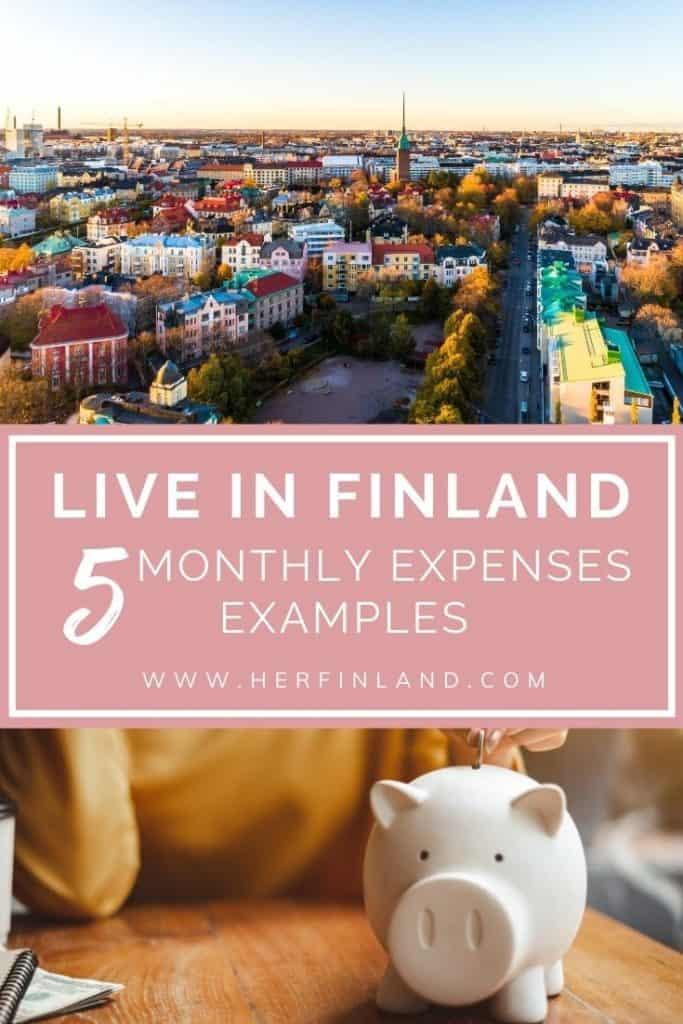 "Helsinki is slightly less than an hour, so it is an easy commute to the city. I'm walking distance so I get a good 2.5 km walk in before getting on the train. I like my town for the train, but also because it's very much a small Finnish town, still with many of its old Swedish-Finn roots intact. It's much different than Helsinki!"
"I combine my hobbies and recreation with my writing and have for a number of years been able to write them off. Onni and I walk a lot for exercise, plus I do yoga at home. I brought my sewing machine so I will start sewing again. My new goals are minimizing costs and reducing my personal environmental footprint by 70% to align with the Finnish government's goal. And of course, my biggest educational/recreational goal is learning Finnish."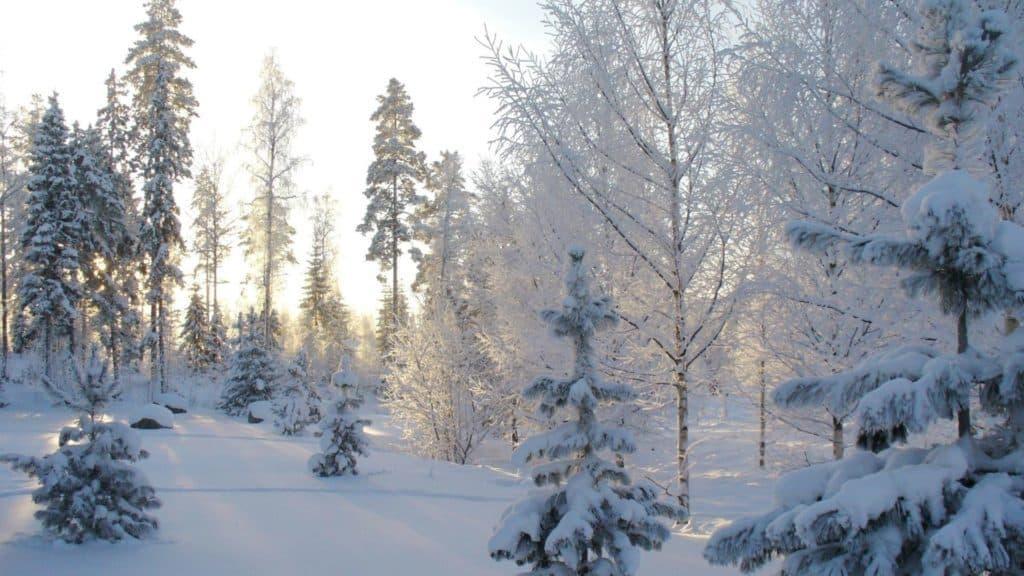 Here are Riikka's monthly expenses
Housing: 78 sq. meter 2-bedroom flat is paid for. Monthly maintenance and fees run €270 per month to cover maintenance, water, parking electricity, broadband, and sauna upkeep for the building.
Electricity: Estimated at €100/month. (Metered and variable by month but is direct electricity so more expensive that central systems.)
Internet: €34.90 month. This is a business expense for me so I signed up for the most cost-effective package.
Transportation: €220 month to cover regular maintenance, tire storage, annual insurances, and petrol. I justify trips by planning a route to do as much as possible every time I drive. Round trip train tickets are €16, so a day of museums or just walking around Helsinki costs me nothing if I bring a snack.
Groceries: Food costs run about €400 a month at the moment which is due in part to buying basics for things I like to cook and bake as well as household supplies that I've been restocking on sale like toilet paper, cleaning items, and pet food. Once that is done, I expect my groceries to drop to less than €300.
Grab the free kit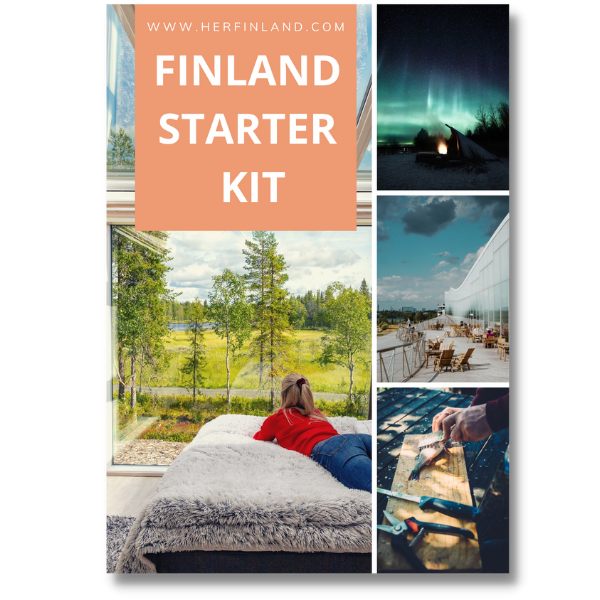 The cost of living in Finland for a big family outside of Helsinki
This is my family's monthly breakdown. Our household size is 2 adults, 1 toddler and 2 school-aged kids who share their time between their two homes.
Monthly family expenses
House maintenance charges: 350€. This includes water, heating, trash, renovating, gardening tools, anything in the common area. The actual work we do together with our dear neighbors and divide between six families, so it's free. The tasks are snow shoveling, spring cleaning, and gardening etc.

Electricity: 25€. More about this in the tips section.

Internet 100MB: 10€. More about this in the tips section.

Mortgage – usually, it's between 500-1500€ per person when you own a house or flat.

Groceries: 1200€. We buy many things with special requirements due to allergies. Also, I cannot wait that we don't have to buy diapers anymore. Getting there soon!

Pharmacy: 30€

Insurance: 17€/child, 12,5€/me, 33€/toddler. We have travel insurance and private care health plans for everyone. If you're working (and not an entrepreneur like me), the employer usually covers your health insurance. Public healthcare in Finland is fantastic in Finland and the biggest reason why we have private care health plans is peace of mind and to save the time it takes to queue in the public sector.

Daycare: 289€. Compared to many other countries, this is a great price. Also Riikka commented on this expense: "Your daycare costs are fantastic. That is less than I spent on my kids' daycare more than 30 years ago. From what I understand now, the costs in the US run from $1000 to >$2000 mo. depending on the age of the child and one's location. Keep in mind there is no significant parental leave and daycare for an infant is hugely expensive."

Children's hobbies: 150-200€

Car: Hubby has a car through work, I don't have a car.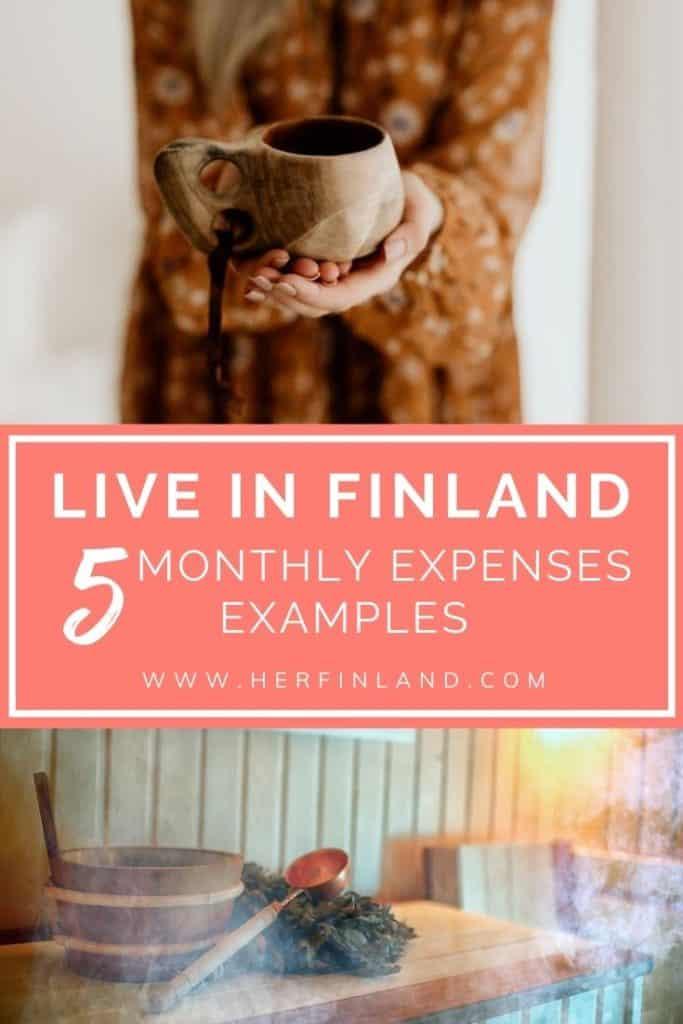 My monthly personal expenses
Phone: 19€ – unlimited everything. More about this in the tips section.

Restaurants & coffee: 220€. In a normal situation, I eat out for lunch somewhere on a workday. That's around 10€/lunch.

Hairdresser: 60€. In real-life, I pay 120€/ a visit every 8-10 weeks.

Massage: 50€ per 50 minutes.

Sports: 20-60€ – my gym classes are 8€/visit, swimming is 5,50€/visit, running is free. Wondering in the forests is free.

Audiobook app: 10€

Netflix: 12€

Miscellaneous, clothing & make-up, etc.: 50€

Public transport: 100€-160€. In a normal situation, I travel between my hometown Lahti and Helsinki a lot. One ticket is 9,30€ if I buy them as a pack of 10 tickets.

Taxi: 10€. Download the Yango app if you need a taxi in Helsinki, it's super good and affordable!

Three tips that make Finland less expensive
Tender your electricity contract and your phone operator
You can choose your electricity company in Finland. This impartial service by the Energy Authority of Finland allows you to compare available electricity products based on your postal code. You can do the purchase online too.
If you're moving to Finland, don't make a 12- or 24-month long electricity contract before checking out the prices.
With your phone and internet connection, pick the provider who gives you the best deal. Usually, the companies give a fantastic contract for the first 12 months after which the price increases. That's the time to do the annual tendering! The most popular phone and internet providers in Finland are DNA, Telia and Elisa/Saunalahti.
The rent and transportation costs
Rent and transportation costs are usually the biggest monthly expenses. It's crucial to count them together because usually, it's a trade-off between the two. Public transportation is great, especially in big cities and having a car is not a "cultural must-have" in Finland. Many of my friends have bought a car only after starting a family.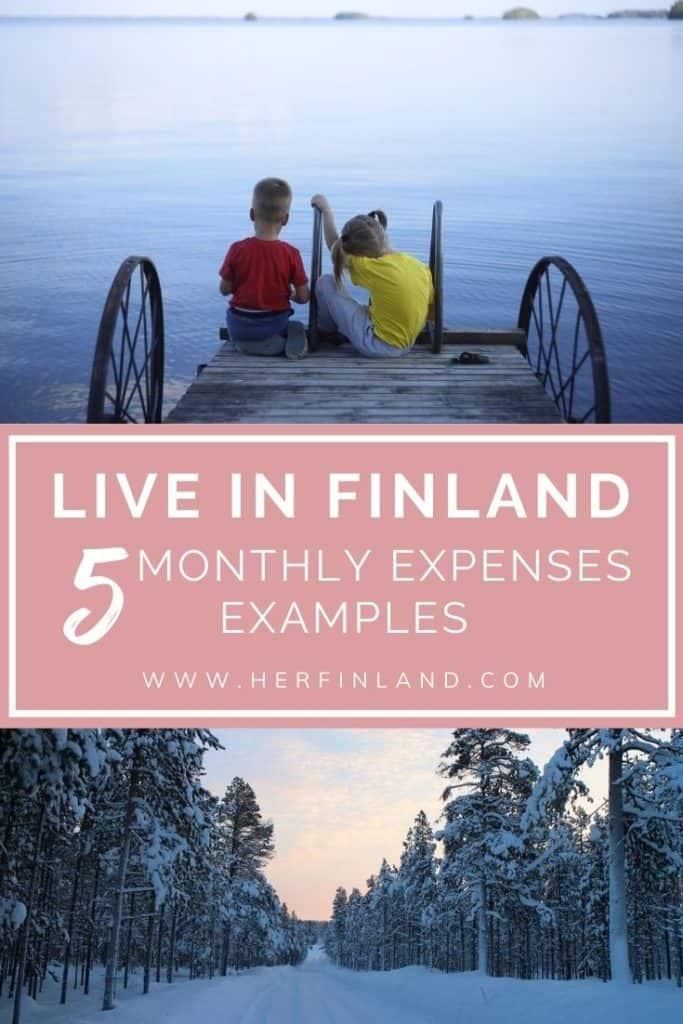 Take advantage of the discounts in the grocery stores
The Finnish grocery stores aim for a minimum amount of food wastage. That's why in Finland, we have food items for sale before they reach their best before date. The sale is usually 30% off. But with many Sale, Alepa, S-market and Prisma grocery stores, all 30% off products are 60% off on their last evening.
A bonus tip! This is a minor thing, but something that's good to know. In Finland, you get money when you recycle cans and bottles. You'll see people collecting bottles and cans in Finland, and when I was a teenager, collecting bottles was a regular thing for me to do to get pocket money.
You can collect your deposit (10-40 cents per item), by putting the empty bottle in the bottle deposit machine. The machine is mounted on the wall of every Finnish grocery store, usually near the entrance. With the receipt, you can collect your deposit money at the cash register.
Of course, to fund your living in Finland, you will most likely want to find a job. Even some people relocate to Finland because of their dream job opportunity. Make sure to watch my YouTube video here about how to tell if a job offer from Finland is fake. Occasionally some job offers are indeed too good to be true, so please make sure you are diligent in your research.
Did you find the post helpful? What else would you like to know? Please let me know in the comments below.
Looking for more information about Finland and Finnish culture? Check out some of my other posts: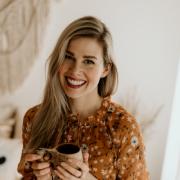 About Varpu
I'm the founder of Her Finland. I love cultural tidbits, aha moments, Finnish folklore, and cinnamon buns. My newest interest is learning bird songs. Read more about me..