Foraging means gathering wild food from nature, for free. Finnish forests are an endless source of superfood!
Picking mushrooms and berries is a popular pastime in Finland but there are more delicious things hidden in the forest: wild herbs. The use of forest-grown ingredients is one of the key elements of Finnish cuisine.
Wild herbs are not only waiting for you at a Finnish restaurant, you can easily pick and try them on your Finland visit, for example, when enjoying a cabin vacation. Just take a stroll in the forest!
I owe my foraging skills to my nanny and bestie's mum, who made delicious nettle pancakes and dandelion rolls in my childhood.
Follow me on Instagram and add more Finland to your life instantly!
Näytä tämä julkaisu Instagramissa.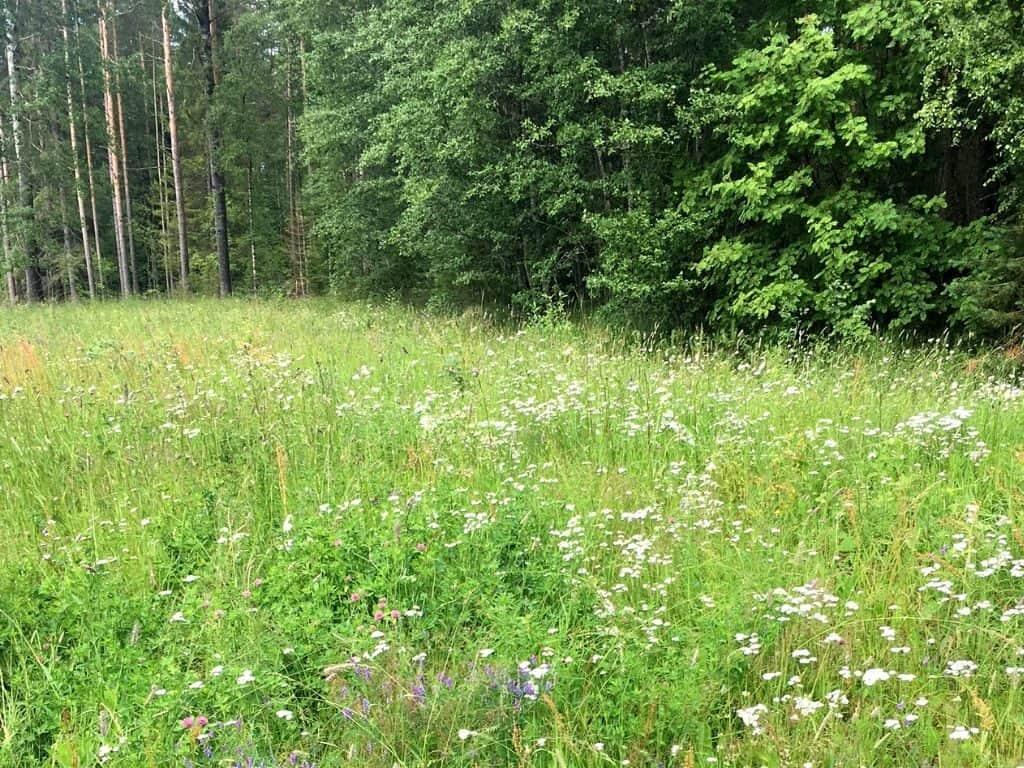 How to Do Foraging in Finland
In Finland, we have a fantastic concept called Everyman's right. As a summary, it states that you can pick flowers, wild berries, and mushrooms freely in natural areas, which are not private yard areas, agricultural production fields or nature reserves.
You just have to remember that you cannot pick protected species and some species need the landowner's permission. For more information about Everyman's right, click here.
I always collect flowers and plants from forests and meadows deep in the countryside. Rinse each plant carefully if you feel there is a need.
A huge disclaimer here, though! If you collect flowers and plants, be 100% sure that you have gathered edible ones and identified each branch and leaf.
Seven Herbs to Forage during the Summertime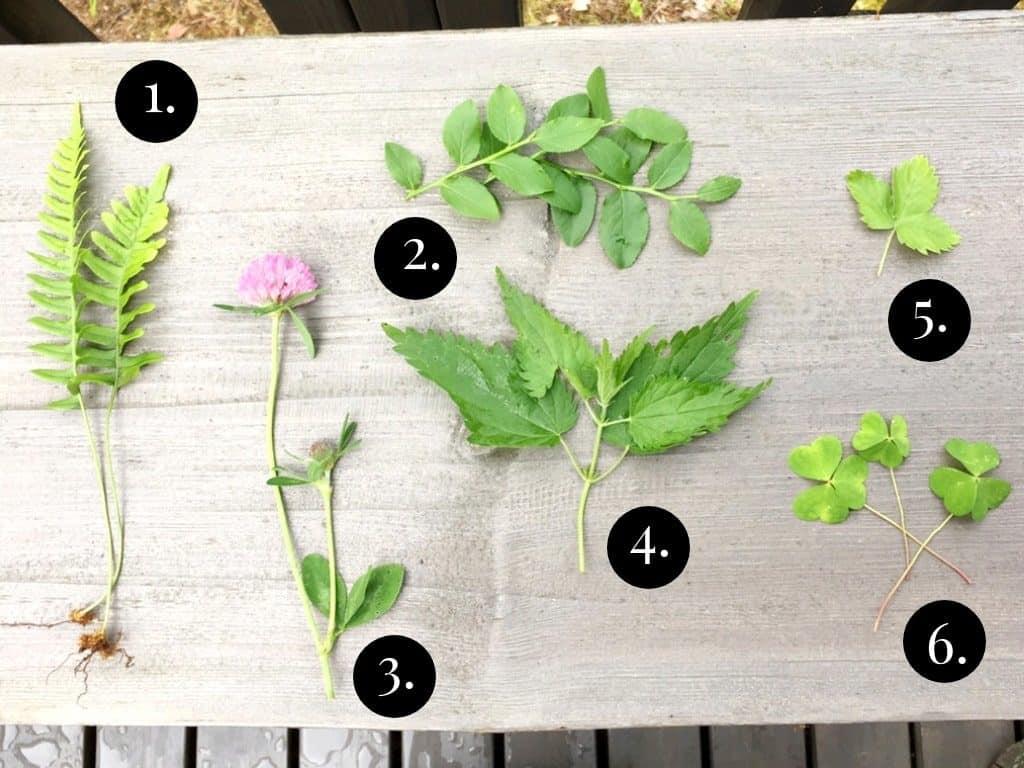 Plant 1: Common polypody (Polypodium vulgare)
To collect roots, you always need the landowner's permission in Finland!
What to use: Roots
How to use: Wash and peel away the surface. The root has a sweet, licorice-like taste.
Where to add: Smoothie, porridge, tea, pie.
Plant 2: Blueberry (Vaccinium myrtillus)
Blueberry leaves have oxalic acid, so they are not suitable for people with kidney problems.
What to use: Berries and young, healthy leaves
How to use: Wash the leaves.
Where to add: Leaves to tea. With berries, the sky is the limit.
Plant 3: Red clover (Trifolium pratense)
What to use: Young healthy leaves and flowers.
How to use: Rinse.
Where to add: Leaves to salads and soups. Flowers are naturally sweet, so they are perfect for tea.
Plant 4: Nettle (Urtica dioica)
Nature's power spinach!
Easiest to identify – just take your gardening gloves off and see if you get a rash.
What to use: Young healthy sprouts and leaves before flowering.
How to use: Rinse and chop.
Where to add: Pancakes, omelets, pies, bread and roll doughs… the list is endless.
Plant 5: Forest strawberry (Fragaria vesca)
What to use: Berries and young leaves (head to the forest in the early summer because bugs love her leaves too)
How to use: Wash the leaves.
Where to add: Leaves to tea. There are usually no berries left to put anywhere when leaving the forest. Yummy!
Plant 6: Wood sorrel (Oxalis acetosella)
Wood sorrel has oxalic acid, so it is not suitable for people with kidney problems!
What to use: Healthy leaves.
How to use: Wash the leaves.
Where to add: Leaves to salad or on sandwich. A snack when walking in the forest.
Plant 7: Spruce tips (Picea abies)
Filled with Vitamins C, K1, and A. You need to ask the forest owner before picking these.
What to use: Bright green tips from branches.
How to use: Store immediately in refrigerator or freezer.
Where to add: In tea, smoothies, honey, salad, salmon soup, ice cream, and more!
Here are a few more key facts to know about spruce tips:
Back in the day, people chewed on spruce tips to keep their teeth healthy.
The prime time for foraging is only 2 weeks in May-June, depending on the weather.
You always need to ask the forest owner that you can pick them.
It is important to store them immediately in the cold after picking and freeze them if you have a bigger batch so they stay fresh.
Besides eating the tips raw, you can also make:
tea (by just adding hot water, not boiling hot)
a smoothie (my favorite is with bananas and green apple)
honey (probably my favorite, pressing the tips in honey is so satisfying. Leave to rest for around a week)
a salad (filled with other fresh veggies)
herbs for a salmon soup
a mixture with vanilla ice cream.
Also, be careful, spruce tips may cause an allergic reaction, so try only a small amount first.
Finnish baking magic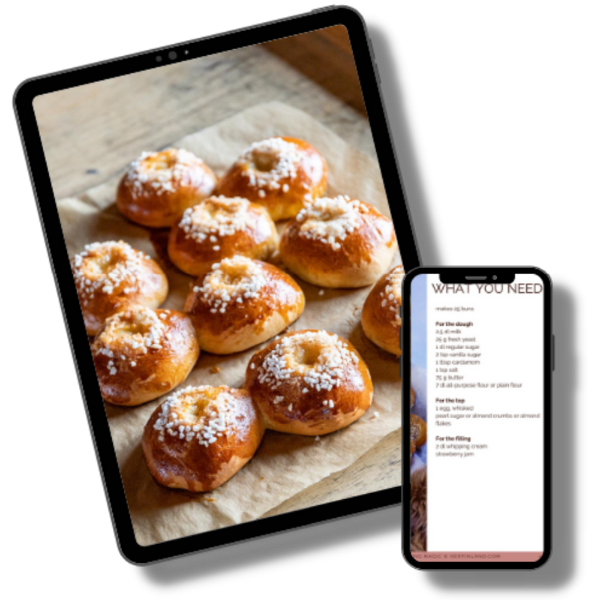 My praised Finnish Baking Magic eCookbook & bonus videos Recreate Finnish bakes in your own kitchen hassle-free!⭐⭐⭐⭐⭐
Bonus: Forest Water aka Pine, spruce, and blueberry branches
What to use: Branches with healthy green leaves.
How to use: Wash the branches.
Where to add: To cool water. Let the branches soak in water for 6 hours. and enjoy this refreshing water throughout the day!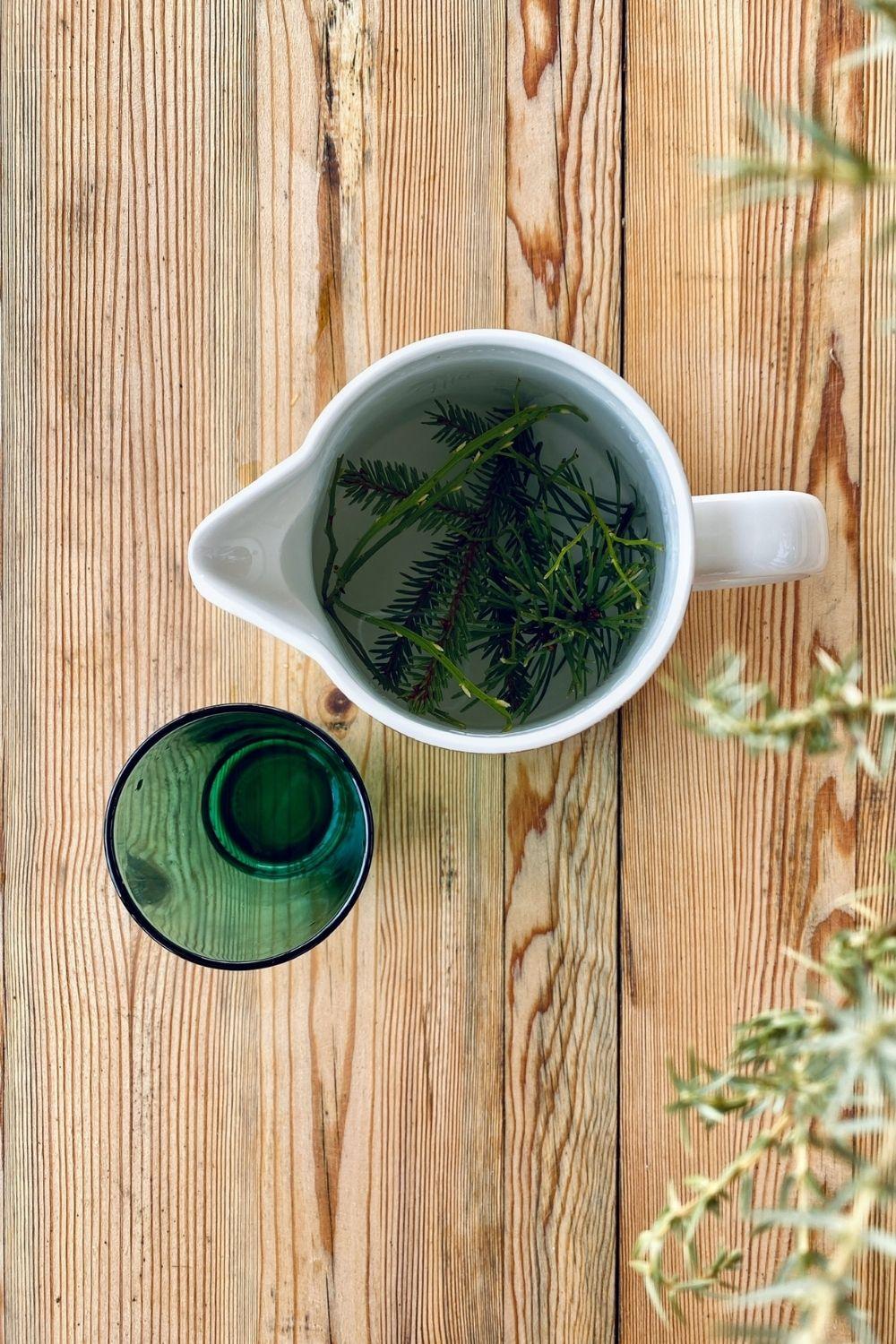 This forest drink from nature is our cabin must-have. The taste is very subtle and refreshing.
Even though you are only using small twigs, the spruce and pine flavors are actually more recognizable than blueberries.
So here's how you make Finnish forest water:
Step 1: Ask permission from the forest owner to cut one tiny pine, spruce and blueberry branch.
Step 2: Fill a jug or water bottle with cold water.
Step 3: Rinse the branches and put into the jug. Allow to rest at least 6 hours.
Step 4: Enjoy.
Some people say this drink is wonderful as the first drink in the morning. I tend to drink it in the morning and sip it throughout the day.
The same branches can be used for up to a week. Just fill up the jug with cold water and keep it in the fridge.
If you are looking for more information about Finnish summer and Finnish food, check out some of my other posts: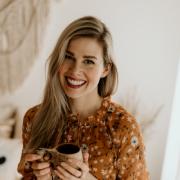 About Varpu
I'm the founder of Her Finland. I love cultural tidbits, aha moments, Finnish folklore, and cinnamon buns. My newest interest is learning bird songs. Read more about me..