The Finnish sauna is a mystery to many. Are you wondering how to use it? No worries! This article explains the Finnish sauna etiquette and the three Finnish sauna types: wood-burning, electrically heated and smoke sauna. It also includes tips on where to enjoy a sauna in Helsinki!  
A wood-burning classic Finnish sauna
The first sauna in my life was my childhood home sauna. It was a wood- burning traditional Finnish sauna. It took about 30 minutes to be ready, and I could heat it up with my eyes closed. This sauna type is warm and moist. When I was a kid in the 90's, sauna time was 1-2 times per week, usually Wednesday and Saturday. In my family, the Saturday sauna sessions were always followed by a plate of sausages grilled in the embers and an episode of Finnish dubbed BBC Nature documentaries. By the way, BBC Nature documentaries still come on Saturday evenings and families all around Finland watch it. I hope this tradition never dies.
An electrically heated sauna
My second experience was an electrically heated sauna. It is easy to use and certainly a cure for sauna cravings when living in the city center. The spirit is sharp, a bit dry and sausages need to be cooked in the kitchen. You can find electrically heated saunas in public places like swimming halls, hotels and city homes. To me, it marks the time of my university studies because student parties most of the time included going to the sauna.
A smoke sauna
What I encountered last and love the most, is the smoke sauna. It takes forever to warm up, is potentially hazardous if prepared wrong (inhale carbon monoxide or burn the building) but the sauna experience is pretty close to religious when you walk into the gentle darkness. I am one lucky girl to have this at the summer cottage!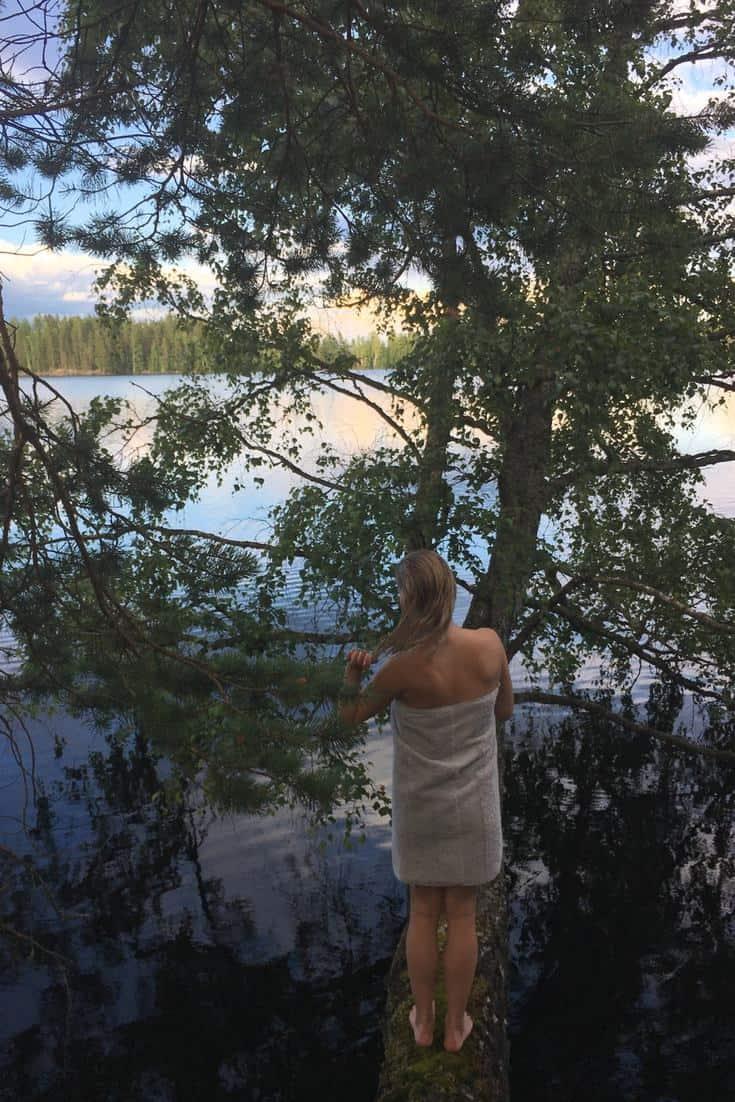 How to use a Finnish sauna?
The sauna etiquette differs between countries. For example, in Germany, there's a "sauna master" who throws the water on the hot stones. This is not the case in Finland. So how to behave in a Finnish sauna?
Undress.

Take a shower.

Go to sauna naked or with a towel (check sign if you are allowed to use swimsuit).

Throw water on the hot stones as much as you want. The idea is that the sauna is moist, never dry.
You can talk in a Finnish sauna. It's not forbidden!

Cool off outside/in the shower/swimming.

Repeat as many times as you want.
Trying out sauna in Helsinki
If you are visiting Helsinki, in my opinion, the easiest place to try both wood burning and smoke sauna, is Löyly – a very trendy sauna venue next to the sea. Make a sauna reservation in advance!
If you want to experience the last public sauna with traditional wood burning style in Helsinki, head to Kotiharju sauna. It's been warming up since 1928!
Liked this post? Pin it for later!