*Commercial collaboration with Ruka-Kuusamo Tourist Association
You know how most incredible places have a hit song written about them, and no matter how old you are, you've heard that particular song? Well, here in Finland, Kuusamo is that legendary place that inspired a chart-topping song.
In Kuusamo, there are two things that stand out to me as a Finn: the awe-inspiring nature and attention to wellbeing.
The area is characterized by numerous natural sights. If Kuusamo is not Mother Nature's own amusement park with rapids, canyons, fells, and lakes, I don't know what is.
Outdoor activities are the thing to do here and you can certainly enjoy them even if you aren't sporty. You are literally in the heart of four national parks, Oulanka being the most famous one.
The other thing that stands out to me is the emphasis on wellbeing. Being here helps you understand how nurturing and recharging encounters with people, animals, and even physical places (like the sauna!) can be.
This massive guide helps you plan that Finnish Lapland escape that leaves your body relaxed and heart peacefully satisfied, whether you're visiting as a couple, solo, or with a family.
Having enjoyed the area previously with my loved ones, this year I was happy to partner with Ruka-Kuusamo to bring you all of these tips. This time around, I returned to the area with my colleague Omar.
What are Ruka and Kuusamo?
Kuusamo is a town in Eastern Lapland and Ruka is its' best-known village. They are only a 20-minute, scenic drive away from each other.
The area is only an hour away from the Arctic Circle and a one-hour flight away from Helsinki.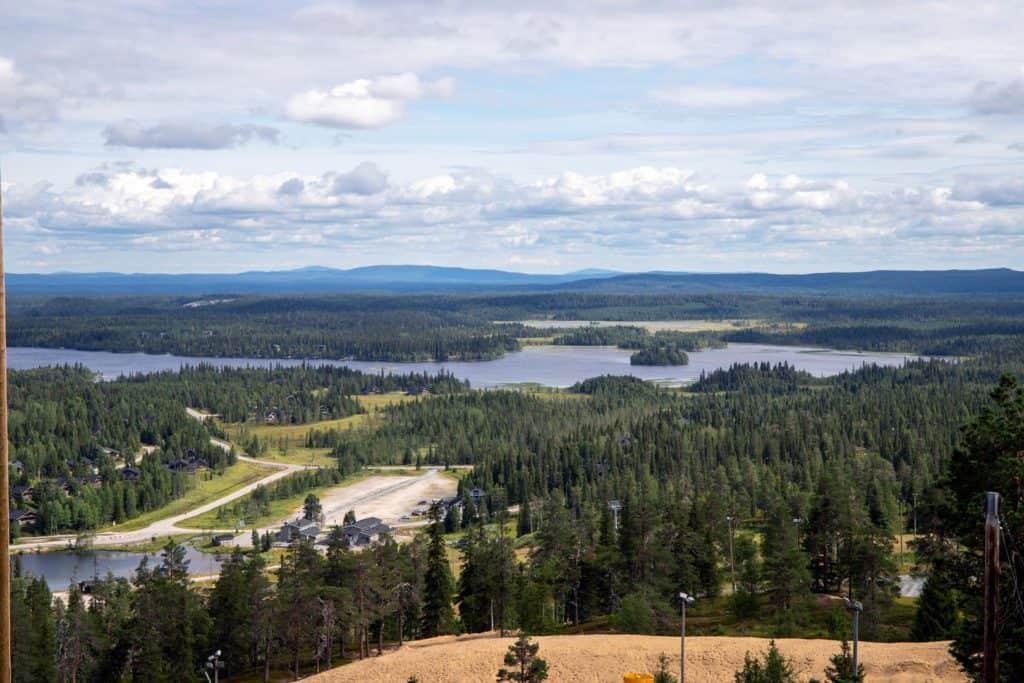 Ruka is the entertainment hub with a ton of activities, hotels, and restaurants. It has that cozy, laid-back, ski resort type of feeling. You don't necessarily even need a car here as there are so many activities accompanied by a pick-up service.
Kuusamo is a northern town with 15 000 inhabitants that has all of the services of a good-sized Finnish city. So, no worries if you forgot something, I'm pretty sure you can get it in Kuusamo.
When I'm talking about Ruka-Kuusamo in this post, I'm referring to the whole area.
Oulanka National Park Beginner's Guide
A trip to the Oulanka National Park is a must, if you ask me. With its almost 200 000 visitors in the year 2019, Oulanka is one of the superstars of Finnish national parks.
This park is so special because it captures all of the Finnish nature types. There are rocky lake views, lush groves, several types of swamps, lazy rivers, crazy rapids, thundering waterfalls, old spruce forests, and hilly woodland landscape. So, if you want to experience Finnish nature during a single day trip, this is seriously the best place to do it. A matter of fact, here is a bucket list of all of the beautiful natural sights in the area.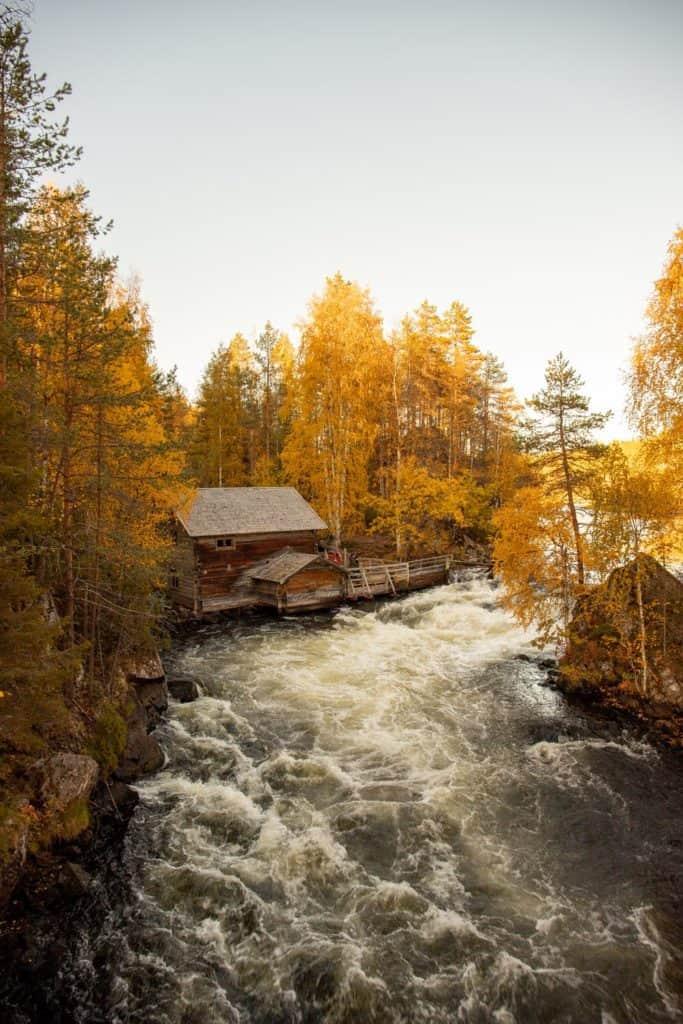 How to get to Oulanka National Park?
Oulanka National Park is close to Ruka. If you want to hike the Little Bear's Trail (more about that in the next paragraph), I recommend "Juuma" as the starting point. It's just a 20-minute drive away from Ruka. The address of the starting point is Juumantie 134, Kuusamo.
In Juuma, you'll find a cozy summer cafeteria offering snacks. The parking lot is free of charge, and during summer days, it's very full.
If you are visiting Oulanka during high season and want to beat the crowd, I'd go soon after breakfast or in the late afternoon (note that the cafe can be closed if you arrive too late in the afternoon).
The major towns "near-by" are Kuusamo, Oulu and Rovaniemi, all of which have an airport. Oulanka National Park is situated 40 minutes away from Kuusamo by car. Once you are in town, the easiest option is to rent a car and drive to the starting point in Juuma. You can get a bus or a taxi to Oulanka national park too, check that out here.
Oulanka National Park Trails
Oulanka National Park has one of the oldest and most legendary trails in Finland. It's called the "Bear's Trail" aka Karhunkierros, in Finnish. It's a point-to-point walk stretching out 50 miles (82 km) into the rich forest land of Eastern Lapland.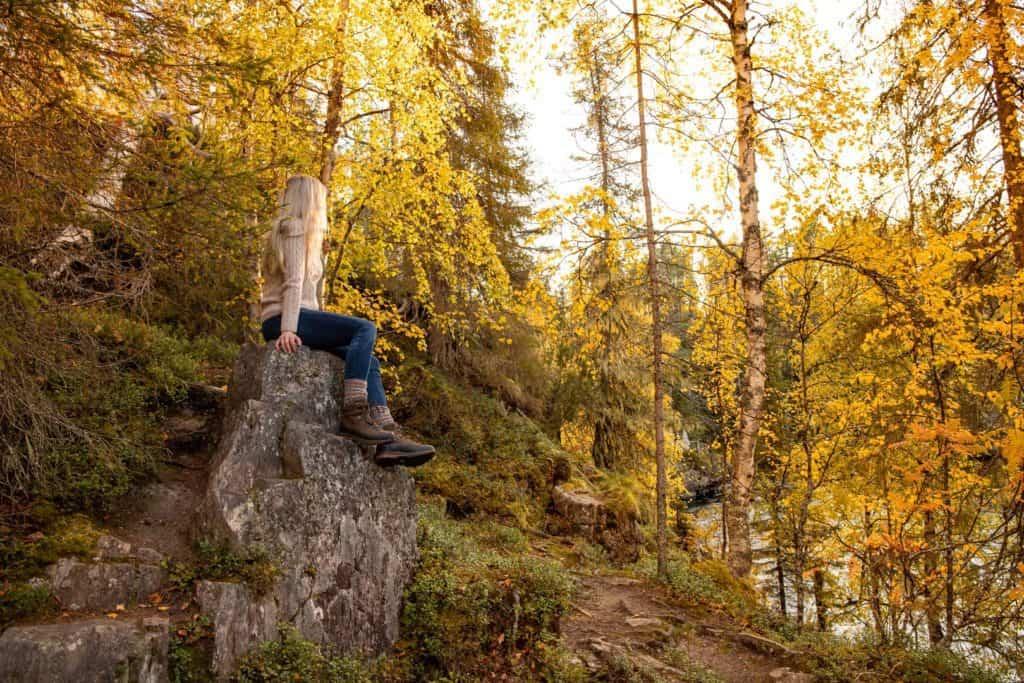 However, Pieni karhunkierros (Little Bear's trail) is a charming ring trail of 7 miles (12 km). It seems to be the choice of the day for the majority of beginner hikers.
There is only one steep climb, and it is with wooden stairs. Plenty of boardwalks provide easy steps along the route, and there are three hanging bridges that offer great views to the many-sided Kitkajoki river which connects to the Oulankajoki river.
Campsites and dry toilets are available, just like in other national parks around Finland. After four hours of strolling and a lunch break, we have completed this circle route which I highly recommend!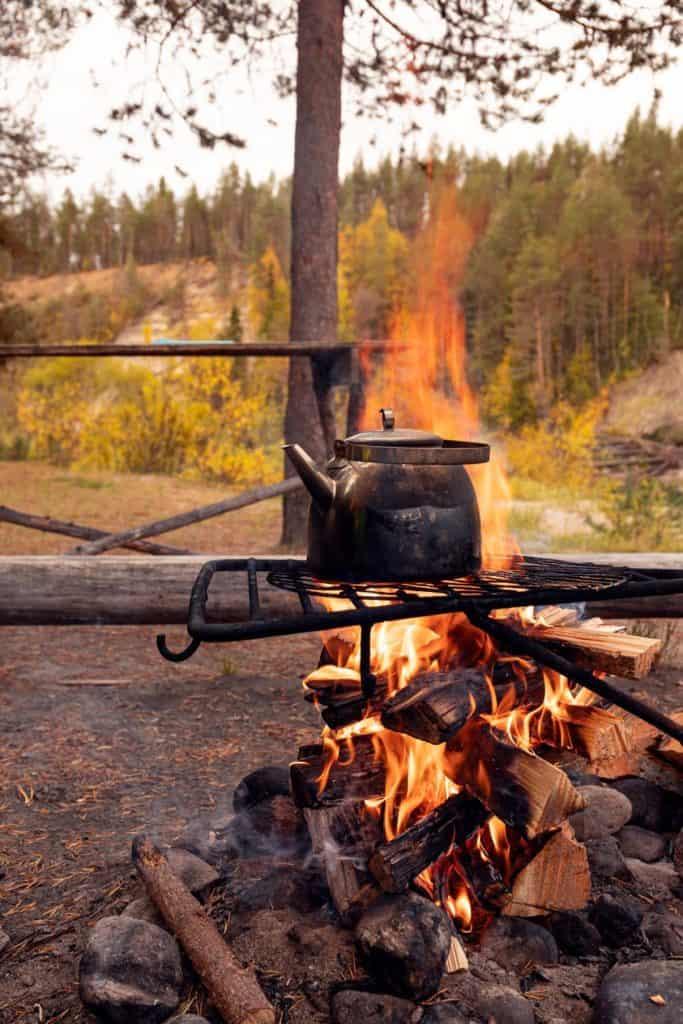 Oulanka National Park Tours and Canoeing
Antti from Ratia Forest Service is a wilderness guide. He provides guided tours in Oulanka national park, tours for all the natural sights in the region, and unique nature photography packages (auroras, hello!).
Besides helping you make the most out of your nature experience by foot or bike, Antti does wonderful canoe tours on the Oulanka River.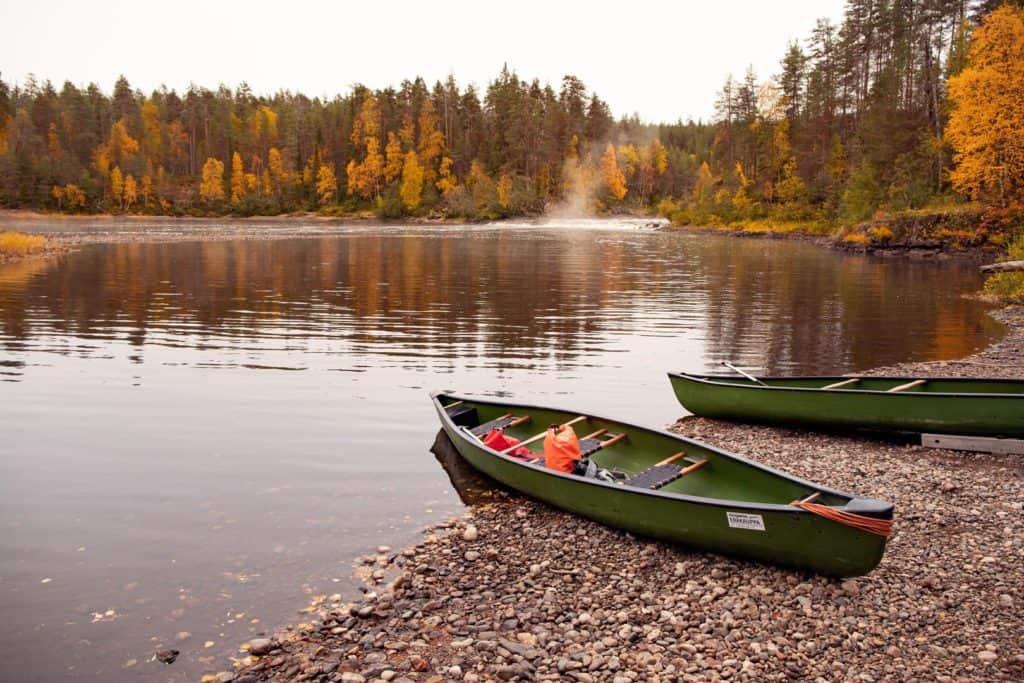 Canoeing on the Oulanka River is a very family-friendly activity and it's so special to see nature from the river's view. Reindeer love to relax by the sandy banks of the river in the summer. Don't be surprised if you see them while canoeing!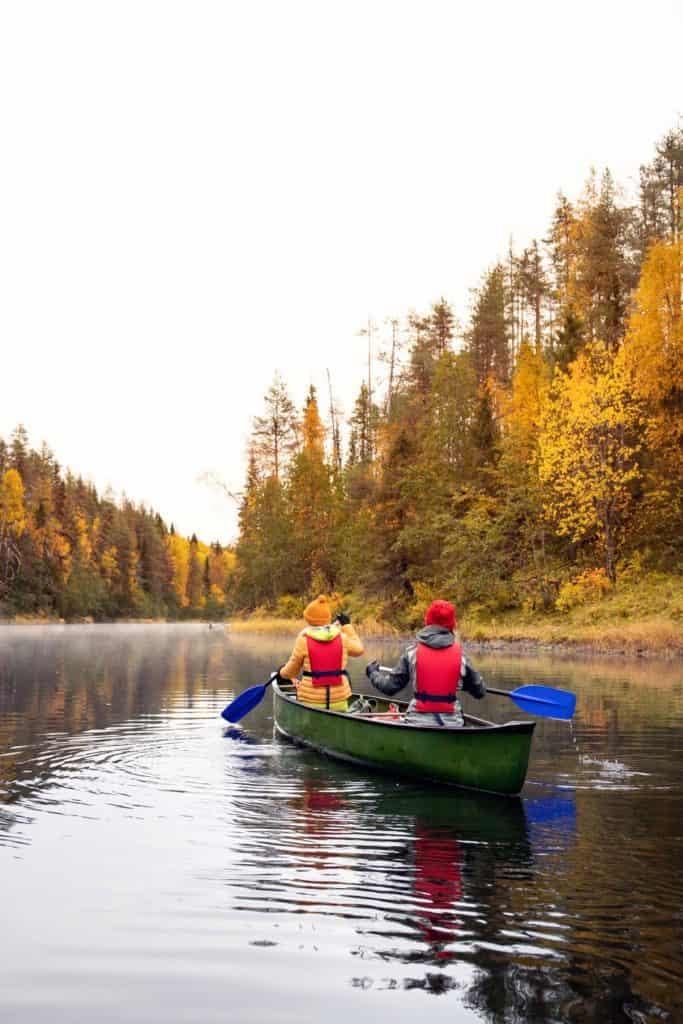 I love guided wilderness tours because I always have a lot of questions about nature, animals, and history. The other thing is, that if I'm traveling as a family, someone (read: me) has to buy, prepare, and pack all the snacks and food we need. So during our vacations, I spend a lot of time prepping food.
Give yourself (or someone in your family, what a great surprise!) a break from that hurdle. I thoroughly enjoyed attending a tour with an empty backpack and watching Antti build a fire and prepare a delicious wilderness meal on an open fire.
Oulanka National Park with a Baby or Toddler
If you're with a baby or toddler, a baby carrier is a great idea if you want to take a day trip.
One of my favorite spots in Little Bear's trail is the Myllykoski rapids. You can get close to this spot with a pram by driving your car to the parking lot at Myllykoskentie 30, Oulanka. There's a wide trail that is accessible for prams and wheelchairs. After a short stroll, you'll see the canyon and the Kitkajoki River.
FinNISH CONNECTION COLLECTION 🇫🇮
Finland-themed sweaters and accessories made-to-order. 🧡 Worldwide shipping.
Packing List for a Day Trip in Oulanka National Park
Here are the things you should take with you for a day trip in the summer or autumn, for example, if you plan to hike the Little Bear's trail. Some things are not a must, but a good idea to bring if you have space.
Food items
Water. 1 liter/person.
Snacks: For example, bananas, dried fruits, nuts & seeds. 2 sandwiches/person.
Clothing
Proper shoes (hiking boots are not a must on this hike)
Comfortable underwear, socks, shirt, and pants
Depending on the weather: a waterproof jacket and pants, a warm knit, a beanie & gloves
Gear
Map/trail guides
Plastic garbage bag (there are no bins on route)
Charged phone
Charged camera
Toilet paper
Hand sanitizer
Insect repellant
Cash
Car keys
Things to consider
Sunglasses
Sun lotion, if sunny
Foldable foam seat pad (so lovely during breaks)
Pack rain cover
First aid kit
Electrolyte replacement powder to mix with drinking water to avoid dehydration, muscle cramps, dizziness, and tiredness.
The Best Autumn and Summer Activities in Ruka-Kuusamo
The summertime in Ruka-Kuusamo summons all hikers, bikers, fishers, and wanderers under the nighttime sun. There is even a summer-weekly program to help you plan your activities.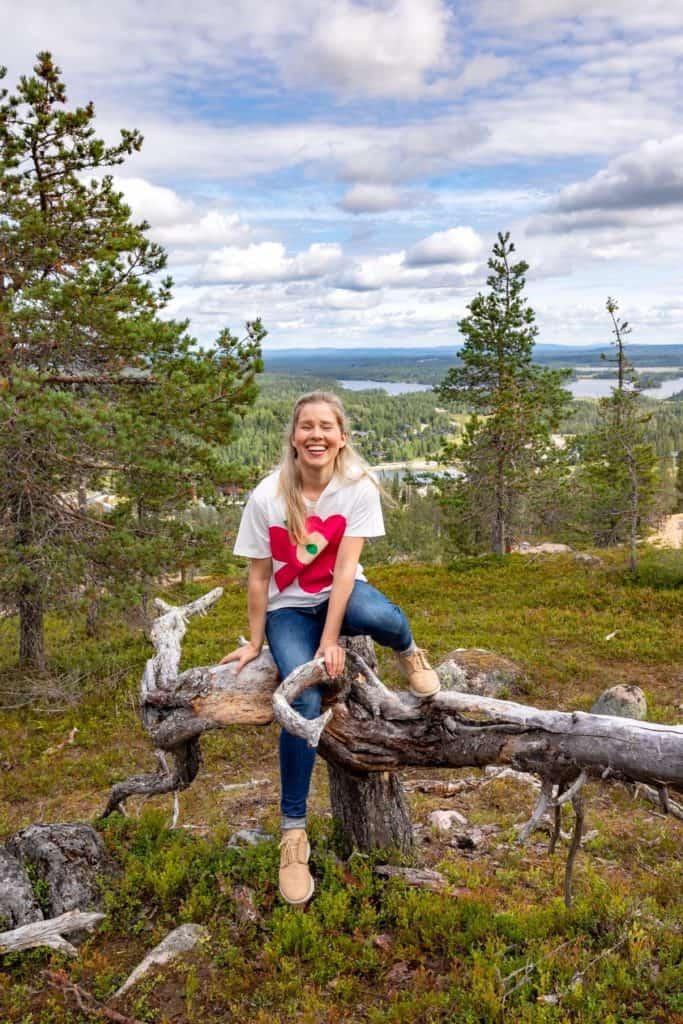 The autumn, especially mid to late September, is breathtakingly beautiful in the area as not only the trees, but the ground also bursts with fall colors.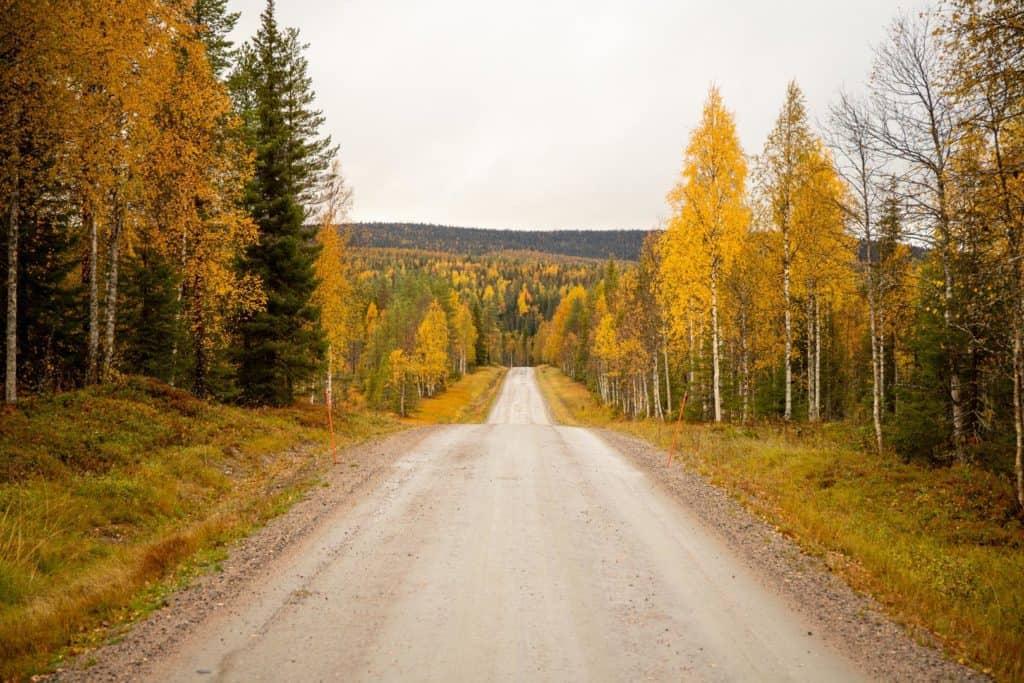 Rich shades of reds, oranges, and yellows paint the foliage surrounding you. Combined with the autumn morning mist, you'll feel as if you're visiting an enchanted fairy kingdom.
Ruka Scenic Gondola and Summer Sled Track
This is my recommended way to start your Ruka visit. The gondola takes you to the top of the Ruka Fell. It's like the Finnish wilderness is giving you a big hug when you take in its beautiful views.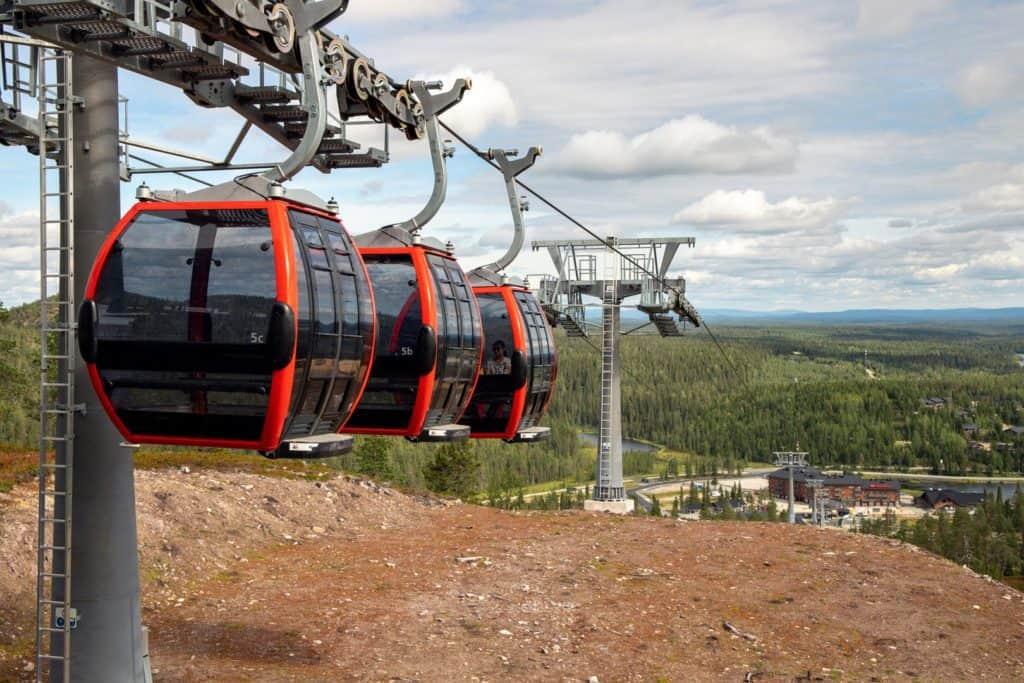 Come back to the Ruka center and take the other lift to try the Ruka summer sled track to get your endorphins flowing. Children above 4 years old will love this activity.
River Rafting in Ruka and Kuusamo
Based on my empirical studies talking with the locals, there are two main reasons why non-Kuusamo folks have moved to Kuusamo.
1. They fell in love with a local who refused to move from the Kuusamo area (which I completely understand).
2. They fell in love with the white water rafting that is the special feature of this region.
So, you have been warned, visiting this area may completely change your life!
There are multiple white water rafting tours to pick from. The most popular tours are the family-friendly Seven Rapids adventure, which I did, and then the only-for-adults Kitkajoki adventure.
All excursions begin at the safari house of Tailored Adventures in the heart of Ruka. After everyone has received their needed equipment, there's a car transfer to the starting point where you get further rafting training.
The Seven Rapids adventure is suitable for kids older than 5 years old so I thought it would be a mellow route. I was wrong! It's definitely rafting and a good workout with the oars. There will be plenty of splashes and a bucketful of water for those sitting in the front. The children sit safely in the middle.
Our adventure ended in the Pohjantähti Wilderness Lodge where we got to enjoy freshly brewed coffee, sandwiches, sausages, and pastries by the campfire.
Personally, I still want to conquer the wild rapids of Kitkajoki myself. All of the rafting guides told me that if I want to experience the Kitkajoki at its maximum speed, I should come back in June. That is definitely my plan. This daredevil route and many other route options can be found here.
Electric Fat Biking in Ruka
To be honest, I had hesitations with this one. On a bike, I'm super clumsy on uneven ground and was thinking that I'm going to be cycling on top of bumpy rocks and roots.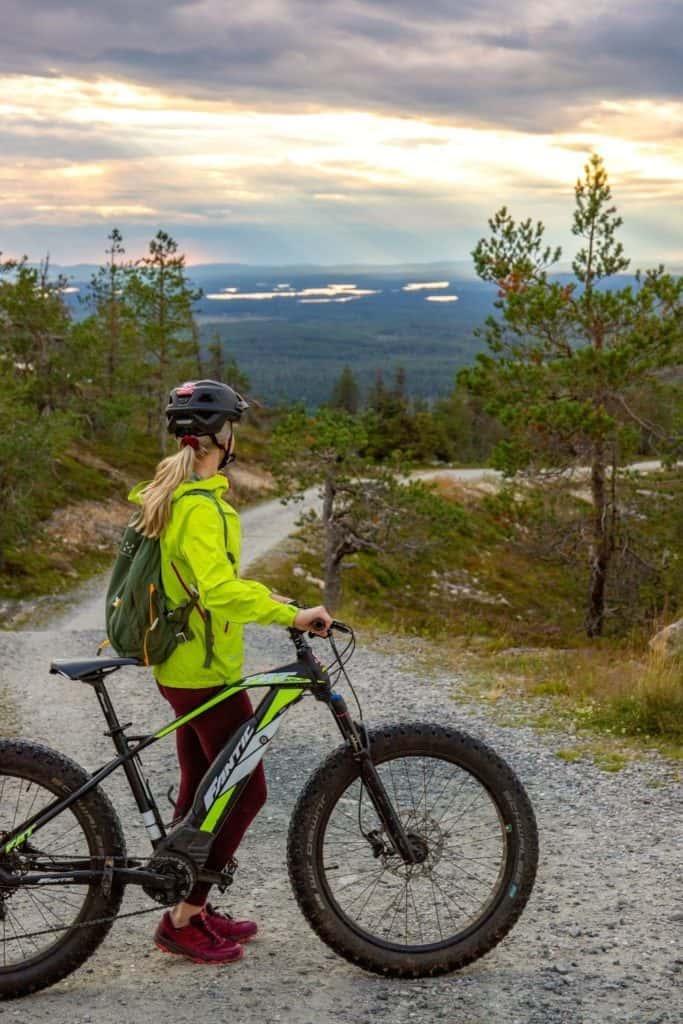 I was relieved to discover that would not be the case with electric fat biking at all. The trails are wide and comfortable, even for total beginners. Also, using an electric fat bike is as easy as riding a regular bike. It's just one extra button. The personnel of Sport House Ruka gives a great tutorial about how everything works before you jump on the bike.
There are over 180 kms of biking routes in Ruka-Kuusamo. My favorite bike trail was the scenic route on top of the Ruka fell. The views are just incredible. There's a parking lot just next to the peak so you can leave the car there. Address: Juhannuskalliontie 27.
Bear Watching in Kuusamo
First things first, it's totally safe to move around in the Finnish forests. Bears and other wild animals are very, very shy. You're not going to bump into a bear when you're simply walking in the wilderness.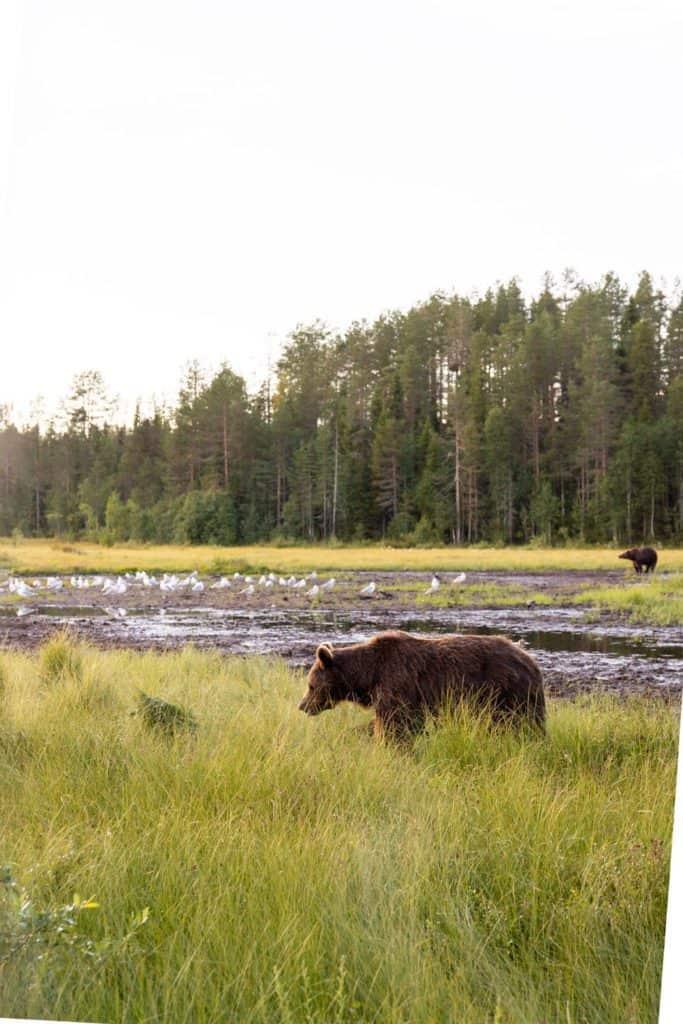 Seeing bears in their own natural habitat has always been on my bucket list. The encounter was as incredible as I thought it would be. Our group saw 10 bears and 3 of them were cubs. As an unexpected bonus, I saw 5 sea eagles too. This experience I will never forget!
So, how to see bears? Follow these simple steps below.
Book your bear-watching excursion online through Karhu Kuusamo. The peak season is from May until the end of September. If you don't see a bear, you'll get another visit for free.
Make sure to do this activity without wearing any perfume or mosquito repellent that day. The bears can smell those.
Enjoy an early dinner. I can warmly recommend all the restaurants in this post as an utterly delicious pre-activity.
Bring water & silent snacks. We bought nuts and biscuits, opened all wrappers, and made a mix in a resealable plastic bag. We also had some tea in a thermos flask.
The hut can be quite warm in the summertime, so wear a t-shirt underneath warmer layers. With outerwear, dark colors are great. As for shoes, take sneakers or similar. The facilities are good (bunk beds, a toilet etc.), and you can do this activity with kids too.
Drive 40 minutes from Ruka to the meet-up place at Kuntijärventie 127 (a map app takes you there easily).
Meet your guide. We were with bear guru Kaitsu, who knows bears inside out.
Then, wait and meet the bear family.

Ruka Husky Safaris in the Summer and Autumn
Did you know that there are lots of things you can do with huskies in the summer and autumn time? The husky kennels in Ruka-Kuusamo offer husky visits and personalized husky experiences for private groups in the summer and autumn. Here you can see all the husky activities.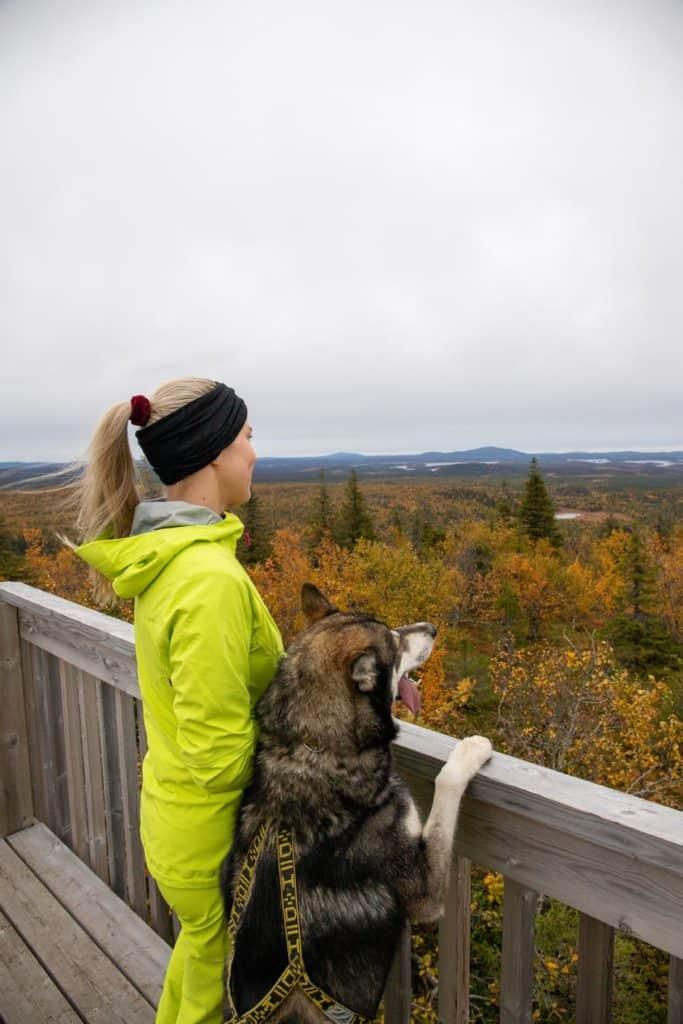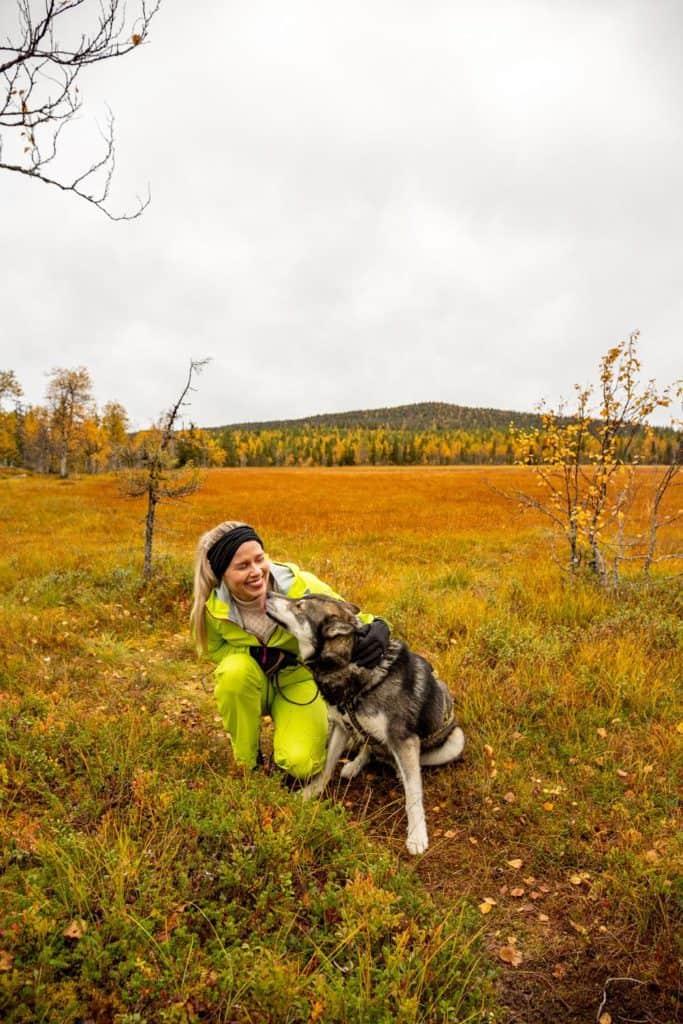 I had the best time with my pal Sirius visiting Kuntivaara fell which is super close to the Finland-Russian border. This place is also very close to the bear watching site and Isokenkäisten Klubi.
Visiting a Reindeer Ranch
Reindeer look so cute with their fluffy noses but before visiting Palosaari Reindeer Ranch I had never touched one. Our visit started with giving the reindeer their breakfast and learning about each reindeer's life. A summer visit to a reindeer ranch is also suitable for little children.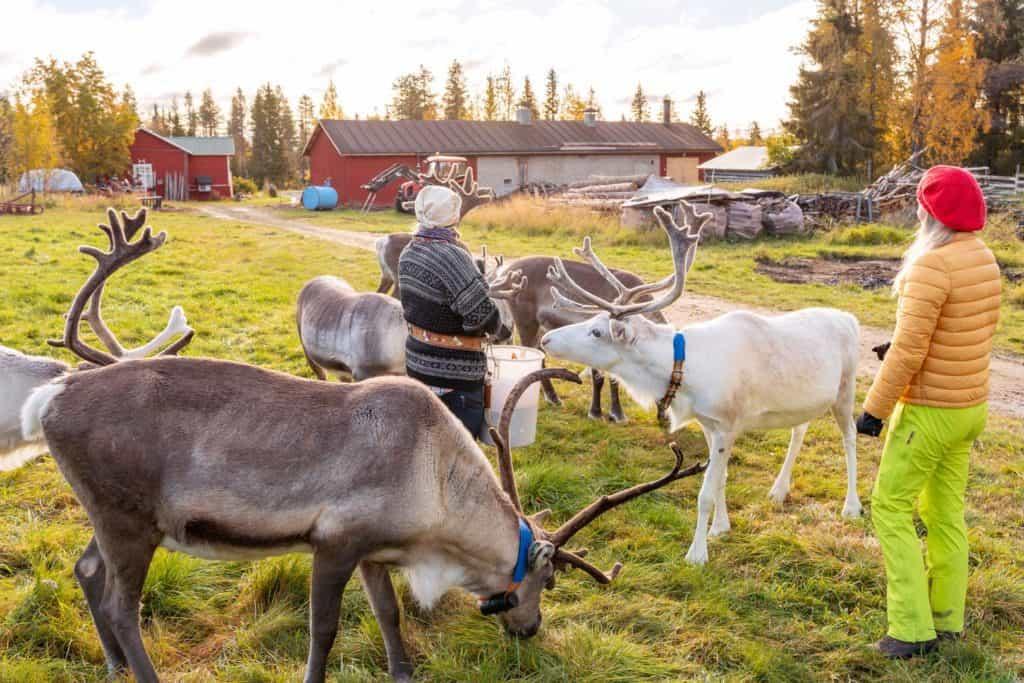 You can see how important the reindeer and all the farm's animals are to Satu, a third-generation reindeer herder. It also seems that they understand each other without using any words.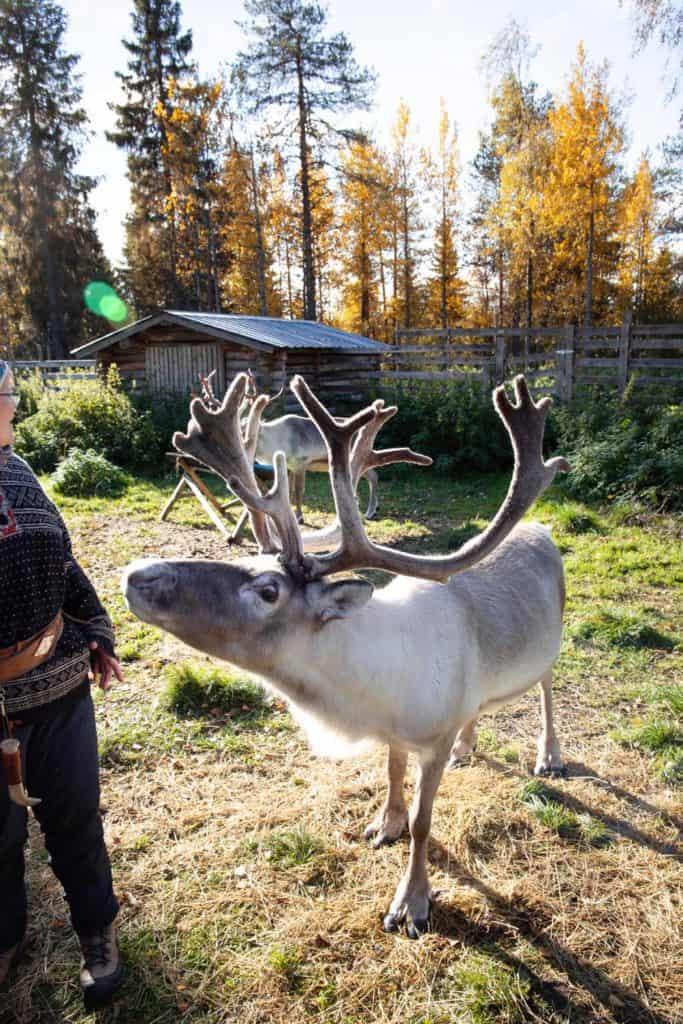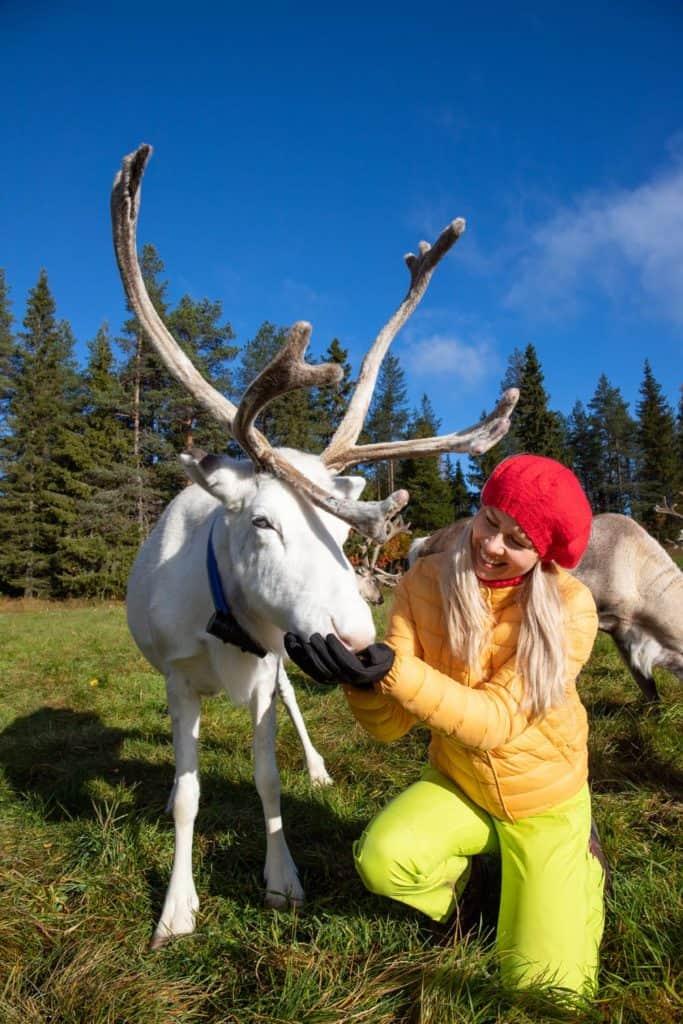 Satu is a true wild food expert and we were able to forage mushrooms and talk about herding as a profession. This visit is truly special as you don't feel like a customer but a welcomed house guest.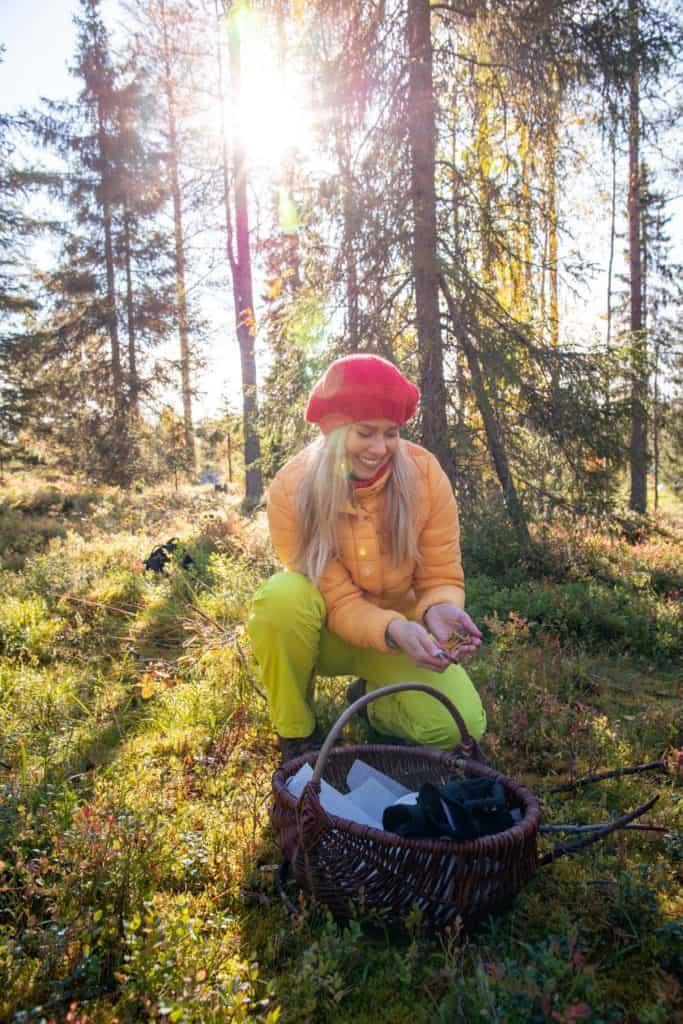 Experience a Finnish Sauna and the Finnish Lifestyle at a Countryside Family Estate
As a Finland coach, I get a lot of questions about where to have guided experiences about the Finnish sauna and the Finnish lifestyle. Well, look no further. Pohjolan Pirtti is the place.
Seriously, if I had no strings (like my dear family and mortgage) attached, I would probably persuade Pohjolan Pirtti to adopt me, and then happily sit in the corner of the gigantic living room with my laptop. It's hard to explain in words, but there's something magical about this place and its people.
We got to enjoy two different programs here. The Day as a Finn – program was one that was very nostalgic for me because it transported me back to my countryside childhood.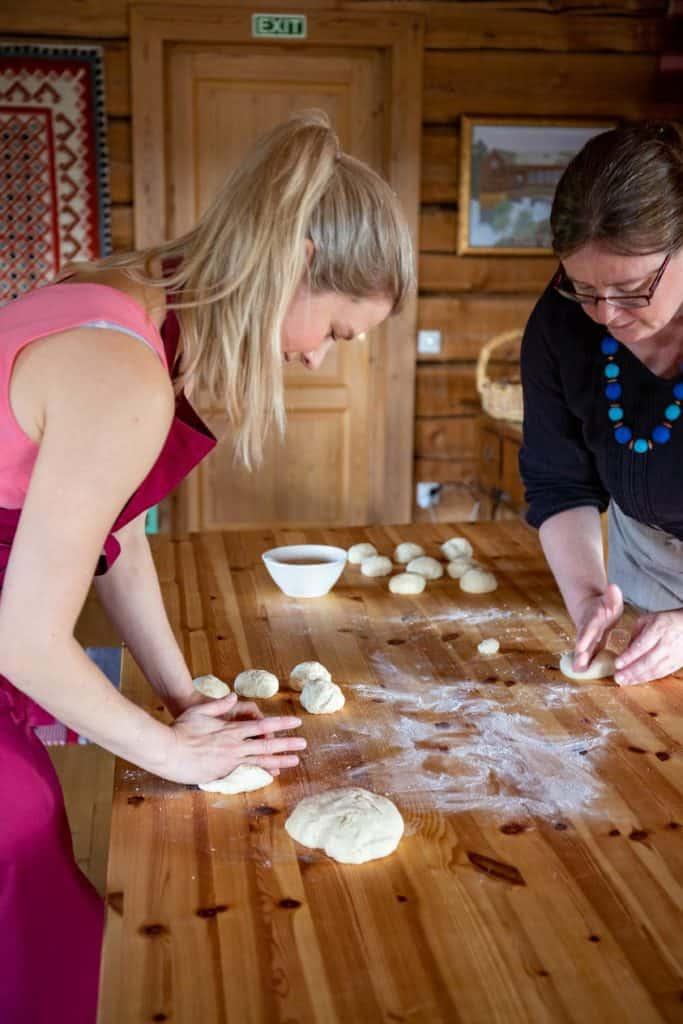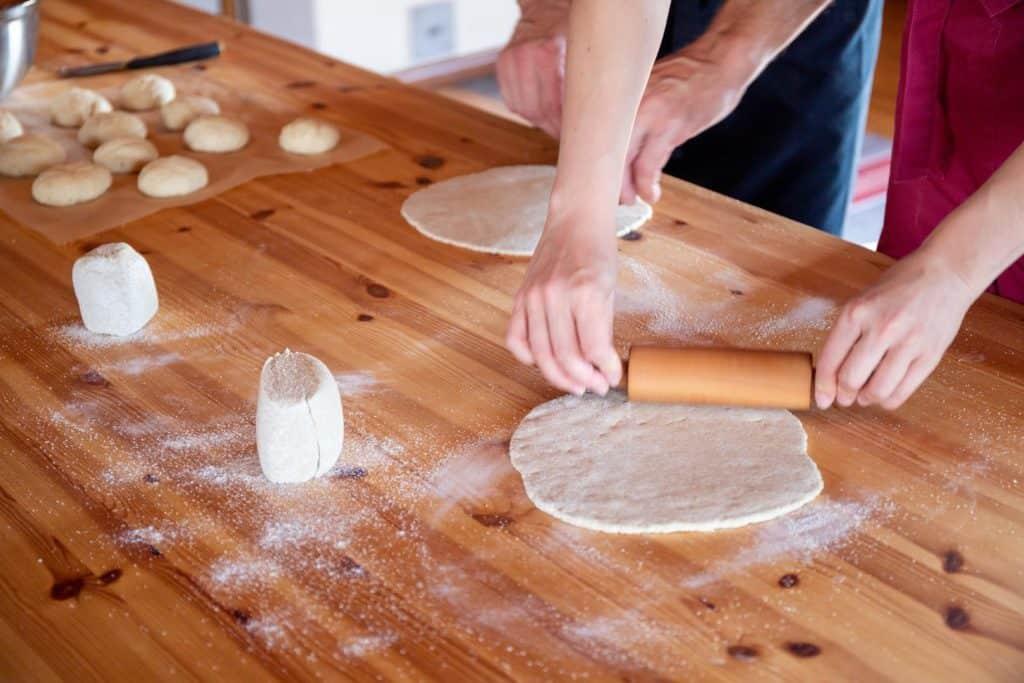 We baked traditional pastries with a huge old-fashioned oven and learned about local history and traditions.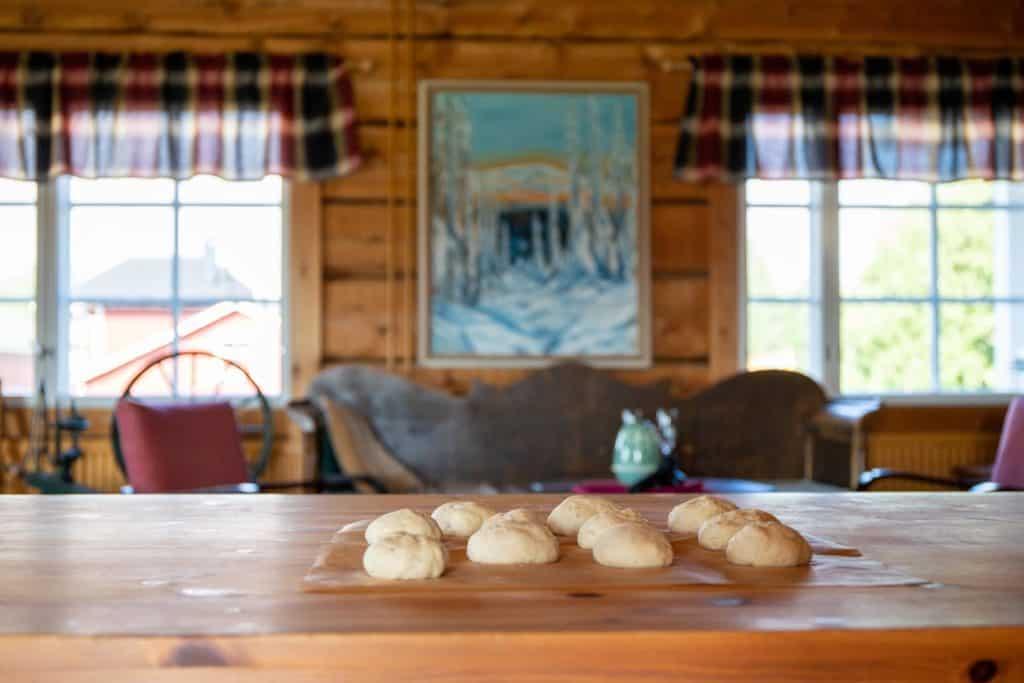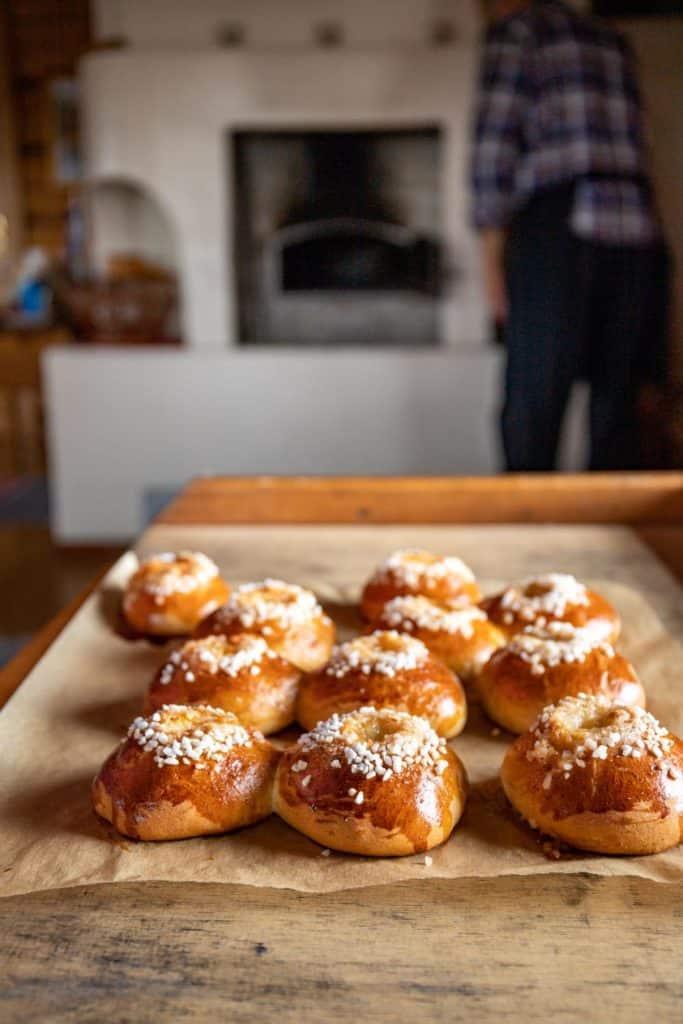 Lastly, we sat down together to enjoy a delicious wild food lunch. If you're looking for connecting with the Finnish lifestyle, this is definitely your program.
The Kuusamo region is quite famous for Finnish folk-healing traditions which are based on the healing and integrative powers of nature. They are also related closely to silence and slowing down.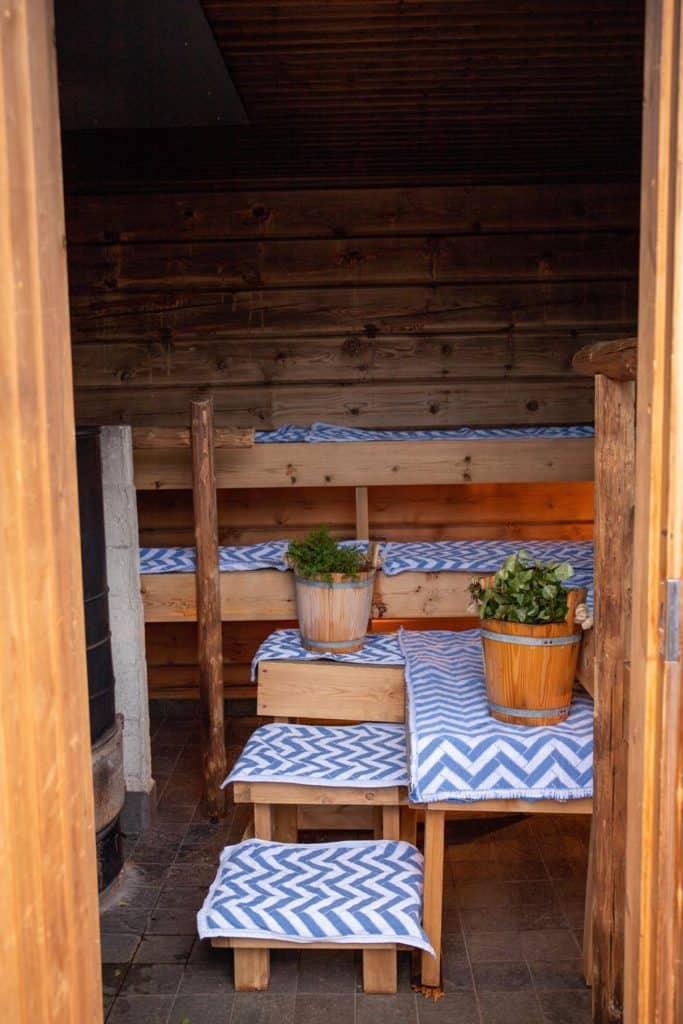 For many Finns, the sauna is a place for calming down and listening to oneself. This next program embodied these elements into a single evening.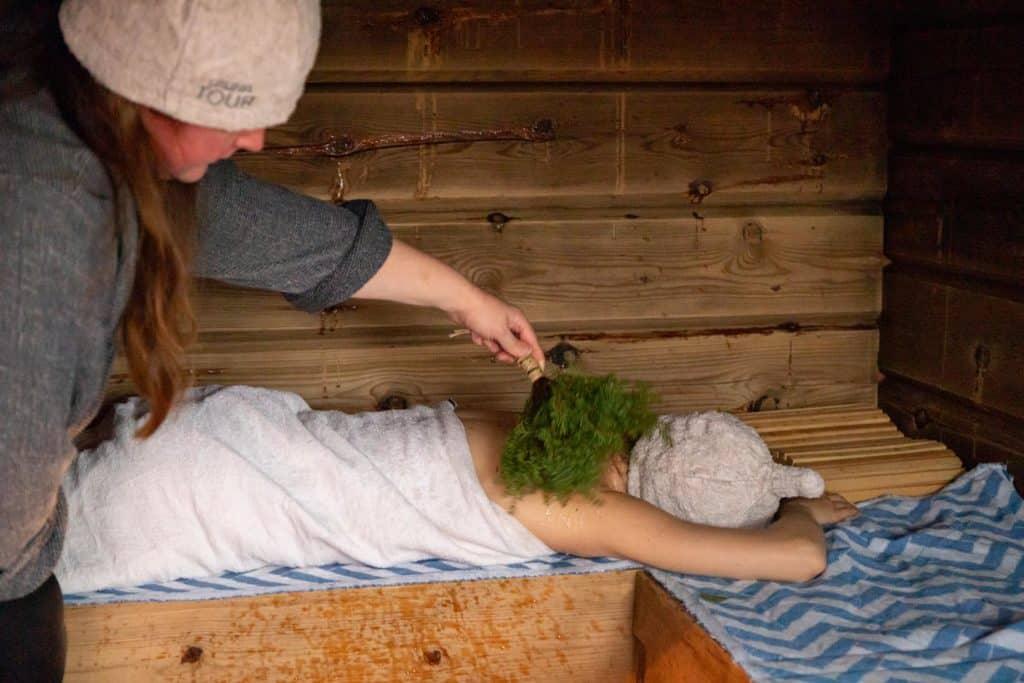 I can recommend the guided Pohjolan Pirtti's Countryside sauna tour evening for anyone, also fellow Finns. It leaves the body and the mind thoroughly relaxed. I promise, the next night, you'll sleep like a baby.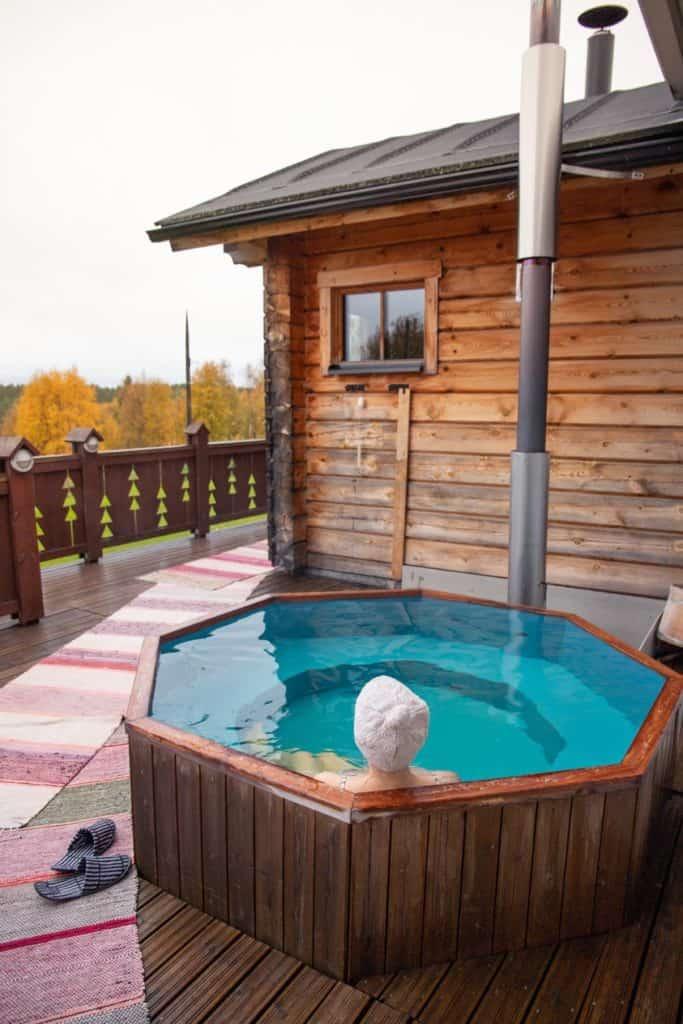 Tanja's mini sauna treatment with whisks made of different trees is an incredible experience. I immediately incorporated it into my own sauna moments at home. The evening is completed with a delicious wild food dinner by candlelight.
Grab the free kit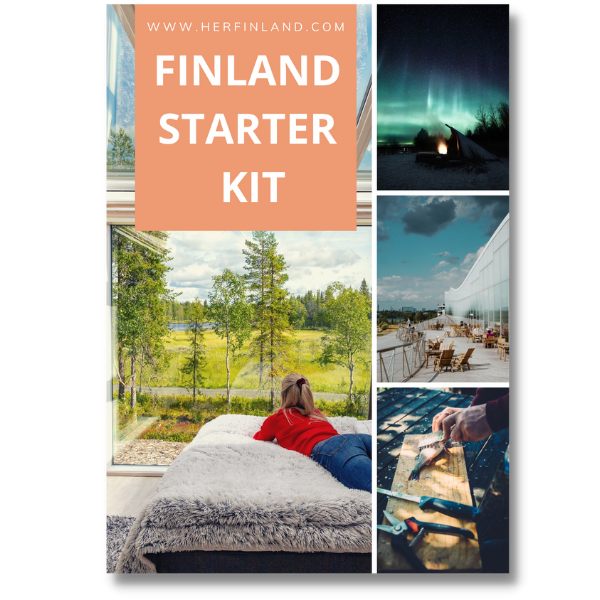 3 Suggestions for Unforgettable Accommodations in Ruka-Kuusamo
Iisakki Glass Village
A glass villa is just as beautiful as it sounds! The carefully selected interior combined with the lakeside and forest views… it all just feels unreal.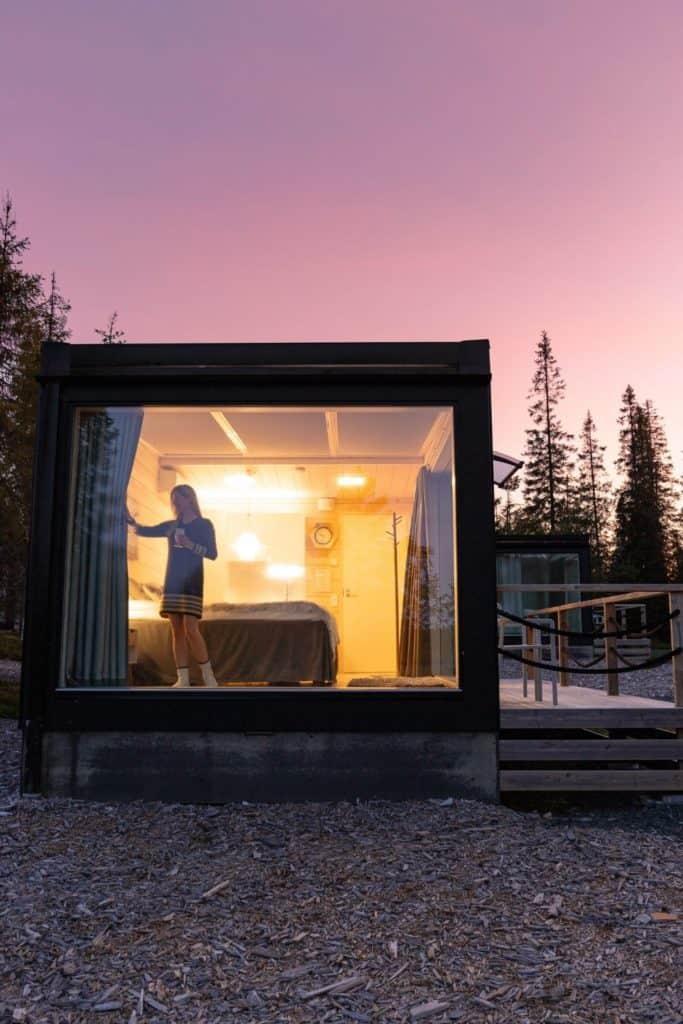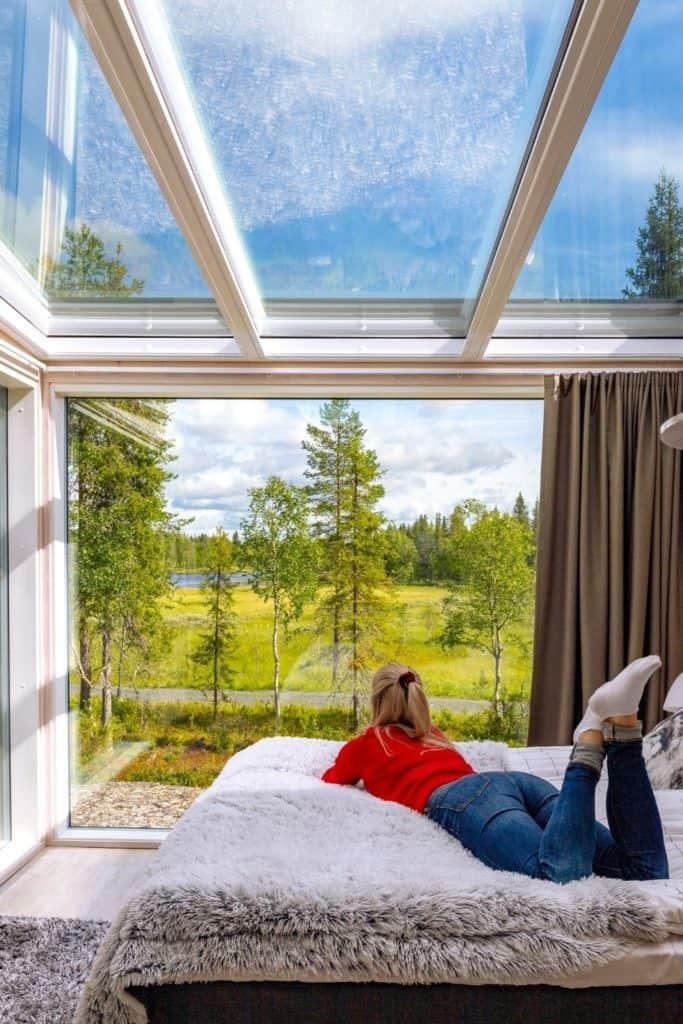 This glass village hasn't forgotten the practical side of things either. The bed is luxurious, the air conditioning makes sure that it's comfortable to spend time in the villa, and the 360-degree window blinders ensure that you can get the villa completely dark if you want.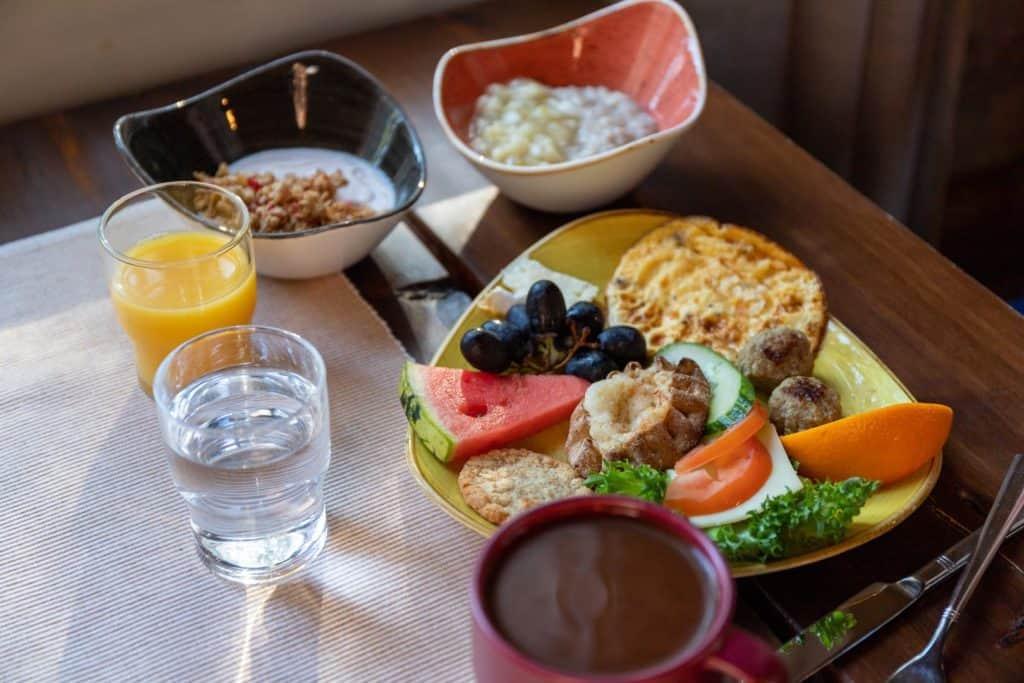 Iisakki Glass Village's home-made breakfast is heavenly and will set you up for a lovely day. You can also freely use the village's boats, sup boards, canoes, and other equipment.
Rukan Salonki
These are superb high-quality chalets in Ruka. It's safe to say that I have never stayed in such a stunning chalet like the one at Rukan Salonki.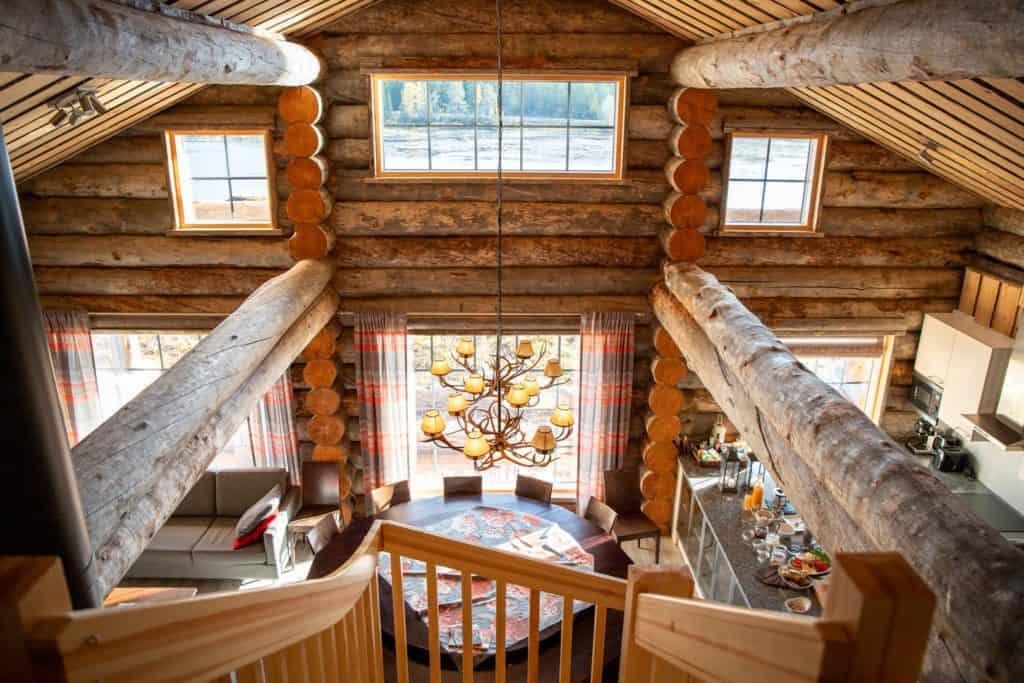 They have different sized cabins, so be sure to browse through their diverse offerings here. Some of the chalets have a sky window which is perfect for admiring the northern lights, should they appear.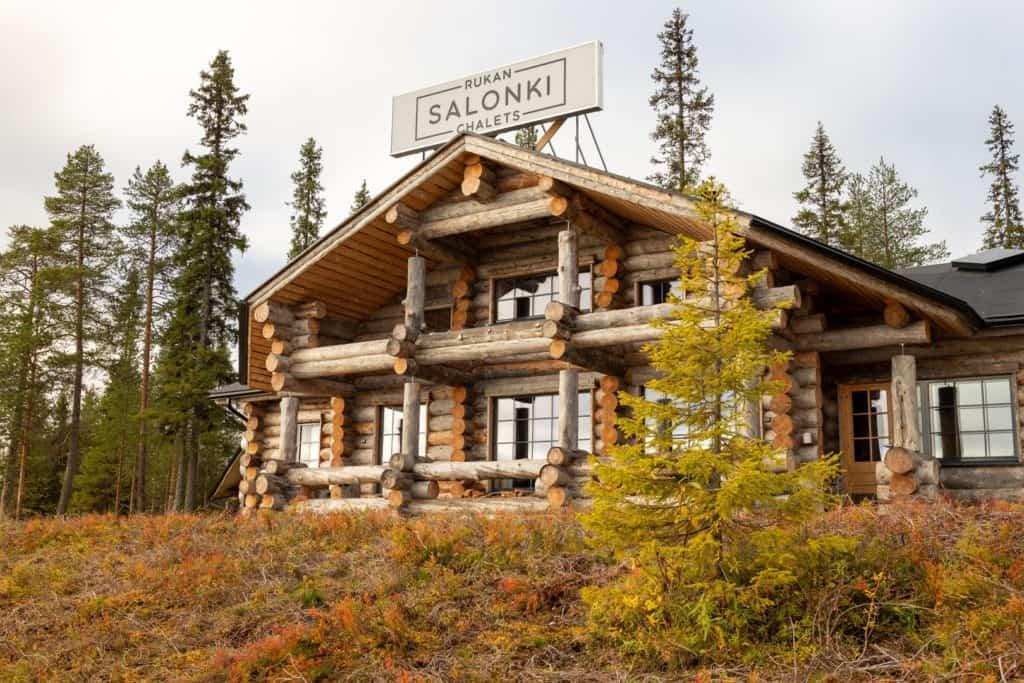 One very cool feature about Rukan Salonki is that you can order food and meals from them. It was such a great way of enjoying a laid-back, relaxing breakfast in the cabin as everything was already waiting there once we arrived.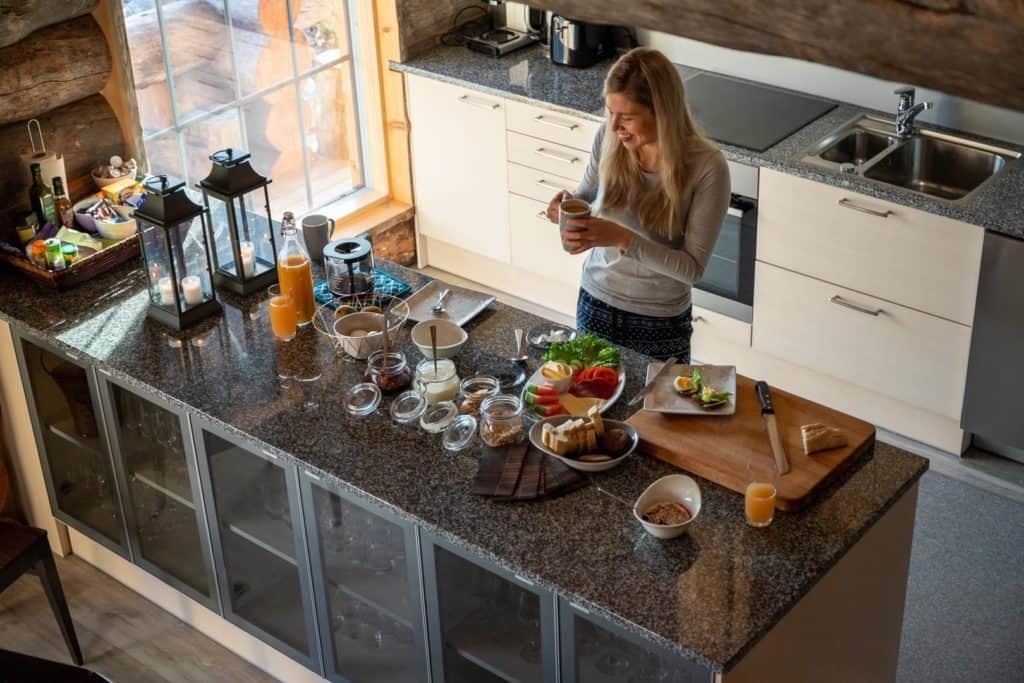 Isokenkäisten Klubi
There aren't many places that mix wilderness lodging with modern amenities and beautiful aesthetics as well as Isokenkäisten Klubi.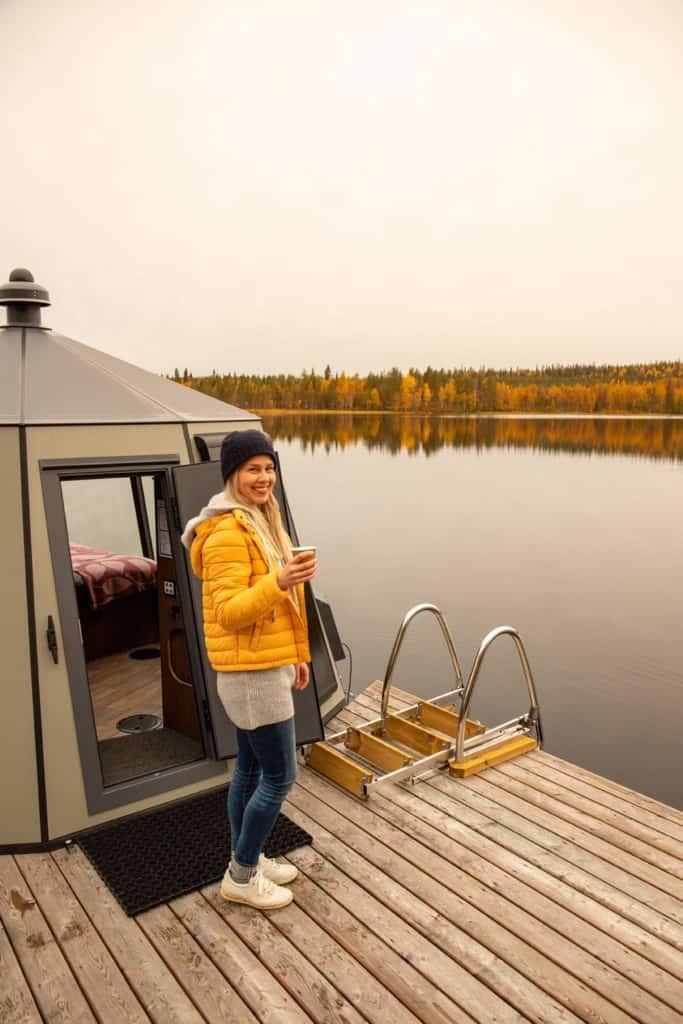 It's truly a boutique wilderness resort. As a family-owned business, you can see the attention to detail anywhere you look.
The resort has lots of different accommodation options, from once-in-a-lifetime Aurora huts to home-like hotel rooms with different sized cabins.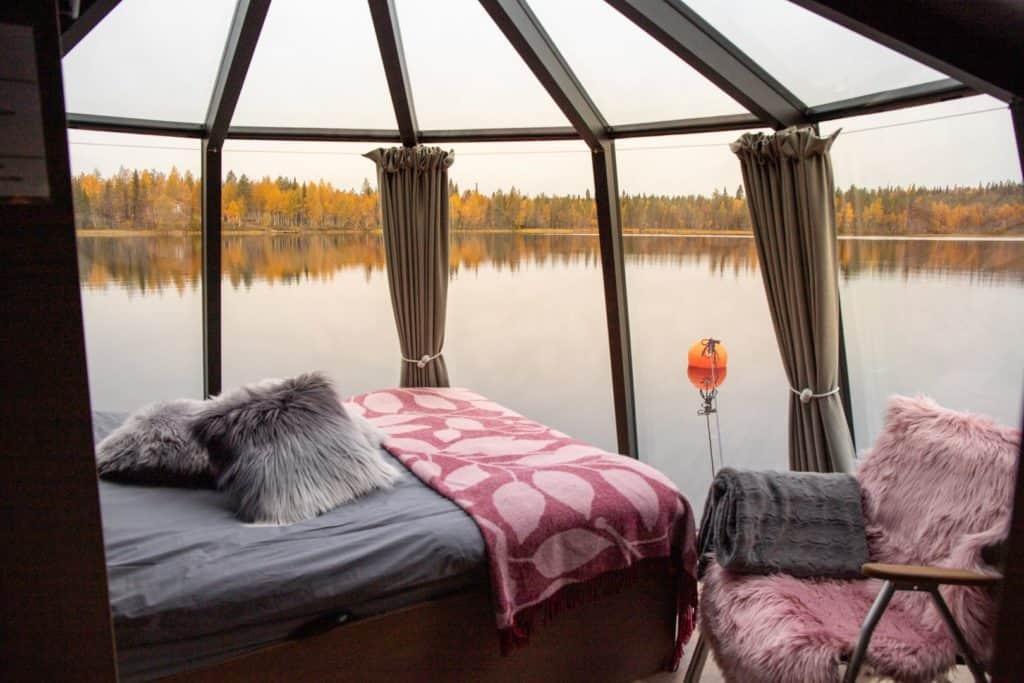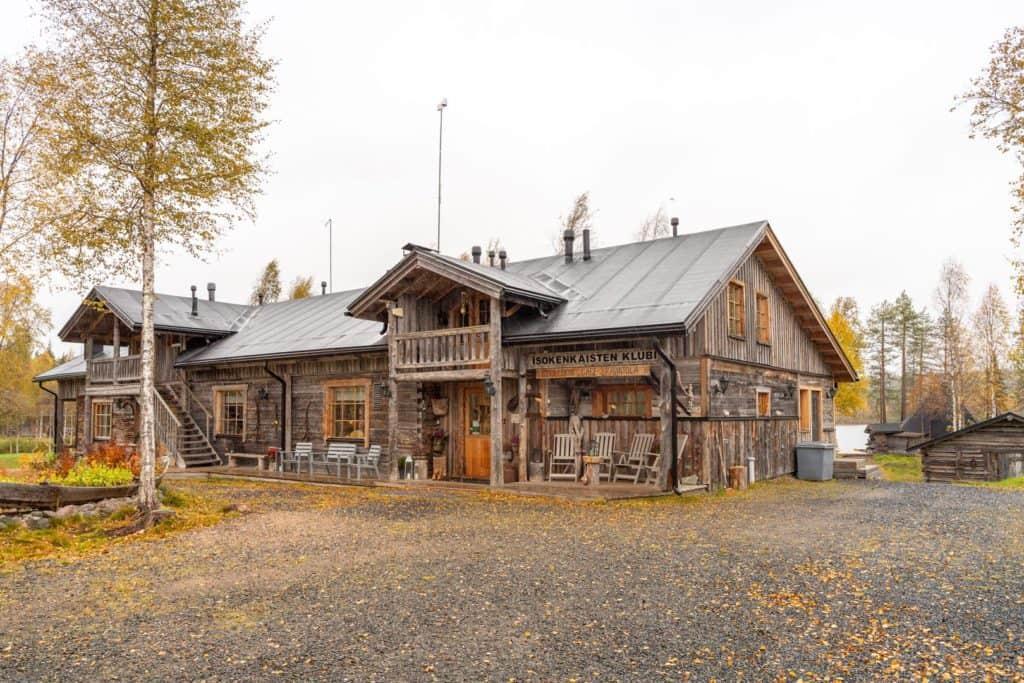 The breakfast with tasty wild food dishes is yummy. All meals can be catered to the cottage or served-to-order at the restaurant.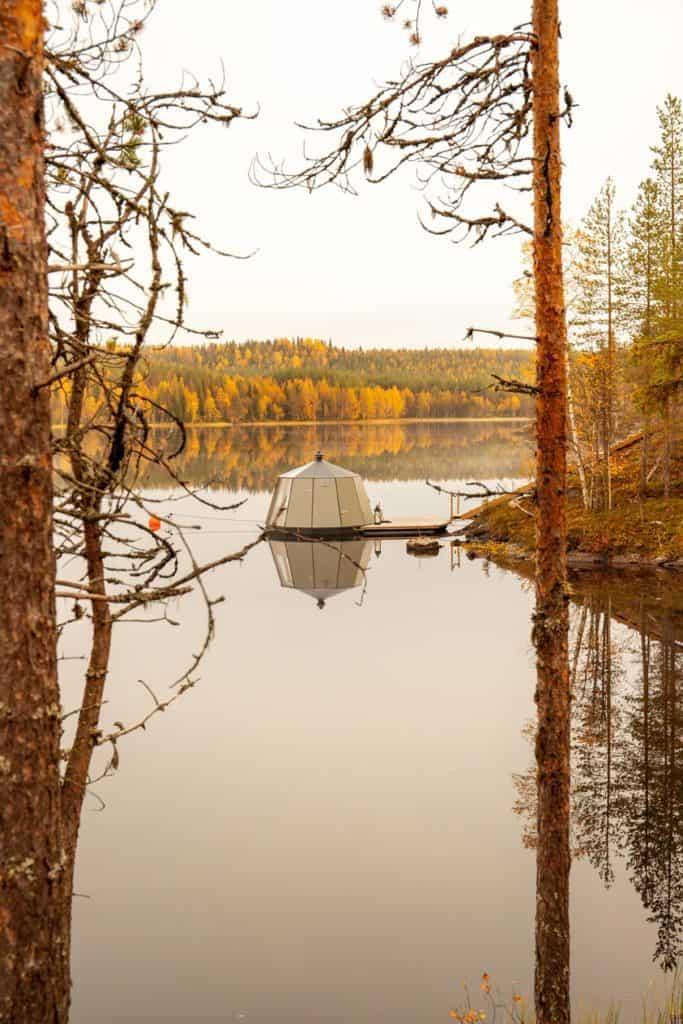 Guests can freely use the lakeshore sauna and rowboat. If you're looking forward to a wilderness retreat, Isokenkäisten Klubi is a great choice.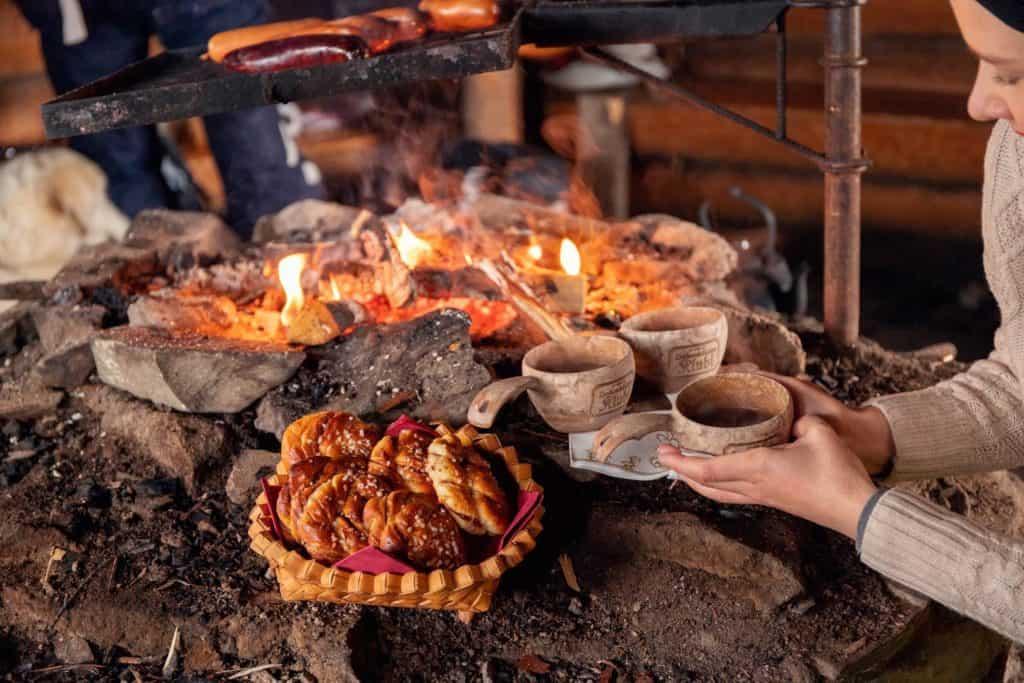 Restaurants in Kuusamo that make you want to lick your plate
The One-of-a-kind Food Experience in Isokenkäisten Klubi
The most beautiful Finnish food experience that satisfied all 5 of my senses was the "Cooking by the fire" workshop in Isokenkäisten Klubi. I would recommend this experience to any foodie!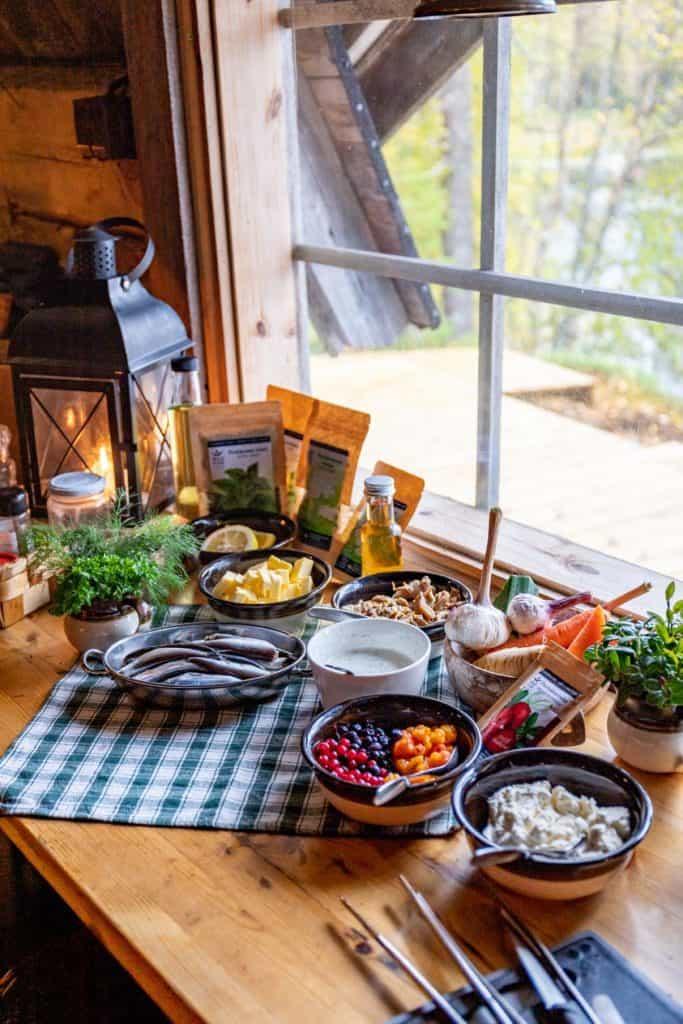 In a nutshell, it is a wild food gourmet meal workshop that takes place in a traditional Lappish hut called "kota," in Finnish. The workshop is guided by the owner of Isokenkäisten Klubi, Sirpa, who is an incredible chef and food educator.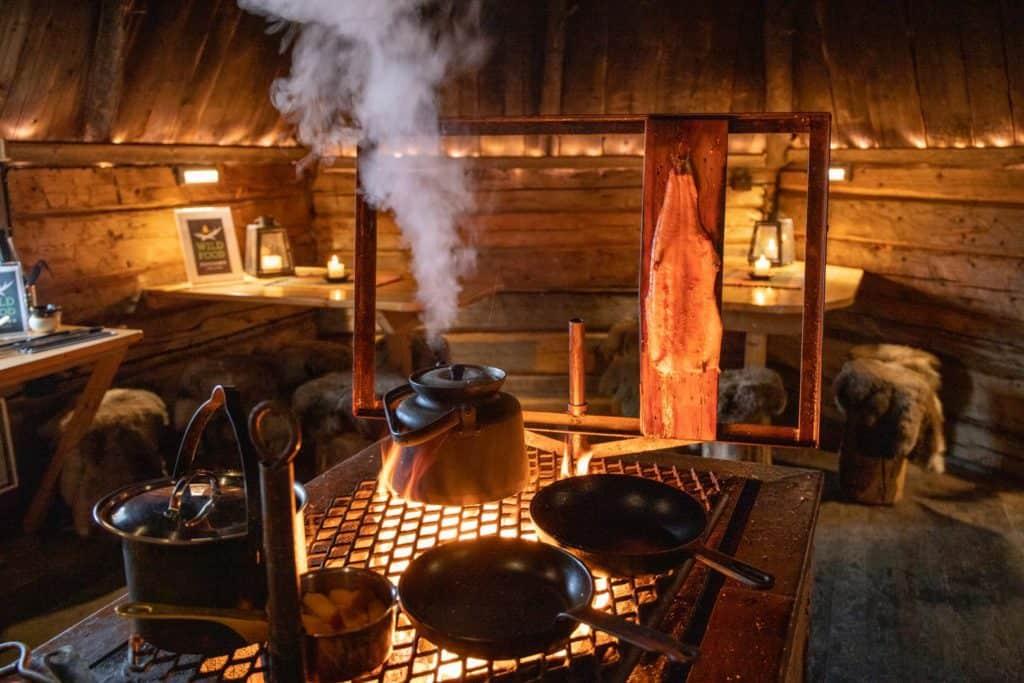 I was in awe watching her work effortlessly on the open flame with pots, pans, and glow-fried salmon while telling stories, giving us tasks, and explaining the secrets of each ingredient.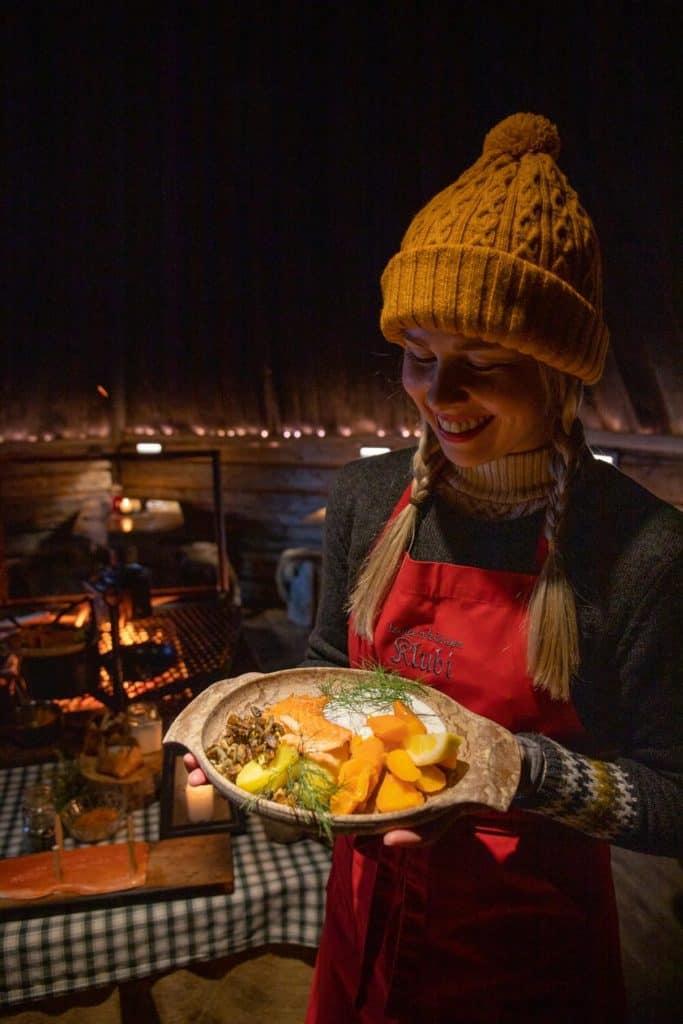 But then, you're part of the experience yourself, making the food with her. And the hut is so inviting, every ingredient is laid out so delicately… If you have ever wished to be in a Disney movie, this is the closest you can get!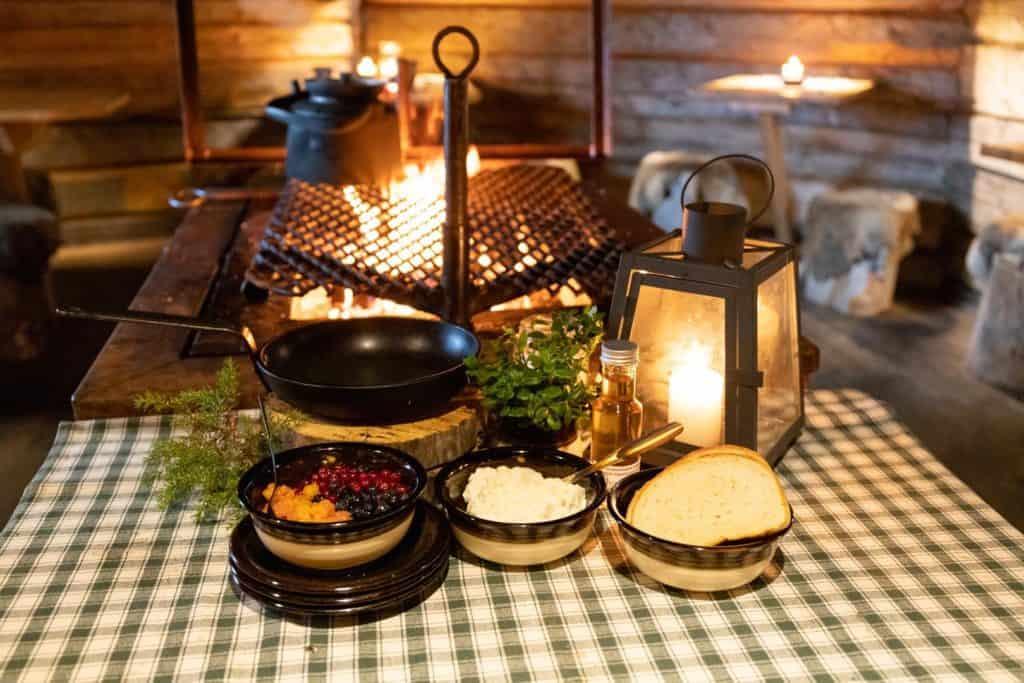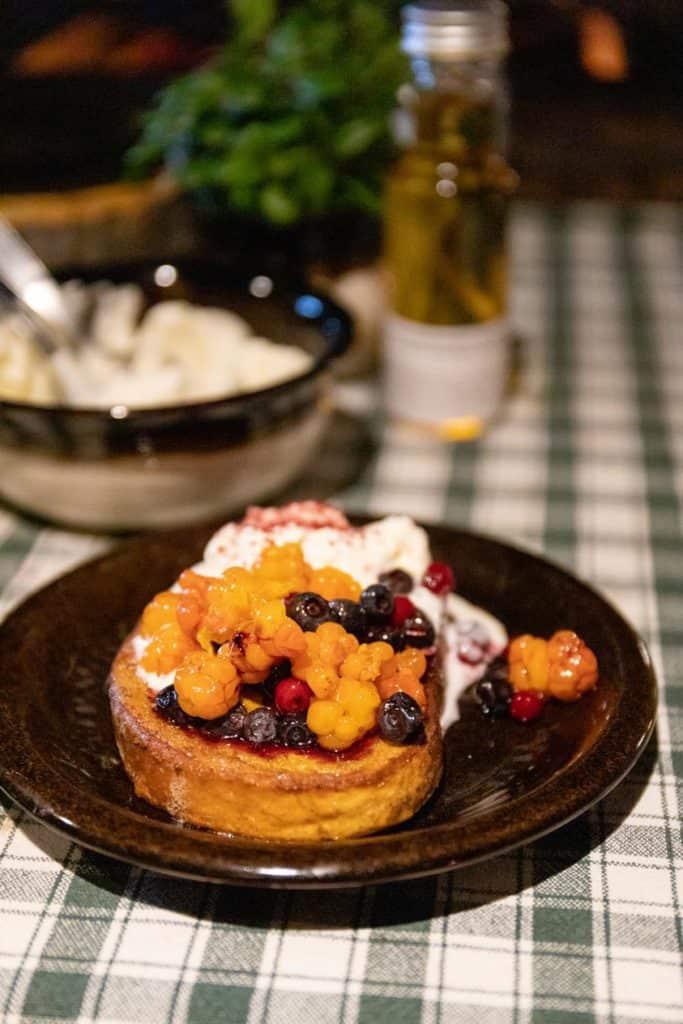 For dessert, we made Poor Knights, a tasty dish of fried white bread served with forest berry jam and whipped cream.
Restaurant Talonpöytä
If you're hungry and close to Kuusamo city center, head to Ravintola Talonpöytä. Tucked away in this office building is a cozy restaurant with yummy dishes. My sauteed reindeer tasted perfectly homemade.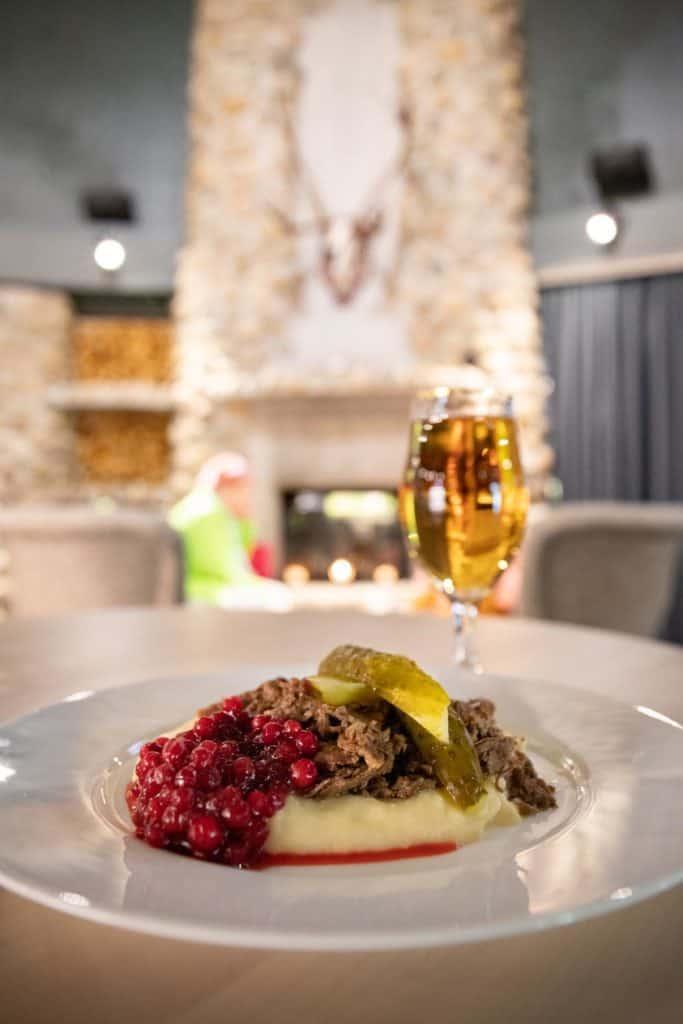 Best restaurants in Ruka
Rukan Kuksa
Rukan Kuksa introduced me to wild food flavors I hadn't discovered yet.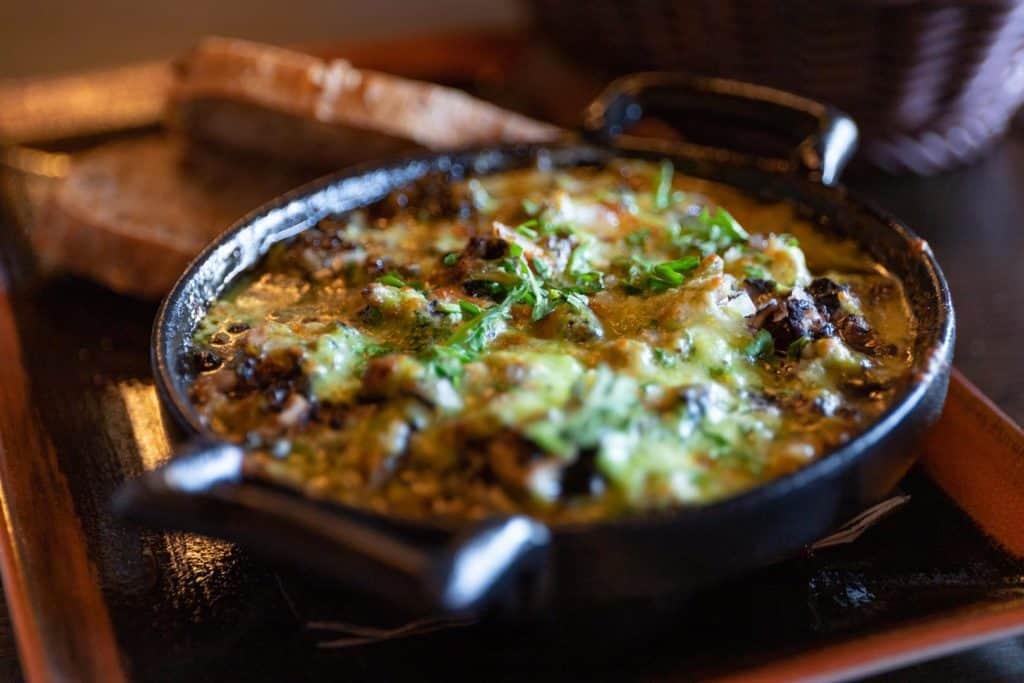 Our mouth-watering starters included creamy morel mushroom hot pot, and local rainbow trout smoked accompanied with malt bread and crispy deep-fried birch.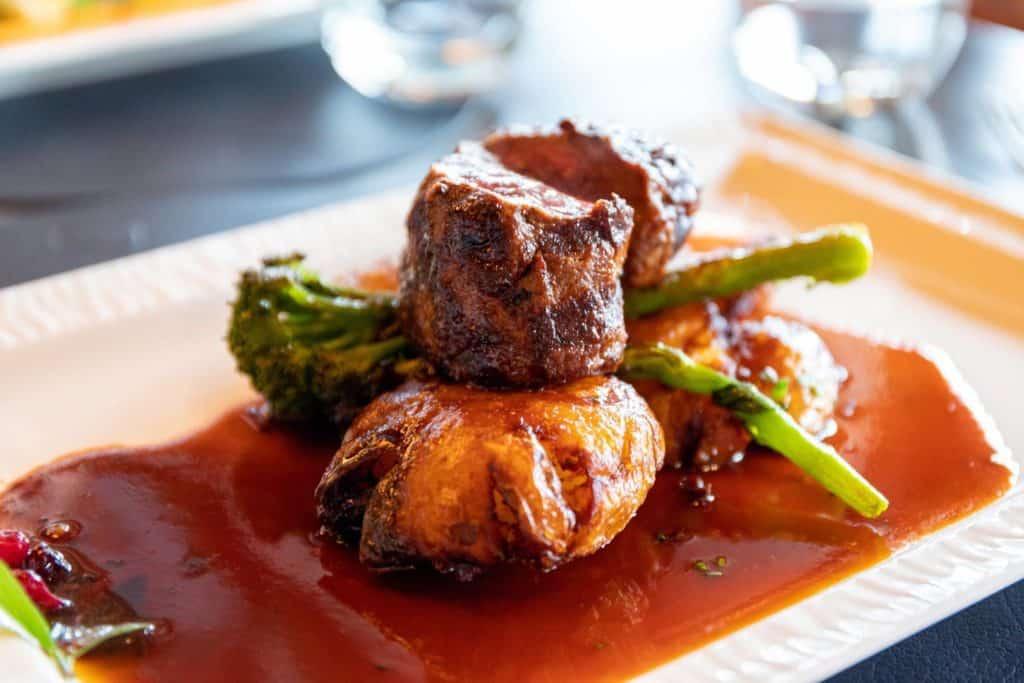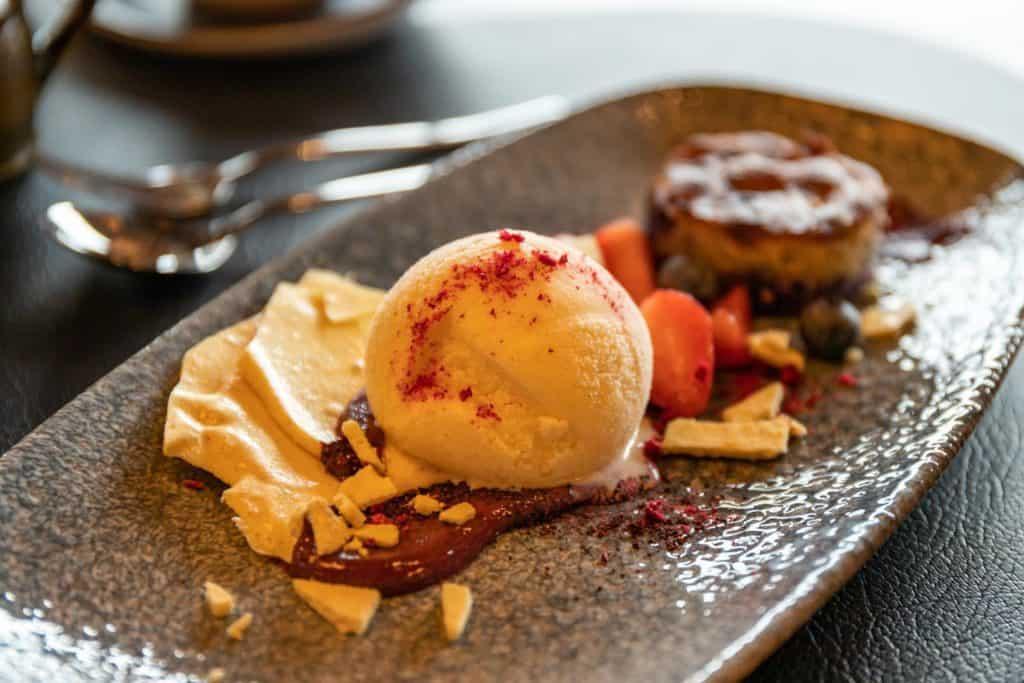 My main course was wild venison tenderloin steak with fried potatoes, dark spruce tip sauce, and season's veggies. The meal ended with bilberry frangipane & meadowsweet meringue and vanilla ice cream. If you're in Ruka, this place is a must!
Pizzeria Ruka
I got several Instagram direct messages from my followers saying "you need to eat at Pizzeria Ruka!" Given that my followers are quite the foodies, I had high expectations about the place and I was not let down.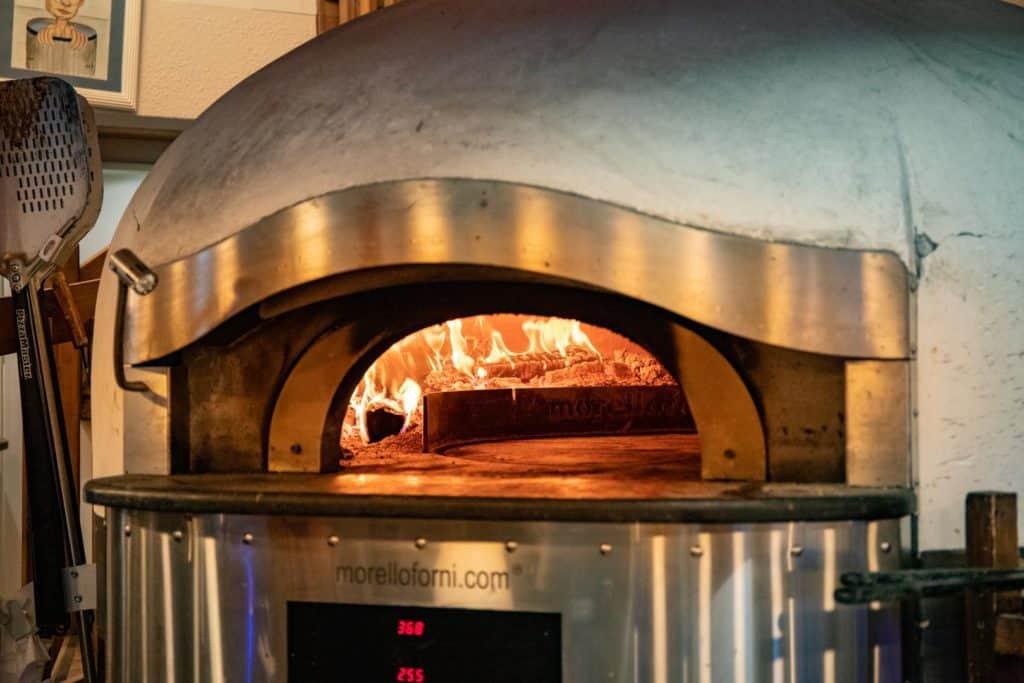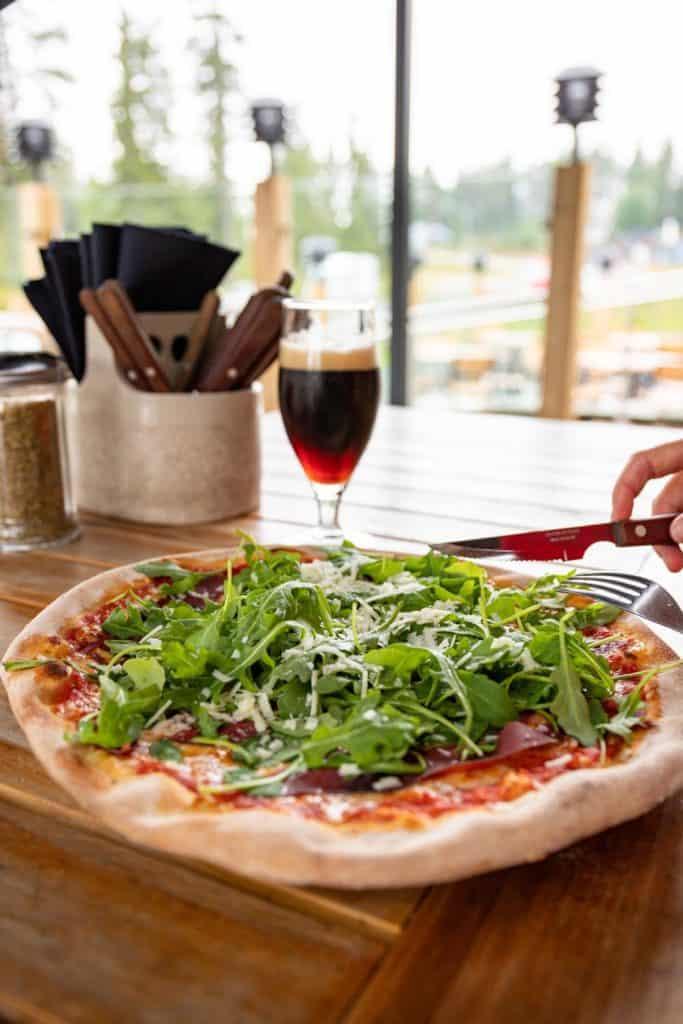 The pizzas were so delicious. I wanted to try all of the Lapland inspired pizzas on the menu. Reindeer pizza with a cold beer is the best after a day in the wilderness.
Restaurant Kaltiokivi
Kaltiokivi is a legendary restaurant in Ruka. The sea-buckthorn mocktail I ordered was super fresh and the perfect starter for what turned out to be a very hefty meal.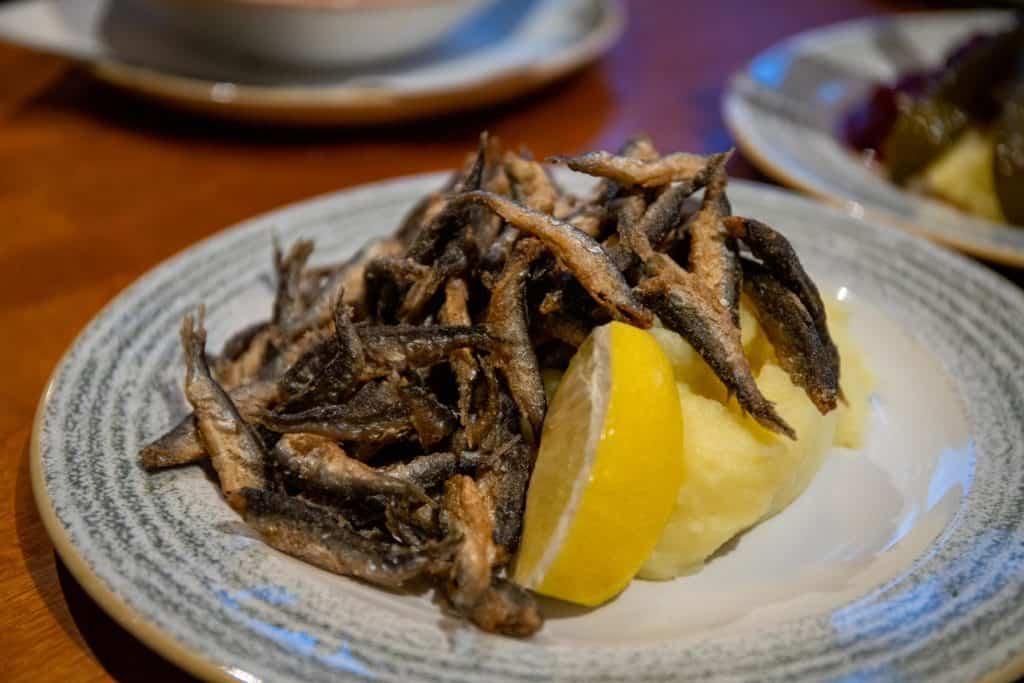 I'm always ready to try a dish with a good story. The reindeer hot pot was designed as a hangover food and for tens of years, it has been one of the top sellers in this restaurant.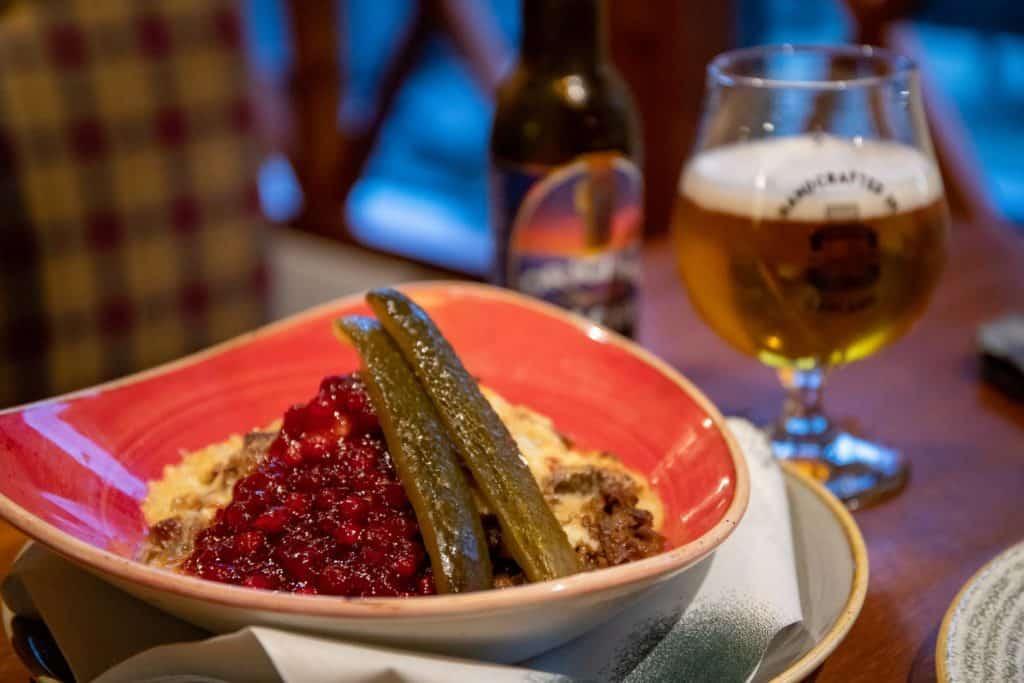 Obviously, I needed to know what they were talking about! Lots of flavors and you won't be hungry for a long time.
Hanki Bar
Relaxing vibes, pints, and great bar food with an Asian twist! Hanki Bar is the favorite of vacationers and locals.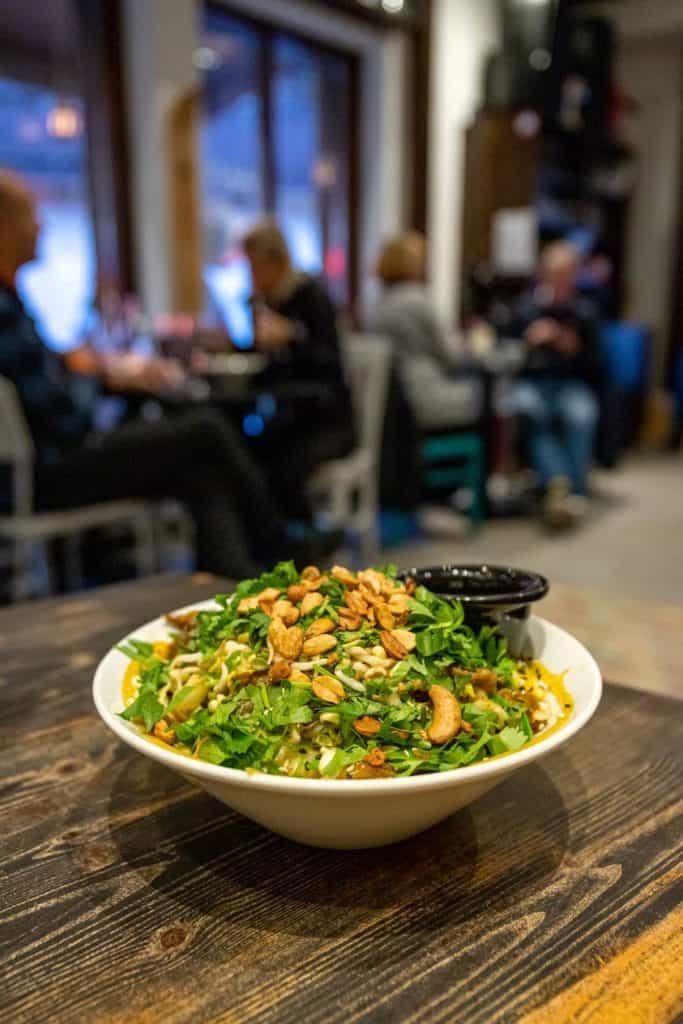 RUOK Burger
The best burgers in town. I know it is the most cliché restaurant line you've heard a million times but when it's true, it's true. My colleague, Omar, got so smitten with the burgers at RUOK Burger that we came back the following day for another bite.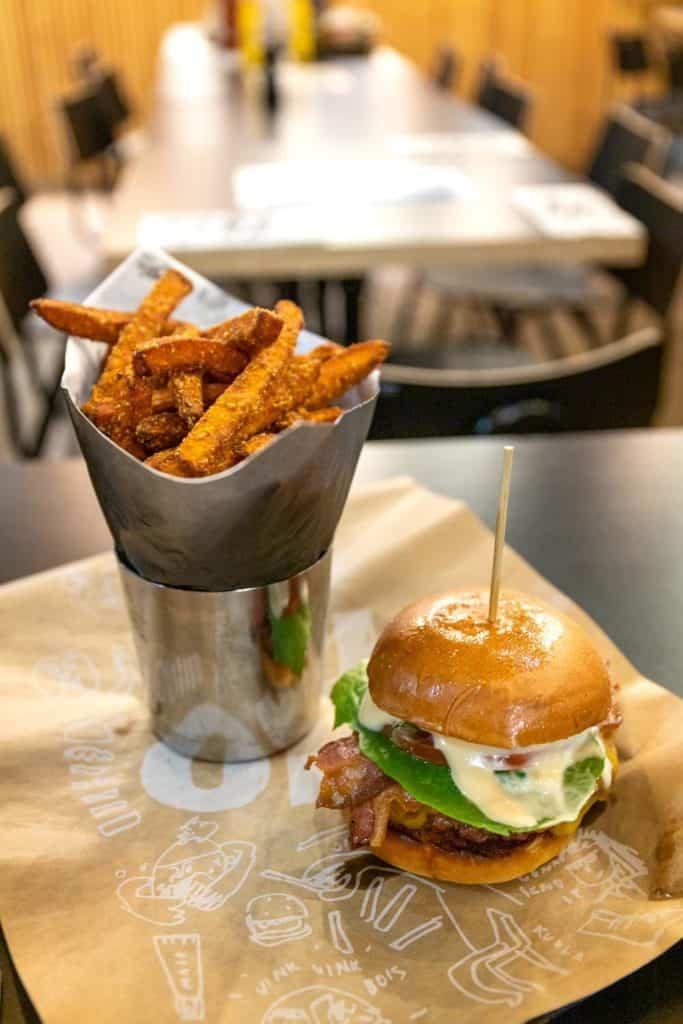 Vlog about Ruka-Kuusamo's Summer and Autumn Activities
Can't wait to show you our vlog Best Summer Things to Do in Lapland on YouTube.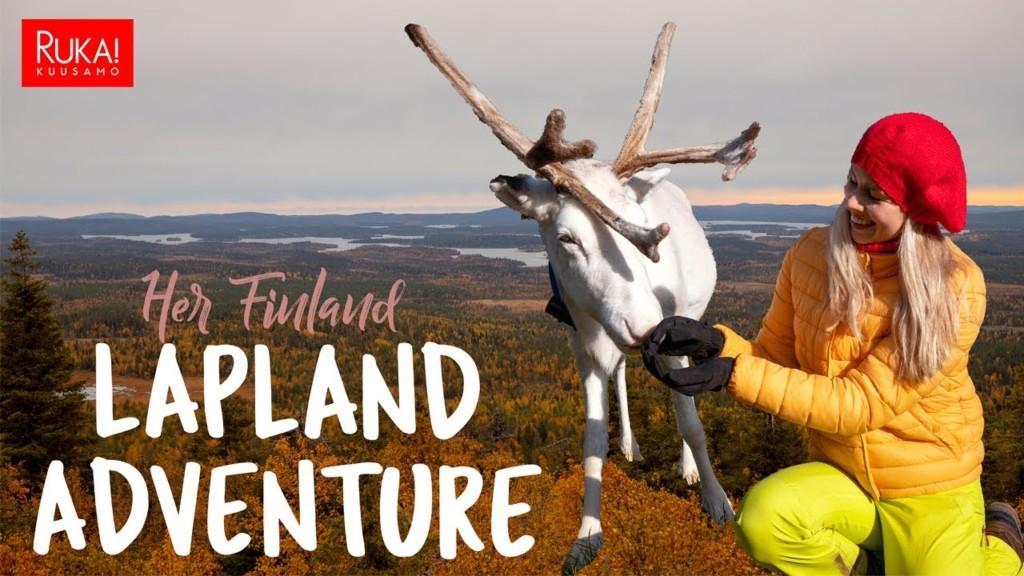 Most Frequently Asked Questions about Ruka-Kuusamo
You and the internet asked, so I answered! If you don't see your question here, please leave a comment and I'll do my best to help you.
Is it safe to travel to Ruka-Kuusamo currently?
For all updates on travel to Ruka-Kuusamo, please visit their website here for more info.
Do I need to be sporty to like Ruka-Kuusamo and the activities there?
You don't need to be sporty. Most activities don't require any special skills, even though they might make you look like a sports pro.
Are there lots of mosquitoes in Ruka-Kuusamo in the summer?
Good news! The number of mosquitoes varies a lot throughout the summer. There can be a week when there are loads and then weeks with only a few. If it's windy or sunny, you won't find any mosquitoes. Wearing long-sleeved clothes and some mosquito repellent (you'll find it in any grocery store in Finland) helps a lot.
Do you recommend renting a car in Ruka-Kuusamo?
It depends what your plans are. If you plan to do guided activities that include transfers and your accommodation is in Ruka, it would be okay to not rent a car.
If you like the feeling of added freedom, you're planning to visit all Ruka bucket list items in the wilderness, or you're traveling with kids, I would recommend renting a car.
If you're in the wilderness, how are the bathroom breaks arranged?
An outhouse sounds a bit scary, but basically, it's like a compost. That's why it's so important that everybody follows the outhouse rules. You can find them here below:
Only toilet paper and bio waste are allowed. Most likely an actual person empties the outhouse (yep! it's a regular 'to do' in Finland), so if something else was thrown there, it would be picked up by that other person.
Use litter. You can usually spot a bucket full of finely chopped wood litter in the outhouse. After throwing the toilet paper in, top everything off with 1 to 2 scoops of litter. The outhouse doesn't have a bad smell if everybody uses the litter.
Wash your hands if possible. You can wash them in a lake (no soap, though), or sometimes you'll find a water container next to the outhouse.
If you need to throw away diapers etc. and you don't see a bin dedicated to them, you can't leave them anywhere in the outhouse. You'll have to store them in a plastic bag and carry them with you.
What's Kuusamo Airport like?
At the moment, there are regular daily flights from Helsinki. Kuusamo Airport is super cozy, it has a small cafeteria and souvenir shop with local products and wild food.
How is the weather in Kuusamo?
Summer is much warmer than you would expect for it being so close to the arctic circle. In the summer, the temperatures are around 60-75ºF (15-21ºC). A summer heatwave in Finnish Lapland is not a rare thing either!
Is there a Ruka weekly program in the summer or autumn?
Yes, there is! Here you can find the Ruka weekly program available from June to September.
What's the best place to buy souvenirs in Kuusamo?
I would definitely check out Bjarmia Pottery and Design shop in Kuusamo city center. You can see how the beautiful handmade pottery is made. There are lots of cool local products from wool socks to wild food to classic Finnish brands like Marimekko there.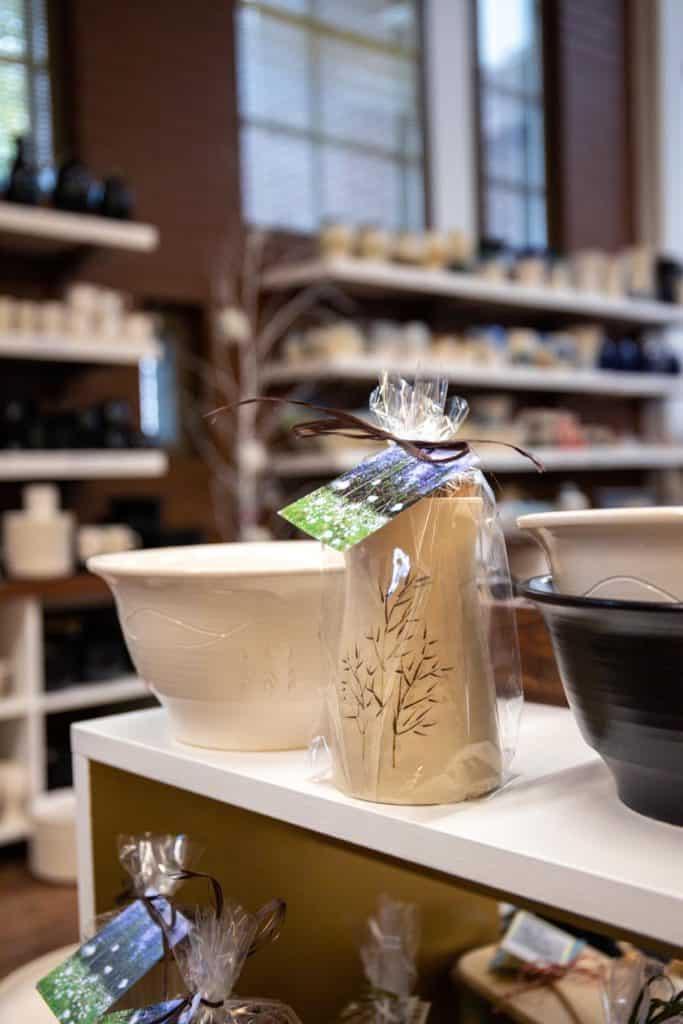 Is there a spa in Ruka?
Oh yes! I love to incorporate some pampering with my outdoor activities, it's the perfect mix! You have a lot of options for spa treatments in Ruka and Kuusamo.
With the sauna evening (described earlier in this post), you can enjoy a spa moment the Finnish way as you are shown the magic of whisking in the sauna. This is a unique experience your body and soul will never forget.
There are also more continental options available. You can book spa and beauty treatments in Ruka at Ruka Beauty & Wellness.
Holiday Club Kuusamon Tropiikki is situated between Ruka and Kuusamo and has a big pool area. The water temperature has been set at a constant 90ºF (32ºC). You can also book a treatment at their Harmony Spa.
Is Kuusamo a great place for fishing?
Yes, it most certainly is. Grayling and trout are popular fishes to catch in this area. A lot of fishers come here every year and try to beat their crafty opponents. For example, the 40th World Fly-Fishing Championship takes place in Kuusamo in 2021. You can hear from the locals how much they appreciate the fish and their cleverness. Palosaaren Reindeer & Fishing Farm gives fishing tours spanning between a couple of hours to a full 5-night Lapland fishing trip with helicopter flights and wilderness tent camp.
Will I see reindeer in Ruka or Kuusamo?
When you're visiting Ruka-Kuusamo in the summer or autumn, you'll definitely see reindeer. Reindeer roam free and they simply love to stroll along the roads. Surprisingly, reindeer aren't really scared of cars and they rarely make jumps or sudden moves. You'll need to pay special attention to the roadsides when you drive but it's not scary to drive on the roads.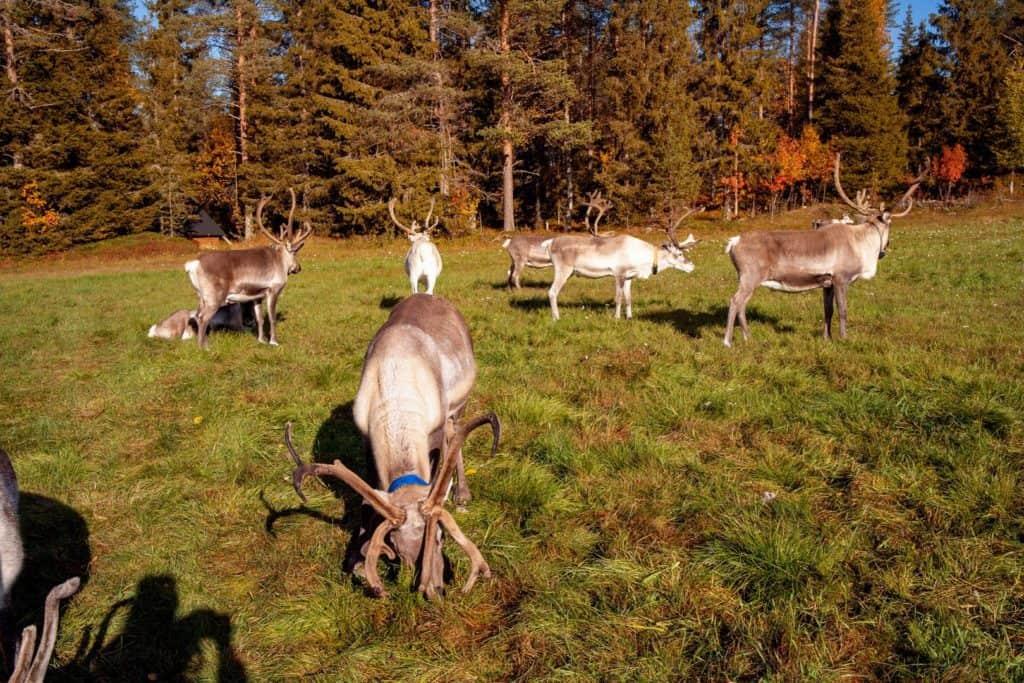 How do I get from Helsinki to Ruka?
You have lots of options. You can fly from Helsinki to Kuusamo, Rovaniemi or Oulu and then take the bus or rental car from the airport and drive to Ruka.
You could take the train to Rovaniemi or Oulu (I love the Lapland night train ) and then take the bus or rental car. Lastly, a lot of Finns just drive the whole journey themselves.
Are there buses in Ruka?
Yes, there are! Here's the link to the bus timetables.
What winter activities can you do in Ruka?
Husky safaris, snowmobile tours of the surrounding area, reindeer sleigh rides, ice fishing, ice karting, floating in the rapids, wild food dinners, and much more. Winter programs run from 1 November to 30 April. You can find the winter weekly program here.
If you like cross country or downhill skiing, Ruka is also a must-visit in the winter! Ruka Ski Resort became carbon neutral in 2018. For example, the electricity used by the resort is produced with water and wind power.
How are the locals in Ruka-Kuusamo?
The locals told me that the people from Kuusamo are never in a rush. I can understand why. This region magically makes you feel rooted and recharged. It took me a while to recognize this pattern: my best ideas and revelations… they have all happened in nature.
The wilderness doesn't give you what you want, but what you need. I'm a little envious to the locals of Ruka-Kuusamo who get to enjoy this every day.
The Final Thing you Should Know about Ruka-Kuusamo: The Kuusamo Song
Okay, have you planned your trip now? You have one more crucial thing to do, you must add the Kuusamo song to your playlist! You can find it here on YouTube and here on Spotify.
Would you like to visit Ruka-Kuusamo? What else would you like to know? Let me know in the comments!
Looking for some other tips regarding Finland? Check out these posts:
This post has been made as a commercial collaboration with Ruka-Kuusamo Tourist Association. It's a part of the Gateway to Land of National Parks project.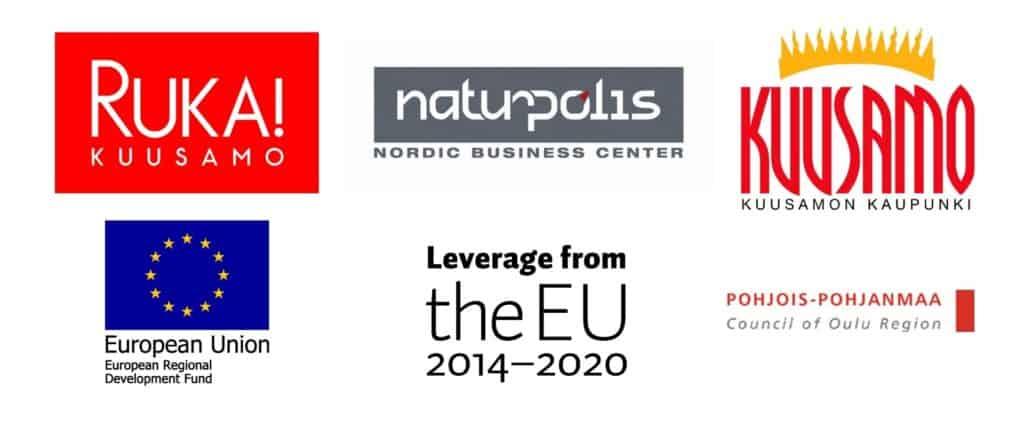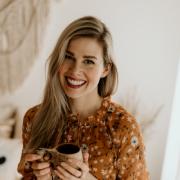 About Varpu
I'm the founder of Her Finland. I love cultural tidbits, aha moments, Finnish folklore, and cinnamon buns. My newest interest is learning bird songs. Read more about me..