In Finland trains and buses are very easy to use. How can you check timetables and buy tickets online? What is the proper etiquette in them?
Let's go through 10 things you really should know about trains and buses in Finland!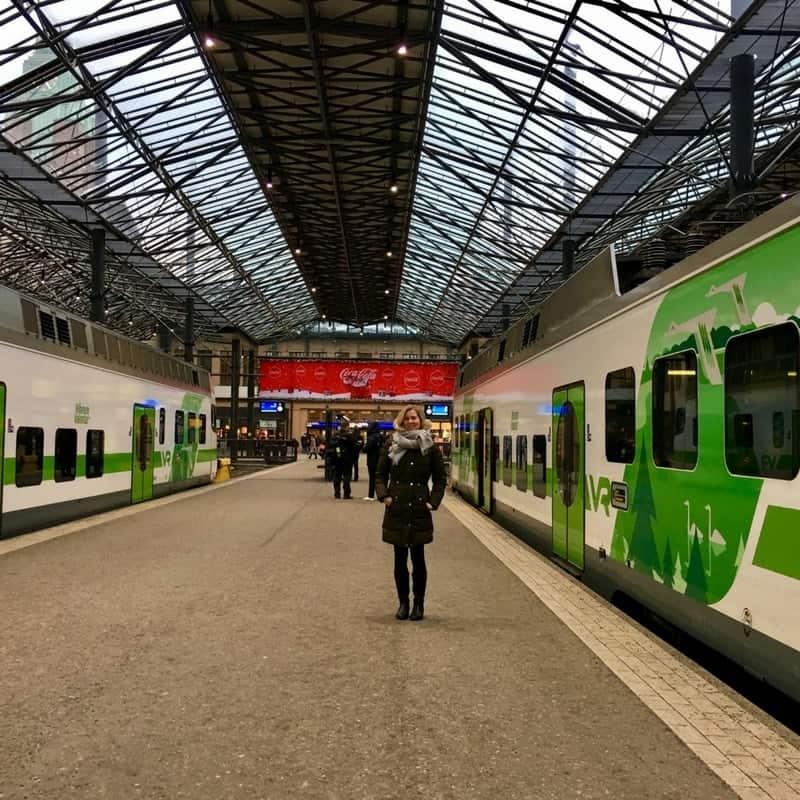 #1 Timetable and tickets for trains
To check destinations, timetables or ticket booking do this:
Type date, your starting point (e.g., Helsinki) and end destination (e.g., Rovaniemi) and get a suggestion of connections.
Buy the ticket at the station ticket counter or ticket vending machine. You can also buy the ticket online, print or take a print screen of your ticket. Or use the VR app.
#2 Timetable and tickets for buses
To check destinations, timetables or ticket booking do this:
Type date, starting point, and end destination. You get a suggestion of connections.
Buy the tickets when you enter the bus. You can also book a ticket online for some routes. If you do this, the driver has your ticket, and you access the bus with your name details. Print the confirmation, though, just in case.
Special advice to Helsinki: The main bus station is on the cellar floor of Kamppi shopping center. Here are the busses to other cities.
#3 Entertainment
Most long-distance buses and trains have a working wi-fi. Newspapers and magazines can be borrowed from the front of the bus. By the way, newspaper on a seat or in a seat pocket doesn't mean that the place is booked in Finland. It means that the newspaper has been left there for other passengers to enjoy.
#4 Food
It is okay to eat and drink in all forms of public transportation in Finland. If you are traveling on an afternoon or evening train, be sure to visit the restaurant carriage. There you see us more relaxed.
#5 Greeting
In Helsinki region, it is rare that people greet the driver when entering or exiting the vehicle. You can even get a surprised face from the driver if you say Hello.  However, the situation changes, the further you travel away from the capital. In smaller cities, it is entirely the opposite!
#6 Random people
This is based on my own personal experience of traveling in local trains. The local trains are composed in such a way that one carriage is on the ground level and the other carriage is a bit higher above the ground. For some reason, it seems that drunk and weird people are usually on the ground level carriage (Haha, I just made it sound like there is a constant Walking Dead zombie group-situation in local trains.).
No, really, this is rare, but I still tend to choose the carriage up above, just in case. As a side note, I would like to add that drunk and weird people are 99% of the times totally harmless in Finland.
#7 Stuff
We love to show our personal zone by piling our stuff to the seat next to us.
#8 Socializing
We don't talk to strangers (Check my my post on this topic). This also is the case in public transport. We keep our voice to the minimum and avoid unnecessary conversations. If you are in group, it is okay to talk with mild voice.
#9 Seating
In Finland, we only sit next to another person when all possible window places are taken, and you have to start filling up the aisle seats. As a Finn, we get a slight feeling of irritation when this happens. It is very typical to ask for a seat without any words. Just stand next to the seat you want and watch the pile of stuff on it. The person sitting next will immediately gather them away.
#10 Toilets
The toilets are decent in trains and busses. You can use them if you don't have a phobia.