*A big thank you to Lapland Safaris, Sisu Outdoor and Ravintola Rouhe for letting me test your services and products.
I'll tell you a little secret. For us Finns, Ylläs is one of the places in Finland to experience outdoors, Lapland and nature sports. Say to any Finn that you will visit Ylläs and you'll get an approbative nod. Great choice.
In this guide, I'll tell you my recommendations when it comes to enjoying all that Ylläs Ski Resort offers.
As a regular winter visitor, I'll go through five reasons why you should visit Ylläs in the first place, the winter activities you can do there, what are the best food adventures in the area and wrap up with some practical information about the destination.
Psst… Follow me on Instagram and get more Finland into your daily life immediately!
Näytä tämä julkaisu Instagramissa.
I'll be covering these topics in this post. This is a massive guide so take a cup of coffee and dive in!
Five Reasons Why You Should Visit Ylläs Ski Resort
#1 The cleanest air in the world. Many parts of this destination actually belong to the Pallas-Yllästunturi National park, which is the most popular national park in Finland. According to WHO, this national park can boast with having the cleanest air in the world. Wouldn't you want to know what that feels like?
#2 Seven fells. Most places have hills or mountains, but fells are rare. In Ylläs, there are seven of them, and they are yours to conquer. Just choose how. The bald softly rounded giants are a magical and strangely soothing sight. Or maybe I just have a soft spot for these ancient mountains nowadays so gentle and pleasant.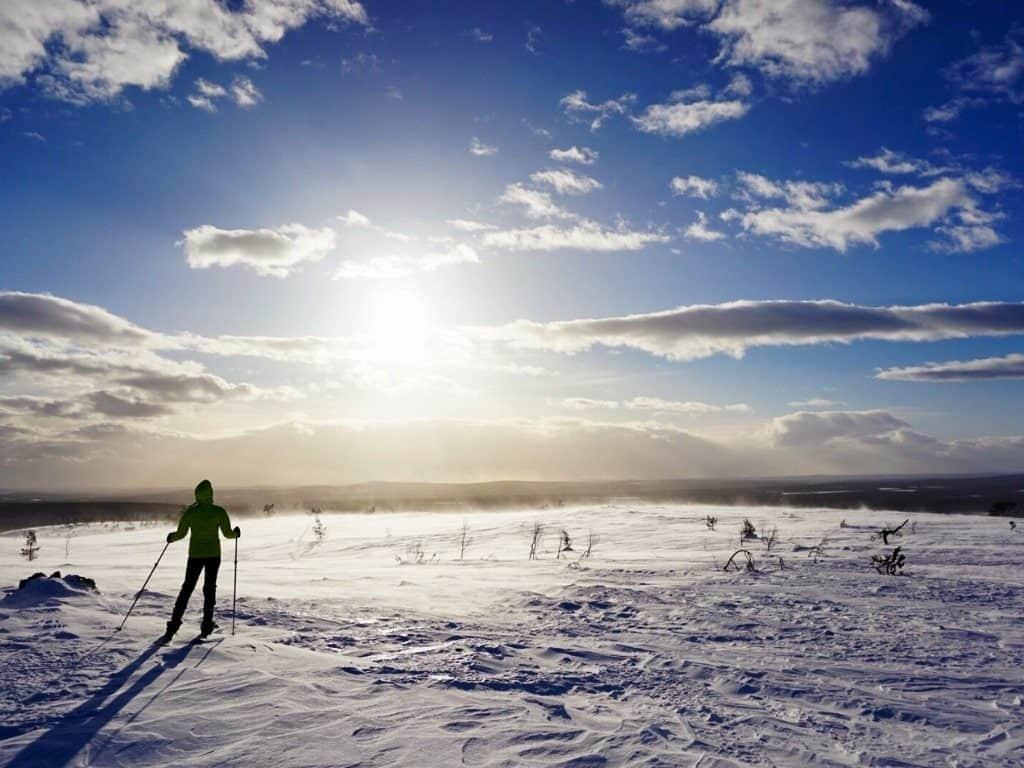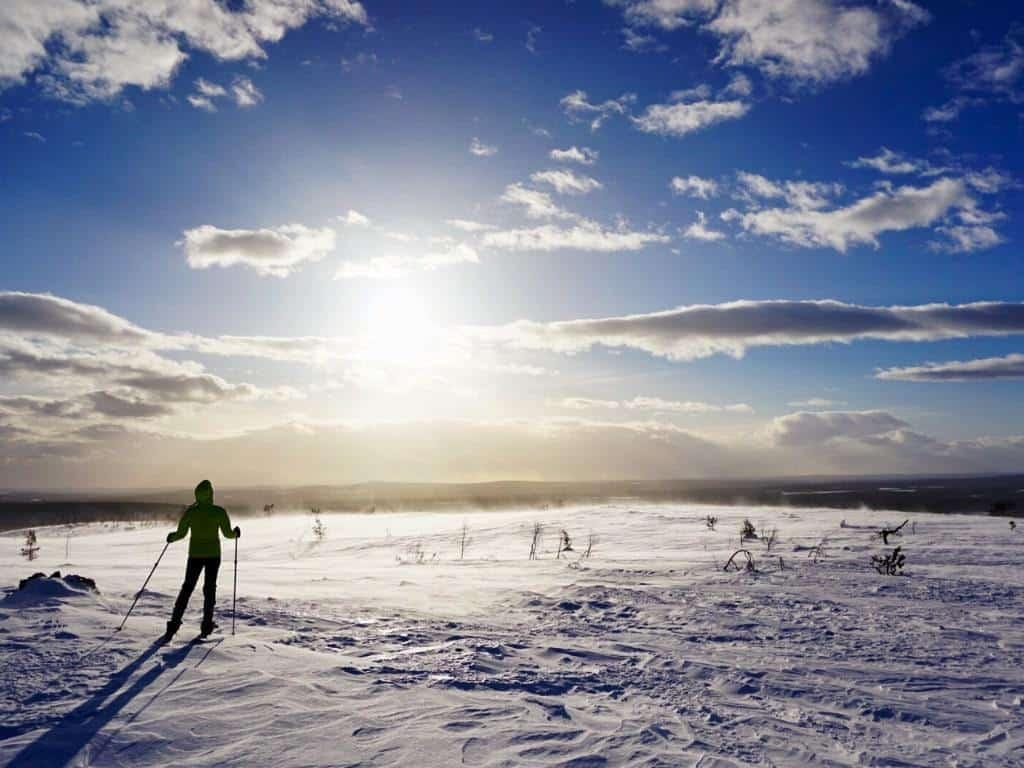 #3 Genuine Lappish villages. Does it bother you that when you visit a destination, all you see is built for tourists only? Ylläs in not just a tourist destination. Ylläs region is home to many Finns.
The two villages, Äkäslompolo and Ylläsjärvi (oh boy, we do have long and very exotic place names in Finnish), have municipal services such as schools and healthcare.
#4 Food. Food is on this list for two reasons. Firstly, because of delicious Lappish meals. Free-range meat and fish, local berries, mushrooms and veggies cooked with love. That is my dream diet. Ylläs is a big arctic hub, so there are several excellent restaurants to visit.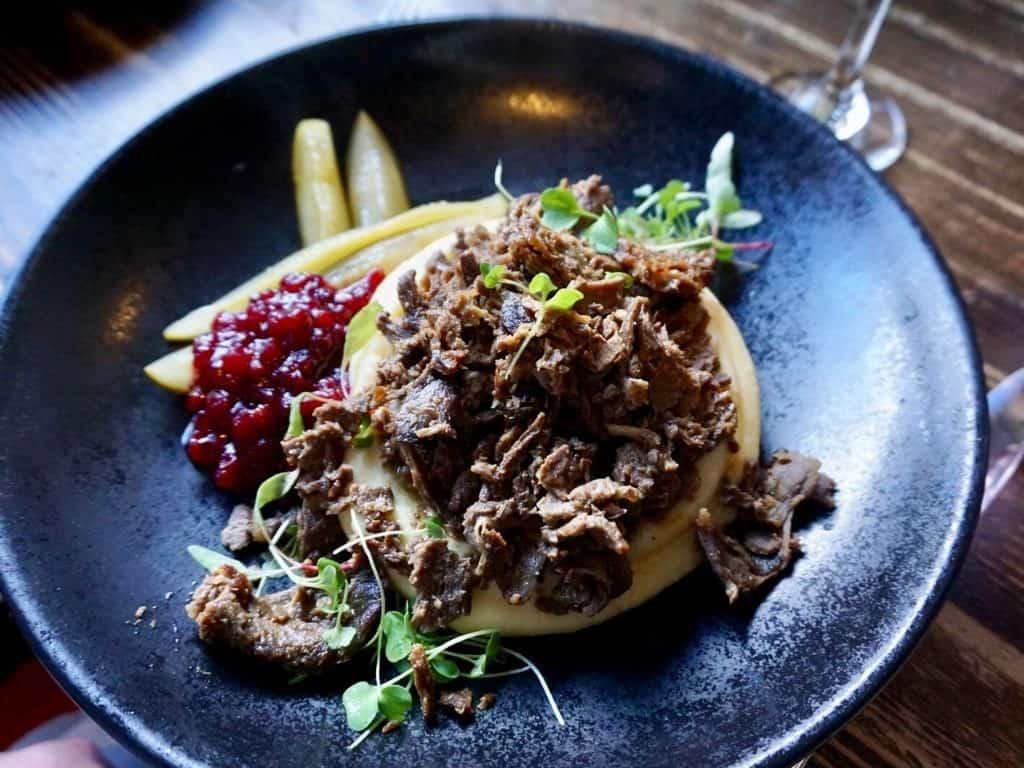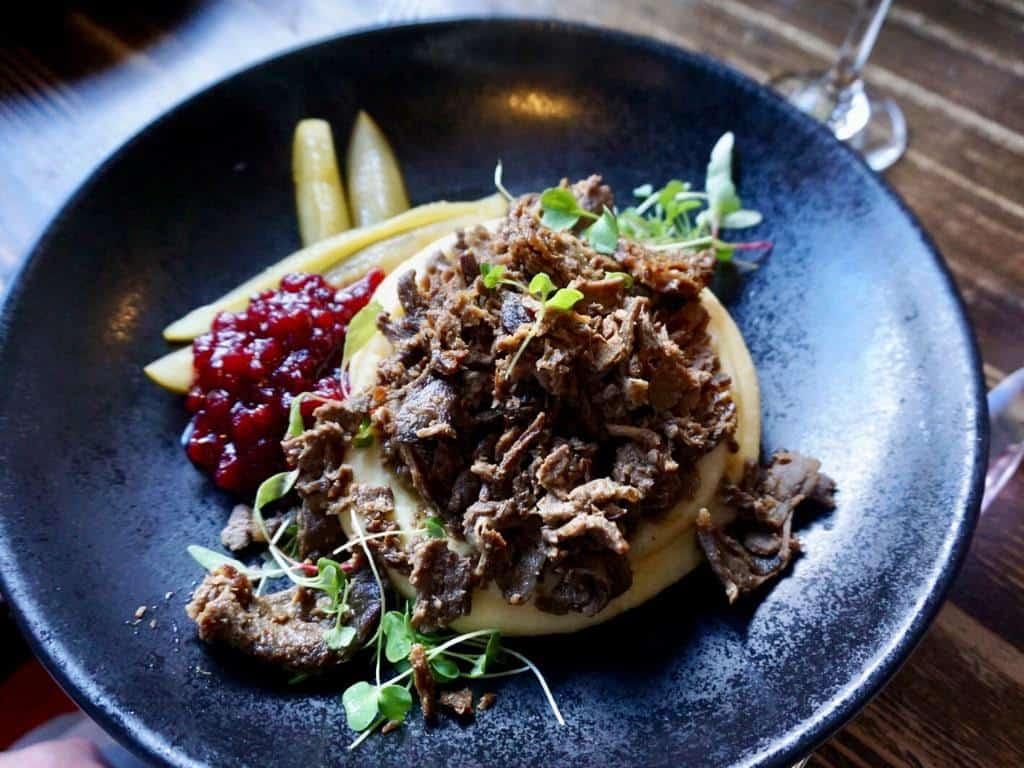 The second reason is the Finnish concept of wilderness cafés. Many Finns plan their daily sports according to the wilderness cafés scattered all over Ylläs ski and winter biking trails. Have lunch at one and a cup of coffee with a donut at the next. That's the Finnish vacation style in Lapland!
#5 Nature experiences all year around. Back in the day, Lappish and Sami people paced their lives according to eight, not four, seasons. So intertwined their life was with nature.
'First snow' comes in October – November. 'The Polar night' swallows December. January and February are the months of 'Midwinter'. March and April bask in the sun as 'Early spring' arrives.
May is 'Spring'. 'The White nightless nights' are next and with us in June and July. August is 'Harvest season'. 'The Colors of the fall' mesmerize us in September.
If you visit Ylläs during winter and like it, you'll fall in love with the region when you see it on another season.
Should You Visit Ylläs Ski Resort if You Don't Ski?
You might know that cross-country skiing plays a major role in Finnish culture.
For Finns, being outdoors and enjoying the tasty treats of the wilderness cafés is the essence of a Lapland holiday.
In the past, it was so that you needed to ski to a wilderness café. But Finns understand that cross-country skiing is not for everybody. Nowadays there are many options: winter walking paths, winter biking and snowshoeing, to name a few.
So fear not, you can explore everything Ylläs region has to offer even if you don't ski.
Winter Things to Do in Ylläs Ski Resort
The things to do in Ylläs are endless!
I can think of 15 winter activities in a heartbeat: cross-country skiing, downhill skiing (groomed and off-piste), kite-skiing, snowboarding, snowmobiling, snowshoeing, winter biking, backcountry skiing, winter walking, ice fishing, riding, winter swimming, husky rides, visiting a reindeer farm and hunting for the Northern lights.
Grab the free kit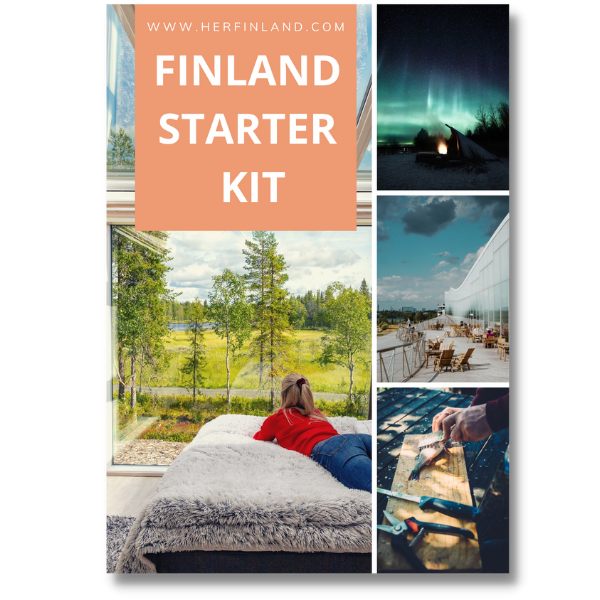 Backcountry skiing
I tried this type of skiing two winters ago and it was a winner for me. The short steady skis are wider than traditional skis and super easy to control. The bottom skin makes climbing effortless and coming down gracefully slow.
Backcountry skiing is wonderful on the fell terrain. My favorite routes in Ylläs include climbing through Varkaankuru to Kellostapuli fell and conquering Kukas fell.
You can do Kuer fell with backcountry skis too but a part of the slope is a bit too icy and steep.
Feels like a mix of gliding and walking. Imagine that you are ready to do something challenging, but it turns out to be easy. I'm already dreaming of winter hikes with backcountry skis.
You'll love it if you are a hiker enjoying the silence, making your own trail in the snow and interacting with nature. We saw many willow grouses on our tour.
Pro tips This sport is at its best in the morning as the snow is the crispiest then. If you just rent equipment, ask route recommendations and always have a map with you. Sisu Outdoor rents skis and makes guided tours.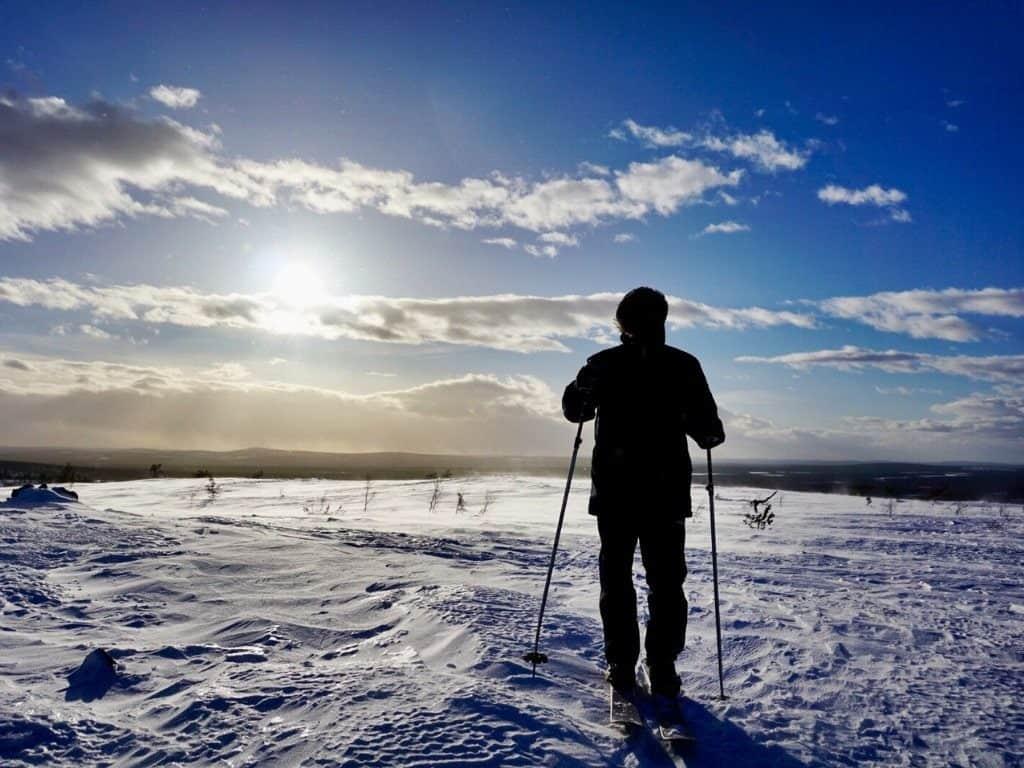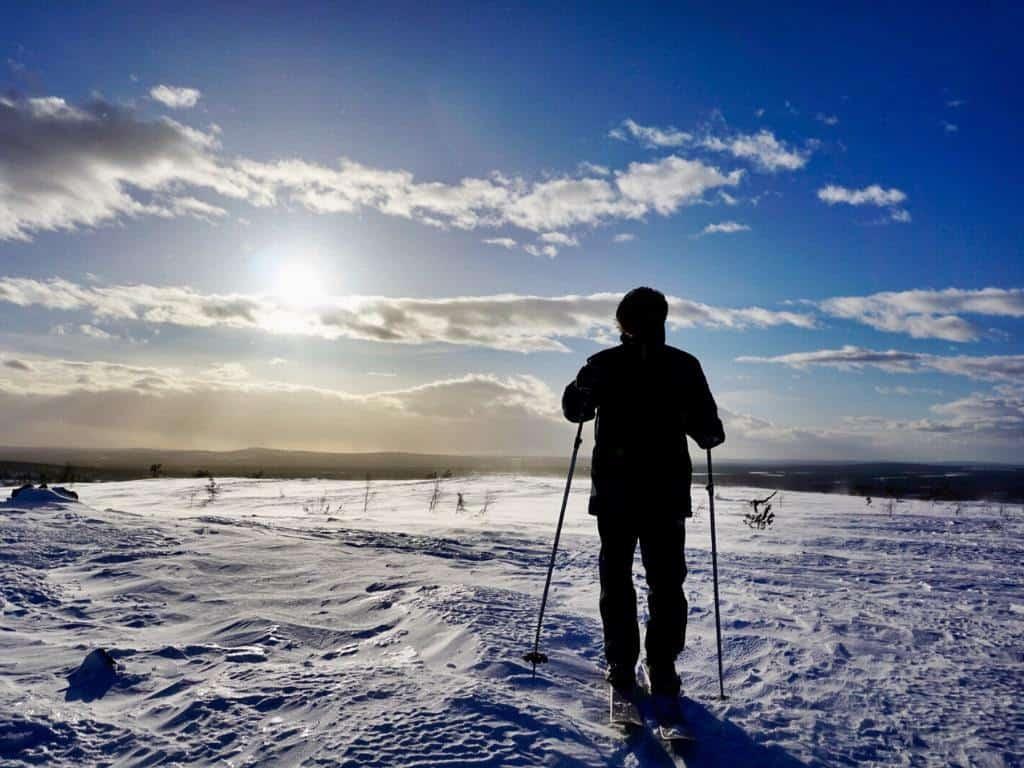 The weather was super windy when we conquered the icy Kuer fell.
Snowmobiling
A motor sled is a common vehicle in Finland, used for fun and work. There are a lot of snowmobile operators to choose from, and many offer multiple route options.
Snowmobiling is the perfect activity if you wish to see many different Lappish landscapes in little time. Our guide gives a thorough introduction to the vehicle and makes sure that we are comfortable using it.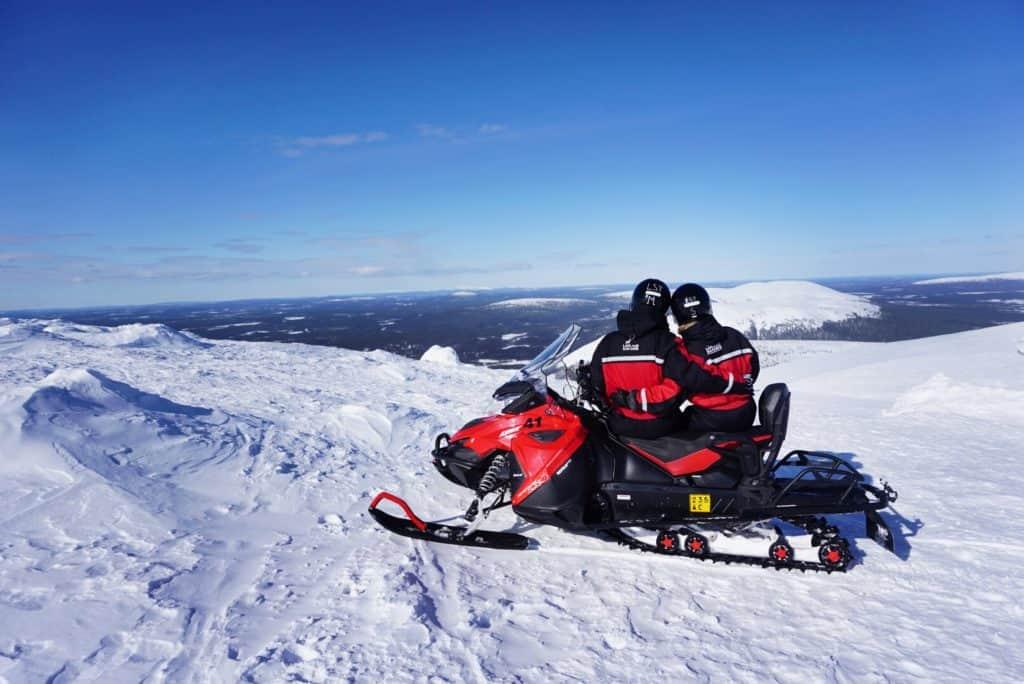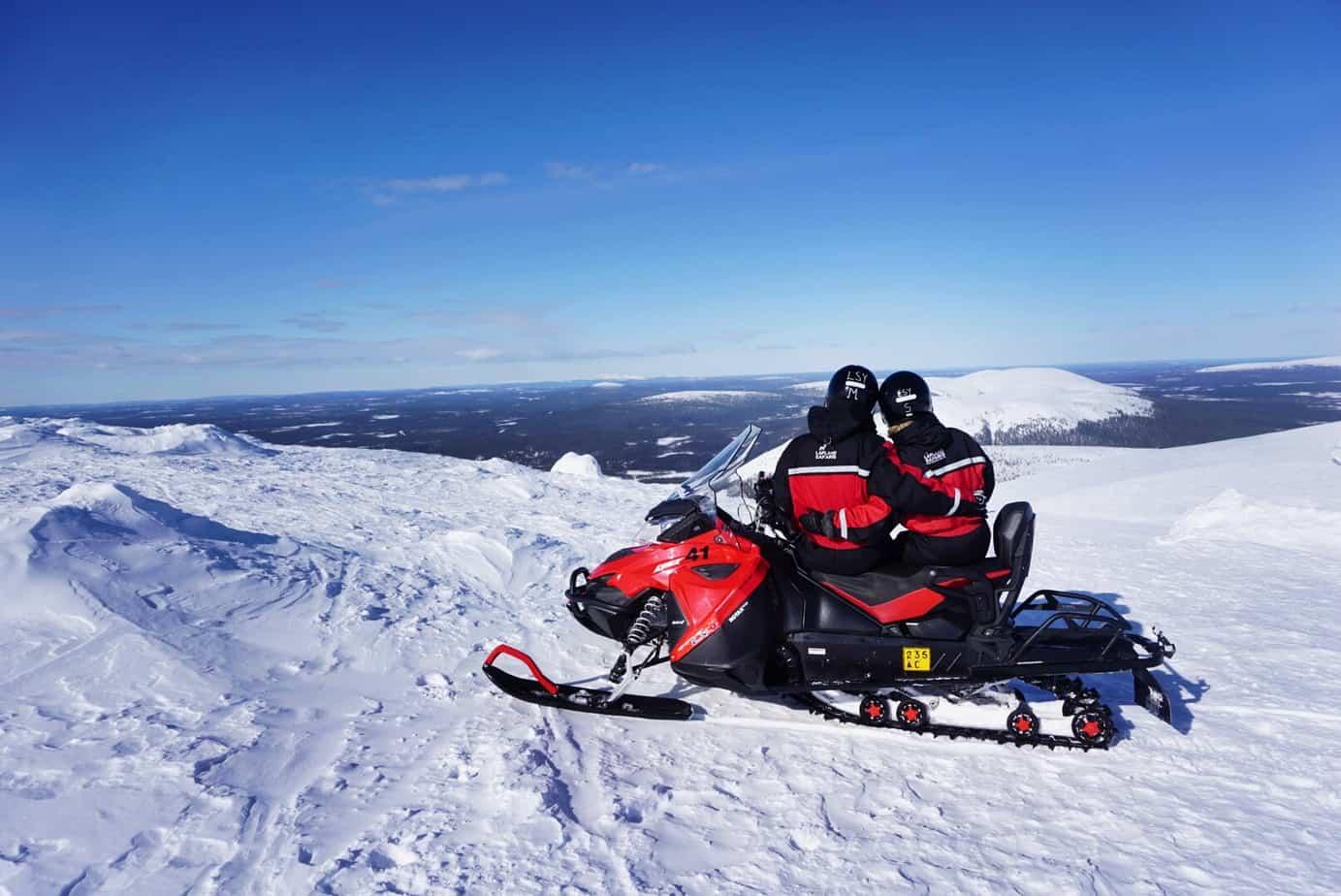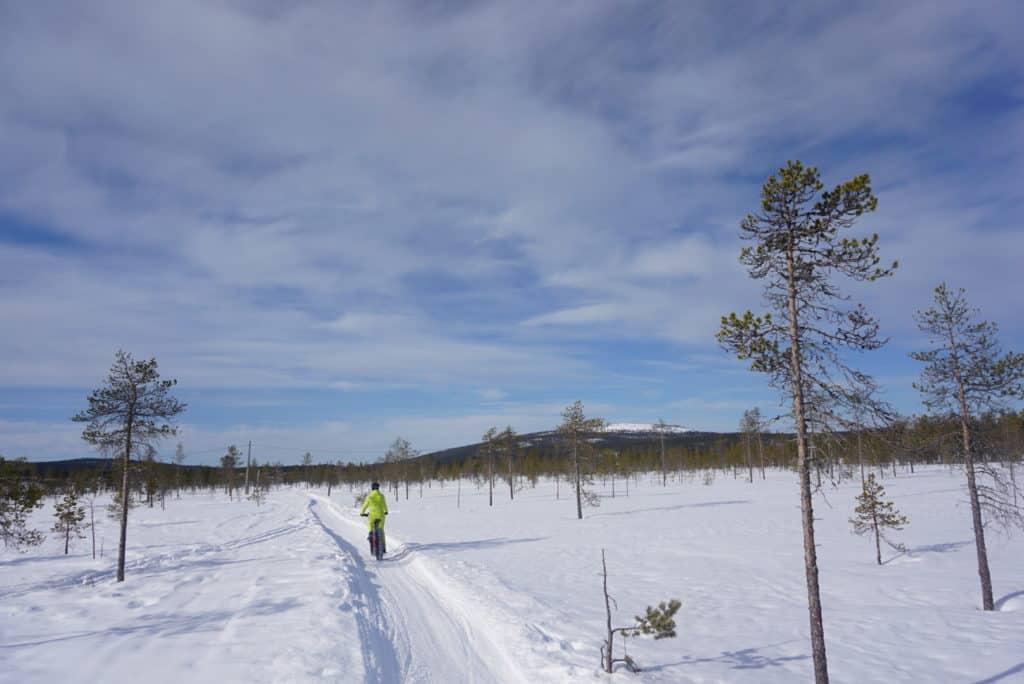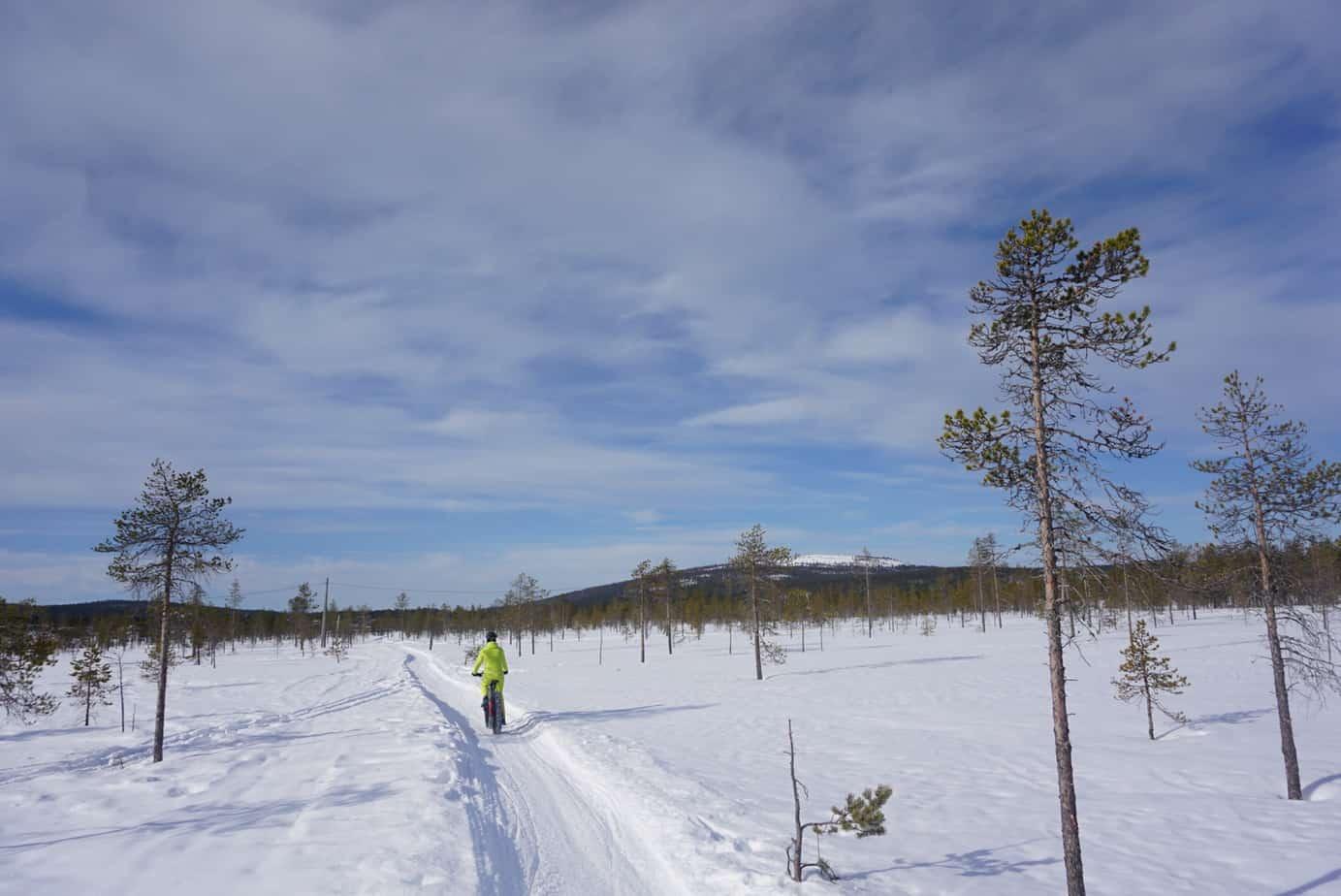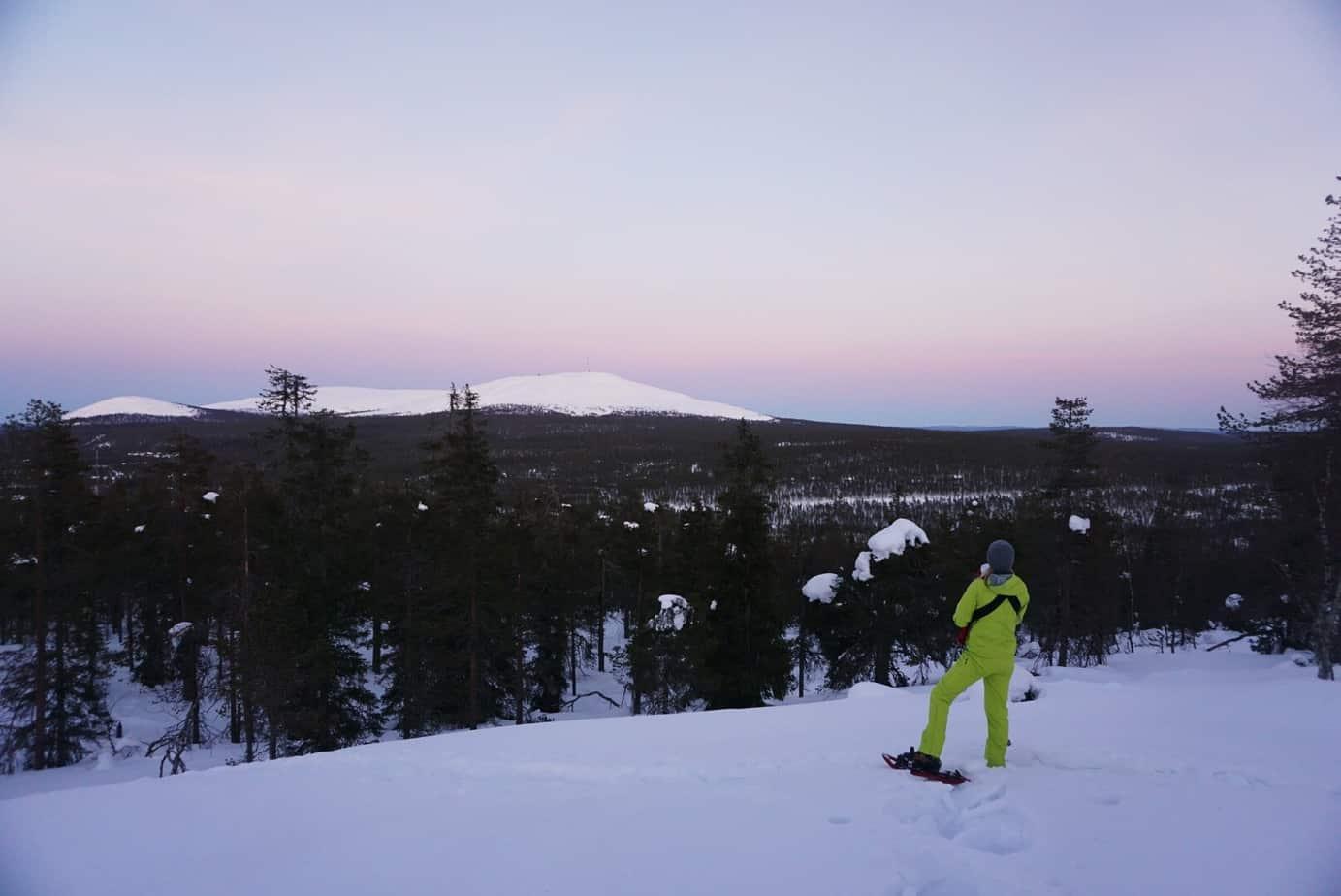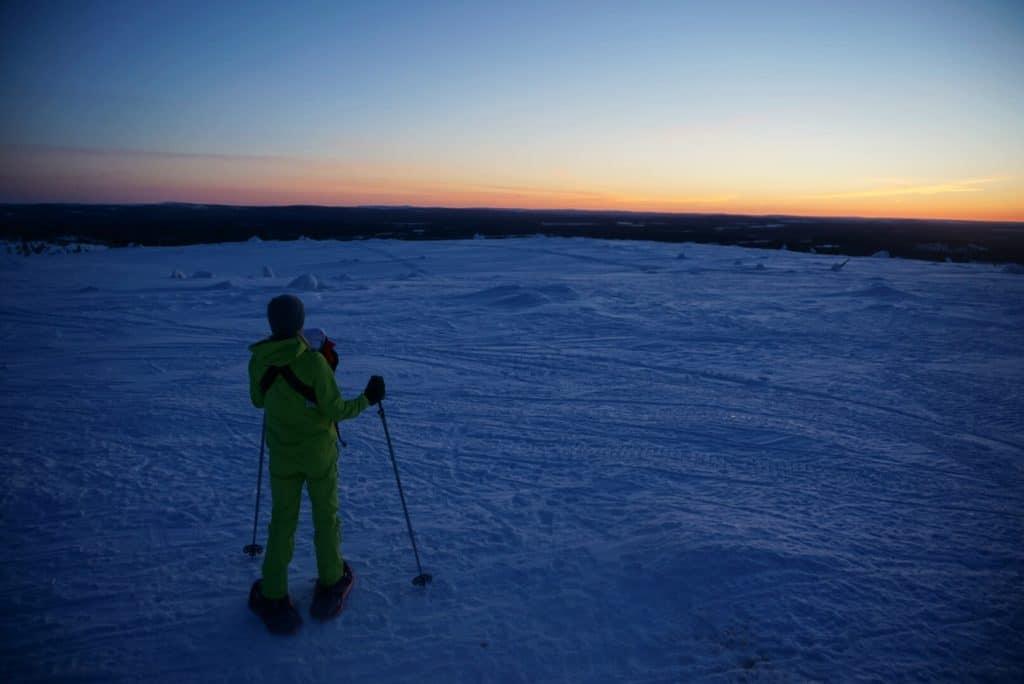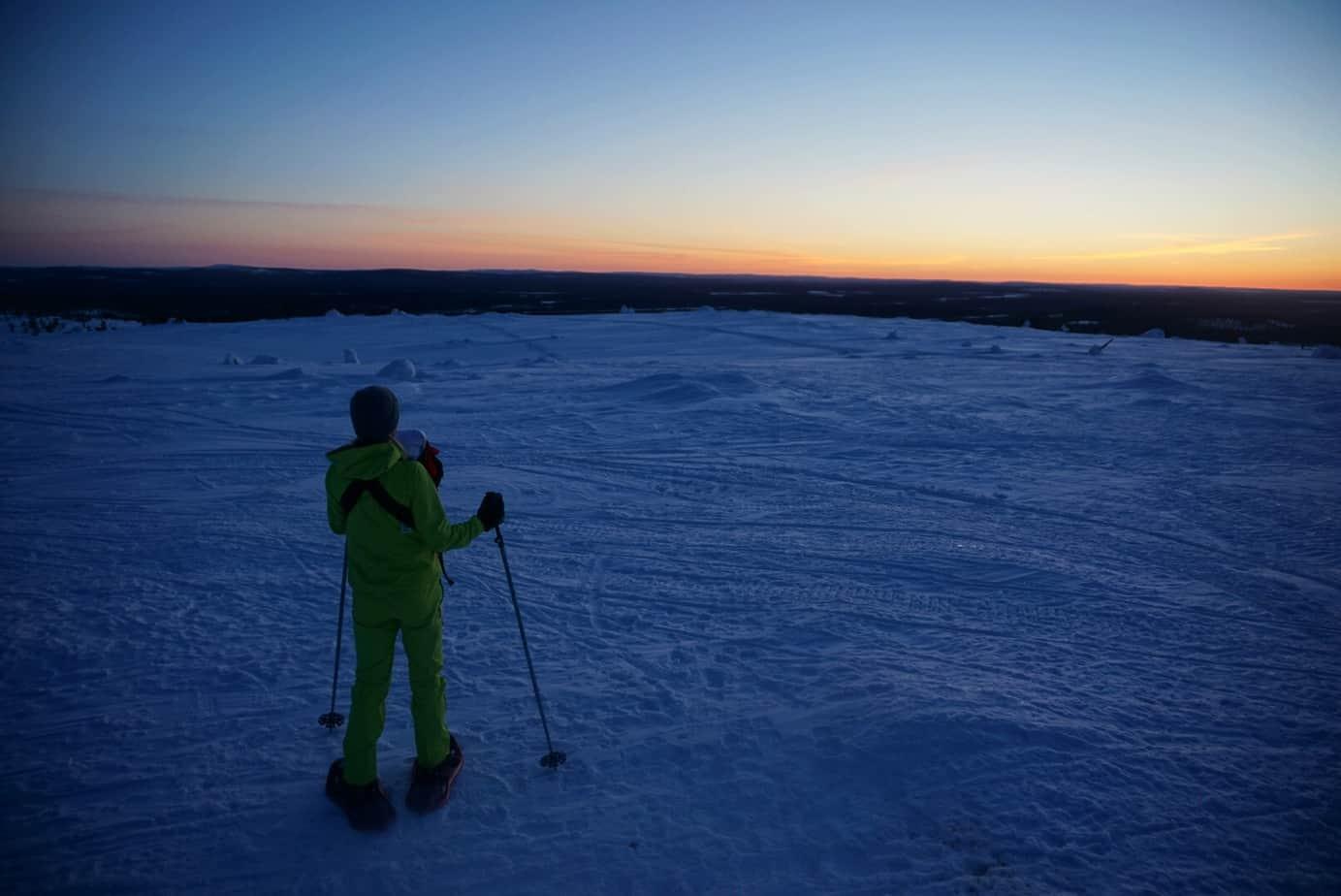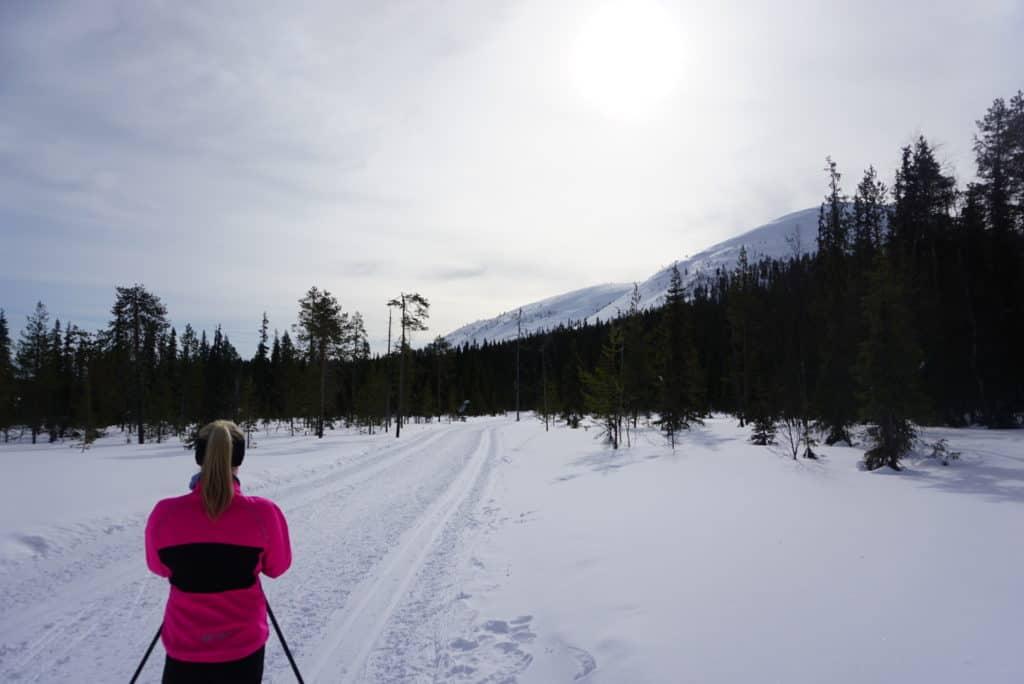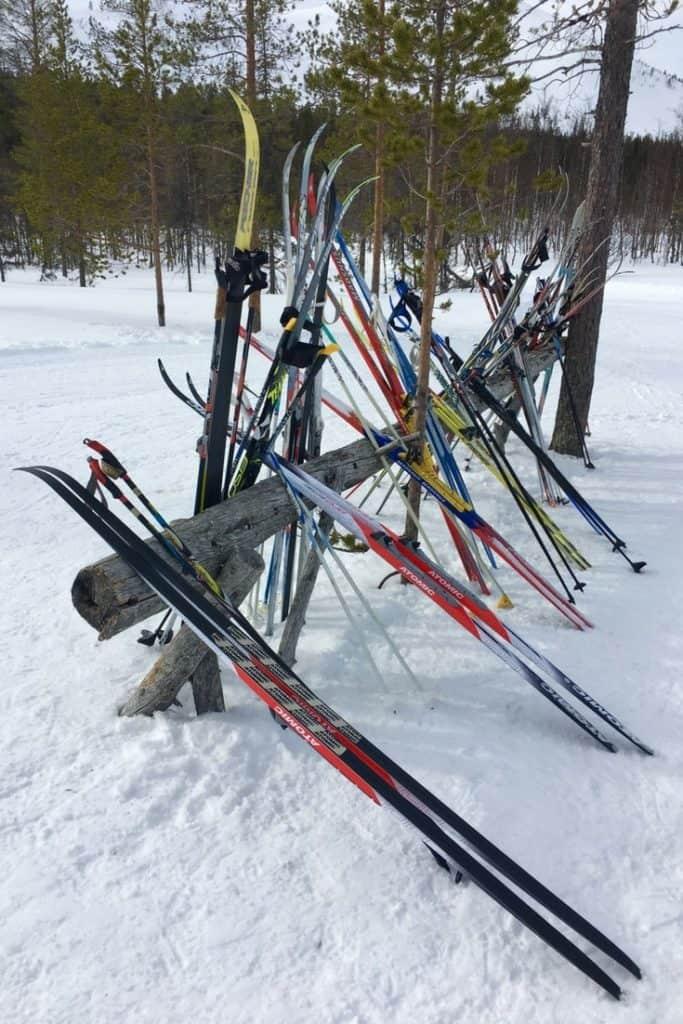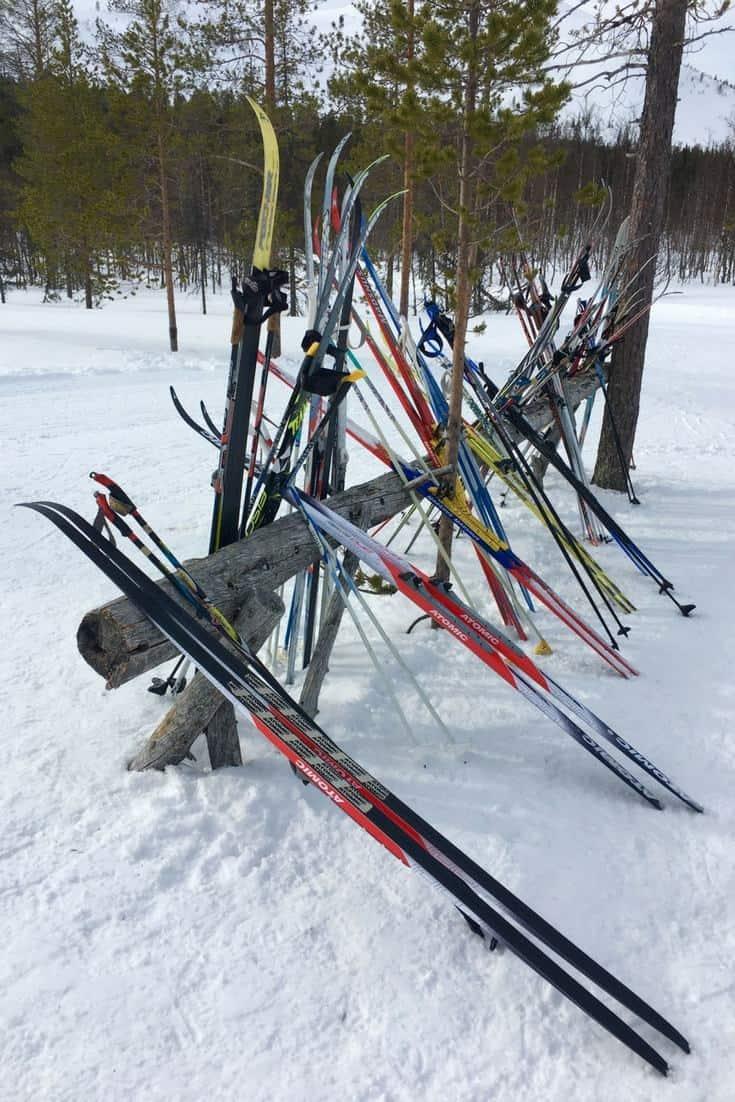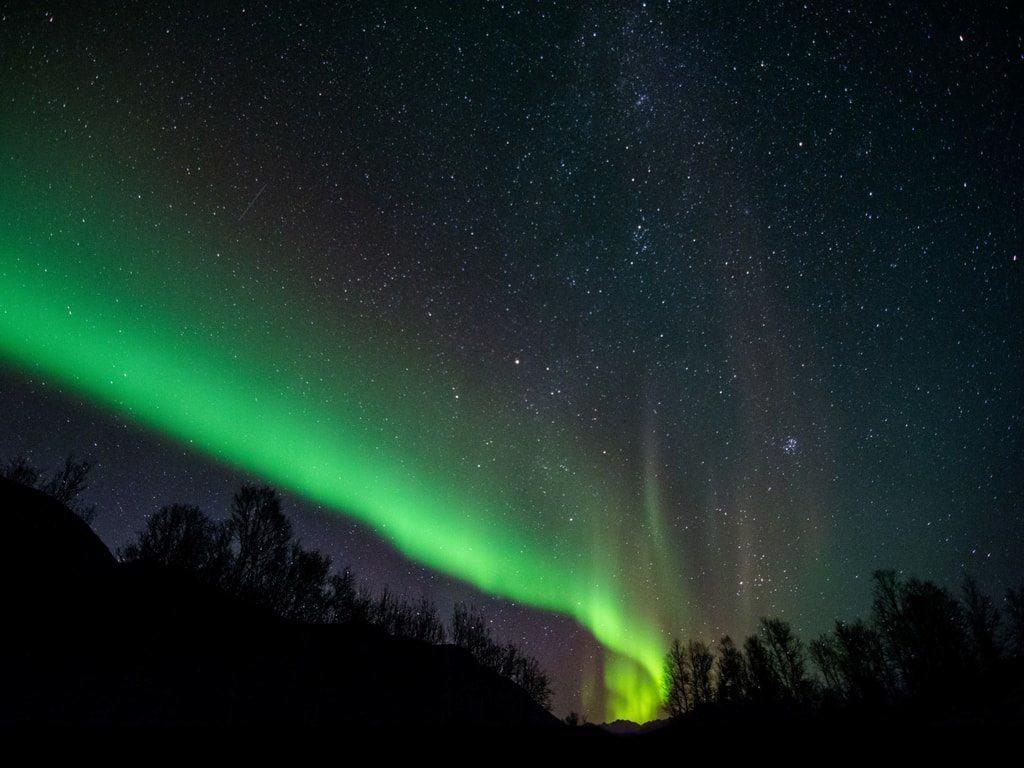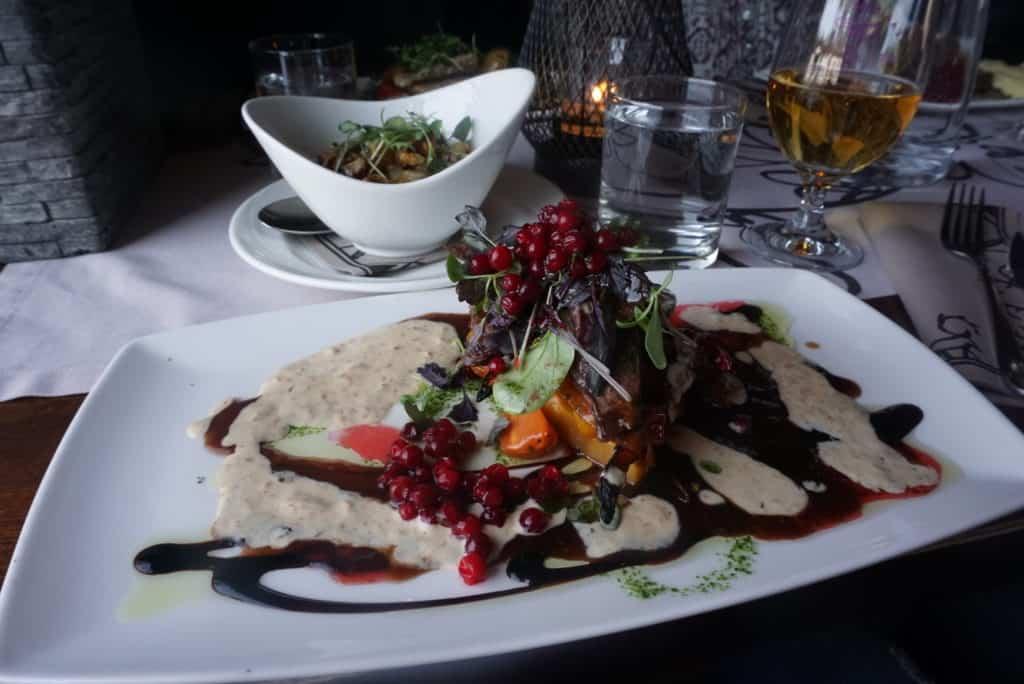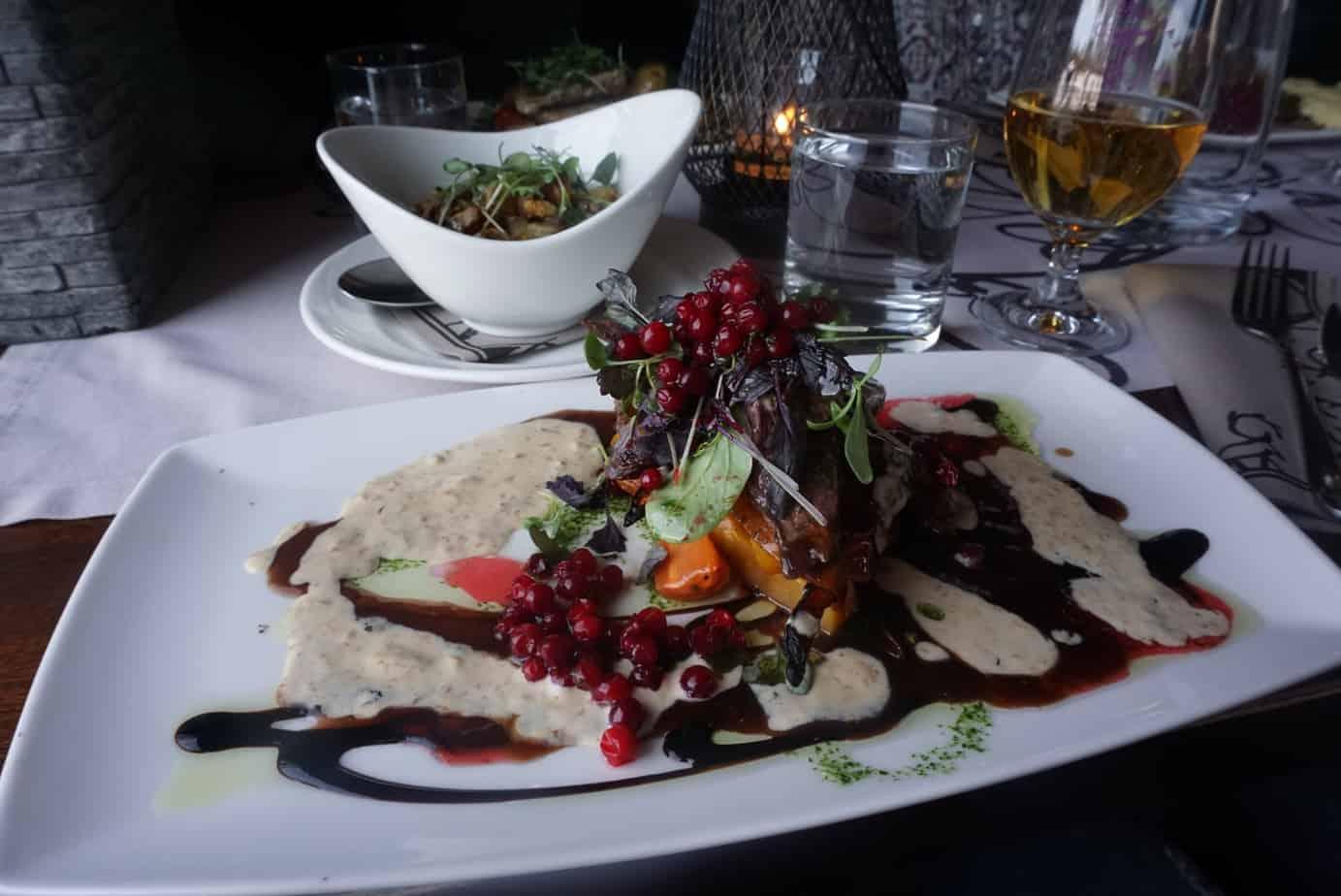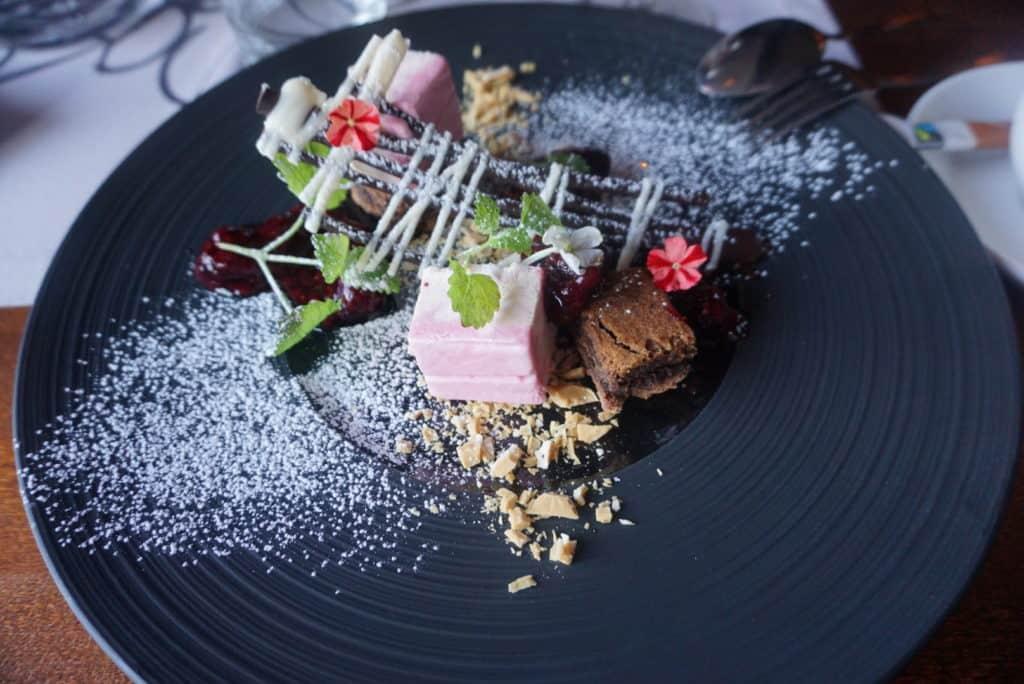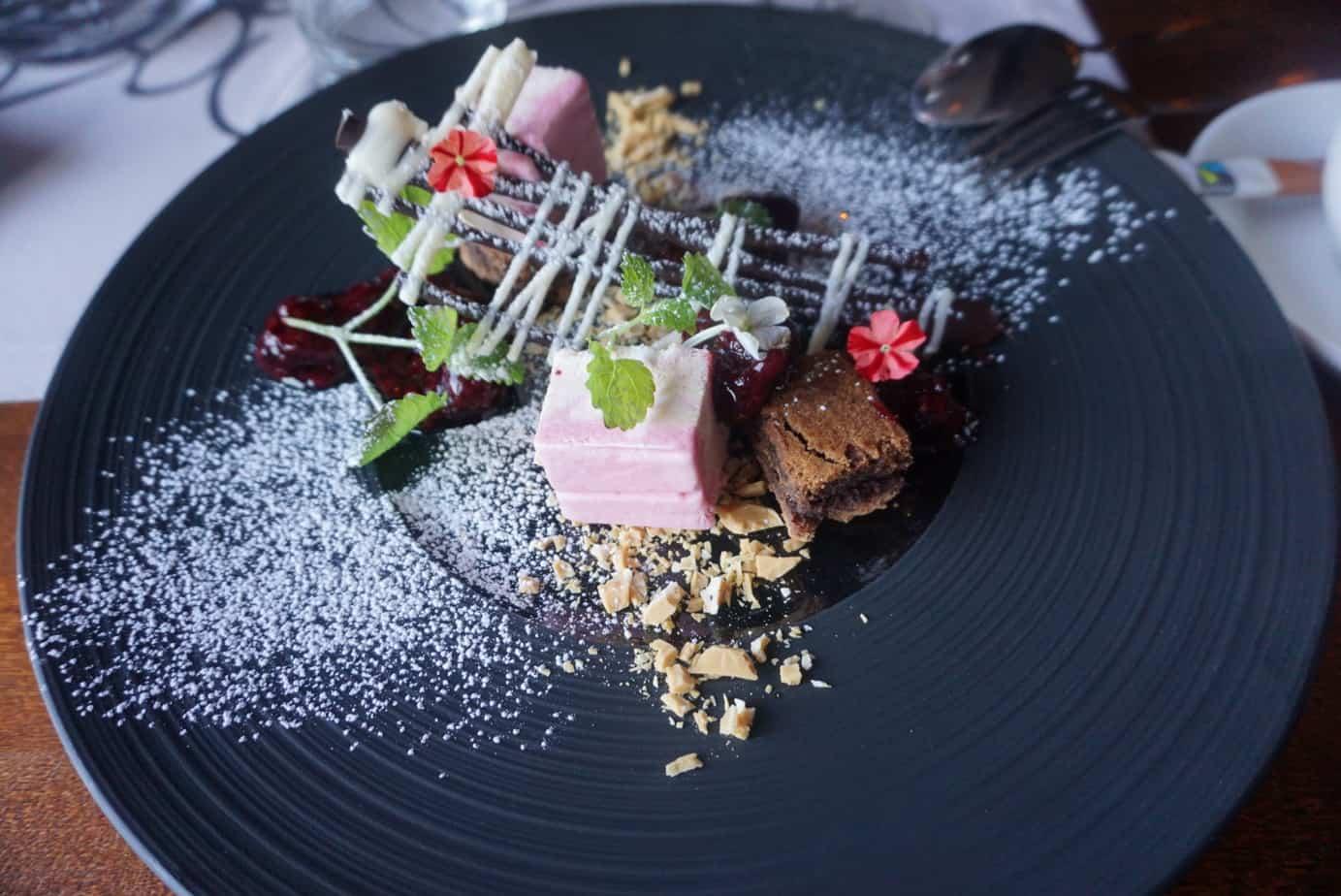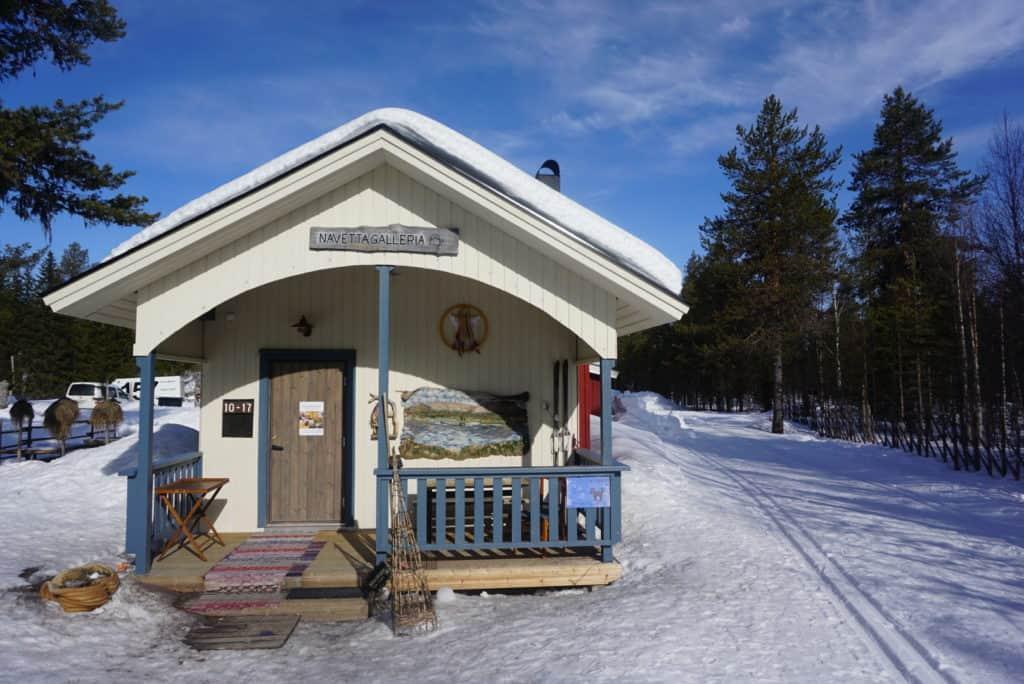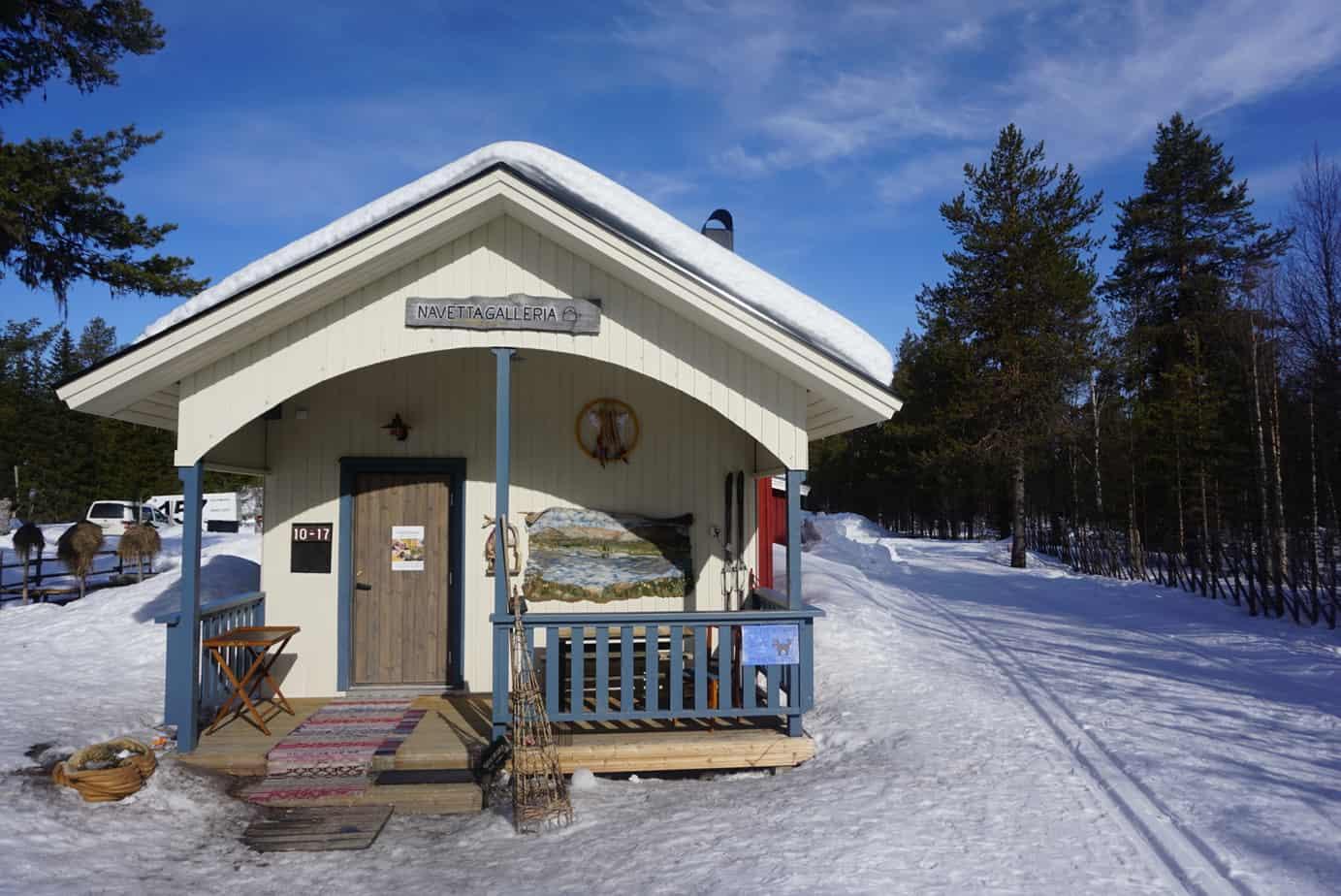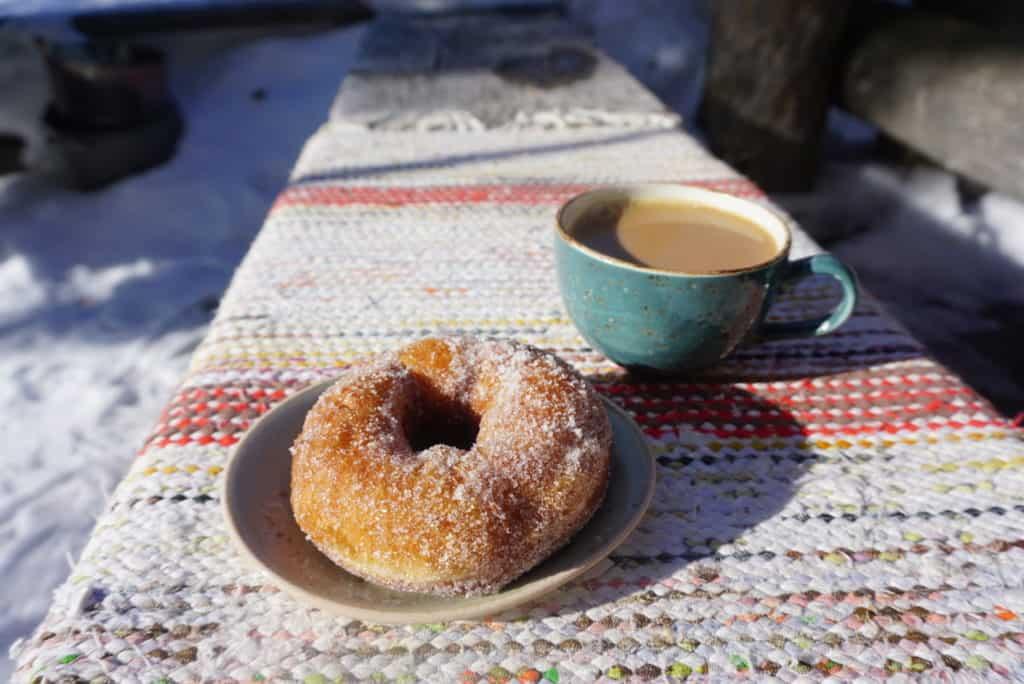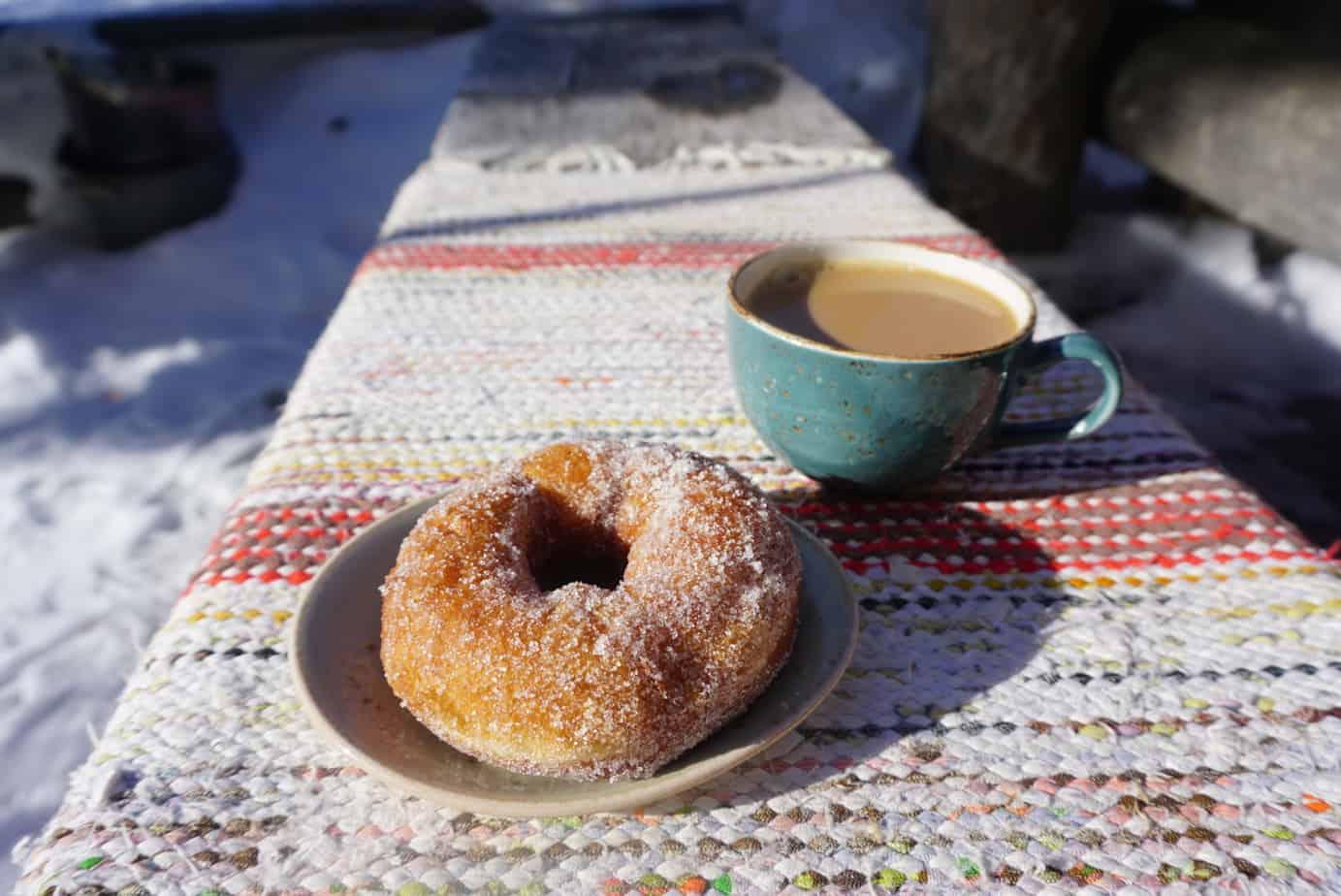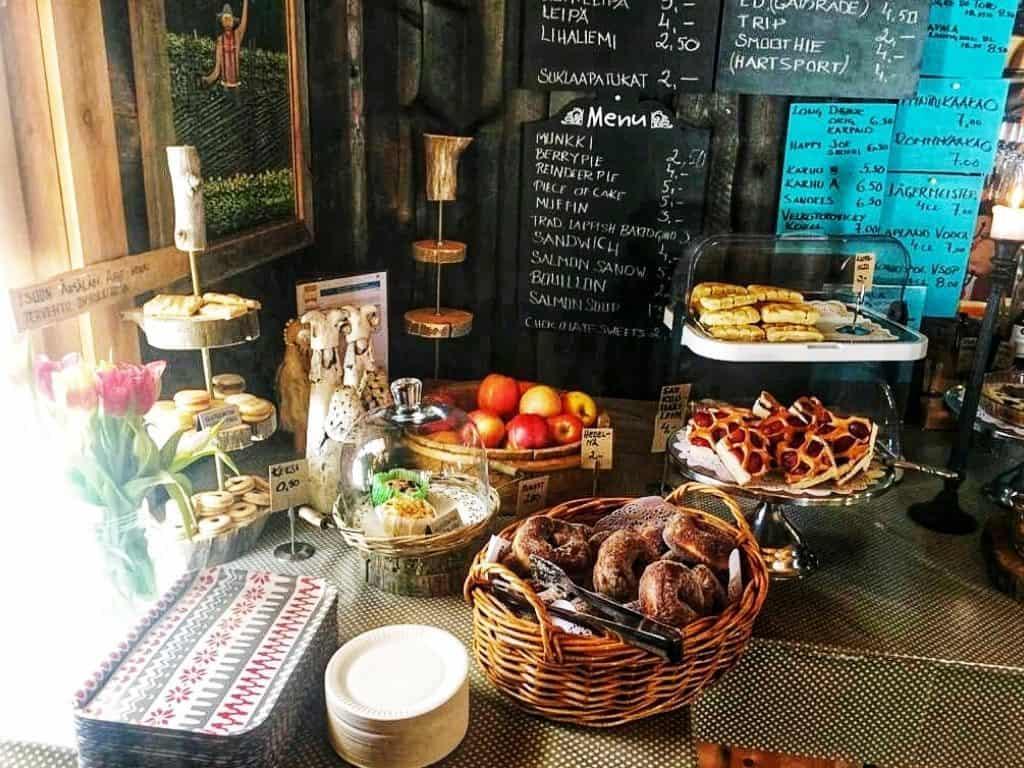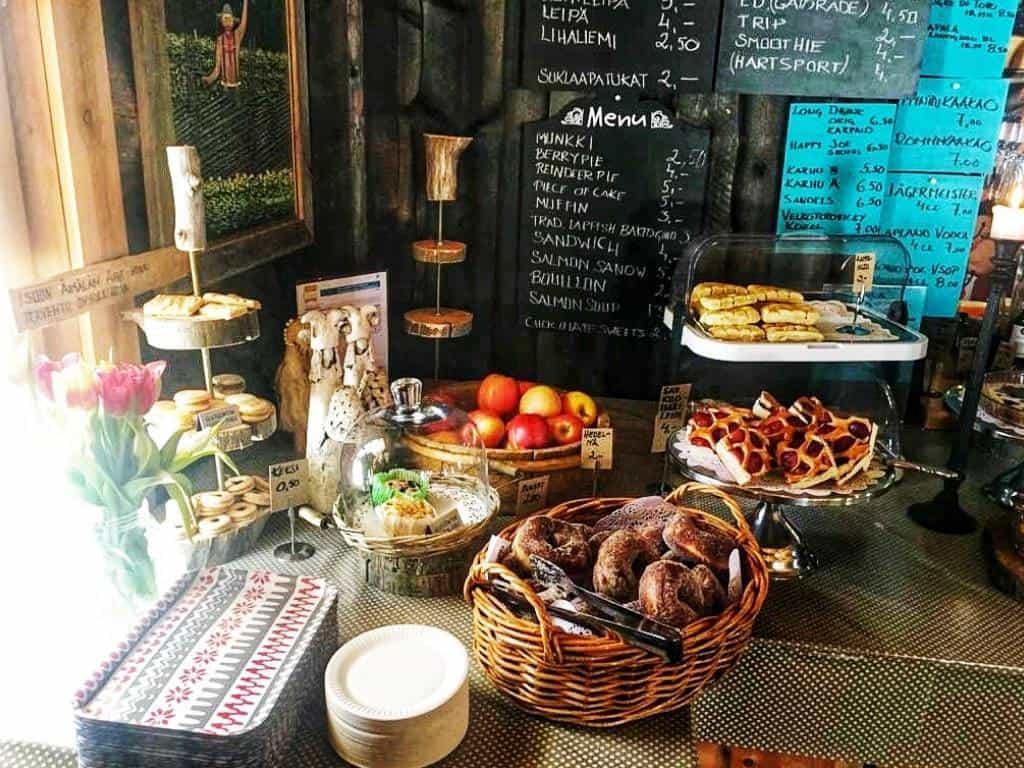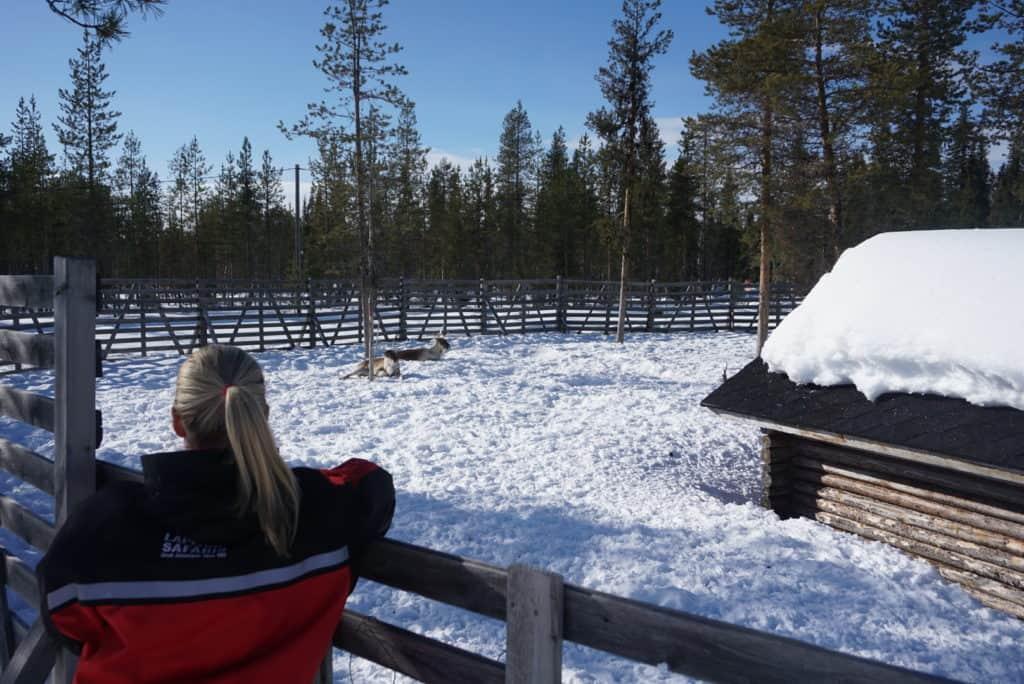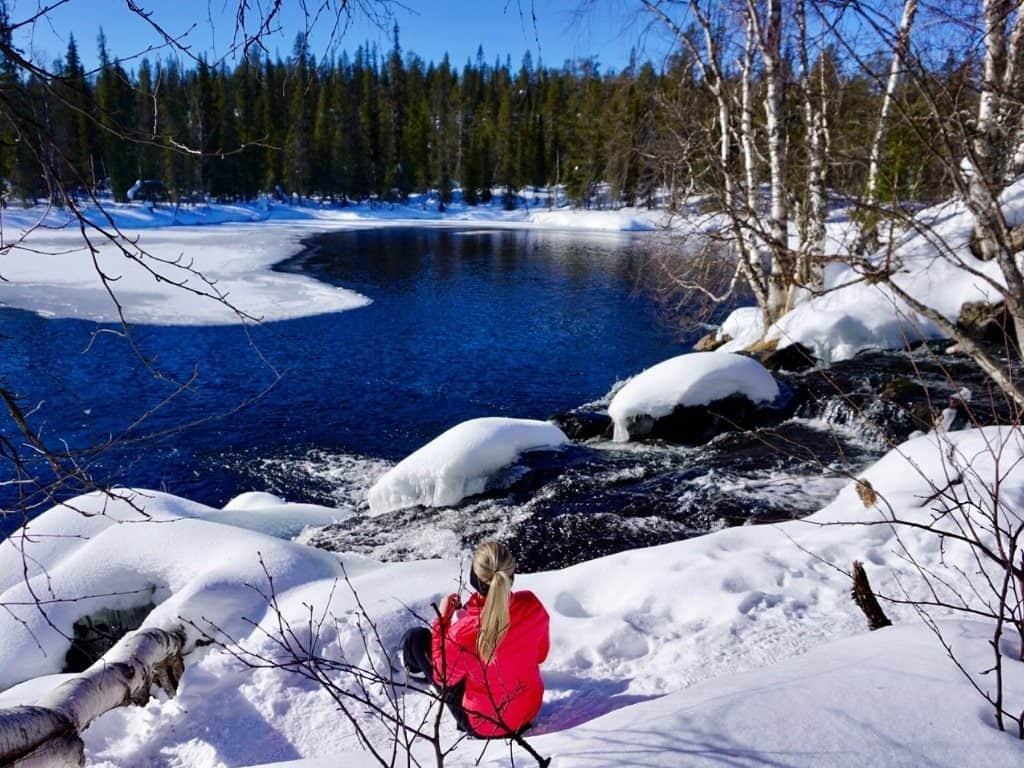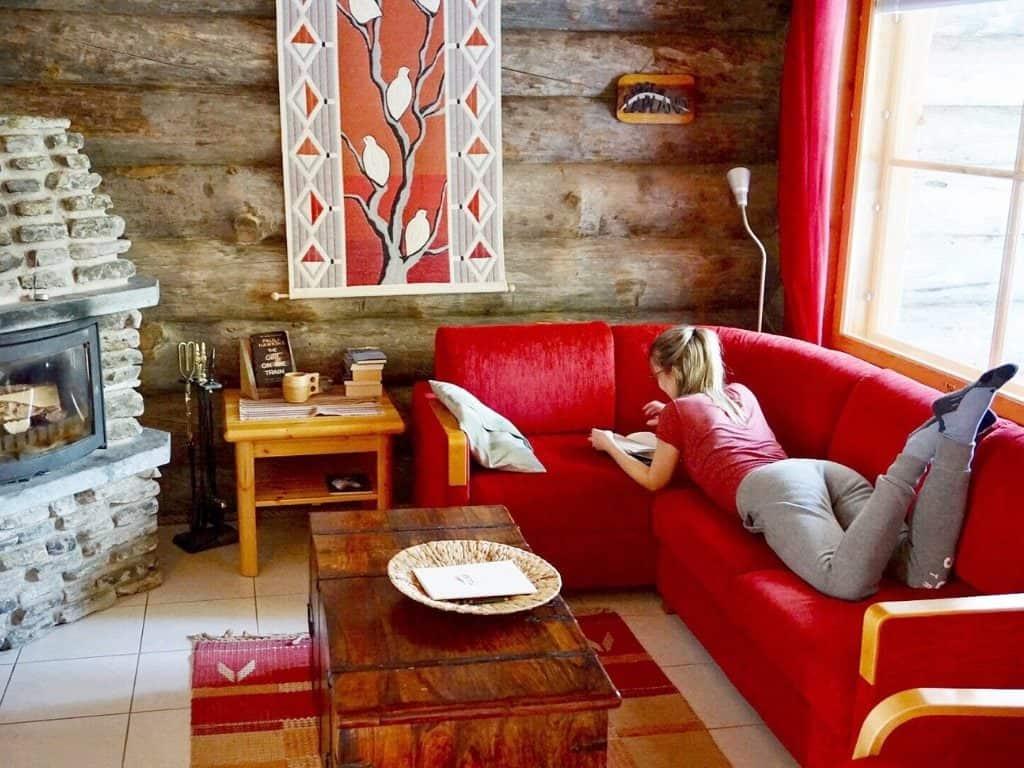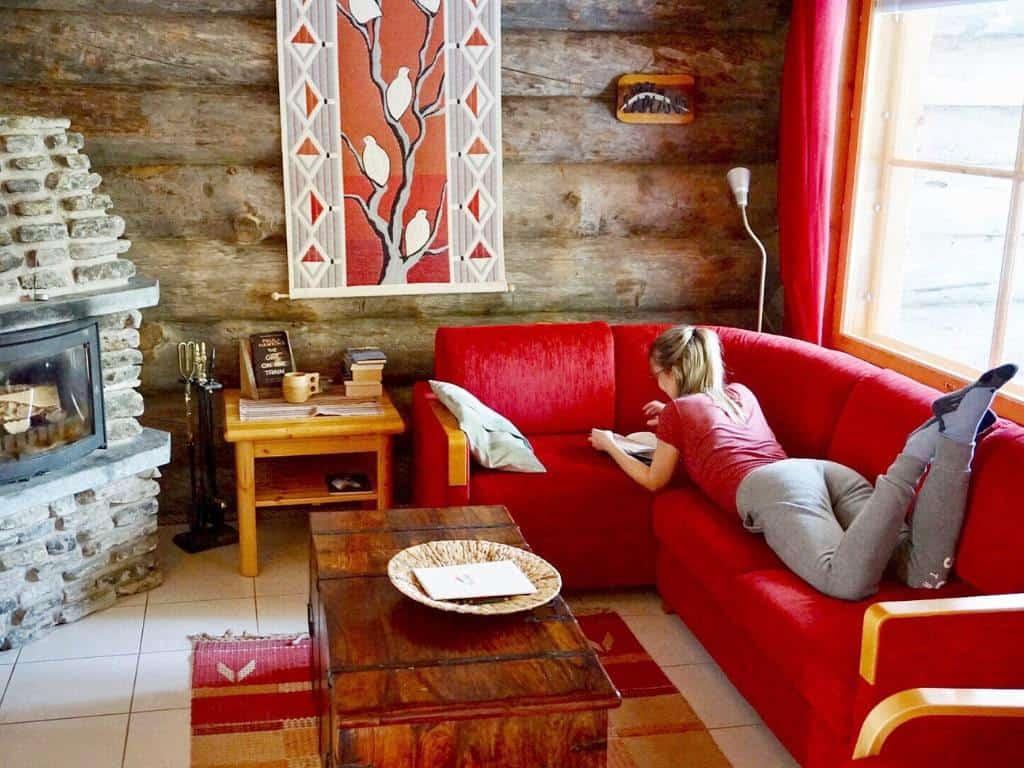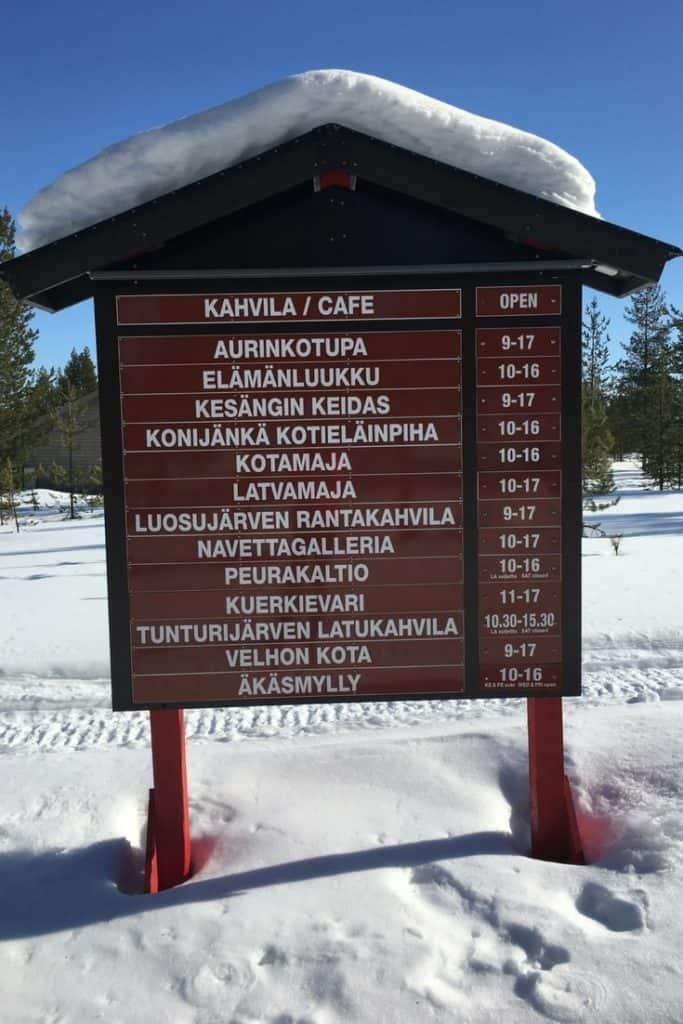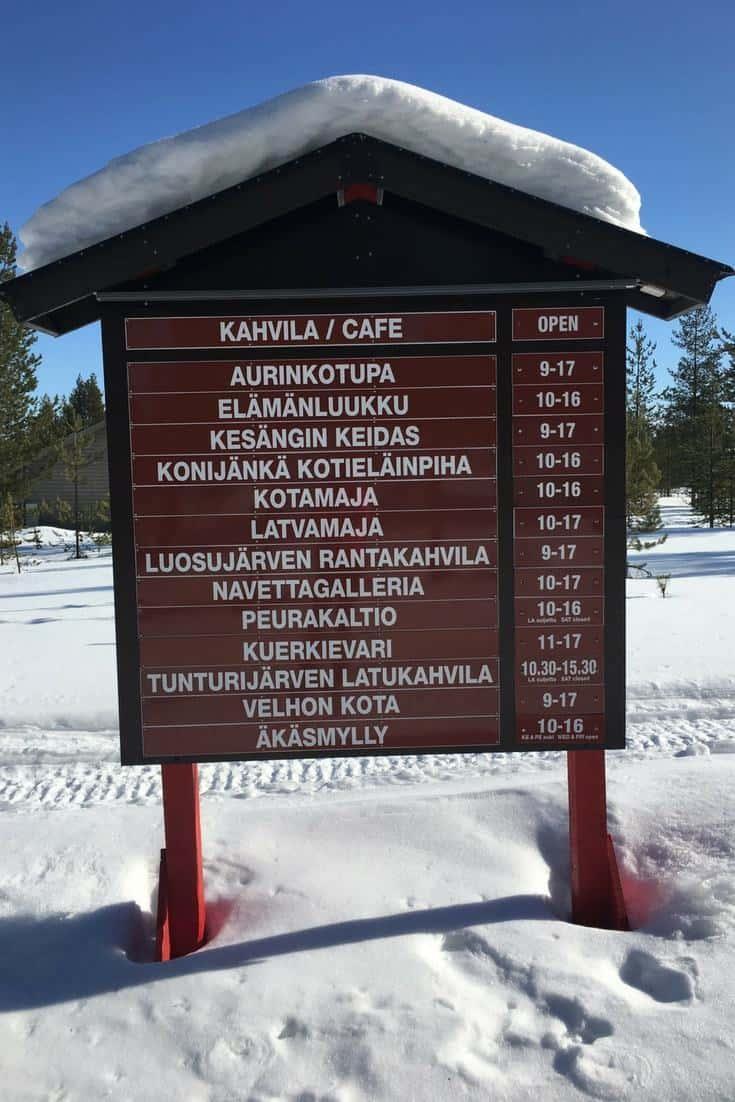 Feels like ATV's winter cousin. Just add sleds. Gasoline smells but electronic snowmobiles are arriving in few years. Maybe surprisingly, it's quite a romantic couple activity, as you get to be close to your sweetie and adrenaline flows.
You'll love it if the thrill of speed and motor vehicles are your thing.
Pro tips Clothing is taken care of, no need to worry! Lapland Safaris had great clothes: very warm, clean, easy to get in and out. You could have walked there in bikinis as they had everything. I loved their attention to detail: there's a super warm phone pocket so that your battery doesn't die within the first five minutes.
Winter biking
A fat tire bike is a perfect fit for the terrain in Ylläs. The robust bike is surprisingly easy to operate. There are over 100 kilometers of winter biking trails in Ylläs taking you over swamps, lakes, forests, and fells. Winter biking is often a fun sport for teenagers.
Feels like Cycling on the winter biking trail is as easy as on a normal dirt road.
You'll love it if you like cycling and who doesn't?! It's fast and light way to enjoy the fells.
Pro tip If you rent equipment only, have the newest map with you. Follow both bike signs and place name signs close to ski tracks to navigate. Sisu Outdoor rents normal fat bikes and e-bikes. You can choose how heavy work you want the ascents to be!
Snowshoeing
Snowshoeing is a form of hiking. A larger plate-like shoe is attached to your boot so that you float better on top of the snow. Always have poles too, it makes the walking a lot easier.
Breaking trail is heavier work than walking on a designated path. Try making your own track and see if your legs disappear intothe snow like a submarine. That's a part of the charm of this activity.
Snowshoes work wonders when there's a steep icy ascent like the one of Kuer fell in Ylläs. The view from the fell was gorgeous at sunset.
If you plan to explore a fell when it's getting dark, you should always do it with a guide. Seriously. On most days, the path back is very hard to find when you're on top of the fell. That's the point when there's a.huge risk that you'll get lost.
Sisu Outdoor and other operators have guided sunset and night tours.
Feels like walking in oversize but sturdy shoes.
You'll love it if you don't feel comfortable on the ski but want to enjoy the snowy nature up close. In Ylläs, many snowhoe trails lead to wilderness cafes. Snowshoeing is a great family activity too.
Pro tip Even though it might feel odd, always use the snowhe straight (the same direction as your nose). That's how the spikes create the best stability.
Cross-country skiing
Cross-country skiing is a part of Finnish heritage. It has a reputation for being difficult to master but don't feel intimidated. Once you get the hang of it, it comes second nature. Many operators offer a short ski taster which is the perfect way to get to know cross-country skiing with a professional teacher.
Indeed, cross-country skiing is one of those sports in which I really recommend having a teacher. Skiing is easy when you have the right technique but arduous job otherwise.
Feels like The classic style is simple gliding on the designated two tracks, so start with that! Skiing is enjoying the nature and weather too. Remember that you can go as slow as you want and always walk a hill if it is too steep.
You'll love it if you like to challenge yourself and enjoy a versatile sport with speed and sweat.
Pro tip Skate skiing is a more advanced, faster skiing style.I had the pleasure of trying a skiing lesson by Sisu Outdoor, and it did wonders for my technique. Three things make a great teacher. A sense of humor to keep the good mood. Discretion when to give more tips and when to stick with the ones already given. And finally, colorful mental images which the pupil can use later in her training. So thanks to Sisu Outdoor's inspiring lesson I'm thinking of straitjackets and frogs and my skiing is much better.
Hunting for the Northern Lights in Ylläs Ski Resort
In my Aurora post, I have told my best tips for catching the Northern Lights. I followed my own advice and checked the sites mentioned in the post. They promised a high chance of seeing Auroras.
A bit before midnight we walked outside. We could see only the stars on the terrace of our centrally located cabin. It's important to remember to avoid street lamps because they make Auroras disappear.
What surprised me was how little we had to walk from Äkäslompolo center! We merely walked to the ice of Äkäslompomo lake in the village center. Suddenly the sky was ablaze. There they were.
So my short advice: if it's clear weather, I recommend going outside and away from artificial light. Even if the Aurora forecast wasn't that promising, because you never know! Lake ice is particularly great for seeing Auroras because you can see the full sky and horizon.
Restaurants in Ylläs Ski Resort
It's official, a foodie's paradise is in Ylläs! Excellent restaurants are scattered to both villages and the region nearby. Don't be afraid to drive your way or to take a taxi to a restaurant – it's worth the trip. I'll share my four best eats in Ylläs.
Lappish dinner in Ravintola Rouhe
This cozy kid-friendly restaurant combines hearty cooking with superb ingredients. It is what Lappish food tastes at its best.
The roasted reindeer fillet melts in my mouth. The ultimate Lappish classic – sautéed reindeer served with mashed potatoes, gherkins and lingonberries – is so delicious that you would like to lick the plate.
As it often happens at family dinner in Finland, when the food is divine, a happy silence arrives at the table as everybody enjoys their dish.
For the finale, the baked Alaska is one of the best desserts I've ever tasted. Another favorite is the chocolate cake. Both the presentation and taste are heavenly.
Finnish pancakes in the wilderness café Kesängin Keidas
Nothing tastes better than a hot Finnish pancake with jam and whipped cream after a couple of hours in the snow! Kesängin Keidas is a big wilderness café attracting skiers, winter bikers and walkers all over Ylläs region.
Navettagalleria has super yummy fresh donuts and a lot of local crafts you can buy as a souvenir. They even have an indoor toilet which is a rare sight at a wilderness café. You can ski, winter bike or drive to this café.
The salmon soup & dessert buffet in the wilderness café Peurakaltio
Peurakaltio wilderness café is my favorite of all the cafés in Ylläs. It's super adorable inside and outside, the salmon soup lunch is delicious and the dessert buffet is heaven. If you only have time to visit one wilderness café, pick this!
Peurakaltio is open from Sunday to Friday 10-16. The best way to visit this wilderness café is by bike or skis but you can drive there, too.
The Best Way to Get to Ylläs
Flying is the fastest way to reach Ylläs. Kittilä airport is the closest airport only 40 minutes away. For winter season 2018-2019, direct flights take you to Kittilä airport from London, Paris, Zürich, Munich, and Düsseldorf.
Another option is to fly to Rovaniemi. Rovaniemi airport is 2,5 hours away from Ylläs. There is a variety of flights from Helsinki airport to Kittilä and Rovaniemi, so connecting flights are easy to arrange. Whichever airport you arrive, a bus will take you directly to Ylläs.
Lately, my family has been arriving by train. It's a fantastic option if you are in southern Finland, have a ton of sports gear and/or are traveling with kids. Train traveling is smooth in Finland. It's a great feeling to wake up in the destination in the morning!
Naturally, it's also possible to travel by bus or car to Ylläs.
Ylläs has good shuttle bus service in the region. If your accommodation is near a bus stop (or at the center of one of the two villages: Äkäslompolo or Ylläsjärvi) you really don't need a car. Ski tracks leave practically from your doorstep, many activities are within walking distance, and operators provide pick-up services.
Ylläs Accommodation and Services
Ylläs has a variety of different accommodation services. From hotels to Airbnb and rental log cabins. Booking.com is my go-to booking site for planning all of our trips. This site regularly has fantastic deals.
But more importantly, Booking.com has become "the place to be", when it comes to offering accommodation in Finland. Both Ylläs villages have a grocery store, and many places sell warm clothes, sport and trekking gear.
Ylläs is a great family-travel destination. The options for outdoor fun are versatile and you can do almost everything with kids.
In fact, you can spot little kids and baby gliders on ski tracks as Finns take their offspring to learn skiing from an early age. Shops have everything for kids and babies. All restaurants and wilderness cafés (there are 13, see below) are kid-friendly.
Final Thoughts
Ylläs is the best of both worlds. Never-ending terrains of wild nature but on the other hand, it is accessible without a car. Auroras on a week-long sweaty-socks-kinda hike or after a fine-dining experience. You decide.
I love the phrase "You can have anything, but not everything." It's so appropriate to many situations in life. It seems, however, that my time in Ylläs has rewritten the motto: "You can have anything, but not everything. Unless you are in Ylläs."
Looking for some other tips regarding Lapland? Check out these posts:
What else would you like to know about Ylläs Ski resort? Are you planning a Lapland vacation? Let me know in the comments!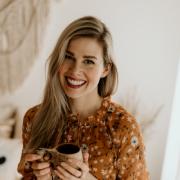 About Varpu
I'm the founder of Her Finland. I love cultural tidbits, aha moments, Finnish folklore, and cinnamon buns. My newest interest is learning bird songs. Read more about me..