Love podcasts? You're not alone. To me it feels like everyone in Finland is listening to podcasts these days. I really like them too and here are the reasons why:
#1 It's an intimate way to learn about new things.
#2 With podcasts, you don't feel like you're mindlessly consuming social media, they make you think.
#3 The fact that I can cook, clean, or drive while listening to a podcast is a big plus in my book.
Podcasts are definitely a great way to learn about Finland and Finnish ways of life. I want to share with you top podcasts about Finland. Also, I have included other digital resources here for you to explore.
Before we get going, a huge thanks to my student Matty for working together with me to make this list. Here's what we'll be covering in this post:
Podcasts about Finland
Podcasts about Finnish Culture in English
If you're looking for a podcast from the perspective of someone who has lived in Finland, listen to:
Mastering Finland for inspiration and laughs when it comes to mastering Finland as a foreigner. Petra and Jean are doing a superb job with sharing their experiences in Finnish society. These episodes are packed with practical tips and relatable stories! I love how in this podcast we can expand our thinking with very personal and delicate topics, such as mental health. So important!
Very Finnish Problems for your daily dose of stories about all the weird and wonderful things of Finland. Very Finnish Problems is the digital baby of the Helsinki-based brit, Joel Willans.
Joel and his lovely wife Anna (a Finn who Joel met in a bar) have been putting Finland on the map for years. I got to know them when Her Finland was just a few weeks old and their encouragement was important.
A true story: Joel and I recorded his podcast about the strong women of Finland while he was rocking my 2-month-old daughter in his arms.
The Nordic Mum for helpful tips on the simple, Nordic way of living. Susanna is a Finn living in Australia with her family.
Susanna does amazing meaningful interviews and really delves into the topic and her guest's expertise. I also admire how she helps her listeners concretely by sharing her learnings on her journey. You can listen to our episode about blogging about Finland here.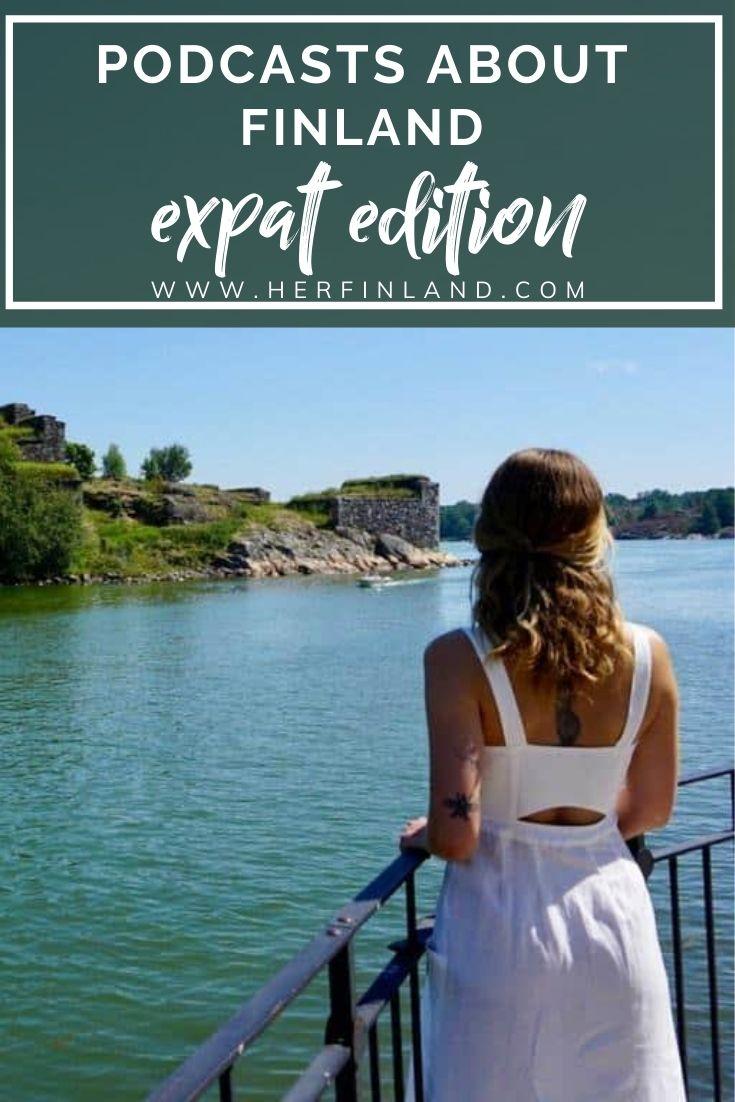 Podcasts about Finnish History and News
Are you looking to take a look back into the history of Finland or stay up to date with the latest news stories? Look no further than these podcasts:
The History of Finland: learn about the history of Finland in a dramatic fashion (in English.)
All Points North: listen to weekly new stories about Finland in English.
Explore Finland Radio Show: discover new things to do in Finland like sports, nature activities, and more! (in English)
News Now Finland: learn about current events with guest speakers like Finnish chefs, journalists, and others (in English).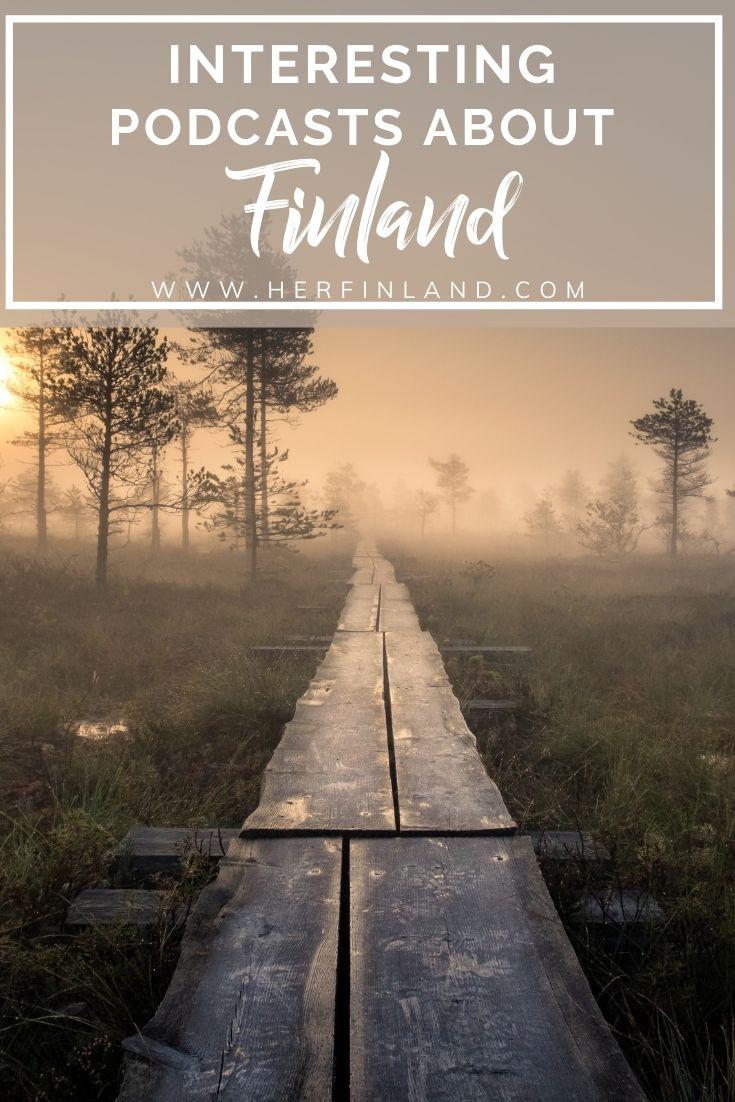 Podcasts about Finland by International Embassies
The Finnish Institute in London: join interesting conversations from London about Finnish art, culture and society (in English).
Suomi-Finland Podcast: hear from the embassy of Finland in Washington DC about contemporary and cultural aspects of Finnish life (in English).
SBS Finnish: get connected with news stories related to Australia and Finnish-speaking Australians (in Finnish and English).
Podcasts to Help you Learn Finnish
If you're ready to find a podcast that will help you practice your Finnish language skills, listen to:
Yle Uutiset selkosuomeksi: for simple, daily news presented in basic Finnish
Random Finnish Lesson with Hanna Männikkölahti: for an interesting podcast delivered in simple Finnish.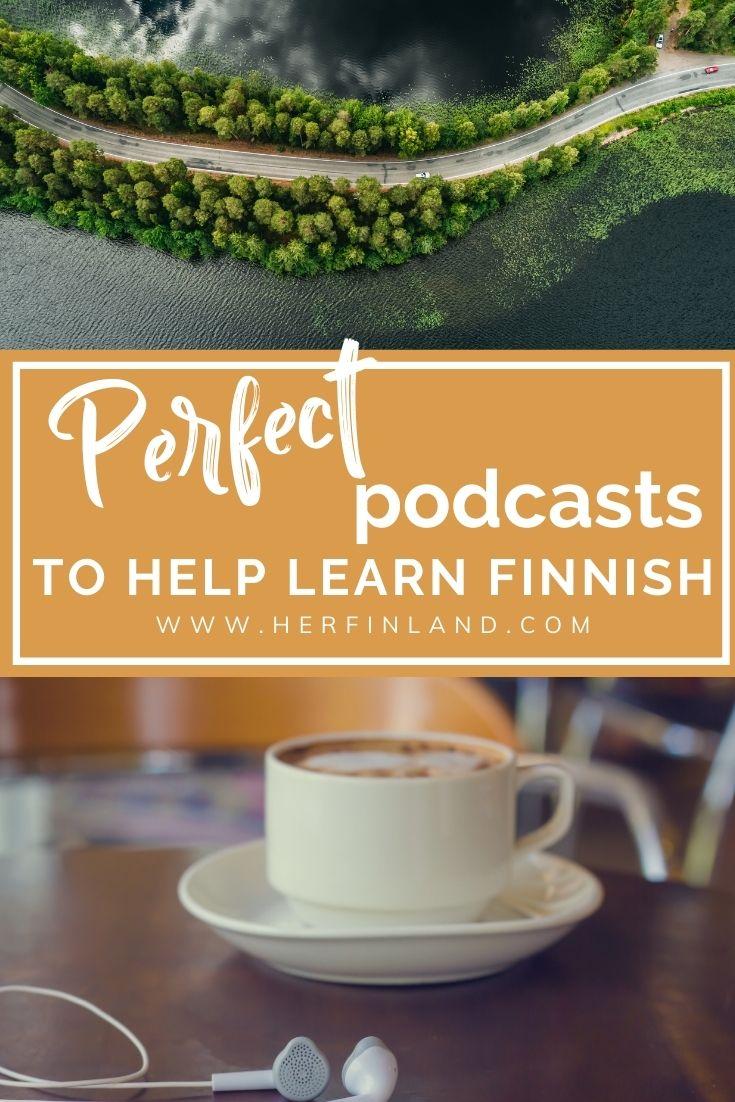 Podcast Episodes featuring Her Finland
If you would like to listen to my rambling, check out these episodes.
The Cultural Empath, Ep. 1: "Typical Day in Finland: (August 25, 2020)
The Nordic Mum, Ep. 57: "Blogging about Finland for Living with Varpu Poyry" (May 12, 2019)
Very Finnish Problems, Ep. 11: "When You Don't Like Strong Women" (March 16, 2018)
Favorite Finnish Youtube Channels
Podcasts aren't for everyone, so if you feel you need a little visual entertainment to go along with your learning experience, these fresh YouTube channels won't let you down:
Her Finland
Welcome to my encouraging and culture-filled YouTube channel. My 2021 focus is to do a lot of new videos here! So excited!
It would mean the world to me if you subscribe and comment on the video below letting me know what kind of videos you would like to see.
We are on this journey to achieve your Finnish dream together. You make the Her Finland community extra special, so I cannot wait to make even more videos for you on YouTube.
Get ready to speak Finnish, travel, and learn about the Finnish culture with me. See you there.
Aleksi Himself
You can checkout Aleksi's Finntastic community to see videos that answer almost any question you may have about life in Finland.
He makes informational and comedic videos about dating culture, moving to Finland, common drinking habits of Finns, and much more!
My Finland Story
Olivia is originally from Nigeria but has been living in Finland for 6 years.
On her channel she shares her successes, struggles, and culture shocks from her time living in Finland. You will find lots of great tips from her channel about studying, cooking, and everything in between.
Nation Connection
Supriyo, an Indian YouTuber, and Tuula, a Finnish YouTuber, came together to make this channel to connect India to Finland. Their channel is unique since they both are having these conversations from different countries.
They help you learn more about both Indian and Finnish culture through their fun episodes, comparisons, and challenges. Watch to learn the cultural differences between Finland and India.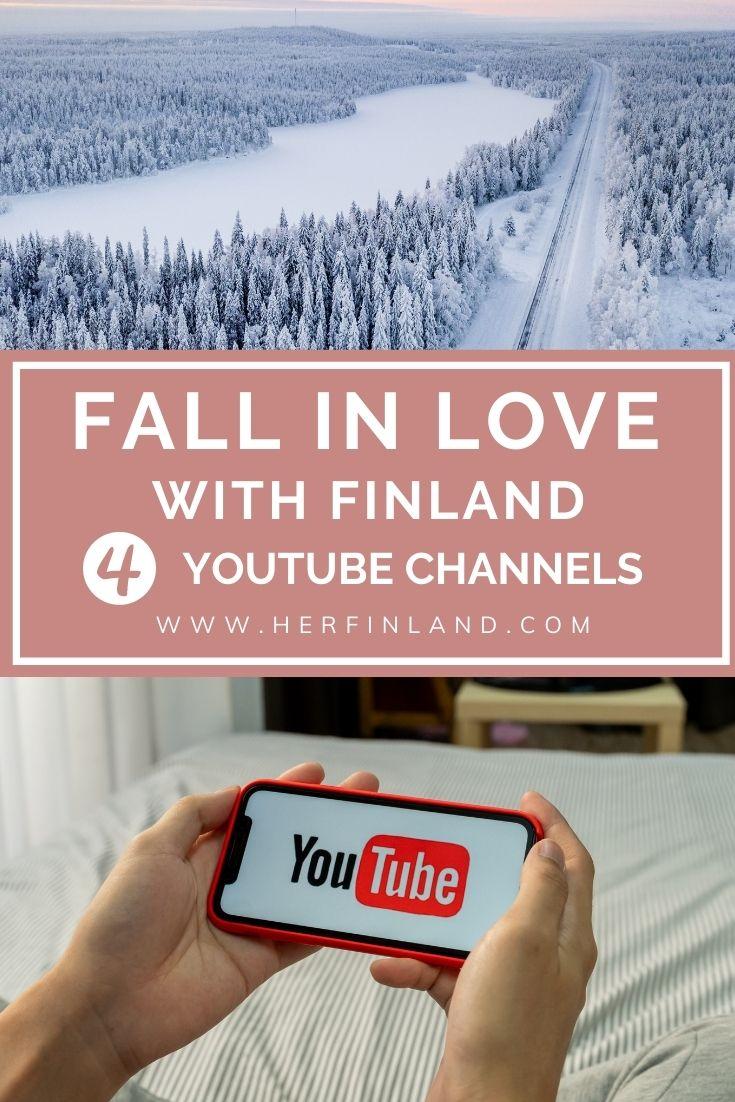 Fun Instagram Accounts About Life in Finland
Instagram is a great way to see a little bit of Finland daily, make sure to add these Instagram pages to your follow list.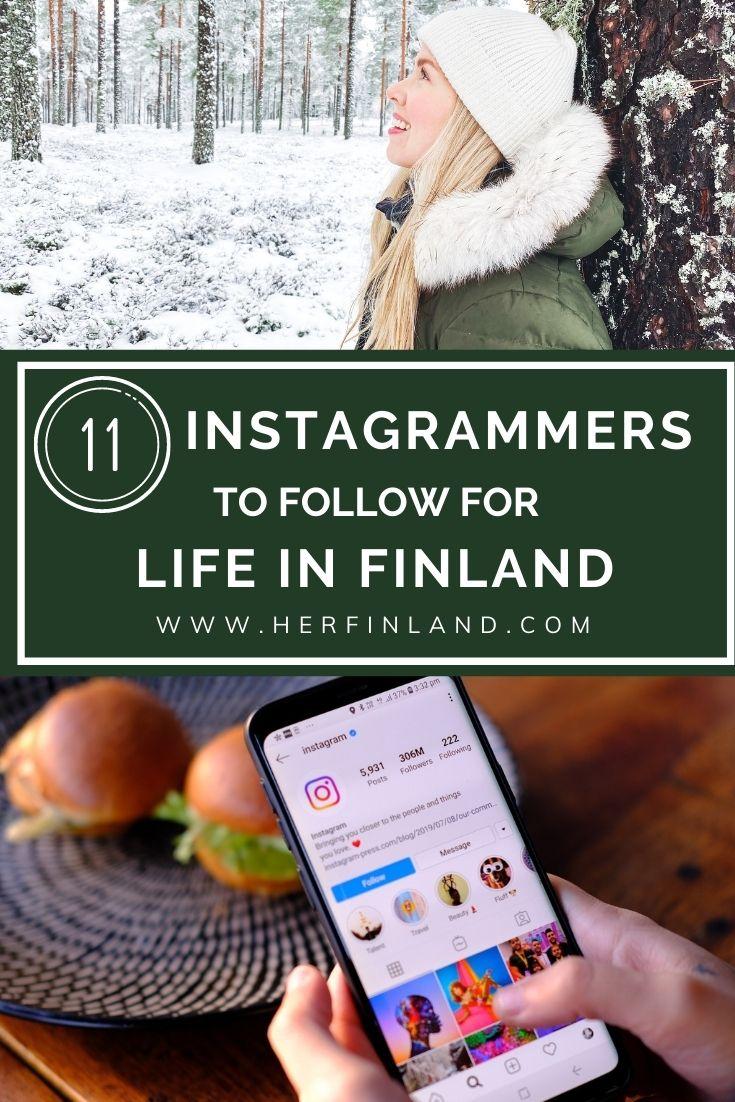 Interactive Courses About Finland
Connect with Finns – Free Course
Dreaming of Finland? Get more connected with Finns with my FREE Finnish culture class. Click here to try it out today!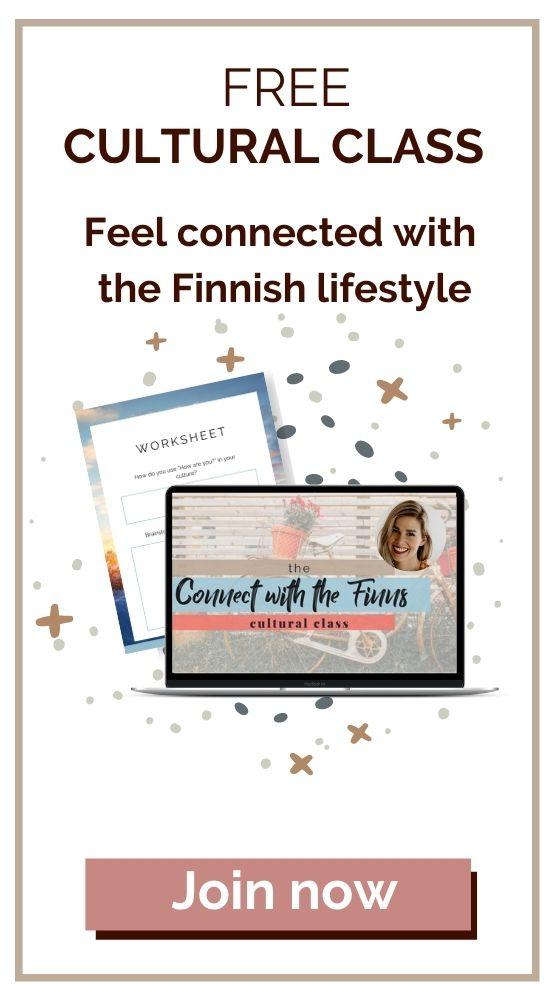 You don't need to have lived in Finland for years to understand the ends and outs of the Finnish lifestyle.
With the Connect with the Finns webinar, you'll learn some tips on how to break the ice with Finns and how to become more natural in your day-to-day conversations.
Once you've tested out the "Connect with Finns" free class and you want to discover the Finish culture with a personal coach, check out the Finnish Culture Compass.
Throughout this course, you'll learn more about Finnish culture by also applying your own life experiences throughout the learning process. This course with a personal video review helps you embrace your Finnish roots or to develop a deep understanding of the Finnish lifestyle. Click here to get started!
Finnish Baking Magic
Learn sweet Finnish recipes, practice Finnish pronunciation, and then treat yourself for your hard work. If you need another excuse to bake more holiday goodies, look no further than my Finnish cookbook.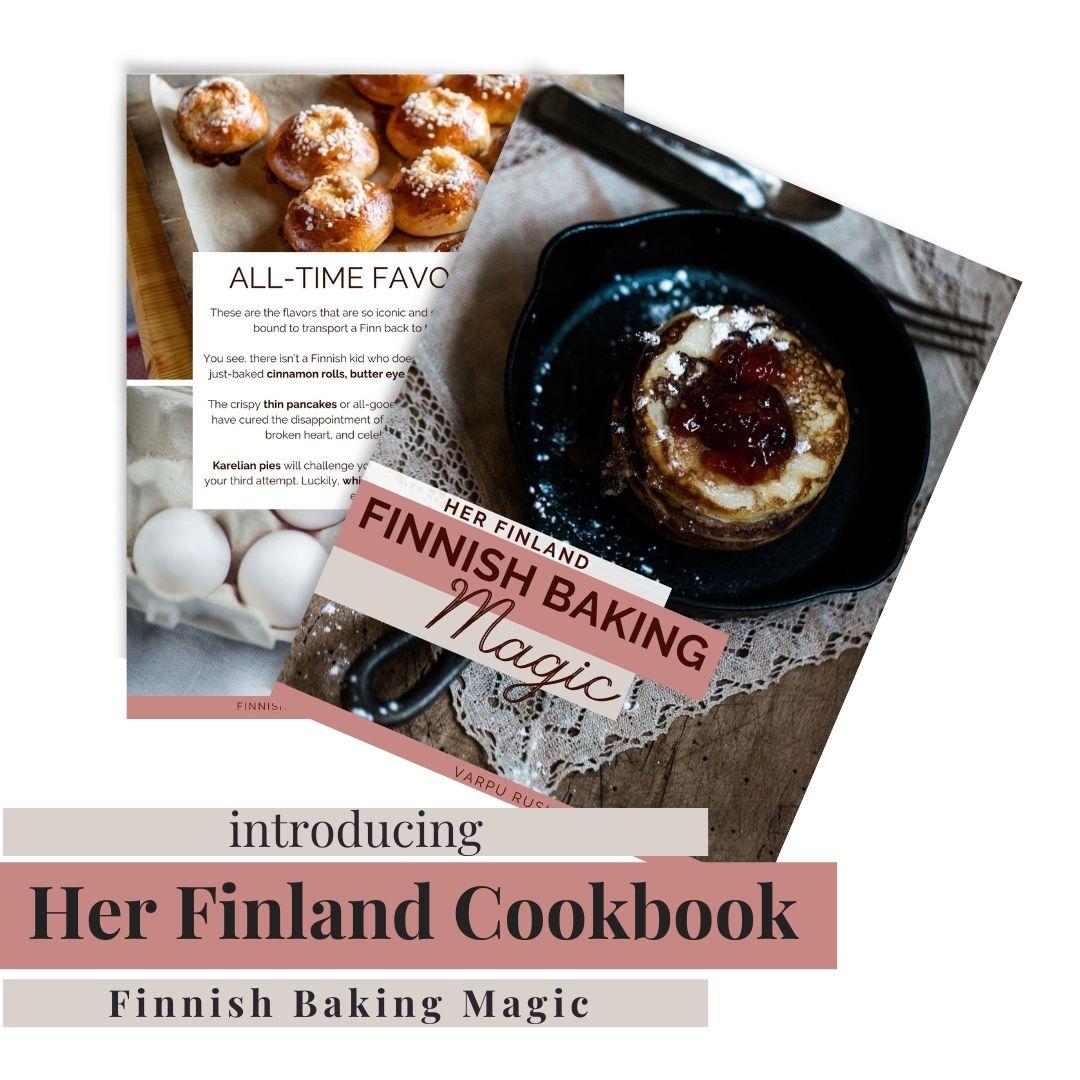 With my digital baking cookbook, you can learn about Finland through our delicious holiday food traditions.
You also have the opportunity to learn Finnish vocabulary for ingredients, measurements, and iconic dishes with all of the freebies that come along with the cookbook. Get starting baking today and grab your copy here.
Have you listened to any new podcasts about Finland lately? What's your favorite way to learn more about Finnish culture? Let me know in the comments!
Looking for more ways to immerse yourself in Finnish culture? Check out some of my other posts:
50+ Addicting Finnish TV Series, Movies, and Books!
How to Make Finnish Friends: 7 Steps
FinNISH CONNECTION COLLECTION 🇫🇮
Finland-themed sweaters and accessories made-to-order. 🧡 Worldwide shipping.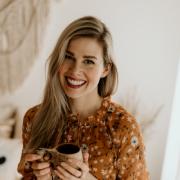 About Varpu
I'm the founder of Her Finland. I love cultural tidbits, aha moments, Finnish folklore, and cinnamon buns. My newest interest is learning bird songs. Read more about me..