*Please note that this post has affiliate links. At no additional cost to you, I may earn a small commission if you make a purchase which helps the upkeep of this blog.
Nestled in Finnish Lapland, Levi in Kittilä is Finland's largest ski resort with a range of winter activities, cozy accommodations, and delicious dining options. There is more to it than just skiing, though, as you'll also discover Lapland's most popular apres-ski activities there, which has earned Levi the unofficial title of the party central of Lapland.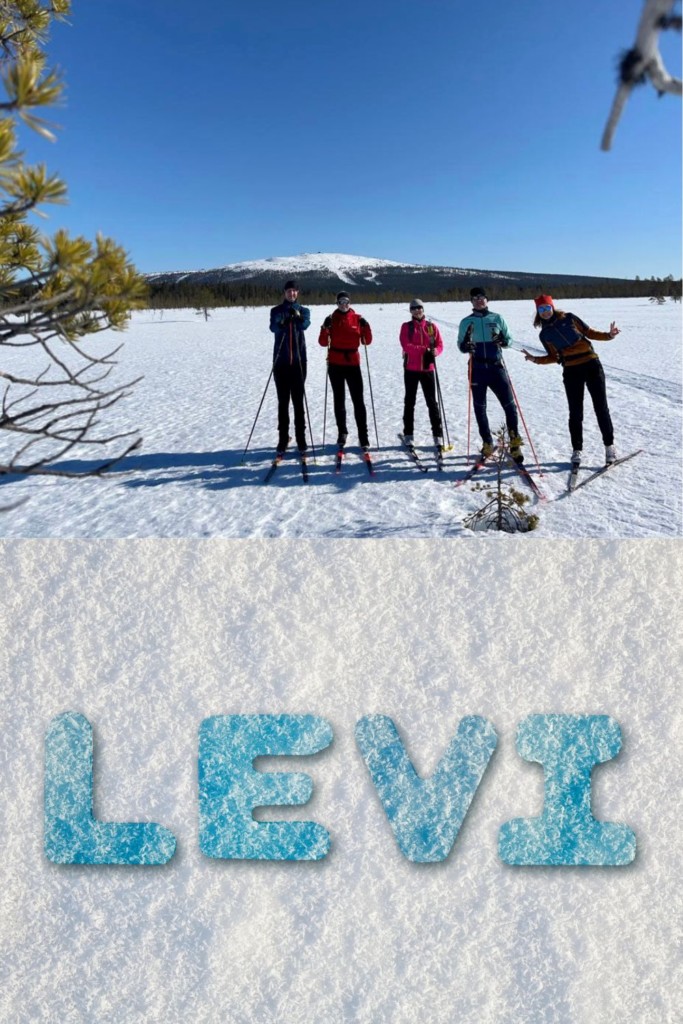 Another great thing about Levi is that you can make it there without a car, and everything is within walking distance if you are staying in the center of town. You could also arrive at the airport wearing beach wear and get everything you need for your winter break from the excellent stores around. This is unique in Lapland.
If you're planning a trip to Lapland and looking for the best things to do, places to stay, and restaurants to try, this article will help you make the most of your trip to this magical winter wonderland.
How to get to Levi?
Levi is only a short drive away from Kittilä airport. After every flight, a bus will take you to the center of town, and it costs 10 € each way. Of course, you can also take a taxi.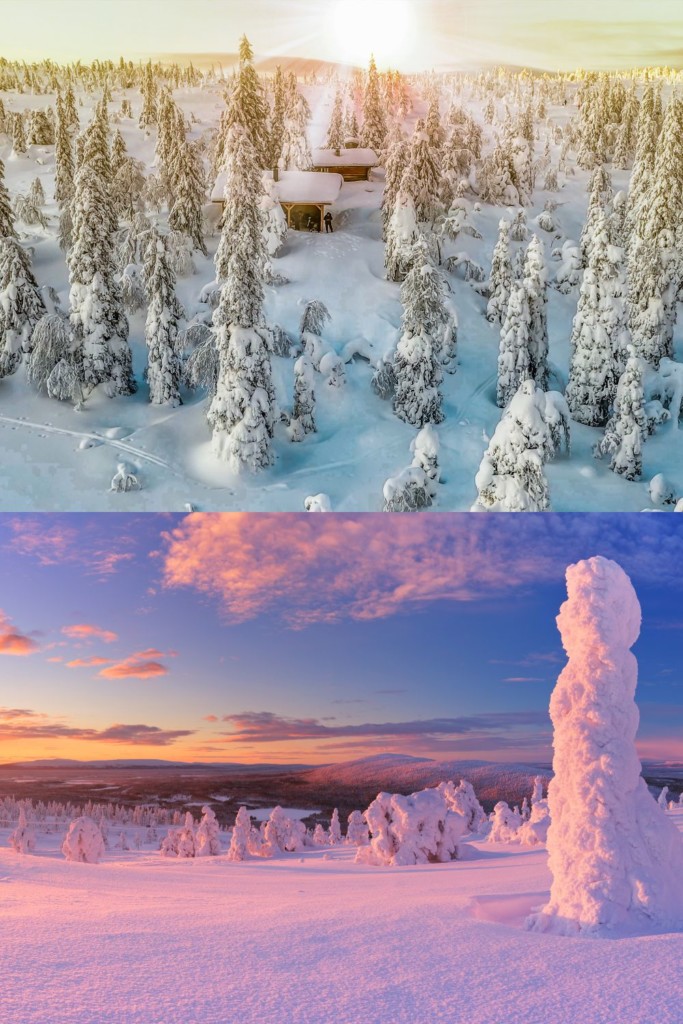 Best activities in Levi
Levi has much to offer visitors, from reindeer rides to amazing views and lively after-ski parties. Here are some of my favorites to try during your visit.
Conquer the top of a fell
Restaurant Tuikku located on the top of a fell offers breathtaking views. It gets my warm recommendation and is worth a visit, no matter who you are and why you are visiting Levi! Even if skiing is not your thing, you can get there by car.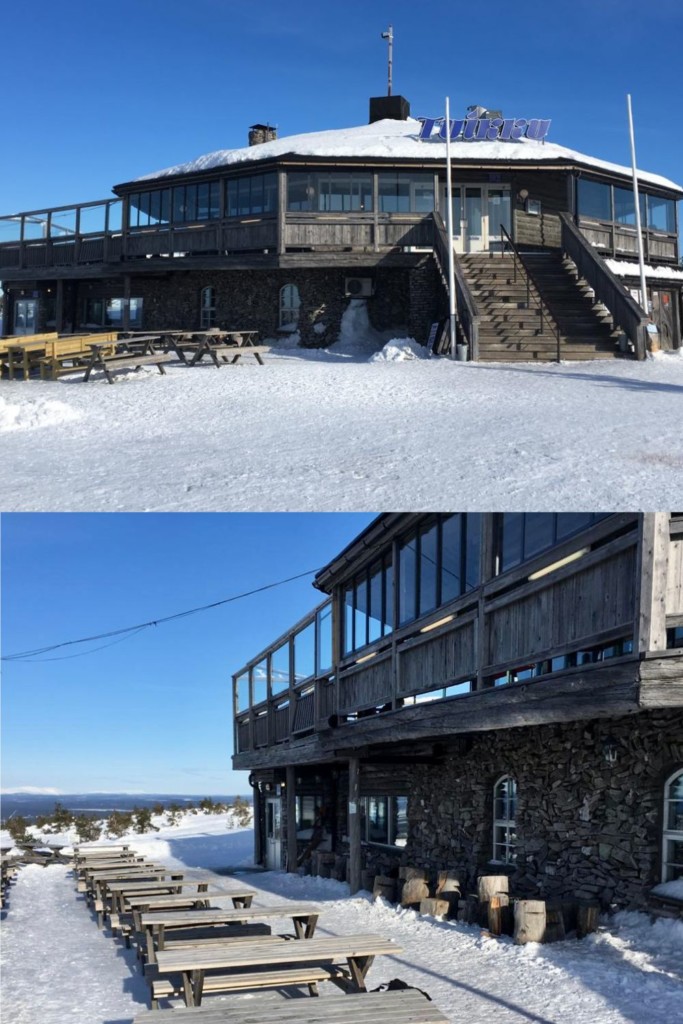 Ride a horse, reindeer sleigh or take a husky safari
Polar lights tours is a family-run business a short drive from Levi, and they are your stop for all kinds of activities with animals like horses, reindeer, and husky dogs. The service is excellent, and they have a wonderful goahti (Sami hut), where you can enjoy some coffee or juice after the day's activities.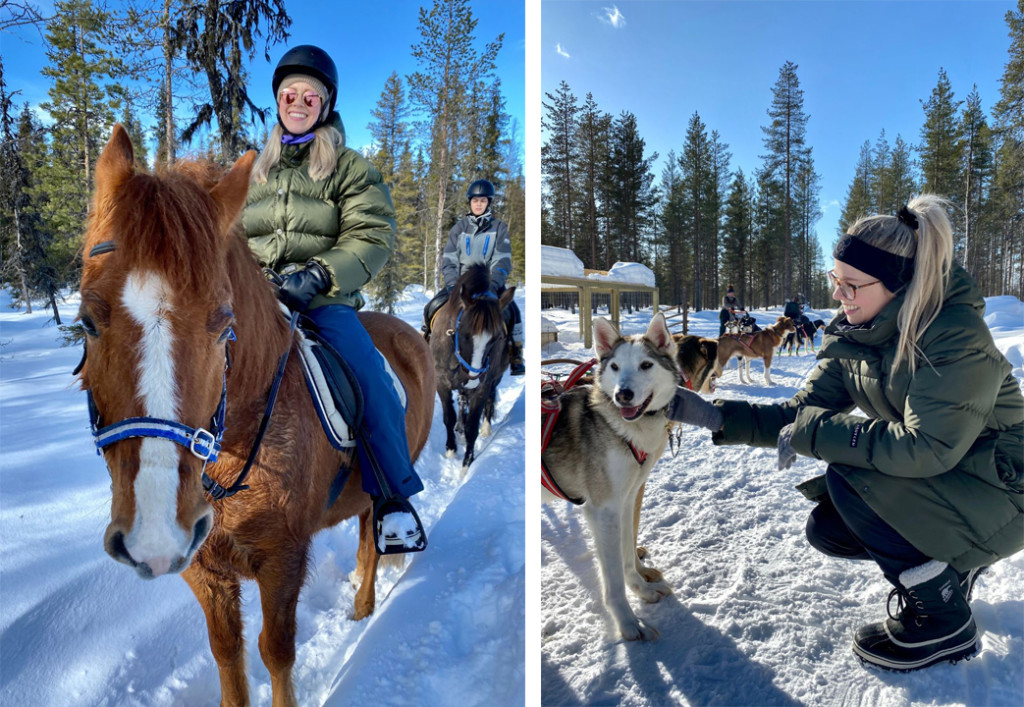 Skiing
Levi has a great variety of slopes, meaning there is something for everyone. Some are easy, and others are difficult, including the Levi Black world cup slalom ski course.
Cross-country skiing
This is my favorite, and the best thing about cross-country skiing is the excellent cafes by the ski track. You will find straightforward routes for beginners, like Immeljärvi and back. Stop at the waffle cafe Riihi on the shore of Immeljärvi lake to soak in the spring sunshine.
If you want to complete a longer, roughly 14-kilometer route, continue to the Kätkäjärvi lean-to-shelter. You will find Finnish lettu pancakes and donuts here, and there is a fire pit and sun terrace.
Snowmobile safaris
Levi is a popular place for snowmobile activities, and plenty of different types of safaris and tour packages are available. Just renting one is also possible.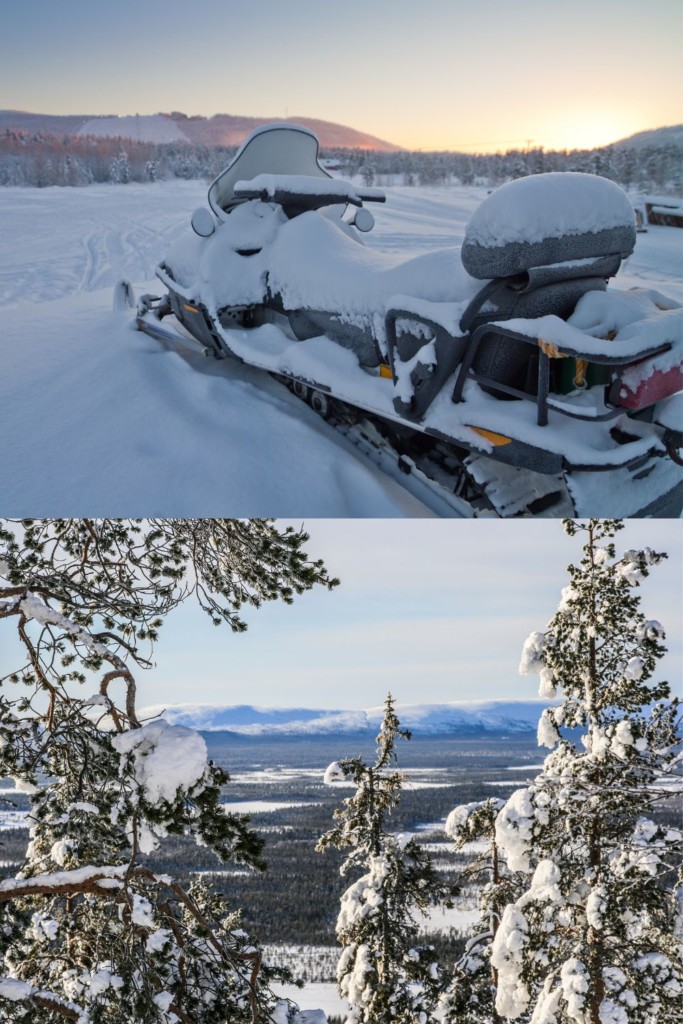 After ski
Take advantage of the after-ski, as Levi is considered Lapland's party central. If you want to combine experiencing the unique calm Lapland nature with a good party, there is no other option: you must visit Levi. No other destination in Lapland offers the same entertainment and party feel.
Levi Spa
A large spa with outdoor and indoor pools for leisurely swimmers, families with children, and those swimming laps awaits you in Levi. You will find a range of cold and heated pools as well as traditional saunas and steam rooms. It's all bliss after you enter through the mysteriously placed entrance to the spa right next to a Burger King, so don't be alarmed by the location.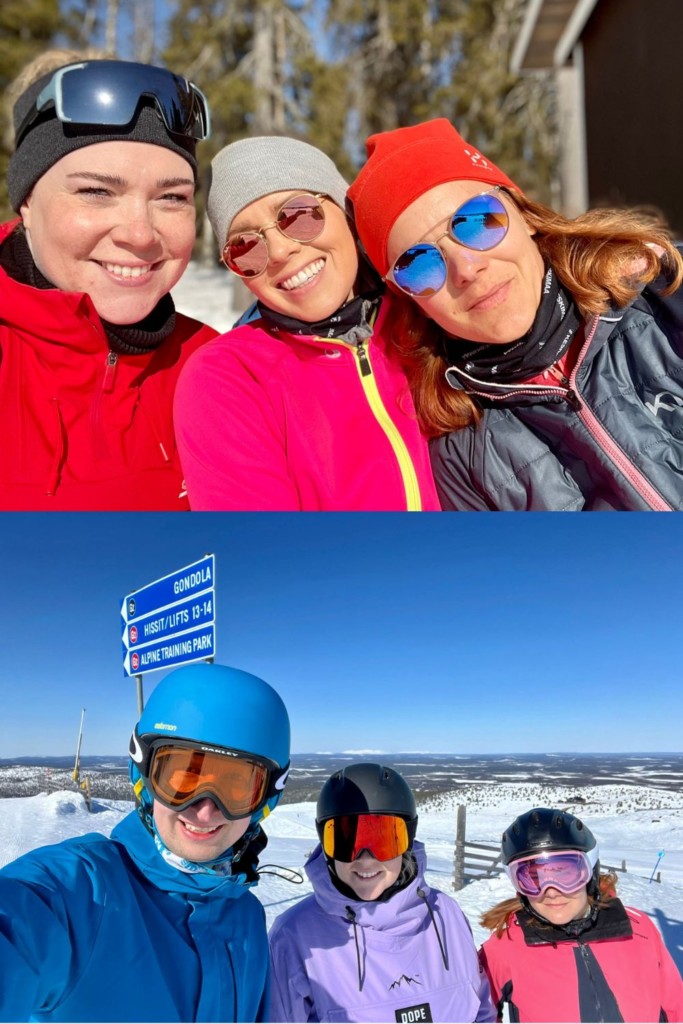 Massages and beauty treatments
There are several beauty spas in the center of Levi. They offer a wide range of different treatments, from manicures to lashes and from hot stone massage to makeup.
After ski in Levi
The one thing Levi is famous for is the after-ski. The trick is to keep following the sun from bar to bar to maximize your time in the sun at each terrace. To get the wildest experience, time your visit from March to mid-April. Especially Thursdays, Fridays, and Saturdays are party days here.
Here is your guide to bar hopping in Levi
At around 14, the after-ski feel starts to build up, with skiers heading over to Tuikku on the top of the fell with amazing views. You can also find a dating wall in this bar. Leave a dating ad with your phone number. Joke or not, who knows? But fortune favors the bold.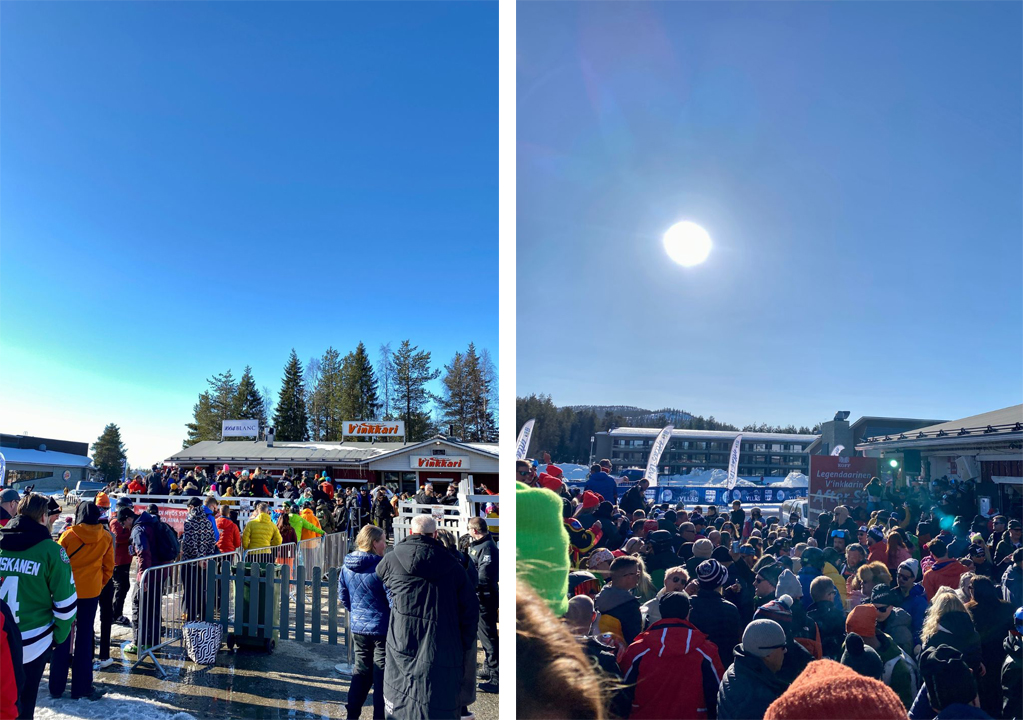 Between 16-18, the coolest place to be is Vinkkari, a favorite for all types of skiers, including cross country. You'll hear Finnish party music and see plenty of ski boots on the terrace, where skiers take over all the large tables. Vinkkari has been a Levi classic for decades now.
Vinkkari closes its doors at 18, and the party people move to Lift, a relative newcomer in the Levi bar scene. At the sun terrace, Lift's slightly newer local and foreign party music gets people up on the tables to dance.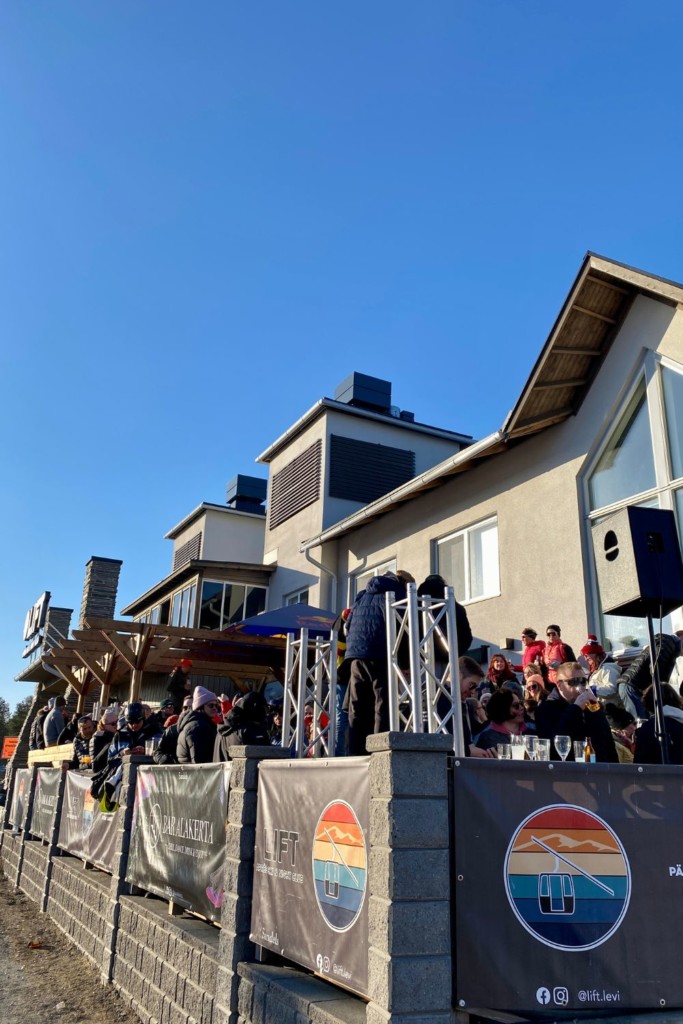 The sunshine ends around 20-21, and it is time for a quick rest and dinner before jumping into the nightlife.
When you head out again, check out what Finnish karaoke is like in Ihku. For dancing, Ihku also features a dance floor on the lower floor, and you'll find another one in Wanha Hullu Poro (aptly named crazy old reindeer).
Many of Finland's biggest names and hottest bands will perform at Levi, especially during the spring season. They play at the Hullu Poro Areena. Lines start to form around 23.30. If standing in the cold queue is not your thing, make sure you're at the bar by 23.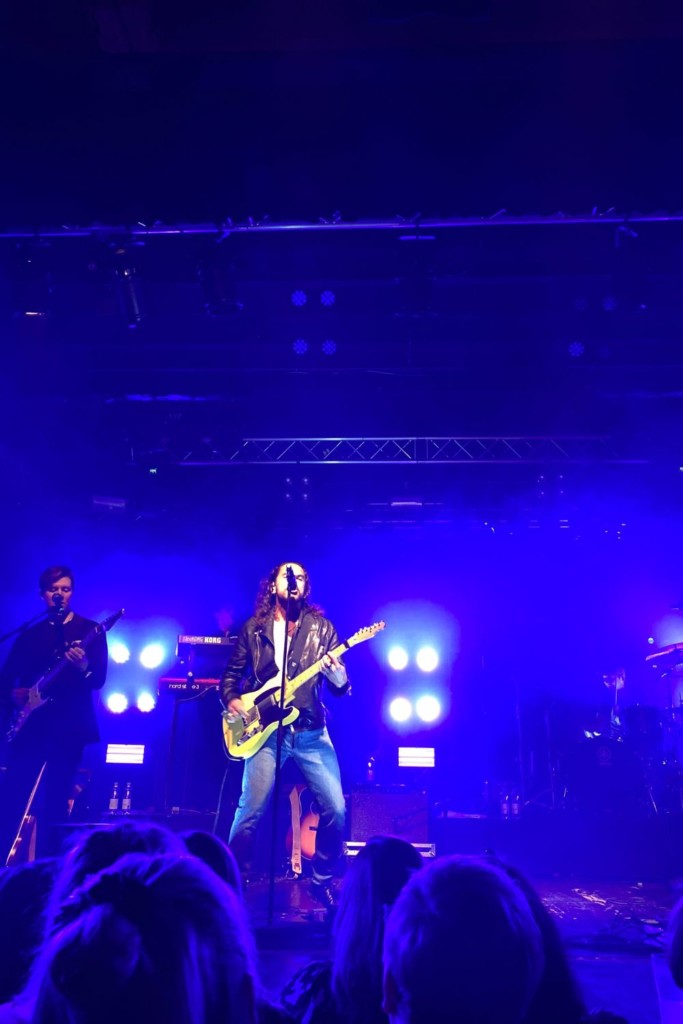 The best accommodation in Levi
Levi has many great options for larger groups, couples, and families. Here are some of my recommendations.
Sokos Hotel Levi
Perfect if you are looking for a good quality hotel room in the middle of all the services in the center of Levi.
Design Hotel Levi
Are you looking for a little extra wow from your hotel accommodation in Levi? This is for you. The hotel is located a little outside the center, but you'll find a place that has invested in architecture and art.
Levi cottages and log cabins
The first thing to note is that you can rent a cottage or log cabin in Levi from Wednesday to Sunday or for the whole week from Saturday to Saturday. It's not entirely impossible to book for other times, but it can be challenging. You can book cottages through booking.com and the Lomarengas website.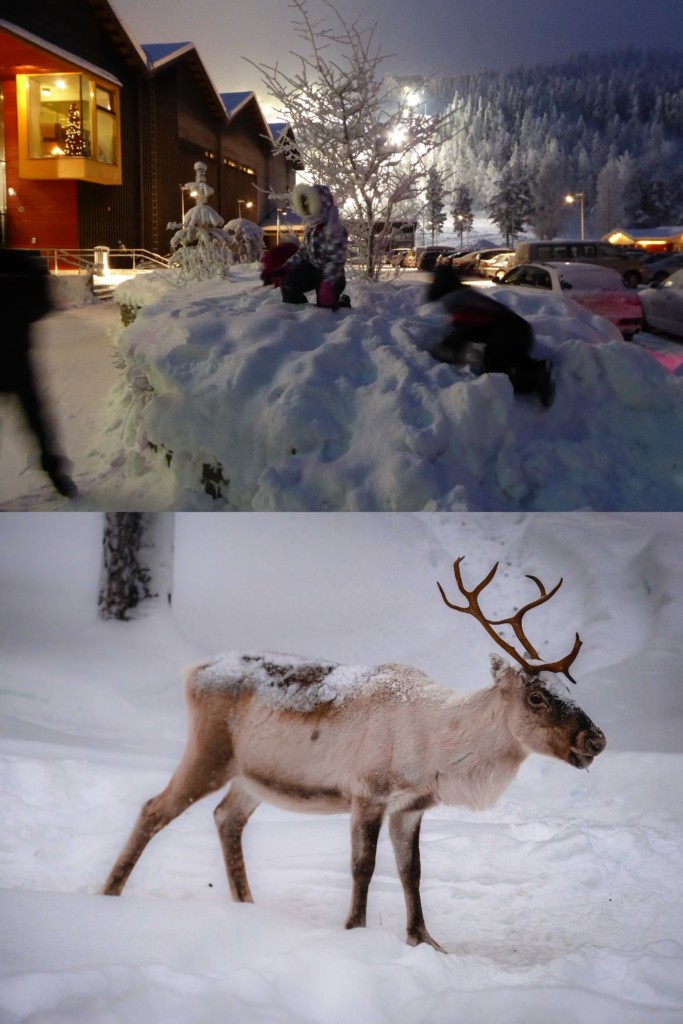 Levi's best restaurants
Levi is such a popular resort that you will find plenty of options for food from Burger King to fine dining and local food to supermarkets if you choose to cook at your cottage. To help you plan, here are my tips for the best restaurants in Levi.
Kiisa
This restaurant offers modern Lapland dining and has a great à la carte menu featuring Lapland specialties like Lappish cheese. There are also vegan and gluten free options available for each course. The sautéed reindeer and friend arctic chard are delicious!
Lost Tacos
When you have had your fill of local tastes, head over to this great Mexican-inspired taco place. Everything here is made from scratch in-house using as much local produce as possible, but the excellent tacos taste more like Central America.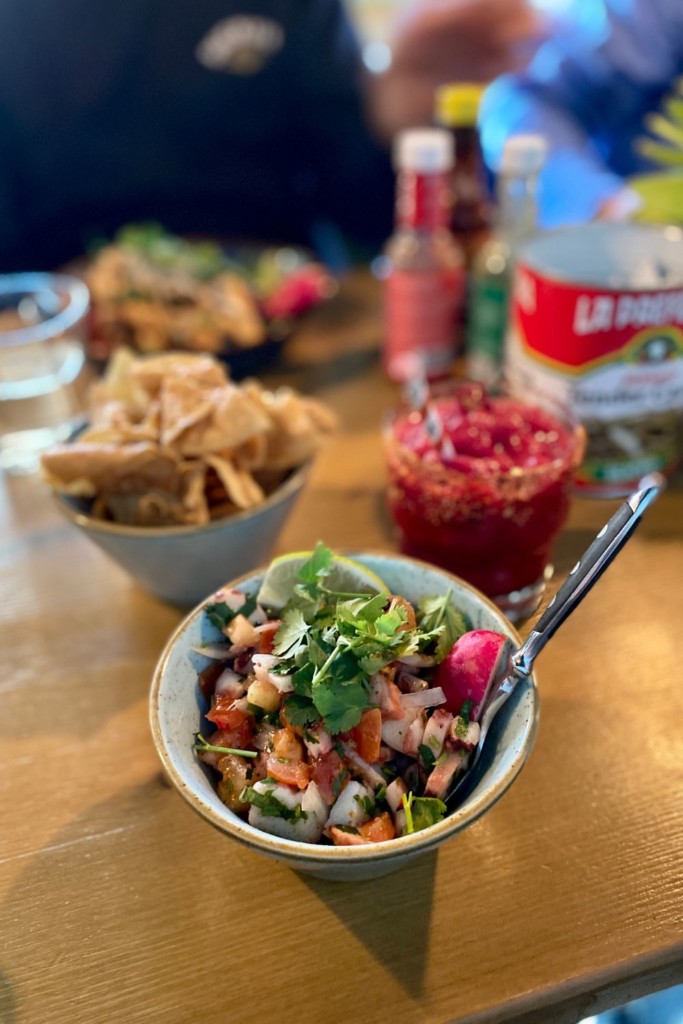 Kekäle
Looking for a special night out with some fine dining? You found it. True to the name of the restaurant, the Finnish word for a glowing charcoal ember the meals here are prepared on the charcoal grill, visible to diners.
The restaurant has meat and fish dishes with local Lapland ingredients and a comprehensive wine list. Menus with wine paring are also available.
Mummola
You have to experience this decor, and the food doesn't disappoint either. The buffet is great, and the à la carte menu works too.
Do you have more questions about Levi? Or did you find a great place you'd love to share with others? Let me know in the comments.
Check out these articles next:
10+ Best Mountains in Finland with Glorious Views
Visiting Lapland in the Summer: A Good Idea or Not?
Lapland Packing List: What to Pack for Winter Finland?
FinNISH CONNECTION COLLECTION 🇫🇮
Finland-themed sweaters and accessories made-to-order. 🧡 Worldwide shipping.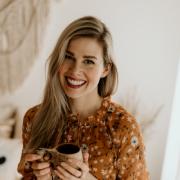 About Varpu
I'm the founder of Her Finland. I love cultural tidbits, aha moments, Finnish folklore, and cinnamon buns. My newest interest is learning bird songs. Read more about me..