Whether you're an avid hiker or on the lookout for Instagrammable nature spots, you might wonder if Finland has views to match such iconic spots as Canada's Rocky Mountains or Norway's Lofoten.
Finland certainly isn't a country with many high mountains, but there are plenty of breathtaking views and stunning landscapes. Some of the most magnificent scenic viewpoints open up from the rugged fells in Lapland, but there are also rolling hills worth mentioning in the South.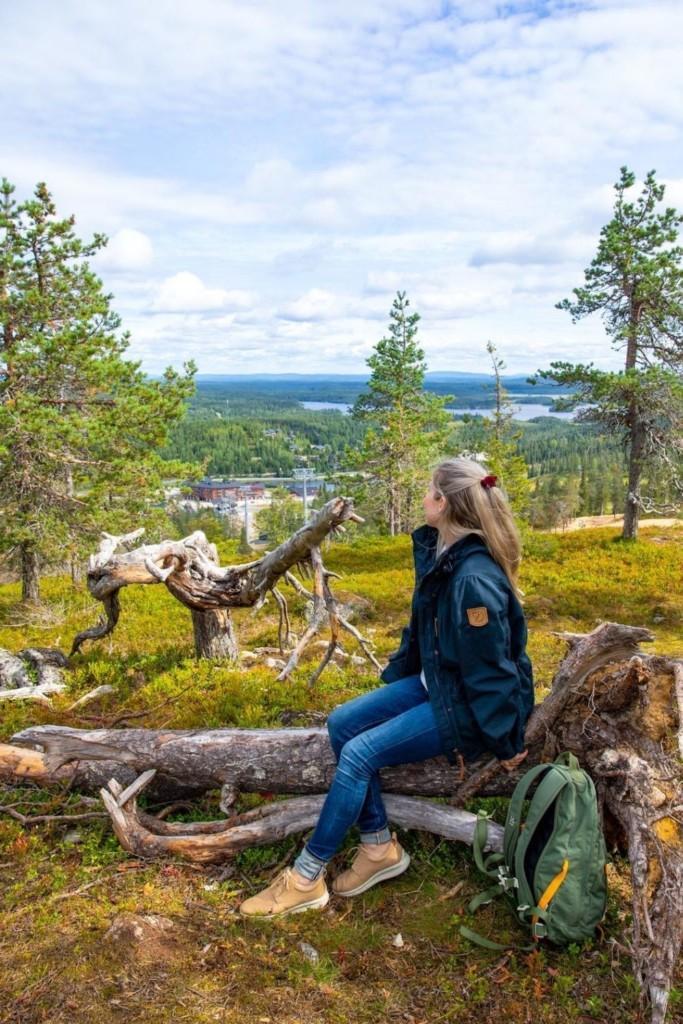 Finland boasts a wide range of landscapes that can capture your heart (and fire up that social media feed too). In this article, I compiled a list of over 10 best mountains and viewpoints with glorious views, showcasing beautiful nature and offering exciting adventures you won't soon forget. So, grab your hiking boots and get ready to explore the stunning Finnish mountain tops!
1. Saana and Halti in Kilpisjärvi
If you're looking for stunning mountain views in Finland, Kilpisjärvi is a must-visit destination. I suggest a longer stay here for avid hikers and mountain enthusiasts.
Kilpisjärvi is close to Halti, the highest mountain in Finland, and you can reach its peak by hiking or taking a helicopter ride. Additionally, you can easily access more breathtaking mountain views by taking a short drive into Norway.
Kilpisjärvi's central attraction is the Saana fell, which offers stunning panoramic views in every direction. The views are so impressive that we chose this location for our wedding photoshoot.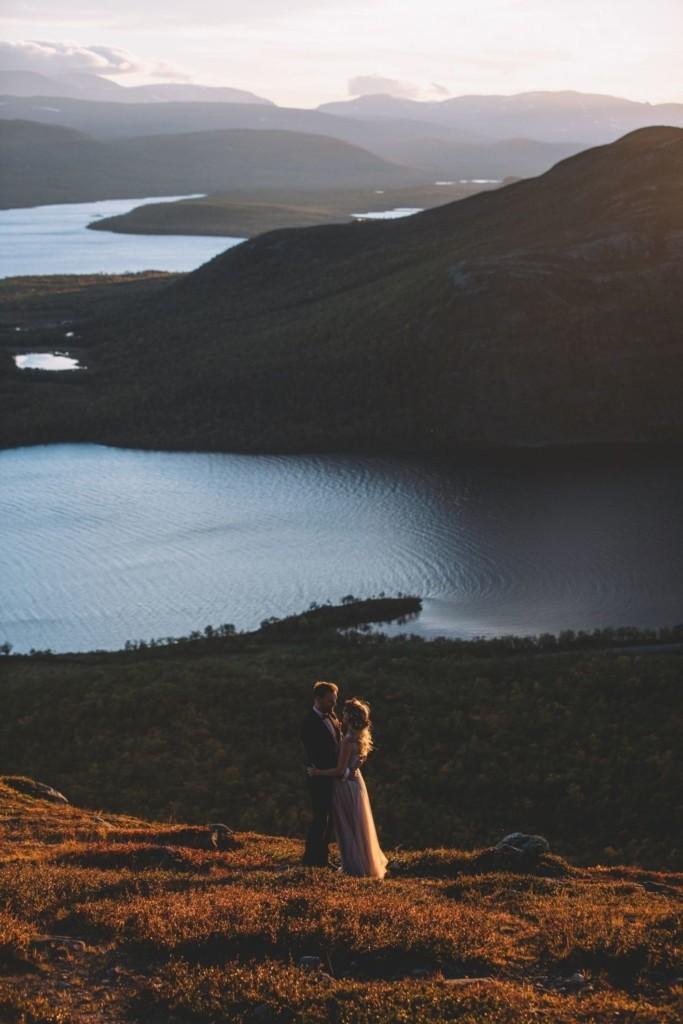 The only way to reach the top is by climbing a four-kilometer path from Kilpisjärvi Holiday Village and Camping Site. To preserve the environment, this is the only permitted route to ascend Saana.
2. Koli
The view from Koli at 347 meters above sea level over Pielinen lake has inspired painters like Eero Järnefelt, and many know these views specifically through that art. If you are visiting the railway station in Helsinki, peek into what is currently a Burger King to see a striking example of such art.
Koli is not only one of the most popular national parks in Finland but also one of the easiest to visit. You can find the most scenic viewpoints next to Sokos Hotel Break Koli. You will have to climb up plenty of stairs to see the views, but you can embark on your adventure by taking a few steps from the hotel door.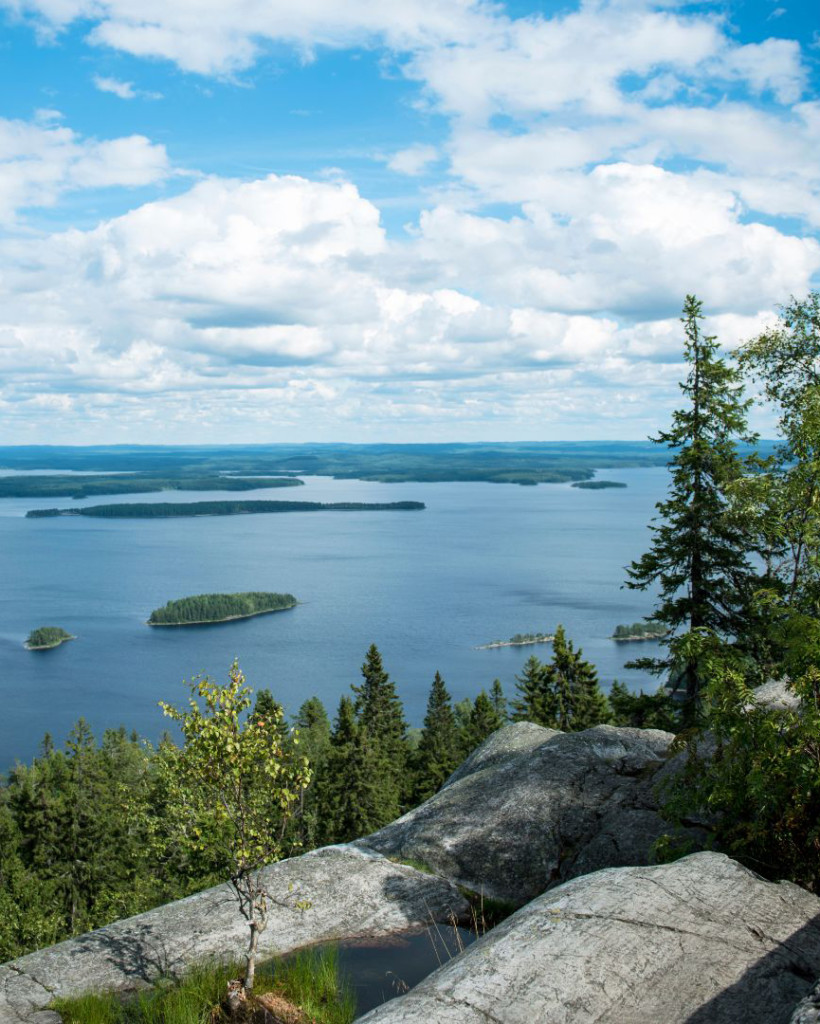 3. Pähkänänkallio and Konttainen, Kuusamo
The Karhunkierros, or Bear's Circle trail in Oulanka national park, is said to be Finland's most popular hiking trail. It will take you past roaring rivers, old forests, and cliffs, but you should plan your hike over several days.
Pähkänänkallio along the route offers incredible views, and you can drive close to it, too, if you don't feel like completing the 80-kilometer hiking trail. This site is not open for visits in the summer between 1.4.-15.8. each year.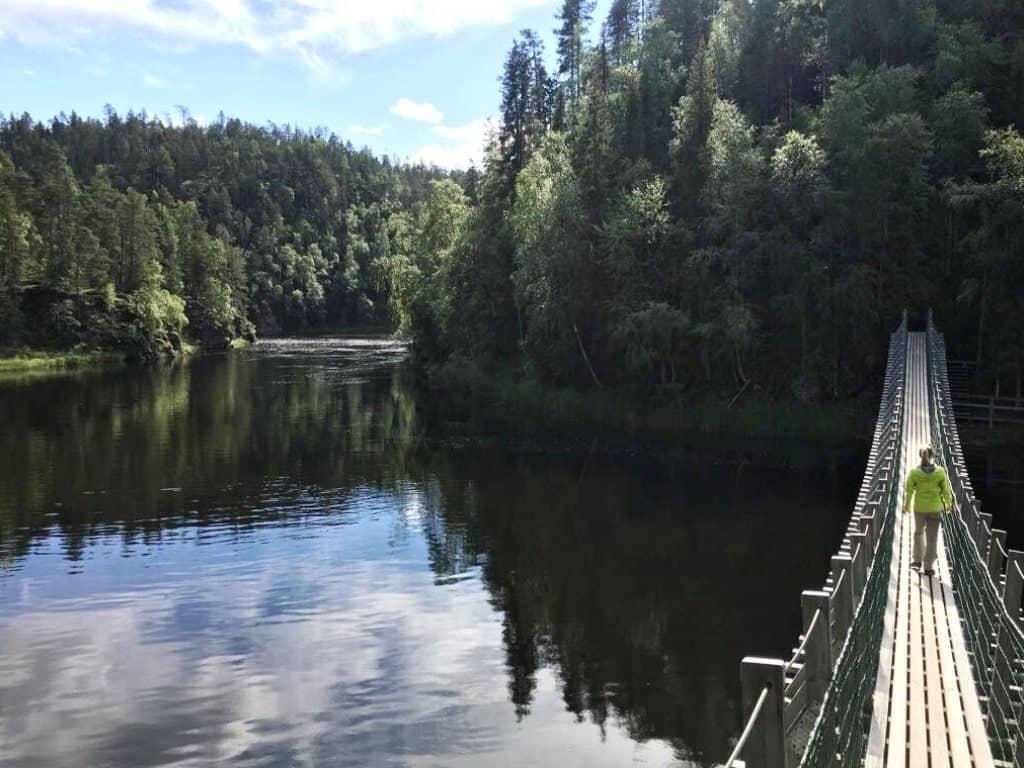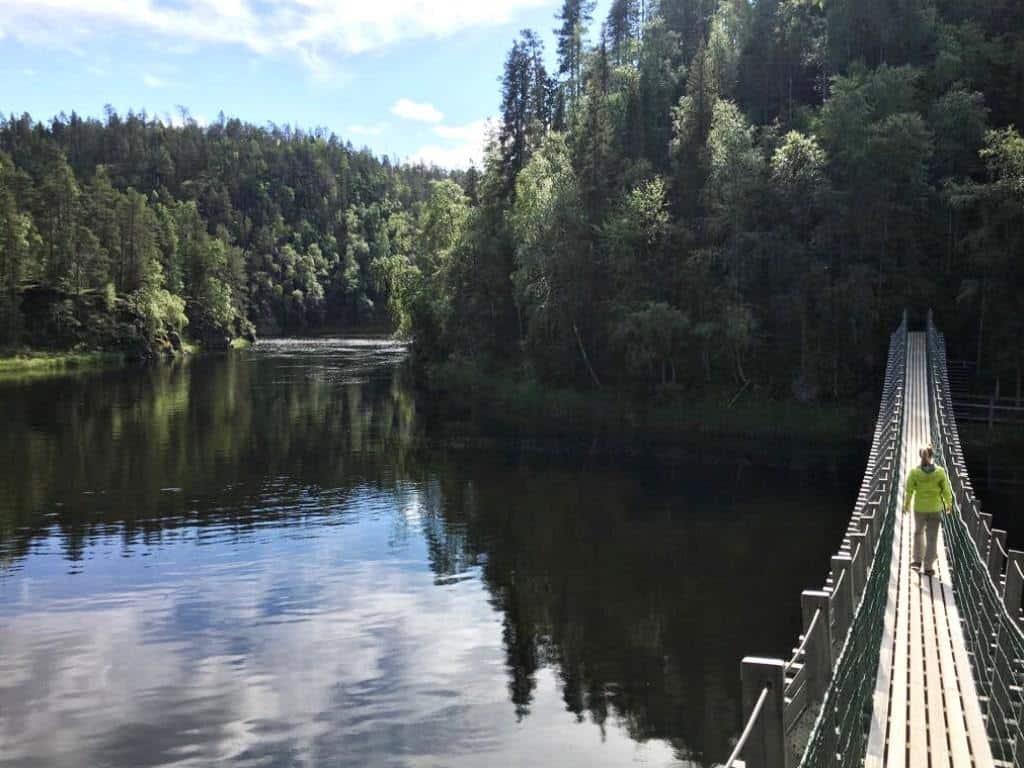 Luckily these are only some of the viewpoints in Kuusamo, and one much easier path that leads to great views is in Konttainen. The unforgettable views are more than worth the 2 km hike.
4. Ukko-Luosto, Sodankylä
The top of the Luosto is an excellent spot to admire the Pyhä-Luosto national park. The fells reaching out from there go on for 35 kilometers, so the view is really quite something.
I have also written an article about making a multi-day hiking trip to Pyhä Luosto National Park with tips and a detailed packing list, which will help you prepare for your trip. It is based on one of the best holidays of my life, so if you are interested in this region, check it out.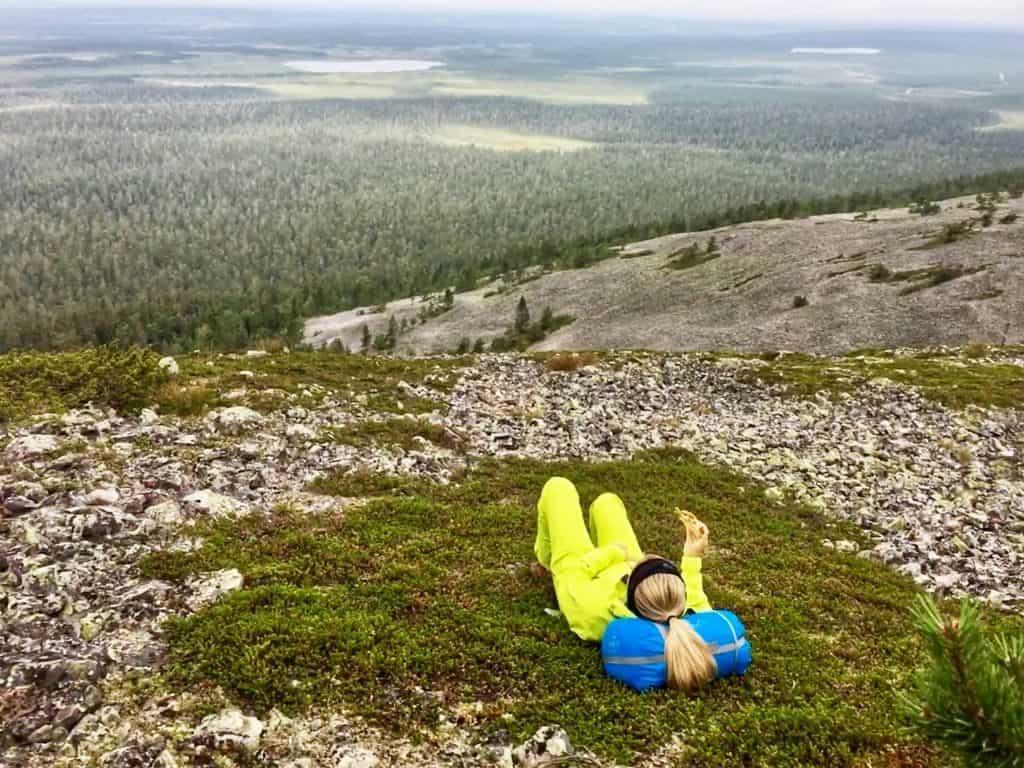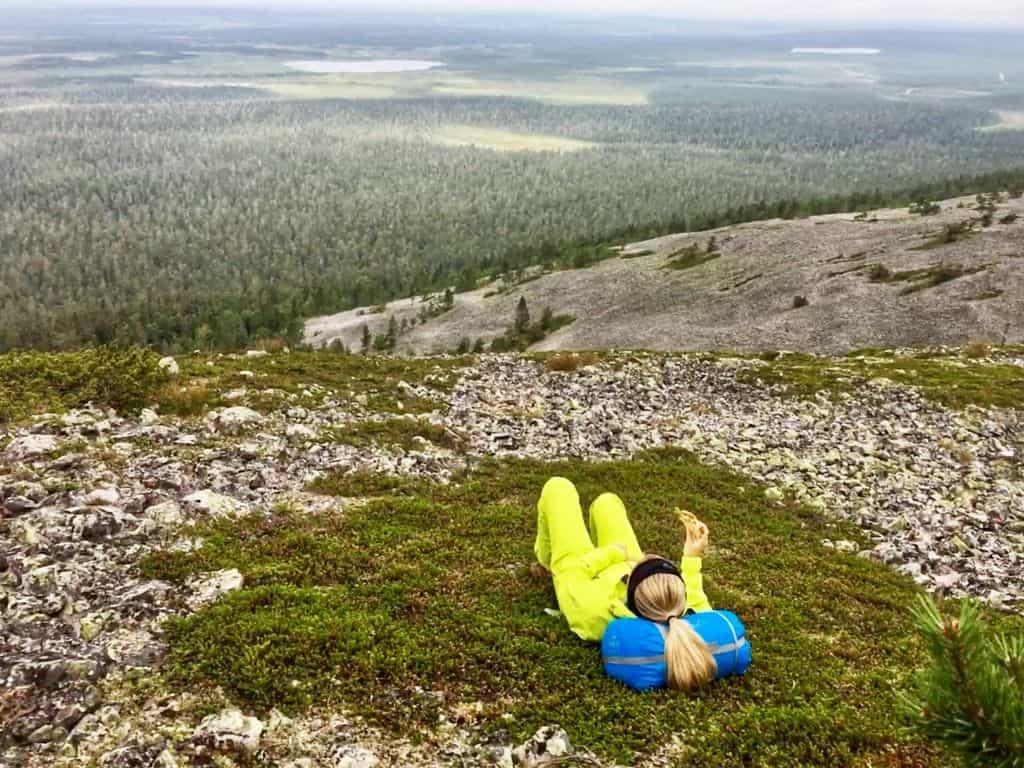 5. Aavasaksa, Ylitornio
Around ten kilometers north of the city center of Ylitornio lies Aavasaksa. The elevation here is 242 meters, and the view that opens up from the top is one of the national landscapes in Finland. There is a four-kilometer hiking path that you can complete in the area.
At Aavasaksa, you can see sights in Finland and Sweden, and it is the southernmost spot to experience the midsummer midnight sun in Finland.
6. Olhava, Repovesi
These 50-meter-high cliffs rise straight from the water and are popular with rock climbers. Olhava is the most important cliff for climbing in Finland, but these beautiful views are worth a visit for everyone else too.
There are other scenic viewpoints in Repovesi, for example, Katajavuori. You will find several circle hiking trails to choose from at the national park, and if you are interested in reading more, I have written an article about visiting Repovesi.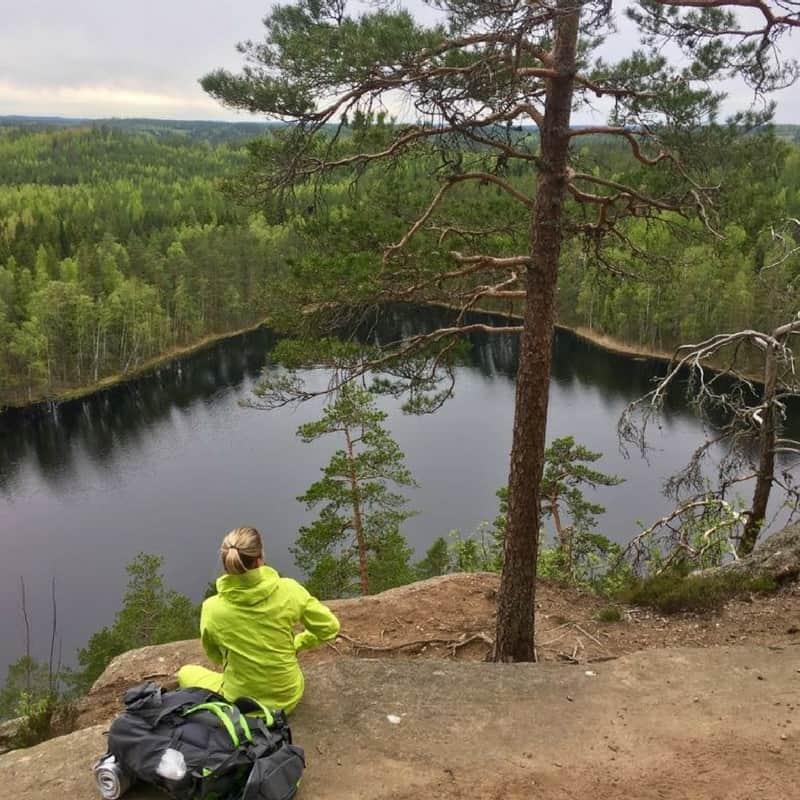 7. Oravivuori, Jyväskylä
Are you familiar with the Struve Geodetic Arc? It is a chain of survey triangulations used to research the size and shape of the globe in 1816-1855, reaching over 2820 km from Norway's Hammerfest to the Black Sea.
The Arc is on the UNESCO world heritage list, and Oravivuori in Jyväskylä's Korpilahti is one of the measuring points. Great views open up from the tower here.
8. Aulanko, Hämeenlinna
We are now moving on to places that are technically not mountains, but you won't regret visiting them when you see these views. There are numerous outdoor trails to hike through in the area, and the views over Aulanko lake are stunning.
At the highest point, you can climb up a tower to see the best views free of charge.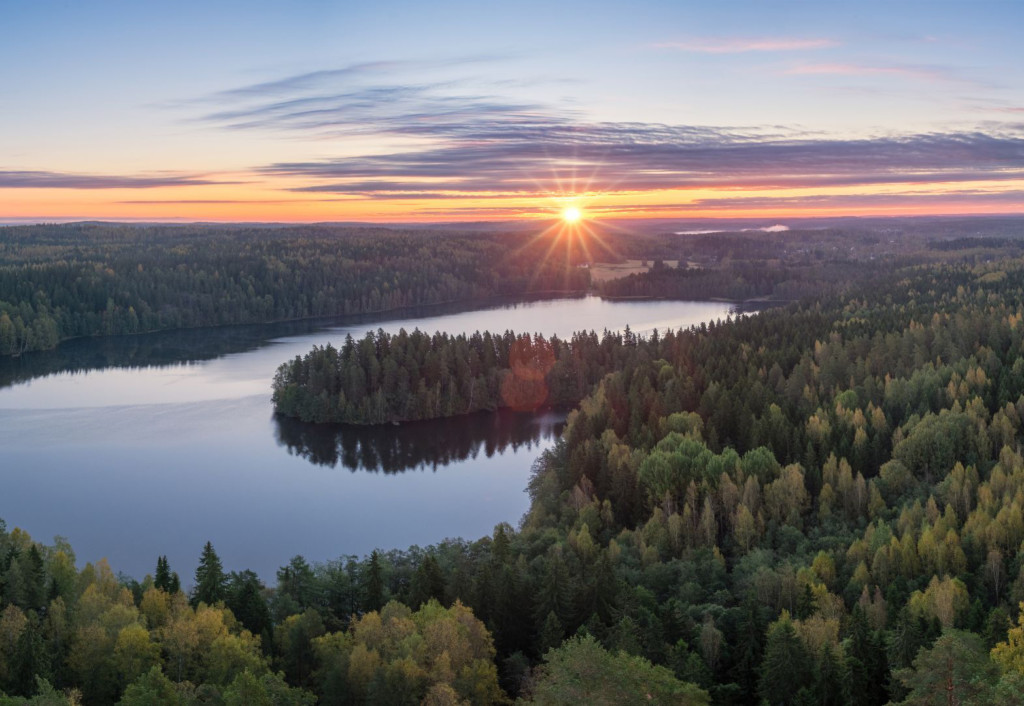 Mountains in the Helsinki area?
Helsinki doesn't have mountains, but plenty of spots will reward anyone willing to find higher ground with great views. The highest place in Helsinki is 91 meters above sea level, Malminkartanonhuippu, but you can find some great viewpoints closer to the city center too.
9. Tähtitorninmäki
Right in the city, next to the South Harbor, you will find around 30 meters high "observatory hill". It is home to the Helsinki University Observatory, and you will be able to see both sea and city views.
During Finnish Vappu celebrations on May 1st, Tähtitorninmäki is one of the places where Finns gather for cheerful picnics, and the surrounding areas are lovely to walk through, especially in the summer.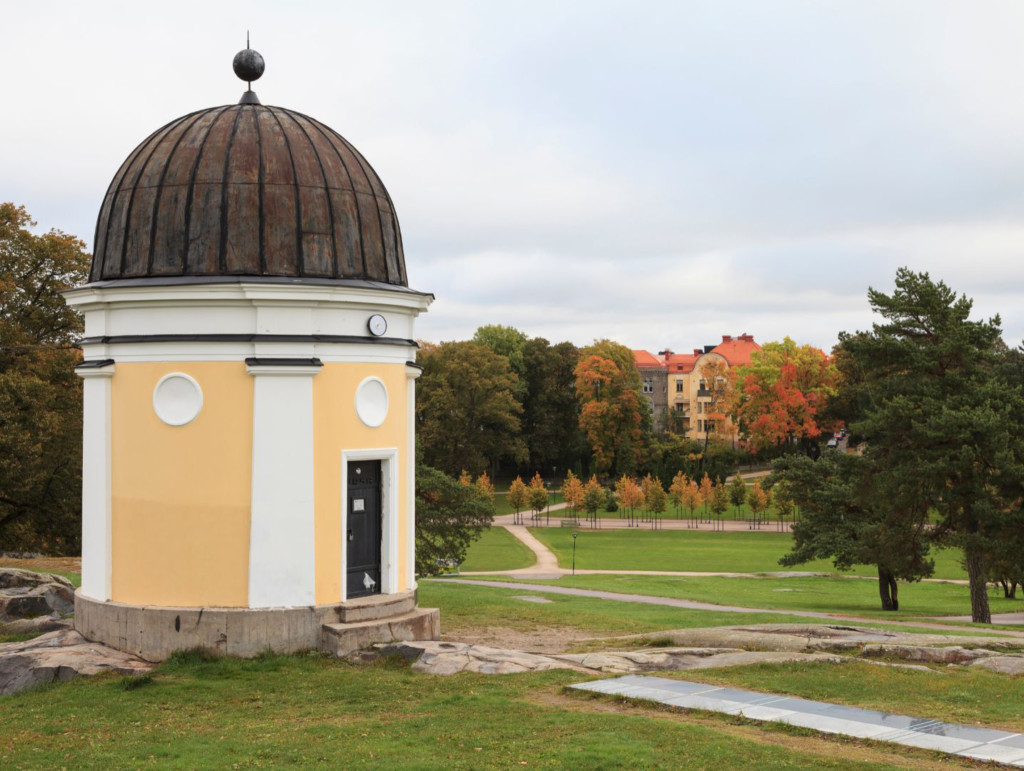 10. Suomenlinna fortress and rocks
How about a beautiful sunset over the sea at a UNESCO world heritage site? The Suomenlinna fortress is located on islands a short ferry trip away from Kauppatori in Helsinki and offers just that.
The fortress and surrounding rocks are great for viewing the sea, the islands, and even cruise ships passing by on their way to Stockholm or Tallinn. While the cliffs are not high, you can go on an adventure walking along paths on the cliffside with beautiful views.
11. Kasavuori, Espoo
Kasavuori in Espoo's Soukka offers lovely views of the sea and archipelago very close to the capital Helsinki. On the other side you have suburban city views.
What else should you know about mountains and scenic viewpoints in Finland?
I hope you already have a lot of inspiration for where you want to go next. In this last section, I will try to answer some of the most commonly asked questions when it comes to mountains, hills, fells, and views in Finland.
Does Finland have high mountains?
Finland is better known for thousands of lakes and plenty of forests for a reason, but it does have several beautiful peaks that offer stunning views, like Saana, Halti, and Pyhä.
The fells, hills, and mountains we have are often places where you will find great hiking trails and breathtaking views, often over those many lakes and forests.
Several peaks in Lapland are above 1000 meters, including Halti, Ridnitsohkka, Kiedditsohkka, Kovddoskaisi, Ruvdnaoaivi, Loassonibba, Urtasvaara, Kahperusvaarat, Aldorassa, and Kieddoaivi.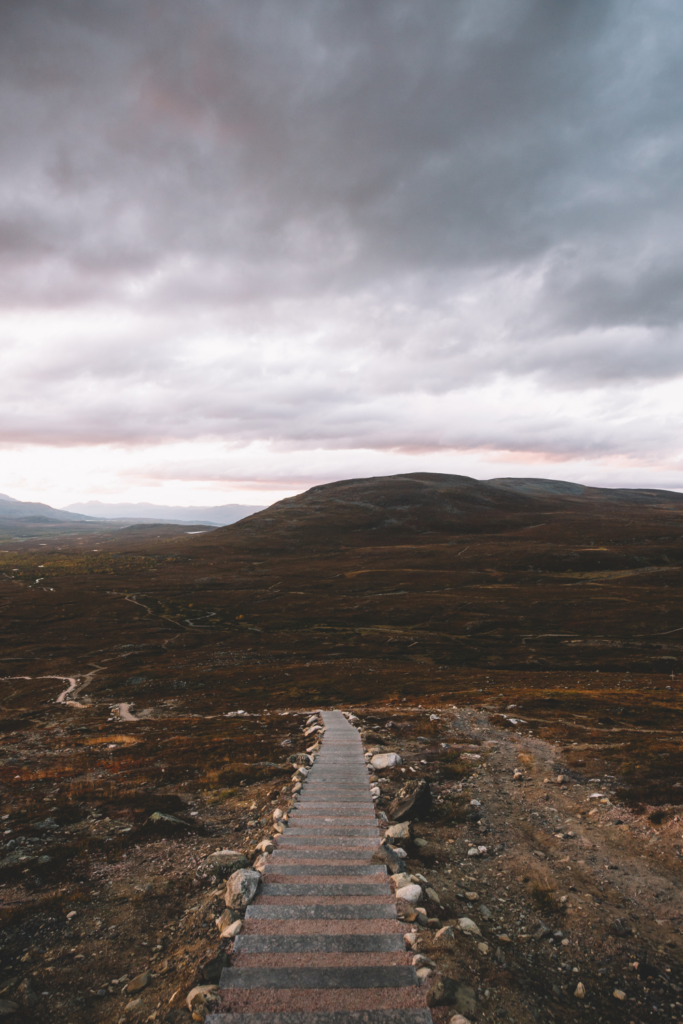 Does Finland have hills?
Many people use the words fell or hill in Finland and Finnish rather than the word vuori for mountain. But there are plenty of peaks, and over 100 are over 500 meters.
Smaller hills are common too. That's a good thing, too, because they are in regular use for sledding during the winter!
What are popular ski mountains in Finland?
Popular skiing resorts in Finland include Levi, Ylläs, and Ruka. To give you an idea of the slopes, the longest ones at Ylläs (the biggest resort with 62 slopes) are over three kilometers long, and the difference in altitude is up to 464 meters. Resorts tend to have excellent services, and they are very popular during the winter season from November to May.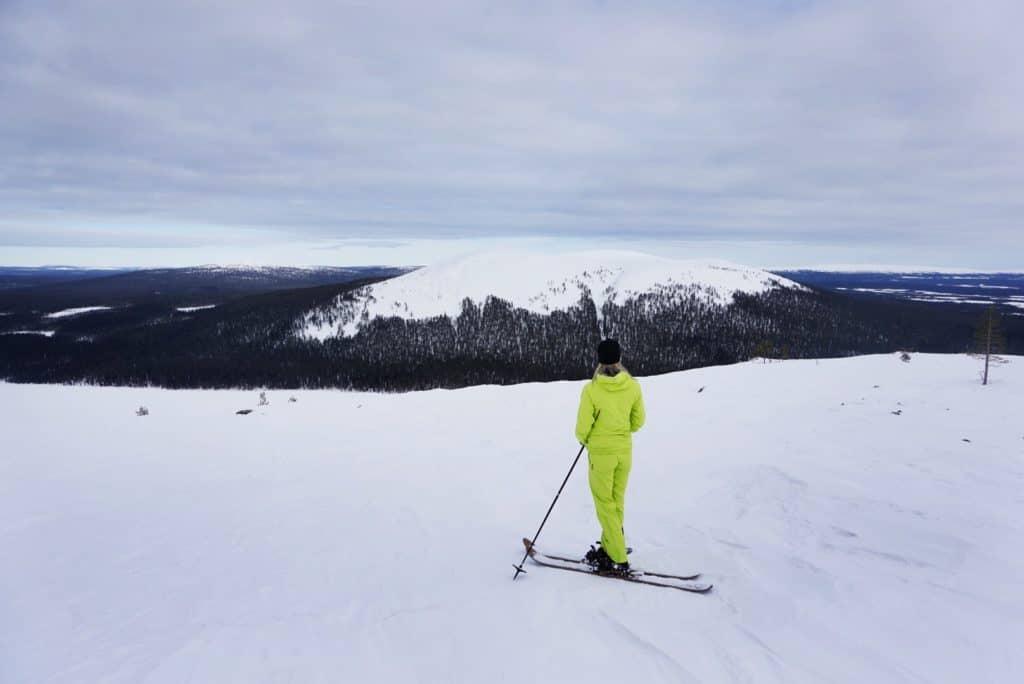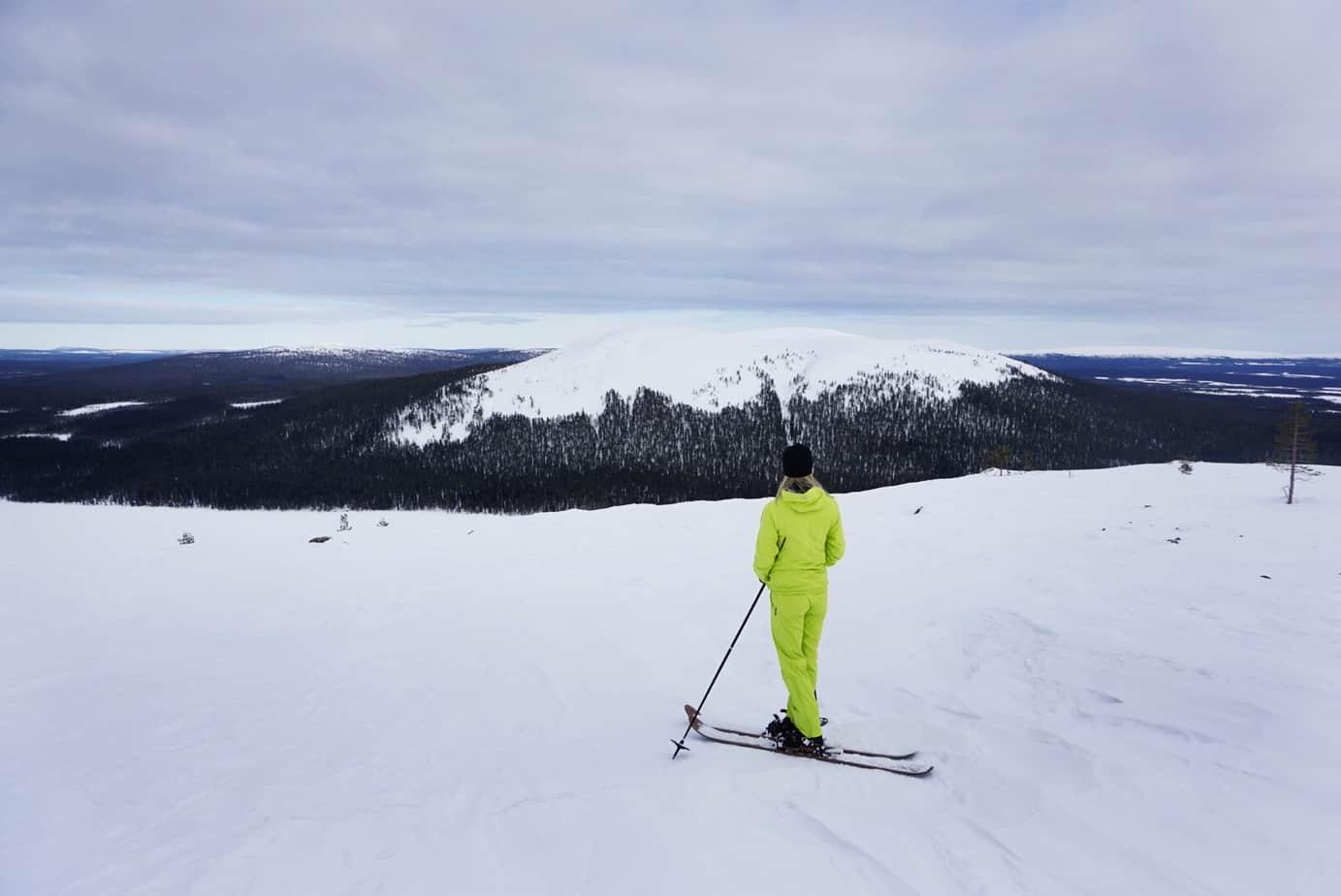 What is the major mountain in Finland?
Mount Halti is often considered the highest peak in Finland, standing at 1,324 meters tall. However, the peak is actually located on the border of Norway and Finland, with the highest point in Finland being Ridnitsohkka at 1,316 meters.
Finally, many of the places mentioned here are places I have visited and love. I have shared some articles with you in the text, but you might also be interested in reading these related articles as you plan your Finnish adventure:
Visiting Lapland in the Summer: A Good Idea or Not?
Best Lapland Holidays Ideas and Local's Guide to Finnish Lapland
100 Ideas! What to Do in Helsinki + How to Explore It Like a Local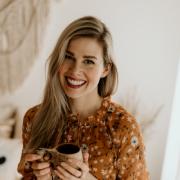 About Varpu
I'm the founder of Her Finland. I love cultural tidbits, aha moments, Finnish folklore, and cinnamon buns. My newest interest is learning bird songs. Read more about me..