You know that popular question "What would you eat as your last meal?". I know my answer in a heartbeat – definitely Finnish pancakes with berry jam and whipped cream.
These big, thin pancakes combine crispness and soft texture with the flavor of open-fire cooking. They are addictive. Crepes are the only food I never order abroad; the taste is so indifferent in comparison. Sorry French crepes, but you are not the same!
Finnish pancakes are ridiculously easy to make. Ok, let's be honest here, all my recipes are ridiculously easy to do because I hate failing – even in the kitchen environment.
The most difficult part is that you have to find an open fire and a big flat frying pan. If you are visiting Finland and only enjoying city life, this may be a bit of a problem. Luckily, especially during summertime, you can just order crepes at the market square cafés of any Finnish town.
Psst… Follow me on Instagram and add instantly more Finland to your life!
 

 

Näytä tämä julkaisu Instagramissa.

 
Recipe for 10 Finnish Pancakes
I always make this amount double because ten pancakes aren't enough in this household.
2 eggs
5 dl (2 US cups) milk
1,5 dl (1/2 cup) regular baking flour
0,5 dl (1/4 cup) barley flour
0,5 dl (1/4 cup) runny butter or oil
Half a teaspoon of salt
Mix everything with a whisk until smooth.  Leave the ready batter to sit at least 30 minutes before frying the crepes; this makes all the difference! The batter doesn't go bad, some busy mums do the mixture in the morning and leave it in the fridge for the whole day.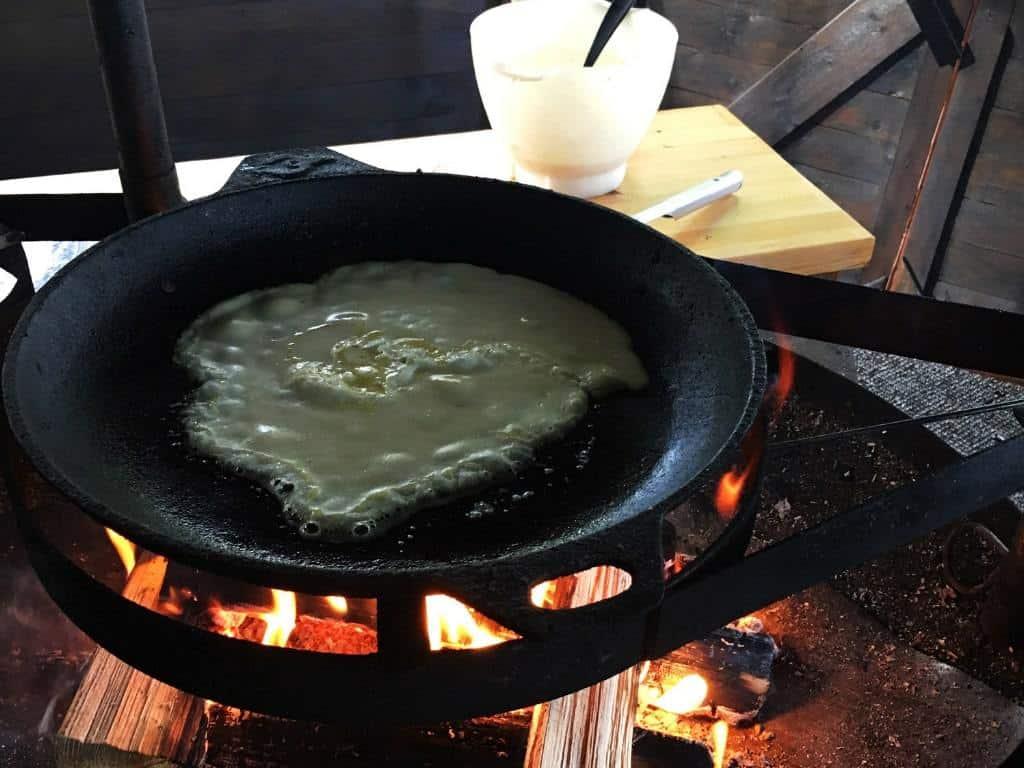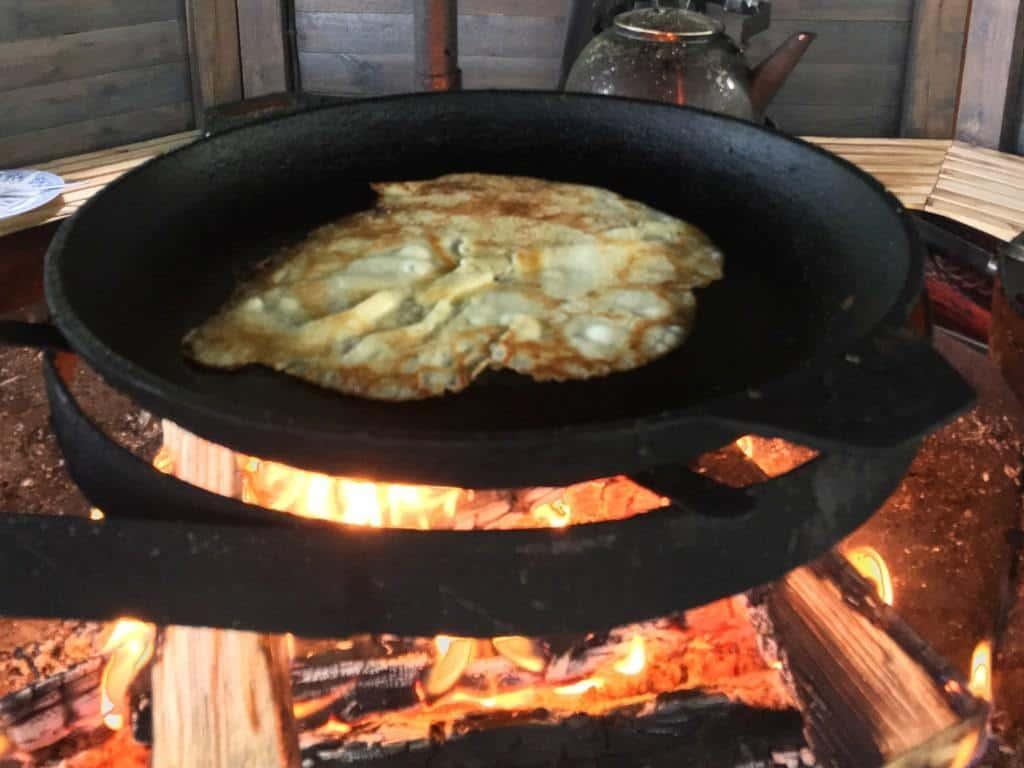 Heat the pan over the open fire. Melt a teaspoon of butter on the hot pan and pour some batter after the butter has melted. Wait a while until the bottom of the crepe is golden brown and flip to get the same brownness for the top side.
As you can see, even native Finns sometimes mess up with the flipping. It doesn't matter; the taste is equally good. Serve the crepe with strawberry or raspberry jam and whipped cream. Sometimes we replace whipped cream with whipped vanilla sauce or vanilla ice cream.
By the way, Finns love crepes so much that there are at least five synonyms for them in Finnish: lettu, lätty, plätty, ohukainen and räiskäle.
Have you tried Finnish pancakes? Or are you going to make them soon? Let me know in the comments!
Looking for more Finnish recipes? Check out some of my other Finnish food posts:
Warm wishes from Finland, 
Varpu
What Dishes Should You Try in Finland?
In my Finland Starter Kit, I give you 15 iconic Finnish dish recommendations in English and in Finnish, so that you'll find these delicious foods for sure!
This 14-page guide has also other helpful tips for you, just look: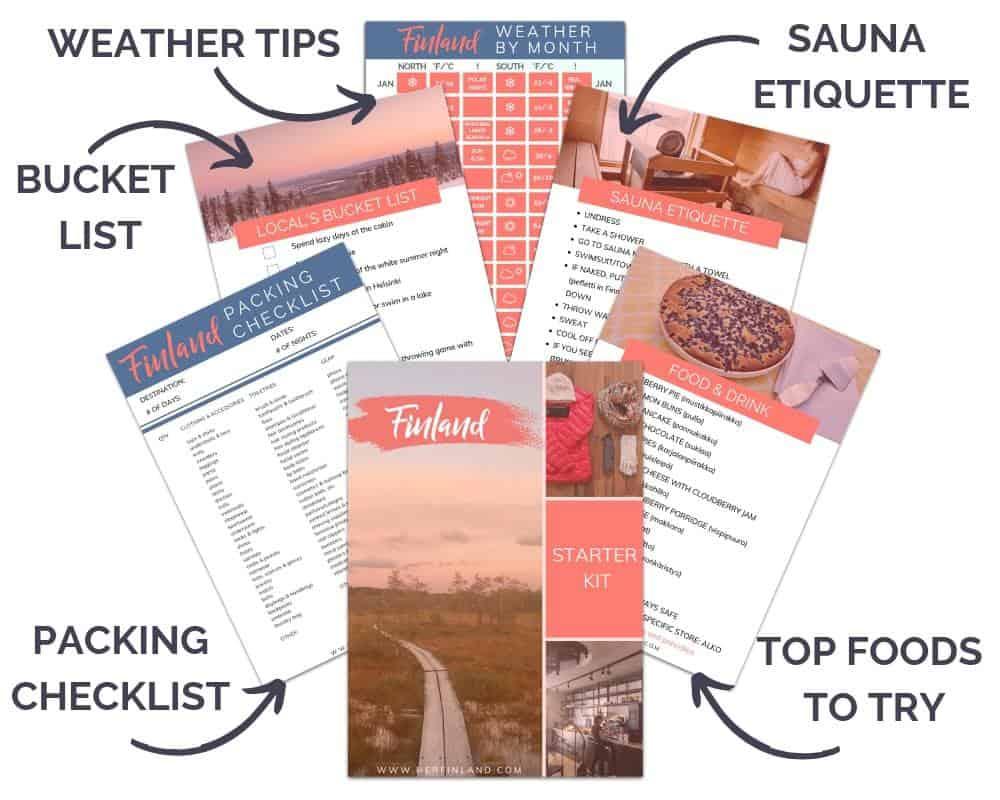 Did you find this post informative? Delicious? Save it for later on Pinterest!