*Please note that this post has affiliate links. If you buy through my links, at no additional cost to you, I may earn a small commission, which helps the upkeep of this blog.
Turku is the oldest city in Finland, dating back to the 13th century. From being a part of various empires to surviving raging fires, Turku has remained an impressive city for both Finnish and international visitors alike.
Compared to most other Finnish cities, the vibe in Turku is somehow a bit more elevated. If you tried to imagine Paris in a Finnish way (and tinier, for sure), maybe you would envision something like Turku in your head.
Turku is definitely a place to be if you are a foodie. The restaurants in this city are crazy good and there are lots of options.
Furthermore, you can find beautiful nature spots, an assortment of museums, and plenty of other fun things to do in Turku. Here are 10 fun things to do during your visit to Turku!
Try the weirdest-ever local public transport
There are two very special vehicles of transport in Turku. Firstly, you should cross the Aura river with Föri, a free-of-charge ferry that has been carrying the people of Turku for more than a hundred years.
The address is Tervahovinkatu on the east side or Wechterinkuja on the west side.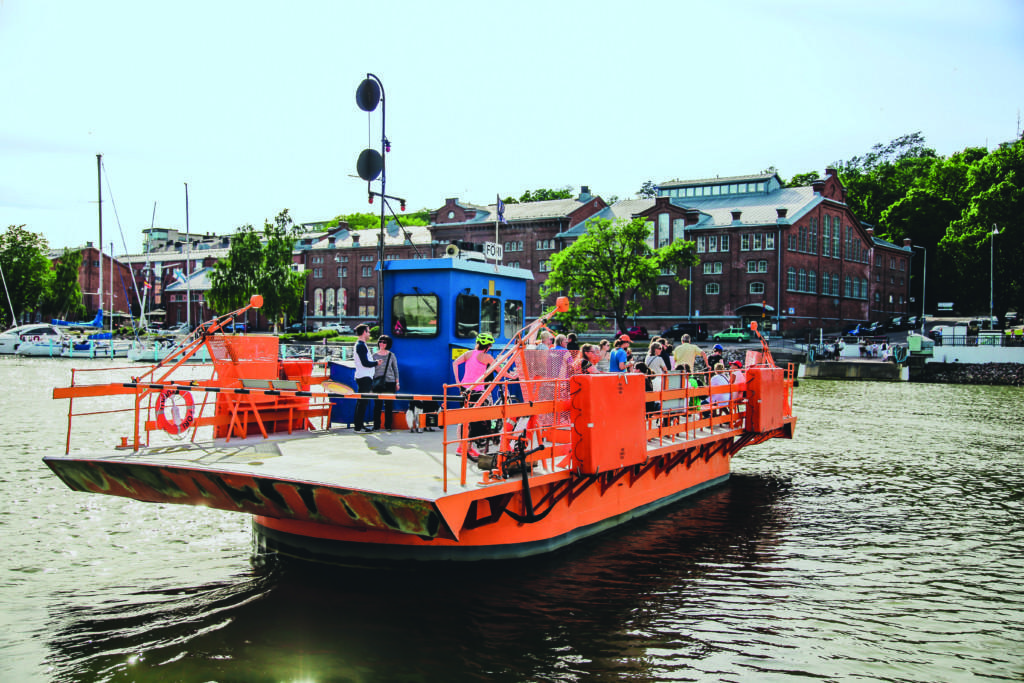 Secondly, try Funikulaari, another free-of-charge transport. Funi is a cable car that brings you to Kakolanmäki Hill, connecting you to the former prison Kakola. The address is Linnankatu 55b.
Rent a bike along the Aura river
The Aura River flows through Turku and into the waters of its archipelago.
Renting a bike will allow you to follow the river's path and explore the city with more ease than walking. Running along the river is also a great idea.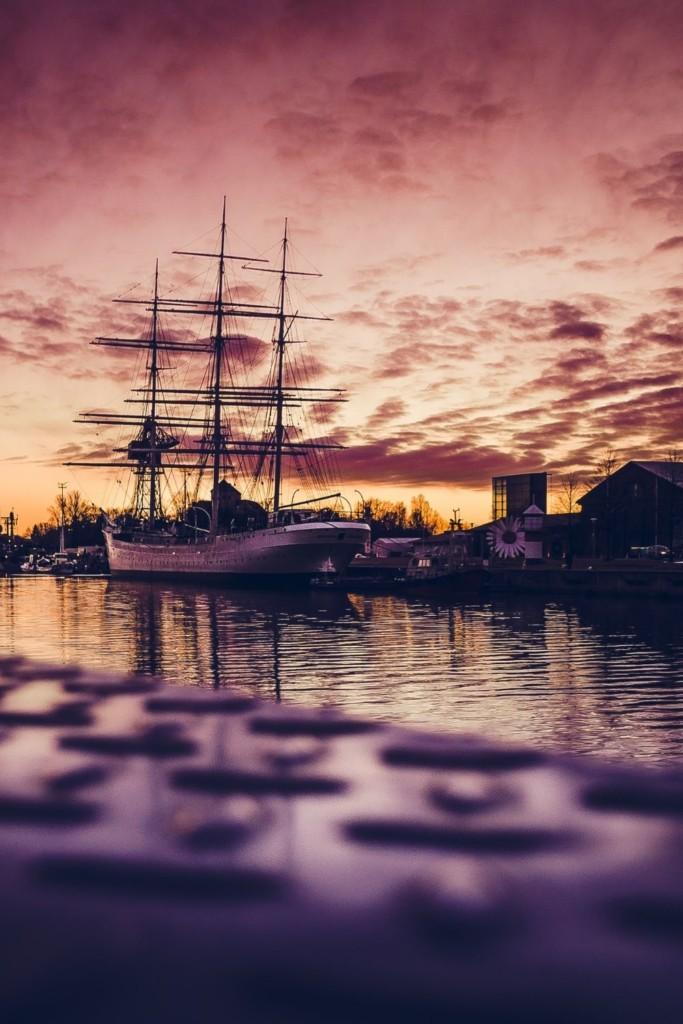 You can rent your bike for a few hours or a few days. Most bikes come with locks, helmets, and even waterproof bags for handling rainy days. Your hotel might also rent or have bikes available for you for free!
Turku has almost 300 bicycle routes you can explore, so feel free to branch out after seeing most of the river.
Sleep in a notorious former prison: Kakola
Who wouldn't want to sleep in a former prison? Kakola was one of the most notorious prisons in Finland, previously housing hundreds of inmates…
But now it's a cool hub featuring a luxurious hotel Kakola, an excellent restaurant Kakolanruusu with an open grill, a brewery and so much more.
If you would rather spend your night in a more traditional setting, I warmly recommend either Sokos hotel Wiklund in the heart of the city center or Radisson Blu Marina Palace overlooking the boats of the Aura river and within a lovely walking distance of the center.
Check out the Turku cathedral
As the only medieval basilica in Finland, the Turku Cathedral has been named the Mother Church of the Evangelical Lutheran Church of Finland.
You can find this cathedral between the Old Great Square and the Aura river (address: Tuomiokirkonkatu 1). The Turku Cathedral hosts the tombs of famous leaders, such as a previous Queen of Sweden, princess, and Bishop of Turku. Entering the Turku Cathedral is free.
It's a good idea to double-check the church etiquette before entering this sacred space.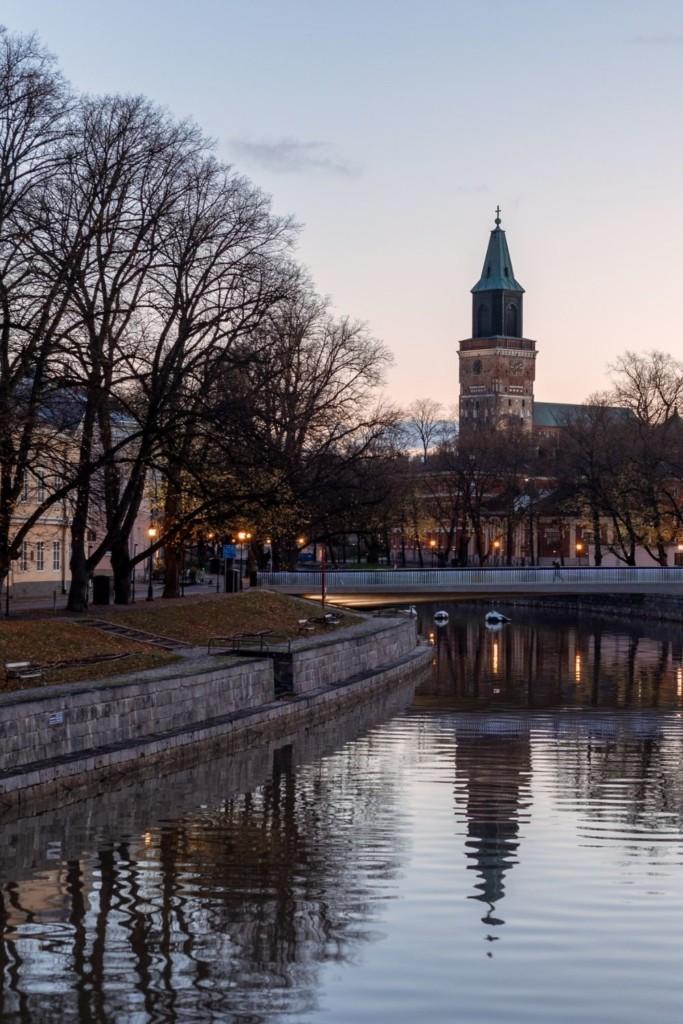 Visit the Turku castle
Along with the Cathedral, the Turku Castle is one of the oldest buildings in Turku. Surviving bombings, fires, and wars, the Turku Castle is an astounding piece of history and architecture. It is also the largest surviving medieval building in all of Finland.
You can enjoy the hallways, passages, and chapels of the main castle as a permanent exhibition. The Bailey is another permanent exhibition that shows a representation of everyday life within the castle. The castle also hosts an array of temporary exhibitions that change every few months.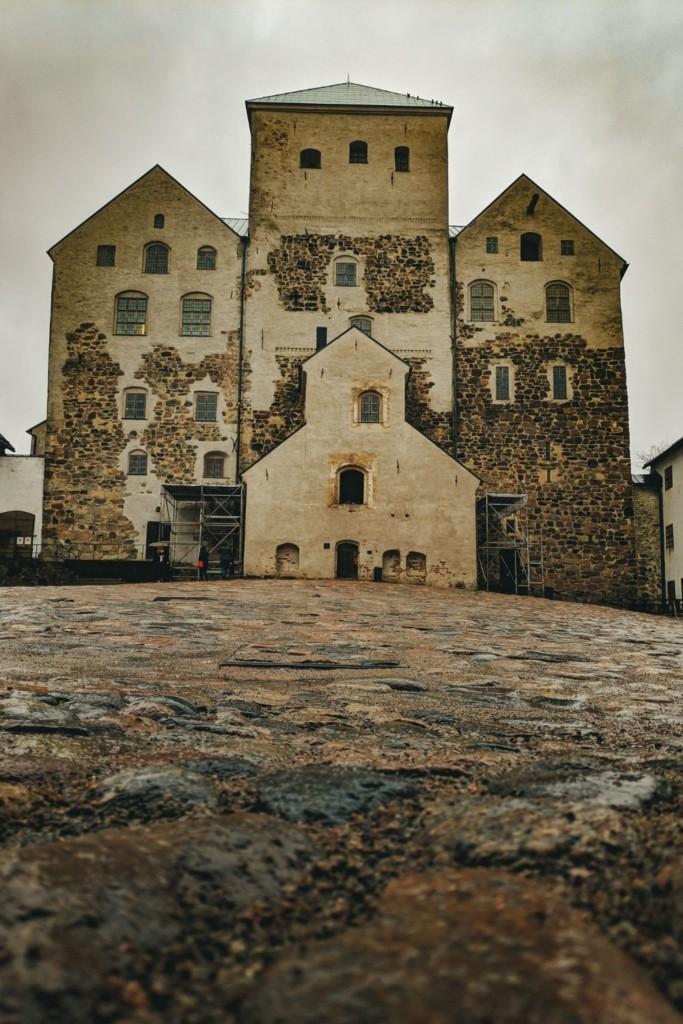 Adult tickets are between €12-€14, with discounts for children, students, pensioners, unemployed persons, and families. You can also enjoy a guided tour for an additional fee.
Enjoy the Turku food scene: from Turku market hall to top-notch restaurants
When choosing things to do in Turku, experiencing local cuisine is a must. Favorite places to eat include Kaskis, Oobu, Mami, Blanko, and Tintå. Hugge and Kuori are great options for vegans and vegetarians.
The Turku Market Hall has been serving delicacies since 1896 as the second oldest market hall in the country. It's open from Monday to Saturday. Architecture fans can marvel at the original roof structure and wooden shops. The shops include restaurants, fish sellers, sushi, cheese, bakeries, pizzerias, chocolates, and more.
Grab the free kit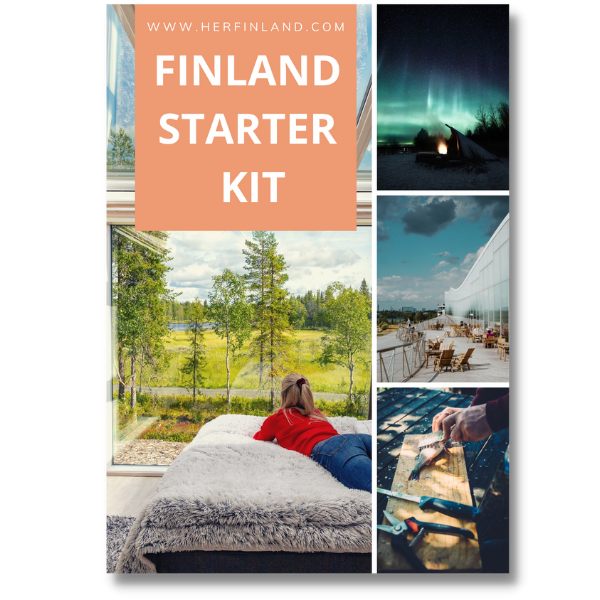 Discover Luostarinmäki museum block
If you are a history fan like me, you'll love the Luostarinmäki museum block. In 1827 there was a huge fire in Turku that burned down most of the city. This block is the only complete wooden building area that survived the fire.
The area includes artisans' dwellings and handicrafts workshops representing over 30 different trades (e.g. cobbler´s shop, lithographic printing shop, bookbinder´s shop). In the summertime, craftsmen come to work in the workshops.
Note! This museum will open on June 18th, 2022.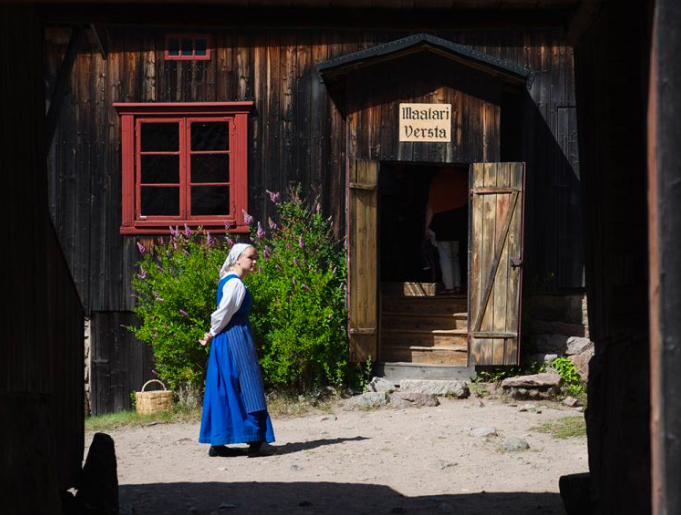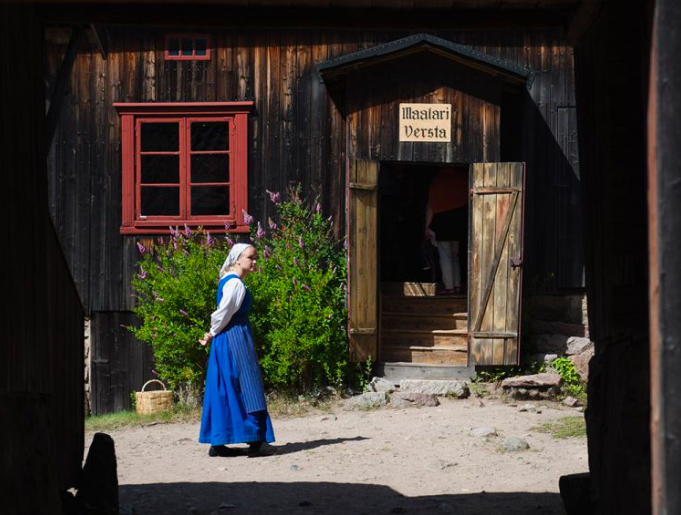 Do bar hopping on riverboats
In the summertime, one local specialty is to do riverboat bar hopping. Enjoy a beer on one boat and a mocktail on the next one while admiring the beautiful city landscape from the water.
Visit a local home
What better way to visit Turku than to spend time in a real Finnish home?
This activity tops our list of most authentic things to do in Turku. You can arrange a local home visit through various websites in Turku, for example on Visit Turku site, Airbnb or Doerz. The tour can include a nature walk, coffee break, and/or traditional Finnish activities like berry picking.
Taste local beer in a 19th-century school
There are lots of breweries in the Turku region, for example Kakola Panimo or Turun Panimo Brewery. You can visit both in Turku city, and the latter has a cool restaurant: Panimoravintola Koulu Brewery is located in a restored 1889 schoolhouse. In fact, "koulu" means school in Finnish. Enjoy this brewery's beer garden in the summer or its beautiful halls during your winter visit to Turku.
Explore Naantali harbor and the archipelago trail
When I'm in Turku, I never miss the opportunity to visit the adorable wooden harbor area of the neighboring town Naantali. Such a romantic place to enjoy a meal or coffee with snacks (my favorite coffee spot serves delicious waffles)!
Also, this is the place that connects you to Moominworld, which is situated on an island next to the harbor.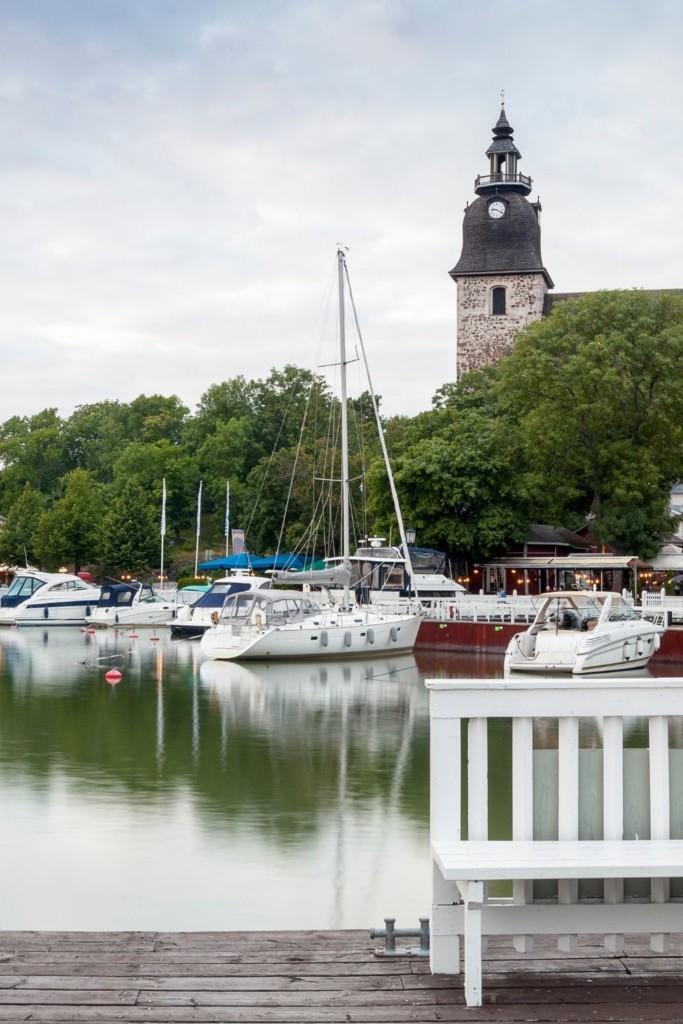 Lastly, I have to mention the stunning Archipelago Trail. I have circled this archipelago route once with a car and once as a passenger on a motorcycle, and it's seriously awesome. On the islands, you can find incredibly beautiful archipelago nature spots and quaint fishing villages.
Are you excited to visit Turku? Let me know in the comments!
Looking for more information about traveling in Finland and destinations? Check these other posts:
FinNISH CONNECTION COLLECTION 🇫🇮
Finland-themed sweaters and accessories made-to-order. 🧡 Worldwide shipping.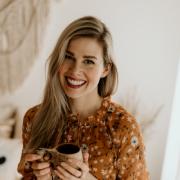 About Varpu
I'm the founder of Her Finland. I love cultural tidbits, aha moments, Finnish folklore, and cinnamon buns. My newest interest is learning bird songs. Read more about me..