*Please note that this post has affiliate links. If you buy through my links, at no additional cost to you, I may earn a small commission, which helps the upkeep of this blog.
Woohoo, you want to learn Finnish! I couldn't be more excited!
Even though Finnish is a small language spoken only by around 5 million people in the world, there are a lot of free and paid resources for learning Finnish. 
As my mission is to help you with all things Finnish, I have spent the last couple of weeks researching Finnish textbooks, dictionaries, courses, sites, and apps. So I've got you covered!
Before diving into these wonderful Finnish resources, I'll talk about how to set you up for success when learning the Finnish language. We are all unique, and I sincerely hope that this article helps you find the best learning tools for you.
Psst… Follow me on Instagram and get more Finland into your daily life immediately!
 

 

Näytä tämä julkaisu Instagramissa.

 
Here are the topics of this post. Let's go!
The Best Resources for Finnish Language Learning
I want to let you know that this post doesn't introduce you to every Finnish resource available. I have rounded up Finnish language learning tools that:
Support different learning styles

Help reach different learning goals
Include English explanation texts
Are available in many countries
Are easy to use
Why Learning Finnish May Seem Difficult?
Finnish belongs to the Finno-Ugric group of languages, which also includes Estonian and Hungarian. Thus, many of its' key structures are different compared to English and other Indo-European languages. 
But, fear not! At first, Finnish doesn't seem to make much sense. However, when you go forward with your studies, you'll see that Finnish is a great language for beginners!
First of all, everyday conversational Finnish is short and sweet. The vocabulary you need for everyday situations is tiny. In Finland, we rarely engage in small talk. 
My students tell me that they struggle the most with learning all the different endings in the Finnish language. However, at the beginner level, there are a lot of phrases and structures that have no endings! 
So, here's my best advice to you: Don't worry about the more advanced stuff now. There are so many easy and short words and phrases to learn!
The Best Way to Learn the Finnish Language
So what's the best way to learn Finnish? Perhaps surprisingly, it's less about the Finnish language and more about you. 
Here are the things you should consider when trying to figure out what's the best way for you to learn Finnish.
Think about Your Learning Style and Your Lifestyle
Is your learning style visual, aural, verbal, physical or logical?

Have you chosen your learning tools so that they support your learning style or styles?
How will you keep learning fun? Do you need additional help for that, for example, a language game or flashcards?
Have you chosen your study material so that it fits your lifestyle?
For example, I have noticed that now with a toddler, my hands are always full. It's hard for me to read a book. That's why I currently study using online courses. They offer me the flexibility I need.
I can play a video lesson on TV, laptop or mobile. On the go, I use the video lessons as audio lessons. When I can concentrate alone, I use a book or a printed ebook as an additional resource.
Think about Your Motivation and Your Ability to Keep Yourself Motivated
Have you made a study plan? Think short-term, not only long-term, as it may be too vague. What have you accomplished by tomorrow?

Have you decided that learning Finnish is a little daily habit? For example, could you make a conscious decision to learn 10 minutes a day?
Have you told somebody about your study goals to keep yourself accountable?
Can you get a friend or family member to study Finnish with you?
If you don't feel like learning grammar today, what additional resources have you planned for yourself to advance in your studies? For example, how about watching a Finnish YouTube video or listening to Finnish music?
Have you remembered to give yourself a big 'kiitos' (thank you) after every lesson!
Would a little prize help you? After reaching your daily goal, do something you love – meet a friend, read a fun book or cook your favorite dish.
Finnish Online Courses for Beginners
Want to learn easy Finnish but don't know where to start? I have two online courses to help you start speaking Finnish today. Both courses are super easy to use and work perfectly on the go.
Spark Your Finnish – Free Finnish Online Class for Beginners
In a nutshell: After taking Spark Your Finnish class you'll know how to say any Finnish word and how knowing English helps you learn Finnish. 

For whom: If you are busy with life and curious about the Finnish language.

This class takes less than 30 minutes and shows you why Finnish isn't impossible.
You don't need to be in Finland to learn Finnish.

Conversational Finnish for Beginners – Complete Easy Finnish Course
Here's the secret to learning how to speak Finnish (even if you keep hearing it's "harder to learn than Mandarin Chinese"). After this course, you'll be ready to visit Finland and impress some Finns in just a couple of months. 
After Conversational Finnish for Beginners, you'll know:  
A simple framework for learning how to speak Finnish even if it feels like your brain is allergic to new languages.
The easiest methods to build short sentences in spoken Finnish – without worrying about conjugations and endings.
How it feels when your Finnish receptionist is completely shocked that you're NOT a Finn.
This course includes a structured learning parth with 40+ video lessons, a workbook full of exercises and so much more. Check out the course page here.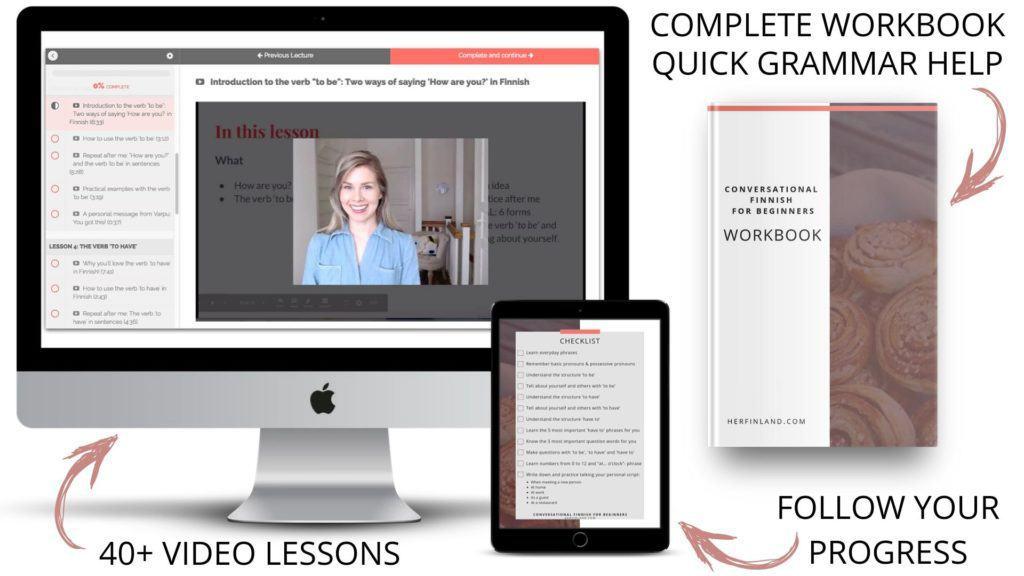 What my students are saying about the course: 
"Hei Varpu, I live in Helsinki and this is truly one of the nicest courses I have come across. What I am learning in this course is really close to life and it won't teach you unnecessary things I will never need or use.

You are such a kind person with the most gentle voice, which makes me feel like I totally got this."

– Kathrin, expat in Finland –
"My background is technical communications and online learning. Mostly I write about cultural history now, but wanted to take a minute to tell you how much I enjoy your design and presentation of Finnish. It's so well done and beautifully produced.

Thanks so much for helping me in my learning! You've done a wonderful job and it's helping me! Kiitos!"

– Anna-Riikka, Finnish-American, USA – 
Top Books that Help You Learn the Finnish Language
Here are fantastic Finnish books that will help you in your Finnish language studies. 
Complete Finnish by Terttu Leney
In a nutshell: Complete Finnish offers you all the information you need to go from a beginner to level 4 / B2 in Finnish.

For whom: If you are serious about Finnish and want to learn it all the way.

The package includes everything: audio, readers, grammar, exercises, cultural tidbits, and vocabulary.

With so much stuff, this book can be overwhelming. You need to have a strong internal motivation, because a book is not that interactive. 

Complete Finnish offers great value for money and all the information you need to get well-rounded Finnish skills! 

 

From Start to Finnish by Leila White
In a nutshell: Start to Finnish offers wonderful textbook support for the beginner.

For whom: If you want to get an overall picture of the Finnish language structure. 

This book includes readers, wonderfully described grammar sections, exercises, and vocabulary with verb type numbers.

The audio material is pricey and can be hard to find.

 

Finnish Dictionary & Phrasebook by Ville Kataja
In a nutshell: Finnish Dictionary & Phrasebook shows you the essentials and word stems that you need when you are learning Finnish.

For whom: If you are a beginner-level student and want to learn word endings faster. 

The most amazing part of this book is the dictionary which shows words with their stems. In Finnish, the endings are added to the word stem, which can differ greatly from the word itself. For example, a river is "joki" in Finnish, but the stem is "joe-".

The book includes essential grammar rules and a phrasebook section with a lot of cultural words only used in Finland.

The book is compact and the text font is easy to read. However, if you use reading glasses, you'll most likely need them with this book.

No audio.
Berlitz Finnish: Phrase Book & Dictionary
In a nutshell: Berlitz Finnish gives you an introduction to the Finnish language, especially from a traveler's point of view.

For whom: If you'd like to learn basic Finnish with pronunciation help from an English-speaker's perspective. 

This tiny Finnish book accompanies every Finnish word and phrase with an English text you can read. For example, a platform in Finnish is "laituri". Reading the help "lie-tu-re" in English would result in pretty much correct word. 

No audio.

 

Eila ja Ossi and Other Finnish Textbooks Available in Finland
Some of the textbooks available in Finland are unfortunately not available online. However, if you are in Finland, you may want to try to find these books!
Eila ja Ossi is one of the beginner-level Finnish books highly recommended in the forums. Note that it's almost entirely Finnish. You can print the textbook here for free. By itself, it's most likely not enough to be your most important learning resource, but it makes a fun additional workbook! 
The other book which I really like is Sun Suomi by Kristiina Kuparinen, Terhi Tapaninen, and Karoliina Kuisma. It is an excellent resource for an English-speaking student and comes with an exercise book and audio. 
Favorite Apps for Finnish Language Learning
Here are three mobile apps that are free or offer a free trial. 
Pimsleur Finnish Audio Lessons
For an auditory learner, Pimsleur Audio lessons might be a fantastic way to study. The Pimsleur teaching method is unique – they teach phrases from back to start. The quality of the lessons is excellent. The Pimsleur style is not for everybody, but their free trial makes it easy to give it a go!
Finnish on Worddive
Yay! Besides teaching you Finnish in a fun way, Worddive is a made by Finns. This app helps you learn many Finnish words by playing language games. It's very intuitive with nice audio. I bet kids love Worddive too!
Hellotalk
Many of my students use this creative app. Hellotalk sets up users together for a language exchange. You can reach native Finnish speakers and start chatting with them. The app is easy to use. It helps you gain the confidence to use Finnish and maybe even befriend a Finn!
Additional Resources for Learning Finnish for Free
Here are five free resources that I recommend checking out if you are interested in learning Finnish.
Spark Your Finnish Class
This free class is the go-to course for busy Finland enthusiasts who want to learn simple methods of saying Finnish words.
After taking this class, you can pick any Finnish word in a dictionary and confidently say it in Finnish. Enroll today and join 2700+ students already in my Finnish classes learning easy Finnish.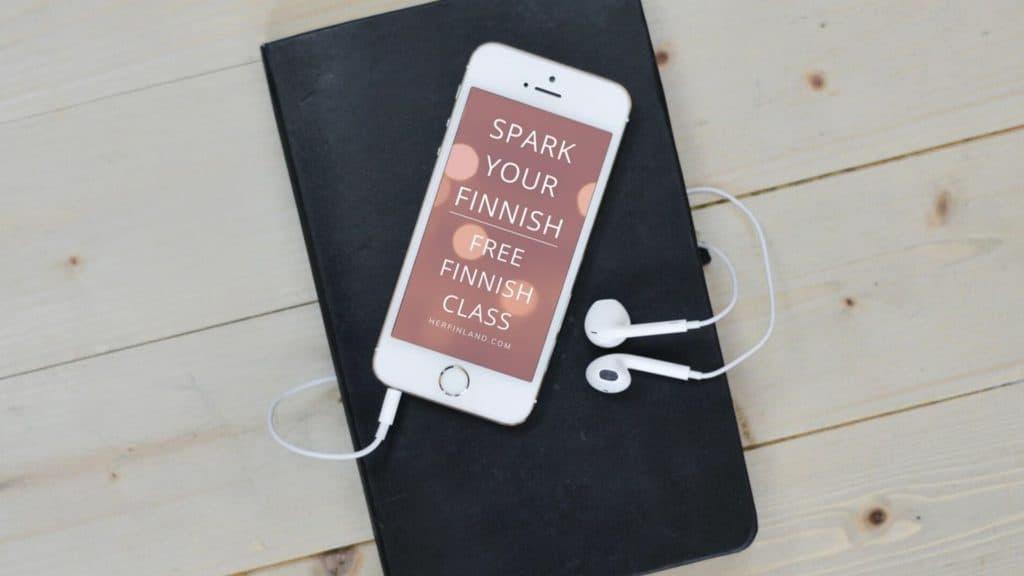 Learn Finnish on Instagram
Want to join our weekly mini Finnish lesson on Instagram? I post a Finnish lesson every Tuesday on my Instagram Stories. This interactive language series is called the Tuesday Tutor. 
You'll find all the lessons when you click the "Learn Finnish" highlight on my Instagram profile. What phrase would you like to learn? Please send me a DM and let me know. 
Finnish for Foreigners – Video Series
YLE, the Finnish public service broadcasting company, offers some online resources for learning the Finnish language. 
For example, there are Finnish-only videos include Finnish alphabets, numbers, and short phrases. Use them as listen & repeat practice or, if you have already studied some Finnish grammar, observe how verbs and nouns take their endings.  
Finnish Language Tips on Youtube 
My fellow Finnish content creator, Aleksi Himself, has funny and helpful Finnish language tips on Youtube. Check out his playlist for Finnish language tips here.
Finnish Grammar Reference
Michael has a wonderful page about the Finnish language. The site is a fantastic place to check out the most popular grammar topics quickly. 
The Last Thing You Need to Know about Finnish Language Learning
In conclusion, Finnish is not an impossible language to learn, and there are a ton of helpful resources available! 
 The most important thing is to keep your spirit positive. Make learning Finnish a fun, daily habit that fits your lifestyle. 
As Henry Ford said, "Whether you think you can or think you can't – you're right". 
I know you can do this and you need to think so too!
What is the best way for you to learn Finnish? Have you figured it out yet? Let's share our tips in the comments and help each other!
Looking for more information about the Finnish language? Check out these resources:
Warm wishes from Finland, 
Varpu
Did you find this post informative? Save it for later on Pinterest!