*Please note that this post has affiliate links. If you buy through my links, at no additional cost to you, I may earn a small commission, which helps the upkeep of this blog.
Want to know what are the best Finnish vocabulary hacks in my opinion? The Finnish word lists I share in this blog post. These lists are not your average vocabulary lists of hello, goodbye, and how are you.
The first list includes the words that are the core of the Finnish language. These Finnish words help you explain concepts and other words that you don't know in Finnish.
The second list includes 100 super easy-to-learn loan words. They are very similar to their English equivalents.
Both of these lists expand your vocabulary. I'll also give you my best memorizing tips.
Let's get started! I'd like you to say hello to Finnish semantic primes, as linguists call them.
First Finnish vocabulary hack: Meet semantic primes
So, the secret to growing your Finnish vocabulary is learning the semantic primes in Finnish. Knowing these words is super handy for both beginners and advanced Finnish learners.
What are semantic primes exactly? Semantic primes refer to a small collection of words that cannot be defined using other words.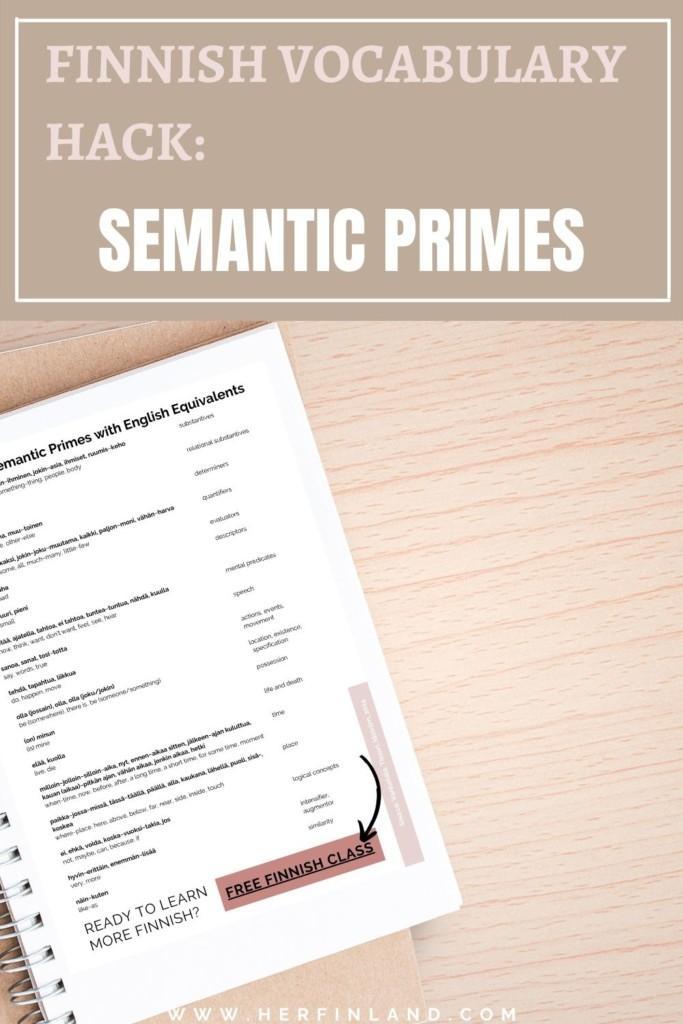 For instance, let's take the sentence: "I lied to you". If a person doesn't know what "to lie" means, how would you explain "to lie" to them?
You would probably explain it like this: "To lie means that I know this thing I'm telling you is not true, but I want you to believe that it's true. "
Take a look at the word "to lie", you could easily explain it with other words.
Now, take a look at those words know, thing, no, true, want, believe in the explanation. It is impossible to explain them with other words. They are semantic primes. They explain a more complex verb "to lie".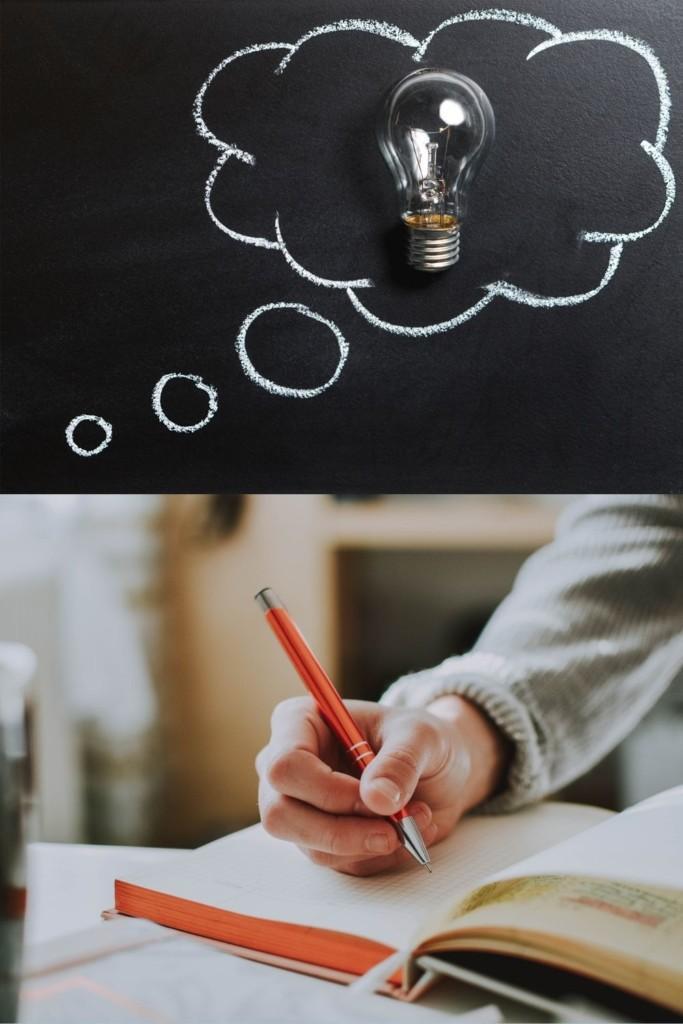 Semantic primes can be found in many languages. It is the amazing work of language professor Anna Wierzbicka. In English, there are 65 semantic primes.
In 2014, a Finnish team of researchers made the list of the Finnish semantic primes. And this is the list of hundred words that I'm talking about.
Finnish word list with 100 words you need
This Finnish word list includes hugely important core Finnish words. Download the list of Finnish semantic primes here and print it on your fridge door.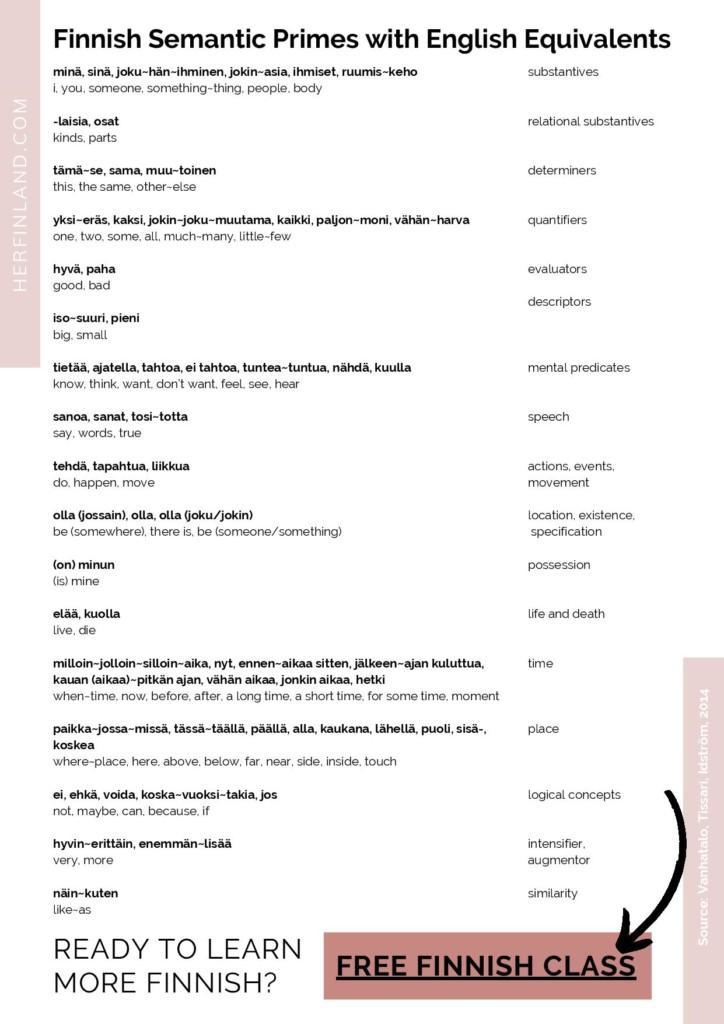 How to get Finnish semantic primes into your everyday language
The semantic primes are a big help when you have to explain a word you don't know in Finnish or when you are listening to an explanation of a word you don't yet know.
Most likely a Finnish speaker will use semantic primes in their answer without even realizing it. The semantic primes are hardwired to us.
Ready to speak finnish?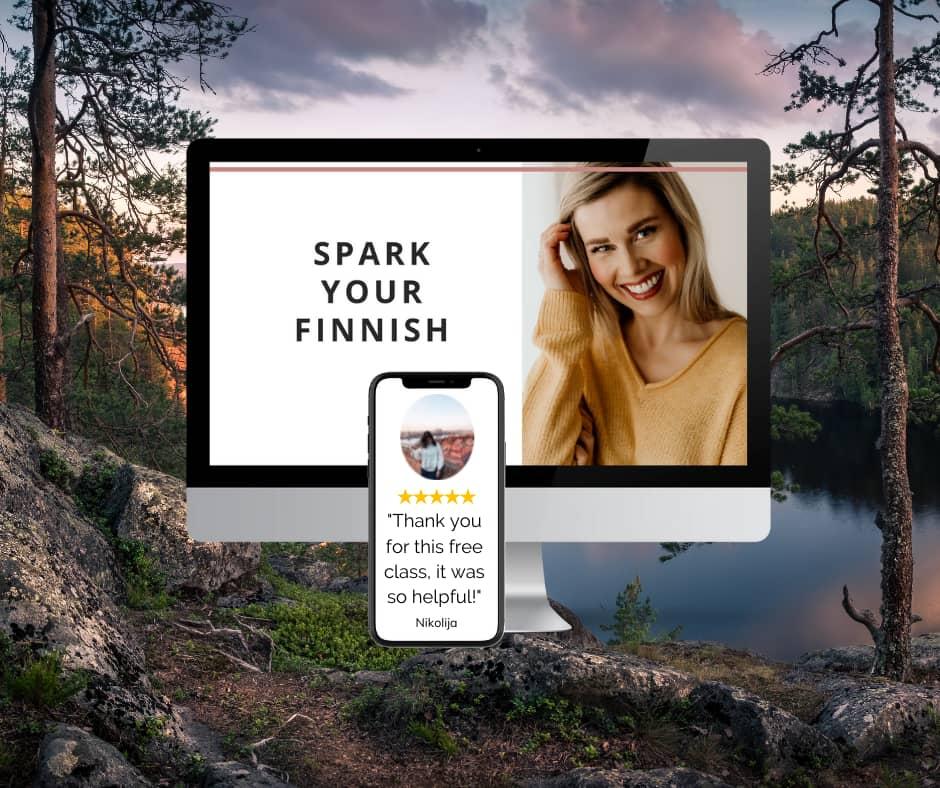 Join my praised free class and speak Finnish words in 20 minutes!
There are lots of endings in Finnish and that may feel overwhelming. That's why I really want you to focus on the start of the words. The start of the word is the word stem.
There's a high chance that you will be able to know the meaning of the word in the context when you spot the word stem.
Finnish vocabulary quiz with semantic primes
Here's a quick test to do after you think you have memorized all the Finnish semantic primes.
Translate these Finnish sentences or phrases into English or your own language. These phrases were all made of semantic primes.
1. Tein jotain pahaa.
2. Kehossa on monta osaa.
3. Se tapahtui täällä.
4. Täällä asuu vähän ihmisiä.
5. Kuten sanoin
6. Kaikkea hyvää sinulle.
7. Tunnen hänet hyvin.
8. Se ei ole totta.
9. En voi tehdä sitä nyt.
10. En tiedä mitä ajatella.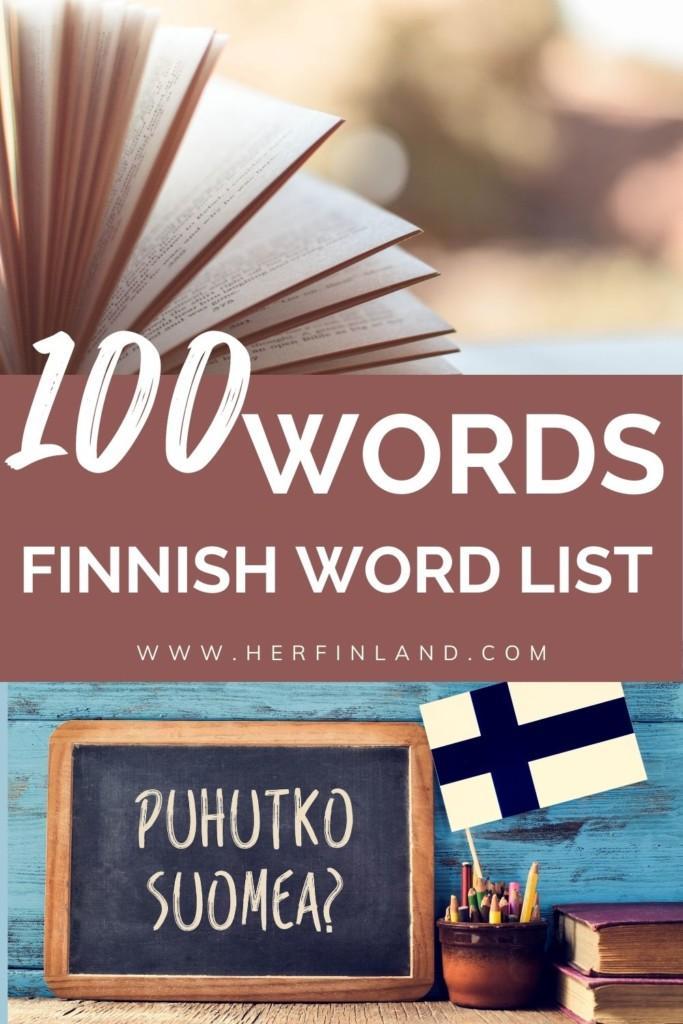 Ready?! Great! Here are the phrases in English:
1. Tein jotain pahaa. – I did something wrong.
2. Kehossa on monta osaa. – There are many parts in the body.
3. Se tapahtui täällä. – It happened here.
4. Täällä asuu vähän ihmisiä. – Few people live here.
5. Kuten sanoin – As I said
6. Kaikkea hyvää sinulle. – All the best to you.
7. Tunnen hänet hyvin. – I know him well.
8. Se ei ole totta. – It is not true.
9. En voi tehdä sitä nyt. – I can't do it now.
10. En tiedä mitä ajatella. – I don't know what to think.
Check out my YouTube video about core Finnish words. I discussed these sentences and their meanings in detail with a fellow vlogger, Kabira.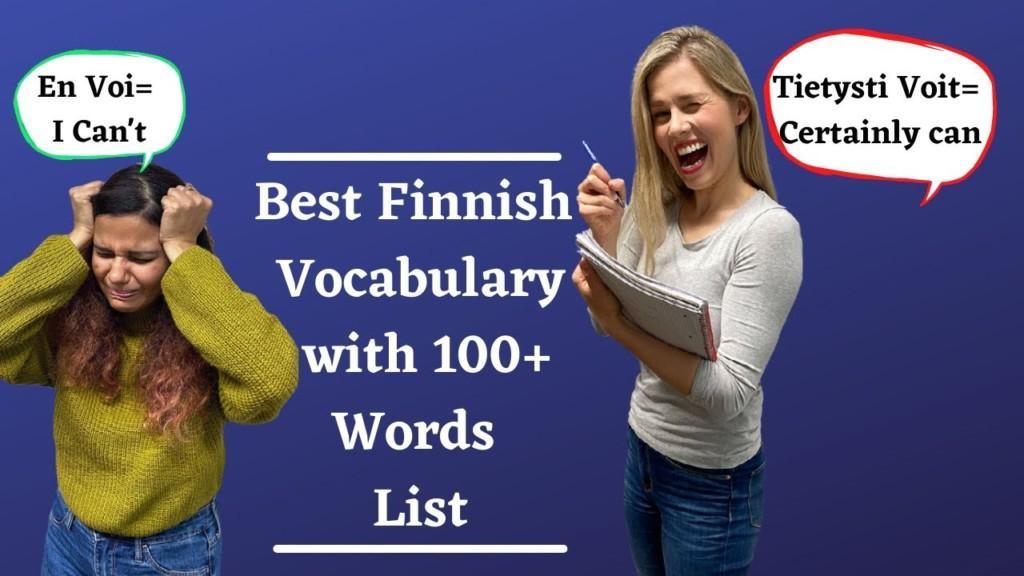 Finnish vocabulary pdf: 100 loan words
The other Finnish vocabulary hack is learning loan words. These are easy to learn and in my opinion, help you a ton, especially when it comes to learning adjectives.
Here is the list of 100 Finnish loan words for you to download.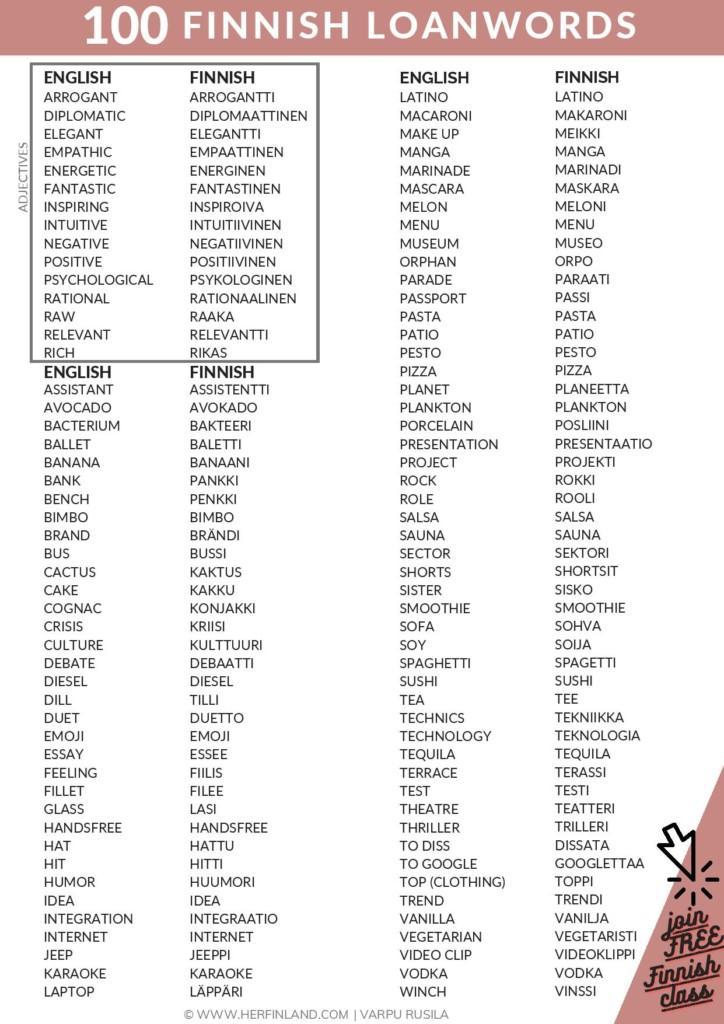 Popular questions about Finnish vocabulary
I receive many questions about Finnish vocabulary from my students and followers. Here are the most popular questions.
How do you memorize Finnish words?
There are many methods to learn a new language. You can start memorizing vocabulary by repeating the words over and over.
Taking notes is also a smart way to learn. Leave them in the visible places in your house.
Another method is to go to sleep. Sounds hilarious, right? But it really works!
Give yourself a prize after achieving your language goal of the day and take a fun break.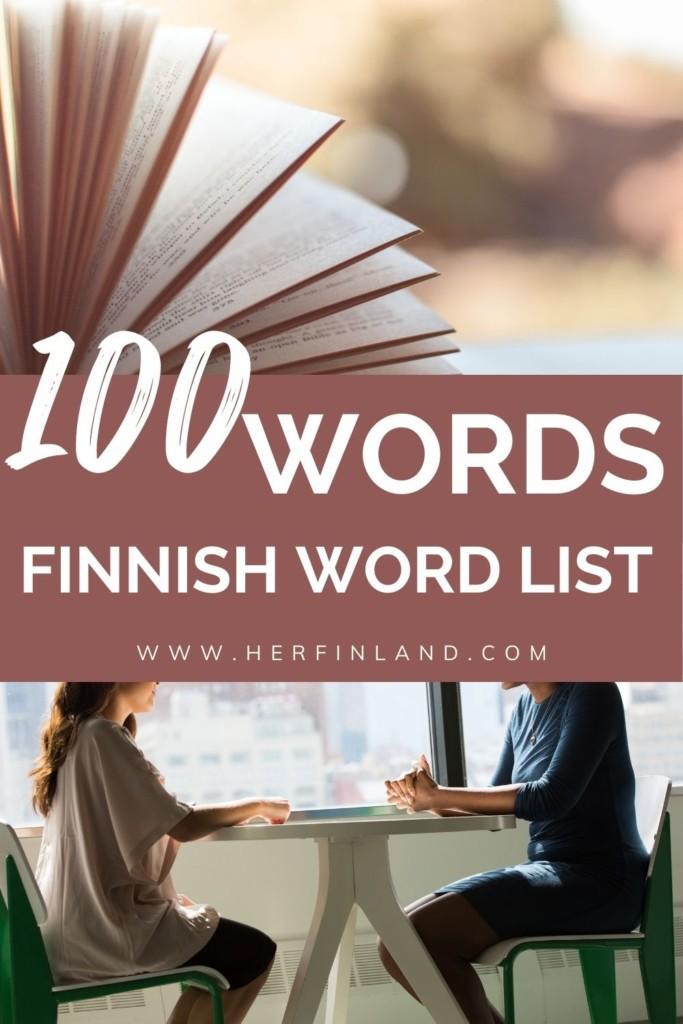 You can also review your notes to retain your information longer. Combine learning + movement such as hand signs or body signs. Make associations by drawing a visual cue that helps you remember a phrase.
The most efficient method? Teach others.
What's the best Finnish vocabulary book?
I think Finnish Dictionary & Phrasebook is great. It shows you the essentials words and all the word stems that you need when you are learning Finnish.
How to learn more Finnish words?
Start learning Finnish with my FREE Finnish class – Spark Your Finnish. The class takes only 20 minutes and you'll get so many quick wins with it!
You'll learn the easiest methods to start speaking Finnish with my Conversational Finnish for Beginners Course.
Join over 15 600 students who are becoming confident Finnish speakers with my online courses. By enrolling in any course, you'll also receive goldmines of helpful Finnish tips straight to your e-mail box. I can't wait to help you with your Finnish language journey.
Have you encountered semantic primes before? Do you find the loan words easy to understand? Let me know in the comments!
Ps. Thank you to my friend Kathrin for this topic idea and to the Institute of the languages in Finland for the help with semantic primes.
Looking for more information about the Finnish language? Check out some of my other posts:
FinNISH CONNECTION COLLECTION 🇫🇮
Finland-themed sweaters and accessories made-to-order. 🧡 Worldwide shipping.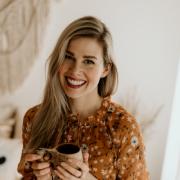 About Varpu
I'm the founder of Her Finland. I love cultural tidbits, aha moments, Finnish folklore, and cinnamon buns. My newest interest is learning bird songs. Read more about me..