*Please note that this post has affiliate links. If you buy through my links, at no additional cost to you, I may earn a small commission, which helps the upkeep of this blog.
As winter begins to set in, Finland's Lapland enters its high season. With snow blanketing the ground and the temperature dropping to even as low as -20˚C, visitors throng this picturesque region looking to witness the wonders of the perfect winter landscape and northern lights.
But nothing compares to the sheer magic and surreal experience that comes with staying in the midst of ice and snow in a glass igloo, which I have written about before, or an icehotel, which I will cover today.
What are icehotels in Finland?
Simply put, icehotels are hotel rooms or, for example, igloos built out of ice or snow. You can find this type of accommodation in northern Finland and Lapland, where the weather conditions are good.
If this sounds much too cold, rest assured the businesses make sure you are comfortable with the experience. Customers usually get warm gear and sleeping bags but check what the experience entails before booking.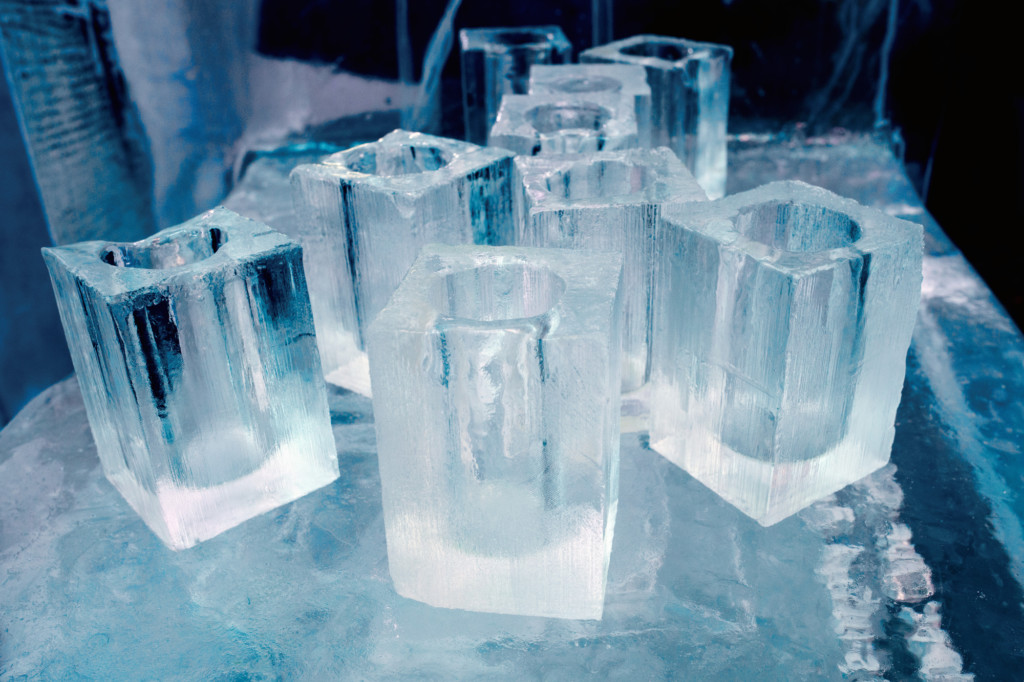 Many places offer hesitant guests the option to go sleep inside in the warm during the night if the experience ends up being different from your expectations. You will also have all the normal facilities for washing and dining in the warm part of the hotels.
It's worth noting that some of these icehotels are seasonal and operate only during winter. Still, each hotel mentioned here also offers more traditional accommodation options throughout the year.
If icehotels sound like your type of thing, I want to introduce you to three great options worth considering.
1. Snow Village in Ylläs
Book a snow suite for two to five here.
A convenient distance from the tourist spots of Ylläs and Kittilä, you can find Snow Village. You could come back each year and find something different: 20 million kilos of snow and 350 000 kilos of ice are used here to create a slightly different but equally impressive display of sculptures, a restaurant, a bar, and even an ice chapel from scratch.
Each year the sculptures have a different theme, from Game of Thrones to the world's best-known attractions. Have your camera ready!
You can book snow rooms for up to five people or enjoy a snow suite for two. The room is kept between -2 and -5 degrees Celsius regardless of the outside temperature and they give you a comfy sleeping bag to keep you warm and comfortable in this silent snow world.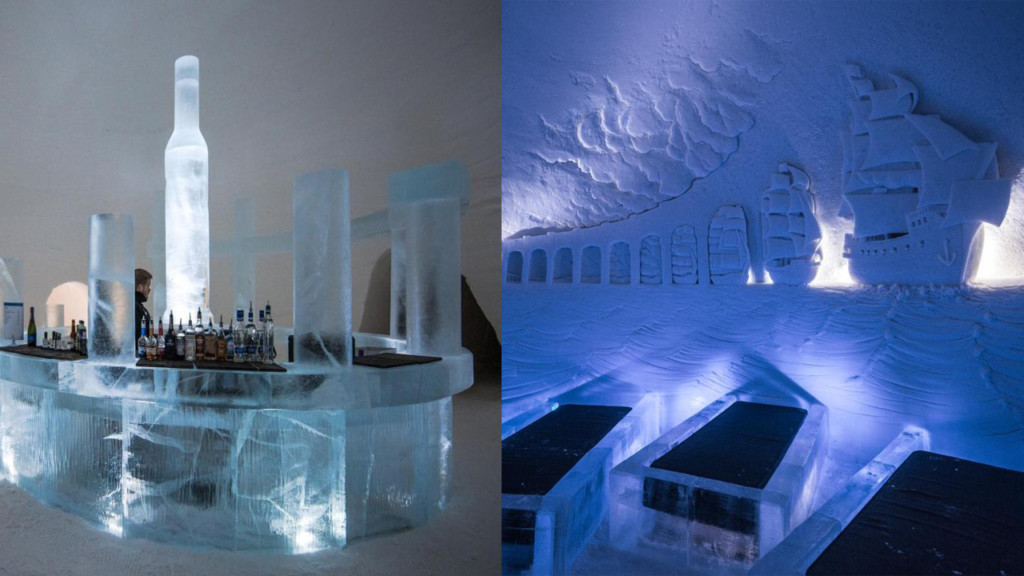 2. Arctic SnowHotel & Glass Igloos in Rovaniemi
Book a superior room for two or a room for 4-6 in the SnowHotel here.
Arctic SnowHotel is another amazing place to see snow and ice turn into interesting and exciting snow art. This hotel changes shape each year too. The rooms have light art and ice sculptures and, of course, are made out of snow.
You will find all the services fitting for a SnowHotel here, including a restaurant, bar, and chapel made of snow and ice. The temperature stays between 0 and -5 degrees Celsius, and they provide you with a comfy sleeping bag.
In the morning, you can wake up with a cup of warm juice and receive your certificate that proves you slept through the night in arctic conditions.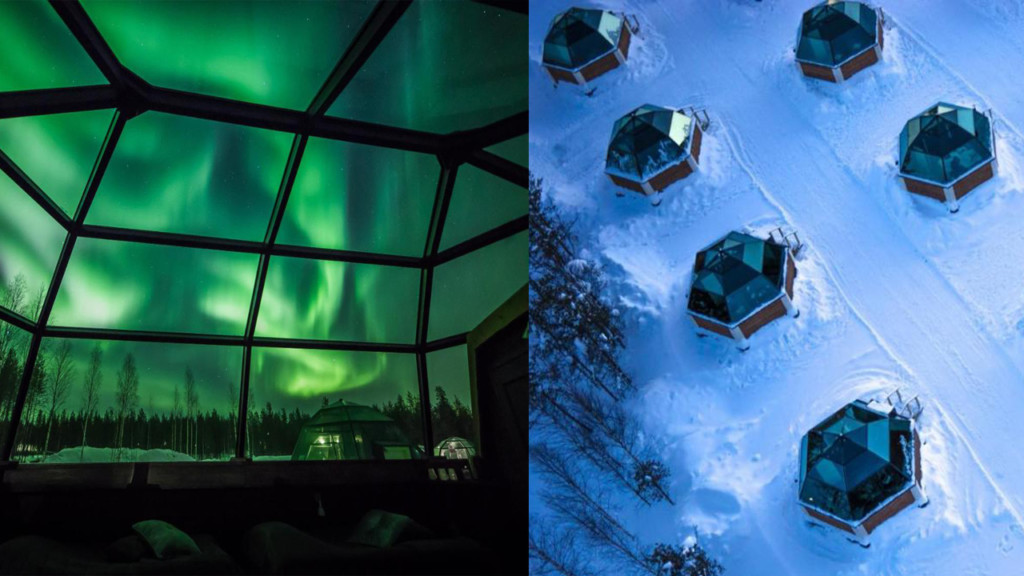 3. Lucky Ranch Snow Igloos
Book your own hand-carved snow igloo here.
The family-owned Lucky Ranch does come with real horses and amazingly authentic snow igloos by a lake in Pyhä. With incredible skill, the family carves the igloos by hand using the ice from the nearby lake. On a cold night, you can tiptoe into a warm space nearby if you find it too cold in the igloo and, of course, there are the usual facilities you need during your stay there too.
Lucky Ranch offers adventures, including horse riding and snow surfing, and staying with a wonderful family gives a very warm feeling like you are staying as their guest. Escape the tourist spots and find your peace in the wilderness.
There are no big snow attractions or ice sculptures here, but you get to spend the night in your own hand-carved snow igloo.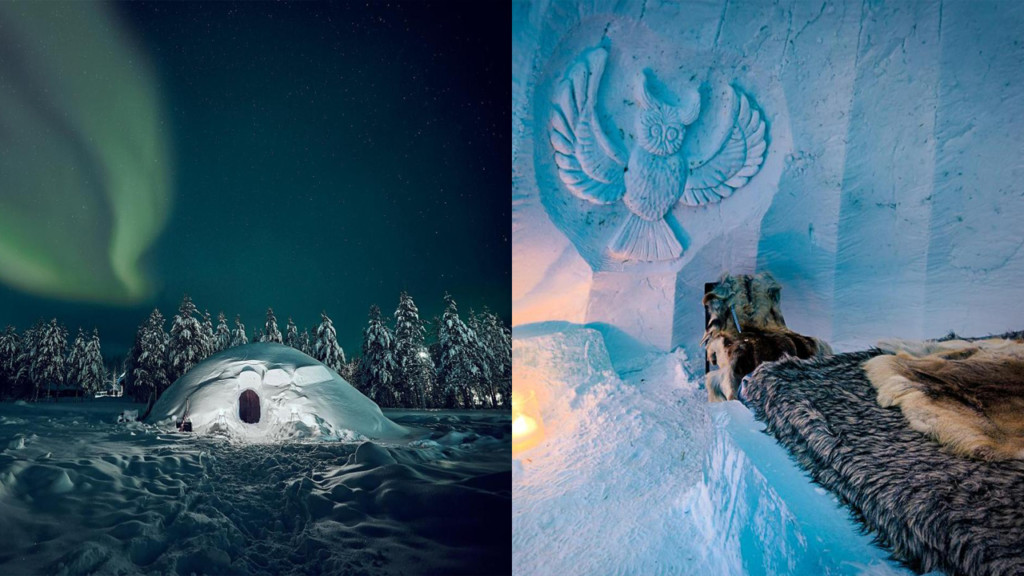 Bonus: Experience the SnowCastle in Kemi
Book a glass igloo with a sea view near the SnowCastle in Kemi.
Kemi SnowCastle offers another excellent visit for those looking for great photos of ice and snow sculptures. The SnowCastle has a winter park with snow slides ,a labyrinth, and ice sculptures to pose with. I added it as a bonus because the accommodation is in glass villas nearby and not inside the castle itself. The rooms come with a beautiful sea view.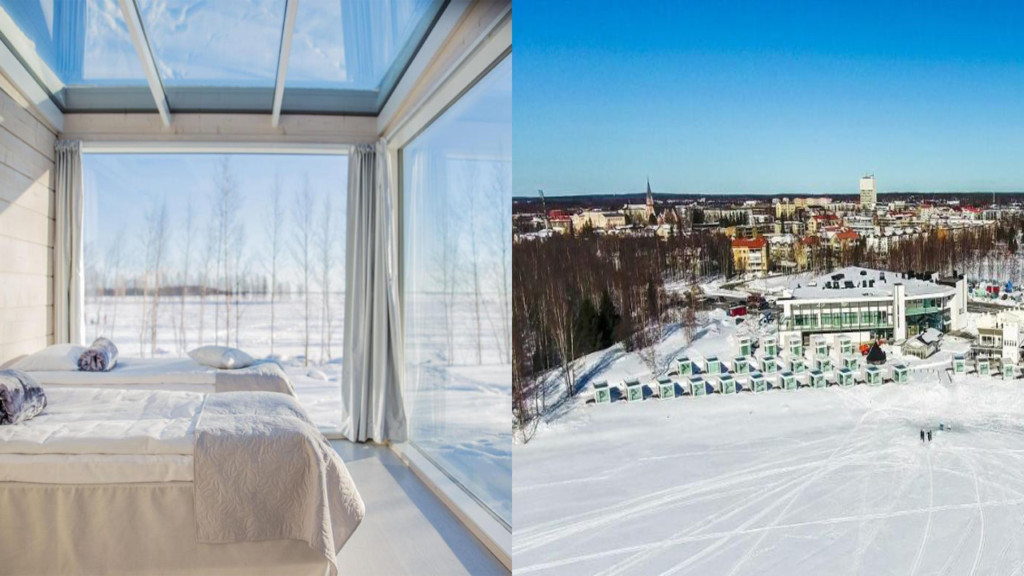 Is there an icehotel in Helsinki?
No. At least for the time being, icehotels in Finland are situated in Lapland. The easiest way to get to them from Helsinki is to take the train or fly to Rovaniemi or fly to Kittilä. You can find more information on the trains from a previous article on taking a night train to Lapland.
Which one of these unique experiences would you most like to experience? Do you have any questions about staying in a place like this? I will answer them in the comments.
Here are some other articles you might find interesting:
https://herfinland.com/lapland-wedding-elopement-photography/
https://herfinland.com/lapland-holidays/
https://herfinland.com/lapland-packing-list/
FinNISH CONNECTION COLLECTION 🇫🇮
Finland-themed sweaters and accessories made-to-order. 🧡 Worldwide shipping.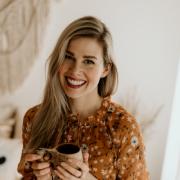 About Varpu
I'm the founder of Her Finland. I love cultural tidbits, aha moments, Finnish folklore, and cinnamon buns. My newest interest is learning bird songs. Read more about me..