If you ask me, a Lapland day trip in the wilderness is a must if you are visiting Rovaniemi!
For an easy day trip from Rovaniemi, I warmly recommend Pyhä and Luosto region. There lies Pyhä-Luosto national park, which has fells and hills of the ripe age of 2000 million. 
The area is just 1,5 hours (which is nothing in Lapland) from Rovaniemi and offers breathtaking views of Lapland fells. Note that in Rovaniemi we don't have fells, only hills. And I promise, there's a big difference between fells and hills!
When I saw how those deep gorges sliced the scenery of old-growth forests and how those windy, treeless fell-tops caressed the sky, nothing else existed for a moment. It was the most relaxing sensation. 
You don't need a car to visit Pyhä-Luosto area, just take the bus from Rovaniemi to Pyhä Ski Resort. There's an all year round commuter bus service between Pyhä and Luosto once you are there.
Best Time to Do Lapland Day Trip?
The charm of Lapland works in any season!
We have visited Lapland in August, September and several times during the winter months.
The most comfortable hiking circumstances are naturally during summer and autumn months. And indeed, the summer weather spoilt us in August, 10°C (50°F) in the morning and 18°C (65°F) during the day, no rain. The perfect walking conditions.
In September, the fall foliage is spectacular. The golden carpet on the forest floor is amazing!
Winter season is the high peak with all sorts of possibilities to enjoy nature. Well hello, northern lights! You just need to pick your activities and book early.
Psst… Follow me on Instagram and add more Finland to your life instantly!
Lapland Day Trip in the Winter
Pyhä and Luosto are winter wonderlands with so many things to do. Naturally, they offer traditional activities like reindeer and husky rides.
However, I recommend trying Altai skiing and winter biking!
In Altai skiing, you have short steady skis that are wider than traditional skis. The bottom skin makes climbing effortless and coming down gracefully slow. Altai skiing is essentially a mix of gliding and walking.
Winter biking is so much fun and you can even conquer a fell on a bike! The robust fat bike is surprisingly easy to operate. Cycling on the beautiful winter biking trails is definitely a wonderful sport.
This video shows all the winter activities of the area!
I'm also proud to tell you that Pyhä takes the climate change very seriously. That's why Pyhä Ski Resort is carbon neutral.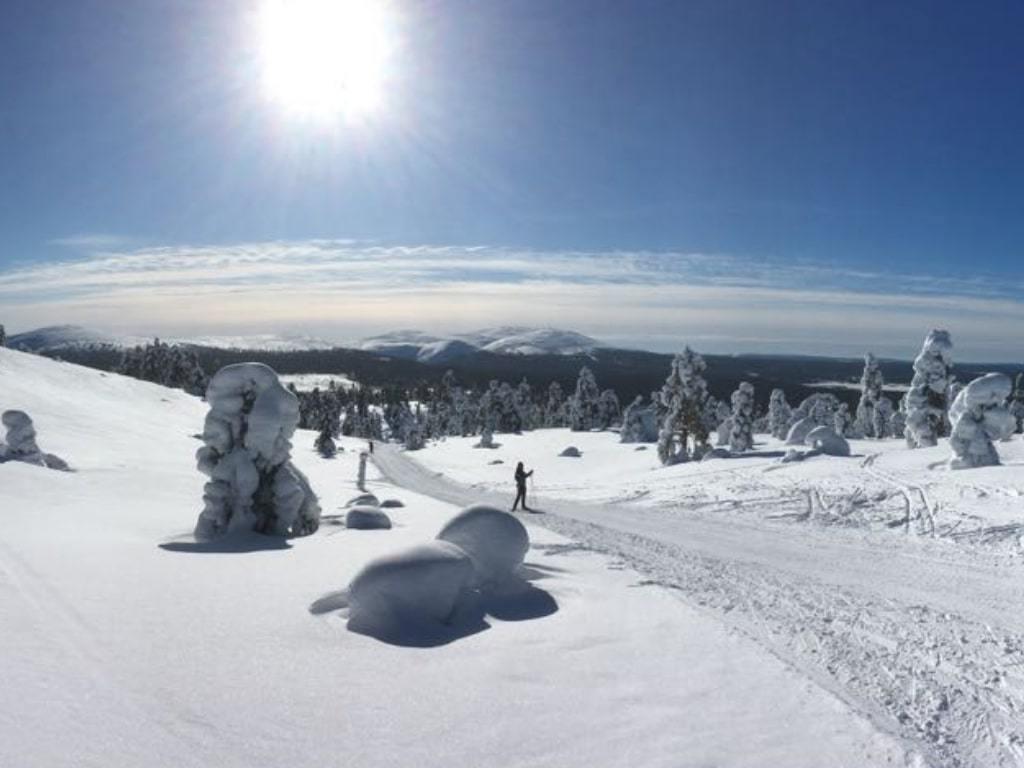 Lapland Day Trip in the Summer
There is one thing that you should know when planning a summer day trip. Lapland can be covered with mosquitos in the summertime, especially during July. 
There are no guarantees, but the safest bet is to plan your trip for the first three weeks of June or then from August onwards. In August, we saw only a few mosquitos during our trip, and they were of no harm. 
Mosquitos are like the tide, sometimes there is a lot and sometimes none.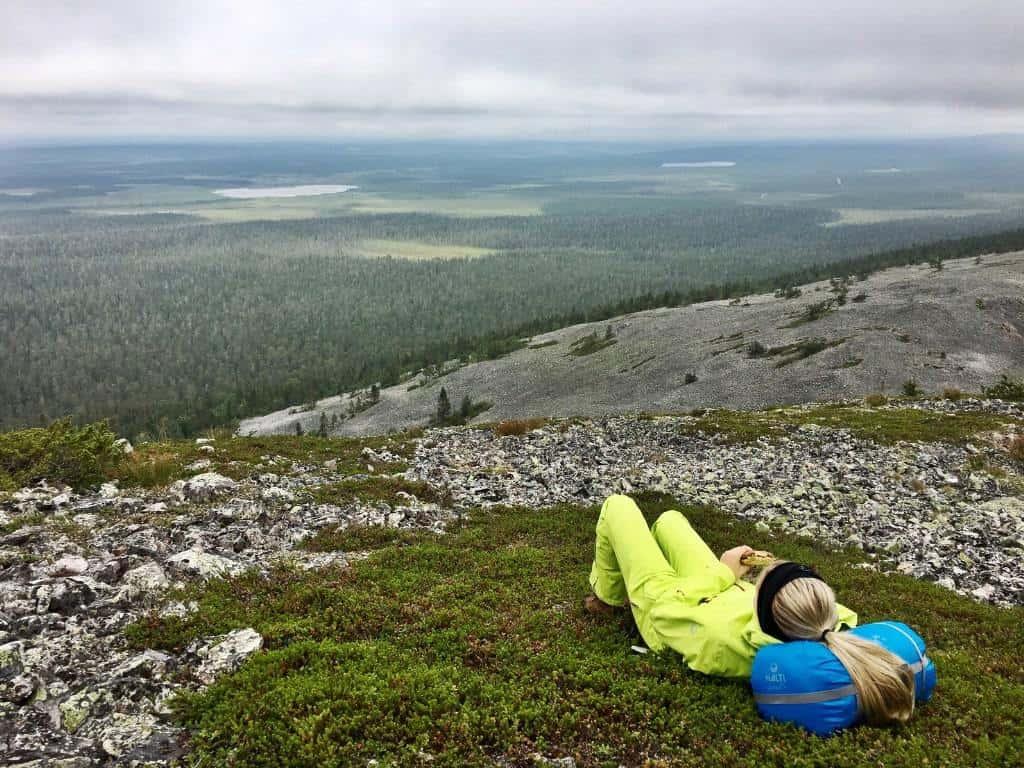 Magical Lapland Day Trip by Walking
Pyhä-Luosto National Park is loved and visited by locals. The route I recommend the most is "Karhunjuomalammen reitti" route starting and ending at Pyhä Ski resort.
The route is around 10 kilometers, unbelievably beautiful and easily done by walking. Easy, cheap and spectacular. Can't beat that combo!
Laplanders (and nature-lovers) are a friendly bunch, and you can quickly start a conversation by the campfire. Even in Finland, where not disturbing others by talking is highly appreciated!
The upkeep of Finnish national parks is of a high standard, also in Pyhä-Luosto. There are dry toilets, campfire places with wood, lean-to shelters, and open wilderness huts. 
There are many options for day trips on easy or more demanding trails. Thus, you can walk a day trail with just regular trainers and sportswear.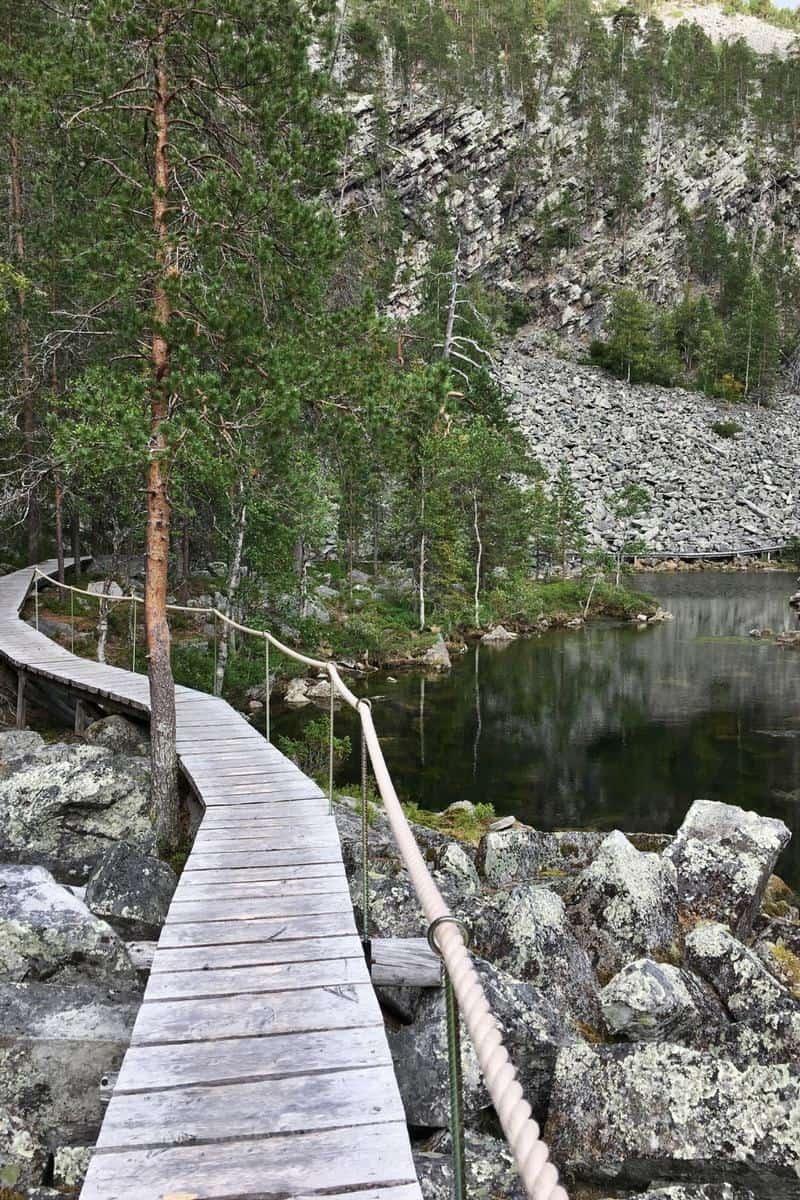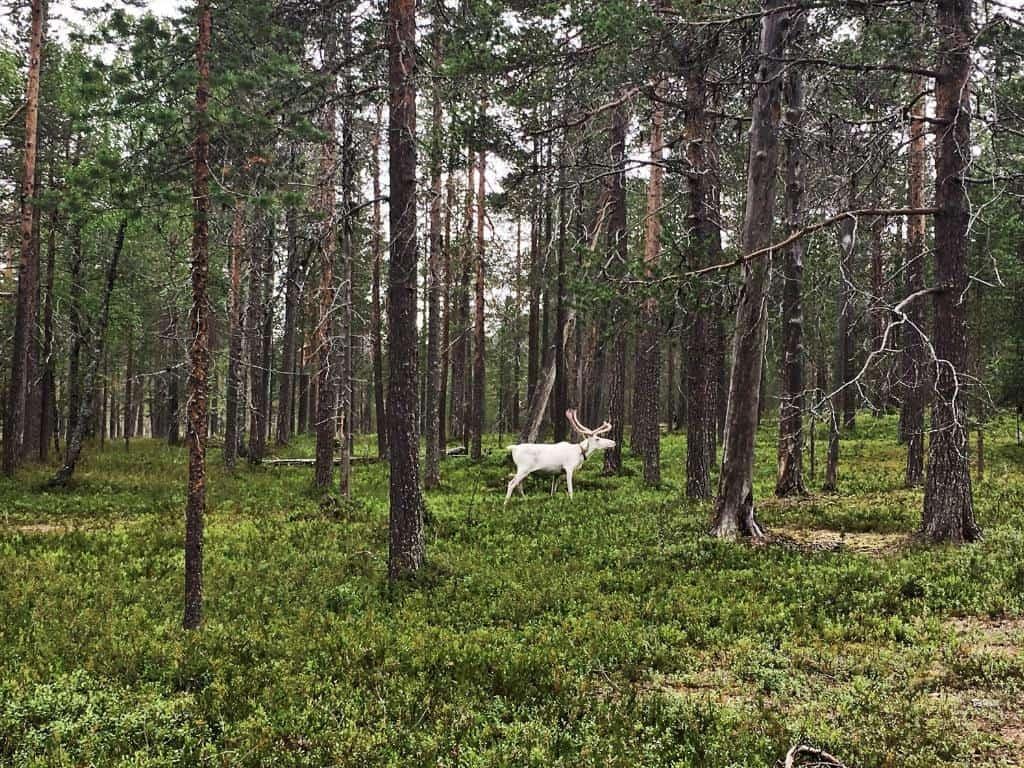 Local Delicacies in the Forest and in Pyhä Ski Resort
Laplander food is delicious. I think I made a record of how many fresh home-baked donuts (pretty much all cafés serve them) a person can eat during a week.
One café is even in the middle of a hiking trail in Luosto. The place is called Lampivaara, and it's next to an amethyst mine which is a cool place to visit!
In Pyhä, Café Loimu at Pyhä Luosto Visitor Centre Naava serves excellent home-style cooking and a delicious lunch buffet. The Visitor Centre is also the best place to get maps and to do tips, so you don't need to plan much beforehand if you don't feel like it.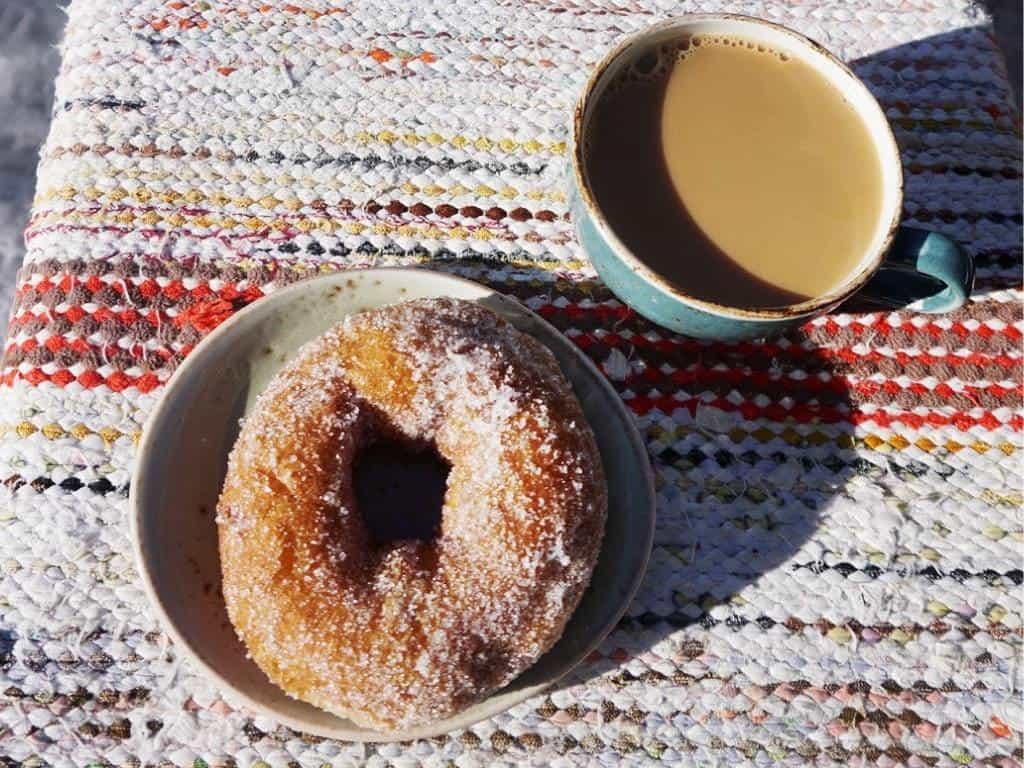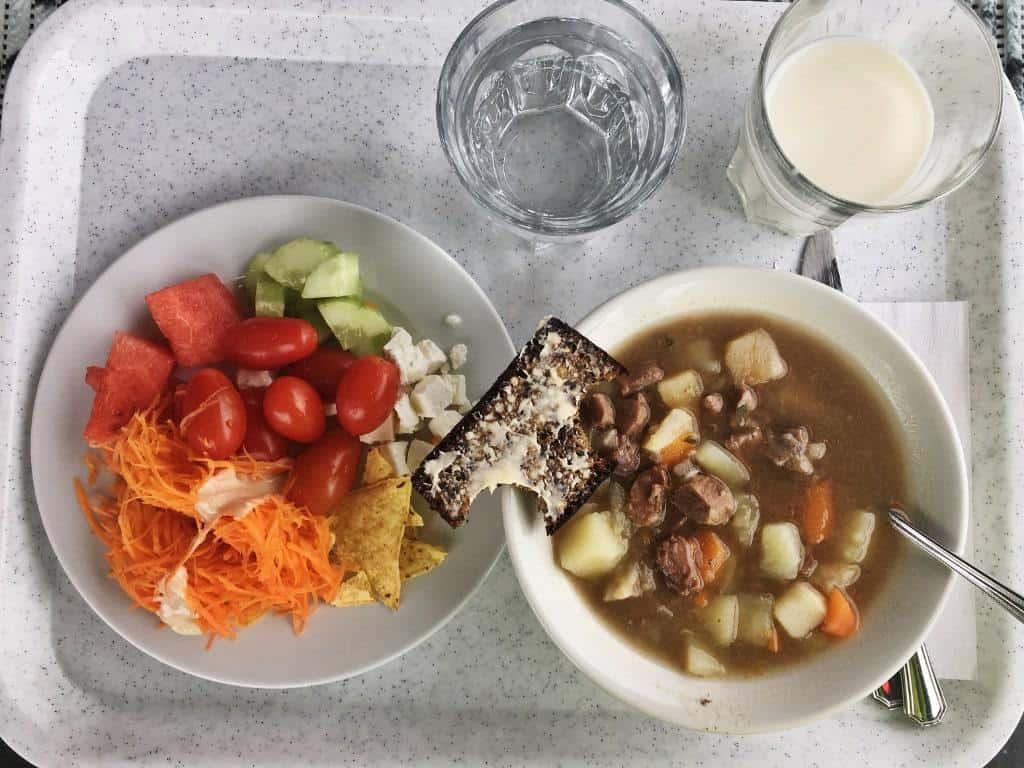 Bus Connection from Rovaniemi to Pyhä
To find Pyhä as a destination, one has to write "Pyhätunturi" (Pyhä fell) in the search box of the Finnish bus site to find the right connection.  You can read more about bus travel in Finland in this post. This post has also the right links to see timetables and make bookings.  
It takes 1,5 hours by your own car from Rovaniemi to Pyhä.
The bus connection takes 2 hours and 20 minutes from Rovaniemi bus station to Pyhä.
If you hop in at Santa Claus Village, it takes 2 hours.
I'd say there's a bit extra in that time estimate because passengers going in and out and also to consider the weather.
In detail, the bus connection is excellent in that way that it goes from Rovaniemi bus station to the Rovaniemi airport, then the Santa Claus Village in Rovaniemi, then Luosto area (hotel Aurora) and then, the final stop is in Hotel Pyhätunturi.
Hotel Pyhätunturi is where all the walking and activity routes start in Pyhä!
As for the toilets, I called the bus company to be sure. The service is run by Kutilan Liikenne Oy in the year 2019.
They operate this connection either with a big or small bus. The big bus has a toilet.
The small bus doesn't have a toilet but just let the driver know that there's a need for a bathroom and he/she will let you go to the bathroom on the stops before Pyhä or if it's an emergency, the side of the road. So you are okay to travel with kids!
So, is a Lapland day trip worth the sweat?
Yes, yes and yes! If you are in Lapland, you should definitely go, and my recommendation is that you head to the fells. There is magic in the landscapes beyond the Arctic Circle. 
What would you like to know about Pyhä and Luosto fells? Let me know in the comments!
Looking for more information about Lapland? Check these other posts:
Did you find this post informative? Save it for later on Pinterest!