*Please note that this post has affiliate links. If you buy through my links, at no additional cost to you, I may earn a small commission, which helps the upkeep of this blog.
Excited to do a combined Norway Finland trip? I was too. Hubby and I enjoyed this scenic arctic itinerary in autumn.
The red beach of Pallas, gentle fells of Kilpisjärvi, views of Muotkatakka, the roaming Rovjok waterfall, the lively city of Tromso, the fishing village of Sommaroy, and the glacier of Blåvatnet.
If you're an outdoor enthusiastic like us, you're going to love this scenic arctic itinerary that features both Finland and Norway.
This itinerary makes a wonderful summer or autumn trip. It will give you incredible scenery, attractions and plenty of exercises too.
You'll need to be in good physical health to do some of the activities in this itinerary. You'll definitely need good hiking boots and hiking poles will be very helpful too.
This itinerary is perfect to do with a friend, spouse, or as a small group. I wouldn't recommend it to small children. So, jump in your rental car, fill up the tank, get ready for the destination of a lifetime, and add the places below to your vacation guide.
Norway & Finland trip: Tips & basic information
You will be crossing the border between Norway and Finland so make sure to have all needed traveling documents to travel in both countries.
Renting a car is usually cheaper in Finland. I recommend having some kind of navigation app or system in use.
If you take a ferry in Norway, the staff will take a picture of your license plate and send the invoice to you later. Our invoice arrived after 8 months and it was less than 15 euros.
7 Scenic places to visit in northern Norway and Finland
If you plan on heading towards the Arctic region this summer season and are an outdoor fan, here is a list of things everyone should add to their itineraries.
The starting point of your journey might be driving or taking the train to Lapland or arriving by plane to Rovaniemi.
FinNISH CONNECTION COLLECTION 🇫🇮
Finland-themed sweaters and accessories made-to-order. 🧡 Worldwide shipping.
Rovaniemi in Finland
Rovaniemi is about at the Arctic circle and is one of Finland's most popular tourist destinations, with awe-inspiring landmarks you have to see, the most important being the Santa Claus Village where you can visit Santa Claus every day.
Not in the Christmas spirit? That's okay; you can also enjoy some time on the water, white water rafting on the Arctic river, or go Canoeing under the midnight sun. I have a complete Rovaniemi guide for you but here are some of my favorite accommodation options when in town:
Places to stay in Rovaniemi:
The Red Beach and Arctic Fells of Pallas
You head north and after driving for three hours, you'll get to our next stop in Pallas. Just a short stroll from the dirt road you'll find the Red Beach of Pallas.
On the red beach, you'll have lovely views to the fells. There's also a camping place with a hut over campers, a fireplace, and an outhouse. These huts are something you'll see across Finland in most national parks. They are a wonderful and free accommodation system for avid hikers. Very simple, but effective.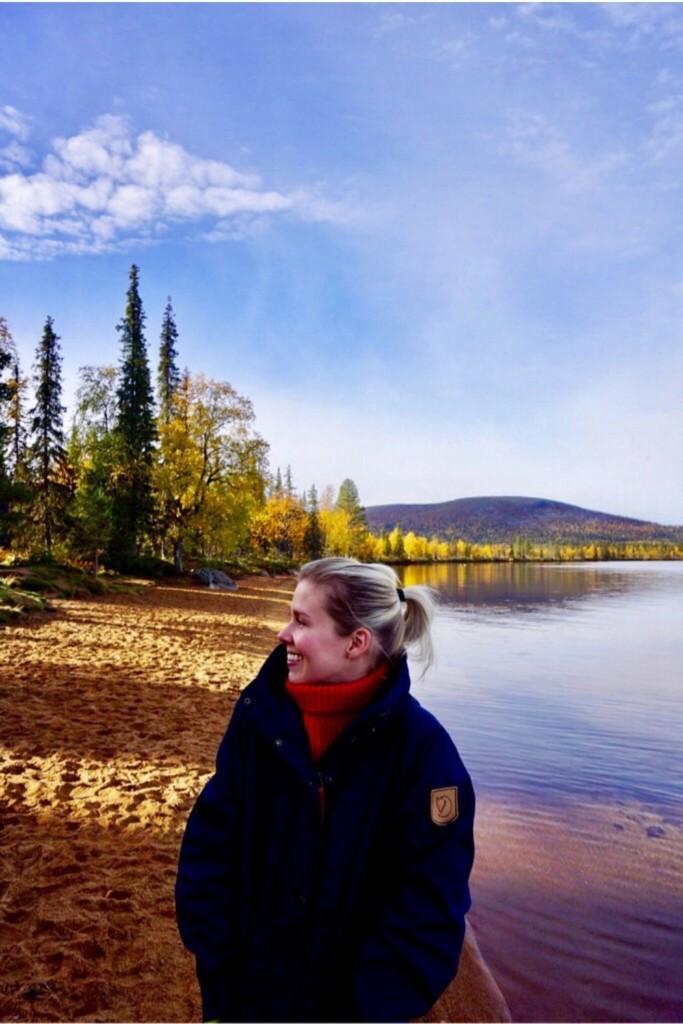 You can either stay the night in a tent on the Red Beach, continue the road trip, or then spend the night in Lapland hotel Pallas. If you stay there, don't miss the highest peak of the National park, Taivaskero, quite nearby. It's the place where they lit the Olympic Flame for the Helsinki Olympic Games in 1952 and you'll find a marking about this at the top. The climb requires that you are in good physical condition.
Drive further until you reach Kilpisjärvi. This road is very beautiful and my favorite time of the day is to drive it when the sun is setting and the waters on the left are shimmering in the evening light.
Our next destination is just next to the road: Muotkatakka
Beautiful Views from Kilpisjärvi
Before Kilpisjärvi, Muotkatakka is a great spot to stop and admire the views. It's perfect if you are not into hiking because in Muotkatakka the ascend is quite small and the views are still wonderful. If you cannot do the arduous hike of Saana fell in Kilpisjärvi, this is definitely a must. You can find the exact location via this map link.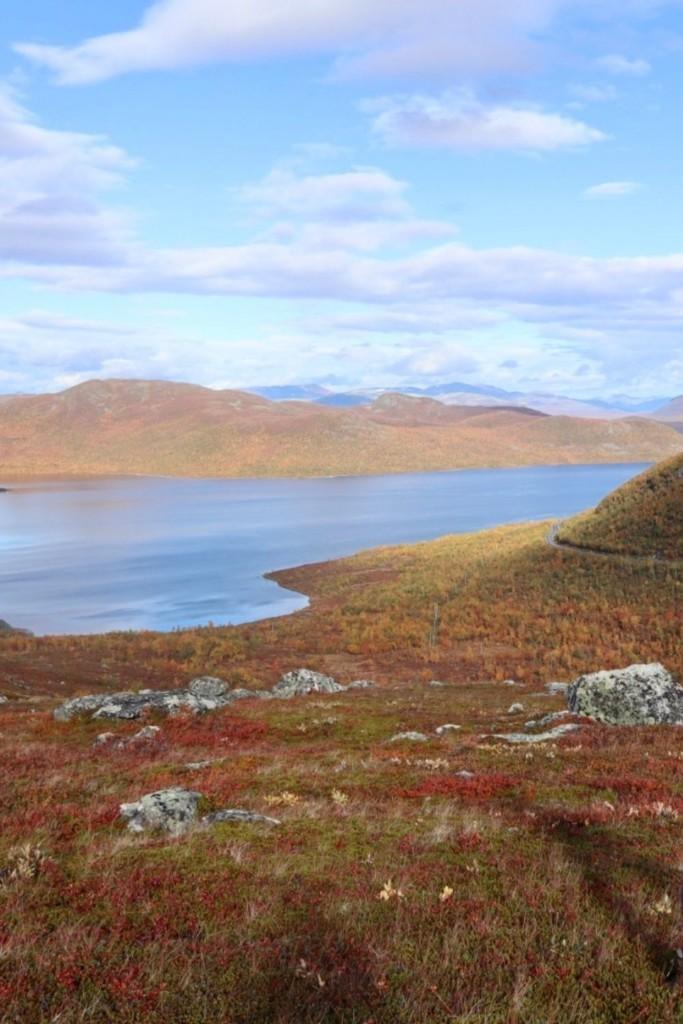 Kilpisjärvi is a village in the municipality of Enontekiö near the Norweigan border. Kilpisjarvi is the only alpine village in Finland and is famous for its lake and fells, which tourists seek out to hike and explore.
In Kilpisjärvi, you can take a boat cruise with the boat Malla to the world's northernmost spot for three national boundaries. Take a stroll around the yellow cairn and you have been in Finland, Sweden, and Norway in seconds.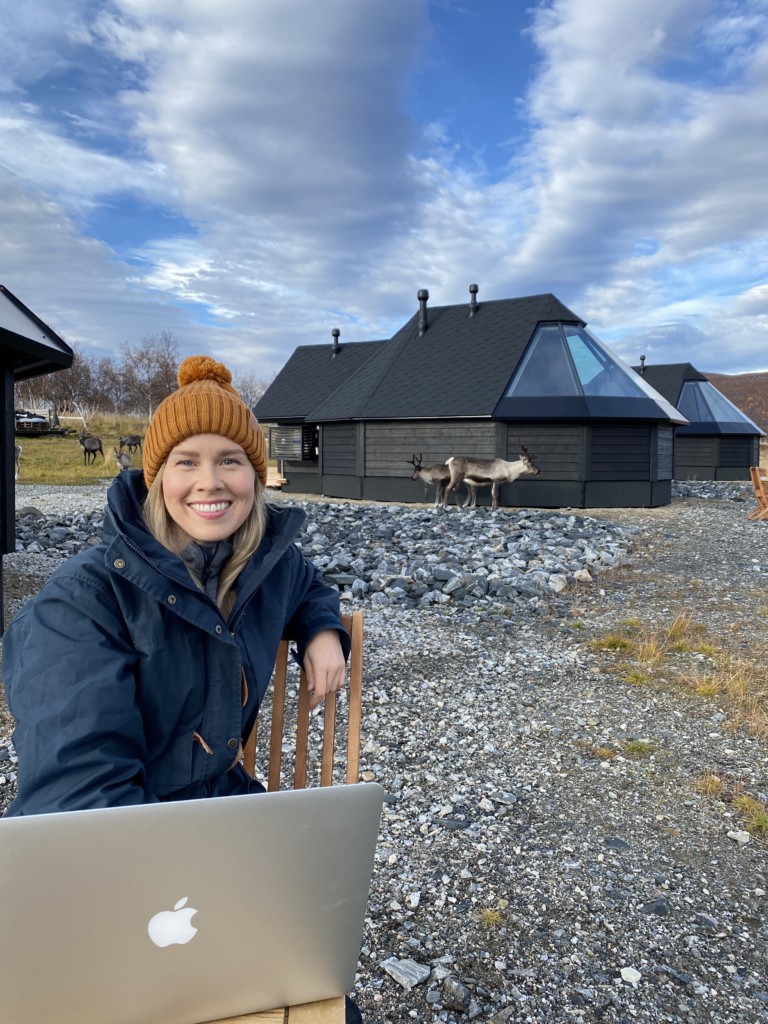 My favorite place to stay in Kilpisjärvi is Arctic Land Adventure where you can get up close and personal with reindeer at this Sami reindeer ranch. There are also wonderful chalets in the village center.
The roaming Rovjok waterfall
This is an amazing hidden gem just next to the road after you drive a short distance from the Finland-Norway border. There are clear brown signs to it. Definitely a must! If you want to go all the way down be prepared to do some proper climbing. There are no steps or no extra help for you.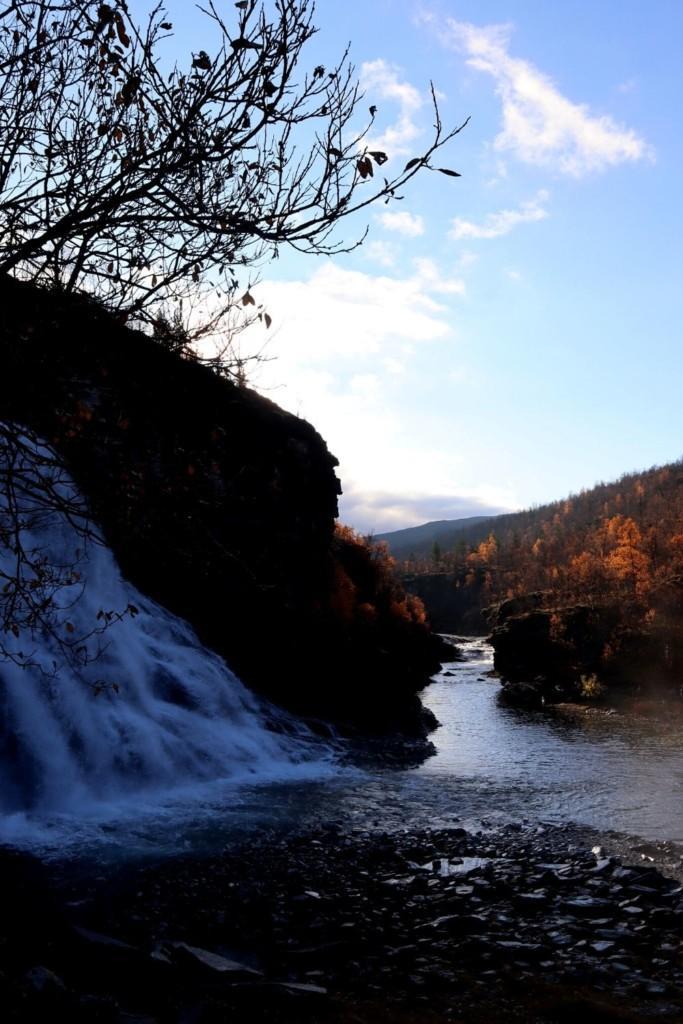 Lively Tromso in Norway
Tromsø is the 12th most populous municipality in Norway, where it is home to many islands and mountains with amazing views and natural beauty to explore, including Tromos Fjords, which are natural, steep inlets carved by glaciers.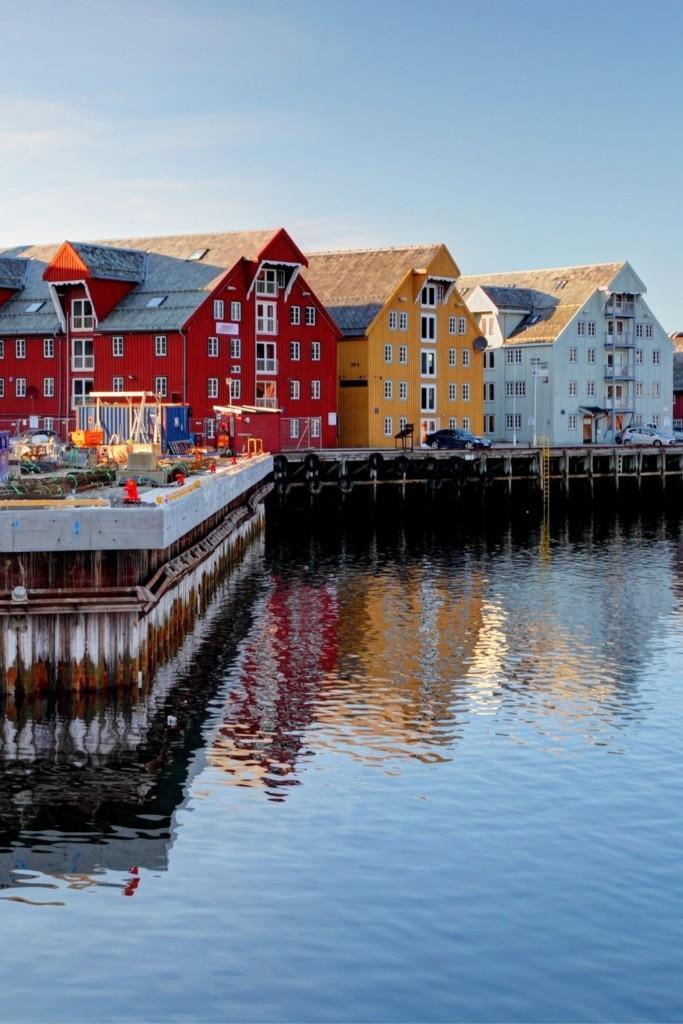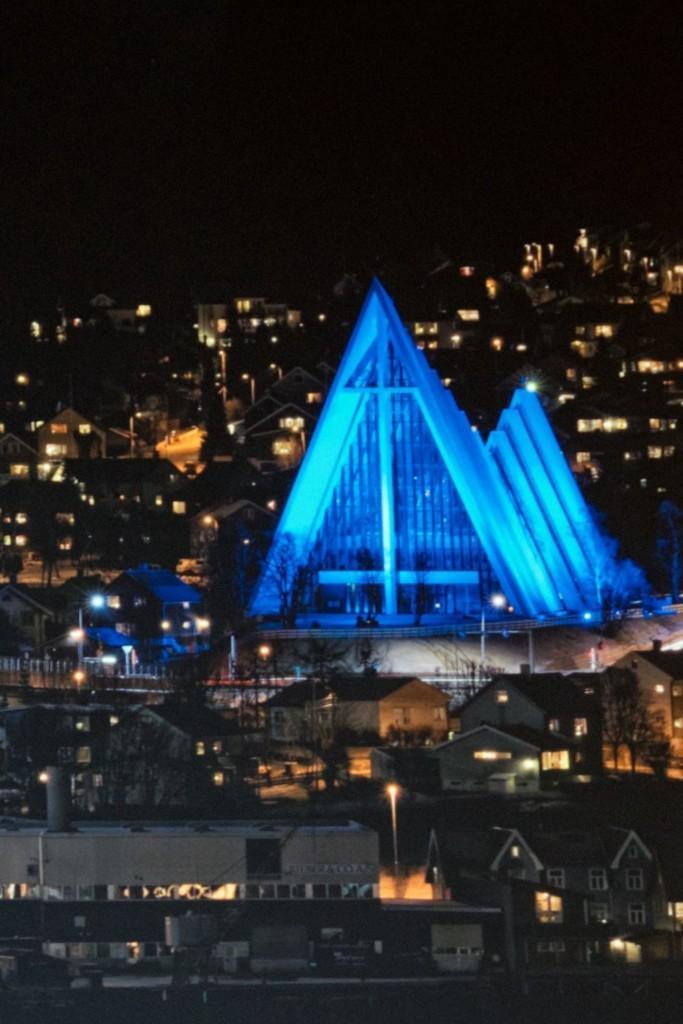 If you are looking for a little adventure, take the Fjellheisen cable car 421 meters above sea level to a panorama, where dinner is served using all local ingredients, or take advantage of the city life here by stopping by local art galleries, the local Museums, and the Historical Sites.
Sommaroy in Norway
Sommaroy (aka Summer Island) is an island in Norway where that doesn't set for 69 days during the summer, giving the area plenty of time to enjoy the land and water around them.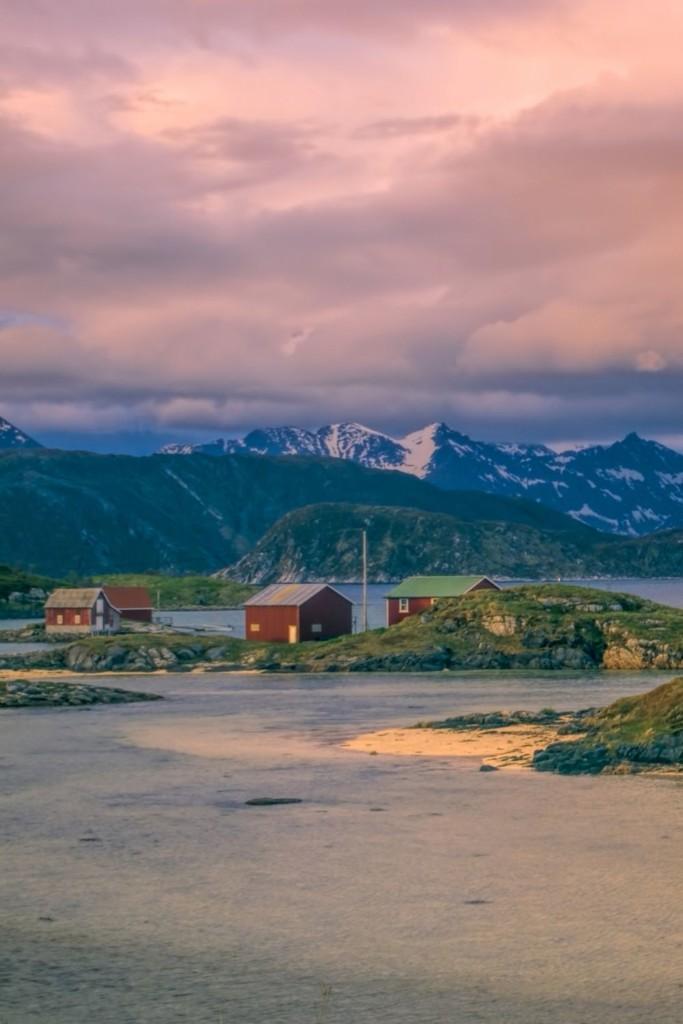 Sommaroy is an old fishing village with white beaches, plenty of herring fishing, and beautiful scenery everywhere you look. Once you get to this little island, you can take a Sommaroy cruise, and do a little ice fishing. We had lovely time at Sommarøy Arctic Hotel which I warmly recommend.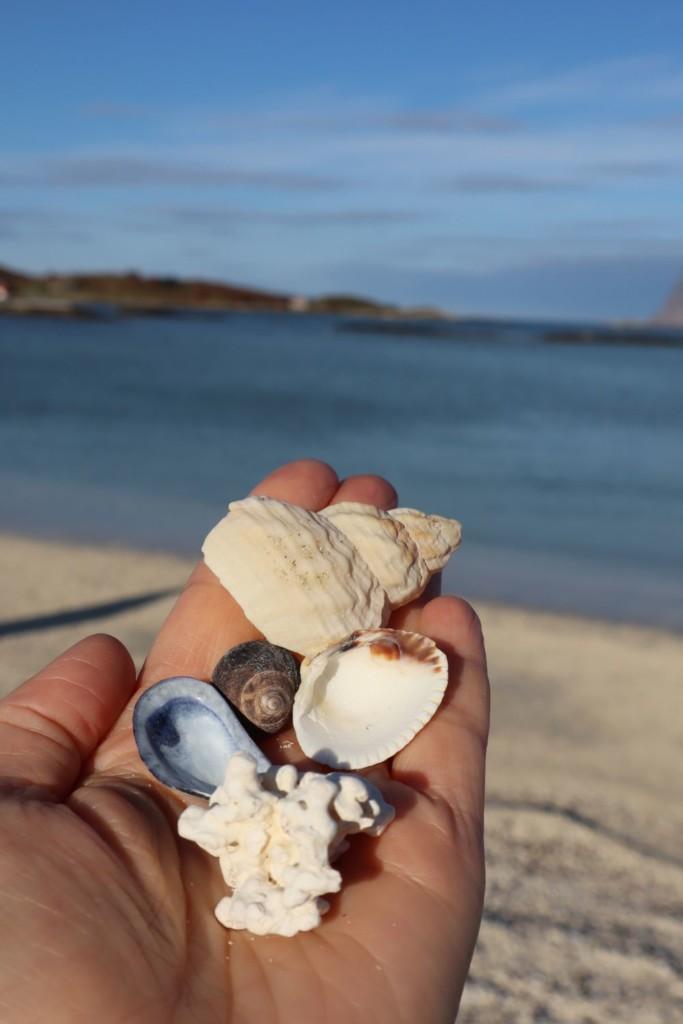 Glacier of Blåvatnet
A car drive and ferry away, you can see an actual glacier. This is definitely a full-day hiking day. Come packed with snacks and water. Also swimming suit if you want to take a dip in the incredibly blue lake under the glacier.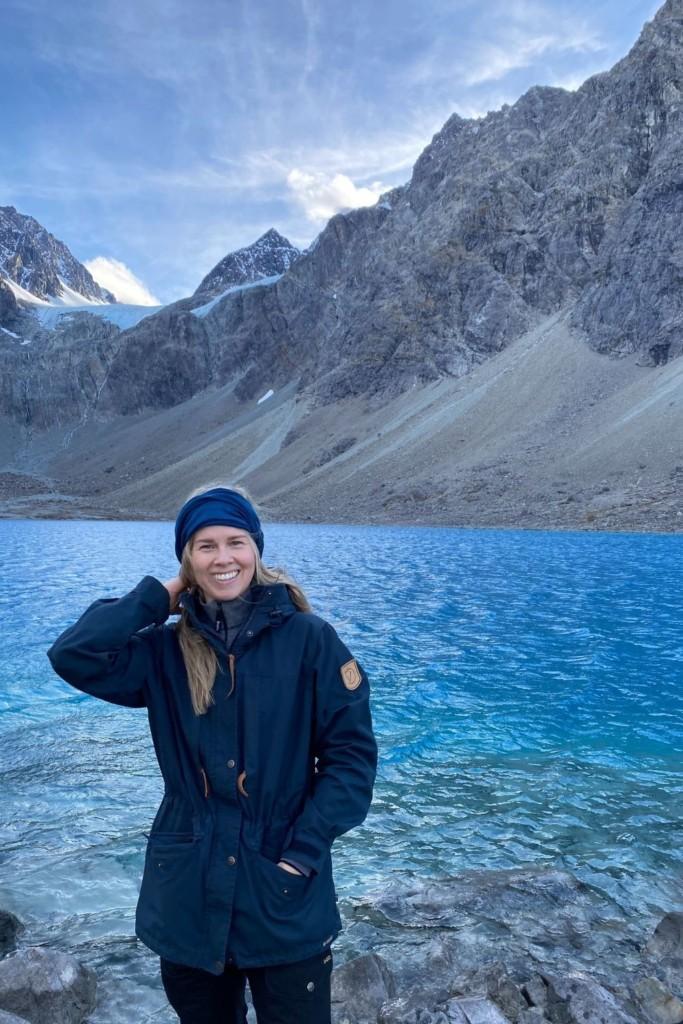 There's my list of seven wonderful arctic places to visit in Finland and Norway.
All of these places offer amazing scenery you will never forget and make the perfect sporty vacation spot whether you're going on a romantic getaway, a fun vacation, or flying solo to experience the adventure of a lifetime.
Would you want to visit both Finland and Norway in one trip? Let me know in the comments below.
More travel guides about Finland? Here are some of my favorite places in Finland: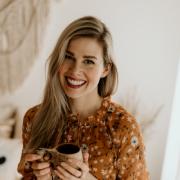 About Varpu
I'm the founder of Her Finland. I love cultural tidbits, aha moments, Finnish folklore, and cinnamon buns. My newest interest is learning bird songs. Read more about me..