In Finland, Santa Claus is inseparable from Christmas.
Did you know that Santa Claus comes to visit families on Christmas Eve and that he personally brings all the gifts in Finland?
He does not come from the chimney but instead knocks on the door!
Thus, this red-dressed, white-bearded old man plays a huge role in childhood memories for Finnish people.
In this post, I hope to answer all your questions about our beliefs about Santa Claus in Finland.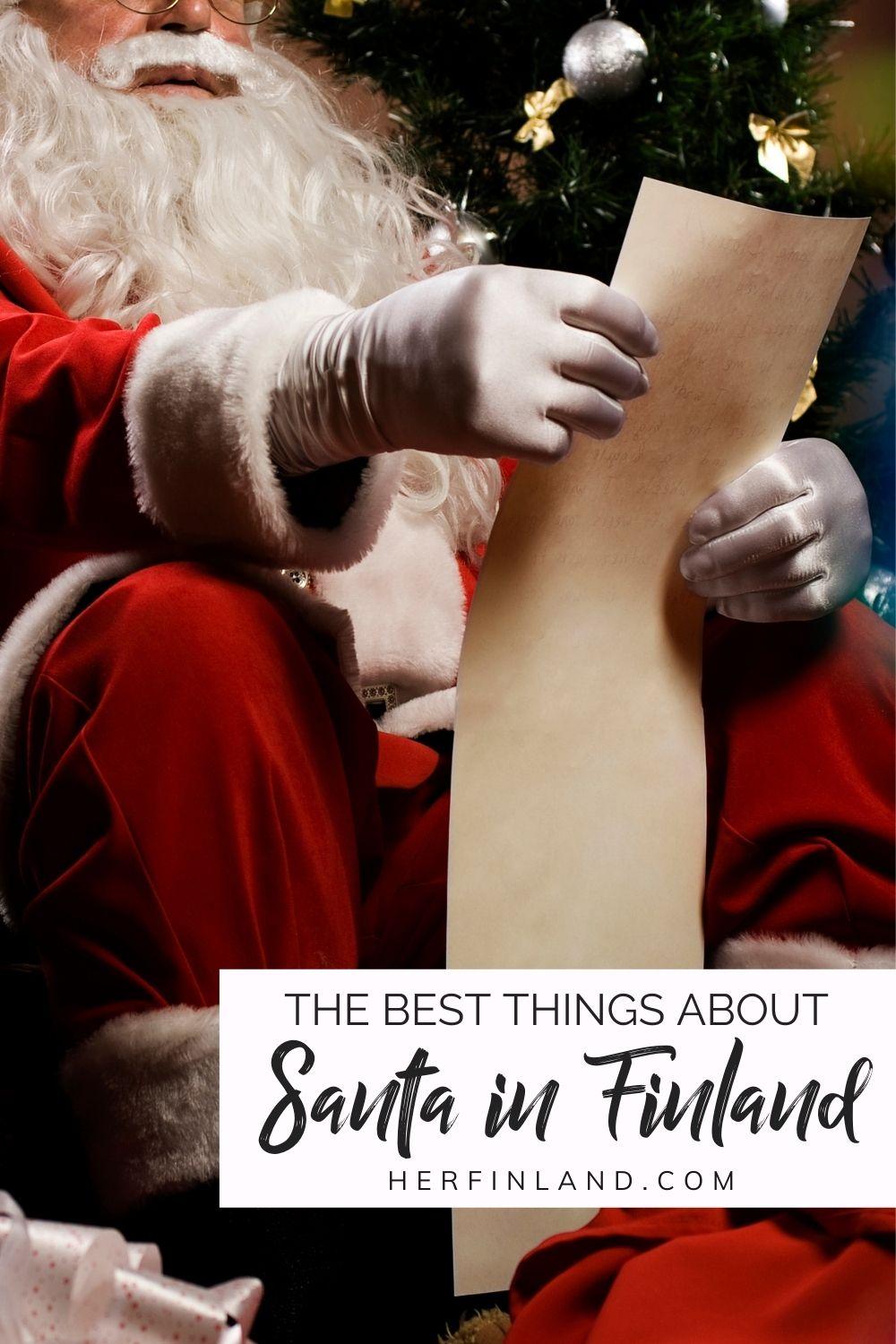 10 Common Questions about Finnish Santa Claus
Globally, Santa Claus must be one of the most beloved Christmas figures.
His mission in life is to enhance the well-being of children and encourage kindness ingrown-ups. He also spreads the message of goodwill and Christmas Spirit across the globe.
Even though we celebrate Christmas somewhat differently in different parts of the world, it is Santa Claus who is connecting us all.
Here are ten common questions about Santa Claus in the Finnish culture.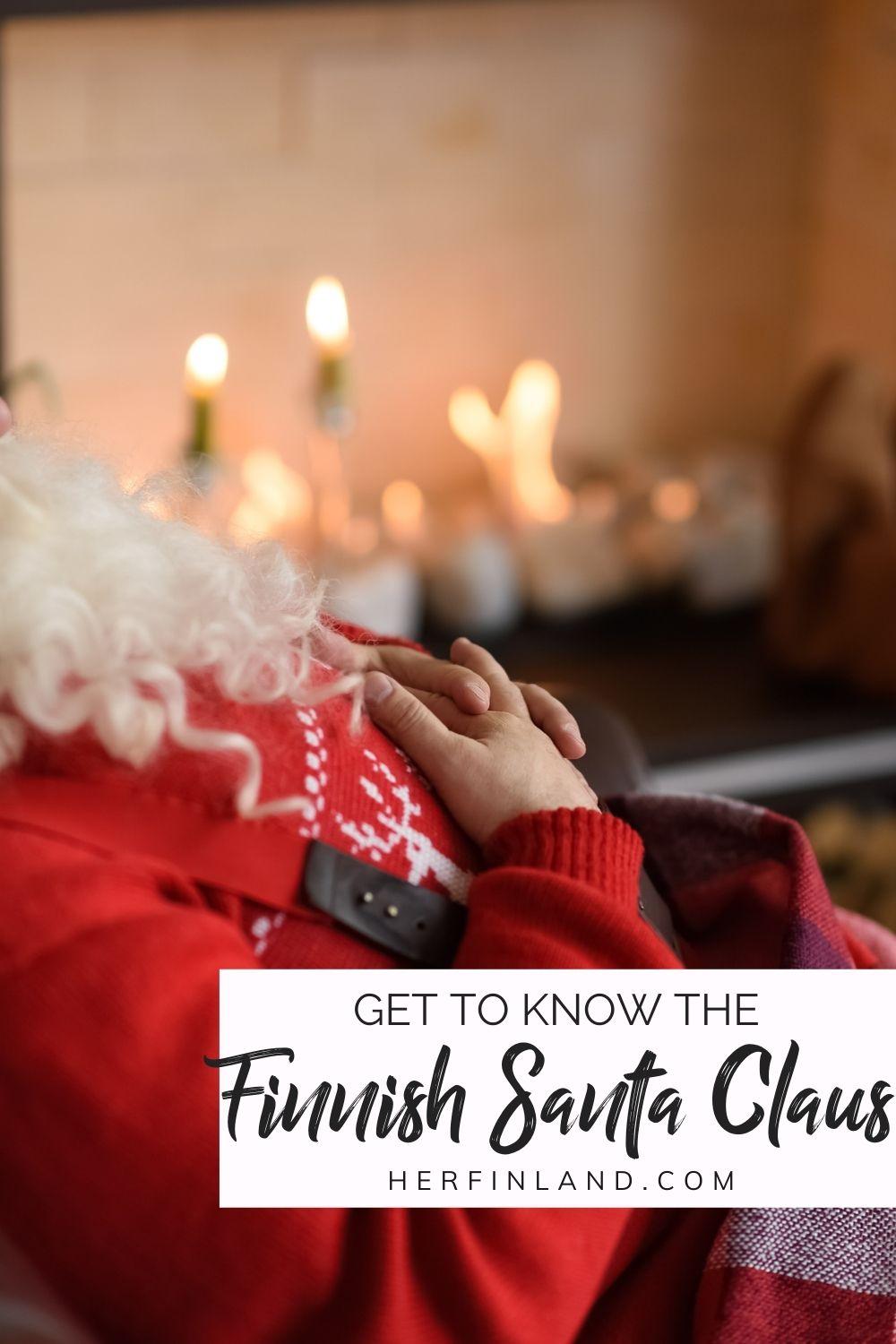 Where does Santa Claus live? Does Santa live in Finland or the North Pole?
For Finns, Santa Claus lives in Finland. We are very passionate about this.
Santa's private home is located in eastern Lapland, at the Korvatunturi arctic mountain. That translates to "Ear mountain".
The legend says he and his elves can hear the good and bad children from there all around the year.
Santa's official home is right at the Arctic Circle, in Rovaniemi. There you can find Santa's working office, the post office, bakery, gift workshops, and lots of Santa-related activities.
Santa Claus lives together with his wife (joulumuori, in Finnish) and elves (tontut, in Finnish).
How old is Santa Claus?
Santa is hundreds of years old. He has admitted in an interview that he has quite frankly lost count.
What is Santa Claus called in Finnish?
Santa Claus is called joulupukki in Finnish, which literally means "Christmas goat".
The name originates from an old pagan tradition relating to fertility (Nuuttipukki) where after Christmas, men dressed up in upside-down fur coats with horns on their heads. They went from door to door asking for leftover Christmas foods and drinks.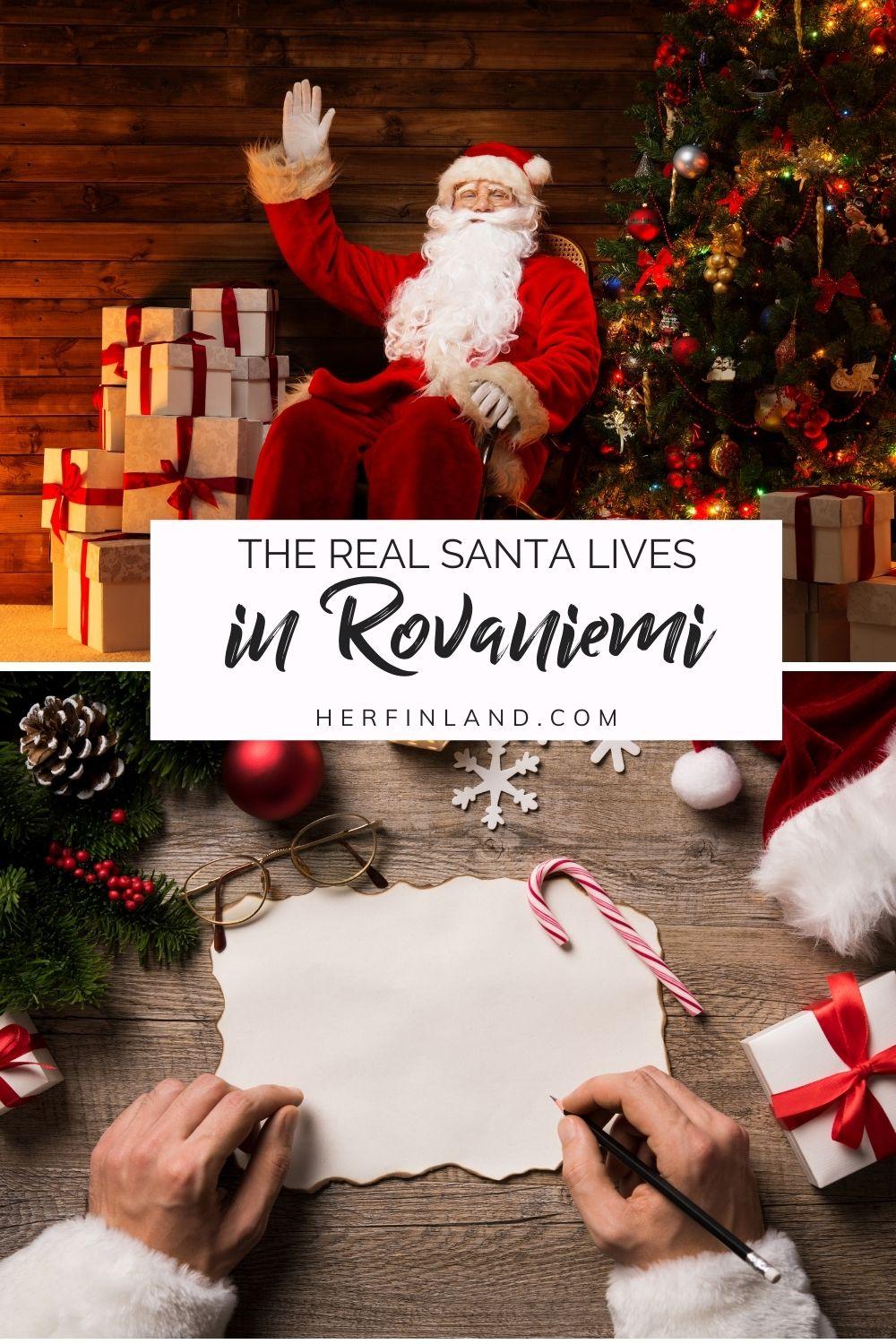 What does Santa say when he knocks on the door in Finland?
In Finland, Santa comes to visit families in the evening on the 24th of December.
He knocks on the door or rings the doorbell and says "Hyvää joulua! Onko täällä kilttejä lapsia?" which translates to "Merry Christmas! Are there any well-behaved kids around here?"
He will most likely send his greetings from his wife, joulumuori, and the elves as well. He mayalso say "Terveisiä Korvatunturilta!" aka "Greetings from the Ear mountain!"
No, in Finland we don't do this. Usually, Santa Claus doesn't even stay for coffee, which is the traditional gesture of hospitality in Finland. Everyone knows Santa is in a hurry!
What does Santa Claus do exactly when he brings the gifts?
He is asked to come sit down next to the Christmas tree and have a tiny rest. Then usually the children will sing a song or two to Santa Claus.
Then, if the children are not too scared, they can sit on Santa's lap and pictures are taken. After this, Santa leaves. I would say he usually stays for 15 minutes.
Grab the free kit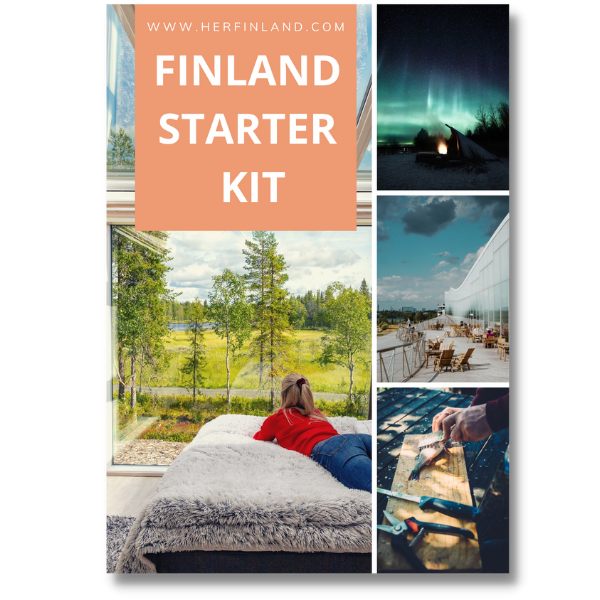 Does Santa also visit adults on Christmas Eve?
When celebrating a family Christmas, Santa will only be asked to attend if there are small children in the family. So, typically he doesn't visit only adults.
When are Christmas gifts opened in Finland?
Christmas gifts are traditionally opened on Christmas Eve in Finland.
If Santa Claus comes to visit, he usually says goodbye first and then the gifts are opened. Santa is terribly busy on Christmas Eve, so you don't want to make him late from the next family.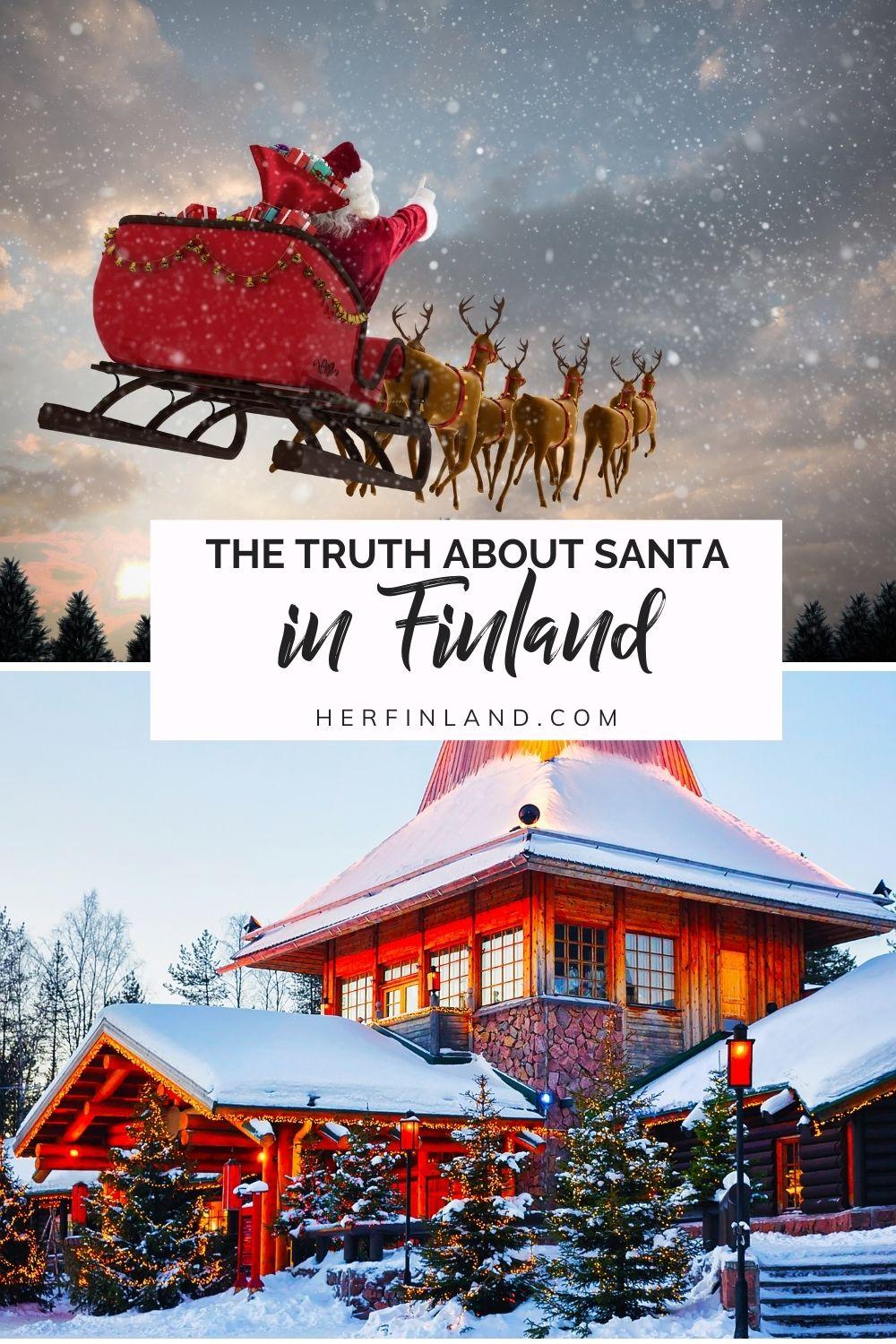 Can I send a letter to Santa Claus?
Yes, you can! Here is the address to Finnish Santa's main post office:
Joulupukin Pääposti
Tähtikuja 1, 96930 NAPAPIIRI
Furthermore, you can also request a letter to be sent to you from Santa Claus here.
Psst… Did you know that Santa is receiving up to 500,000 letters yearly from over 200 countries?
If you visit the Santa Claus Village at Rovaniemi, you can pop by the official Santa's post office too and send a Christmas postcard to your loved ones anywhere in the world.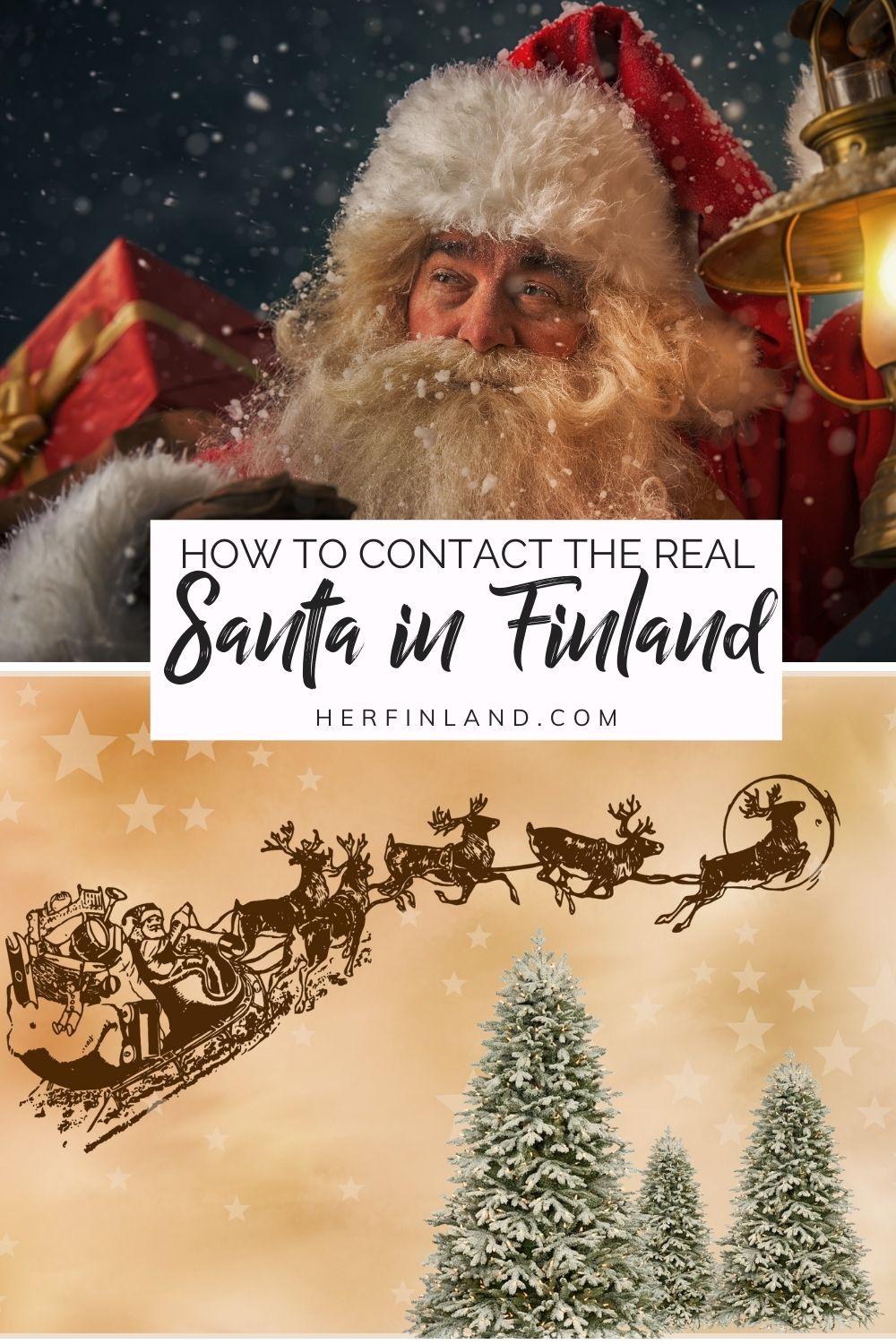 How can you visit Santa Claus in Finland?
You can visit him every day of the year in Rovaniemi, the biggest city in the Finnish Lapland. There you can find Santa Claus Village.
The best news? Visiting him is completely free of charge.
However he is not working around the clock, so there are certain visiting hours, of course. You can also meet the Christmas elves in the workshops as well as Mrs. Santa Claus.
There is a live webcam to the Santa Claus Village at the Arctic Circle. Here you can check what is happening virtually at anytime.
There are direct flights to Rovaniemi from all around the world. You can also take the comfortable night train from Helsinki to Rovaniemi.
In December, you can spot Santa Claus everywhere in Finland, because he is making appearances at Christmas markets, shopping malls, hotels, or resorts.
If you are visiting Finland in December, I warmly recommend asking from your accommodation if Santa Claus is available on a particular day close by.
Tiny Santa Claus Vocabulary in English-Finnish
Christmas = joulu
Santa Claus = joulupukki
Mrs Santa Claus = joulumuori
elf, elves = tonttu, tontut
Rudolf the red-nosed reindeer = Petteri Punakuono
reindeer, reindeer (pl) = poro, porot
Christmas gift = joululahja
Christmas tree = joulukuusi
gingerbread = piparkakku or pipari
If you want to learn some Finnish Christmas greetings to impress Santa Claus or to write on a Christmas Card, check out my post about Christmas greetings in Finland.
That was my guide to all things Santa Claus in Finland, thank you so much for reading!
Do you have a question? Would you like to visit Santa Claus in Finland? I would love to know in the comments.
Looking for more interesting facts about Finland and the Finns. Check out these post!
FinNISH CONNECTION COLLECTION 🇫🇮
Finland-themed sweaters and accessories made-to-order. 🧡 Worldwide shipping.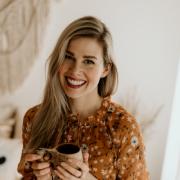 About Varpu
I'm the founder of Her Finland. I love cultural tidbits, aha moments, Finnish folklore, and cinnamon buns. My newest interest is learning bird songs. Read more about me..