Welcome to Helsinki off the beaten path! Now we scratch the surface of the biggest city and the capital of Finland.
Helsinki is a pocket-size Metropolis – a mixture of European chic, Finnish straightforwardness and Nordic functionality. I put together this local's guide to show you some new sides of the city!
First, a little introduction to Helsinki from a local's perspective. Then, I'll share 10 favorite restaurants in town. Lastly, I'll give you three totally different self-guided walking tours.
I have a couple more posts about Helsinki and the area nearby! If you're planning a trip, you'll definitely want to take a look at these:
Also, I'm always sharing new Helsinki tips on Instagram! Come over and follow me! 
 

 

Näytä tämä julkaisu Instagramissa.

 
Here is the agenda of this post!  Let's go!
What are Helsinki Citizens Called?
Helsinkians, in English. In Finnish, this term refers more to a person who was born and grown up in Helsinki. Thus, you can meet Helsinkians in Helsinki and any other location in Finland.
True Helsinkians (also called stadilaiset, in Finnish) are very proud of being Helsinkians. And of course, they should.
On the other hand, people who, at some point in their adulthood, have moved to Helsinki, like to highlight their roots. And of course, they should be proud of their background. They will tell you that they are originally from X, but live in Helsinki now.
How is Helsinki Weather?
Well, Finland isn't a bikini vacation destination. It's cool or cold compared to many other places in the world. That's part of the Nordic magic! The fresh air, a cozy fireplace, and hot drinks, comfortable clothes… Total bliss!
In Helsinki, there is always a freezing wind from the sea. Even in the summer, when inland southern towns are enjoying warmness. Still, it is my favorite city in Finland so don't get too scared! Here you can check my monthly weather tips for south Finland to know what to expect!
What to Wear in Helsinki?
It's all about proper clothes when you visit this Northern beauty.
An all year round pack list to Helsinki: a light down jacket, a scarf, gloves, a beanie, umbrella, and sunglasses. Even in July, trust me.
If you come in the winter time, replace light down jacket with the warmest jacket option you have and take a pair of long johns or woolen tights with you.
Click to my Helsinki in Winter – post to read about detailed clothing tips for freezing Helsinki! Seriously, I cannot stress how important it is to have two layers of clothing warming up your legs and proper waterproof winter shoes.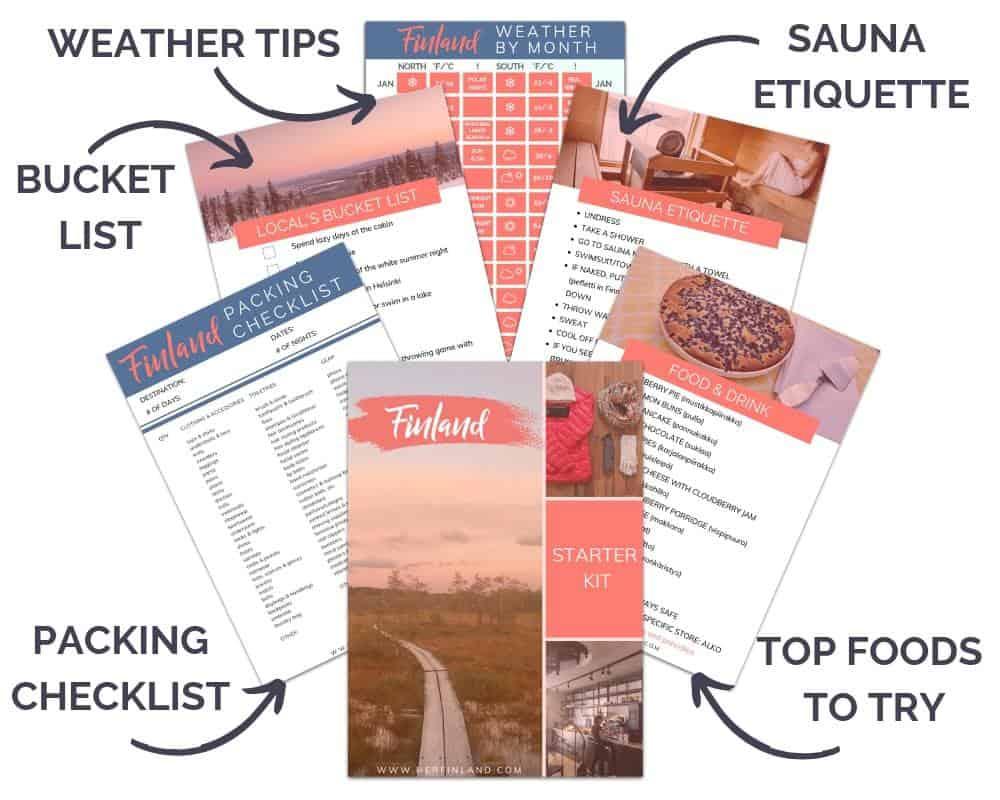 Ten Delicious & Pretty Places to Eat in Helsinki
I'm a proper foodie, so I feel I definitely should let you know about my favorite places to eat. 

These spots have become my regulars because:
They offer great food that doesn't cost a fortune

They have a distinctive soul which I love (The energy of the staff, a beautiful interior… You know what I'm talking about. That vibe that makes you wanna stay.)

They offer relaxed, casual eating (no dress code!)
#1 Restaurant Story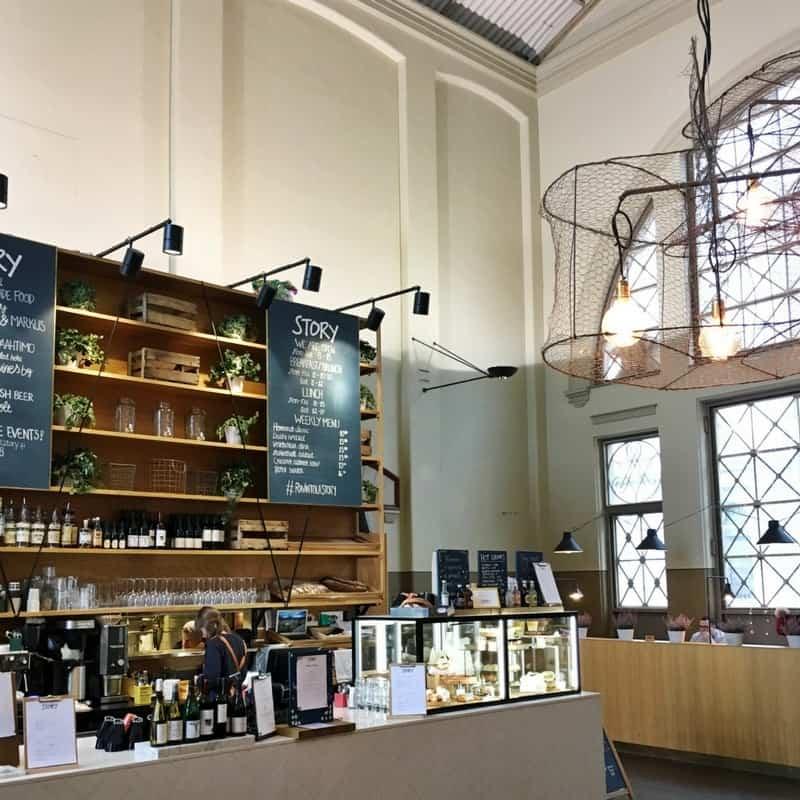 Situated in the middle of the Old Market Hall, the interior of this place is Scandi-gorgeous. Delicious sweet and savory treats and a seasonal menu featuring fresh farm to table dishes.
#2 Roslund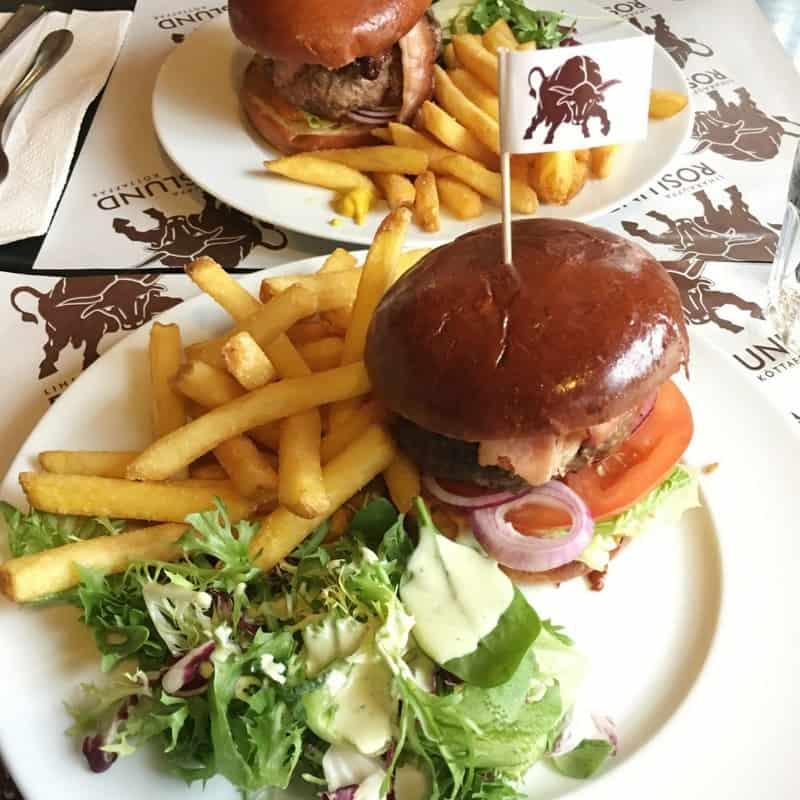 The most legendary meat shop in town. Located in the Hietalahden Market Hall (another Market Hall you should visit besides Old Market Hall). In my opinion, they do the best burgers in town.
#3 Fat Ramen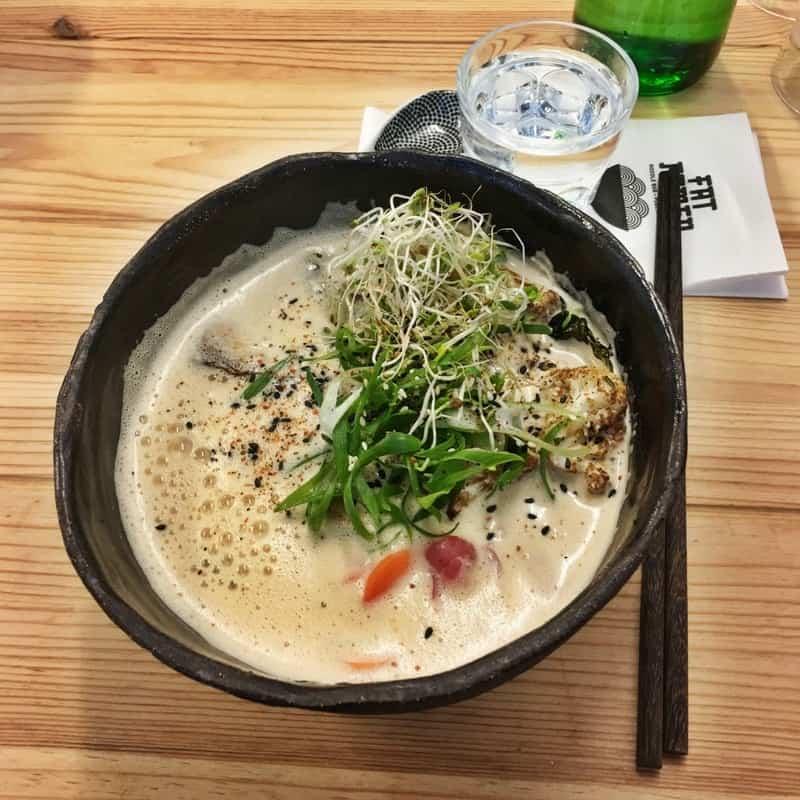 Fat Ramen is next to Roslund in the Hietalahden Market Hall. Their hearty soups are huge and super tasty. It's my favorite lunch spot with the girls.
#4 Paulig Kulma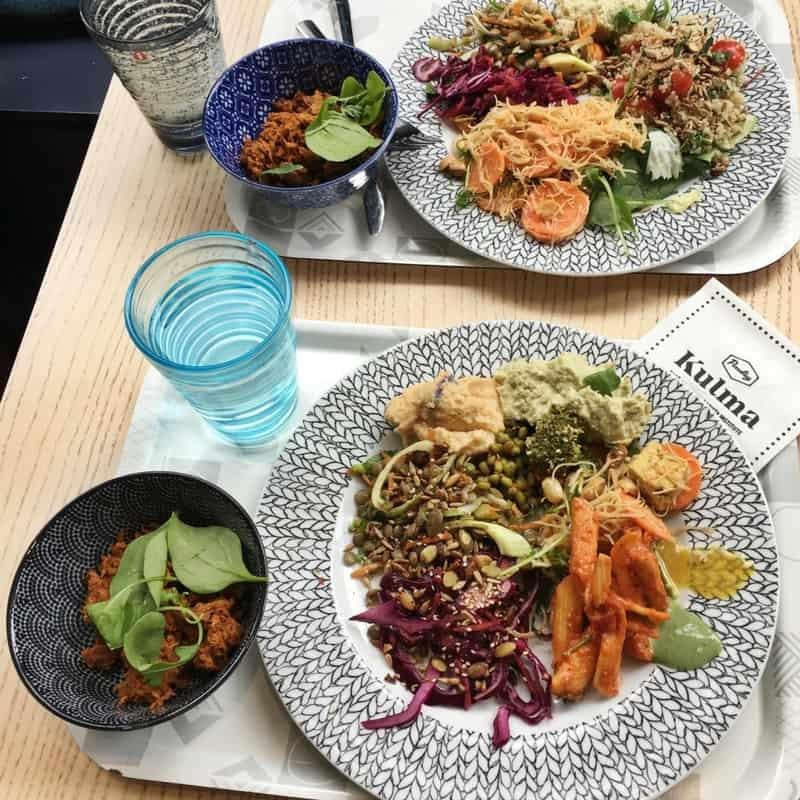 Paulig is a Finnish coffee roastery so this place is all about coffee. Extended opening hours and a great location in the middle of everything. Healthy salad lunch buffet from Monday to Saturday. Try the Finnish invention, the vegan protein called Pulled Oats, as a side with the salad bar.
#5 Cafè Succès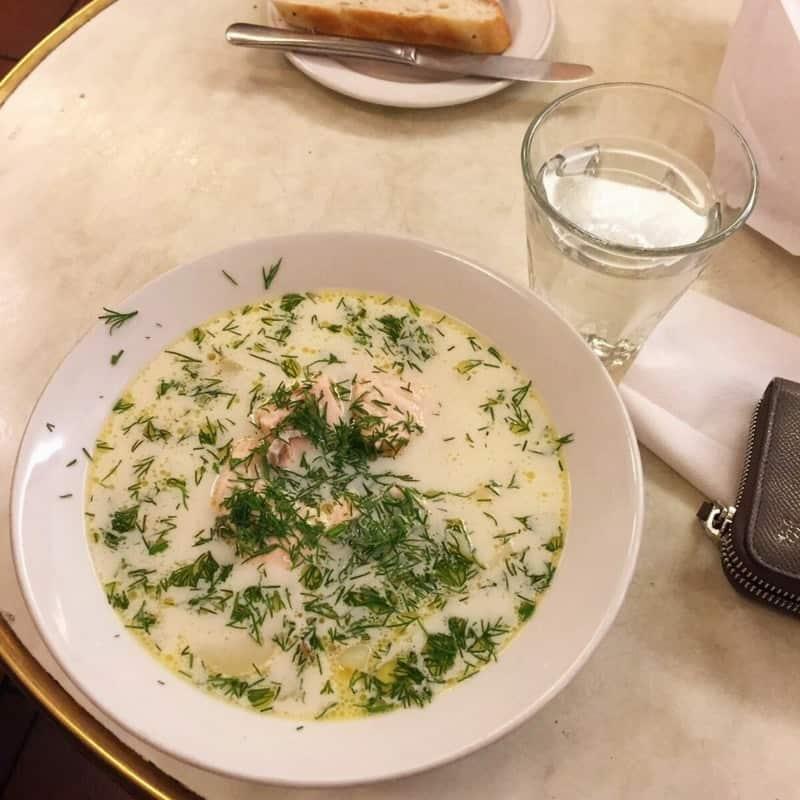 Nestled in the middle of one of the most charming districts in Helsinki, this is a terrific lunch and coffee spot. Succes serves Finnish classics like the salmon soup with a continental flare.
#6 Restaurant Penny
Dimly lit with candles, the atmosphere is cozy and romantic in this tiny restaurant. I just love this place! 
On weekdays there is a lovely lunch. Make a table reservation when you can.
#7-8 The Restaurants of the Fifth Floor of Kamppi Mall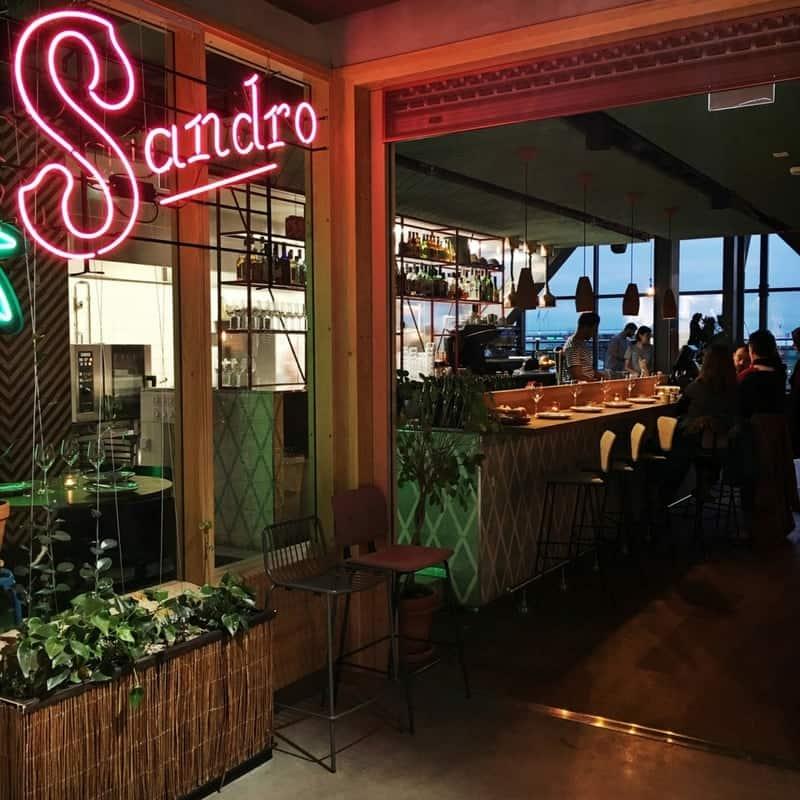 If you want to eat with the locals, head here. The fifth floor of Kamppi Mall is filled with amazing restaurants, many of which have a scenic view over the city. My favorites include Sandro and Fisken på Disken. The last-mentioned is an absolute must if you love fish! Sandro puts a spin on North African and Middle-Eastern dishes.
#9 Sushibar + wine
Cool Scandinavian design, top-quality sushi, organic wines, and pretty people. In my opinion, this sushi chain has the best sushi in town. Four restaurants in different locations of the city.
#10 Hills Dumplings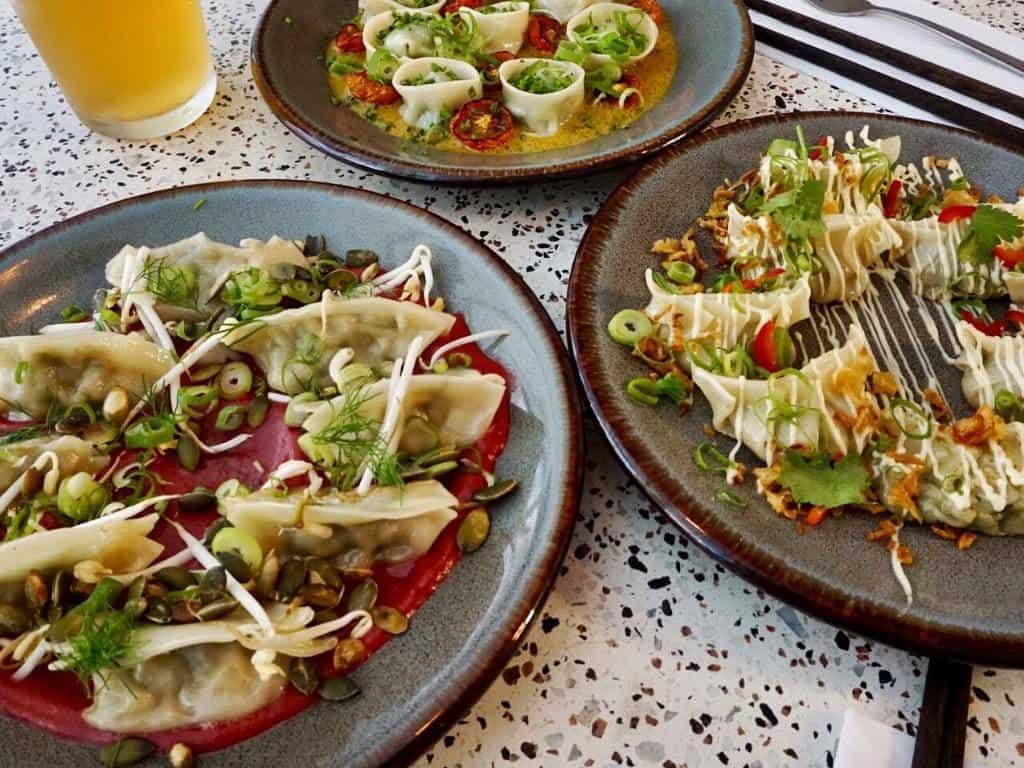 Opened spring 2018, this is my new favorite in the city for a date night! Super tasty dumplings with a Helsinki twist and delicious fruity craft beer. What more could a girl ask for?!
'Uptown' Inspired Walking Tour in Southern Helsinki
The southern part of Helsinki is the poshest area in the city and perfect for city walks. This walk is very short, only around 1 kilometer one way. So, you can do it in 40 minutes with all stops, or then you can spend three hours visiting all the tiny boutiques (like me).
Start the tour from the glorious Esplanade 'Esplanadi Park' at the city center and find the street 'Korkeavuorenkatu.'
The first stop is the old library on the street 'Rikhardinkatu 3'. The Hogwarts-part of this library originates back to 1881. It has been the place for many historical meetings. The most beautiful part is the 1920s built book tower. Check the opening hours in English.
Continue your way onward 'Korkeavuorenkatu' street. Stop by Fasaani Antiques, which is a huge antique store with everything from tiny timbles to huge Narnia wardrobes. Further down the street and you will see Café Succès. I already praised this place in the restaurant section of this post. Yummy!
Next door, Flower shop Ölander, knows how to make the whole street bloom. I think it is the oldest flower shop in Helsinki with more than 110 years of floral knowledge.
Take a right to head on to the street 'Vuorimiehenkatu'. At first, the self-service flea market Kaivarin Kanuuna looks nothing special. However, the wealthy neighborhood brings their stuff here, so the brands are quite impressive. Sometimes overpriced, but sometimes exceptional finds at this location!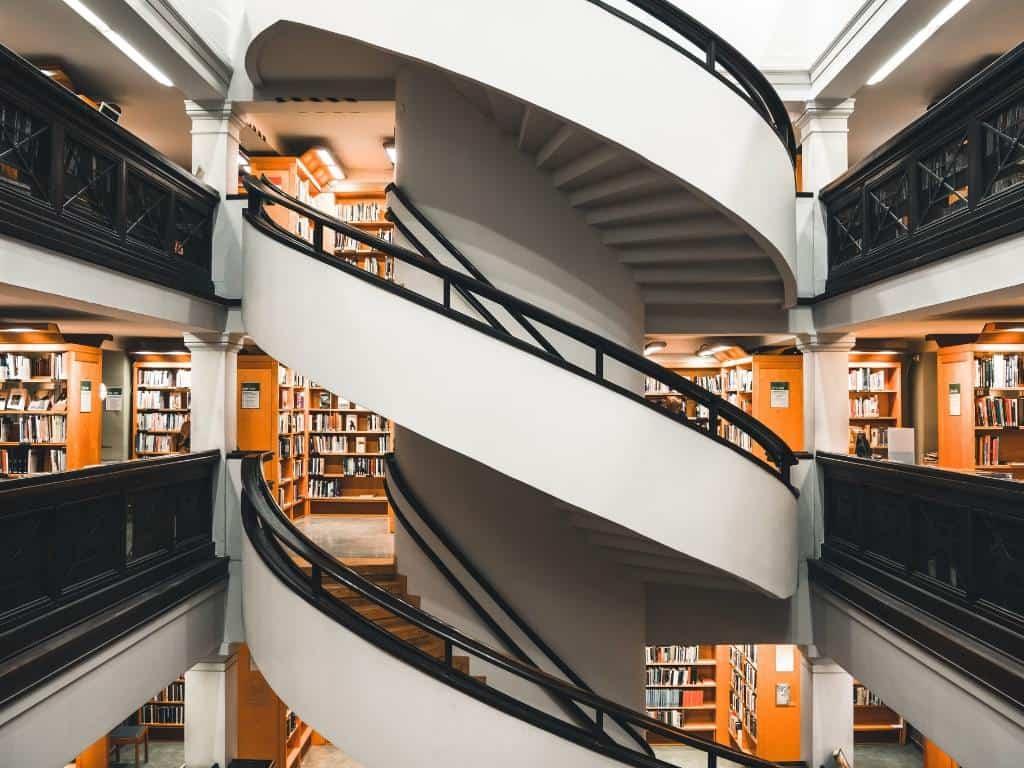 The old library on 'Rikhardinkatu' street has the most beautiful staircase and book tower.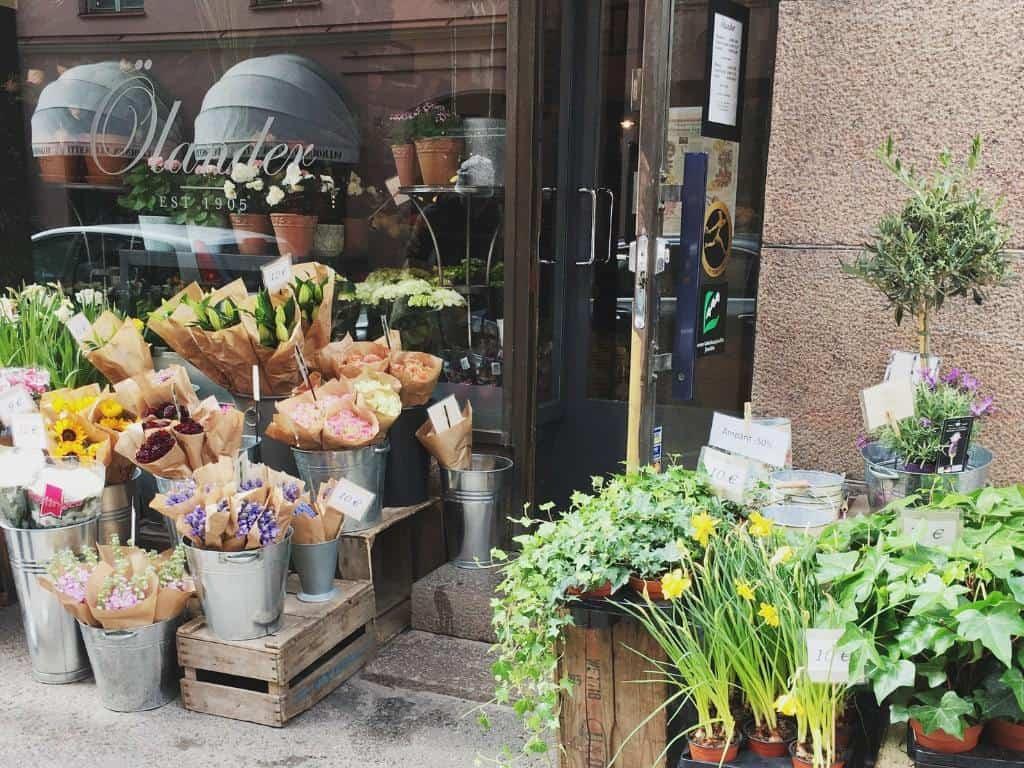 The adorable Flower Shop Ölander on 'Korkeavuorenkatu' street.  
'Boho' Inspired Walking Tour in Northern Helsinki
Kallio is definitely the most boho area of all Helsinki neighborhoods. Its authenticity and venues filled with street cred certainly make it worth a walking tour!
First, take a metro to 'Hakaniemi'. Visit the modern Hakaniemi market hall. The original hall is currently being renovated. The hall has fascinating stalls, like the one packed with Finnish dishes. If you are hungry, enjoy a soup of the day at Soppakeittiö.
Continue your way to Karhupuisto park (literally: Bear Park) and pop in the Kallio Library, which is the prettiest library in Helsinki.
Next to the park, you can't miss the magnificent grey granite tower of the Kallio church. This church is by a famous Finnish architect Lars Sonck and a quick visit is a must.
Then, wander your way deeper into Kallio, for example to Helsinginkatu, which is home to many second-hand stores. Check here my cafe recommendation for this area. Enjoy the neighborhood and walk all the way to Sörnäinen metro station and take the metro back to the city center!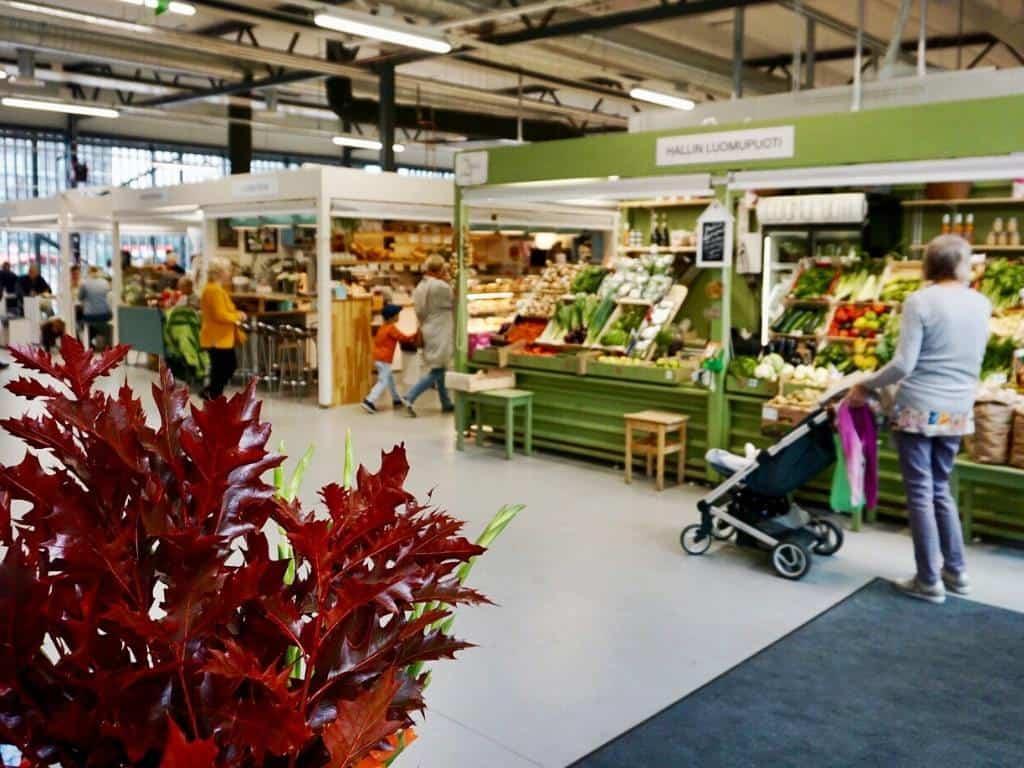 The Hakaniemi market hall is full of intriguing stalls.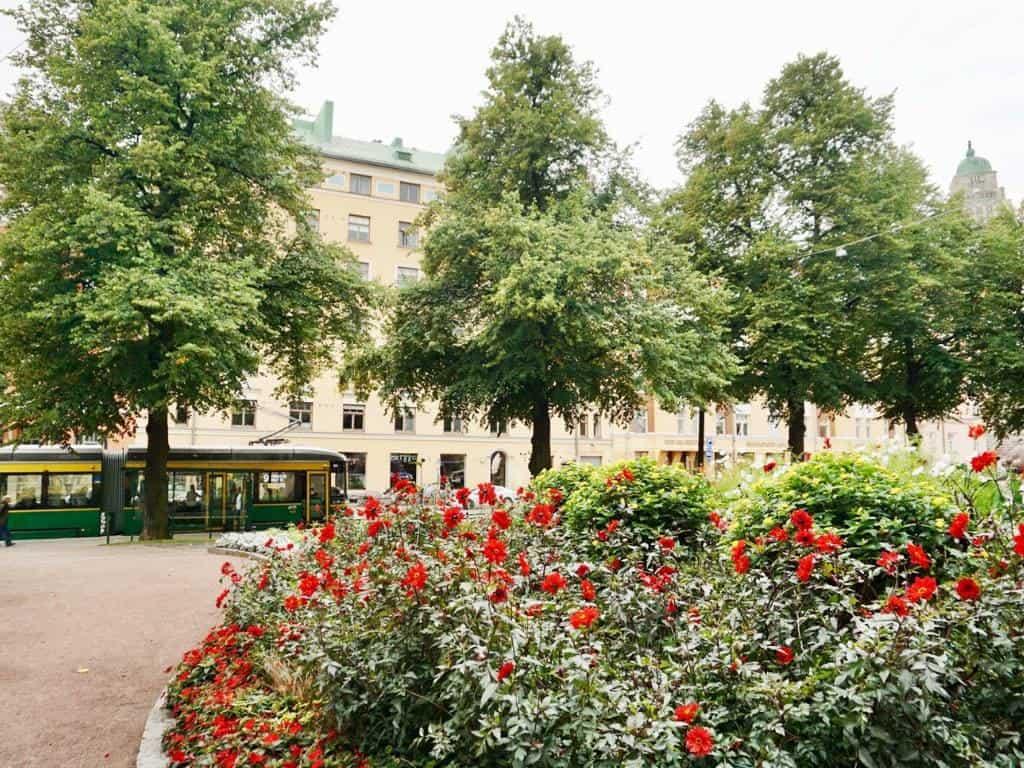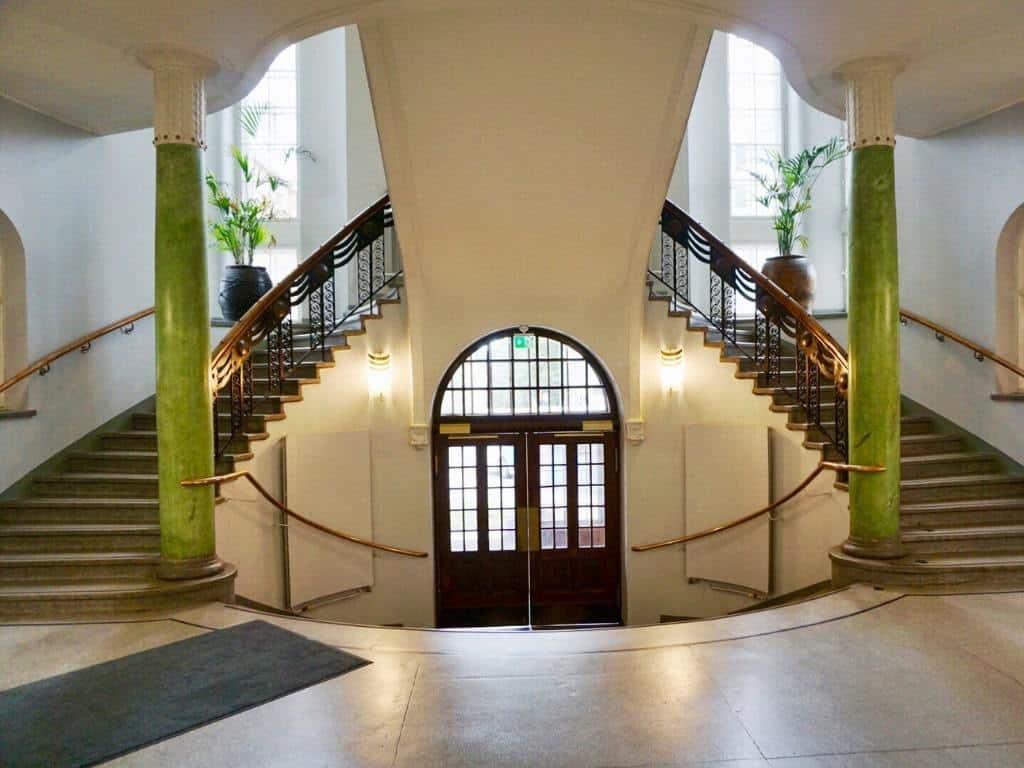 The Kallio library and Kallio Church are on opposite sides of the Karhupuisto park.
Alvar Aalto Inspired Walking Tour in the Helsinki Center
You maybe have heard of Alvar Aalto who was a Finnish design genius? Here are five easy-to-spot grand pieces by him to effortlessly enjoy!
Between the Uspenski Cathedral and Allas Sea Pool is my personal favorite: The boxy white building which is Stora Enso headquarters (Kanavaranta 1).
Next to Stockmann department store, there is a huge bookstore, called Akateeminen Kirjakauppa (Pohjoisesplanadi 39). You can't miss it; there's the only Starbucks of Helsinki downstairs.
Spot the Erottaja pavilion (Erottajankatu) in the middle of Mannerheiminkatu. This little building is the first building that Aalto did for Helsinki.
Very close by is Restaurant Savoy. Its stunning interior is by Aalto. Savoy is expensive and one of the most prestigious restaurants in Helsinki. If you want to experience its charm "on a budget", they have their classic dish Vorschmack for around 20 euros. For Aalto-fans, this restaurant is a must!
Lastly, admire the magnificent Finlandia hall (Mannerheimintie 13)!
Phewww, what a long post! I hope it is helpful for you.
I have a couple more posts about Helsinki and the area nearby! If you're planning a trip, you'll definitely want to take a look at these:
Are you visiting Helsinki soon? Comment below and let me know if there's something more you'd like to know!
Warm wishes from Finland, 
Varpu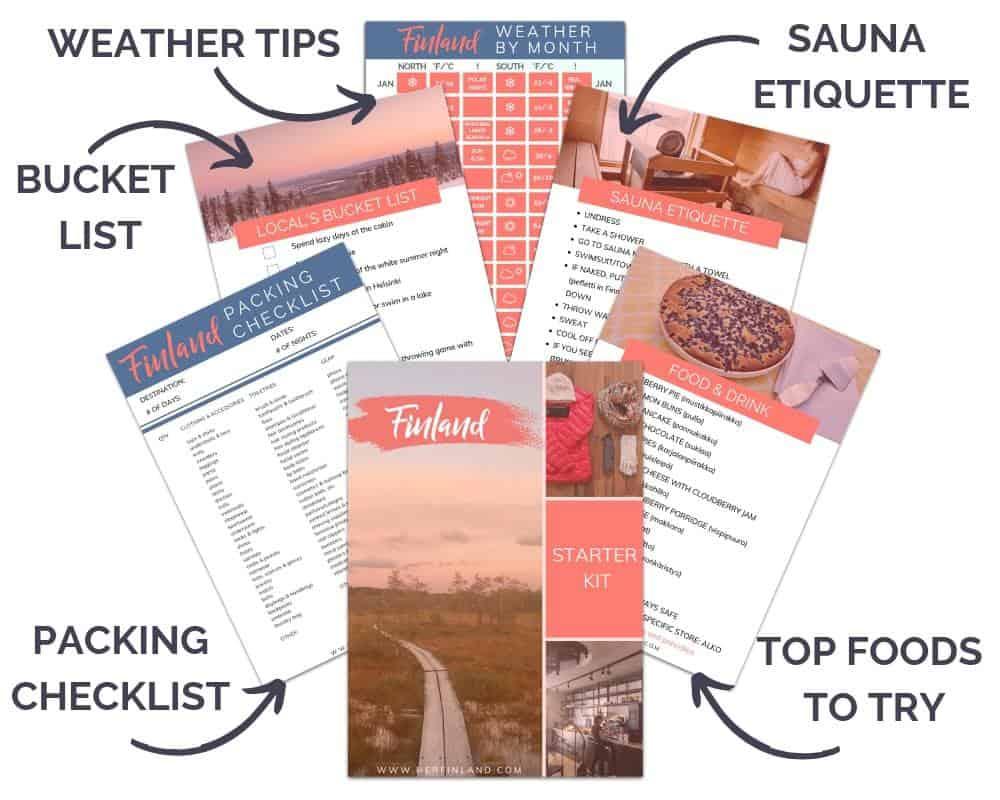 Did you find this post informative? Save it for later on Pinterest!